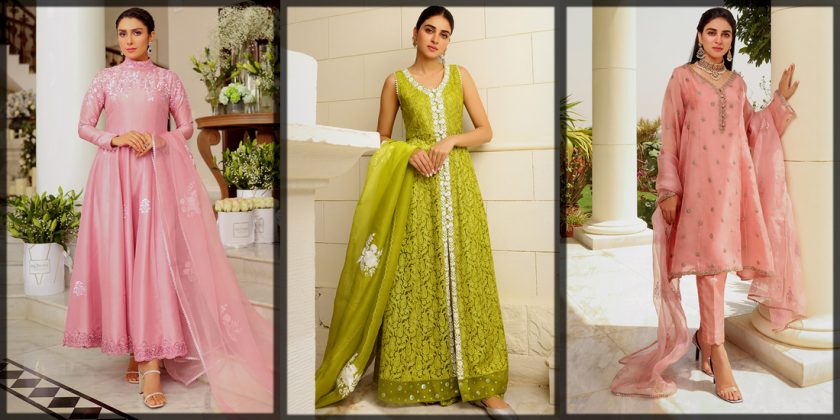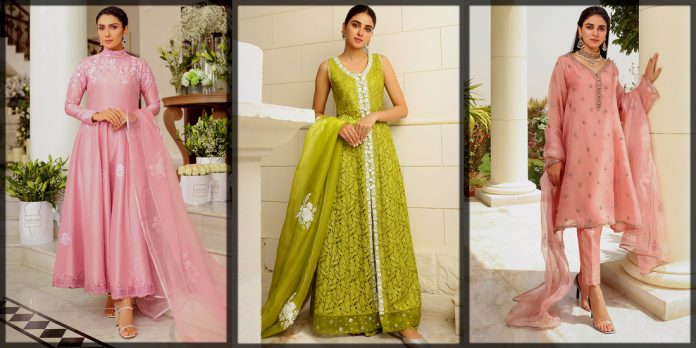 The festive season is here and you need to get ready for it. The whole month of Ramadan is festive for Muslims, not to forget Chaand Raat and 4 days of Eid-ul-Fitr afterward. So, girls need lots of fancy and decorated clothes to make up for all events. Let's explore the wide variety of Ansab Jahangir eid collection that has all the ideal dresses for every occasion.
Everybody is looking for the best Eid dress because every lady fancies looking modest and different. Finding the most desirable dress for any occasion is challenging because they have many choices. All notable brands of Pakistan every season offers elegant Eid dresses. So, picking the right one is hard.
We are presting you the best Eid dresses of the most well-known brand that make you look more stunning and glamorous. Keeping the weather in mind, this brand has launched its new Eid collection with the most amazing shades and color combinations. This season, Ansab Jahangir features the famous and talented television stars Ayeza Khan, Anmol Baloch, and Behroz Sabzwari in their campaign. Scroll down!!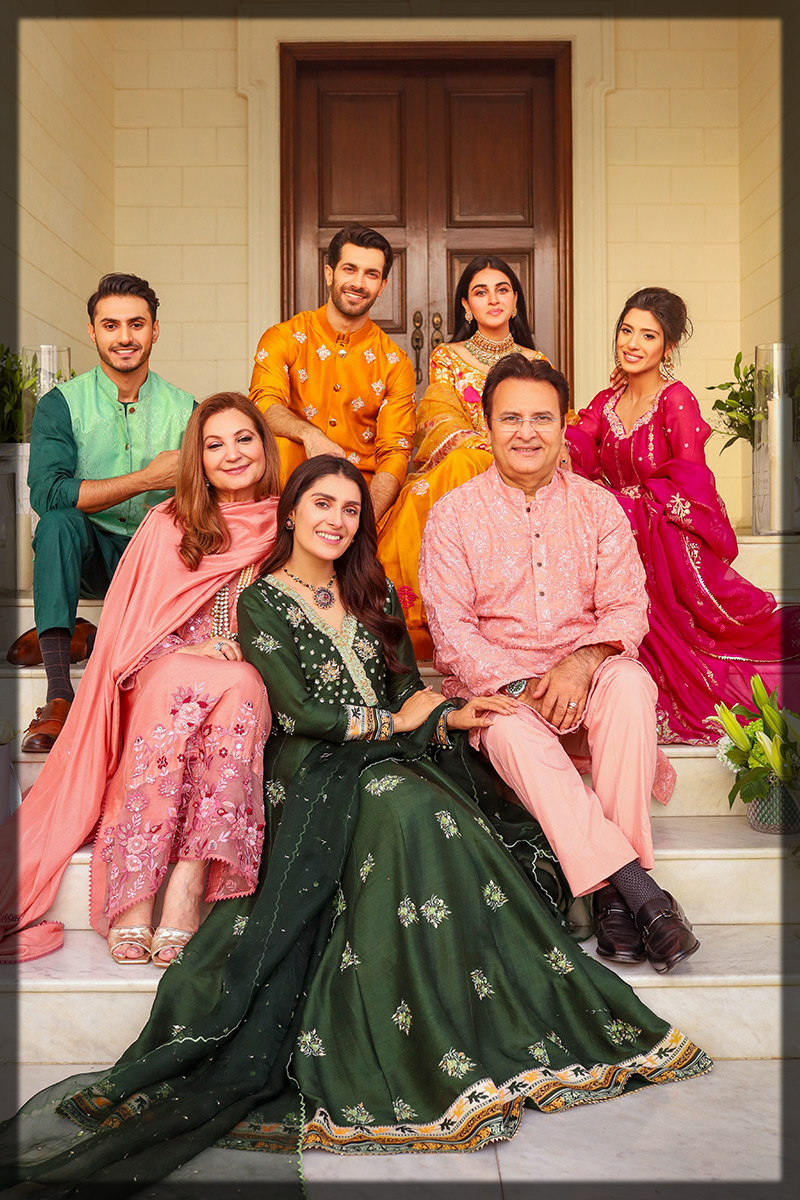 Latest Ansab Jahangir Pret Eid Collection for Women (New Arrivals)

Ansan Jahangir Eid collection catalogue is recently launched that brings splendid and well-decorated attires for women of all ages so they can make their Eid look more classy and appealing. All you need is to pair your Eid dress with the right pair of footwear, makeup, and adornments to make all of your decent and noteworthy looks. The latest Eid collection by Ansab contains the following styles of outfits that will surely refresh your Eid look and make it more dazzling.
The dresses in the collection are one of a kind. The unique cuts and patterns will make you drool on every single article of clothing in the Ansab Jahangir eid collection. So, keeping in mind the spring colors and theme, the designers of the brand have created masterpieces. The brand is high-end and the prices are eventually high but the rate is worth the quality and designs. Take a look at the following best eid dresses with details and prices mentioned.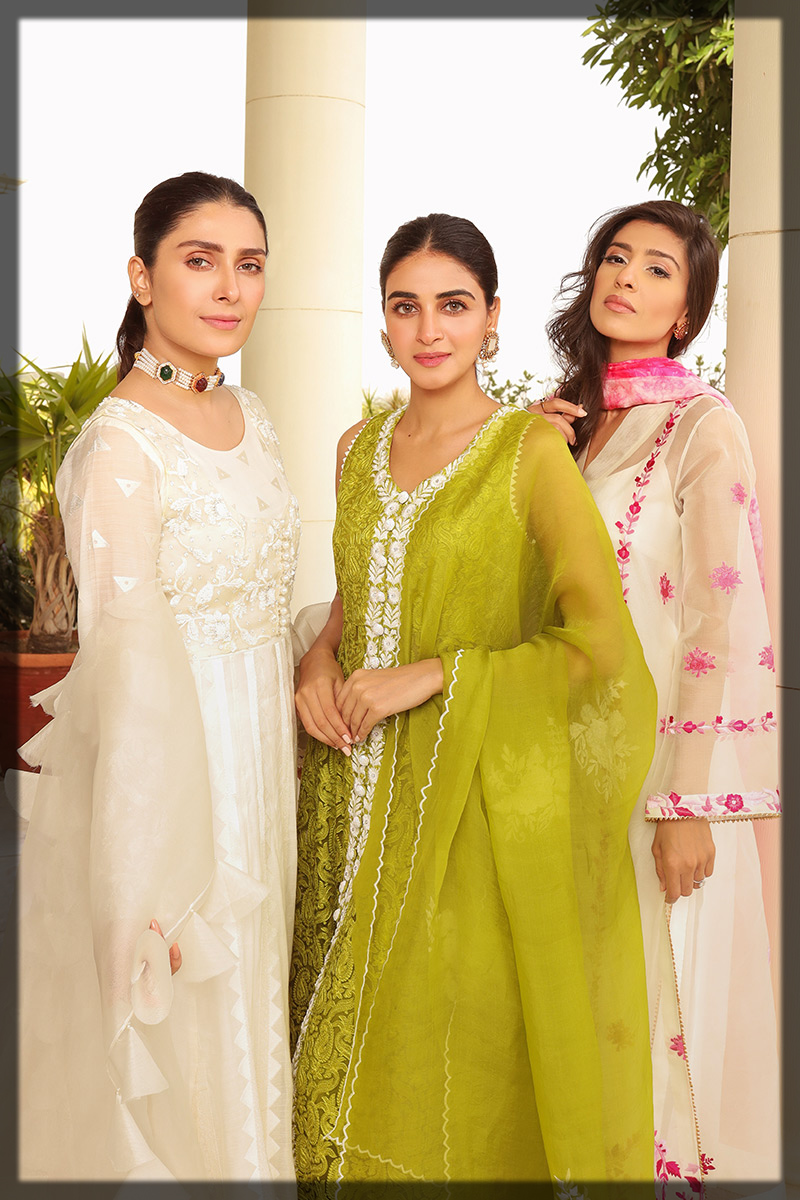 Pink Organza Kundan Worked Suit with Organza Dupatta
For a party or festive wear, girls prefer chiffon and organza clothes to make their look more stunning and appealing. The below pink organza suit is the ideal choice to wear if you want to grab others' attention. The shirt of the dress is beautifully furnished with the Kundan work, and it is paired with the pants and organza dupatta.
This Eid, show your affection, harmony, inner peace, and approachability with the stunning pink outfit. For more Kundan worked attires, explore the Faiza Saqlain eid collection that likewise contains the most enchanting and impressive ready to wear eid suits for women and young girls.
Pearl White Cotton Net Kalidar Gown with Tasseled Dupatta
Are you looking for something trendy and impressive? At that point, pick this classy pearl white kalidar frock in the cotton silk texture. It is paired with embellished organza pants and an organza tasseled dupatta that adds more grace and shine to this lovely outfit. Let's show your purity and innocence by wearing this white frock on Eid.
With this fantastic outfit, try to keep your makeup minimal and lightweight. Moreover, skip the earrings and wear the beaded necklaces exclusively to make all of your breathtaking looks. Combine your pearl white kalidar frock with cone heels to complete your classy look.
Modest Ice Blue Raw Silk Kurta with Silk Pants
Young girls prefer stylish yet fashionable attire on every occasion. So, here is the chic outfit for those ladies who wants to look modest and alluring. The ice blue raw silk kurta with the lightly embellished sleeves is ideal for young girls who want to look fairer and appealing.
It is paired with the raw silk pant that is further adorned with the embroidery patch. If you want to make your look more splendid and attractive, then pair your classy raw silk kurta and trouser with the long hoops and brownish makeup. Further, wear the block heel shoes, and get a pretty look. For more modest attires, visit the Nimsay eid collection.
Ansab Jahangir Lavender Raw Silk Eid Suit
If you desire to make your Eid look charming and captivating, at that point, pick the below outfit from the Ansab Jahangir store and prettify yourself well. You can likewise wear this fabulous dress at your best friend's wedding to make your look more splendid and appealing.
With this elegant dress, keep your makeup minimal and wear lightweight adornments to make your look more attractive and dazzling. If you don't like the jacquard dupatta, you can pair your outfit with the chiffon or net dupatta for your ease. Also, explore the Fahad Hussyan collection that likewise contains the most beautiful and stunning festive dresses for women of all ages.
Pastel Green Embroidered Suit by Ansab Jahangir
Pastel green is the most excellent and fresh hues that will refresh your Eid look and make it more dazzling and pretty. The embroidered raw silk kurta paired with pants and a scalloped organza dupatta undoubtedly renews your look. You can likewise wear this cool outfit at your sister's wedding to make all of your jazzier and striking looks.
With this classy outfit, wear nude makeup and long pearls hoops. Plus, keep your straight hair open and wear the peep-toe footwear to add more grace to your look. Deepak Parwani eid collection also offers stunning and striking attires in the most unique and vibrant shades.
Taupe Raw Silk Shirt with Gharara and Organza Dupatta
Suppose you want to get the traditional look on this Eid. Then grab this pret outfit from the collection. The taupe raw silk shirt with a block printed gharara and organza dupatta is the perfect combo to make your look perfect and captivating. 
For completing your traditional look, wear the "Rajhastani" necklace with the small earrings and tie your hair in a classy bun. Further, wear the bangles on both hands to prettify your Eid look. You can pair your Gharara with the khussa to add more attractiveness to your Eid look. For more similar outfits, visit the Zainab Chottani eid collection.
Mustard Kalidar Eid Frock by Ansab Jahangir
For Eid, teens always go for a traditional outfit like a Ghaghara shirt, long frocks, and kalidar frocks. Hence all notable brands of Pakistani always included angrakha and kalidar frocks in their Eid collection. Like others brands, Ansab Jahangir also offers the Kalidar frock in the mustard color that will make you more pretty and beautiful.
This dazzling dress is paired with pants and a digitally printed organza dupatta that make the outfit more impressive and extraordinary. You can also wear this kalidar frock at your brother/sister mehndi ceremony to create your look more lovely and captivating. For a more classy look, pair your frock with impressive necklaces and lightweight makeup.
Front-Open Lime Green Chikankari Suit

Nowadays, chikankari dresses are in demand. Women of all ages prefer to wear chikankari suits because it is the comfiest and solid texture that normalizes your look and gives you a comfortable and elegant appearance. Look below at the lime green chikankari kalidar dress that is paired with a Dhaka pajama and an embroidered organza dupatta.
The lime green and white combo will make your Eid look more splendid and gorgeous. All you need is to pair your outfit with fantastic makeup and accessories. Plus, apply the nude nail paint to get a decent and lovely glimpse. For more chikankari suits, explore the Sana Safinaz eid collection.
Emerald Digital Printed Angarkha Kalidar Frock
Teens always go for the Angrakha style frocks because of their unique and remarkable style. The below emerald frock angrakha plus kalidar frock is the latest style of the decade. If you want to look better than others, hurry up, pick this outfit, and make your Eid look striking and enchanting. Pair this dashing frock with the wavy hair and beaded necklaces to catch the impressive and pretty gaze.
Taffy Pink Raw Silk Kalider Frock for Eid
Pink is the most loving color concerning the ladies. Women of all ages always prefer to wear the pink shaded attire on any occasion to make their gaze more stylish and smart. This beautiful kalidar frock is paired with plain pants and an organza dupatta. You can likewise wear this outfit at any wedding ceremony to make all of your jazzier and breathtaking looks. You need to match it with the right hairstyle, makeup, and accessories to append more grace and shine to your look.
Multicolored Hazel Dress with Banarsi Motifs

Here we have a multi-colored hazel dress which is a representation of true festive celebrations. The pastel green color is beautiful decorated with thread work and a pop of colorful motifs. No doubt, Ayeza Khan has carried this dress with finesse and grace. The flare is sheer organza with Banarsi motifs on it. Moreover, it is paired with an organza dupatta which complements the dress very well.
Luxury Star Shine Hot Pink Long Frock
Get yourself star shine hot pink frock this festive season to outshine everyone. The beautiful festive wear long frock is adorned with delicate golden zari work. The delicate detailing on the dress makes it one of a kind. The bright hot pink color is suitable for eid parties and will make you stand out among the crowd. Moreover, the organza dupatta with golden embroidery and motifs complement the dress perfectly.
Pearl White Organza Kurta with Pop of Pink
This pearl white organza kurta is a picture of perfection with a pop of pink color. The color combination is beautiful and very unique. The whole kurta is embroidered with pink detailing and the sheer fabric looks very dainty. The dupatta has an ombre style floral print which is looking breathtakingly pretty.
Morning Glory Organza White Frock for Eid

Morning glory is a pure white organza frock with dainty detailing all over it. The motifs and thread embroidery is scattered on the whole frock. The frock has a feminine vibe which is perfect for this eid. Get yourself this pure white frock from the Ansab Jahangir eid collection for an amazing festive season.
If you desire to make all of your livelier and breathtaking looks, then pick any above dress from the Ansab Jahangir collection and prettify your Eid look well. Ansab also gives an online facility to its clients for their comfort and ease. Remember to pair your classy Eid outfit with plain bangles and traditional footwear to get the elegant yet classical look.