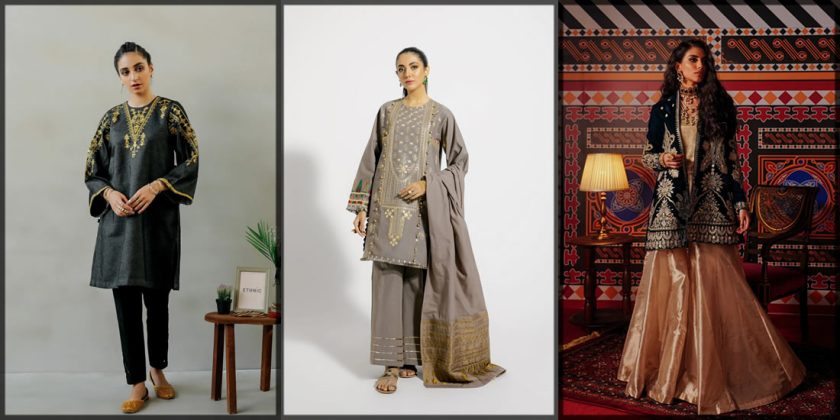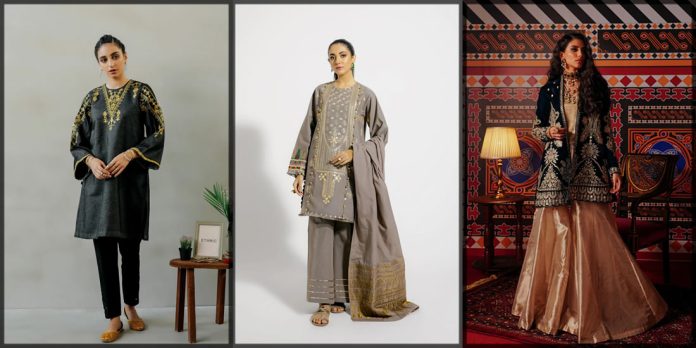 Make your winter resembles just as glamorous and astonishing with the Ethnic by Outfitters winter collection that brings back the 80s drift with a modern touch. This pleasant winter wardrobe of Ethnic is enriched with colorful motifs and appealing vogues that indeed magnify your style and personality.
The latest winter collection of Ethnic contains the impressive khaddar, viscose, yard dyed, velvet, organza, and tissue ensembles in kurta/top two and three-piece sorts paired with yarn-dyed, khaddar, and acrylic printed shawls. Moreover, the timeless and classic designs on these fabrics make this collection worth buying.
Many formal articles of Ethnic are prettified with finesse work that surely appends more elegance to your look. Thus, if you want to invigorate your winter look then have a look at the below beautiful clothes and select the best one for yourself according to the occasion and financial budget.
About the Brand and Designer
Outfitters launched "ETHNIC BY OUTFITTERS" in 2013 in Lahore. It offers versatile clothes for women of all ages. From casual to formal wear, it has everything for everyone in its store. They used charming tints, comfy textures, delicate patterns & artwork to intensify their seasonal dresses. Hence it's is known as the most preferred brand of ladies in Pakistan. Every year it launched its seasonal collection using refined texture and appealing hues. Presently they introduce winter dresses for women with the most desirable color combinations.
Ethnic by Outfitters Latest Winter Collection for Women and Girls

The ensemble is the only thing that adds extra balance to your style and resembles it. So always pick the best outfit for yourself to slay. Ethnic offers unstitched and ready-to-wear dresses that are originated with brilliant colorations and styles. Plus, the fabric of these attires is too soft and reliable that indeed keeps you headed and warm during the cold days of winter and gives you a relaxing and chilly look. Look down and explore all the latest collections of Ethnic here.
Don't limit yourself to only one brand, explore more winter collections from other brands too.
1- Winter Special Price Unstitched Collection
Each season, Ethnic offers the "Special Price" clothes. So everyone can easily buy the attires and adorn themselves well. In this winter special catalog, you will get the two and three-piece dresses made with the comfiest khaddar texture and brilliant shades just like the Khaadi winter collection. You can carry these attires casually and also formally.
Furthermore, all these dresses are prettied with trendy designs and decent patterns. All you need is to pick the best one according to your skin tone and personality. Because these all matter a lot. Hence always pick the fitted dress that suits your temper and style to dazzle.
Slub Khaddar Two and Three-Piece Suits
Slub khaddar is the fineness and the comfiest texture that is prepared with 100% cotton. It is a super-fine form of khaddar that contains some slub textures. One of the most satin and ideal fabrics for the winter season to feel comfortable.  
In the special price catalog of Ethnic, you will get a wide variety of slub khaddar dresses in all bright, light, and dark hues. You can customize these dresses in any short shirt Capri, long shirt trousers, long frill frock, angrakha, and cape style dresses as per your choice. Moreover, these dresses are paired with the wool and khaddar shawls that indeed give you the casual look.

Beauty+Fashion Tips: With these printed attires try to apply the bold makeup with minimal and lightweight accessories to get the breathtaking sparkle at any seasonal celebration.
2- Three Piece Winter Embroidered Unstitched Attires
For casual get-togethers, we need some embroidered attires. Because the embroidered dresses help to enhance our look and make it a little jazzier. Hence all Pakistani fashion designers must include embroidered dresses in their seasonal collection. Ethnic by Outfitters likewise propelled the vast range of khaddar dresses with some advancements as you can see below the image gallery.
Gotta, pearl, sequins, and adda artwork are done on these ensembles. You can carry these attires at any formal, social, and wedding occasion to make all of your striking and dazzling looks. With these fancy dresses apply nude makeup, wear flat shoes and tie your hair in any style hairstyle to add extra sparkle to your look.
3- Western & Studio Collection by Ethnic by Outfitters
In the western and studio collection of Ethnic, you will get comfy winter jackets, hoodies, coats, long dresses, suits, blazers, tops, and sweaters made with soft and reliable textures. The warmth of these all indeed keeps your body warm and heat. So, whenever you go outside for any celebrations in winter, never forget to cover your body with these warm clothes.
Winter Suits, Tops and Long Shirts
In winter modern girls like to carry warm tops, suits, and long dresses for comfort. So for those ladies, these below dresses are ideal. You can carry these western style dresses at any cocktail and winter snow party by pairing them with contemporary accessories, comfy winter boots, and nude makeup.
Comfy Sweaters and Sweatshirts
Here you will get mesmerizing sweaters with appealing designs. Plus this collection comprises vivid tints that will make your winter season cozy and comfortable. With these style statement sweaters and sweatshirts, wear chunky accessories and apply bronzer makeup to make a fashion statement. Moreover, pair your sweater or sweatshirt with the comfy jeans.
Elevate your style with these trendy yet stylish jackets and coats consisting of an amazing blend of solid and brilliant shades. So, buckle up and style your favorite jackets/coats from Ethnic by Outfitters winter collection and enhance your winter wardrobe and look.
4- Winter Boutique Collection
Are you looking for some wedding and formal wear attires that are fully enriched, at that point, this boutique collection is for you. It contains the velvet, organza, and viscose dresses that are further adorned with the gotta, shimmery, sequins, adda, and thread artwork. If you are looking for luxury Pret attires, you can explore the Deepak Perwani luxury Pret collection.
For wedding wear, you need heavily furnished dresses with some advancements. Hence all of us explore many brands to pick the fitted dress to rock the wedding. So, for our ease, Ethnic brings the wedding guest dresses that are designed with all the latest fashion and trends.
Look down at the below image gallery of Ethnic that contains the short shirt Gharara, short shirt sharara, and long gown style dresses for wedding wears. All these dresses are fully adorned with brilliant artwork as you can see below. These dresses indeed renew your wedding look and make it extra glamorous. All you ought is to pair your wedding dress with the traditional gemstones and bold makeup to catch the extraordinary and charming vibe.
If you are looking for some chic and decent formal dresses then explore this catalog that offers all trendy and stylish dresses that indeed fill your heart with joy. Here you will get the kaftan, long shirt, and jacket style dresses that are further prettified with lightweight embellishments and motifs. Pick any below dress and pair it with beaded and Rakhastani accessories, striking makeup, and high heel shoes to get the gorgeous look.
Chandrika Winter Boutique Unstitched Collection
This "Chandrika" collection of Ethnic offers a timeless array of vivid shades with traditional designs in woven jacquard and velvet textures. These fantastic dresses represent feminine power that will make you feel like a Goddess. Moreover, these formal dresses are paired with organza dupattas that append more elegance and sparkle to your festive get up. You can carry these attires at any festive and wedding occasion to make all of your appealing and alluring looks.

5- Ethnic by Outfitters Pret Winter Collection
Young girls prefer to buy the pret attires for comfort. Because many of us don't want to face the difficulty of dress stitching. Nowadays finding the fittest tailor is a difficult task, so feel free and buy pret attires to save your time and energy. In this latest Ethnic by Outfitters winter collection, you will get the stunning variety of pret dresses that contains kurta, Kurti, two and three-piece dresses.
Tie and dye, vivid and brilliant shades are utilized to make this catalog. Moreover trendy and latest styles like gol gheera, cuff sleeves, and many other styles are used to adorn these pret dresses. You can carry these attires at any casual and formal gatherings to add extra glam to your look because the stitching of these dresses is just mind-blowing that indeed alter your look and make it appealing.
Casual Printed and Embroidered Shirts
If you are looking for decent yet contemporary shirts, at that point, look down. This image gallery contains the printed and sequins embroidered shirts made with the khaddar stuff. You can combine these winter kurtas with any style of the bottom to compliments your outfit. 
Fashion Tip:
For a stylish look, pair your kurta with a straight capri or jeans. 
If you are browsing for the two-piece ready-to-wear suits then have a look at the below dresses that offers all type of costumes. Strips, dotted, and tie & dye patterns are used to enrich these dresses. You can combine these suits with wool shawls or wraps for a relaxing look.
If you want to make a fashion statement this season, then look above and explore the stunning winter collection by Ethnic by Outfitters. It offers all sorts of garments for women of all ages. The prices of these attires are also mentioned for your comfort. So, rush up to your nearby store and grab some stunning articles to renovate your winter look. Moreover, it also offers an online shopping facility for its consumers.