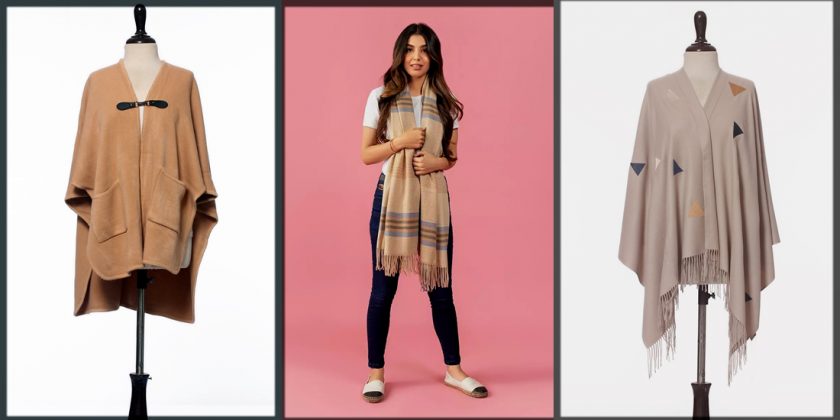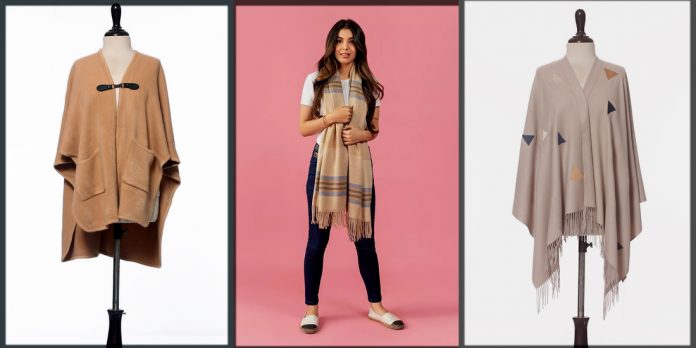 Winter is the cold season, therefore you need to cover yourself with wool shawls and wraps in order to keep yourself warm. Nowadays, everyone is looking for warm shawls so that they can keep themselves protected and safe from the cold air. Let's explore the winter shawls and wraps for women below to get the latest and trendy collection.
Nowadays, winter fashion is at the peak. Especially, teens love to wear the wraps because they not only keep them warm but also create their look more stylish and attractive. In wraps, you will get the different designs in the most splendid color combinations that will normalize your look by making it cooler.

In the past, only simple shawls were used. But with time, many new designs and patterns are introduced by the top brands of Pakistan. Because they all know that ladies love to wear stylish clothes. Therefore, they form the shawls and wraps in an elegant design. Have a look below for the collection!
Best Winter Shawls and Wraps to Keep You Hot in Extreme Cold

This winter make your look chic by preferring the stylish wraps and shawls. The top brands of Pakistan try their best to make the newest pattern shawls so that they can satisfy their customers. This winter, the following four brands present the wraps and shawls at affordable prices that everyone can easily buy:
Limelight

Gul Ahmed

Nishat Linen

Breakout
Breathtaking Breakout Winter Shawls and Wraps Collection
Breakout is the most famous and expensive Pakistani brand. It was founded in 2002. The cost of the Breakout items is a bit high, but it assures the best quality of items that will assist you in completing your dazzling look. From casual dresses to formal dresses, they have everything for everyone in their store. They provide complete satisfaction to the women in every season by presenting high-quality dresses.
It also offers winter shawls and different designs of wraps for the teens and women in splendid and attractive hues. All these warm shawls will help in making you look classy and chic. You will wrap these shawls around your shoulder and keep yourself from the cold air. Take a look below at the dazzling scarves and cape shawls collection by breakout concerning this season. Further, visit the latest winter sweaters collection for more warm variety.

Dazzling Breakout Winter Shawls
Look at these lovely winter warm shawls that will help you to keep your body warm. They have various splendid designs in the winter scarves. The first one is nicely decorated with the flower thread work. While the second one has an ombre effect that makes it more unique. Pick any shawl from the Breakout store and wrap it around your shoulder to get a superb look.
Noteworthy Breakout Winter Wraps with Faux Fur

The cape shawls, poncho, and sweatshirts are in trend these days. Therefore, every brand introduces the cape shawls and poncho in their latest winter collection. Look how beautifully Breakout adorns the cape shawl with the fur that makes it more stunning. If you are going for the winter, then the cape shawl is the best choice to wrap around your torso.
Classy Limelight Winter Outerwear Collection
Limelight is a famous ladies' brand that brings the most modest and stylish clothes for women every season. So, they can make their look fashionable and appealing. Like other brands, it also offers the most alluring cape shawls, scarves, and poncho in the most amazing hues as you can see below. The prices of these winter scarves are very affordable which everyone can easily buy. For more stunning and soft clothes visit the Limelight winter collection.
Beautiful Limelight Shawls
This season, Limelight offers the plain-woven, patterned, checkered, and striped shawls in grey tones. These classy designs of the shawls will help you to make your display more fantastic and more compelling. You can carry these scarves with your two or three-piece suit and also with the jeans top. Moreover, check out the Maria B wool shawl dresses for more variety.
Remarkable Wraps and Poncho Collection
Nowadays the ladies' priority is the poncho and cape shawl because it helps to make them look more noteworthy and awe-inspiring. If you want to make your look stylish at that point, combine your poncho with the top jeans in contrast for intercepting the casual look. Pair it with the two or three-piece suit as well. For the more lavish two or three-piece suits, explore the Beechtree winter collection.
Beautiful Nishat Linen Warm Shawls and Wraps

Nishat is the most well-known brand in Pakistan. It was established in 1951. From 1951 to till this day it offers the most stunning and dazzling dresses every season. This winter it also offers a wide variety of clothes and shawls. They provide breathtaking scarves and poncho in the most lovely colors.
The prices of these ponchos and scarves are reasonable which you can easily get. Hence, rush up and get your preferred item before the stock ends. They used high-quality material for making their scarves, poncho, and cape shawls. So, their items are trustworthy to purchase.
Appealing Nishat Linen Shawls

Take a look at the Nishat shawls collection that is beautifully adorned with the flower and stripe pattern. You can carry these shawls with the Khaki pants and top. Further, do your natural makeup and have a lovely and appealing look.
Attractive Winter Wraps for Teens
Look at the following modern wraps by Nishat that will help you to make all of your dazzling and striking looks. You can combine these wraps with natural makeup to get the perfect and classy look. Further, visit the wide variety of Nishat Linen that has the most awesome suits that you can pair with these wraps to look outstanding.
Astounding Gul Ahmed Winter Outerwear Collection
Gul Ahmed is another notable brand that provides chic and reliable clothes. They use good quality material for making their seasonal clothes and sweaters. That's the reason 99% of people favour the Gul Ahmed brand. You will get a wide variety of trench coats, sweaters, blazers, cape shawls, ponchos, and scarves in a winter collection of the Gul Ahmed.
Gul Ahmed is offering every kind of sweaters and scarves so choose anyone according to your taste and demand. Have a look below to check the stunning and latest winter collection by Gul Ahmed that will help you to make you look more charming.
Good-Looking Gul Ahmed Plain Scarfs
Most teens prefer carrying plain scarves rather than embroidered ones because they want to keep their look striking and decent. All you need is to wear your plain or printed dress and wrap a plain scarf around your neck to get the wonderful and awe-inspiring look.
Striking Printed Wraps for Women
If you want to modify your boring look at that point pick the checkered or printed woven scarf by Gul Ahmed. These glammy printed scarves encourage you to make your look more cool and beautiful. Combine these chic shawls with your lovely winter outfit to beat the winter in style.
All these brands also manage the seasonal sale for the competence and ease of their clients. Hence, hurry up and buy your favorite shawl or wrap as per your choice. The prices of these scarves & wraps are also mentioned for your ease so that you can buy any preferred item according to your budget.