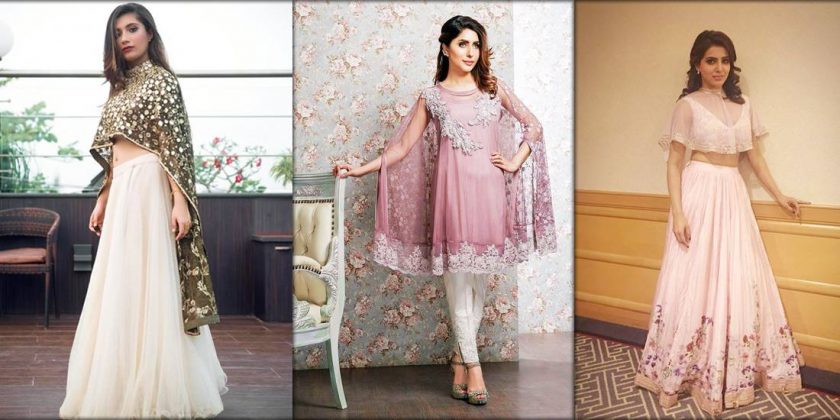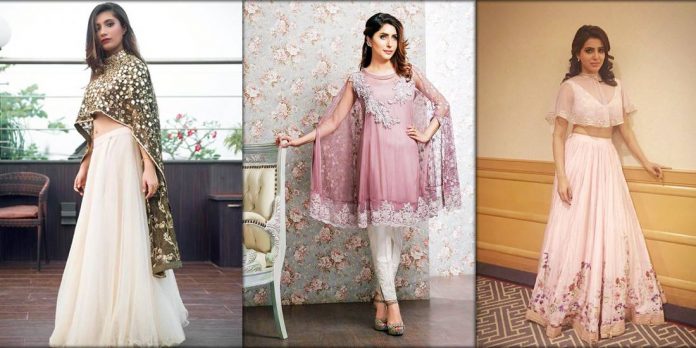 Pakistan is a Muslim country. Pakistani girls always love to look up-to-date but also never lose their cultural ethics. Therefore, Pakistani girls always follow those trends that look decent and sophisticated. Pakistani cape style dresses is one of those worthy trends.
Cape style dress is the historical outfit for girls because it includes extra cape-like garment that enhances ethnicity and style. The origin of this style was in the nineteenth century by the Mennonite women. Later on, because of its historical association, it became a part of girls' fashion.
Nowadays, this style has become famous for girls of every age group. Brides also prefer to wear cape style dresses on their special days, and baby girls also demand to wear such trendy clothing.

Pakistani Cape Style Dresses – Casual and Formal Wear Collection

The awareness of cape style dresses is increasing day by day. Some years back, it was not common in Pakistani girls. However, now capes are everywhere. Wearing Pakistani cape style dresses has become a versatile trend that one can make over a gown dress, a straight-shirt, and even bridal wear.
Casual Cape Style Dresses
Girls follow trends casually as well as occasionally. However, a cape is a style that one can wear casually and formally both. In Pakistan, the most common wear costume by girls is the shalwar kameez. However, Pakistani girls always look for the new style of shalwar kameez. Moreover, this cape-style sleeved straight-shirt looks elegant with Capri's tulip style, which has a fantastic embellishment with delicate pearls.
However, there is a trend of wearing a new cape-like garment over kameez. These contrasting cape-garments looks incredibly beautiful on shirts because of their fabric and lovely embroidery.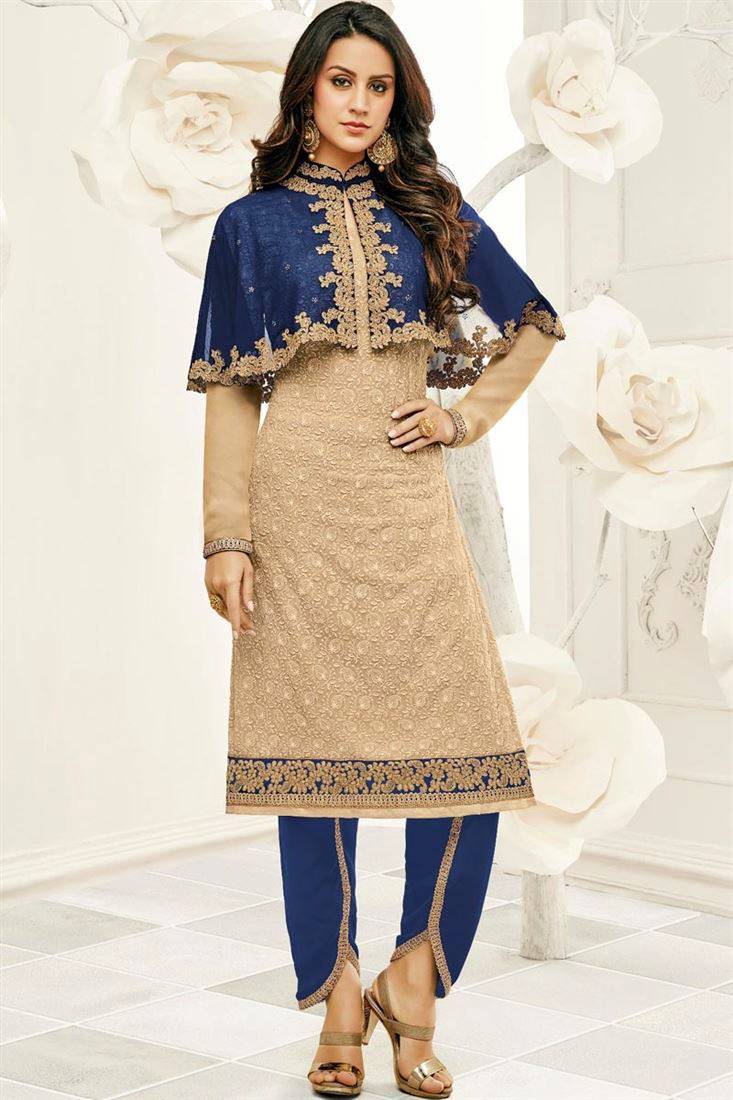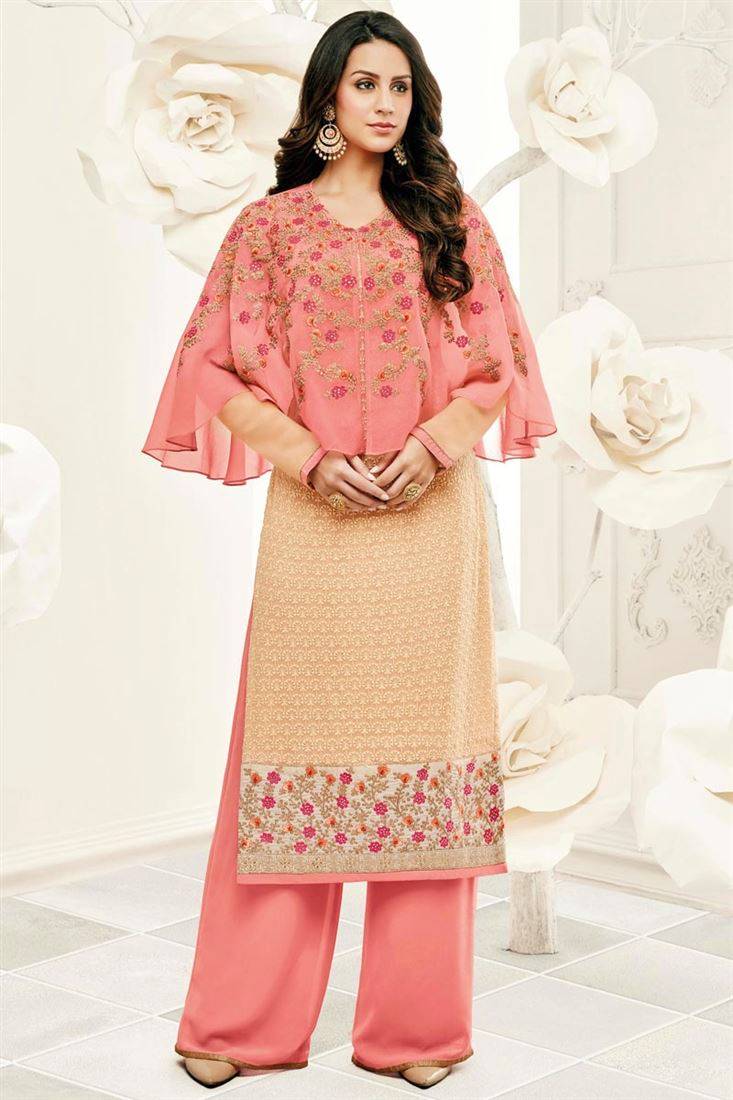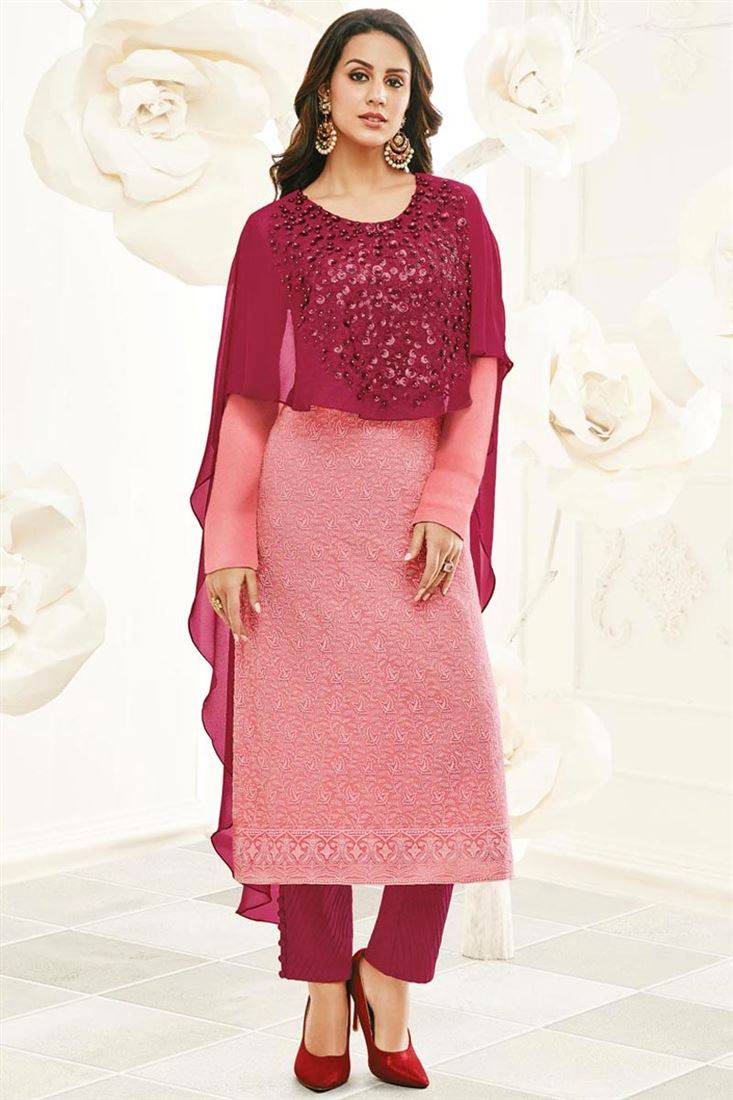 Cape Style Party wear Costumes

Girls are always searching for some unique and sophisticated style dresses that they can wear on parties and other occasions. However, cape-style dresses are unique designs that girls wish to wear at parties. Moreover, check out similar jacket style dresses as well.

Long Frocks and Maxis with Cape
Different party wear frock dresses are trending in Pakistan. These include Angrakha style frocks, Indian Anarkali frocks, long maxis and many more. However, now cape is also trending, and many girls love to wear this outfit to look dazzling and stylish.
Besides, there are two types of capes. Some girls prefer net-embroidered capes to get a slaying outlook while some prefer, short to look smart and modern. However, both are trending as party wear costumes for girls.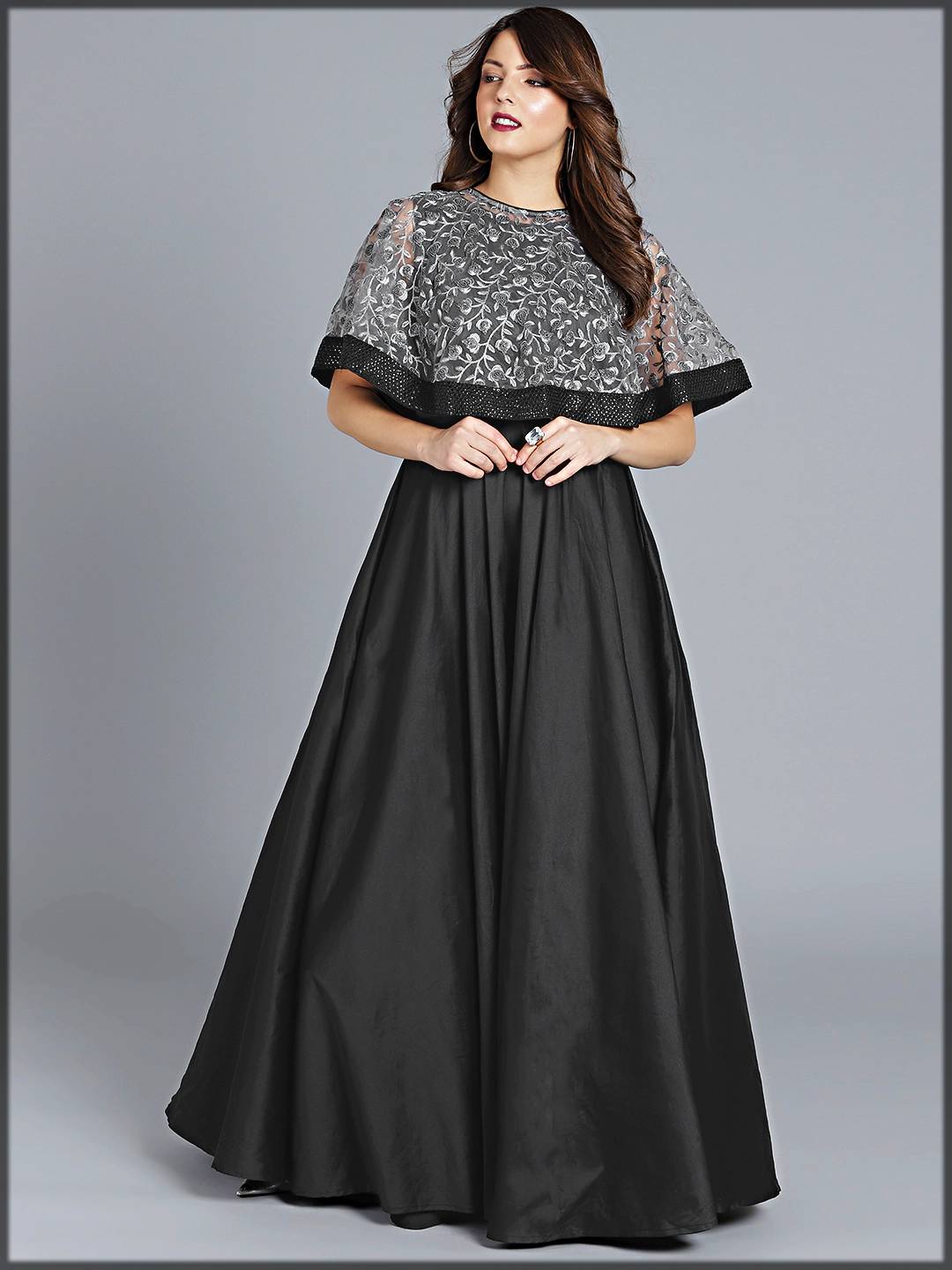 Also, capes are of different fabrics. The most common stuff is the net. Therefore, this long cape of net material looks beautiful on a black long maxi. Also, the embroidery work on the net and the overall black combination makes it a perfect costume for girls to wear on parties.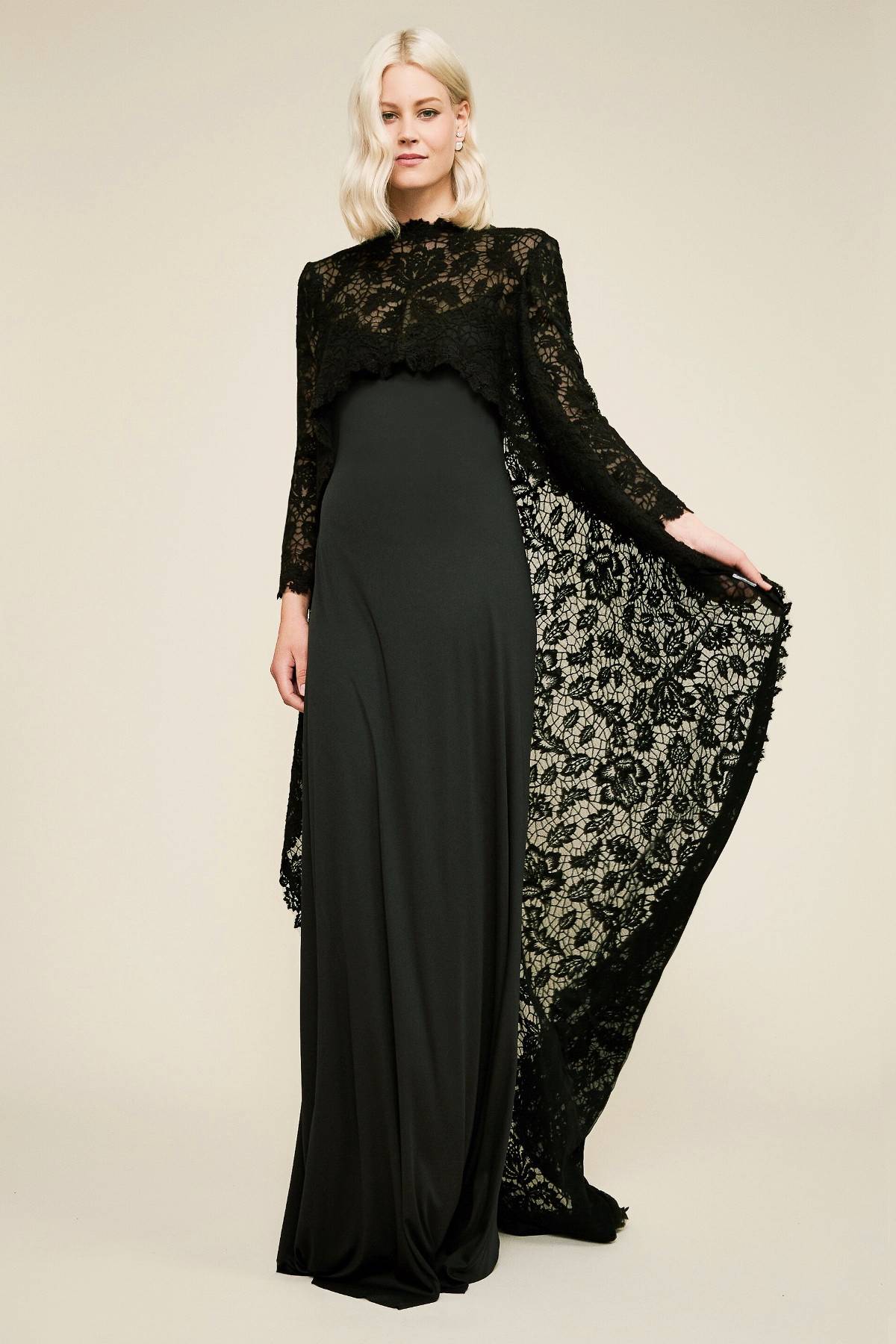 On the other hand, short capes look much stylish and smart when girls attach it with long robes. Because wearing capes makes an extra frill up to the belly. Moreover, girls feel comfortable in this fashion as it protects from body exposure.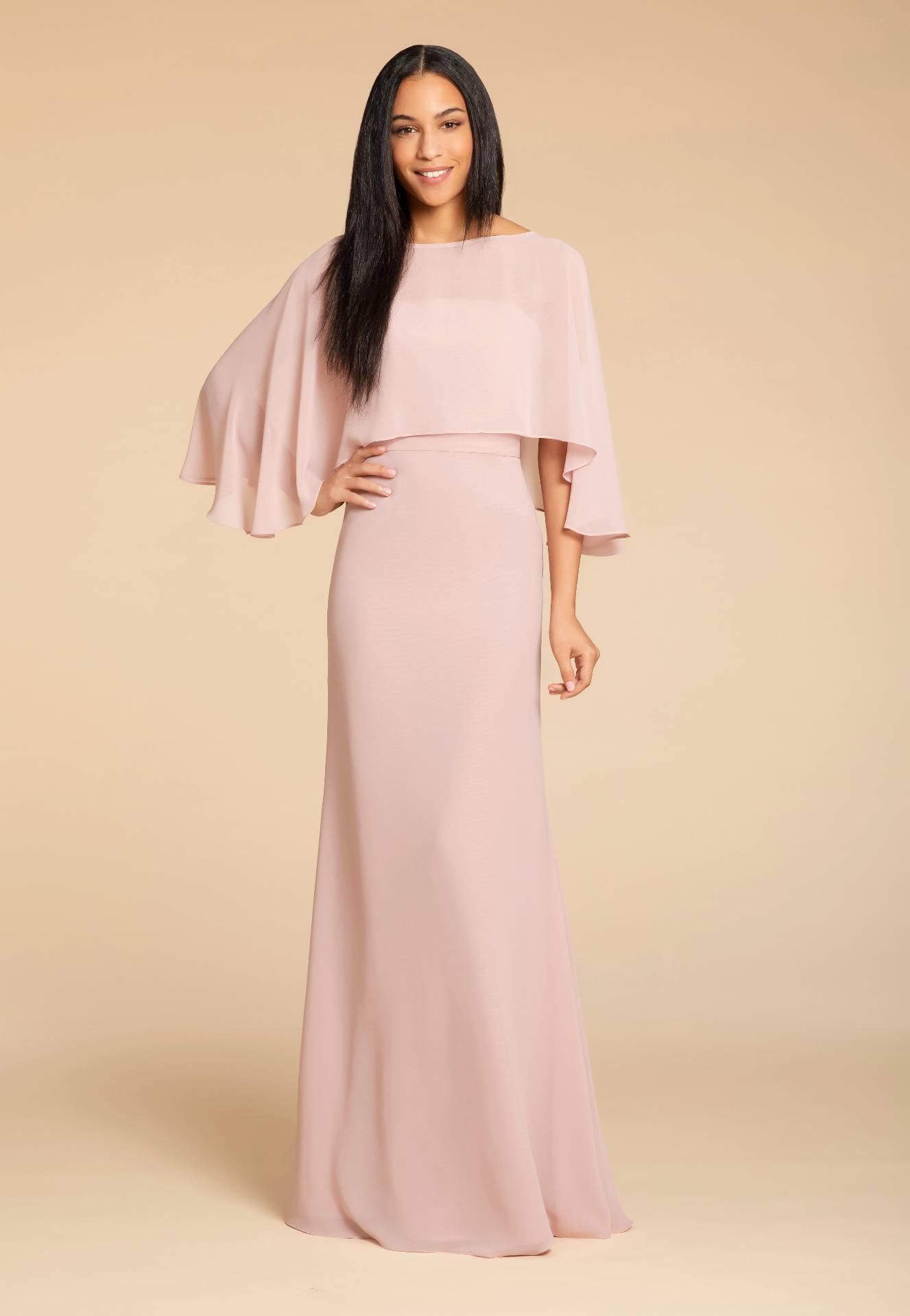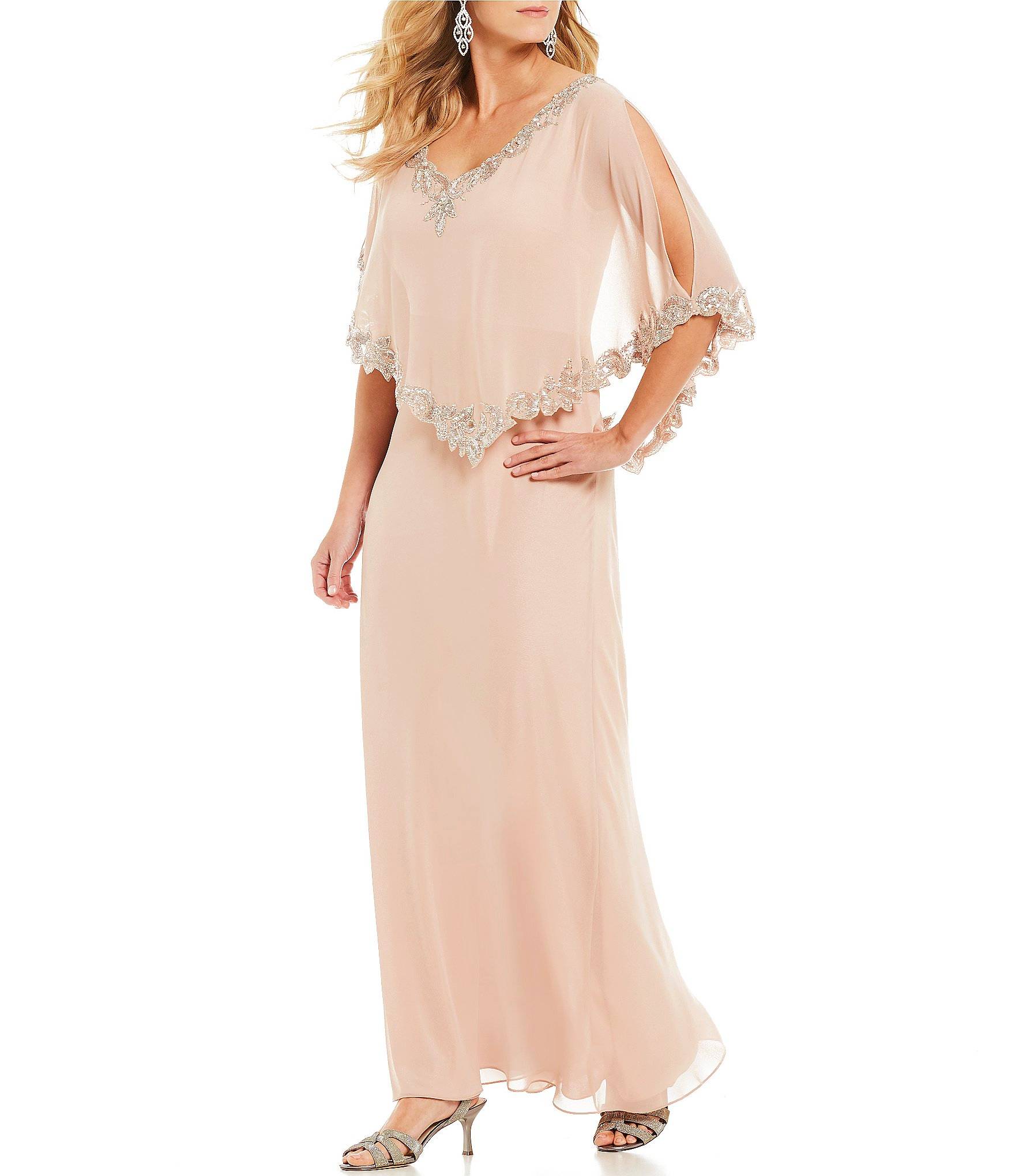 Frock is the most common wear costume on parties and other special occasions. However, wearing a different and stylish design dress is what every girl demands. Besides, this cape-style Indian Anarkali frock is very precious for girls to wear because of its delicate flare and exclusive golden color embroidery on the cape and the bottom of the gown.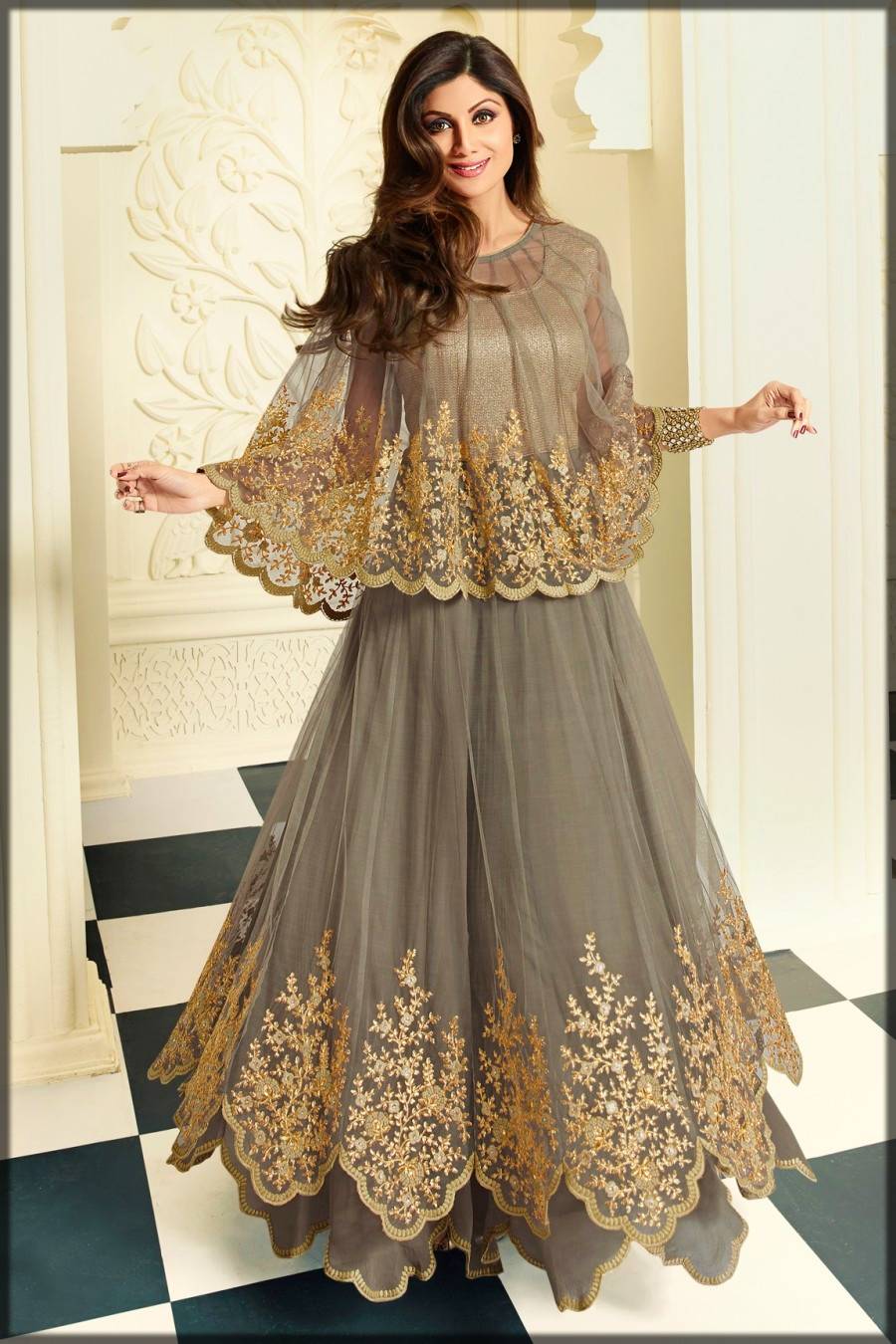 Saree is one of the lovely dresses that many girls wish to wear. However, the unique saree designs make them more special for girls. Nevertheless, the cape on saree looks incredible and stunning.

A fishtail dress looks stylish and jazzy when a girl carries it properly. However, a fishtail with a new cape over it will look more modish. Nowadays, this is a very considerable and preferable party-wear dress for young ladies.
Latest Bridal Cape Style Dresses for Wedding

Subsequently, the capes are also now entering the bridal outfits. Wearing Pakistani cape style dresses at weddings enhances the trendy looks. However, wearing a stylish lehenga with shawl-style choli will look exceptionally fabulous and fashionable. Those girls who desperately follow the trends will go for this outfit on their special wedding day.
Fashionable Dress for Mayun Bride
Nowadays, Pakistani families celebrate a special ceremony for a wedding that is Mayun. However, the Mayun bride has to wear something in yellow or other light mehndi colors. Therefore, this cloak style lehenga choli will be a viable option for Mayun bride to look fancy and beautiful.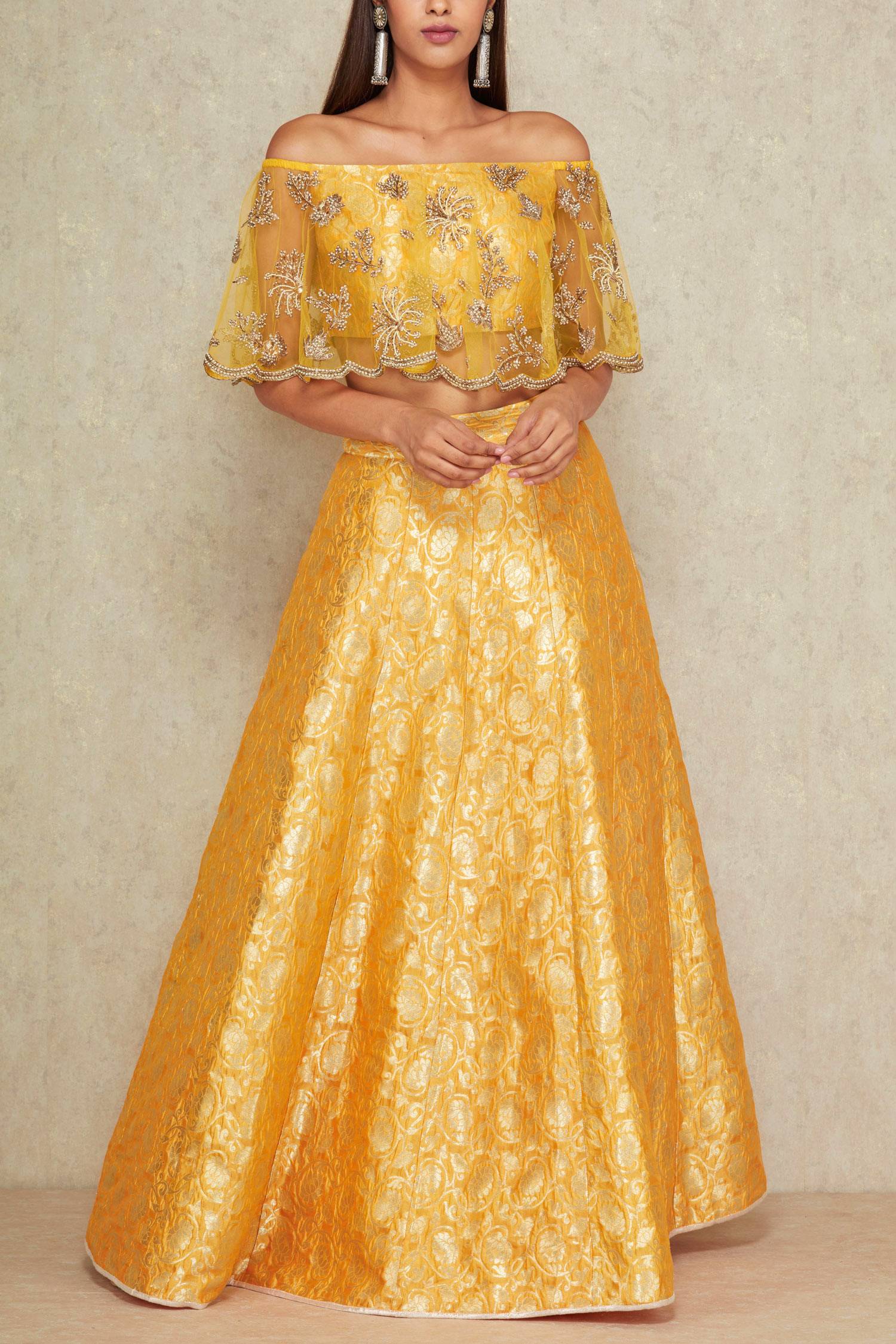 Trendy Dress for Mehndi Bride
Mehndi is the first day of the wedding. However, girls mostly wear lehenga choli or other traditional costumes to follow their culture while sustaining the trend. Moreover, wearing sleeveless mehndi dresses is common in Pakistan, especially in brides. Therefore, this sleeveless shawl-style blouse with lehnga will look fabulous when a mehndi bride wears it.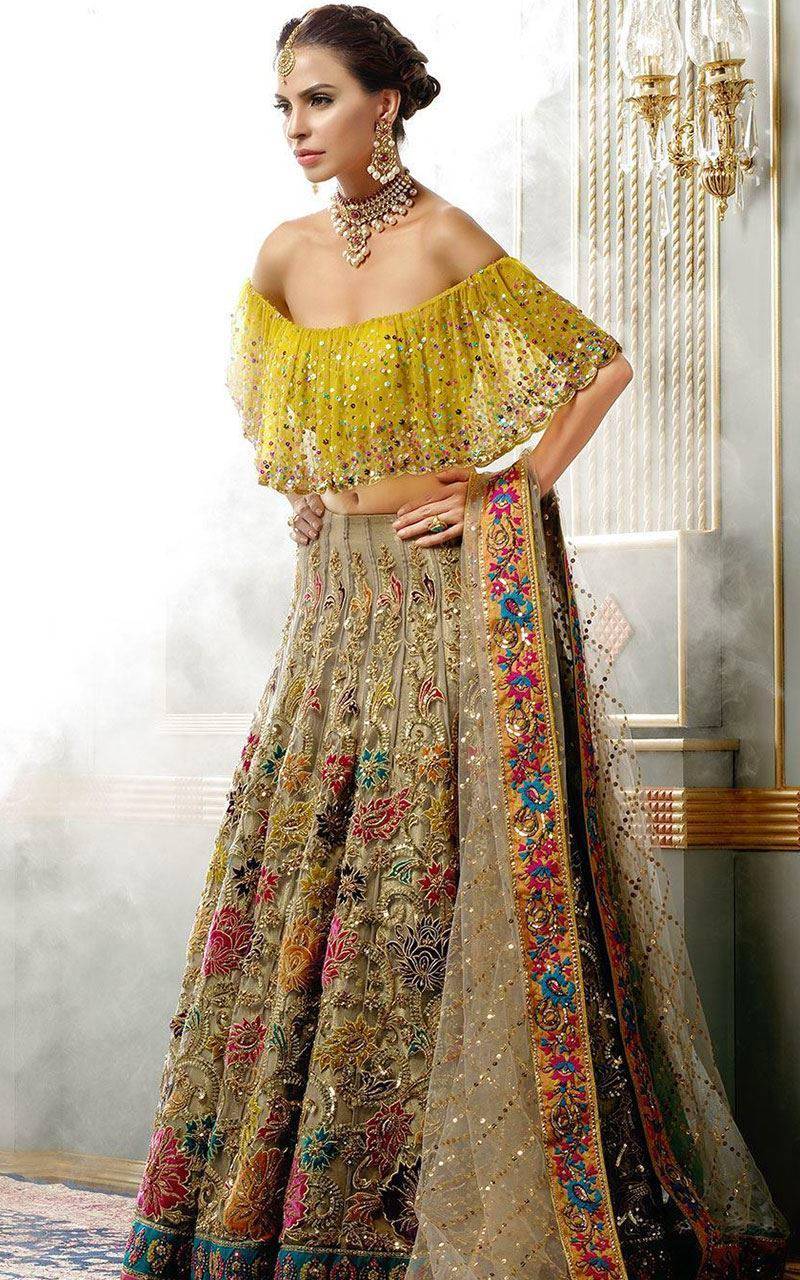 Amazing Designs for Barat Bride
Barat is the most special day in every girl's life. Every girl wishes to slay differently on that day. However, these distinctive and trendy bridal barat dresses will help girls to achieve their goals.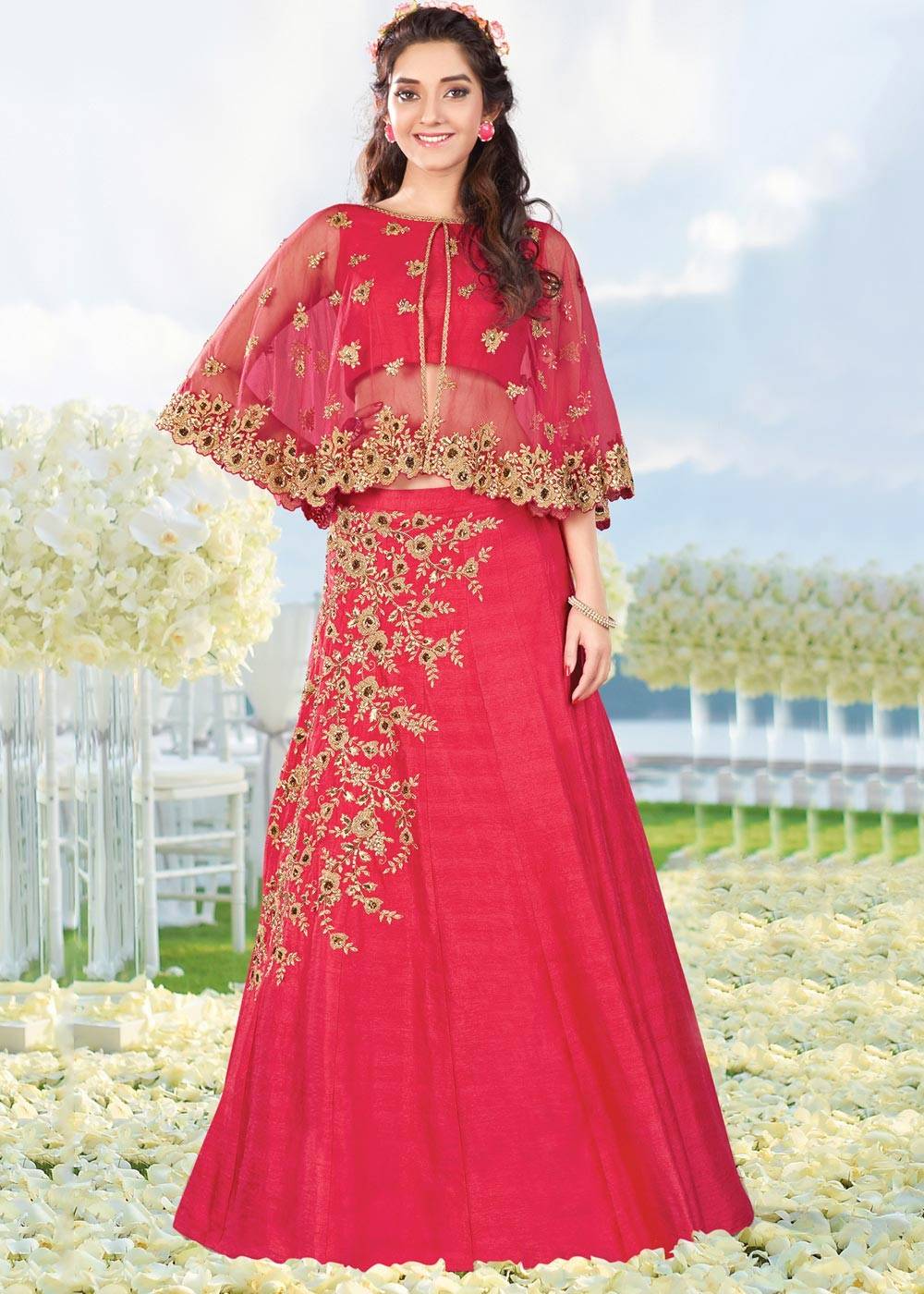 Moreover, this sleeveless western-style bridal lehenga is now conventional in Pakistan because girls nowadays like to mix the eastern culture with western. As this dress is the combination of both cultures, this would be in a demanding list of many girls.

Stylish Abayas with Capes for Women

In Pakistan, many girls like to obscure themselves. Therefore, here are some stylish abayas with extra frill or layer for girls who wear abayas but also love to look trendy. However, this extra layer prevents girls from insecurities like setting hijab properly, and to wearing dark colors, etc.
Moreover, there are different styles of capes for abayas too. This cross-style layer on the latest abaya design looks smart and stunning. Therefore, it fulfills the desires of many girls who love to want a trendy look but wear abayas.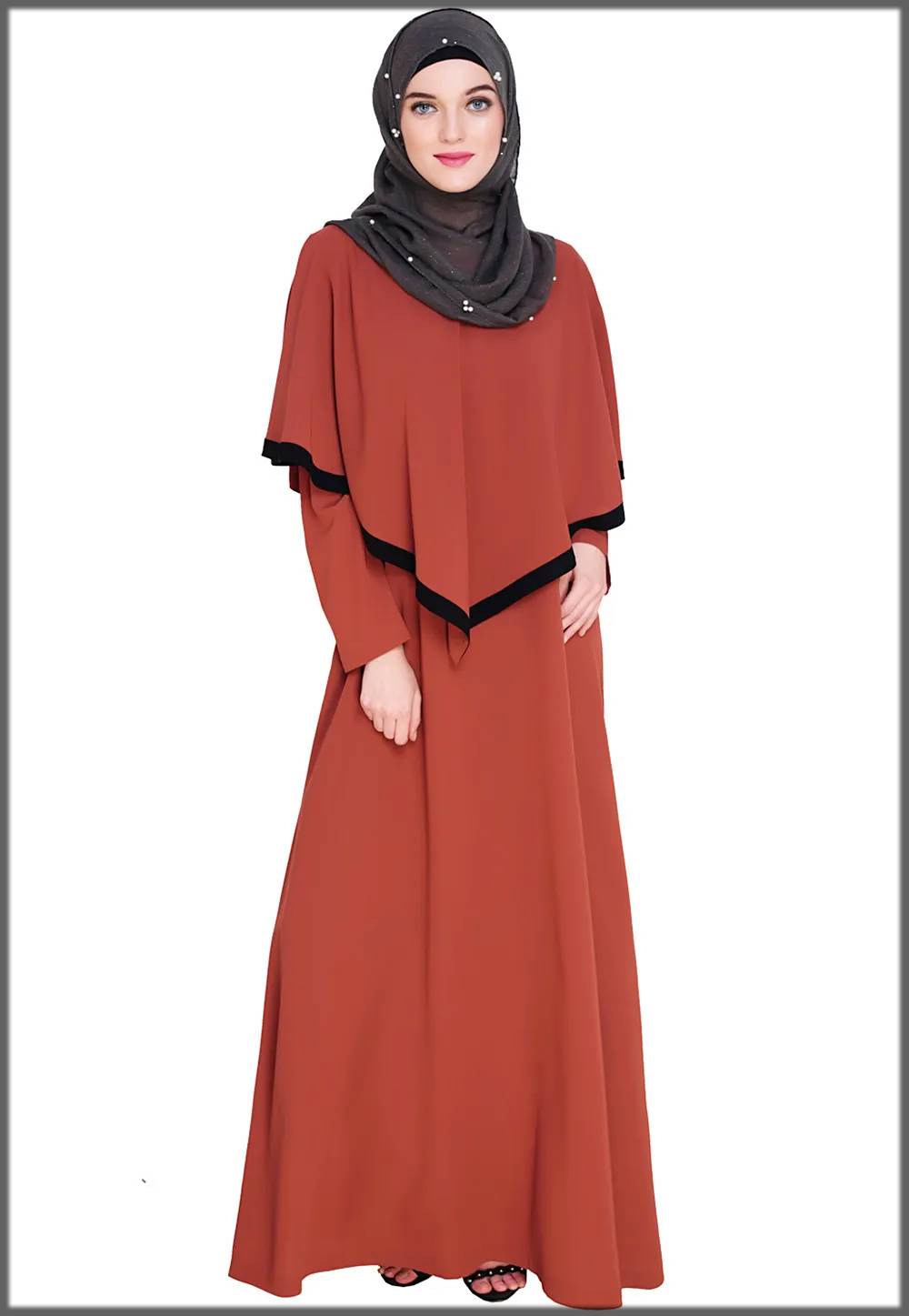 Western Cape Style Dresses for Modern Girls

Capes are also very famous in western dresses. It adds style to the personality when a girl wears it. However, western girls are always confident in wearing modern and updated clothes. Therefore, these designs are an easy task for them to carry.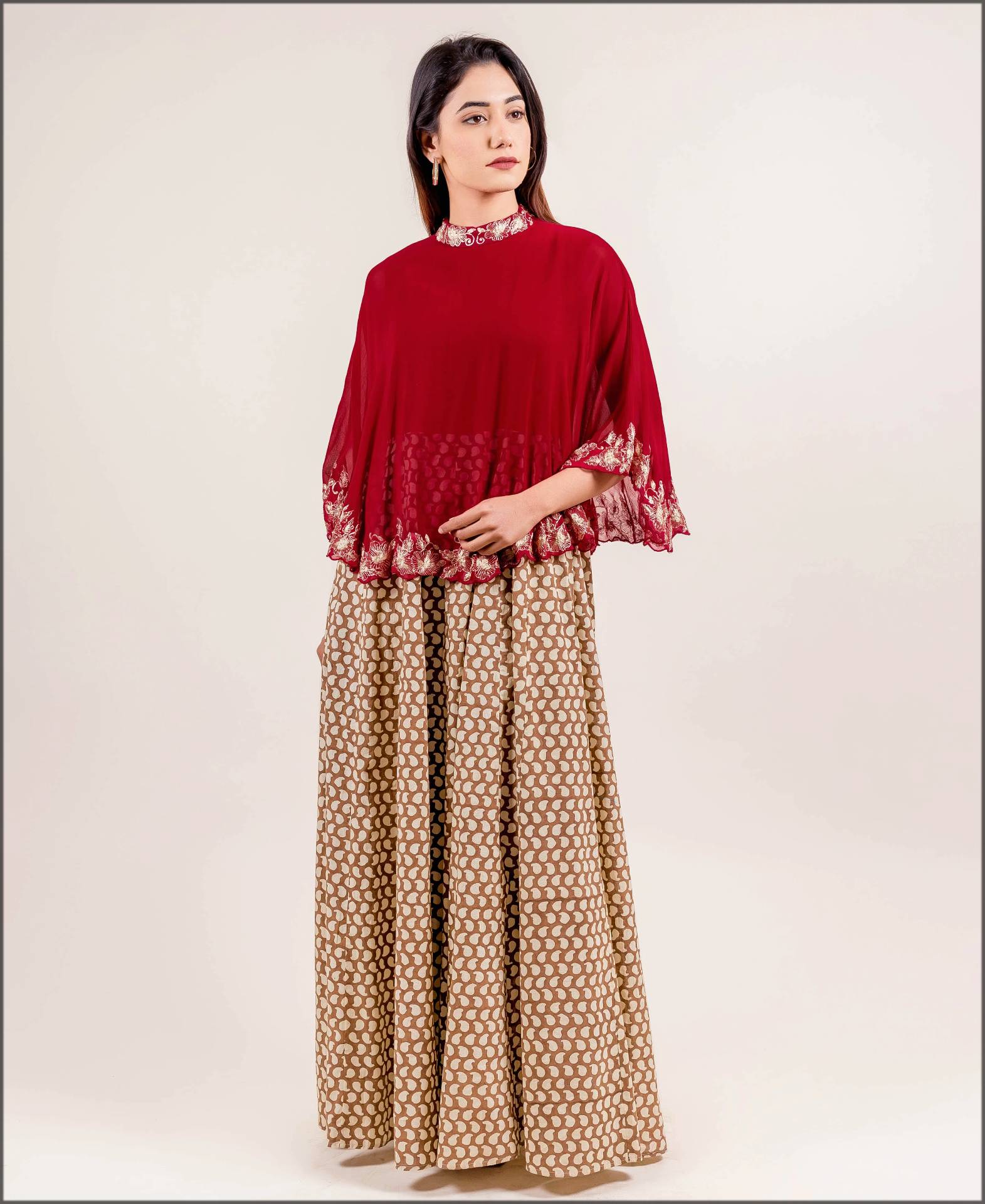 Slaying Western Style Long Cape Outfit

Wearing a long cape of net fabric with plain trouser-shirt enhances the style to the personality. However, the long wraps over the trouser-shirt look stunning from the back. To complete the endmost look, all a girl needs to do is wear smart shoes and make a perfect trendy hairstyle.

Stunning Western Style Short Cape Outfit

To look jazzier and smart, one can wear an extra piece of cloth over trouser-shirt. However, it protects the body's exposure if the inner is sleeveless and gives an extraordinary look. Furthermore, to enhance the glazing looks, one can wear the Stylo shoes and make perfect short hairstyle to look smart and dazzling.

Beautiful Cape Style Dresses for Little Girls and Kids

Nowadays, baby girls also demand to wear trending and up-to-date costumes. Moreover, the capes look cute on baby girls, preferably with a frock or a shirt. This long silk cape-frock with beautiful embroidery will be the most loving dress for a baby girl to wear on special occasions like Eid, Birthdays, etc.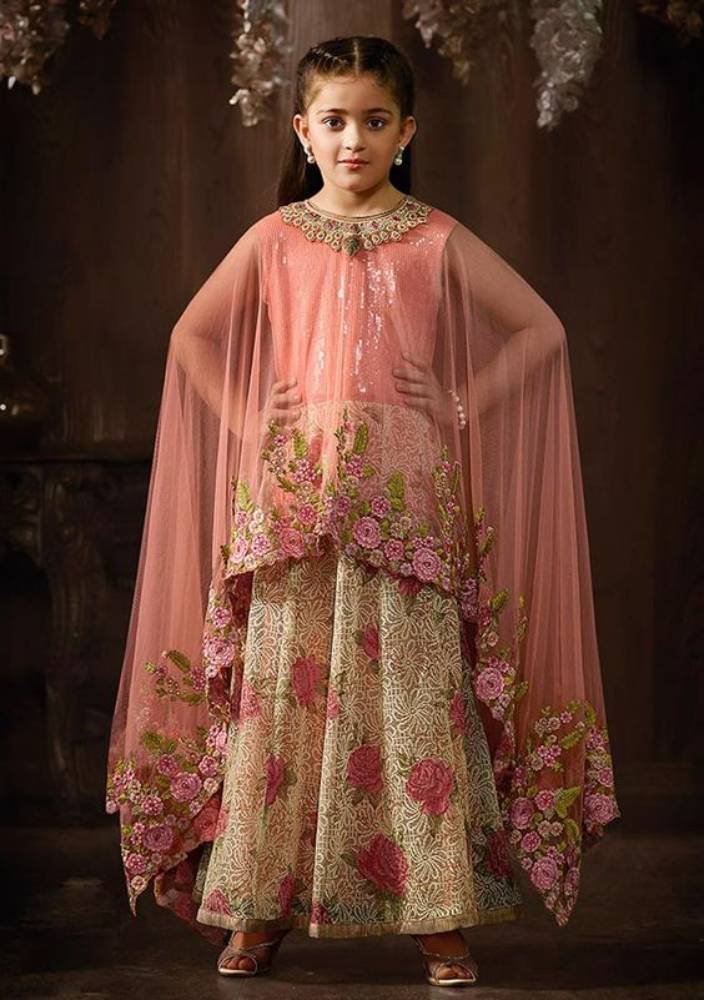 Similarly, wearing a ban-cape of perfect contrast over a jamawar frock will also increase the baby girl's cuteness when she wears it.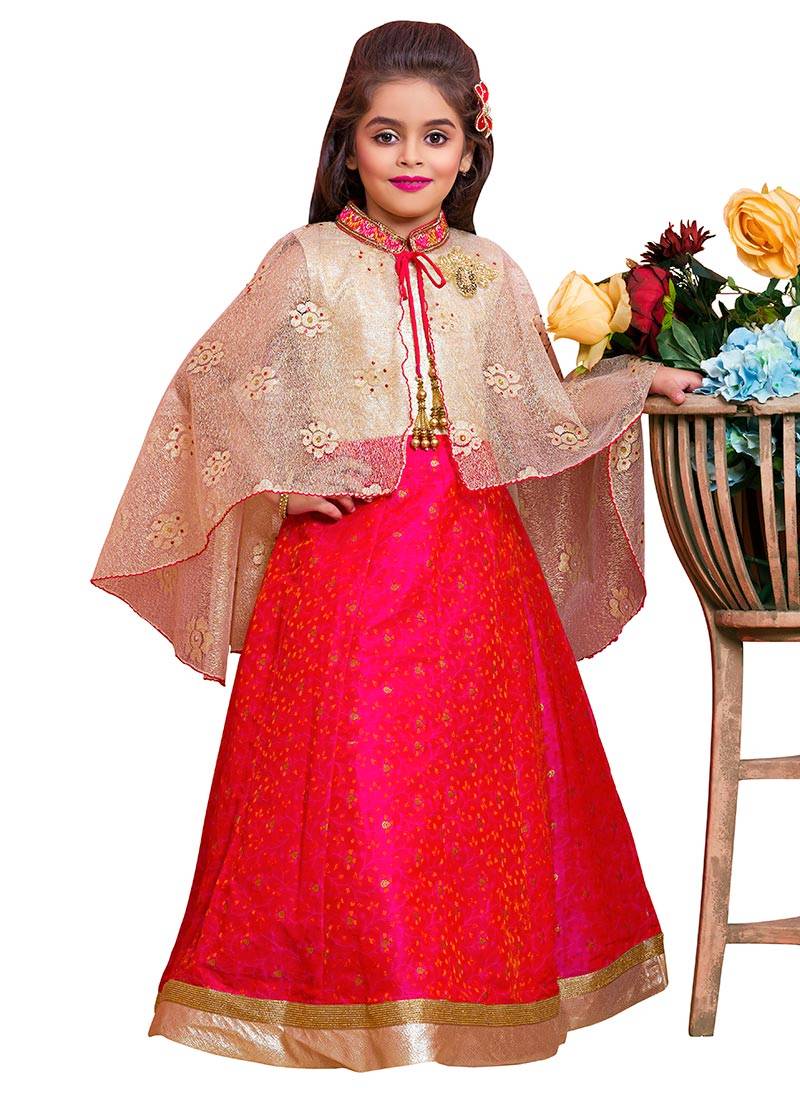 On the whole, capes are the designs that one can wear on any occasion, whether casual or formal. Moreover, it not only helps look trendy, but it also makes the dress more comfortable and stylish. In Pakistan, this trend also helps those girls who wear abayas.