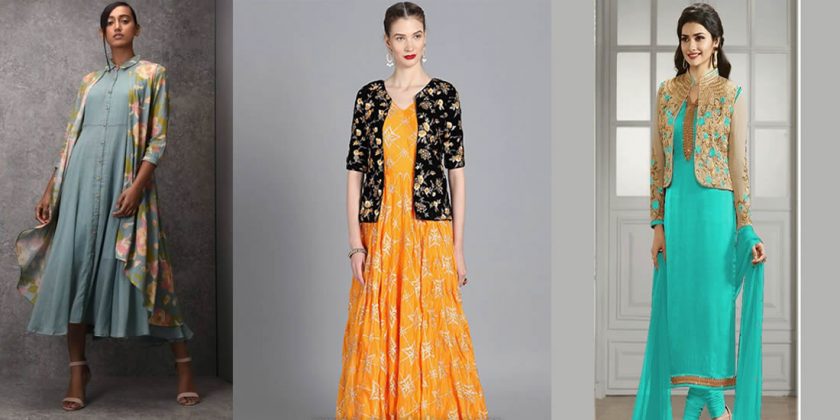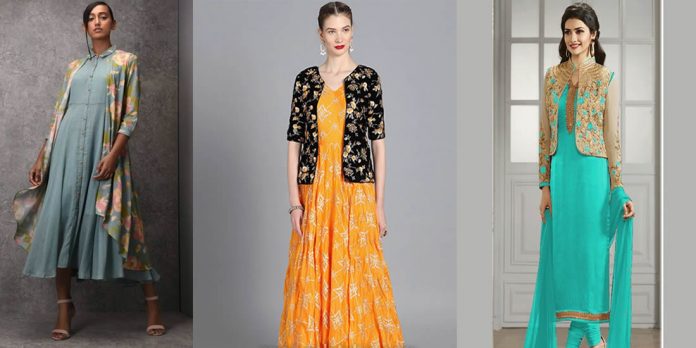 In this era, young girls are so desperate to adopt stylish and trendy looks. However, they need uniquely designed outfits to look differently attractive. Nowadays, Jacket Style Dresses are ubiquitous in the whole world. Apart from having different cultures, maximum women have the same level of satisfaction for this outfit.
Jacket style dresses can be of different designs. The jacket designs are a very different style which any culture can adopt. However, this would not hurt any person's cultural heritage. This is just an additional piece of cloth that enhances ethnicity and style.
In Pakistan, women can make jacket style shalwar kameez. Moreover, modern girls can design frocks or maxis of such designs and so on. Therefore, one can add style to the traditional outfit without harming the tradition.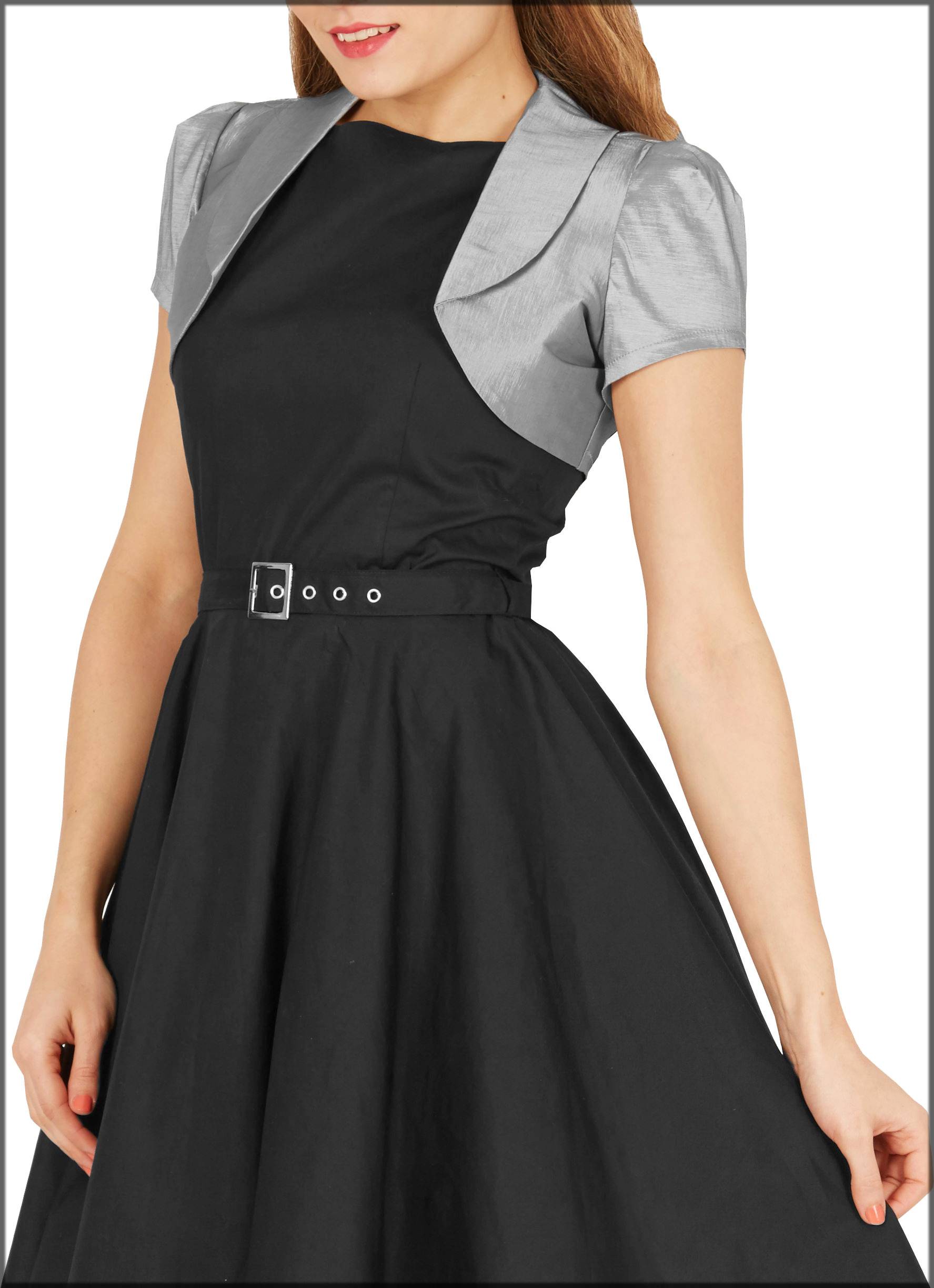 Indian and Pakistani Jacket Style Dresses for Women and Kids

Jacket style is the outfit that one can carry as a casual dressing as well as formal dressing. Nowadays, the demand for this style is increasing, and so are the designs. This fashion can be worn as:
Jacket design frocks

Shalwar kameez with jacket design

Lehenga with jacket

Jacket style outfits for parties

Casual jacket style designs

Fancy jacket style dresses
Party-wear Jacket Style Frock Dresses
Jacket-frock design is very conventional in party-wear dresses. However, girls feel comfortable in long dresses and maxis. Therefore, this design will look gorgeous with long skirts too.
Jacket Style Short Frocks
Firstly, short frocks look much stylish on women. Secondly, wearing a jacket with frock makes the outlook more stylish. However, girls always love to follow the trend. Therefore, the short gowns with jackets will be the demand of many girls.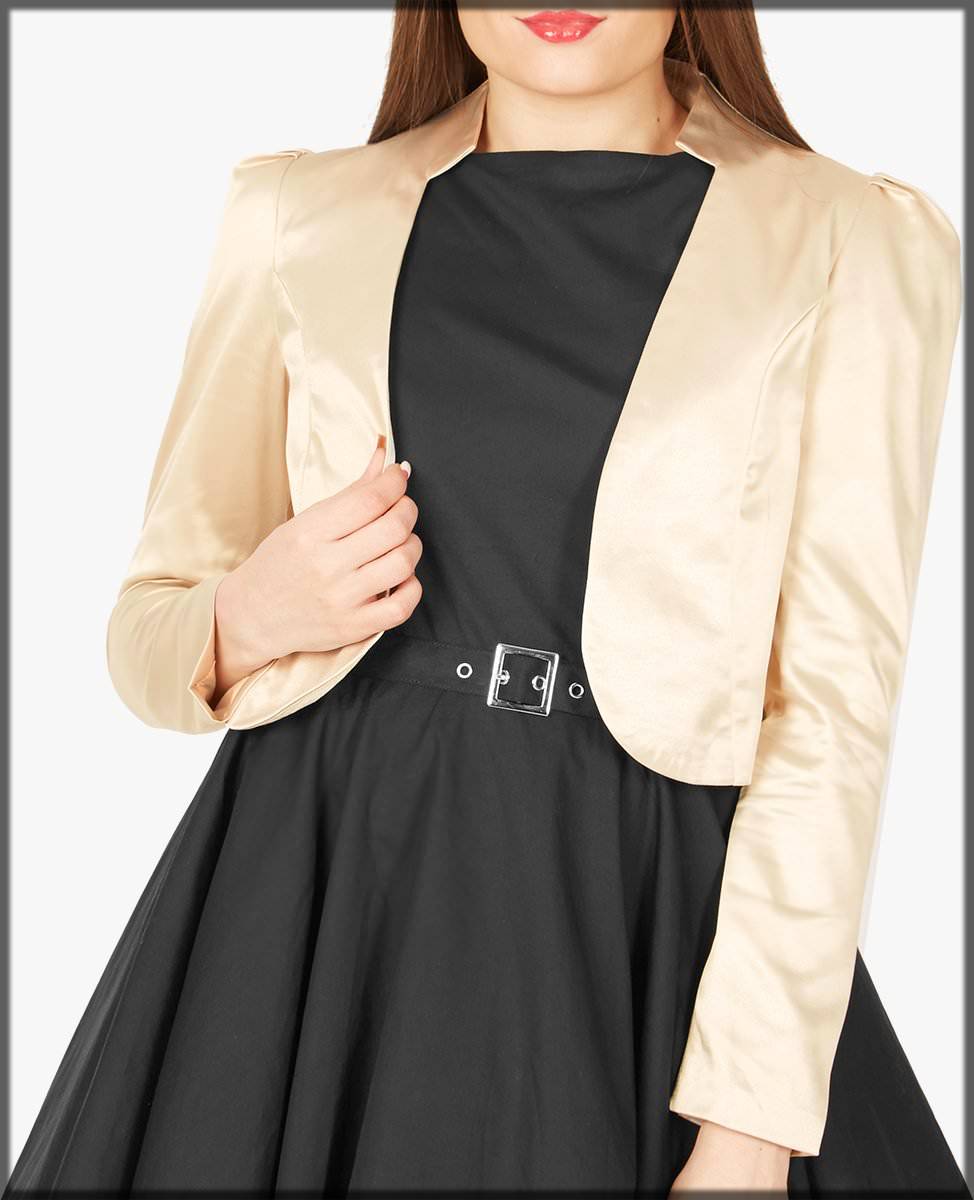 Long Frock with Short Outerwear
This short outerwear on a mustard yellow dress looks fantastic and smart. The jacket is printed in green and mustard color design. The girl will slay in this outfit with simple summer makeup. Moreover, making a perfect hairstyle will make the endmost look gorgeous.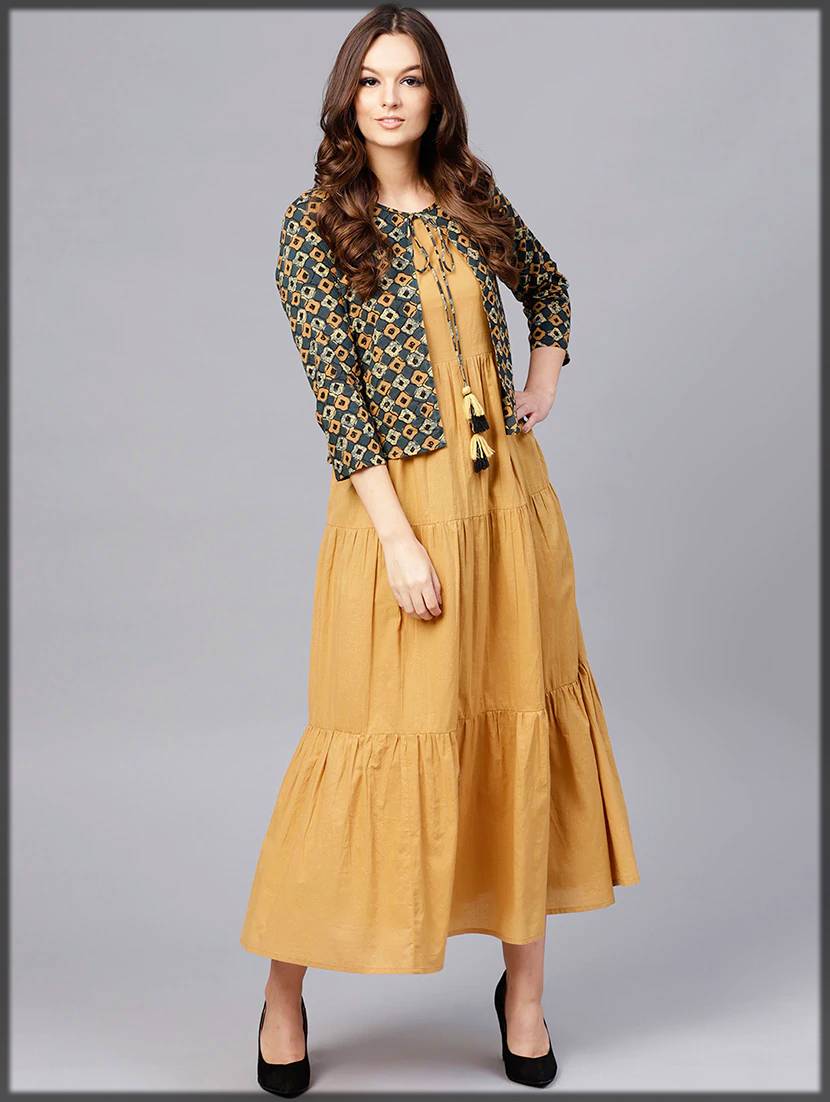 Long Frock with Long Jacket
This long gown type frock is in royal blue color. However, wearing a long jacket with suitable contrast will end up with a pretty look, any girl can wish to have this.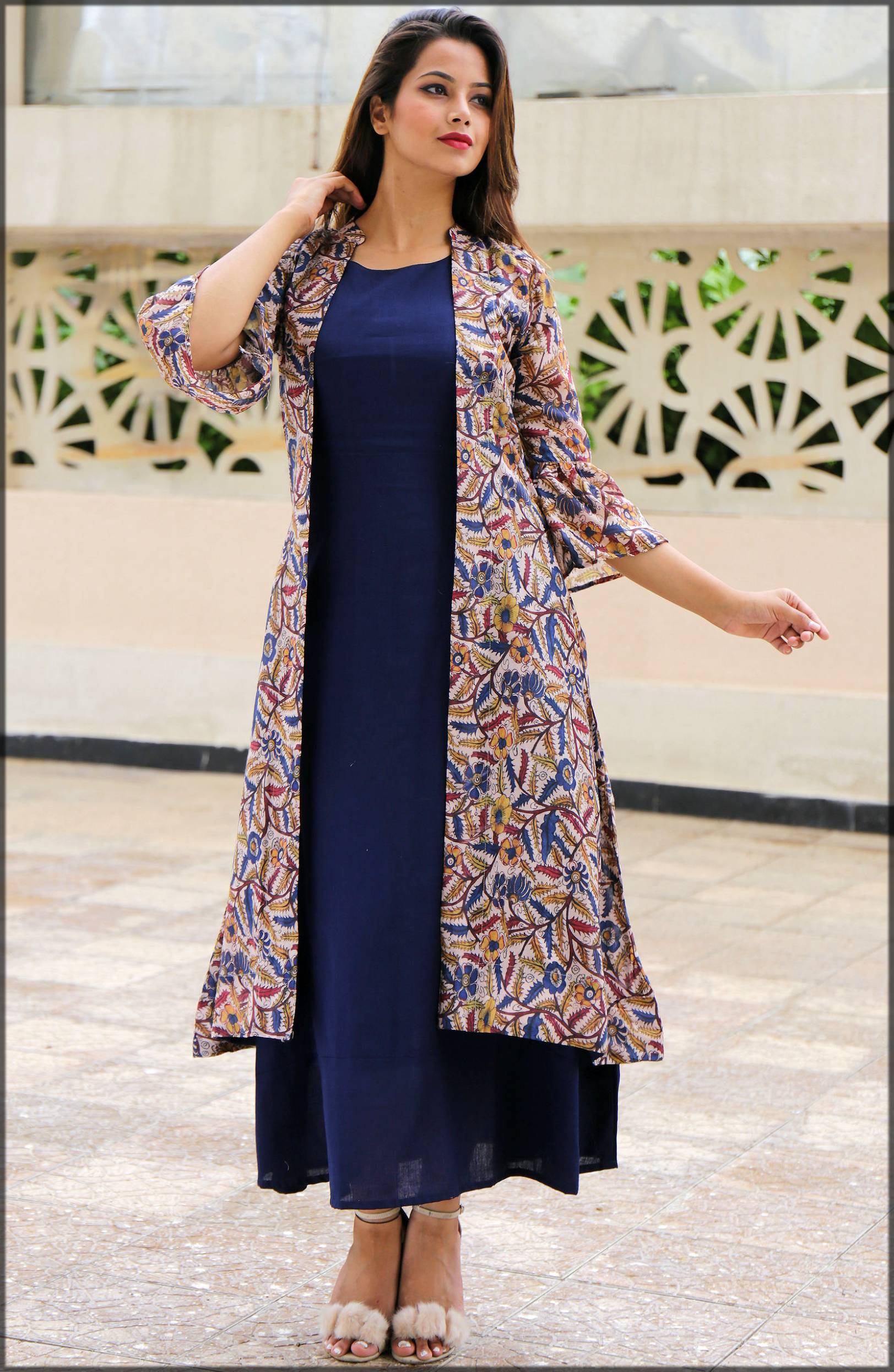 Wearing a long robe with a big flare and short contrasting outerwear will make the ultimate look decent and sophisticated. Girls can wear such type of trendy dresses on occasions like Eid, formal parties, and many more.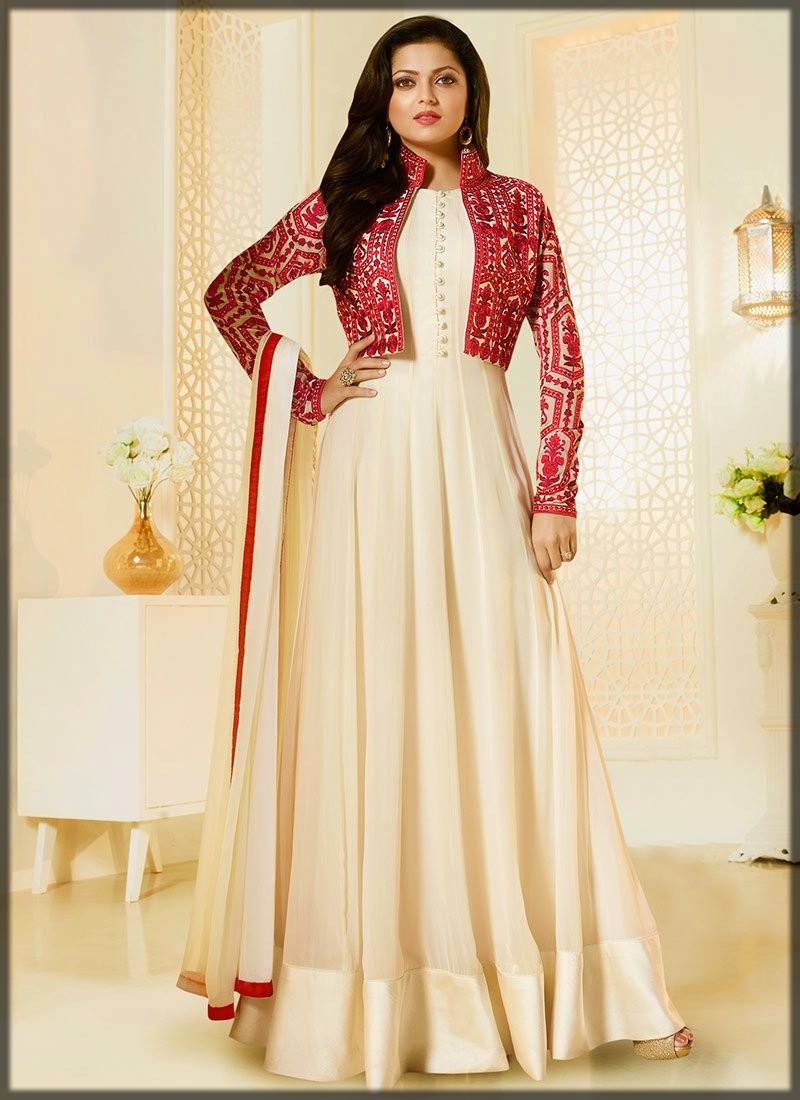 Fancy Frocks with Stunning Jackets
Long robes are the most common fancy wear dresses for girls. However, there is an excellent variety of styles and designs of gowns that girls love to wear. These may include Anarkali frocks, Angrakha dresses, and many more. Moreover, the jacket designs are also very much in fashion.

Fancy Frocks with Long Outerwear
Long dresses with long outerwear look very elegant. However, one can furnish a complete fancy look by adding perfect jewelry and applying awesome makeup. Moreover, making messy-buns or other long-hair hairstyles will complete the ultimate elegant look.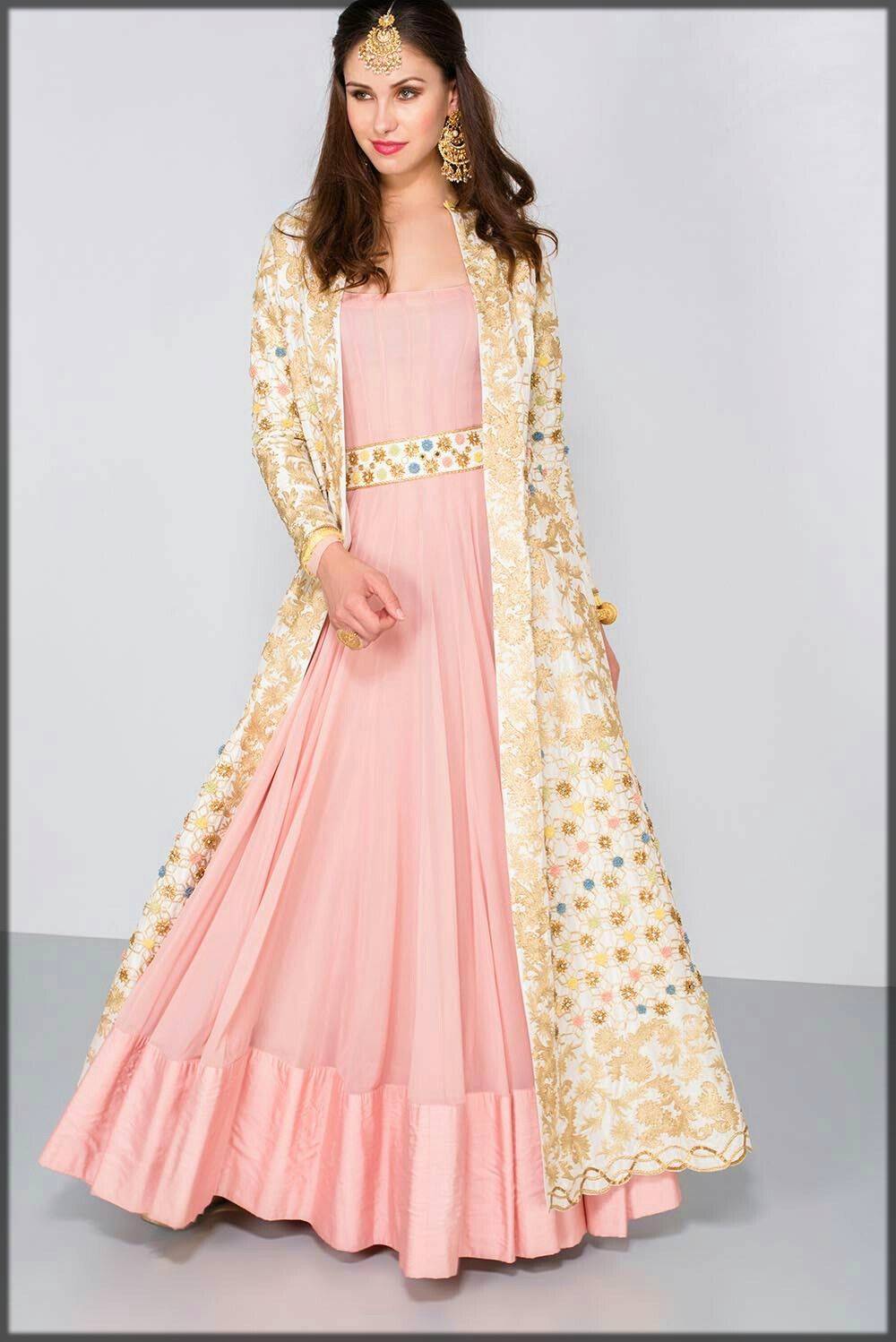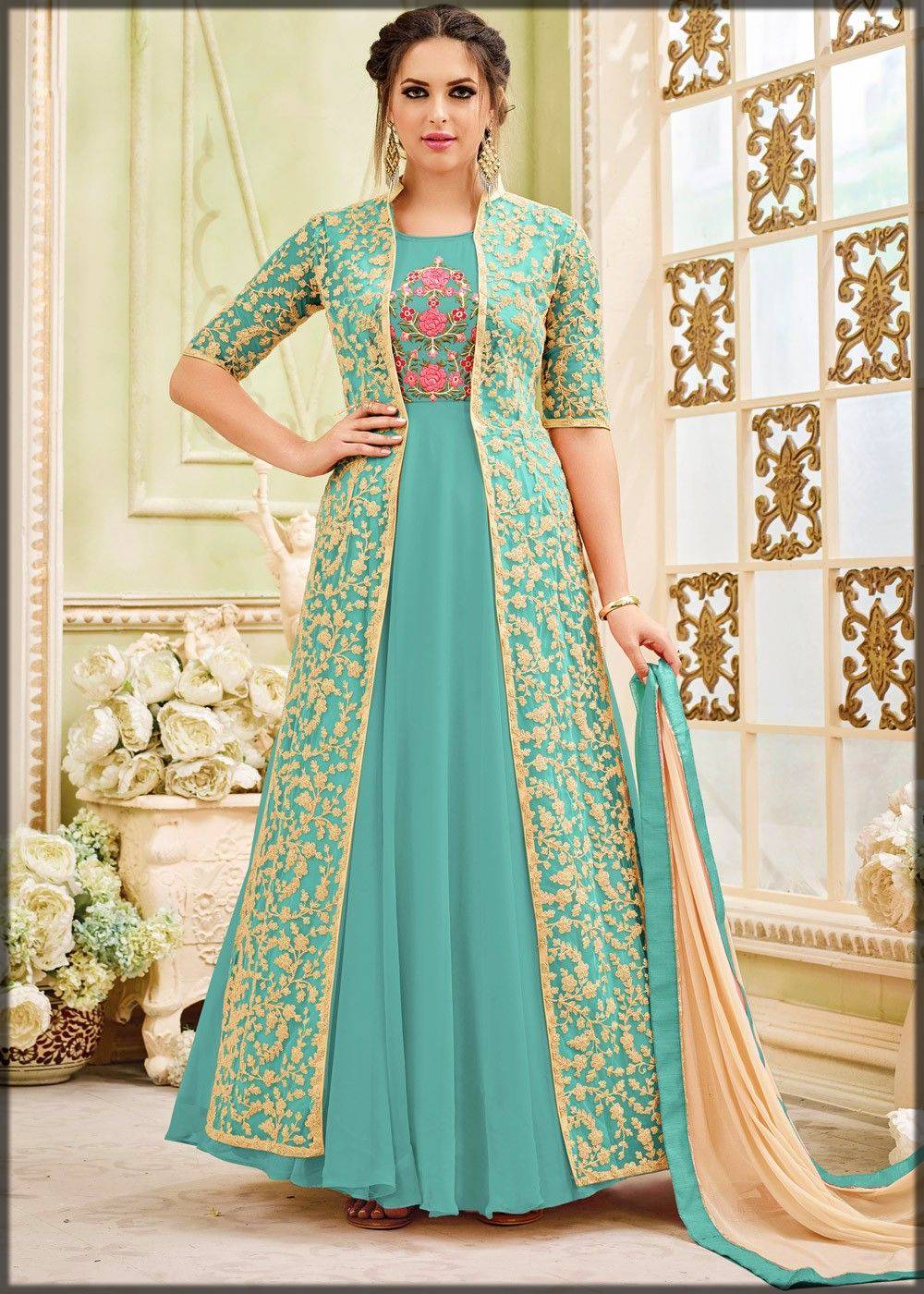 Long Frocks with Short Jacket
The short jacket designs on long dresses look smart and stylish. Nowadays, net stuff is prevalent in frocks. However, wearing a robe with net fabric on the gown's upper body will attract many people.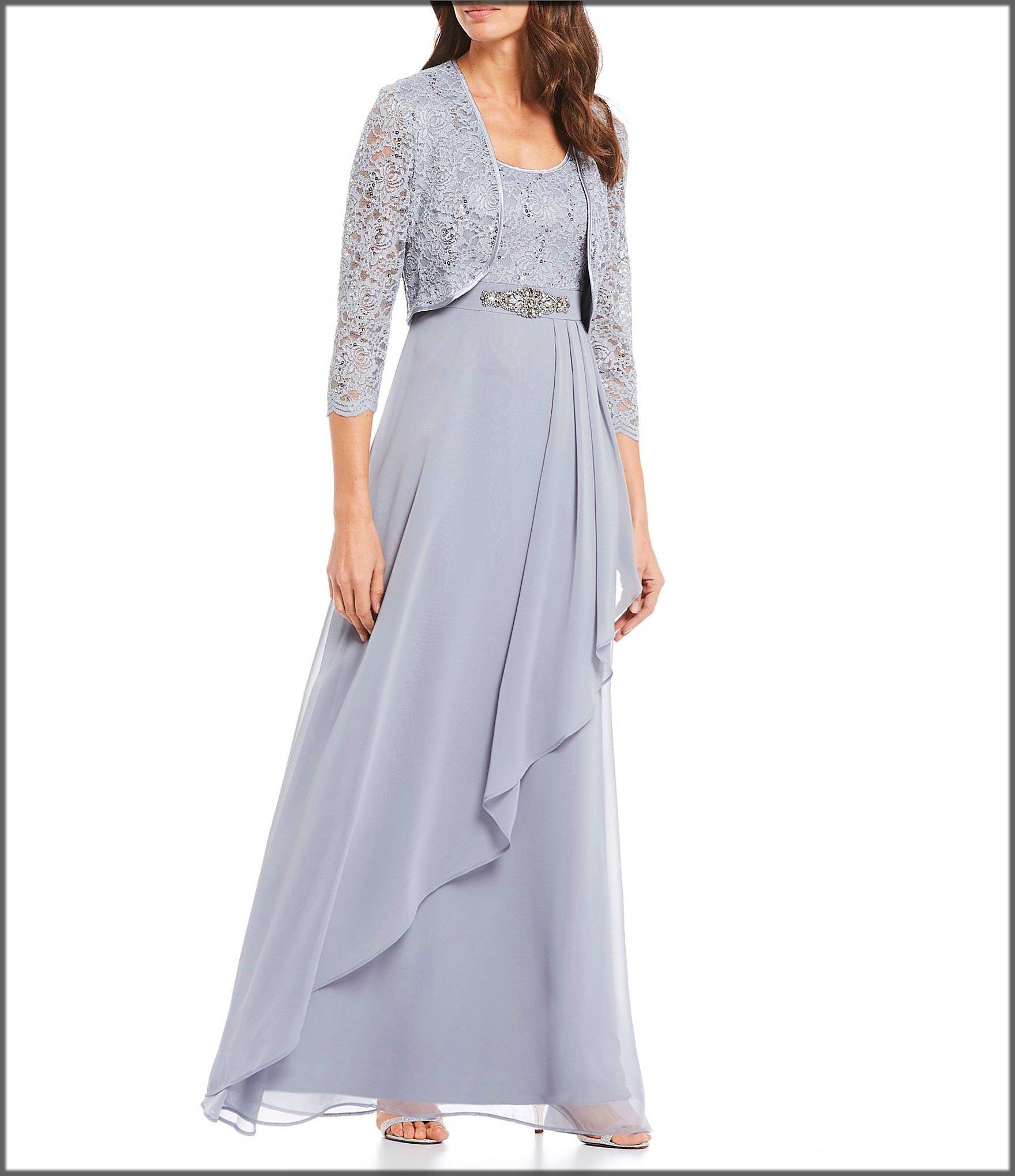 Similarly, the plain dress with fancy bordered jacket design on the upper body looks delicate and distinctive. However, many girls love to wear light-shaded dresses on different occasions. Therefore, this simple and light-shaded dress will have many girls' hearts.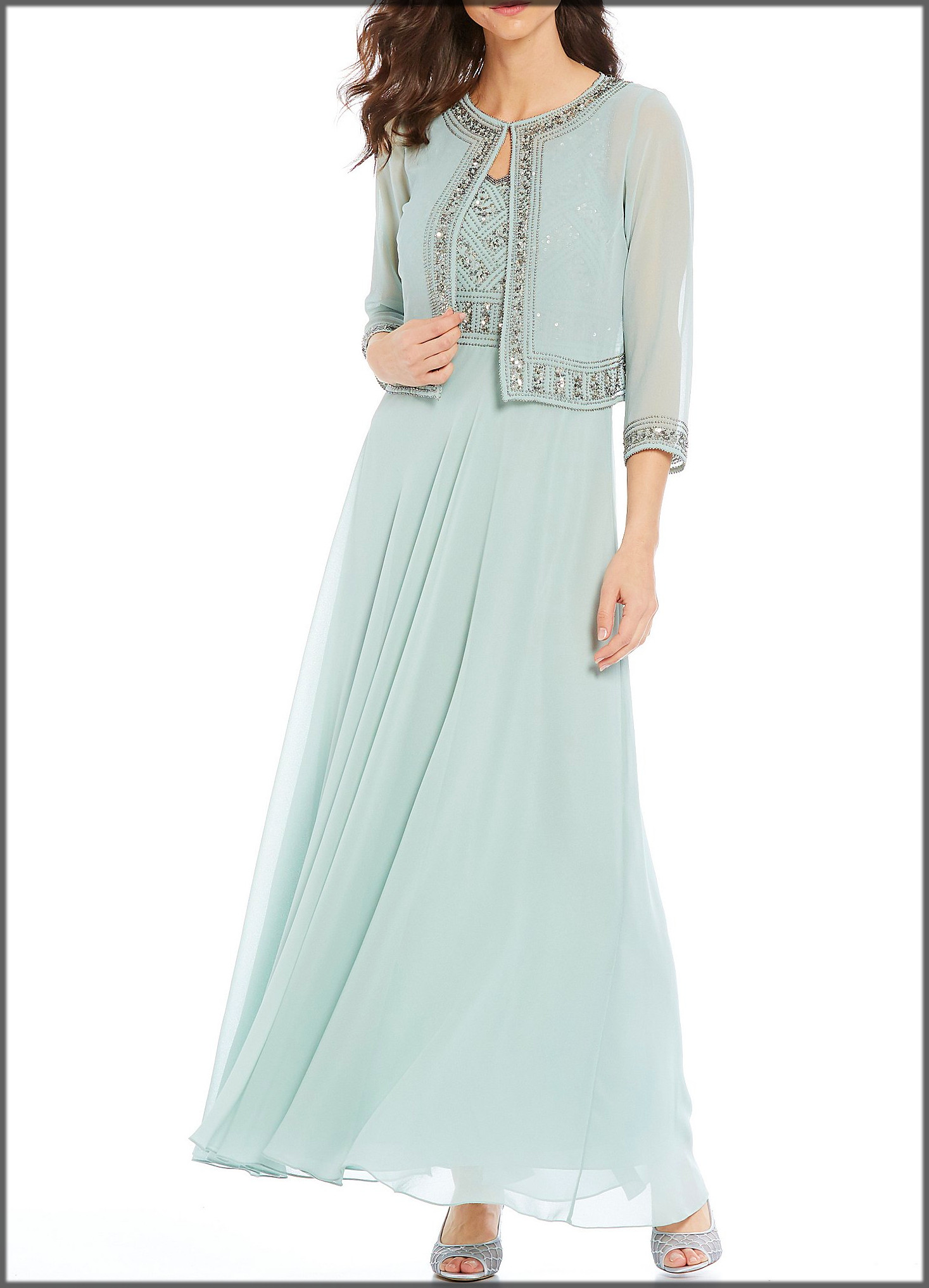 Slaying Maxi for Mayun or Mehndi
Wearing a yellow or green shaded dress on mayun or mehndi is a never-ending trend. However, some girls wish to have a plain dress for such special occasions. Therefore, the allurement of this plain frock is with long outerwear with delicate embroidery. Check some more designs of wedding mehndi dresses here.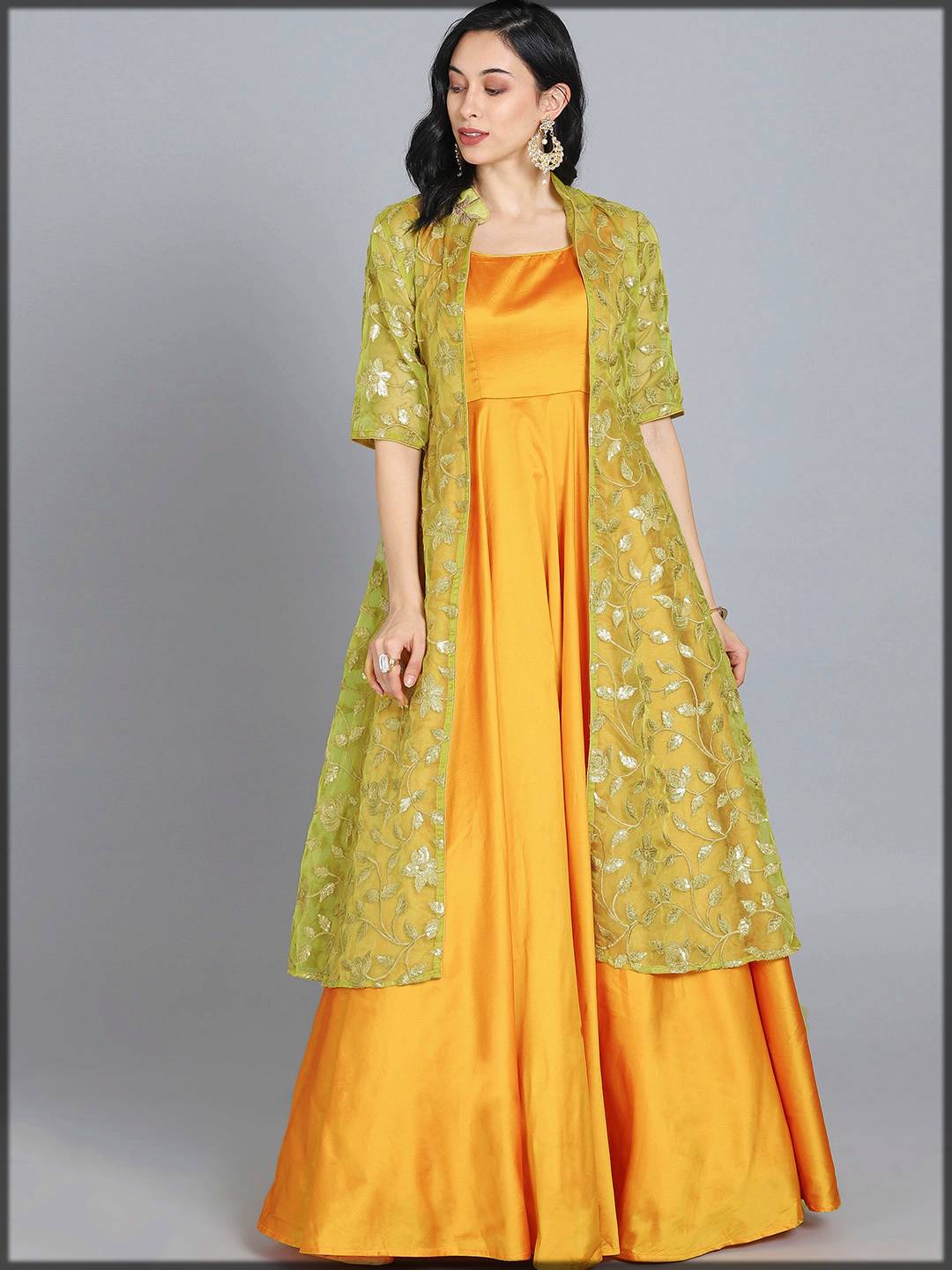 Pakistani Traditional Dresses with Jacket Designs
As we know, Shalwar Kameez is the national dress of Pakistan. Pakistani women always look for different styles regarding Shalwar Kameez. Nowadays, Kurta pajama with embroidered jackets is very trendy. Moreover, wearing long outerwear with trousers are also very common.
Stylish Pajama Shirt for Eastern Girls
Wearing outerwear with delicate embroidery on simple shirts enhances the simplicity and traditional look. Moreover, if a girl wants to look more conventional, all she has to do is curling hair from the front to look delicately fancy and desi.
Pakistani latest Jacket Style dress
Wearing outerwear of knee-length with delicate embroidery along with inner and Capri is very trending. It gives a very stylish and lovely look. Moreover, innovative designs on sleeves of this outfit also enhance the ethnicity of the outfit.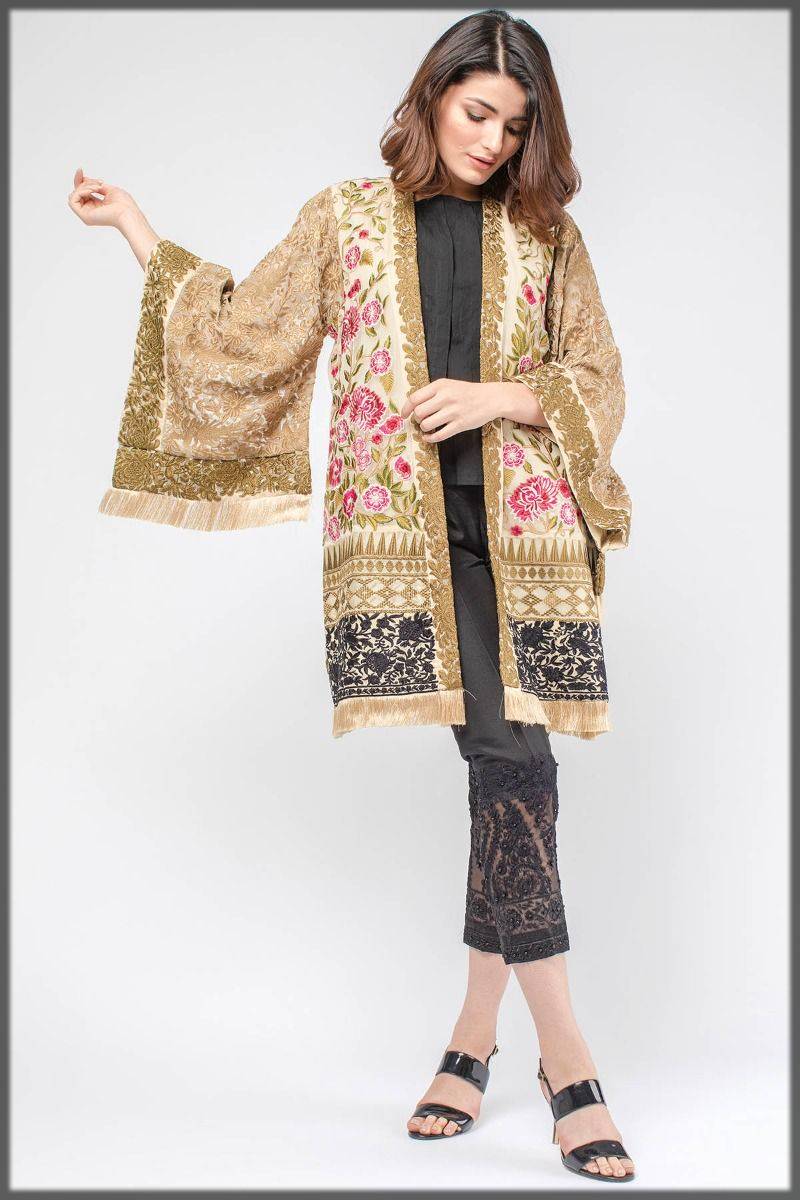 Adorable Palazzo with Long Jacket Style
A palazzo is a loose pant for girls which flares out from the waist. In Pakistan, mostly girls wear them with medium-length shirts. But modern girls also love to wear it with short shirts. Some girls hesitate to wear short shirts with palazzo. Therefore, they can adopt this mesmerizing design. Moreover, it looks modern and comfortable at the same time.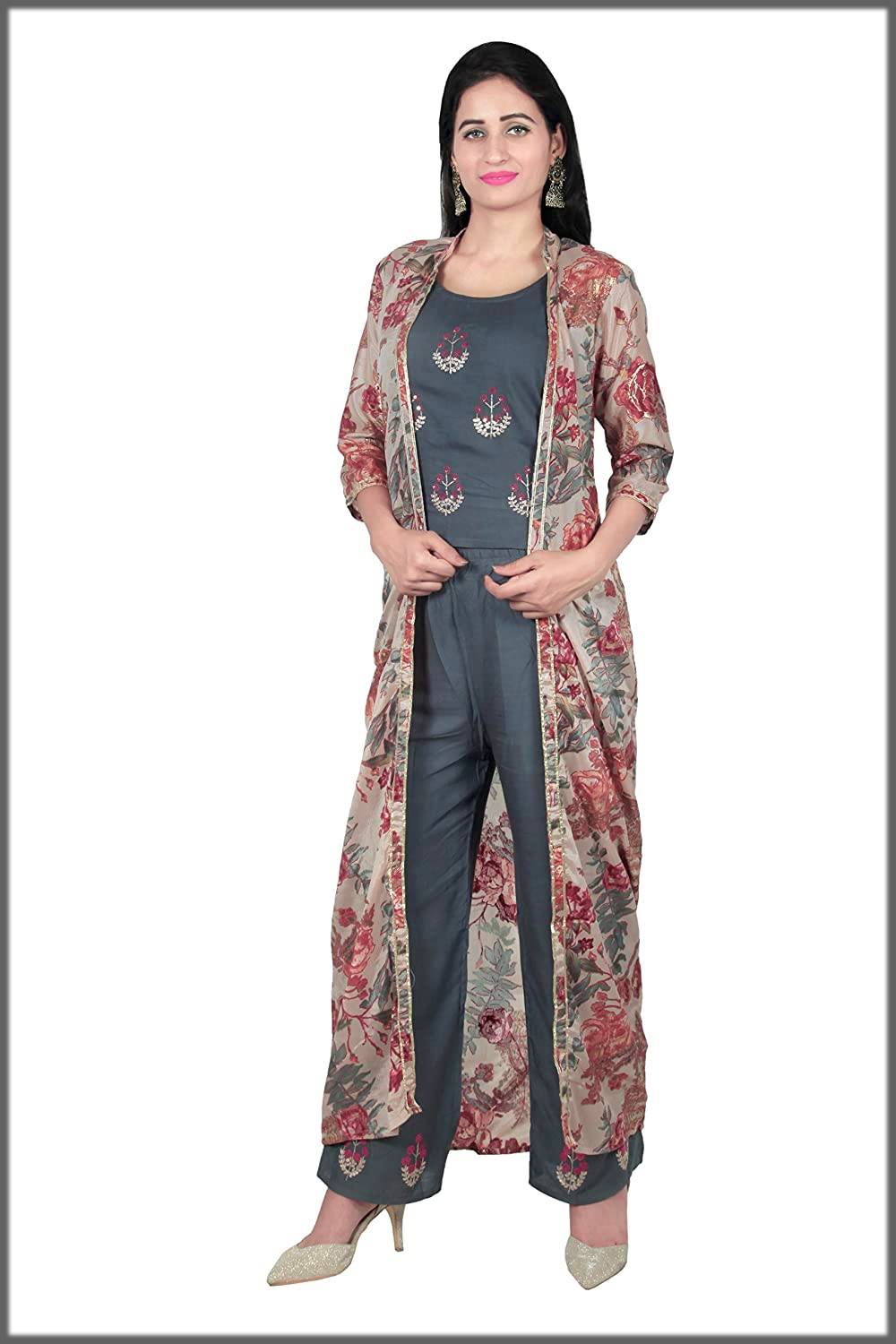 Exclusive Lehenga Design with Jacket
Nowadays, girls prefer to wear pretty feminine designs like lehenga choli. Therefore, girls will love to wear this amazingly designed lehenga. For more fantastic lehenga designs, you can visit Tena Durrani lehenga designs.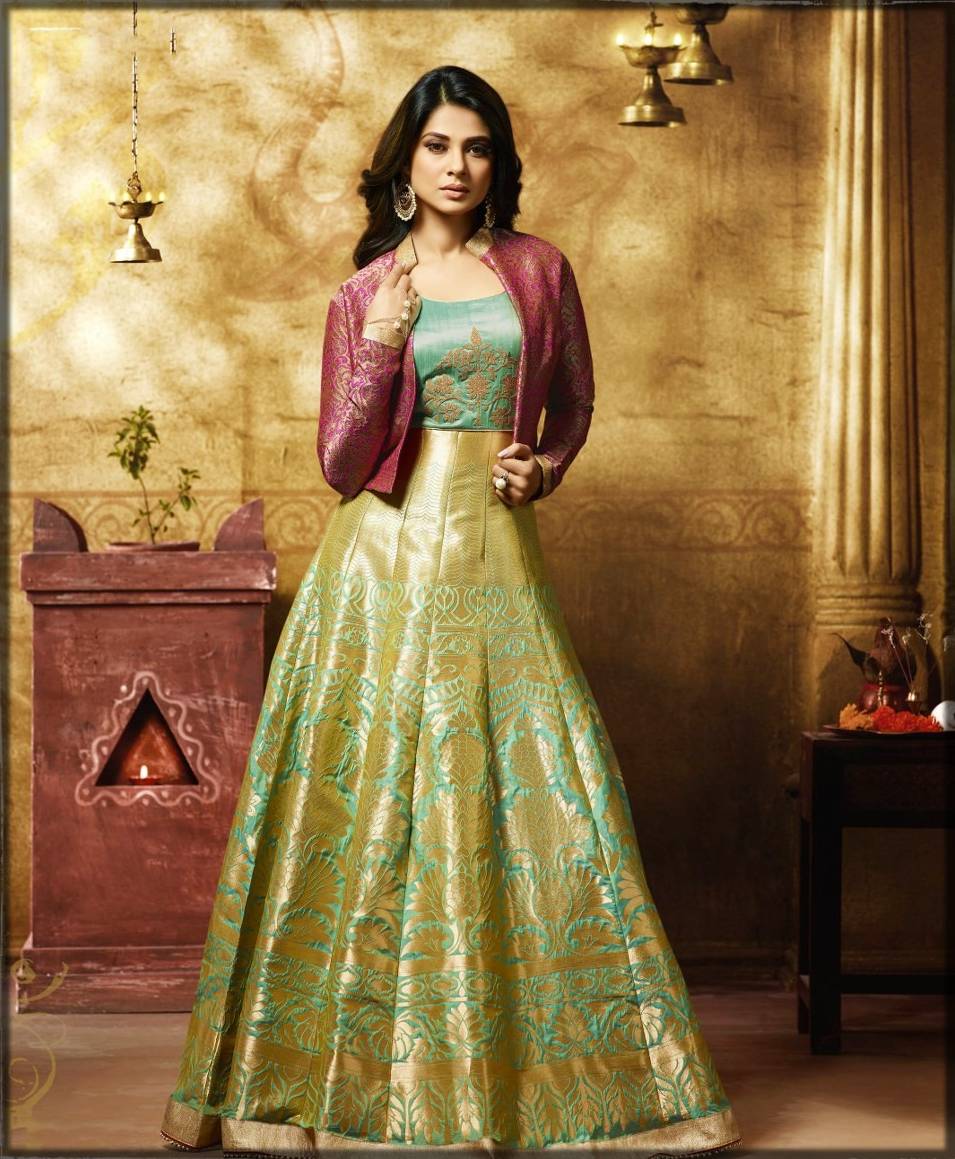 Casual Wear Jacket Style Dresses
Casual wear is the dressing which people wear casually. However, there is no doubt that casual dresses for men include T-shirts or jeans. Similarly, girls also wear jeans with shirts or outerwear casually.
Girls who have a little western mindset will love to wear this outfit. Hence, wearing a long jacket on a pair of trousers and a short shirt will give a very stunning and gorgeous look.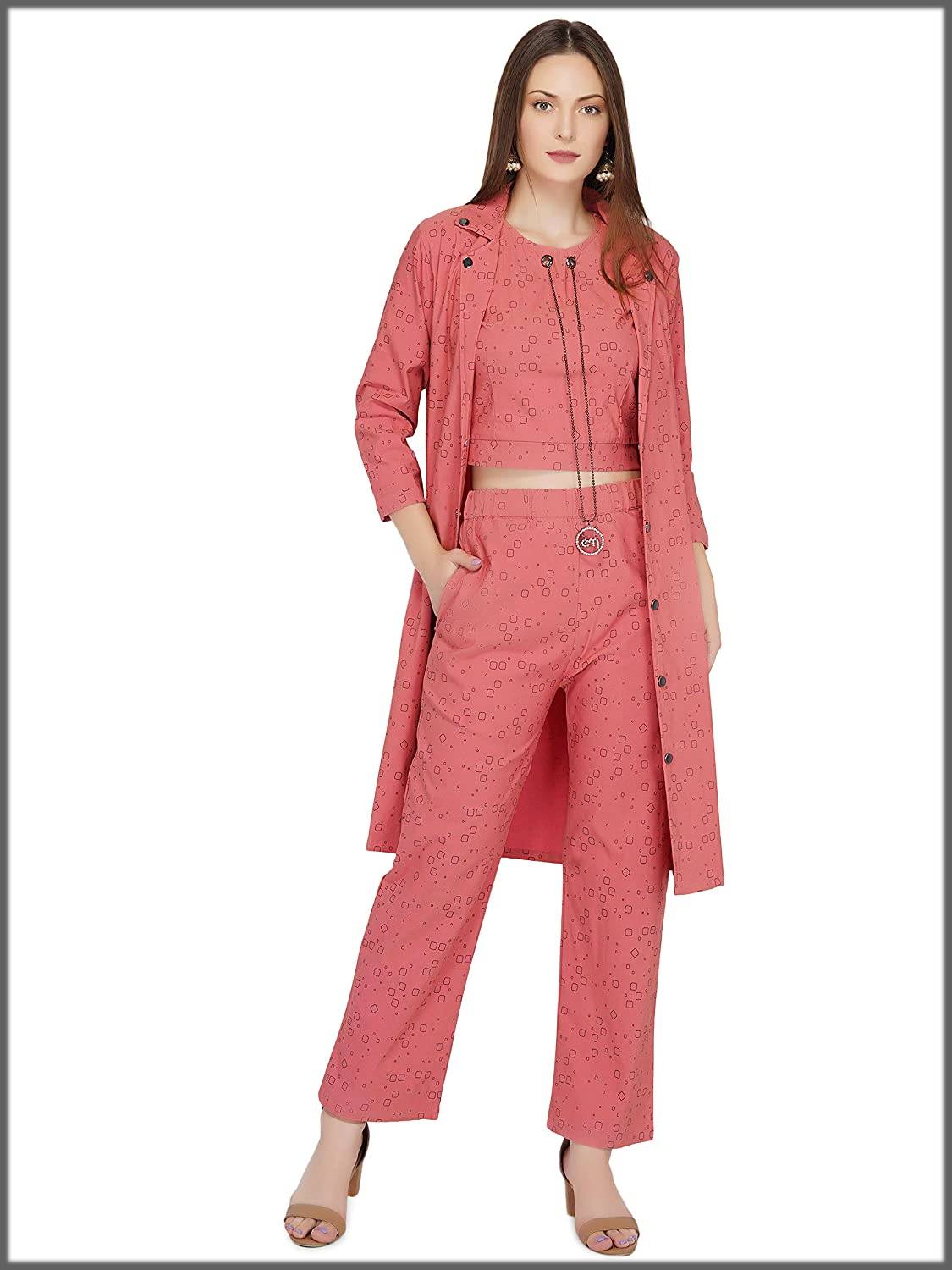 Unique jacket style for girls
Girls who hesitate in wearing sleeveless shirts can go for these designs. One can wear these jackets made up of light fabric in any season. Moreover, it adds smartness to the personality of a girl.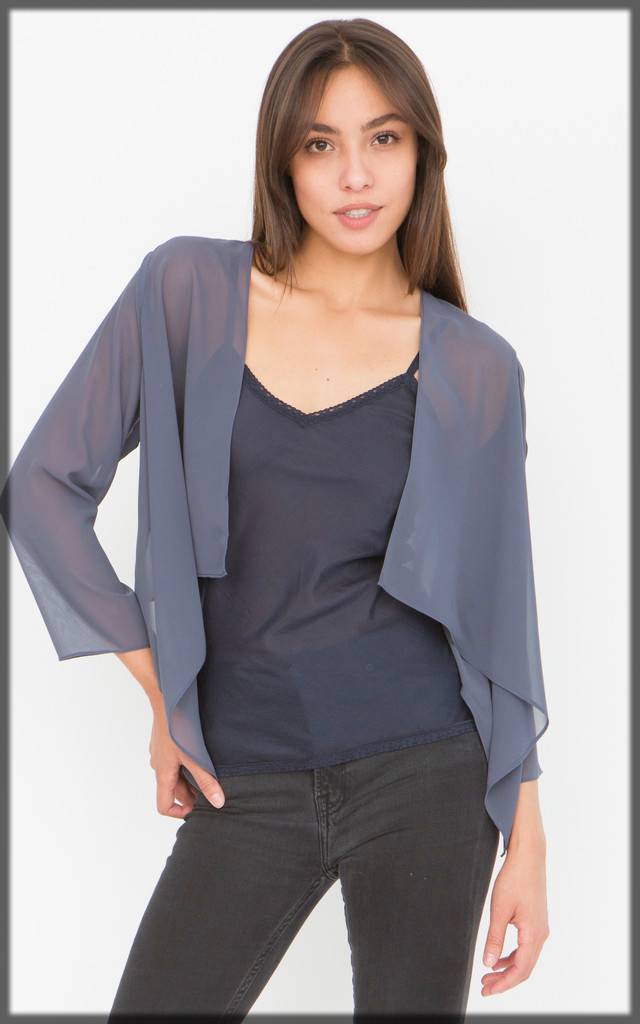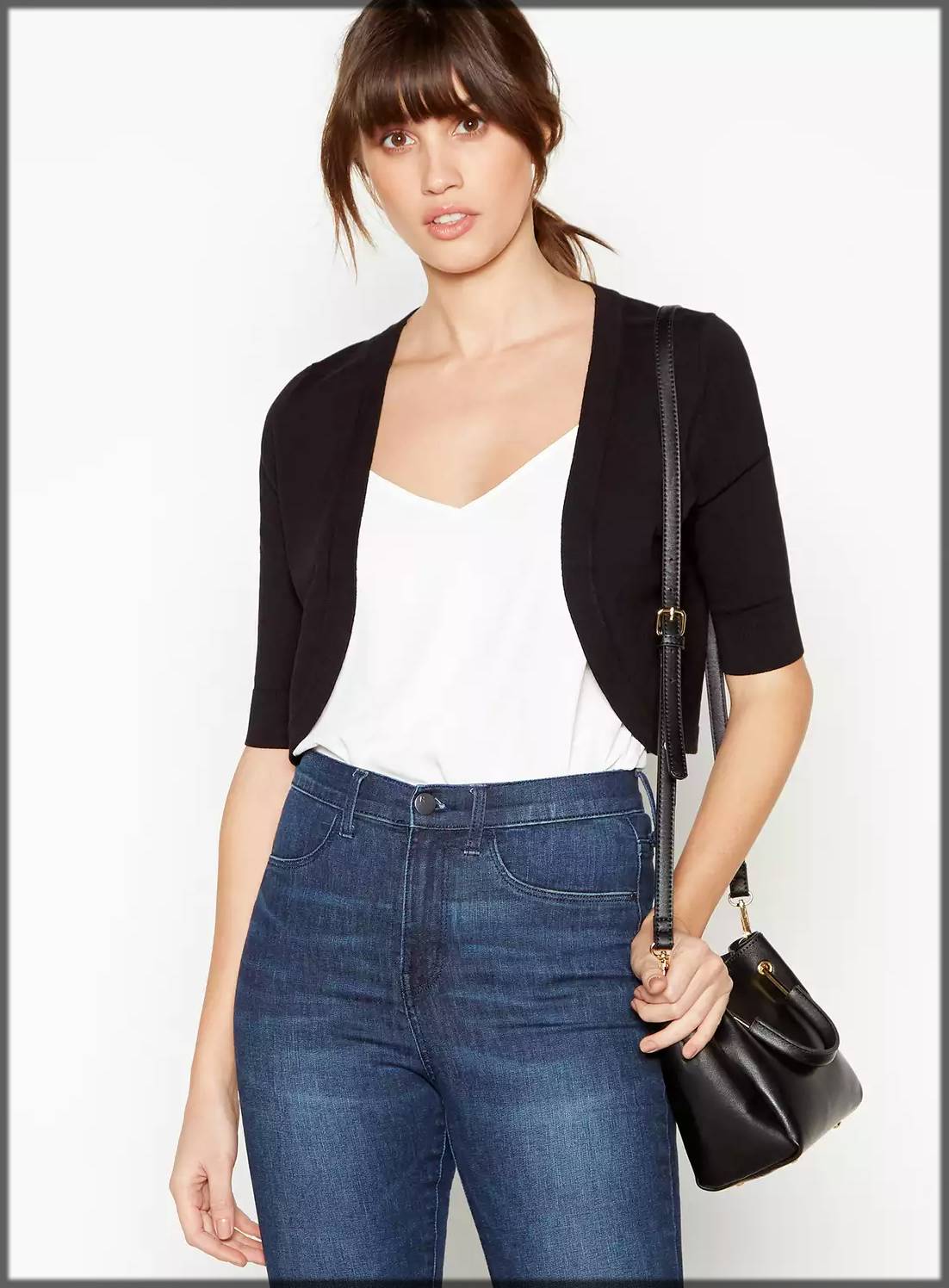 Stunning Black and White Dress
Black and white contrast is the most eye-catching and famous contrast which everyone craves. This lavish jacket of the lining design is very particular nowadays. However, it looks even more stylish when one wears it with white pants and black inner. Moreover, this outfit will look fantastic on girls with a short haircut.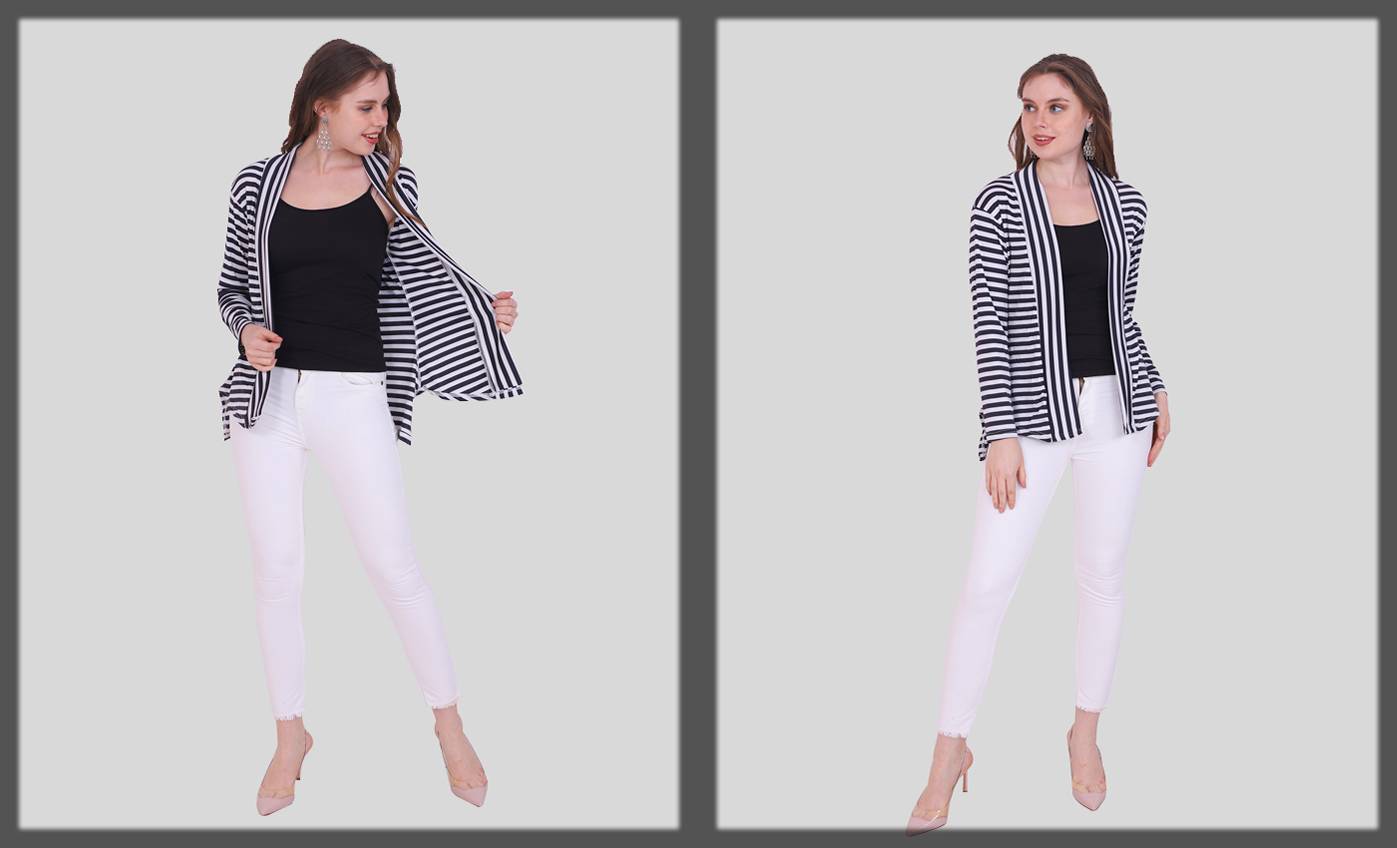 Aesthetic Outfits in Denim
The manufacturing of a jacket with jean stuff is called denim. Nowadays, this is one of the most stylish outerwear for both boys and girls.
Casual Frocks with Denim Outerwear
Usually, girls who want to look funky or jazzy, choose such outfits. However, girls can wear denim in dresses to look stylish and to stay warm. Moreover, it increases the attraction in the overall costume.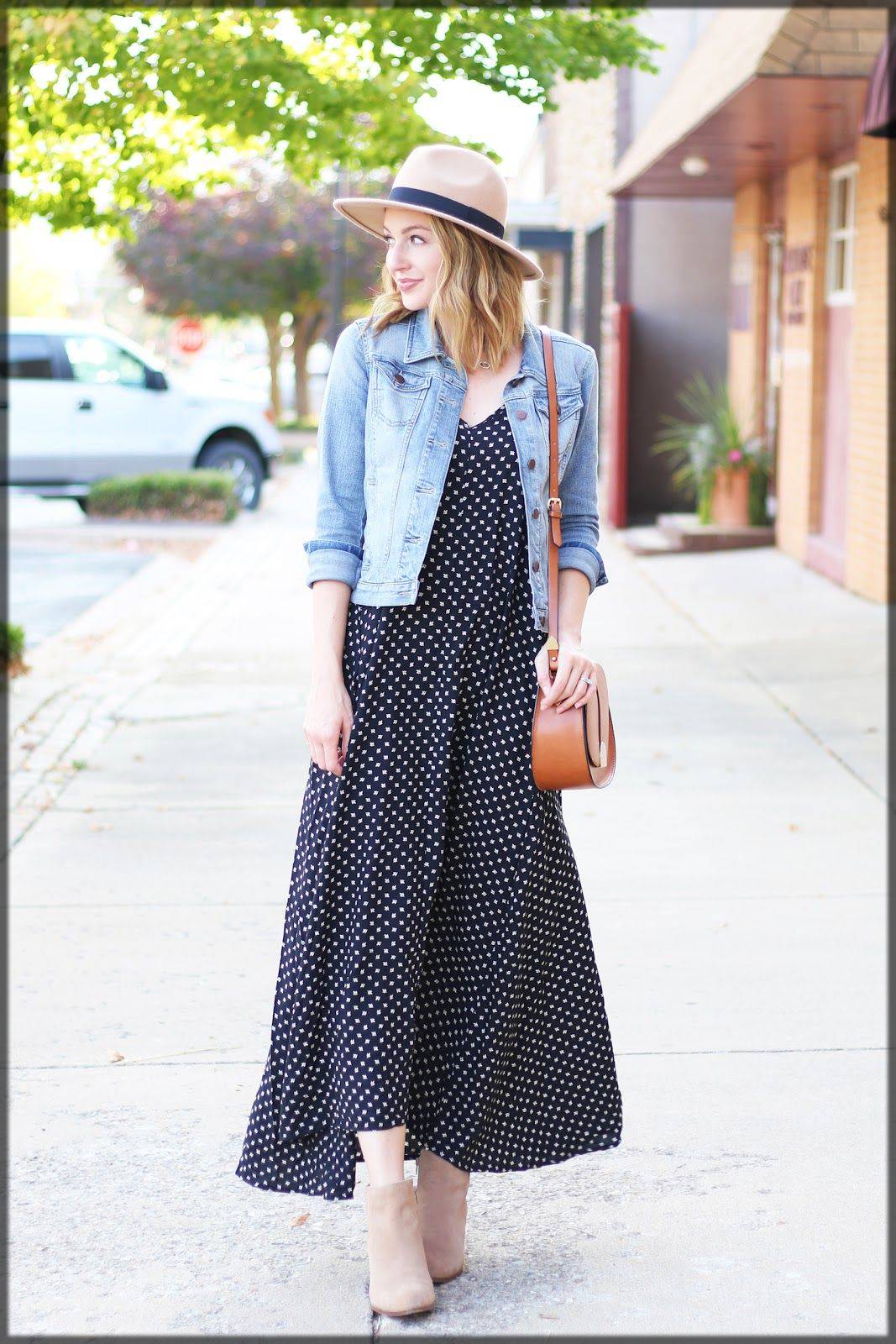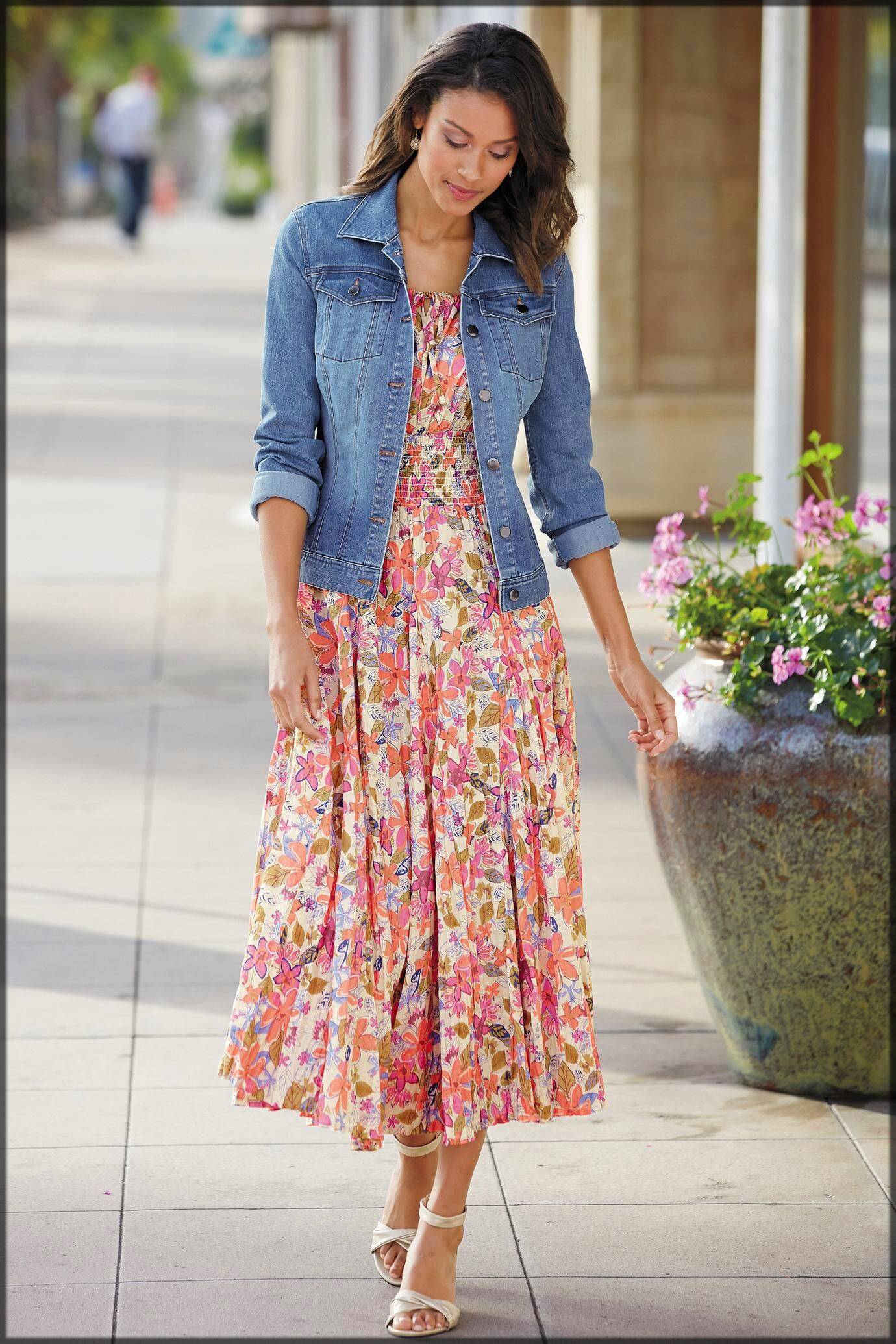 Beautiful Western Denim Costume
Mostly, the business ladies or the ones who go to offices for jobs prefer this dressing. This complete denim costume is comfortable and smart. Moreover, western girls can also make their looks more lavish by establishing a stylish hairstyle and applying decent makeup. You can pair business casual shoes with this attire.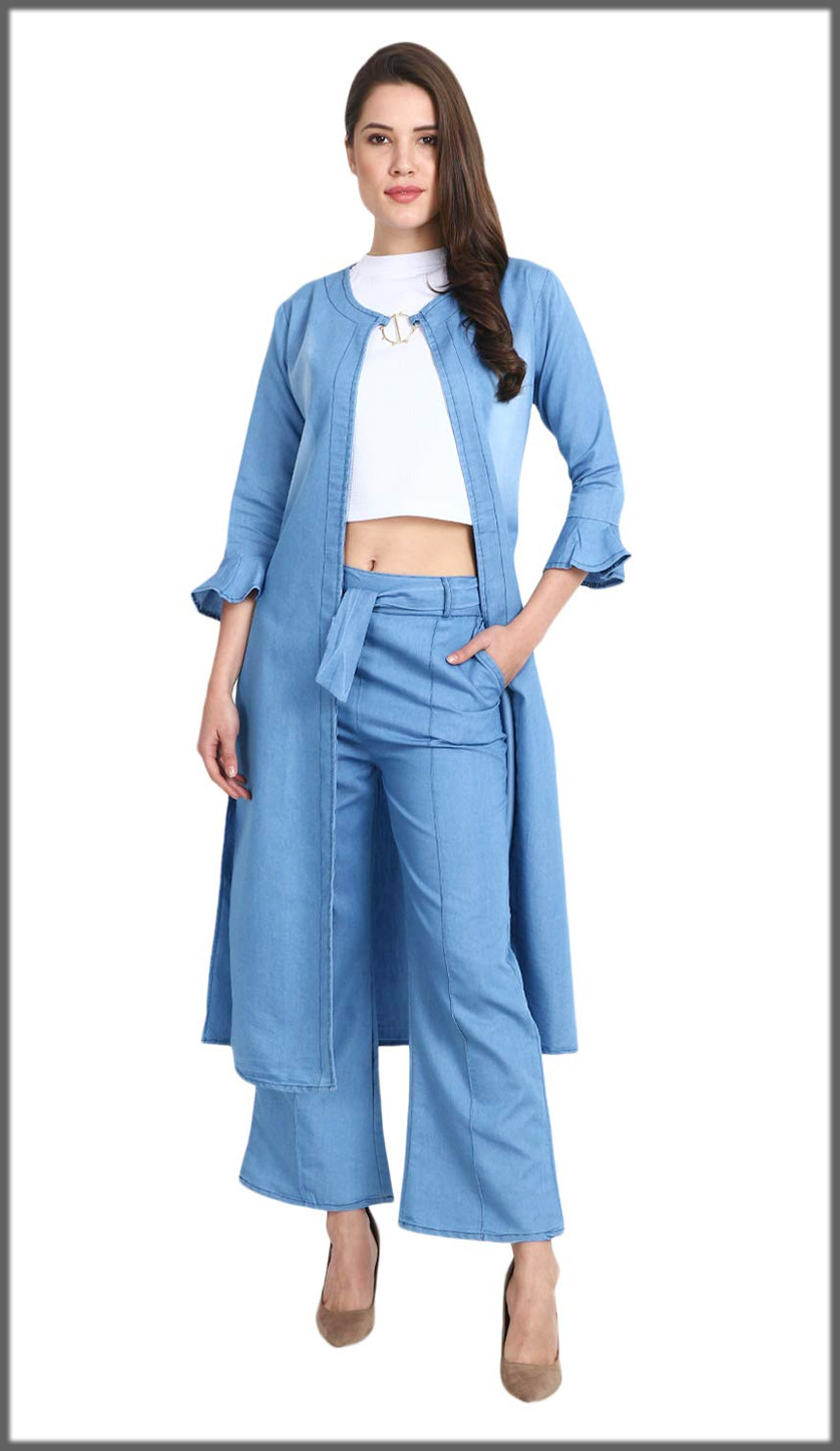 Jacket Design Costumes for Kids
Today, even little girls are conscious to wear trendy and stylish dresses. Therefore, here are some cute and fashionable designs for baby girls.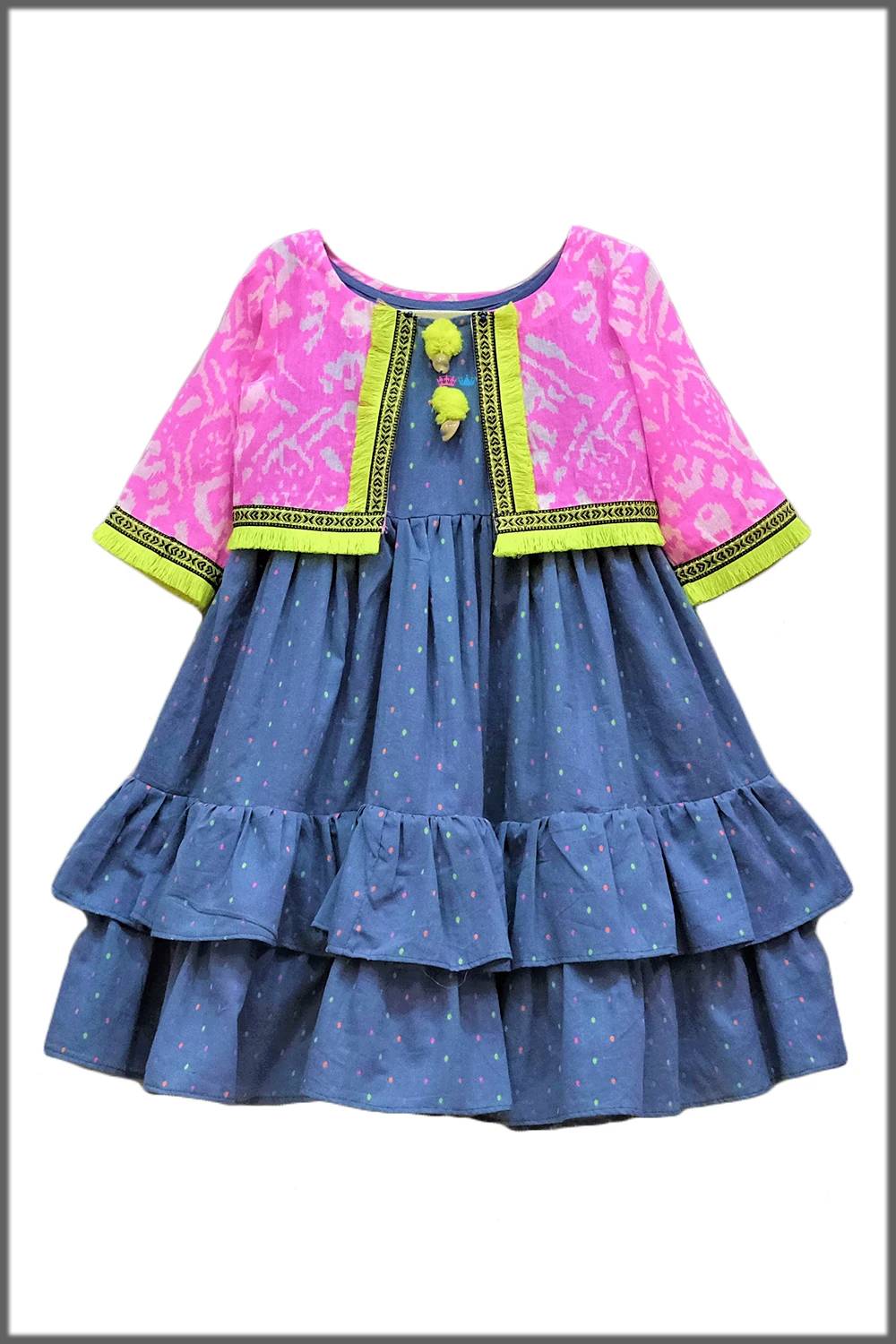 Stylish Sharara Suit for Little Girls
Wearing a jacket design sharara suit of perfect color can enhance the cuteness in an outfit for baby girls. However, this cute little girl is slaying in a dress with a white-red contrast.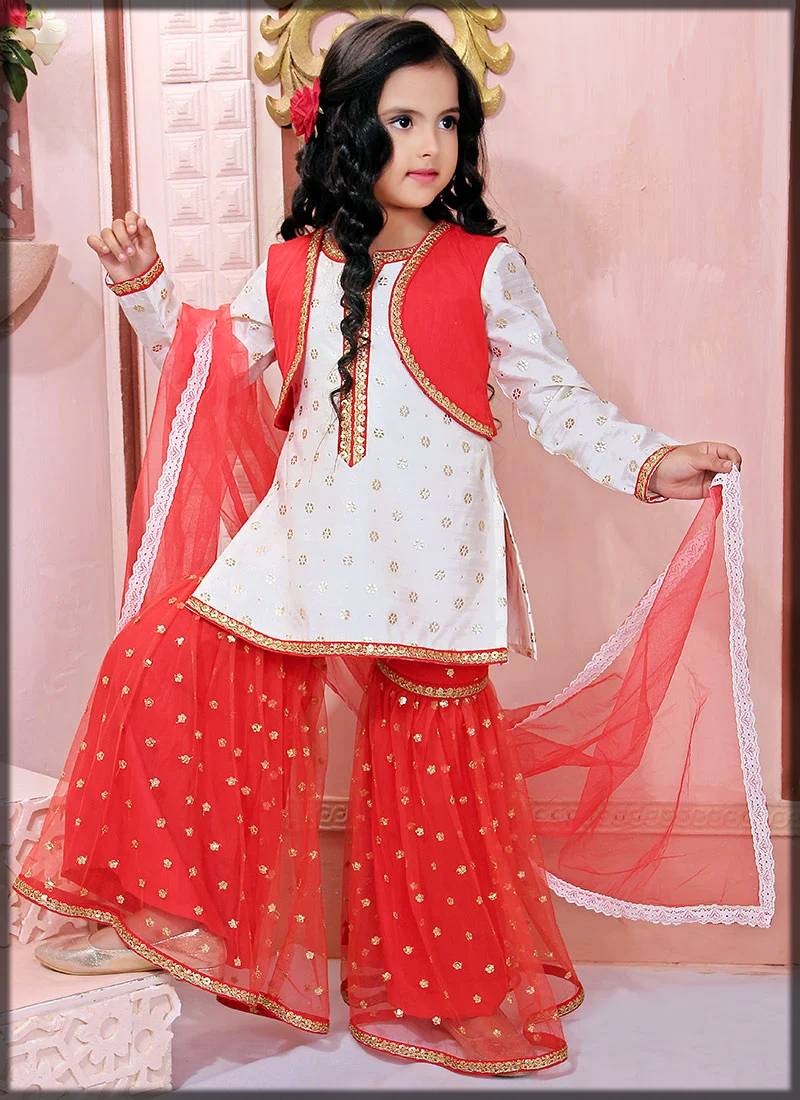 Traditional Tulip Shalwar Kameez
Some baby girls want to wear traditional outfits with innovative styles. However, this jacket style kameez with tulip shalwar will be the first choice of kids.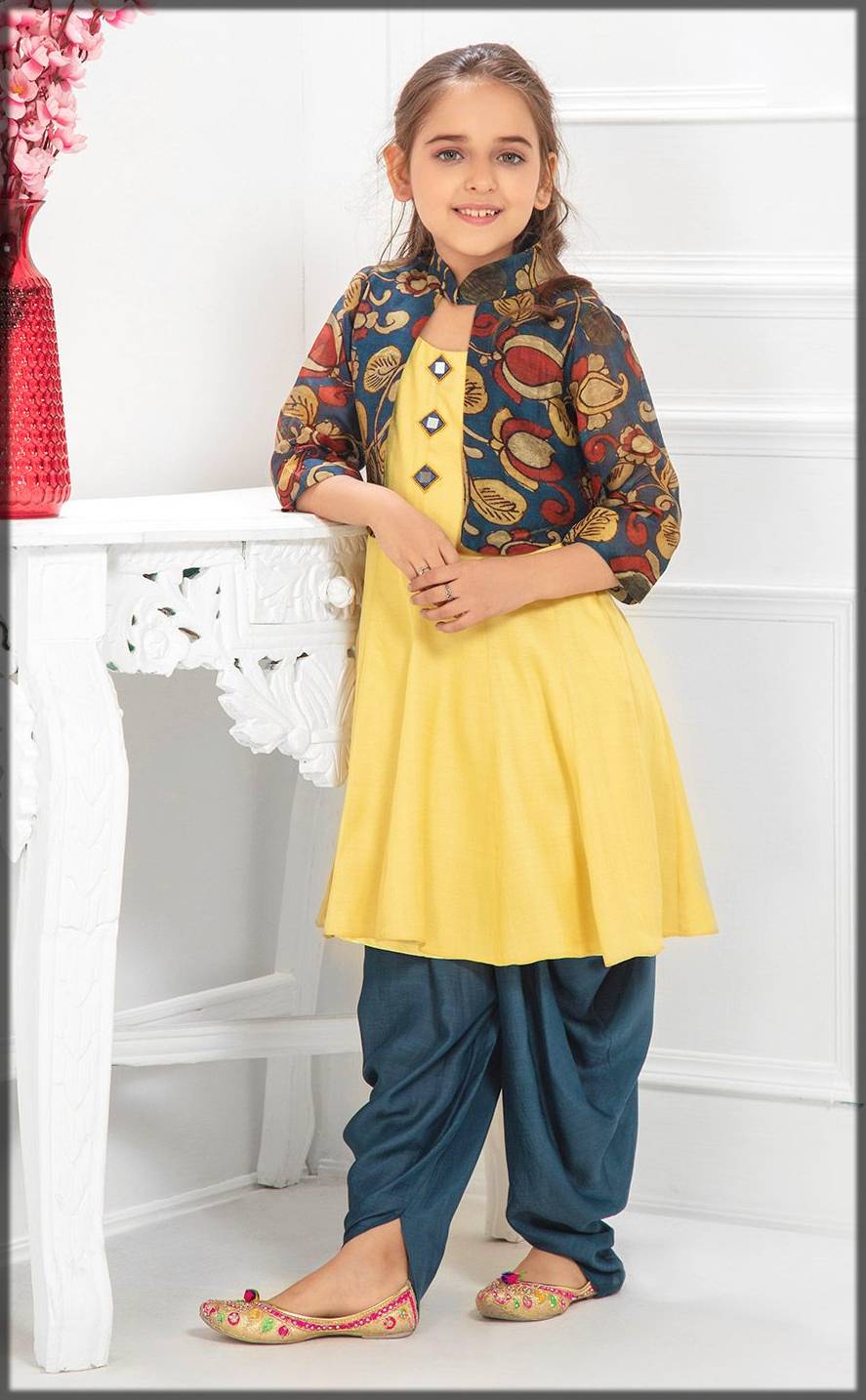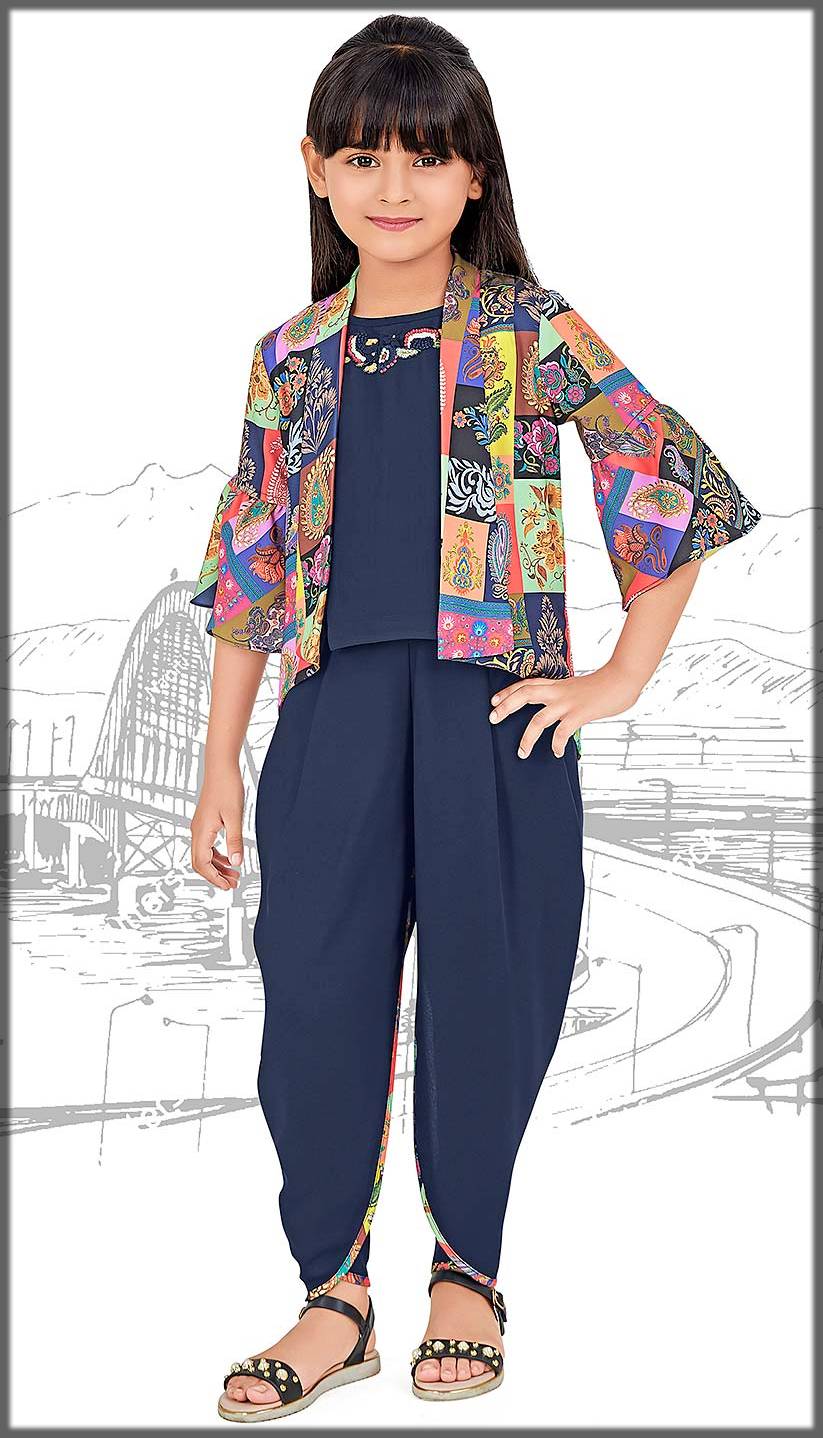 Lovely Chiffon Long Frock for Kids
Toddler or young girls look cute when they wear jackets with long dresses. This stylish girl is looking so sweet and lovely in this innovative costume. Moreover, making a beautiful hairstyle, and wearing jewelry can complete the little girl's ultimate look.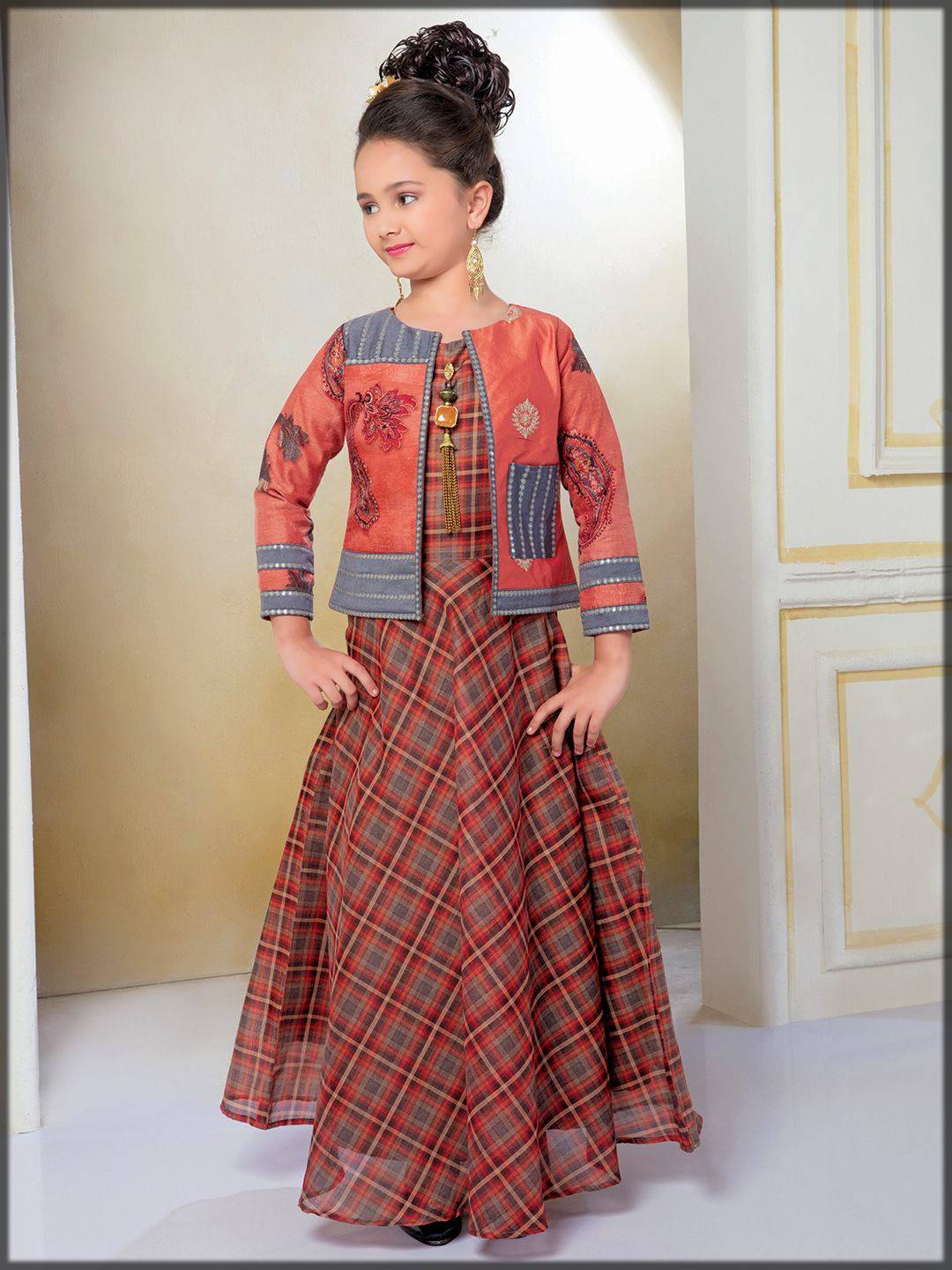 Wearing an outfit with a lovely jacket design is the most trending and excellent costume that every girl deserves to wear. Moreover, this fashionable style applies to all categories like eastern dressings, western outfits, or even the mixture of both cultures. Therefore, any young lady, regardless of her religion, will never regret purchasing these designs.