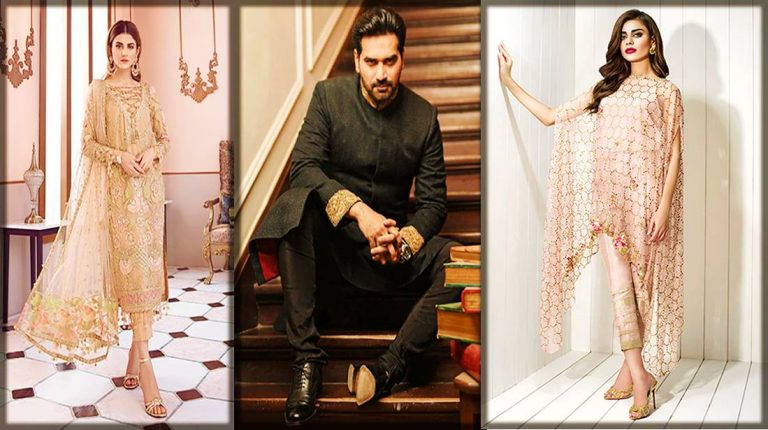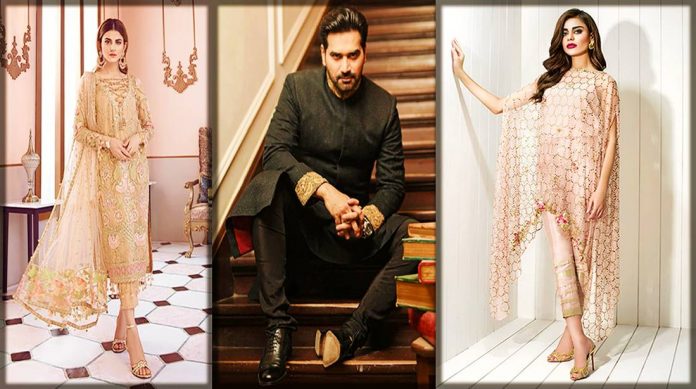 Pakistan is a country with having a diverse culture. Weddings are a part of this culture. The guests at weddings are equally conscious of their outfit as the bride and groom are. Therefore, they always look for something beautiful for their attire. Pakistani Wedding Guest Dresses presents you with an extensive collection of dresses.
The Pakistani fashion industry is busy crafting incredible dresses for men and women. The modern era implies that men want to look equally as glamorous as women. Therefore, the fashion industry focuses on producing great wedding outfits for everyone.
There is an excellent variety of designer studios in Pakistan. All of the designer dresses meet the demand of their ultimate consumers. Moreover, the people of Pakistan are fond of wearing high-quality dresses at weddings. Take a look at the following Pakistani Wedding Guest Dresses for men and women.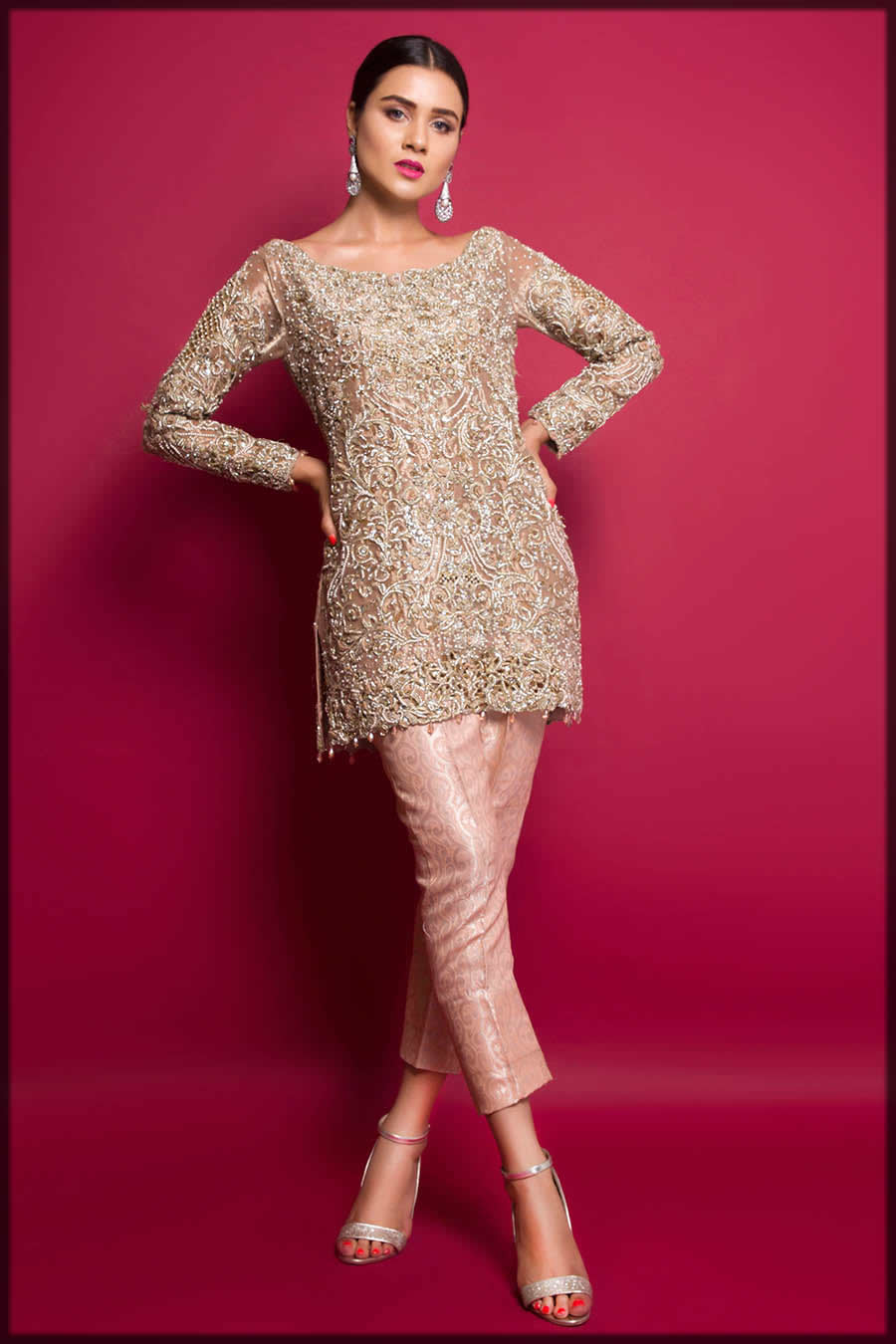 Latest Pakistani Wedding Guest Dresses Collection for Women

The people of Pakistan always want to add gleam in their outfit. Both men and women take weddings equally important. Therefore, we are presenting a fantastic collection of wedding outfits for both the men and the women. Let's have a look at the following group of dresses.
Modern Capri with Knee-length Shirt

Party-wear Capri and shirt are the most easygoing outfit for the majority of women at weddings. One can wear a Capri with a short-length shirt or a knee-length shirt. Moreover, you can make your outfit more delightful by matching fantastic jewelry and shoes.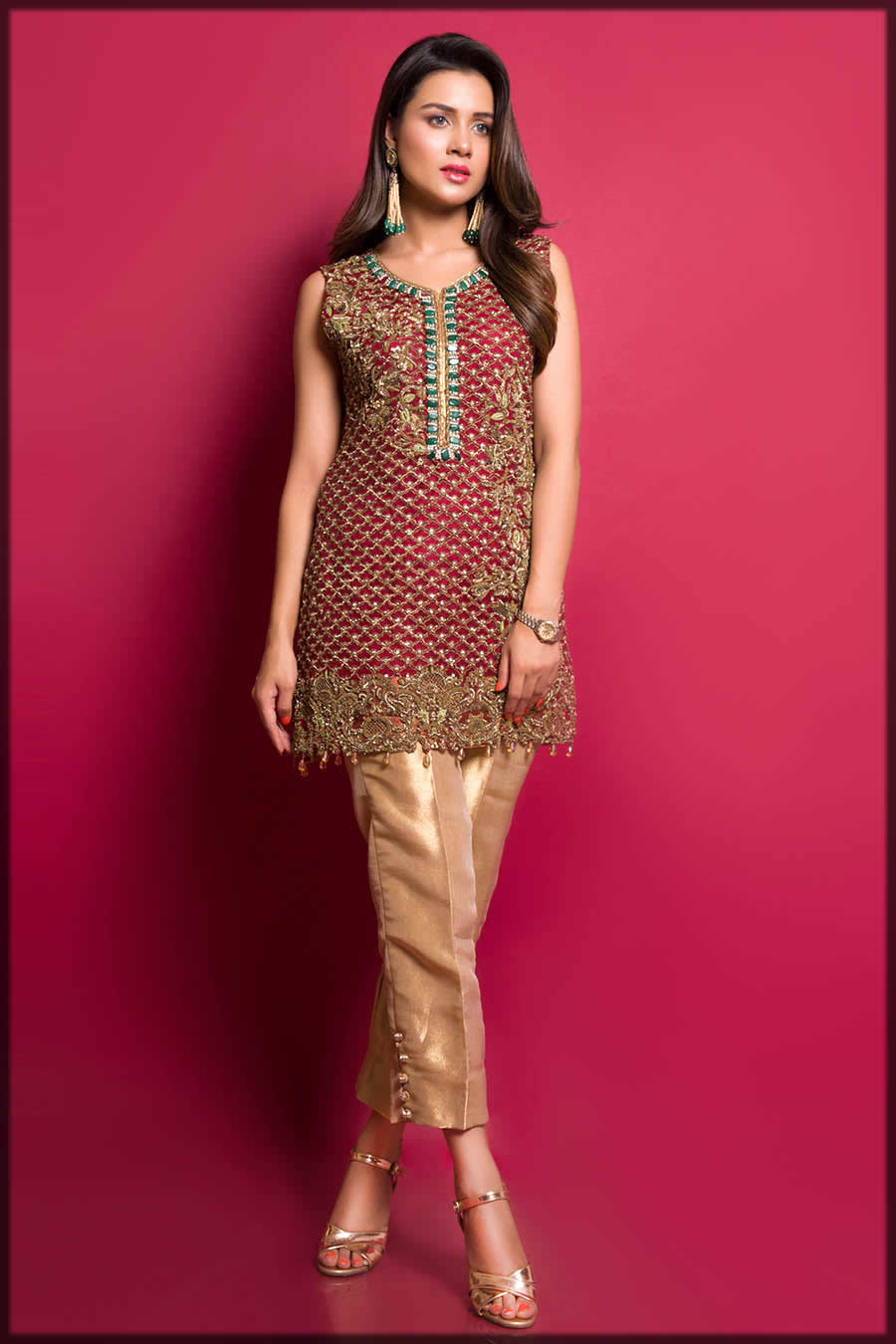 Splendid Gown Style for Wedding
The gown is an outer clothing garment. However, its length may be up to knees or sometimes to the floor. The breathtaking design adds a flickery look to your attire. Moreover, the extravagant patterns and artwork look tremendous when you wear a wedding gown at weddings.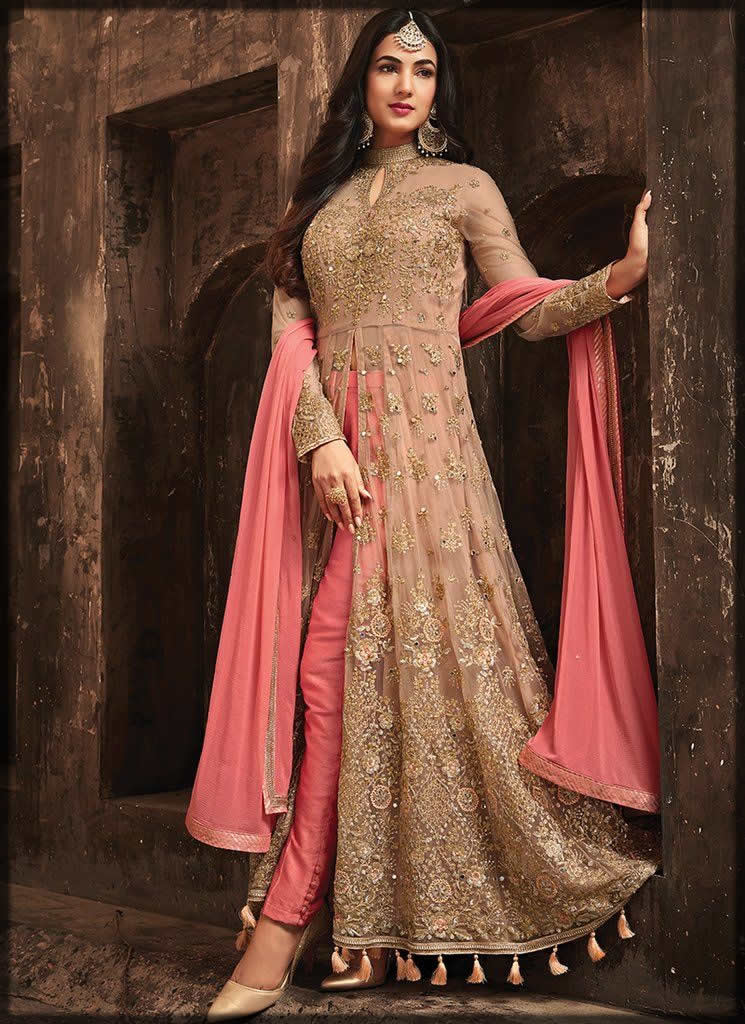 Front-Open Gown with Cigarette Pants

Pant style is the most trending and ethnic outfit for weddings. Therefore, women also opt for this dazzling outfit. It brings an entirely formal and stylish look when you wear such a tremendous gown with a slit. Moreover, the embellished sequins of artwork on the dress in overwhelming.
Short-Length Frocks with Flared Trousers

The knee-length dresses always look elegant. The sophistication in such brilliant outfits brings a remarkable look at weddings. Therefore, young girls always look for such a terrific outfit. The stunning costumes come with incredible jewelry and footwear. Furthermore, you can apply classy makeup for a more prettifying look.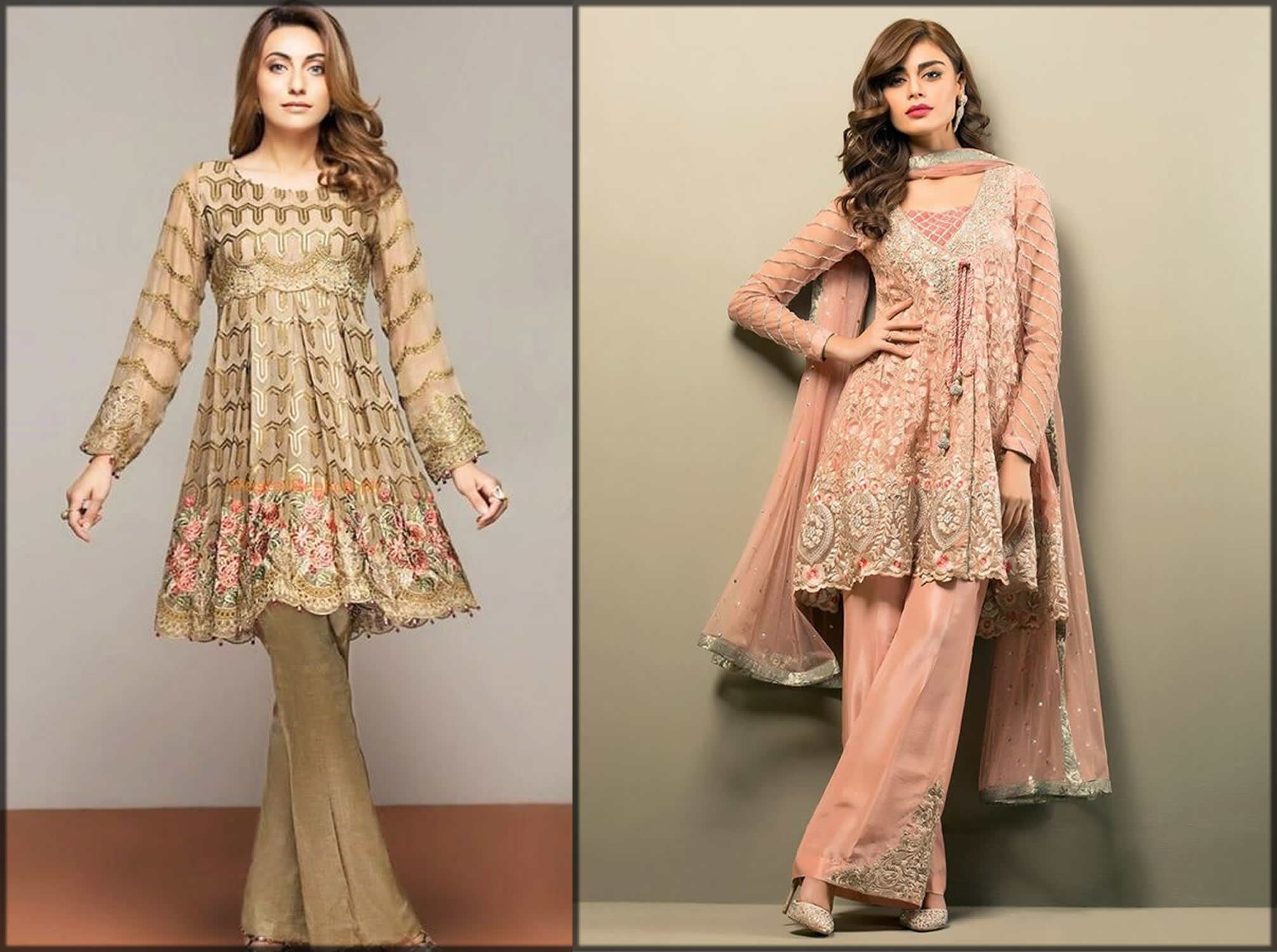 Floral Embroidered Full-Length Anarkali Frocks
The floral prints and embroidery is always a prior choice of the customers. However, they are available in several different fabrics. Here we are presenting you a floral embroidered Anarkali frock in floor-length. The fantastic embroidery looks spectacular when you carry it properly. Furthermore, the massive flare rings the last gleam to the wedding outfit.
Stunning Floor-Length Maxi for Pakistani Wedding Guest Dresses

Maxi dresses are typically form-fitting at the top and cut to flow loosely over the body at the bottom. Moreover, this wardrobe staple for women is available in so many fabrics, colors, and patterns. However, the key to wearing a maxi dress well is knowing how to style it to stand out. Here are some amazing maxi styles for those who look for it:

Amazing Butterfly Net Maxi
Wearing a maxi dress is a beautiful choice for an afternoon wedding, but here is the catch. You have to be careful that you don't pick a maxi that is too casual. A wedding calls for a more sophisticated maxi, made from flowy fabric silk, jersey, or chiffon. Therefore, we are presenting you with a fantastic collection. The incredible butterfly style maxi looks dazzling on the wedding. Moreover, the net fabric in crafting this unique style brings much brightness to the outfit.
Beautiful Maxi for Wedding Guests

Some girls are always conscious of their attire. Therefore, they look for an embellished outfit. Here is an extravagant maxi for those girls who want to add a gleam to their attire. Let's take a look at the following flickery maxi. Moreover, you can pair stunning jewelry with it to look more beautiful.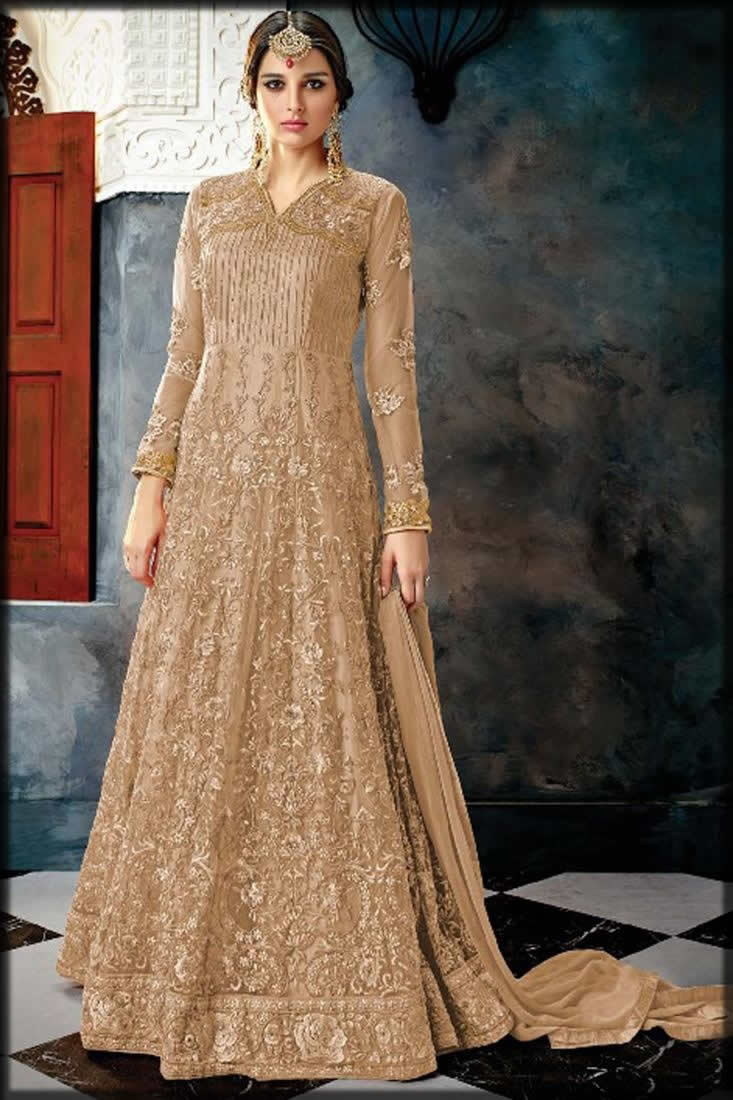 Sharara Style Outfit for Wedding Guest

Sharara is a pair of loose, flared, and wide-legged trousers mostly worn with straight Kurta. However, you can also wear it with a knee-length dress. Furthermore, women also wear sharara casually. Here is some stylish sharara for wedding wear:

Fancy Gharara Styles for Wedding Wear
The Gharara is a pair of trousers or pants that are fitted from the waist to the knees. Most of the girls prefer to wear it with a fancy Kurti. However, it can also be worn with a cape. Here is a collection of brilliant gharara styles.

Most Cultured Wedding Guest Dresses for Men

Nowadays, men are equally conscious of their outfit as women are. They are always looking up for something graceful to wear. The Pakistani fashion industry crafts an amazing variety for men like Cambridge shalwar kameez collection. However, some prefer to wear simple shalwar kameez, while others look for a formal outfit. Therefore, we are presenting you with an extensive collection of menswear for the wedding. Let's take a look at the following outfits: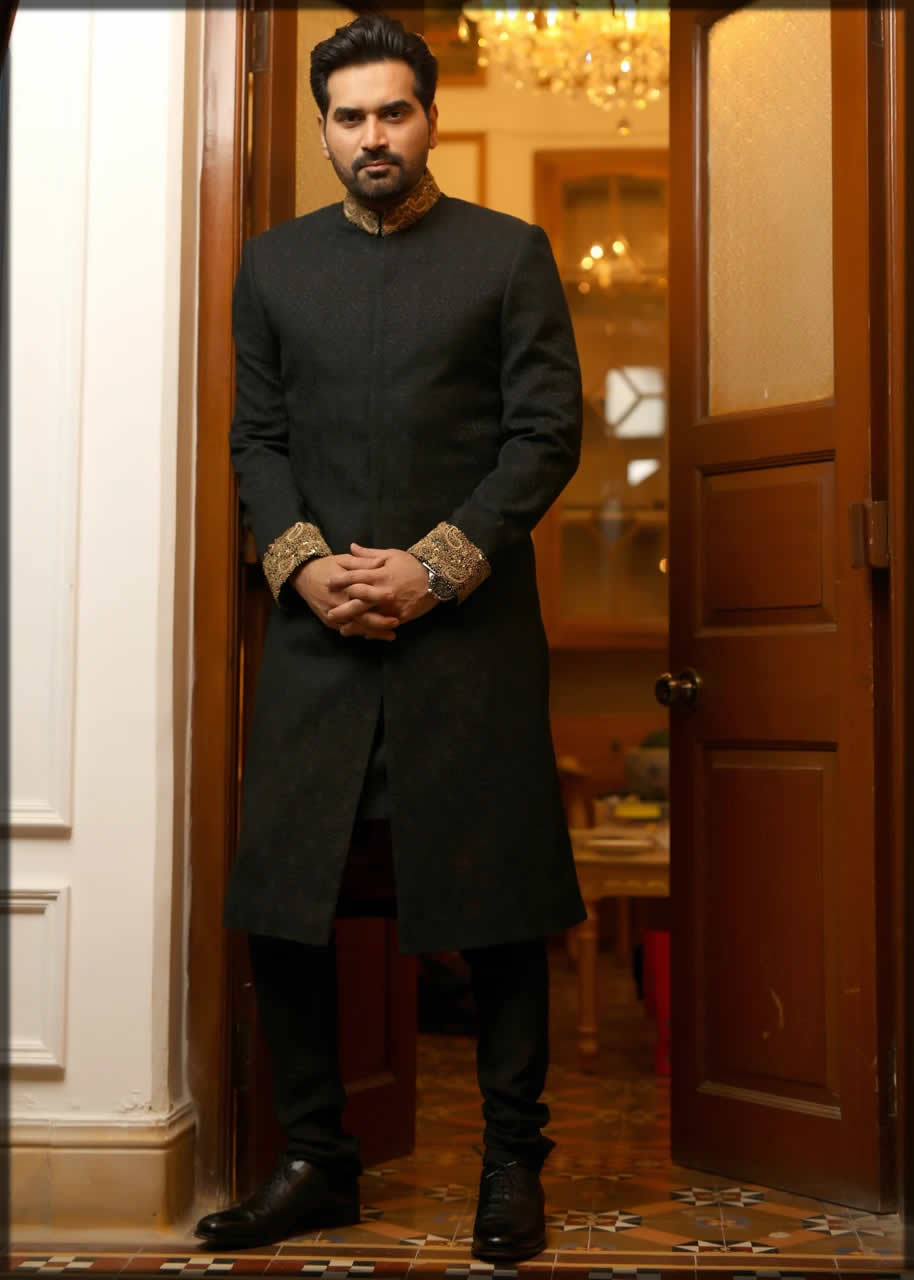 Impressive Shalwar Kameez Collection for Men
The shalwar kameez is the traditional dress for Pakistani men. Therefore, they always look for a graceful and well-designed shalwar kameez for the wedding. However, some of them are paired with an embroidered waistcoat. Let's have a look at the following trendy shalwar kameez collection for the wedding.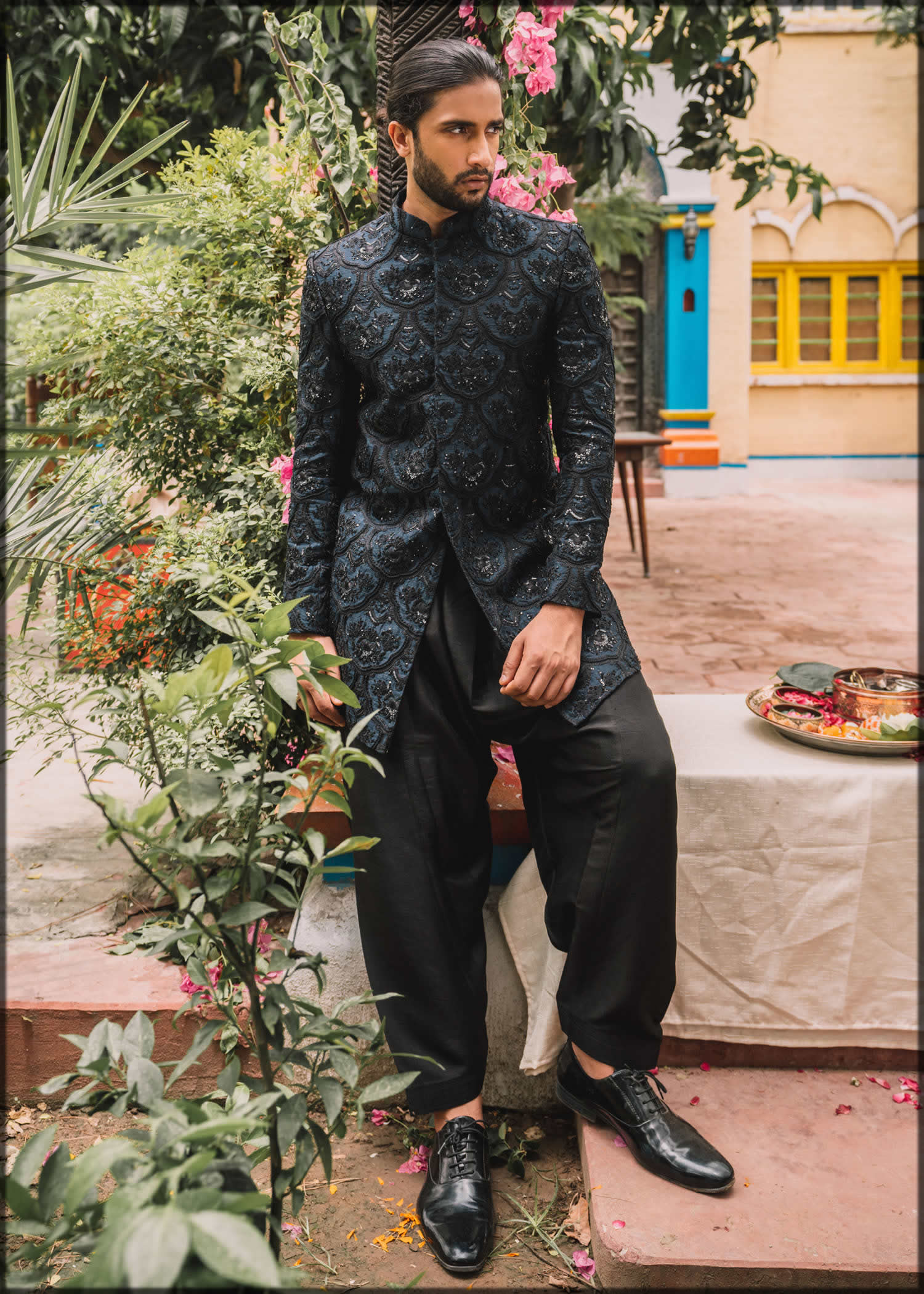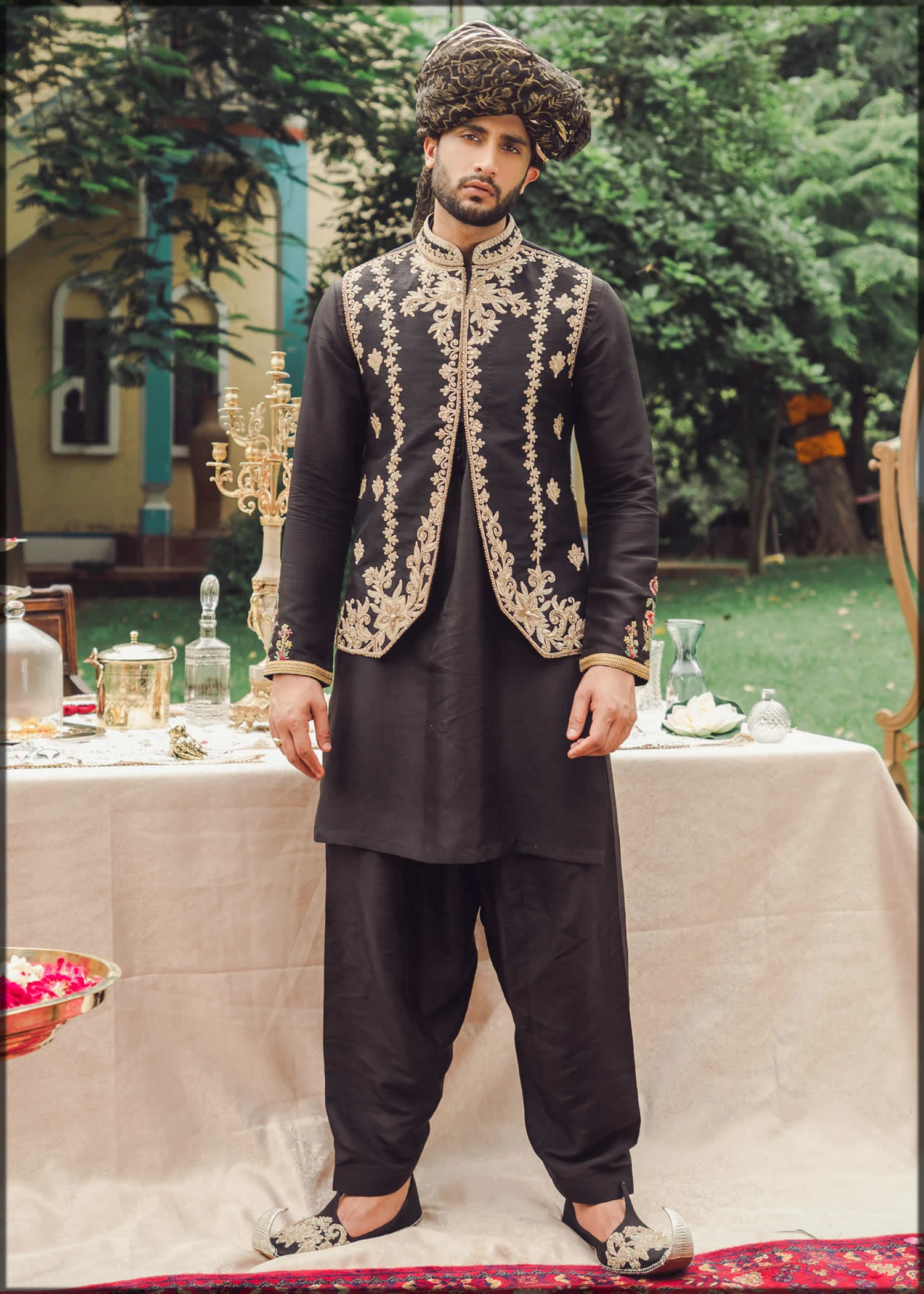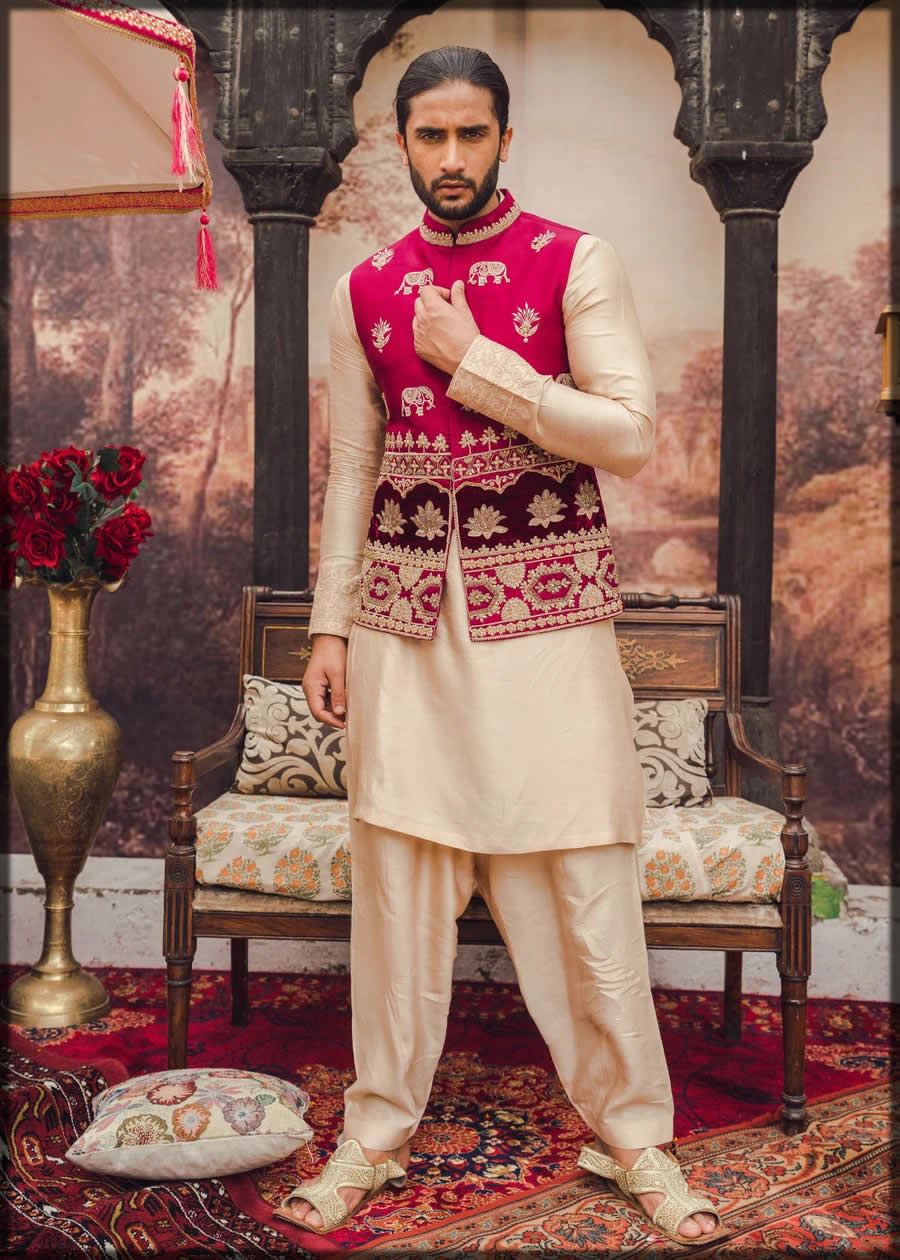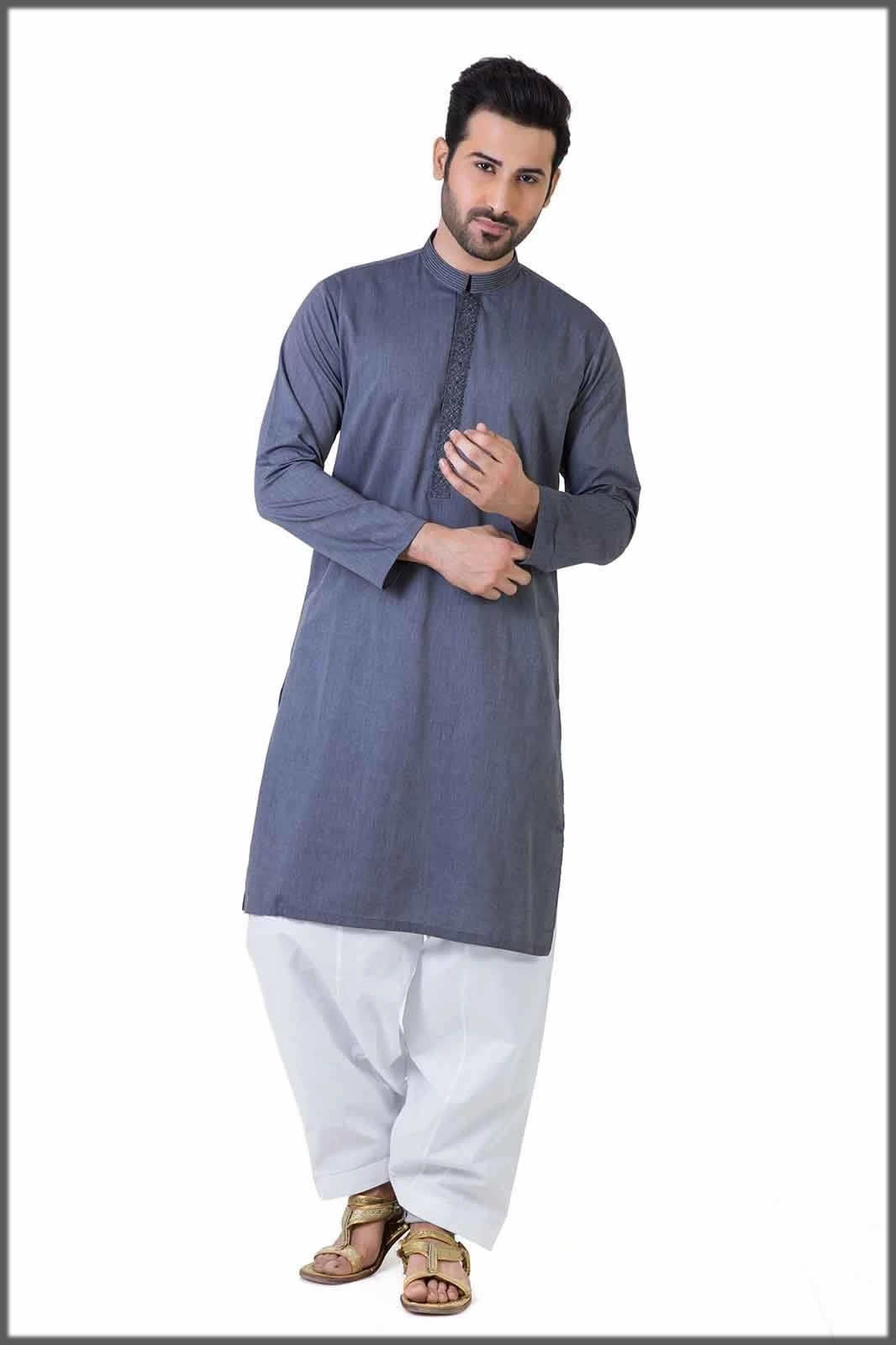 Attractive Men Kurta Collection
A kurta is a long loose shirt whose length is generally near to knees. In earlier times, men always look for a kurta to wear at weddings. However, with an increase in crafting more designs, kurtas are now available in a vast variety.
Impressive Embroidered Kurtas
The men of the modern era always look for something incredible to wear. Therefore, they prefer embroidered kurta designs over plain dresses. Look at the fantastic designs of the latest kurta collection. Some are having an embellished neckline, while others have stitched sleeves. Moreover, classy footwear is adding a high beam to the ultimate outfit. The more you want to look handsome, the more this collection will help you.
Two and Three-Piece for Wedding Wear
A coat is a garment that men wear on the upper body for warmth or fashion. However, the pant is an outer garment covering each leg separately and usually stretching from the waist to the ankle. Generally, modern men prefer to wear a suit that adds much grace. Therefore, they look for an exclusive pant coat. Take a look at the following designs of suits.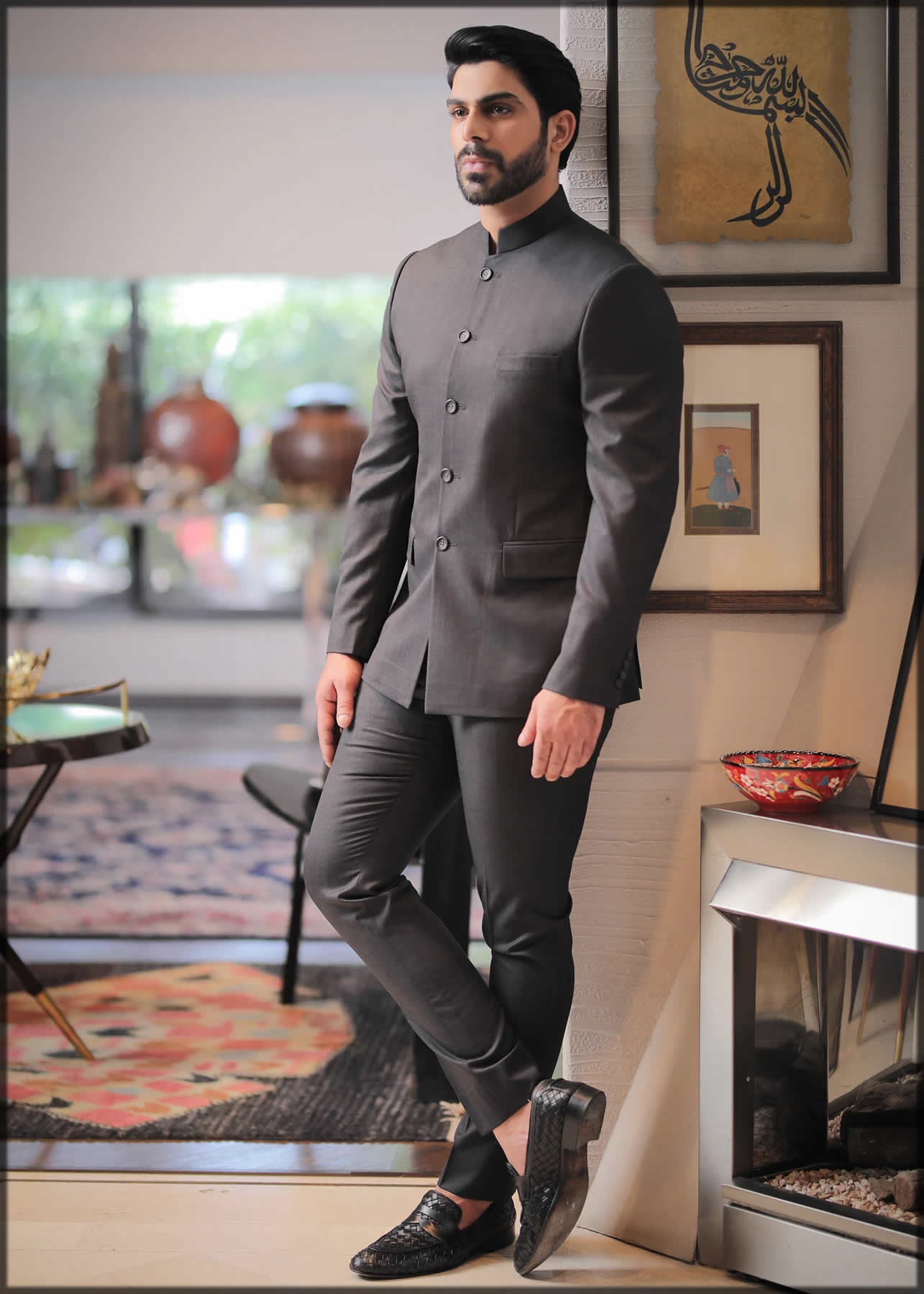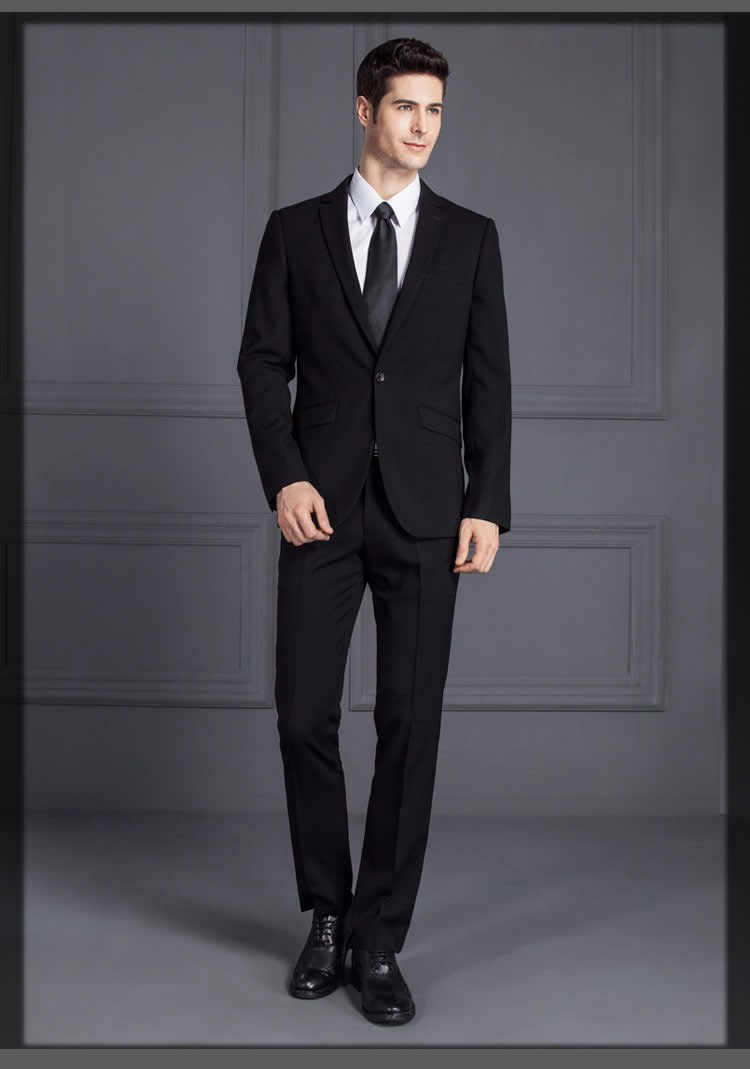 The phenomenal dresses for wedding guests are available here for men and women. Moreover, the wedding is a special event on which everyone wants to look dazzling. Therefore, this article will aid you in choosing a perfect outfit for yourself. Give yourself a complete look by matching accessories with your attire.