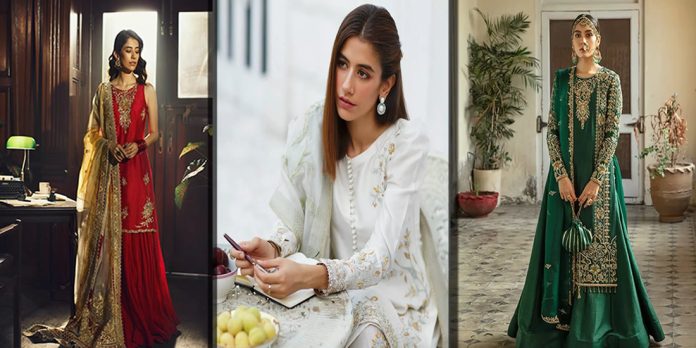 No one can accidentally look gorgeous. It is always a struggle and planning that makes a woman beautiful. Also, you need to kill your bad and ugly vibes with a perfect replacement of cleanliness. For instance, you must have a ravishing outfit in your wardrobe to bring glam looks. Here are the latest Faiza Saqlain Formal dresses for you to wear at parties.
The modern era is the era of fashion and technology. Technological advancement has to lead the industry to craft youthful and dynamic styles for both men and women. However, women require more energetic and modest outfit ideas as compared to men. Therefore, Faiza Saqlain struggles to create attractive formal ensembles for women to bring glam looks.
Undoubtedly, your beauty will begin at the moment when you decide to be yourself. No one can be you, and that is the power of individuality. Here we have versatile styles for you that will challenge your individuality. Let's give a huge shout-out to the designer for this engaging portfolio. Take a glance at the attractive and stylish formal dresses by Faiza Saqlain below.
About the Creative Designer and Brand History
Faiza Saqlain has inculcated Pakistan's fashion with its endearingly elaborated designs. Established in 2012 in Lahore, the powerhouse of fashion earned massive success because of its unique and chic designs. The creative designer is famous for its casual, formal and signature wedding wear collection for both men and women. Further, the designer focused on the infusion of modern silhouettes with elegant yet traditional embellishments to create an illusion in styles.
Faiza Saqlain Beautiful Formal Wear Dresses for Women
If you are looking for feminine, alluring, and glamorous dresses, opt for Faiza Saqlain's formal collection. Undoubtedly, you will be able to get an aesthetic look if you wear an ideal outfit. Be a woman with class, grace, and attitude to win the hearts of the people. Plus, people will applaud your efforts to choose an extraordinarily chic ensemble for yourself.
I want to give a huge shoutout to Faiza Saqlain for creating such youthful and dynamic styles for women. Indeed, her aesthetic sense deserves an appreciation on a wide scale. Further, I want to request you all to have a quick look at Faiza Saqlain latest bridal collection for your wedding outfit. Moreover, you can observe tremendous styles in the following portfolio of dresses.
Exclusive ISMAT Collection Featuring Syra Yousuf
Syra Yousuf is one of the cutest and stylish models of Pakistan's fashion industry. The gorgeous one also participates in TVCs and very few dramas. Currently, she has been working on her movie named "winning your ex" across Shahroz Sabzwari. Her role as Nazia in her debut drama Mera Naseeb got her recognition.
You might have seen the gorgeous actress in the debut of the Zaha latest collection. However, you will see Syra in an entirely gorgeous look for the Faiza Saqlain ISMAT collection portfolio. So let's extract a bit of time to explore the following dresses. The luxurious and ravishing styles will exude elegance and add glam to your personality.
Blue Chikan Kari Chiffon Peshwas
Being glamorous, chic, and confident is all about strength and power. A woman can never look bright unless she struggles for it. Therefore, we guide our customers to put a little struggle for an effortlessly chic look. Here is a shiny bright blue chikan Kari chiffon peshwas that will make your efforts worth it. Let's have a look at the contemporary Peshwas below.
The teal blue ensemble has a fully embroidered front. The glimmer of the dress is enhanced with sequins spray for a delightful look. Further, you can observe hand-embroidered blooming florals all over the front. It has an embellished organza dupatta with an exciting shower of beads on the borders to create an illuminating look as a whole. Please give it a thought!!!
Deep Marigold Gharara Dress for Girls
At times, everyone wants to be a little playful and a little mischievous. Also, women always want to be glamorous so that they can impress the people around them. Undoubtedly, this couldn't be done unless you put effort into it. Hard work pays off if your intention is pure and real. Here is a real glam and graceful ensemble by Faiza Saqlain formal dress for you below.
You might have had plenty of chic gharara dresses before, but here is an exclusive style for you. The following deep marigold ensemble can be an ideal option for you to wear on mehndi. Indeed, the richly decorated dress will exude elegance with a class in proportion to get you a glamorous look. Plus, the embroidered tulle dupatta will complete your look.
Elegant Navy Blue Chiffon Saree
Keeping a saree always on my mind is never an old thought. Instead, it looks like you are modern and mature enough to think about wearing a sari for a dapper look. Indeed, a woman can progressively look stunning if she dons a perfect saree for a royal look. So, let's explore the top designers saree collection to discover mesmerizing styles for yourself.
Get rid of the eerie looks and think to bring royal elegance to your personality by wearing a saree. Faiza Saqlain formal dresses present you with a radiant navy blue chiffon saree. You can easily observe the horizontal patterns over the entire dress, making it an ideal option for the evening party. For instance, you can explore Maria B's evening collection for more styles.
Embellished Pale Blue Peshwas
Do not overthink about your looks. It is not your face that is untidy, but it's your laziness that makes you sloppy. Stay active and choose a glamorous outfit for yourself to survive in this modern world. Let's have a look at the following embellished pale blue Peshwas.
The net embellished ensemble has a fully embroidered and well-decorative front. Further, it has an embellished net dupatta with well-embroidered borders to create an illuminating look. Get similar Peshwas designs from the Asim Jofa luxury collection.
Korean Raw Silk Sharara Dress
Everyone desires to glam up their looks. Indeed, a perfect outfit adds fuel to the fire and makes you look modest and chic. To survive in the modern world of fashion, one must have a fashionable outfit. Here is a fashionable Korean raw silk sharara dress for you below. However, you can explore a huge variety of silk dresses for yourself too.
The following outfit has a geometrically patched raw silk shirt. The whole shirt has a fully embroidered and embellished front. Further, it is coordinated with a brocade fabric golden sharara for a royal look. Finally, a lightly embellished organza dupatta completes the whole look.
Traditional Crimson Red Sharara Dress
Beauty lies in the comfort of a woman. If a woman is not comfortable in a fully embellished and flared floor-length dress, she can never look beautiful—such women desire to wear a delicate knee-length dress to meet their comfort level. I am glad that Faiza Saqlain formal dresses have a versatile clothing range for women to pick their favorite dress.
Here is the glamorous crimson red knee-length dress for you below. The Korean raw silk shirt has hand embroidered patterns on the front. Well, it has an elaborated neckline design to create a voguish look. The outfit coordinates with a crushed tussar silk sharara and organza embroidered dupatta. Amplify your looks with contrasting footwear for a whole look. Also, explore Zahra Ahmad formal collection for more such beautiful dresses.
Classic White Korean Raw Silk Shalwar Kameez
Who says that a woman can not wear shalwar kameez at formal events? It is absurd thinking of people who underestimate the power of traditional embroidered dress. Instead, we believe that a woman can exude much grace and elegance in she wears a shalwar kameez. Look how beautifully Syra Yousuf dons a classic white Korean raw silk shalwar kameez below.
The graceful ensemble has a fully embroidered front and back. Further, it has delightful embroidered sleeves with puffy shoulders to create an exquisite look. The puffy sleeves are intricately worked floral trellises to create an illusion in style. You can observe visible patchwork and embroidery on the dress. Organza embroidered dupatta completes the look.
Vibrant Magenta Crushed Kalidar Frock
A vibrant color brings you the brightest look. Therefore, the fashion designers of Pakistan tend to bring you dignified shades for a statement style. There is a lot of variety in frocks. Some people love to wear a short frock with palazzo. At the same time, others search for a trendy long frock with churidar pajama. Here is an incredible crushed Kalidar design for you below.
There is an immense variety of party wear frocks for women and teens. But, the following crushed design will add more beauty and grace to your personality. The hand-crafted ensemble has a lot of time and diligence invested in creating a unique look. So, let's take a moment to appreciate the efforts of Faiza Saqlain for this beautiful creation of art.
"WOH SUNEHRE DIN" Formal Collection by Faiza Saqlain

Faiza Saqlain is not over with the collection above. Yet, there is another engaging portfolio of Pakistani formal dresses for women below. Would you please take a while to explore the mesmerizing statement styles by the "WOH SUNEHRE DIN" collection below? The image gallery features highly anticipated and attractive ensembles for women below. Surely, the energetic styles will be an ideal option for you to wear at any upcoming event. So let's give it a thought and enjoy your event.
Faiza Saqlain "PHOOL KALIYAAN" Formal Collection
Do you believe in primping at leisure? If so, then you will love the following colorful portfolio of fancy dresses. Luckily, women have a huge margin of fashion and style. Also, they can easily amplify their looks with a little bit of makeup and hairstyle. Follow fashion tips to create a dramatic look this year with the following "PHOOL KALIYAAN" collection. I hope the dynamic portfolio will get you a dreamy yet delightful look at your upcoming event.
So, the wait is over, and the glamorous collection of Faiza Saqlain formal dresses has been launched. It is the time to amplify your looks with the breathtaking ensembles above. The beautiful fusion of hues and contemporary designs will get you a delightful look. Please give a thought to the engaging portfolio above and let us know about your experience in the comments section below.