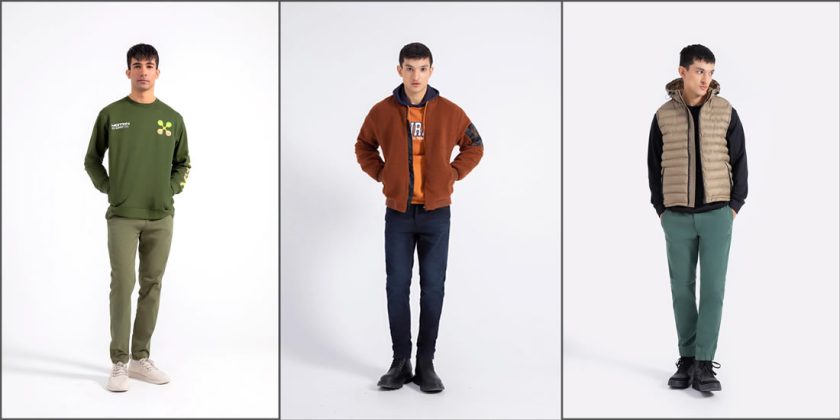 It's time to forget about the other brands and get ready with the Outfitters this winter. Outfitters is very affordable, and its designs are very fantastic indeed renew your look and make it extra dazzling. This latest Outfitters men winter collection will help you to be classy through its magnificent and dazzling winter attires.
These are the vivid and incredible attires from the Outfitters men's winter collection that not only refresh your look but also make it extra charming. All these classy patterns are designed by keeping all the latest trends and styles in mind. So feel free and grab these dresses from the outlet of Outfitters. You can also get your fancied dress at your door by online order.
This winter, Outfitter has brought the most classy shirts, sweatshirts, jeans, trousers, denim jackets, and hoodies for the gents. Moreover, they pick bright and brilliant shades for making their elegant winter attires for men of all ages. So, they can make their look more elegant and attractive by wearing appealing outfits.
Latest and Noteworthy Outfitters Men Winter Collection
Like women, men are similarly conscious about their dressing. Hence every season all brands bring the latest attires for the men to stand out. As women's dressing trends change with time, the gents' dresses also evolve. Discover the Outfitters men's winter collection here and get all the seasonal outfits with updated fashion and style.
Are you looking for the western style winter collection? Then don't waste your time and visit the Outfitters store as soon as possible. You will get the most iconic hues of attires in the most striking designs that will make your winter more charming. As we know, managing time in a busy life routine is very difficult. So, for your ease here we have gathered the stunning variety of Outfitter's winter collection. So you can rapidly get your desired dress. J. winter collection for men has also been launched. 
About the Brand and Designer…..!!!
Outfitters was established in 2003 by Kamran Khursheed. The basic aim of this brand is to induce some uniqueness in the fashion industry of Pakistan. Therefore it is befitting the most preferred brand of Pakistan in a few years. Now, it has 100+ outlets in all influential cities of Pakistan. Further, it also offers worldwide delivery for the well-being of its consumers. 
1- Jackets & Hoodies Collection from Outfitters Men Winter Collection

Like women, men also can do anything to continue their grace. Therefore they can easily afford expensive jackets and hoodies. So, for those men, Outfitters has brought the chicest denim jackets, hoodies, and leather jackets in the most dazzling hues. The prices of these jackets and hoodies are a little bit high but trust me they are worth buying.
They have used the most relaxed and comfortable texture for preparing their hoodies and jackets. Don't worry about the texture quality and grab your favorite jacket or hoodie as quickly as feasible because the stock is limited.
If you are going for the northern areas, then grab this sleeves puffer jacket from the Outfitters men's winter collection and pair it with the sleek black tees and cargo pants to catch the extra charming flash. This stunning jacket will keep you warm so that you can freely enjoy your trip. So hurry up and purchase this puffer jacket to get the engaging flash.
Regular Fit Teddy Jacket with Contrast Fabric Detail
Jackets and hoodies with inner jersey panels are on-pattern these days. Look at the sleeking jackets below that are advanced with an inner jersey panel that will help you to make you look more stunning and handsome. Pair them with sleek back jeans and half sleeves graphic teens to catch the extraordinary gaze. 
For keeping your jacket/hoodie new, you need to keep the following tips in your mind:
Do not tumble dry the jacket/hoodie

Don't bleach
Regular Fit Faux Leather Sherpa Biker Jacket
Various clothing brands for men provide stylish attires for them. Grab this 20% cotton and 80% polyester biker and bomber jacket that will help to keep you warm. This unique and classy jacket will add more attractiveness to your winter appearance. Pair it with slim jeans and winter boots for a striking and awe-inspiring look.
Relaxed Zipper Denim Jacket
Further, look at the relaxed denim jacket below that not only keep you safe from the intense cold weather but also make you look stylish. You can consume it for any formal, cocktail, or snow party to make all of your handsome and killer looks.
2- Classy Winter Shirts, Sweatshirts, Sweaters, and Tees Collection
Everyone is looking for unique and trendy attires so that they can look different than others. Like women, men also have the same ambition to look incredible and handsome. Therefore, in the past few years, many notable brands like Shahid Afridi, Junaid Jamshed, Alkaram, and Gul Ahmed have introduced men's clothes.
All men are searching for the most vivid dresses this winter because men also want to keep their look fashionable and up-to-date. Look at these shirts, sweatshirts, and sweater catalogs from Outfitters men winter collection that will help to make yourself presentable in gatherings and winter events. For getting more designs and styles in the shirts, the Cambridge dresses collection will also give you a wide range of shirts.
Trendy men's sweatshirts are available in the market now. But you should never compromise on the stuff in any condition because the excellent and polished texture of the dress enhances your personality by adding more attraction to it.
Outfitter is a notable brand that always satisfies its client's needs by offering the chicest and soft textured attires. Without any doubt, pick any sweatshirt from the Outfitters store and complete your dashing look because it uses soft and good quality of fabric for making its elegant and dazzling attires. Check out more winter attires by Gul Ahmed.
Alluring Sweaters for Gents
Winter sweaters are the most compulsory item for your wardrobe because they protect you from the cold and give you a decent appearance as well. These stunning winter sweaters are made with 100% soft material that keeps you warm and up to date. These sweaters are designed with trendy tie-dye and stripe patterns that are best for casual wear for men.
Checkered & Band Collar Winter Shirts
Checkered and band collar shirts are in-trend these days. The boys who want to look dashing and handsome must go for the checkered and band collar shirts, which are incredible and classy. You can pair these elegant shirts with your slim-fitted jeans and khaki pants for a more decent and attractive look. Breakout winter collection also has fresh designs for men and boys at affordable prices.
Are you going to wear a denim or leather jacket? At that point, pair your jacket with the tees for a more attractive look. It will give you a warm and relaxing feeling. In the Outfitter winter collection, you will get a wide variety of tees in the most splendid hues, as you can see below.
The first shirt has a tie-dye vogue that most teens prefer to wear to get the classy and trendy flash. The next black tee is a graceful choice. The charm of the black dress never fades away and it always remains a trend. So grab any below tees according to your taste and make all of your jazzier and dazzling flashes at any casual and formal gathering.
3- Winter Jeans and Trousers Group
Wearing jeans or trousers adds extra charm to the men's personality. Moreover, to complete the stunning winter gaze you need fitted jeans. So look at the jeans and trouser collection by Outfitters, which offers slim-fitted jeans, pants, jogger trousers, ripped pants, and many new styles for men of all ages.
These denim and classy jeans are made with the comfiest textures that will protect you from the cold days of winter and also enhance your look by making it more captivating. You can match these jeans with your casual sweatshirt or sweater for a more killer look.
Skinny Fit Washed-Out Jeans
This winter, try these skinny-fit jeans that you can combine with your checkered shirt and sneakers. This classy type of jeans will suit everyone. So, without any pause, grab any skinny-fit pants from Outfitters and pair them with the basic shirt/sweatshirt to get the modest gaze.
Slim Fit Jogging Trousers
For jogging, training, and exercise, you always need casual or comfortable trousers to do your work efficiently and smoothly. Look at this slim-fit jogging bottom that is available in black color. Combine it with your jogger shoes and casual hoodie to complete your training look.
Standard Straight Fit Jeans 
Being a man, you must need straight-fit jeans for a more dashing look. Speed up and acquire the straight-fit jeans from the Outfitters store if you don't have any stylish pants in your winter closet that indeed give you the smart look. Pair it with a comfy mustard shirt to dazzle your winter event.
For a cocktail party, ripped jeans are the perfect choice to make your looks classy. Look down at the below beautiful skinny fit jeans that is further enhanced with the embroidered detail. You can combine this appealing jeans with any casual and formal shirt to add extra appeal to your look. 
Let's explore the Outfitters men winter collection and get fabulous outfits here. The prices of all the classy attire, jackets, and hoodies are also mentioned for your comfort. So, you can pick any design as per your requirement and choice.