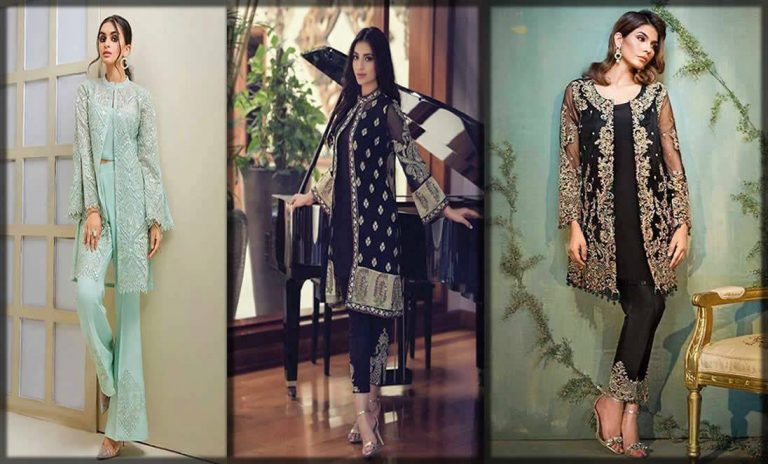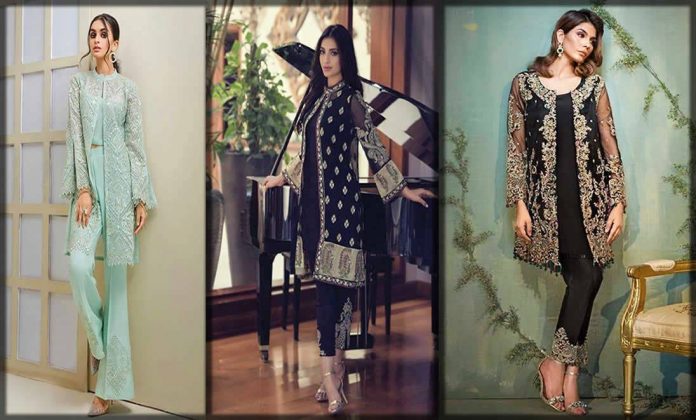 The fashion industry of Pakistan is successfully running through e-commerce. Various clothing brands are crafting fantastic outfits for the public at large. The diversity among clothing designs engages you to look for distinctive styles. Here are some staggering Pakistani Gown Style Dresses.
Fashion designers of Pakistan have a supreme sense to think out of the box for crafting such amazing outfits. Therefore, they are successful in satisfying their customer's needs. There are numerous occasions for which people seek for magnificent attire.
There are versatile designs in gown style dresses. Also, wearing such a pretty outfit bring stylish looks. Moreover, enriched Pakistani dresses are available nationwide in online stores and outlets for people to get inspired by the eastern culture.

Party and Wedding wear Pakistani Gown Style Dresses

Clothing trends change from time to time. Well, women always follow classy clothing trends. Therefore, they are always up for looking at gorgeous designs with immense fabric and styles. Here we are offering a stylish and embellished collection for formal dresses and wedding wear.
Stylish Partywear Pakistani Gown Style Dresses
Pakistan is a country with having a supreme unique level of dressing. Also, versatile designs are famous nationwide. The culture of Pakistan is quite versatile in Asian countries. Therefore, women always look for fancy party wear outfits. Here is a wonderful collection of stunning party wear gown styles for you. Let's have a look at the collection of outfits beneath.
Black is the latest trendy color in all clothing forms. Women who wear black always get a compliment. Well, here is a stunning black open-style outfit. Surely, it will help you to get a compliment for your efforts. The stylish mixing combination looks dazzling in such a wonderful style. Moreover, the matching footwear will add much grace to the dress.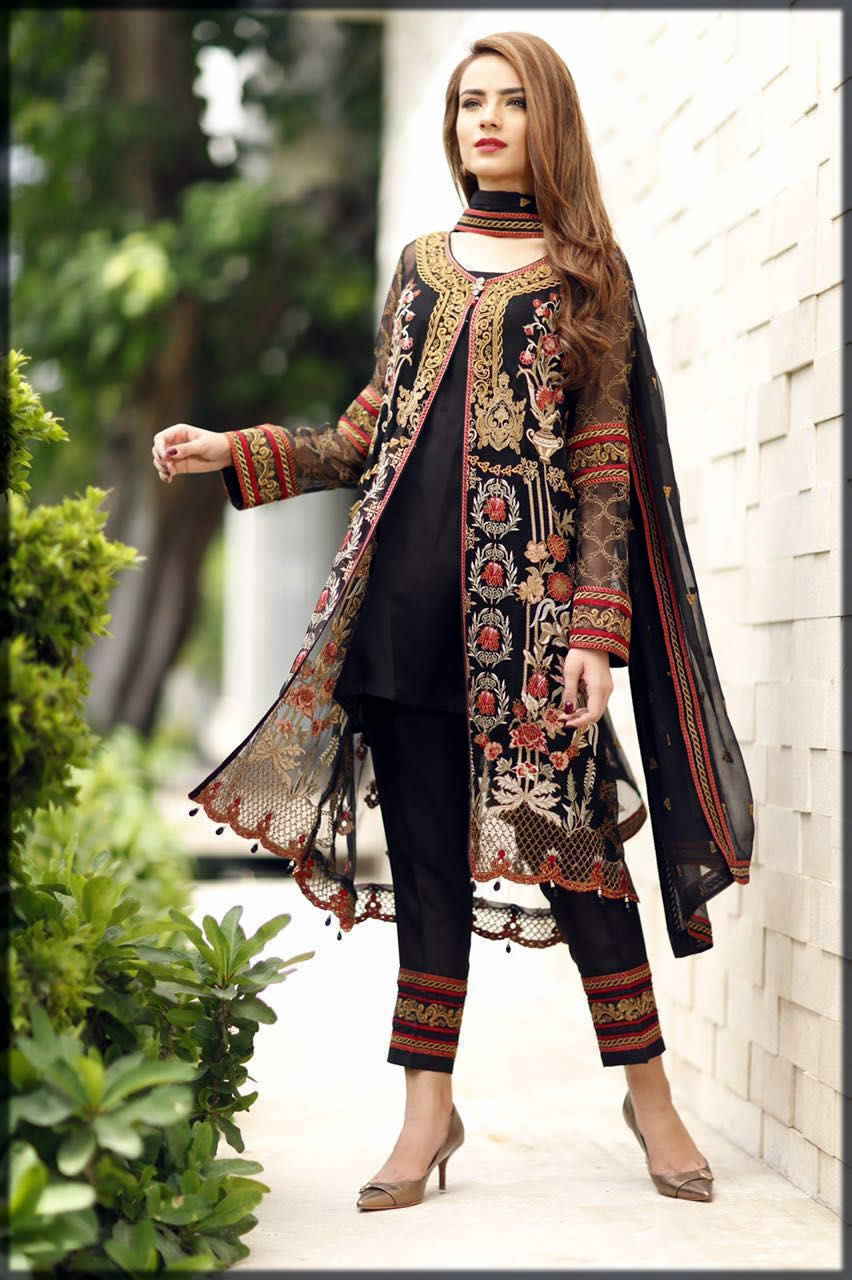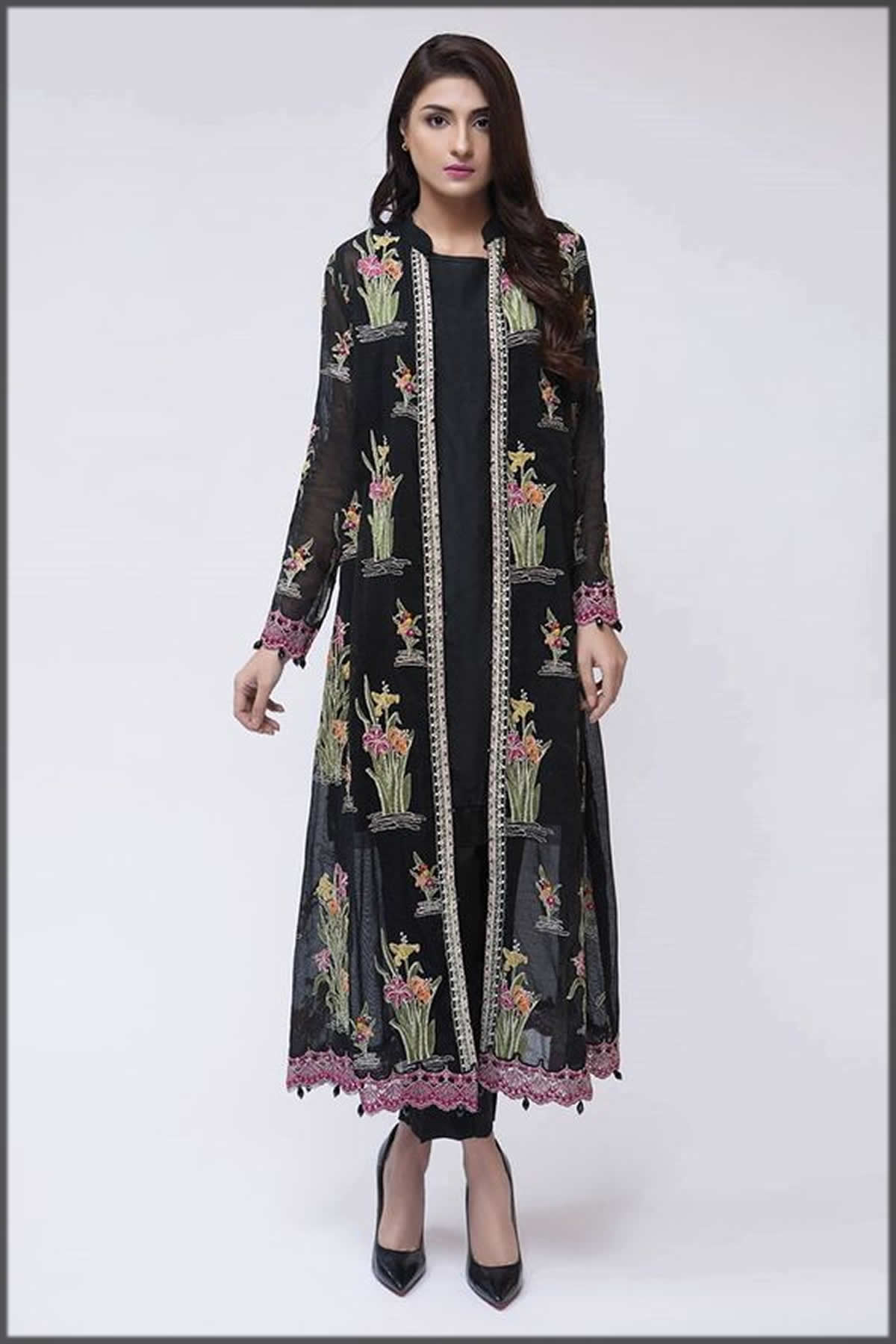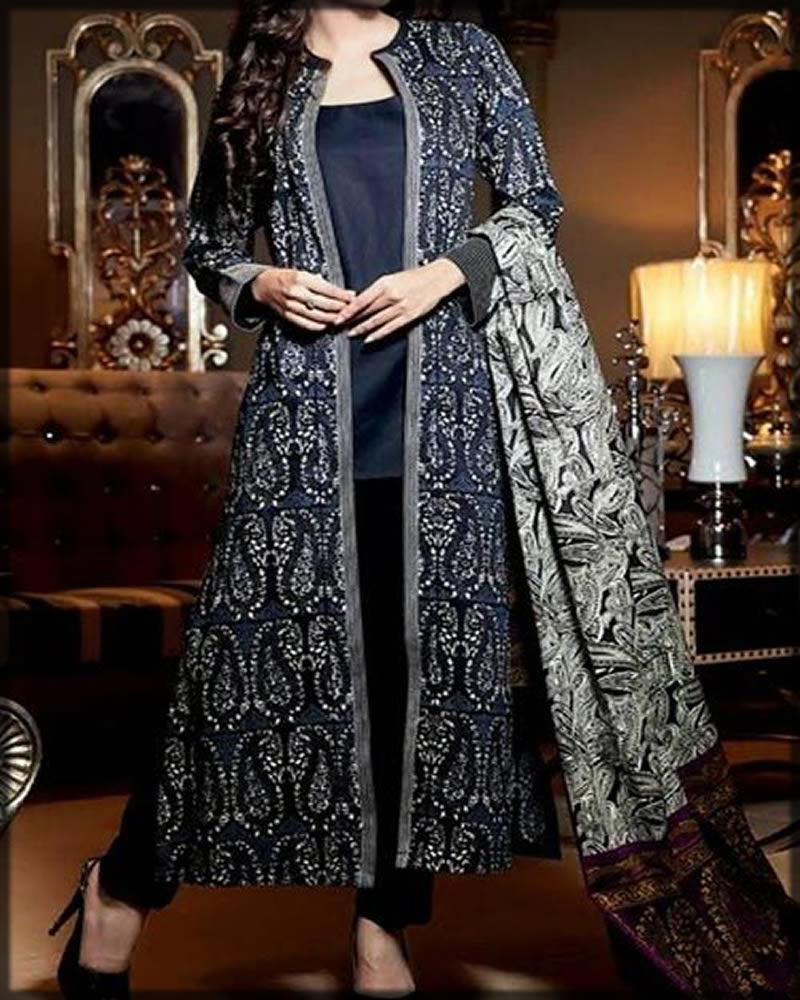 Vibrant Short Party Wear Gowns
Teens and young girls always want to add colors to their looks. Therefore, we have a youthful collection for them. Check out the following colorful collection of gowns. Some may have a loose trouser with them. However, some get a nice pairing with Capri or cigarette pants. Choose the style that suits you the best.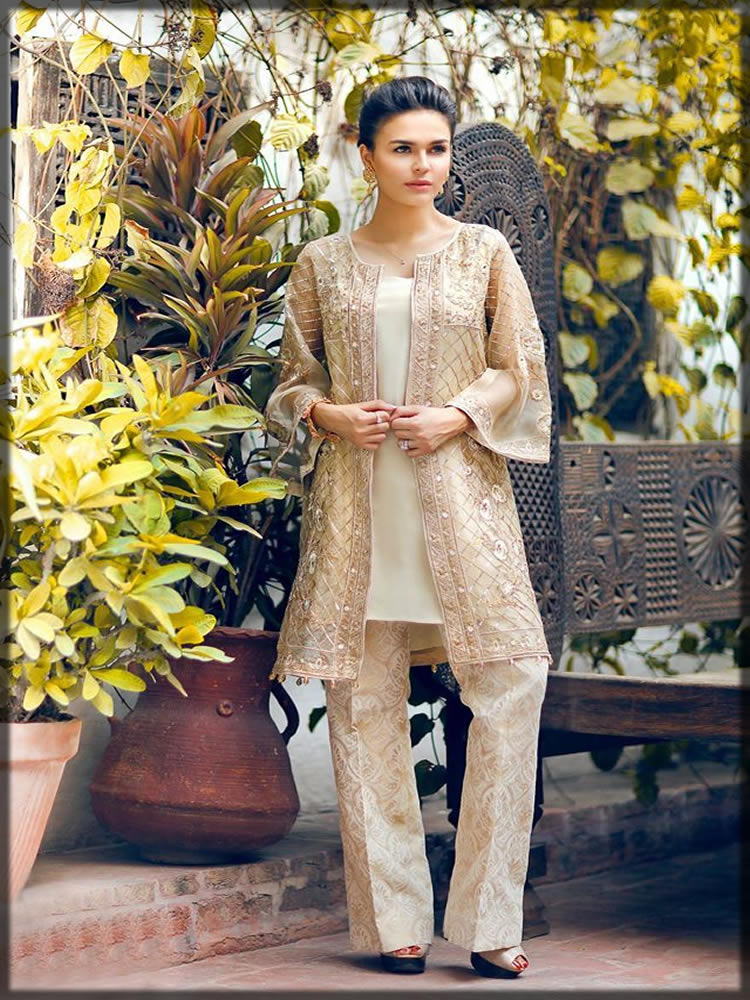 If a girl wants to look beautiful, she will definitely choose an Anarkali frock. These are among the latest and fashionable designs. Also, such frocks are trending nowadays. Therefore, women who want to look phenomenal will have such style. Here we are showing a distinctive Anarkali gown style with a pencil pant. Such a floor-length dress having a massive flare will look superb. Well, do not forget to pair fancy footwear with a dazzling dress.
Fancy Wedding Wear Gown Dresses for Women

The wedding collection of every season varies from time to time. Also, fashion designers craft wedding dresses according to the requests of customers. Here is a fantastic and embellished wedding wear gown. Check out the vigorous wedding collection of Pakistani gown style dresses here with the latest trends. Some of the gowns are followed by a straight trouser. However, some may have a pant style gown. So, grab the ones that you like the most.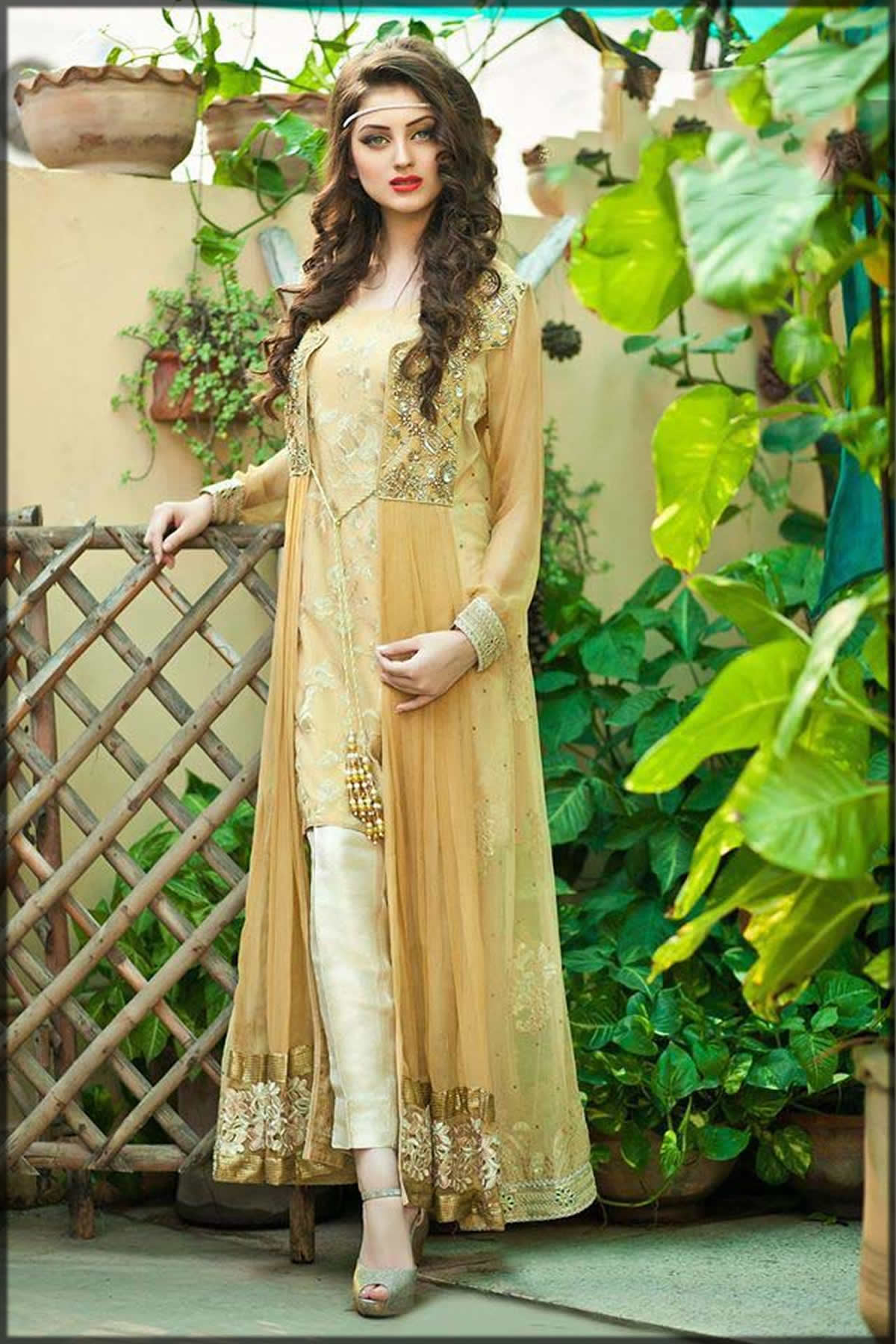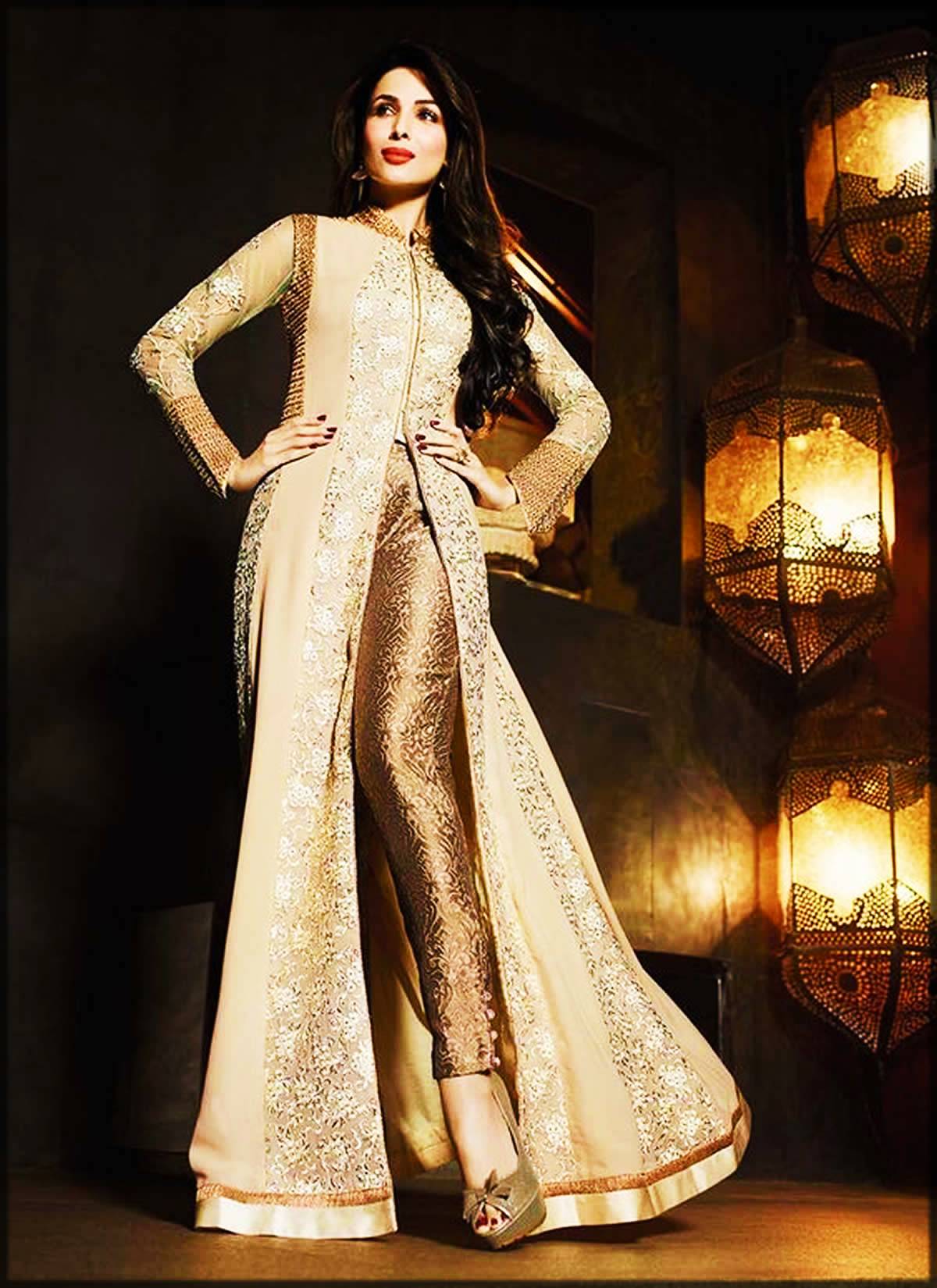 Breathtaking Gown Style Outfits by Top Pakistani Designers/Brands
There are many fashion designers of Pakistan who are famous nationwide for their marvelous collection. However, here we are presenting you with the top five clothing brands with gown style collection. These are:
Mohsin Naveed Ranjha (MNR)
Zainab Chottani
Hassan Shehryar Khan (HSY)
Asim Jofa
Threads and Motifs
Let's extract a little time to have a look at the dazzling outfits by the famous Pakistani clothing brands.
Mohsin Naveed Ranjha Gown Collection
Mohsin Naveed Ranjha is among the leading brands in the fashion industry of Pakistan. The brand got fame for its exquisite designs with some marvelous artwork. However, it is famous for the wedding and bridal wear. But, here we have some stunning collection of gowns by the famous Mohsin Naveed Ranjha. So, have a look at the flickery designs below. The heavily embellished gowns are paired nicely with skinny Capri. Well, the heavy jewelry in matching brings perfect modeling and up-to-date look.
Alluring Zainab Chottani Gown Collection

The famous Zainab Chottani has an inspiring collection inspired by the Mughal era. It has a variety of clothing collections ranging from casual and formals to bridal wear. However, the brand got fame for its supreme bridal collection. In addition, it has a vast variety of luxury wedding guest dresses. So, we are showing a staggering collection of festive gowns by Zainab Chottani.
Look at the alluring collection below. The heavily embellished gowns look fantastic with an in-shirt and a pencil pant. Also, the pattern of artwork and sequins added much gleam to the wonderful attire entirely. Hence, Zainab Chottani dresses will get you a compliment surely.
HSY Fancy Gown Collection for Wedding

Hassan Shehryar Khan is the famous fashion designer of Pakistan with a trendy collection. The prices of dresses are generally high as compared to the other clothing brands. Also, the designs are distinctive in comparison. Moreover, the brand is ready to trigger the western fashion industry.
Here is a valuable collection of gowns by the famous HSY. Let's explore the latest trends of gowns with modern embroidery and artwork. Also, high-quality tilla and zari work on fancy clothes look amazing.
Elegant Long Gowns by Asim Jofa
Many celebrities come to Asim Jofa for their wardrobe. You wanna make your wardrobe staggering? Check out the outstanding collection of Asim Jofa. This notable brand has won many awards and stands out as the best wedding cloth designer in Pakistan. The Asim Jofa luxury collection targets all the segmented groups. However, here we have a unique collection of floor-length open style dresses.
Wanna look dazzling and stunning? Choose any of the two attires from the following to make your evenings memorable. Also, the unique style and pattern will catch the attention and bring a soft yet elegant look.
Threads and Motifs Luxury Gowns
Do you want to have a chic outfit? Explore the amazing threads and motifs collection for a bright yet delicate outfit. Customer demand is increasing day by day for the fantastic designs of this prejudiced brand. For instance, have a look at the fantastic floor-length open style dresses. Get your stylish wardrobe by threads and motifs for appreciation.
All of the above striking ensembles are available at different prices. Also, they vary from one another in fabrics and quality too. Explore the extensive gown collection here with incredible designs. Also, the brands are winning the hearts of the public by launching such enthusiastic attires. I hope this collection will help you to grab your favorites.