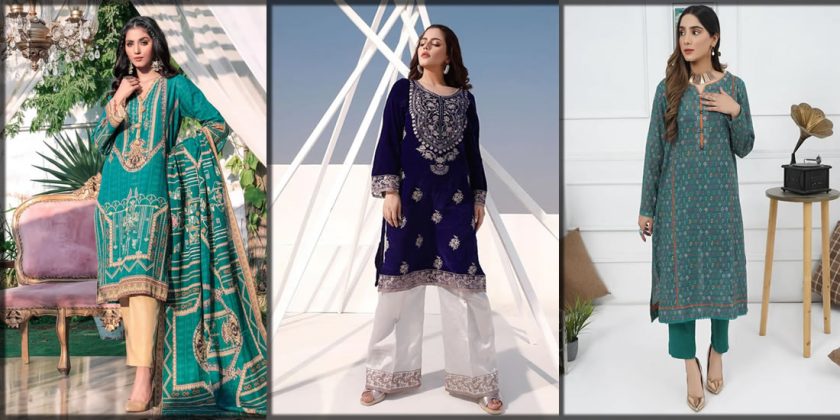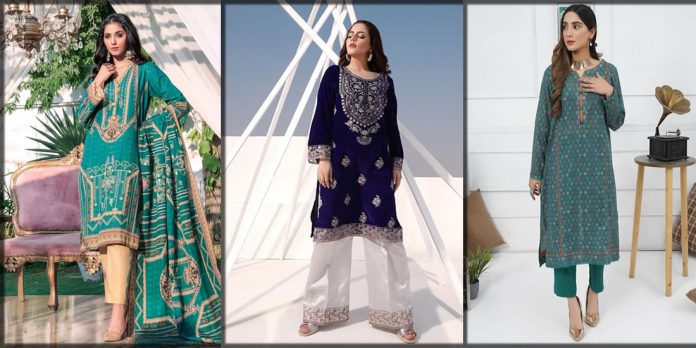 You will endure a new level of tranquility and style if you opt for the Khas winter collection. The magical creation of Khas continues to win the hearts of millions of people around Pakistan. Also, people have been praising their designs and quality for decades. Indeed, every brand's top priority is to gain customers' trust by providing reliable products and services to the public. Hence, Khas, each season, designed stunning attires according to the customer requirement to satisfy them. 
Modern ladies always head towards the chicest designs. Therefore, Khas focuses on crafting its customers' latest and newest trendy styles. As a result, you can see a wide assortment of winter clothing in its latest collection, designed with the most modern designs and comfiest textures like khaddar, karandi, velvet, and linen.
You can explore the immense artistic work with the incredible designs below. Indeed, the latest Khas winter collection offers the most exquisite styles for the season. You can buy these dresses from any retail outlet or from the website. So, get your dreamy outfit for a remarkable season from the Khas store. I hope it will give you enough satisfaction.
Khas Brand Intro..!!
Khas stands among the lively brands in the fashion industry of Pakistan. It stepped into the market in early 1951. Today, it is famous for its high-quality production, designs, and stylish outfits. Moreover, now it is known as the lady's favorite brand.
This well-known brand also renders the facility to purchase your favorite outfit online. The brand will deliver your desired styles with your preference within the given time. Additionally, the leading brand has evolved with continuous success to complement this innovative shopping. All the items are arranged in the form of a theme for you. Indeed, this idea will make it relatively easy for you to pick the desired outfit. Certainly, it will save you time.
1- Classical and Elegant Winter Unstitched Dresses by Khas
Outfit plays a vital role in demonstrating your temper and style. Hence women are always ready to update their wardrobes to add extra appeal to their look. As you know, winter is just around the bend. Hence, we are excited to see the newest seasonal variety of renowned brands. Like other clothing brands, the Khas winter collection has been launched in retail stores and online. This season brings many unique and new designs for women of all ages. In addition, the Beechtree winter collection offers a wide variety of exclusive colors. 
This latest collection is a mix of unique tints and designs. Indeed, you can explore the quality of the brand's recent assortment. The Khas summer collection was also widely liked by women. Indeed, you can go through the bliss of these winters with the mesmerizing winter assortment of this brand. The innovative styles will engage you entirely. Moreover, the chicest designs will propel you to have a wardrobe with the Khas winter collection this season.
Moreover, check out the latest winter collection by all notable brands from our winter catalog. 
"Hijab" Luxury Khaddar Winter Collection by Khas
Khaddar is the most relaxing and heated texture that is usually used to make casual home wear attires. But the Khas collection adds some delicate embroidery on khaddar dresses, so you can also wear your comfy clothing at any formal gathering. Look down to check out the luxury khaddar collection by Khas below. In addition, the Limelight winter collection is also offering elegant and graceful khaddar attires. 
Generally, teen girls prefer vibrant colors to wear. Such youthful hues reflect authentic aesthetics and gleam. Therefore, we are going to present you with the bright, shaded khaddar dress below. The beautifully printed dupatta adds to the beauty of these dresses. You can wear these stunning outfits at any casual gathering to look extra chic. If you don't like to wear the plain shalwar kameez, then you can stitch these dresses in a peplum style dress as per your choice.
"Tahseen" Winter Karandi Collection
Self-possession can bring calmness to your soul and personality. Therefore, you should always choose the right color and style according to your taste. Moreover, combinations speak louder than styles. A beautiful mix and contrast always add sparkle to your style and personality. 
Therefore, Khas comes up with the same priority and taste for people. So, take a look at the beautiful printed karandi dresses below. It has unique combinations and classical patterns that will add allure to your character. You can wear any below attire at any casual gathering to get the fascinating flash. The Sapphire winter dresses also have vibrant and chic combinations.
"Breskha" Khaddar Collection for Women

Khaddar is the most comfortable fabric for the winter season that keeps you heated and enhances your personality. Let's take a look at the Breskha khaddar portfolio below, which contains the classical khaddar dresses in two and three-piece configurations. 
 All of the styles are available at reasonable prices. Plus, the color combinations and patterns of these dresses are superb, as you can see below. You can explore affordable dresses likewise by the Almirah winter collection. They offer a wide variety of beautiful dresses.
Beautiful Digital Printed Khaddar Suit for Girls
Take a look at the beautiful three-piece khaddar dress below. The lining and traditional floral prints over the black base make it extravagant for your winter season. It is paired with digitally printed khaddar dupattas and plain trousers. One of the sleekest outfits for young girls to get a pop look. The Lulusar winter collection also offers likewise combinations and styles.

Printed Khaddar Suit with Printed Monark Dupatta

Calmness and tranquility are likewise significant as style is. Therefore, one must opt for a style that reflects the serenity of your soul. A khaddar dress with a Monark dupatta is a perfect choice for you. Take a look at the following printed winter suit. 
The dress has a blue shade. The stylish pink, beige, and silver prints make a classy combination with this blue color. You can carry this beautiful outfit to your best friend's birthday party or any seasonal celebration by combing it with lightweight makeup and accessories. Beautifully embroidered attires are also available in the Nishat Linen winter collection for this season. 
Sleek Black Khaddar Printed Suit

You can never create an illusion without some novelty in proportion. Indeed, extravagant styles bring a little madness. Therefore, we are showcasing a likewise dress below. Have a look at the fantastic black khaddar dress below. The great and unique floral ornament on the front of the shirt will create a subtle look. Also, you can see similar prints in the Chinyere winter collection with detailed textures. 

Classical Three-Piece Khaddar Suit
Are you looking for an arousing color for this season? Indeed, winter propels you to opt for attractive combinations. Let's discover the charming outfit below. The elegant yellow khaddar dress will bring jazzier looks to you. The peach and white prints over the yellow base make it a perfect formal attire. 
Complement the dress with stylish winter shoes and enhance your look well. You might have explored the fascinating Khaadi winter clothing range for fantastic designs. 
"Alyana" Unstitched Winter Silk & Khaddar Dresses
Women are always looking for a unique outfits to stand out. Also, they desire to get a compliment for the efforts they make in dressing up. The bright color khaddar and silk dresses below will make you prettiest this season. These classy outfits are beautifully enriched with tilla and thread embroidery and prints. Overall, the appearance of these attires is exquisite. So if you want to add extra glamour to your everyday look, then grab any below outfit and get the pretty gaze.
"Dhani" Printed Kotail Suits for Women
Digitally printed suits are always effervescent as compared to the other styles. The striking patterns and aesthetics propel people to go for impressive designs. This brand offers classical prints likewise on a large scale. Well, try this vibrant shaded "Dhani" catalog of Khas that offers a classy amalgamation of dark and dim hues that will bring chic looks to you. So this season, get ready with any below suit and get the incredible flash.
2- Luxury Chiffon Winter Collection by Khas Brand



Besides the weather, the festive collection is always a need for women. Therefore, every brand focuses on launching seasonal luxury pret and unstitched collections. Khas likewise offers stunning chiffon and organza dresses for women of all ages. These dresses are perfect as formal Pakistani dresses. This catalog is designed for modern girls with thread, sequins, and adda artwork.
Moreover, the eminent hues of these dresses are refreshing enough to bloom your personality. Also, the striking organza dupattas, in contrast, look ravishing. You can carry these classical outfits at any seasonal celebration and wedding occasion to add more attraction to your look. Want some more similar variety? Explore the Motifz winter collection to get more fancy dresses. 
Fashion and Beauty Tips: If you are going to wear any above attire, then you need to take the following tips in your mind if you want to catch the breathtaking gaze:
Apply the minimal makeup by skipping the shimmer and highlighter

Avoid applying bold makeup with these heavily furnished dresses

Wear traditional jewelry

Knot the hair in any trendy style

Wear the high/block heel shoes and walk with confidence

Never overlook adding kajal to your eyes to get an extra enchanting gaze. 
3- Beautiful Khas Pret/Ready-to-Wear Dresses for Women
Do you want to make your winter full of glamour? If so, then check out the following flaunting and chic ready-to-wear attires. Undoubtedly, every brand comes up with a pret collection for women. But Kha's winter collection has something breathtaking and magical for you. So style up your wardrobe with the mesmerizing collection below.
Warm Khaddar Kurta Collection
A woman can make her day brighter if she wears a little sparkle. Therefore, we have an incredible variety that will surely add glam to your personality. Please take a while to discover the simple yet elegant printed khaddar shirts below. Pair contrasting pants or trousers to complete your winter look and enjoy your day.
To pull off any look, you must wear your attire with immense confidence. One can not slay and shine simultaneously without a nice outfit and a pair of shoes. So, slay with the positive and basic printed khaddar shirts below. Indeed, the lovely and artistic patterns will attract you to buy and wear the beautiful shirts below.
 Winter Fancy Shirts for Evening Parties
The secret of great style is to feel good in whatever you are wearing. But, rightly, a dress can't buy you style until you possess it. So, be classy and be yourself in the stunning winter embroidered shirts below. The embellishment of dresses will propel you to go for it. Indeed, you can get a compliment from the galaxy of people around you if you wear a stunning embroidered dress.
Luxury Velvet Two-Piece Suits
Undoubtedly, the world is a runway for women to walk with glam. Wear decorative velvet in winter can bring exquisite beauty to your style. Take a look at the following two-piece velvet dresses that are beautifully crafted with embroidery and stones. Indeed, the embellishment is sufficient to bring glamorous looks. The cost of the following dresses is comparatively high due to the lavish decoration and artwork. You can wear these classy attires at any casual, formal, social, and wedding event to grab the stunning yet graceful flash. 
Let's have a look at the above blog to select the loveliest outfit for yourself. These exquisite styles are sufficient to bring glamour to your personality plus the comfy fabrics of these attires also keep you heated and relaxed during the cold days of winter. So, let's rush towards the retail outlet to gather its beautiful dresses.