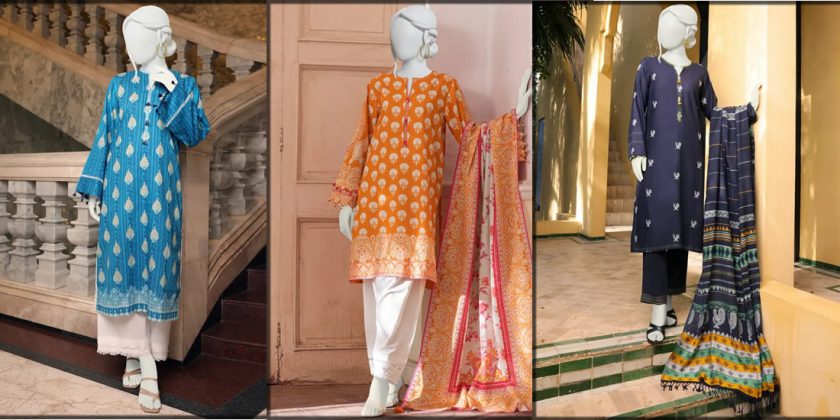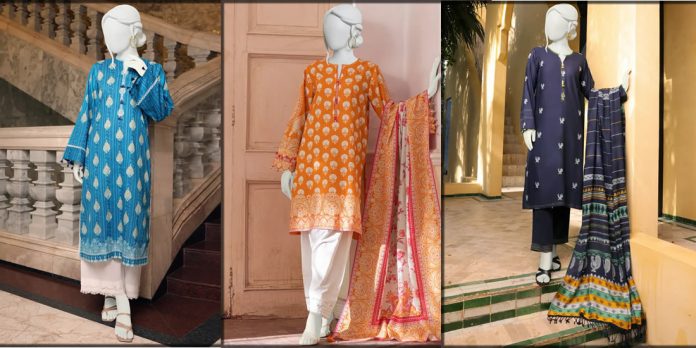 For completing your fashionable formal look, you need the classical, traditional dress for adding more shine to your pretty appearance. The latest Junaid Jamshed winter collection is best for parties and social occasions because all dresses of J. are just mind-blowing and designed with the latest patterns.
This season, they present the most alluring designs in striking tones so that every lady can appear classy and attractive. In the winter collection of the J., you will get home wear, party wear, and casual wear attires in the most alluring designs. Plus they used the comfiest texture like khaddar, karandi, marina, linen, and jacquard to fabricate their attires.
All these winter clothes from the Junaid Jamshed winter collection will assist to make all of your looks fantastic and awe-inspiring at any casual or formal gathering. Also, the tremendous variety and classic designs will add beauty to your personality and style. All you necessitate is to choose the classy outfit as per your preference and occasion for making your look more impressive and striking.
About the Brand and Designer
J. was established in 2002 by Islamic scholar Junaid Jamshed. The basic purpose of this brand is to overcome the nation's culture and produces heritage clothes for men and women. Today it is known as the most powerful and recognizable clothing brand. Therefore, it increased its store system through 100+ outlets nationwide and 20+ outlets in distinct international countries.
Fresh Unstitch Arrivals in Junaid Jamshed Winter Collection
Junaid Jamshed is the most well-known Pakistani brand that presents the most classy outfits with dazzling shades for women, men, and kids. Here, I am going to show you the latest Junaid Jamshed winter collection for women along with its price. For exploring more unstitched dresses, check out the Limelight winter collection.
In winter, women prefer to wear comfy fabric dresses. Therefore, every brand tries its best to present the most appealing clothes in the comfiest texture. This winter, J. used the following fabric for making its unique and marvelous winter collection.
Jacquard

Cambric

Khaddi

Khaddar

Marina

Linen
You can get all branded clothes in our winter dresses catalog which offers the newest winter collection of all well-known brands of Pakistan.
Junaid Jamshed Pre-Fall Cambric Collection
Cambric is a lightweight fabric that is usually used for designing mid-summer dresses. Cambric is the best alternative for those who don't like to wear heavy khaddar and karandi suits in winter. Of course, you can wear your cambric suit in the winter too, if you like.
Look at the latest cambric dresses by Junaid Jamshed that are made with brilliant shades and classy patterns. These appealing attires are paired with chiffon dupattas. You can wear these cambric suits at any casaul and social affairs for the splendid flash. Try to pair your cambric suit with straight loose hair, a classy handbag, and nude yet natural makeup for a flawless look.
1- Digital Printed 1 Piece Collection
Young girls prefer to wear digitally printed shirts. Hence all bands must include printed shirts in their seasonal attires. Look down at the beautiful unstitched khaddar shirts by Junaid Jamshed which are furnished with florals, boxes, strips, and leaf patterns that surely add additional sparkle to your young look. You can customize these shirts in any off-the-shoulder, A-line, and jacket-style dresses to catch the breathtaking gaze. Pair your printed Kurti with the capri or jeans and get the prettiest look.
2- Unstitched 2 Piece Collection
Now have a look at the 2Pc collection that contains classical suits in the most lovely shades. You will find the jacquard, karandi, khaddar, and cambric dresses here that are designed with a special theme.
Blue-Pink Two-Piece Cambric Suit
Need the captivating winter look? At that point, try this cambric shirt with a dupatta. The most slaying and stunning apparel that is appropriate for casual wear. You can also carry this outfit at any formal event by fusing it with classical gemstones and high heel shoes.
Yellow-Green 2PC Jacquard Suit
The stuff of jacquard is the right choice for winter. It also keeps you warm and stylish at the same time. In the following dress, the classic print of the shirt is looking mesmerizing. Also, the contrast of yellow-green makes this outfit extra graceful. Combine this lavish outfit green warm scarf to make all of your jazzier and noteworthy flashes. Such graceful and decent combinations are also available in Warda's latest winter collection.
Orange Khaddar Shirt With Khaddar Dupatta
Want to try something unique and new? At that point, try this orange-shaded khaddar suit created with appealing adjustments. Stitch this stunning suit in a long kurta and flare capri style bottom to append grace to this outfit. Moreover, wear the block heel shoes and consume some classical gemstones to make all of your splendid and striking gazes at any celebration.
`3- Unstitched 3 Piece Attires
Most of the old ages women like to carry a three-piece suit at any occasion and gathering. So for those lovely ladies, this three-piece catalog is best. One of the best things about the unstitch section is that you can customize your dress in any style you like.
In the Junaid Jamshed three-piece catalog you will get the linen, jacquard, and khaddar dresses paired with the khaddar, jacquard, wool, and chiffon shawls. You can carry these excellent outfits at any casual and formal gathering. Moreover for enhancing your outfit you can also attach pearls, beads, and fancy laces to these dresses.
Navy Blue Three-Piece Marina Suit
Linen is considered as a home-wear fabric. But Junaid Jamshed offers the most striking and elegant linen attires in the most exquisite designs and tints which you can also wear at any gathering and celebration. Look down at the beautiful navy blue linen outfit which you can carry at any casual gathering to get the fantastic flash. Try to pair this bright hues outfit with bold makeup and straight hair for an extra charming flash. 
More shades of linen dresses are also available in the Alkaram studio winter collection. It does its best to present the most beautiful and luxurious linen attire this season.
Cozy White Khaddar Outfit
As the winter season is arriving, ladies are looking for khaddar attires. Because the khaddar stuff is more reliable and soft than other fabrics. Hence many brands include khaddar suits in their winter attires.
The underlying 3PC digitally printed khaddar suit will increase your beauty and charm. Stitch this fresh shaded outfit in a short shirt and palazzo style to dazzle any event. Moreover, wear peep-toe shoes, bronzer makeup, and style your hair in a side bun hairstyle to get the prettiest gaze.
Jacquard Suit With Wool Dupatta 
Need the captivating winter look? At that point, try this jacquard shirt with a Wool dupatta and trousers. The most slaying and stunning attire that is appropriate for formal wear.
The wool shawl is the most alluring and impressive style of shawl that enhances your personality by making it more charming and chic. So this winter, try to purchase the wool shawl suit for getting a unique and remarkable appearance.
Junaid Jamshed Stitched Winter Collection
Junaid Jamshed also offers the most up-to-date stitched attires for women. They have the most extravagant designs in the pret collection for youngsters and women. In the pret collection of this brand, you can get the most attractive and fantastic single, 2PC and 3PC outfits in a karandi, khaddar, velvet, raw silk, marina, and linen texture.
The significant two or three-piece clothing is combined with the wool, cambric, jacquard, and Palachi shawl. Also, visit the So kamal winter collection for the most remarkable suits with the chiffon and woolen shawl.
1- Classy Winter Kurti/Kurta Collection 
This brand is constantly adding the Kurti collection to its seasonal collection. They know that the youngsters wish to wear Kurtis. The kurti gives you a stylish and innovative look, which is why most love wearing short-length shirts. You can pair your winter kurti or top with stylish jeans for a more striking and noteworthy look.
J.'s latest winter collection gets the most alluring J. Kurti designs in the khaddar, karandi, viscose, marina, and linen fabric. All these fabrics help to update your look and keep you warm so you can enjoy every moment freely and happily.
Khaddar Embroidered Kurti
Khaddar is the formal fabric that helps to complete your fabulous gathering look. To complete your classy look, you need the most glammy and glorious party dress to make your personality more attractive. Therefore, the underneath khaddar kurti is the best for the upcoming celebration and party to dazzle. Pair it with the plain khaddar touser and warm scarf to compliment your outfit. 
Karandi is a specific kind of fabric that works well in warm months. It helps to feel warm when there is cold outside. This kind of cloth is mainly used to prepare a party or wedding attire. So, now you can enjoy your winter party by wearing this adorable and stunning kurti of Junaid Jamshed. Pair it with the blue skinny-fit jeans, bob haircut, and black sneakers to add extra appeal to your look.
2- Winter 2-Piece Suits Collection
The 2PC stitched collection of the J. is very awe-inspiring with marvelous designs. In the two-piece collection, you get fabulous outfits in the following forms:
If you buy the shirt and trousers at that point, you can combine your dress with a chiffon or wool shawl for a fascinating look. In contrast, if you buy a shirt or dupatta, you can match your outfit with palazzo, cambric trousers, and any style of bottom you like. 
Pink Cotton Suit for Girls

Cotton is a lightweight and warm fabric that young girls usually like the consume to remain relaxed. The below cotton shirt is paired with the basic pant that indeed prettifies your look. You can wear this attire at your winter party and formal get-together to make all of your looks radiant and lovely. Further, with this fabulous outfit, do your striking natural makeup to catch the audience's attention.
Teal Blue Cotton Silk 2PC Suit

Kurta is the most incredible preference of youngsters that gives them a stylish and striking look. See the following linen embroidered kurta designs for women joined with the pant. You can wear this teal blue outfit at any casual event to make all of your appealing and jazzier flashes. 

3- Junaid Jamshed 3-Piece Attires
Women favor buying the 3Pc attires to make them look more lavish. Look at the sleek dress below that you can carry to stay classy and smart. The shirt is beautifully furnished with delicate threadwork. It is paired with digitally printed chiffon dupattas and plain dyed trousers.
Crary this outfit for your formal and social events to garb the stunning gaze. Plus, pair this dashing outfit with natural makeup and high heel shoes to maintain your standard.
Off-White Three-Piece Khaddar Suit



Khaddar is the winter stuff that many of us wish to wear. Below is the engaging three-piece khaddar suit that is beautifully decorated with trendy styles. It is combined with off-white cambric trousers and digitally printed khaddar dupattas. Pair it with natural makeup, cone-heel shoes, and a bun hairstyle for a more elaborate look.
Three-Piece Winter Jacqaurd Suit

If you are looking for the best formal outfit to rock at that point, look at this pretty outfit. This sunshine pink suit is paired with the printed khaddar dupatta, which you can easily carry. With this dazzling outfit, apply nude makeup to make all of your lovely and enchanting gazes. Moreover, wear the high heel shoes and walk with confidence to invigorate the crowd.
Junaid Jamshed Plain Winter Shawls/Stoles for Women
Now let's have a look at the winter shawl/stoles collection of J. that offers the plain and jamawar scarf in the most splendid shades. These comfy and relaxing shawls not only add sparkle to your personality but also keep you warm and safe from the cold air. You can pair these easygoing stoles with any top or jeans to get the perfect winter look. Moreover, you can also pair any below stole with your two-piece winter suit to get the alluring flash. 
Here you will get beautiful warm dresses in various structures that indeed increase your overall beauty and make it captivating. Moreover, they customize their winter catalog in Kurti, kurta, two, and three-piece apparel for women of all ages. So, choose any style and stuff from the Junaid Jamshed winter collection according to your choice and budget, and makes all of your looks fashionable and killer.