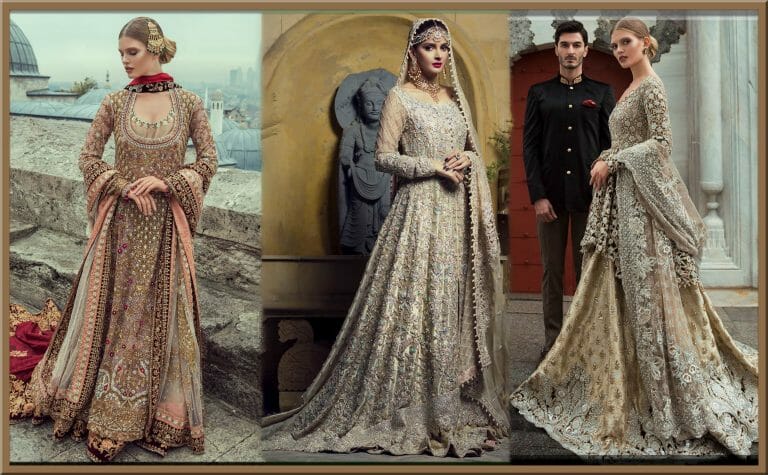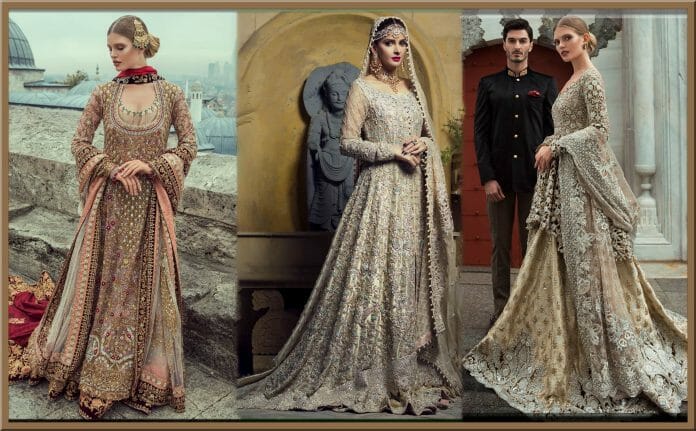 Walima has significant value in Islam and its a necessity after the nikkah. Every girl wants to make her walima memorable by wearing the unique and luxury outfit on her walima day. I will show you the latest designs of bridal walima dresses in the following article.
Walima means get-together to show happiness. As you know, dress design changes day by day. Every day new designs are launched for the bride to enhance her beauty on her special day. While walima often performed to describe a celebration of marriage. So, the bride and groom gather or invite many of their relatives on reception.
The groom and bride are the most important person at the wedding event. So, their dressing is the centre of attention. In a busy life routine, it isn't effortless for every girl to go to bazaar and search through piles for the best outfit.

Bridal Walima Dresses Designs & Trends

The latest walima dresses collection for this year brings the newest and most glamorous dresses for the bride. Every year the designers launch their most valuable bridal dresses collections. They bring new designs for a bride so that they can fulfill their dreams because it's every girl's dream of wearing a beautiful dress design on her reception. Here are our suggestions for walima day dresses. 
Elegant Bridal Maxis & Gowns Collection
Nowadays, nude colours mostly used for the walima ceremony. Colours like sea green, tea pink, parrot green, peach, cream, off white, light grey, and dim orange mostly used for walima dress. Here is the trendy collection of walima maxis for the bride.
Flowy Champagne Gold Maxi
If you want to create a slaying look at your reception, then this outfit is undoubtedly for you. Perfect thread work on the maxi with the hues of light gold and peach — the dupatta is heavily embellished, which decorated with an organza gold thread. Wear traditional Matha Patti to get this type of look.
Luxuriously Embellished Peach Maxi
This outfit will give you a royal look. Heavy embroidered peach dabka worked maxi paired with a jammawar embroidered lehenga and with zardozi work dupatta gives you a lovely look. Jhumar has become one of the essential jewellery pieces that every bride wants to get one. Wear it with classic bun for the contemporary look.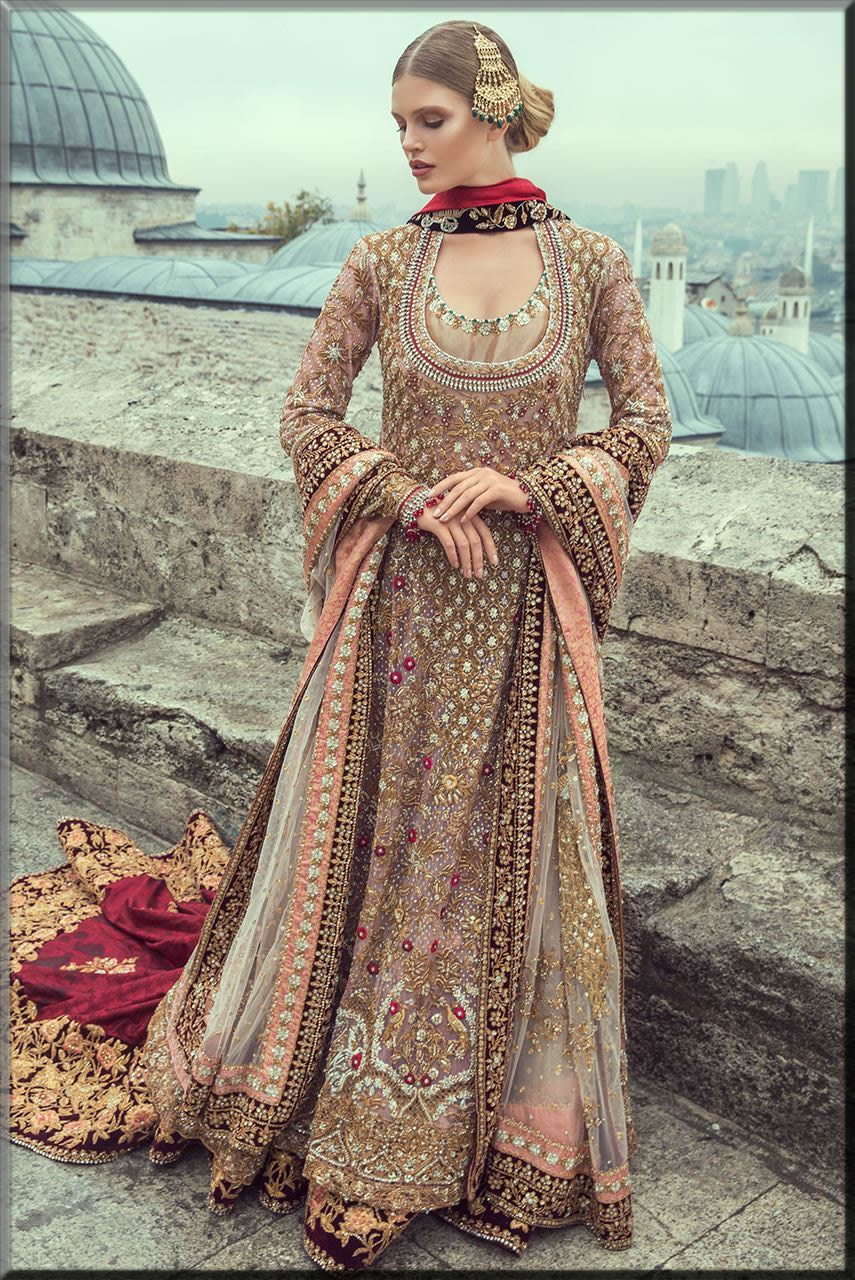 Bloom Light Pink Bridal Walima Dresses
This dress has an Indian Net Zardozi that worked with heavily embellished net dupatta. It paired with a tissue fabric, and zardozi worked lehenga. Get this type of look by wearing it with hair classic bun — the most ideal and stylish dress for a bride.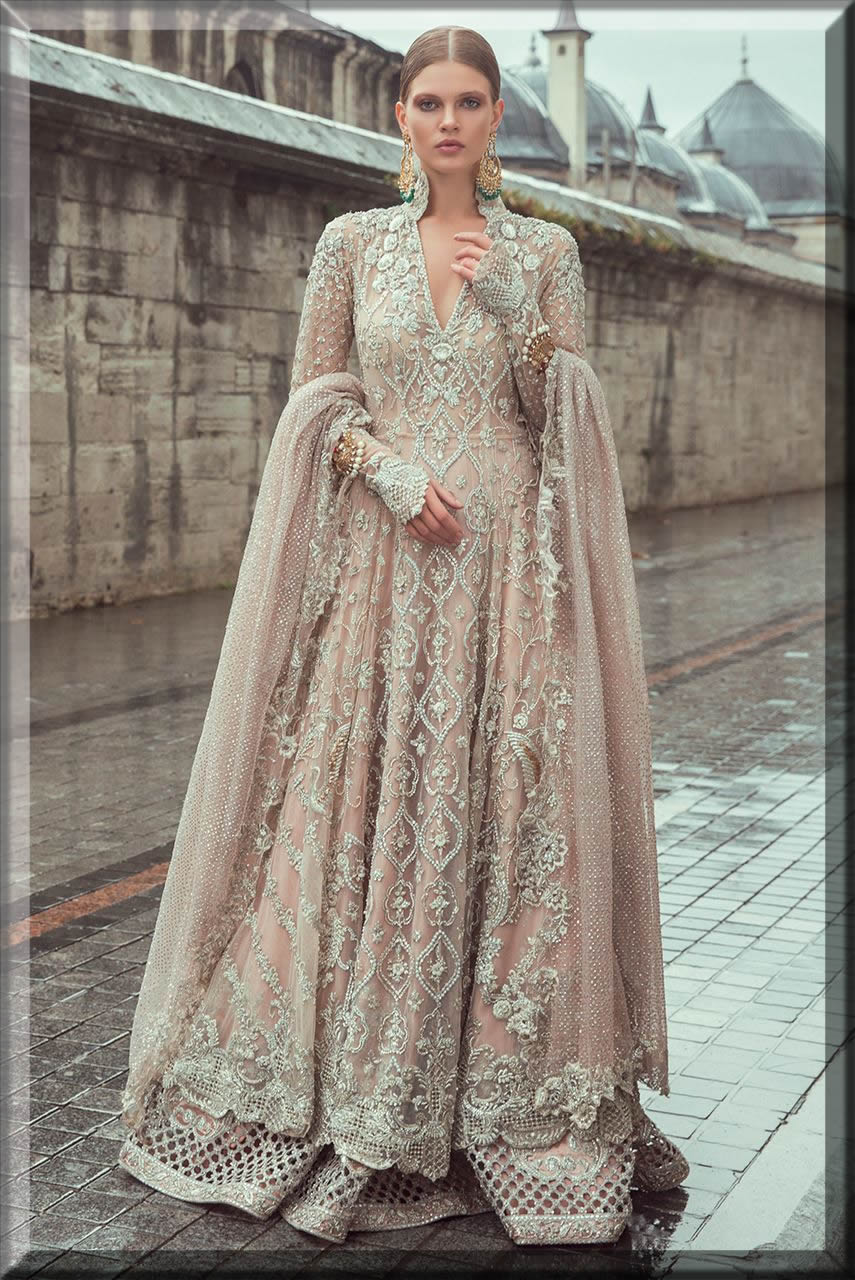 Dreamy Pink Maxi for Wedding Bride
This dress heavily furnished with floral embroidery and enhanced the beauty of maxi with silver kora dabka and pearls work. It paired with a pink jammawar sharara. The outfit is beautiful, furnished with a thick decorative four-sided border. Grab this outfit for your lovely day look.
Dazzle Pink Gold Floral Bridal Gown
This gown dress beautifully decorated with floral embroidery with cutwork borders and silver kora dabka and pearls therefore coordinated with a massive net hand embroidered dupatta. If you want to get this type of look, then wear ethnic jewellery with this outfit, like choker and bindi, that will enhance your beauty.
Delightful Silver Maxi with Flowy Lehenga
Nowadays, the floral dress is very trendy. Every girl wishes for a floral dress in her event. So, in a designer's collection, there is always a floral dress for a bride according to their wishes. In this dress, the net zardozi work is on maxi with heavy embellished handwork dupatta, which paired with jammawar handwork floral lehenga. Grab this maxi dress if you want to look like a princess.
Stunning Orange Red  Walima Dresses
You can also wear dim orange with the red and maroon combination on walima day. This combination is perfect for those who don't want to wear a light colour on her day — a gorgeous Indian bridal dress is a floor-length net maxi with hand-embroidery worked. And the dupatta is decorated with zardozi and dabka work. Keep your hair open and wear only a choker for this suggested look.
The Infamous Nimal Khawar Walima Look
Nimal Khawar is a former Pakistani actress. She was looking superb on her walima day. She wore an off-white maxi, embroidered with silver zardozi embellishments. Now, this the dream dress for so many girls to wear on their walima day. She has left the entertainment industry after her marriage with Hamza Ali Abbasi.
Bridal Lehenga Collection for Walima

The walima function is vital in Pakistani weddings. Walima dress is heavy embroidered as well and is very similar to the barat day outfit. The colour of walima day is usually different. If red used on the wedding day, grey, skin, gold, and sea green colours probably used on the walima dress.
Lehenga is the Indian fashion which is most famous in Pakistan nowadays. There are various elegant types of lehenga designs for brides in Pakistan. The renowned designer has the latest bridal lehenga collection like short Kurti, long shirt, peplum, front open shirt, tailed jacket, long frocks and floral dresses.
Here is the stunning designer's collection of 2nd-day lehenga dresses for the bride.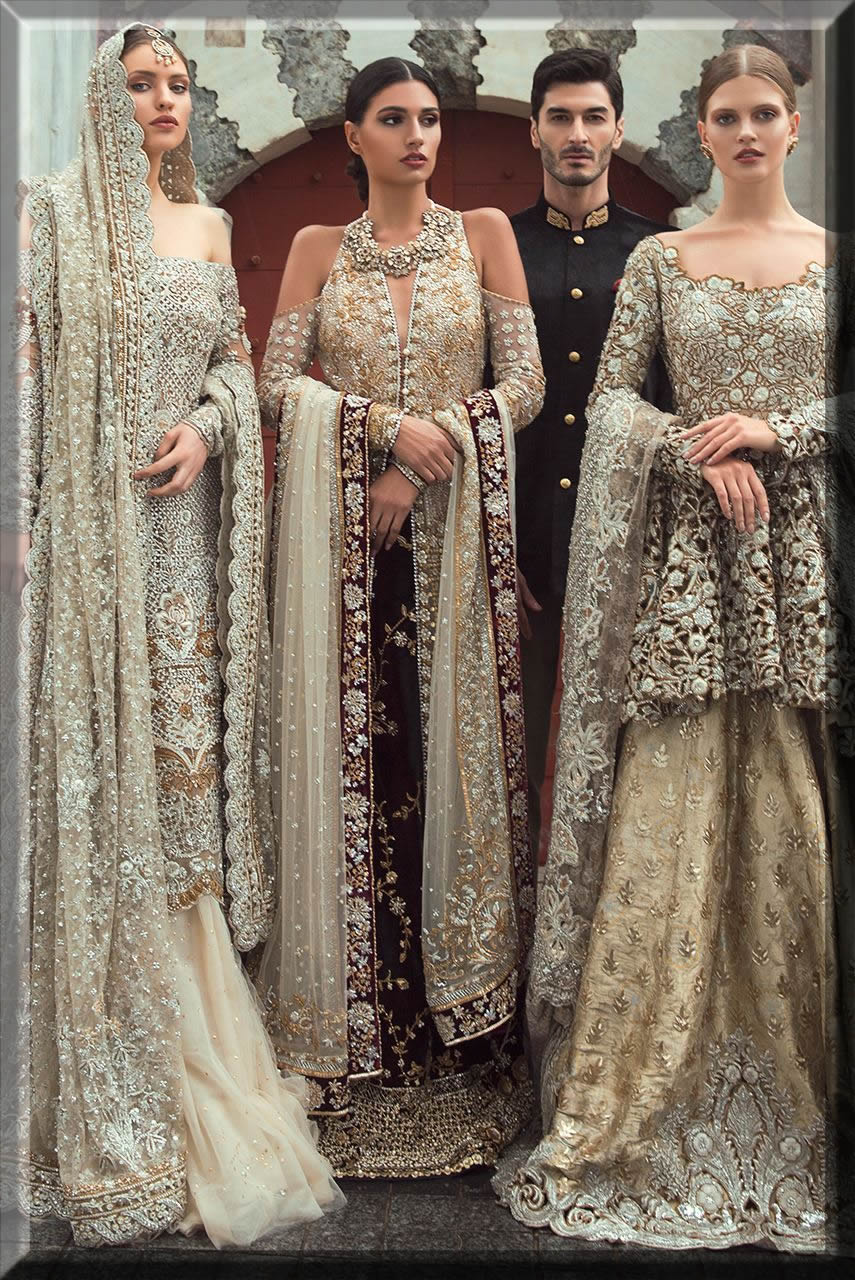 Extravagant Gold Peplum Style Frock
Zainab Chottani is the designer of this lavish outfit, look how beautiful she adorns the whole dress. The gold colour palette decorated with a jewelled neckline in amber-coloured and the D-shape short peplum frock fully embroidered with dabka work. Dupatta comes with maroon colour, which borders fully embellished. This outfit is very extravagant and lavish.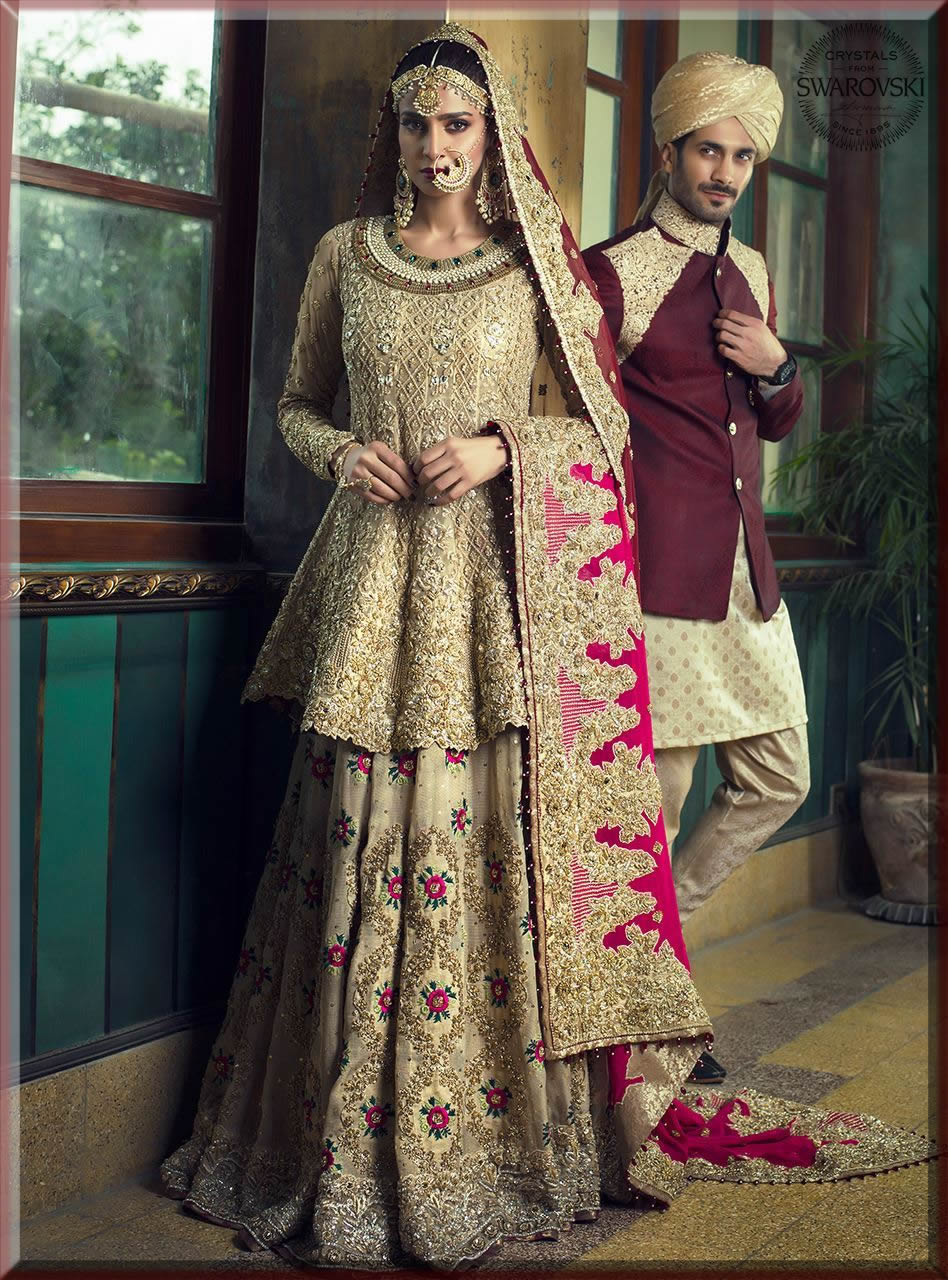 Graceful Peplum Shirt with Lehenga
Sania Maskatiya is the designer of this beautiful outfit. Long-tail lehenga looks very stylish and gives a full elegant look to the bride. For all the brides to be who want to look like a princess, need this unique long tail wedding dress. In this dress, the peplum cut tissue shirt, embellished with zardozi and zari work, is paired with zardozi net, embroidered dupatta and with floral lehenga whose borders adorned with dabka work. Make a traditional hair bun to go with this suggested look.
 Ravishing Fishtail Bridal Lehenga
It is the most beautiful and unique dress collection. If you want to look unique rather than a typical bride, then it's best for you. Zardozi worked shirt with cutwork on daman and sleeves. It paired with heavily embellished fishtail lehenga. Wear a one-sided jhumar and make a steep hair bun to get this look.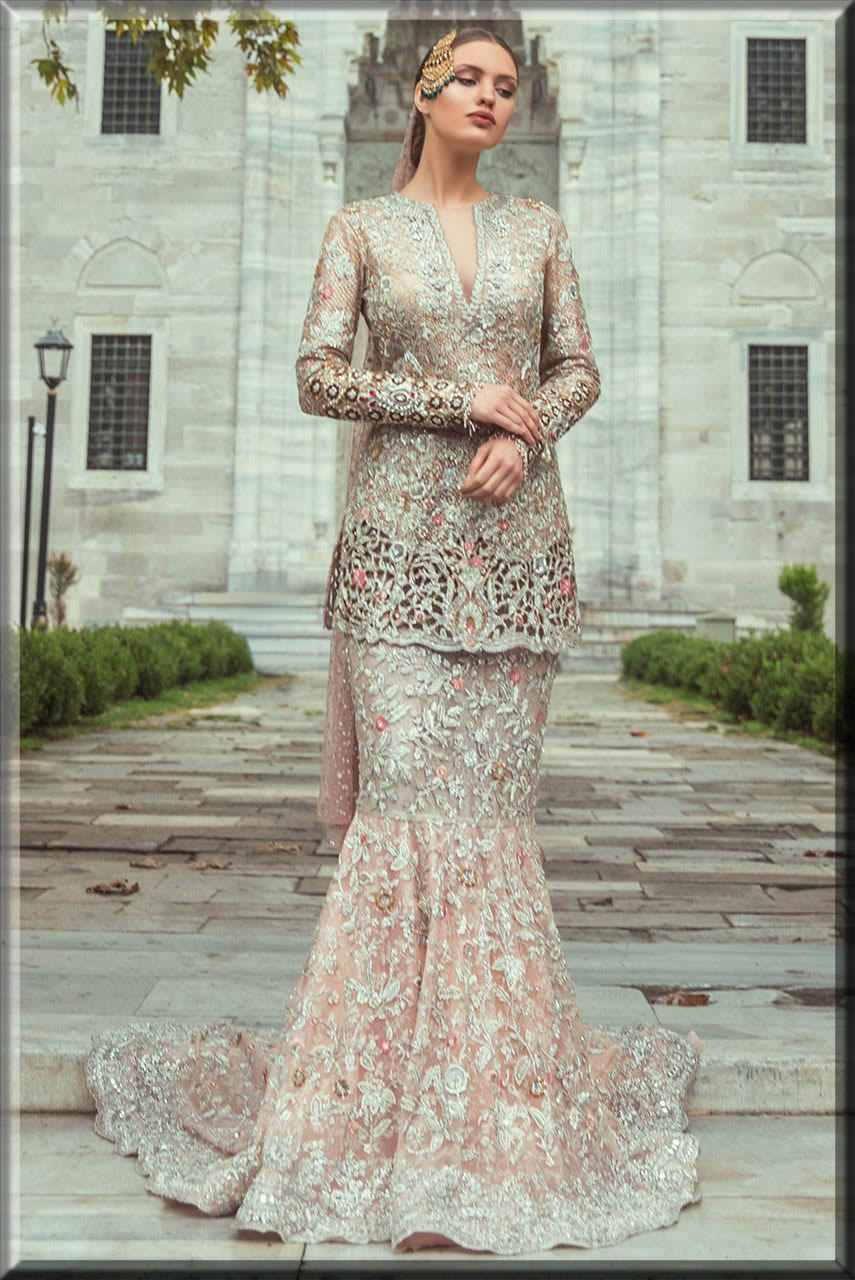 Floral Longtail Peplum for Walima Bride
Lehenga, with the peplum, is the newest trend and liked by brides nowadays. The length of the peplum can be varied. You can pair tissue fabric zardozi worked peplum with a long tail and combined with a zari and embroidered work lehenga to look gorgeous on your big day.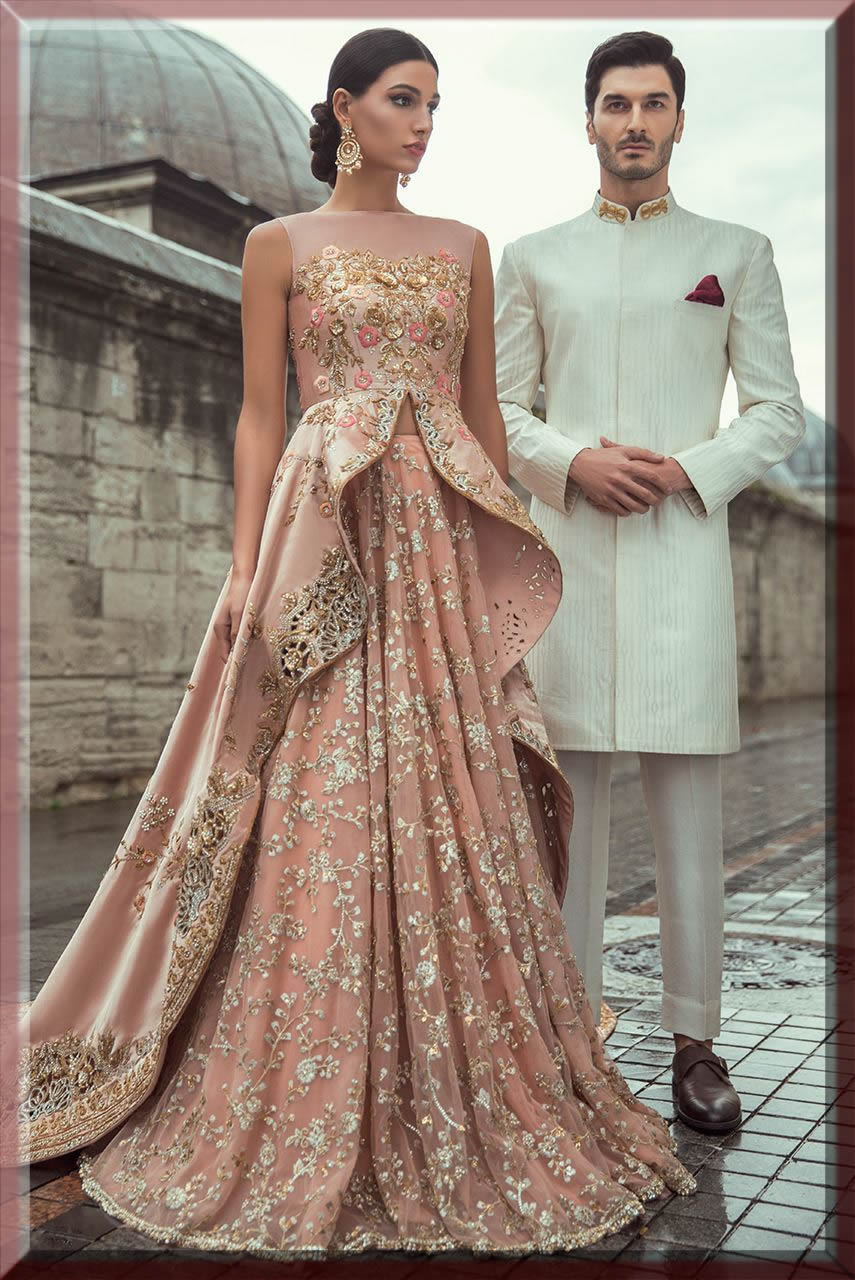 Exquisite Bridal Lehenga Choli Dress
We have seen that now brand and designers are mostly presenting the full heavy lehenga. They give you a royal look on your day. Check out this beautiful Pakistani bridal lehenga, embroidered with kora and dabka work, paired with a gold choli, which enhances the glory of the dress. Because the dress decorated, so match lightweight jewellery and keep your hair open for this fabulous look.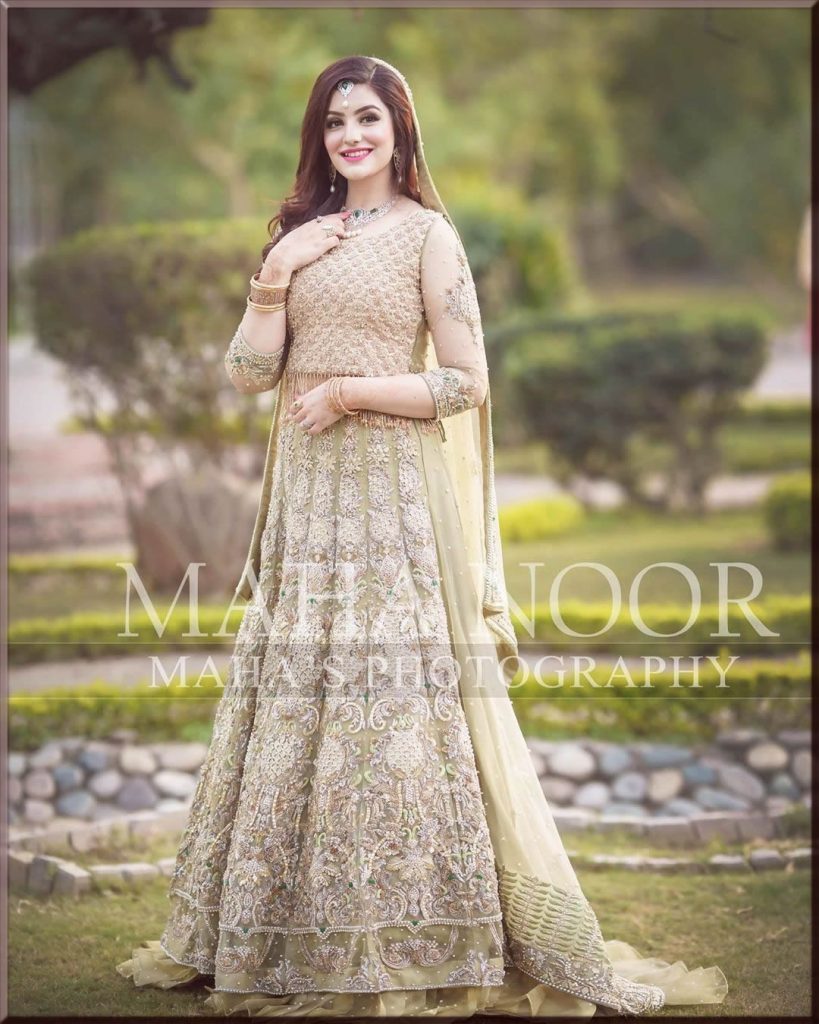 Short Pleated Peplum with Silk Lehenga
Longtail floral lehenga is for those brides who want to look like a queen on her remarkable day. It gives a stunning vibe to the bride. Check out this latest dress for the bride of walima in which the tissue fabric embroidered in floral lehenga paired with a networked dupatta. Try nude makeup with fascinating eyes.

Wedding Walima Dresses Gallery – Designer Collection

Have a look at the image gallery given below, and choose your favourite walima dress design. These dresses are with very vibrant hues and unique designs that give you an eye-catching look with both light and dark colours that you can pick bridal walima dresses according to your taste, choice and body shape.





In the previous year, the brides used a dark-coloured dress on their wedding day. But as time passed, their trend is bit change and the light colour used for a walima dress. It is effortless for women to select their walima dress according to their body shape, size, and choice. This article will help you to choose your stunning walima dress according to your preference. These bridal walima dresses are very graceful, which allows you to look very charming and elegant on your 2nd day. I hope you appreciate it.