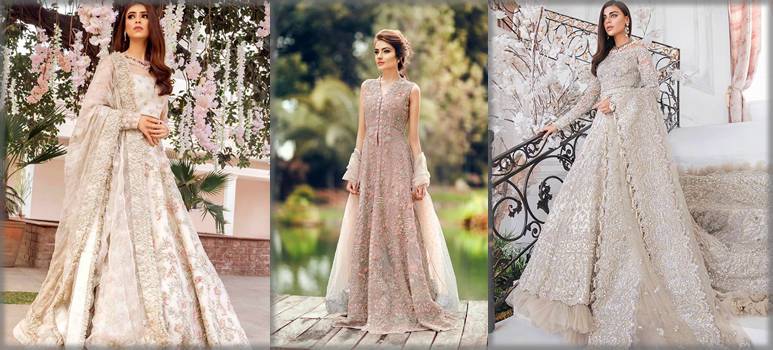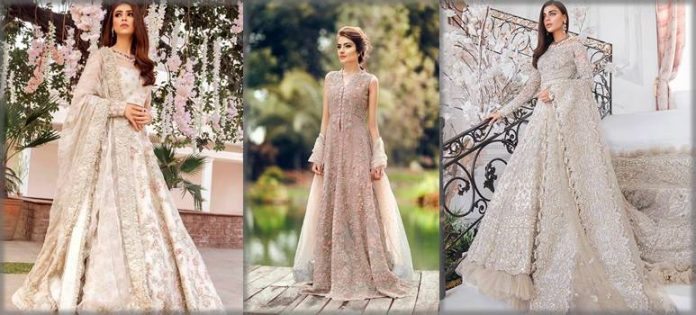 Every bride wants to look fantastic and unique on her big day. Bridal maxi designs are trending nowadays for the ambitious brides. The designers are working on stunning outfits for women. In the south-Asia, Pakistani wedding dresses are famous among all the other countries. These dresses are incredible in designs. Therefore, they are famous all over the world.
Pakistani brides always prefer to wear the best outfit on their wedding day. The maxis are at the top of the fashion in the modern era. Therefore, these are of high significance. Moreover, the stunning large flare designs are available in all colors. The most demanding colors in bridal wear are orange rust, emerald green, grey, and golden.
Pakistani designers use a variety of fabrics in making incredible massive designs for the brides. Most commonly, they use fabrics like charmeuse, Chiffon, crepe, organdy, and tissue. They use more silk and rayon for the flowy look of enormous wedding wear.  However, red and maroon colors are preferable on the day of barat. The work of pearls, crystals, and stone makes them incredible.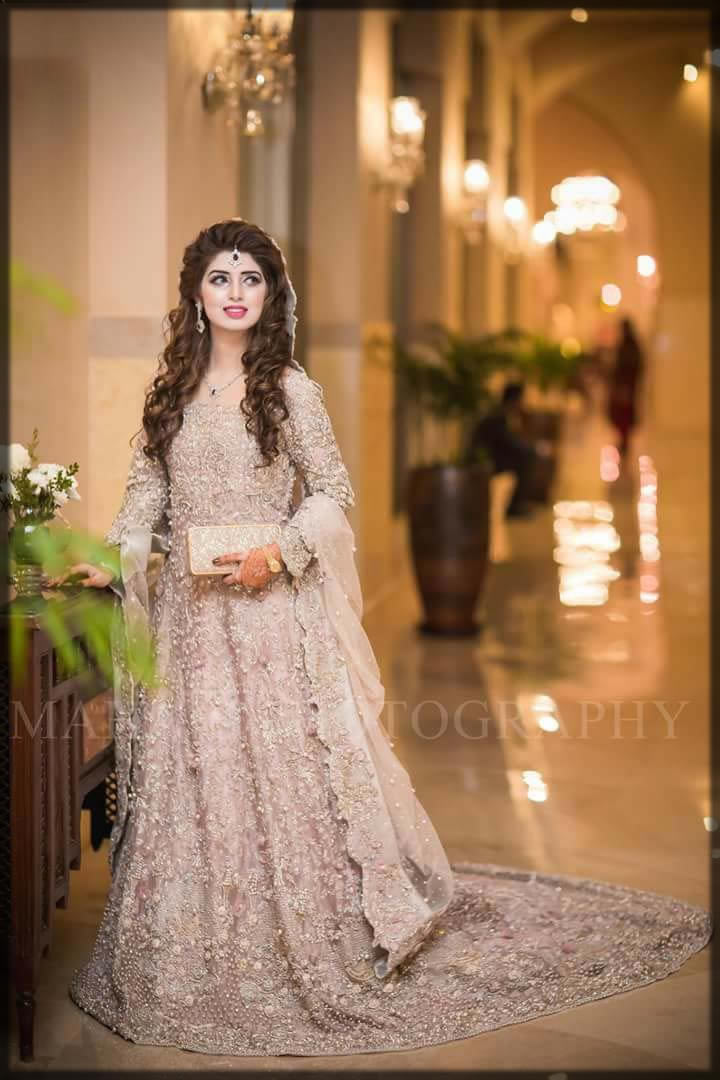 Bridal Maxi Designs Collection for all Wedding Events by Top Designers

Modern maxis are according to modern cultures and traditions. Pakistan is a country where traditional families follow their culture. Therefore, they prefer traditional dresses according to their norms. The designers in Pakistan make maxi in stunning designs according to customer's demand. Moreover, high-quality work on maxis looks stunning.
Bridal Wear is the top priority of the fashion industry in Pakistan. There are mainly three wedding functions in Pakistan and all of them are of great significance. The fashion industry of Pakistan makes fancy attires for the brides in all the designs. Some of the girls like to wear maxi on their big day to look unique. Therefore, we are presenting you with a collection of maxi designs for the brides. It will be helpful for all the brides-to-be to select their outfit accordingly. Sadaf Fawad Khan bridal collection is also worth buying.
Heavily Embroidered Bridal Maxi for Barat
The second day of the wedding is of great importance. Girls always want to grab the best collection of bridal barat dress designs to look different. Therefore, we are presenting a unique attire for barat day. Maxis are always marvelous in style and bring out ultimate gleam. The red color is very common with golden stones or other work. This combination looks fantastic on the wedding day.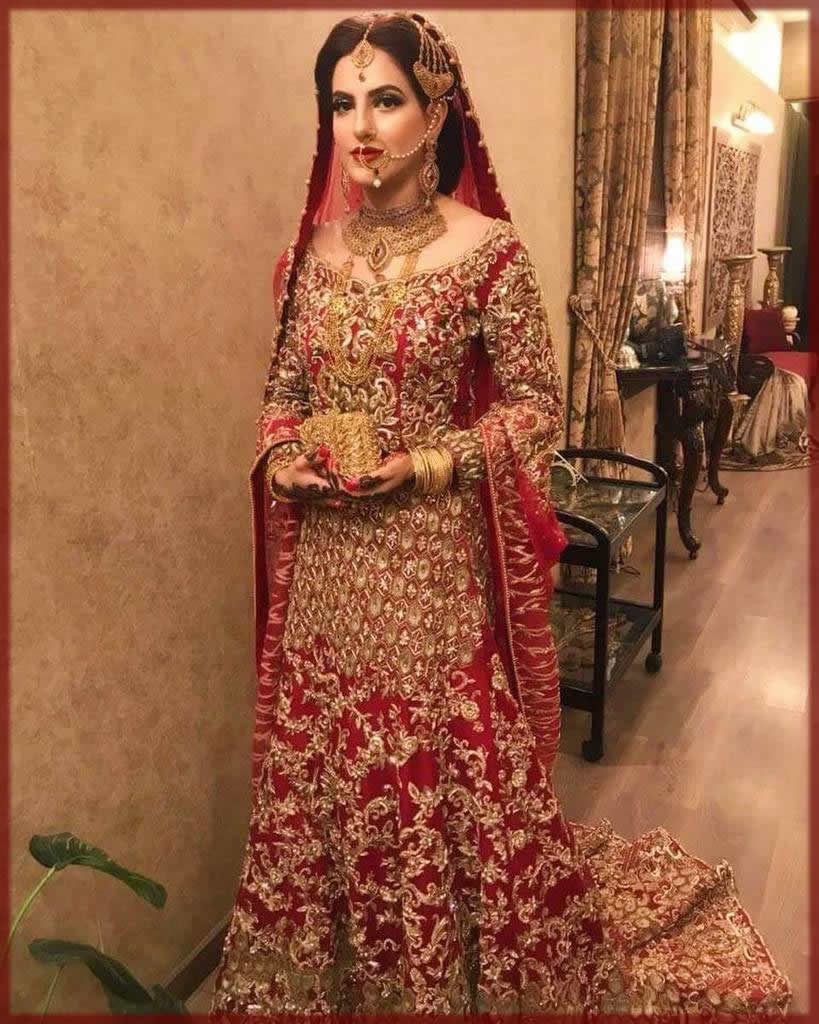 Anarkali Style Bridal Maxi

Anarkali frocks are conventional in middle-east. Therefore, Pakistani brides are contemplating  Anarkali bridal maxi designs with beautiful artwork. Here is a lovely design for these brides that looks fantastic when you wear delicate jewelry in contrast.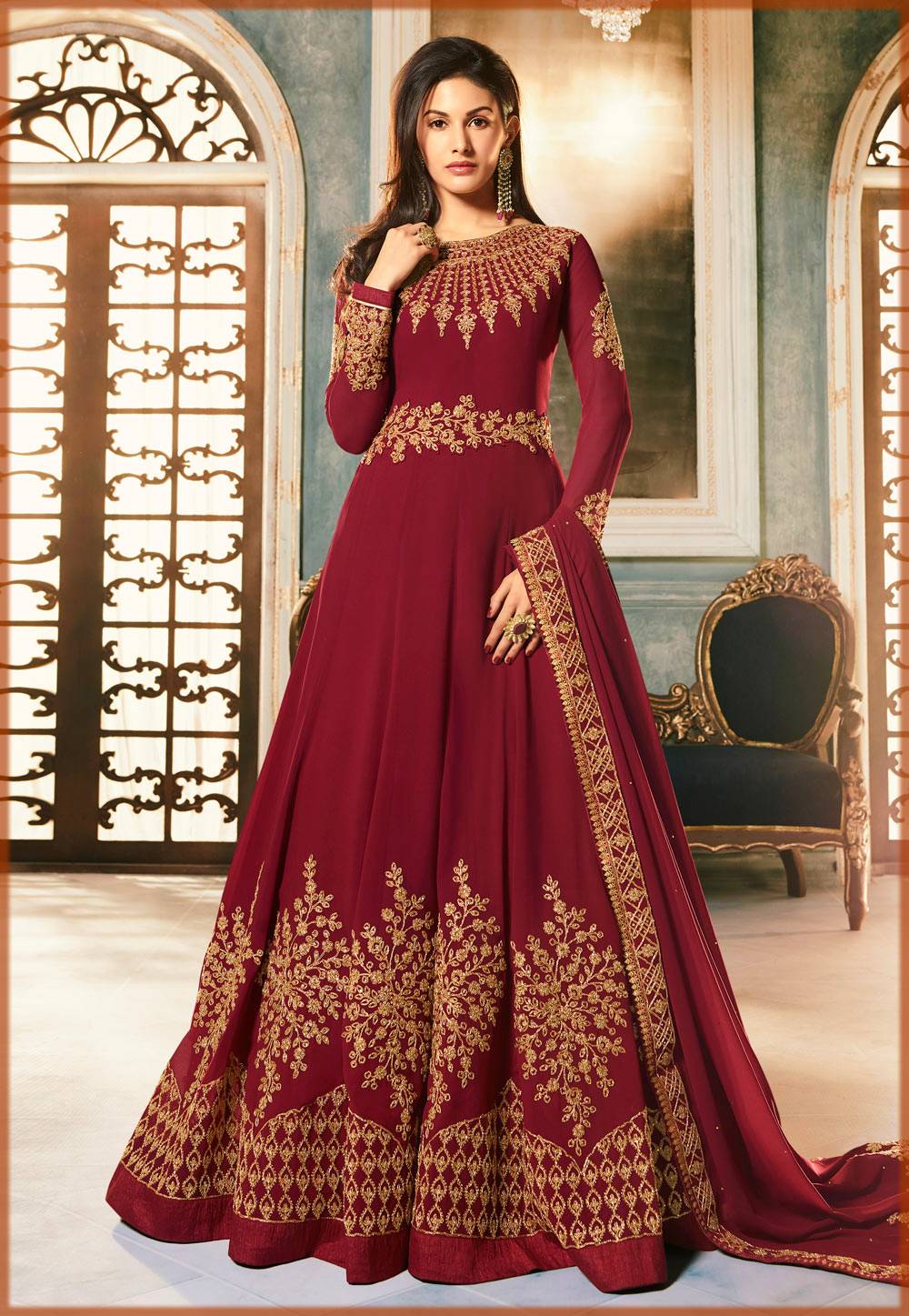 Elegant Bridal Maxi for Walima
After the event of mehndi and barat, comes the walima event. The fact is of the same significance as that of mehndi and barat. Brides are pretty conscious of their walima outfit. Therefore, we are presenting you with marvelous bridal wear maxis for your walima. These are different in designs and colors. Moreover, it brings an eccentric look to you, ultimately making you distinctive. Walima outfit can be of different colors. Most commonly pink, green, and grey colors are preferred.
Pastel Pink Bridal Maxi with Delicate Golden Embroidery

The pink color always looks charming and pretty. Wearing pink color on the walima brings such an eye-catching look to the bride. The bride may match certain jewelry to enhance her grace. Moreover, your makeup artist also does his/her best in bringing stylish walima look.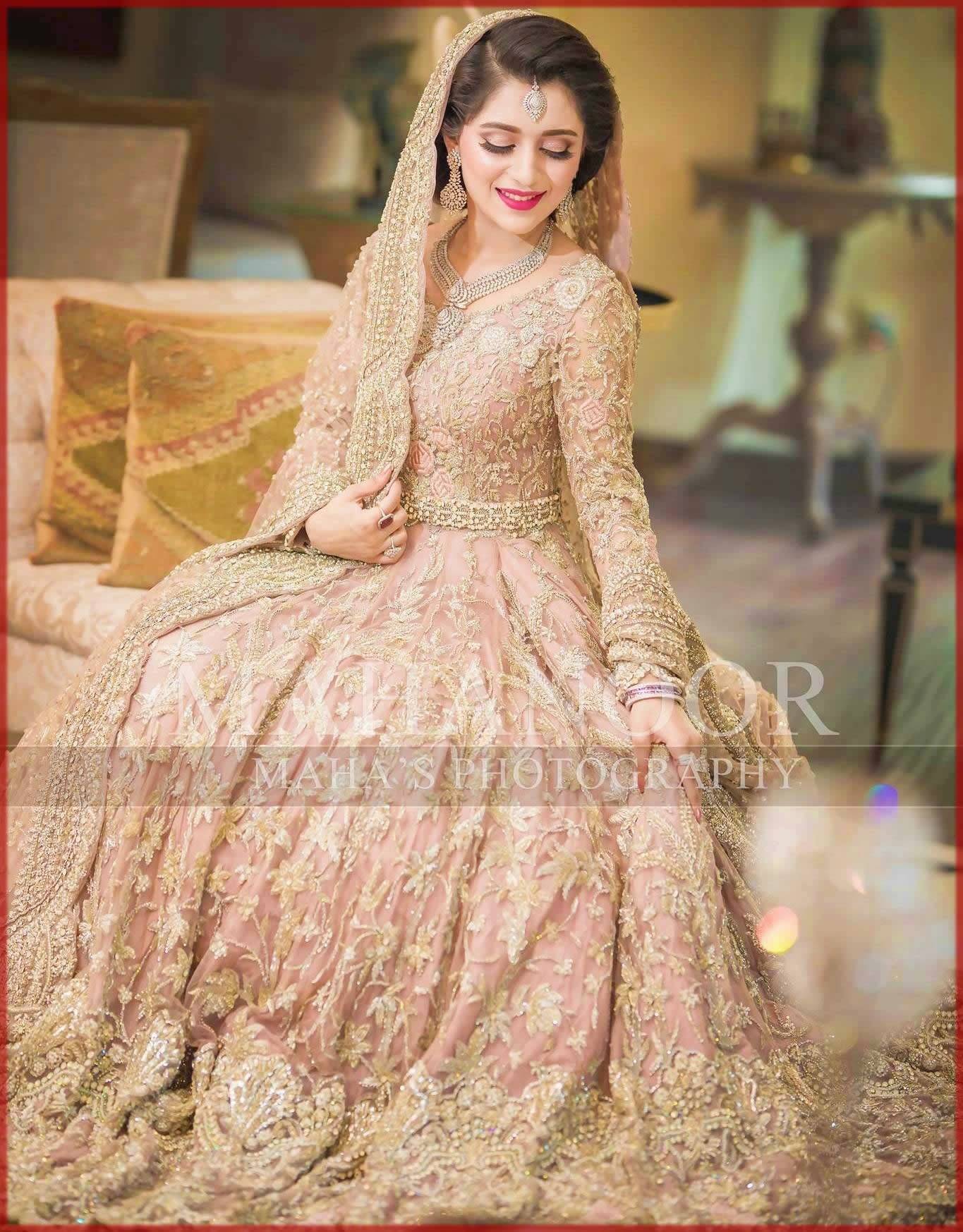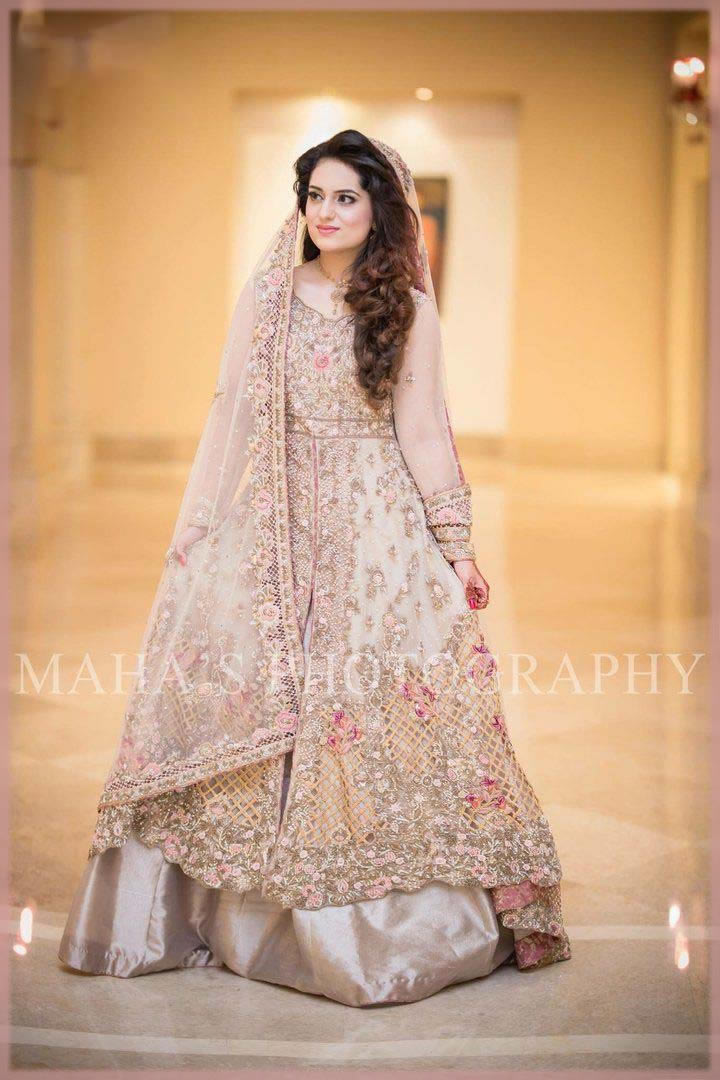 Light Green Silk Bridal Maxi
The light shade of green color has an exquisite beauty. It comes beautifully in combination with pink color. Such an intricate combination has much grace. Therefore, most of the girls prefer this fashionable combination for a bridal maxi dress.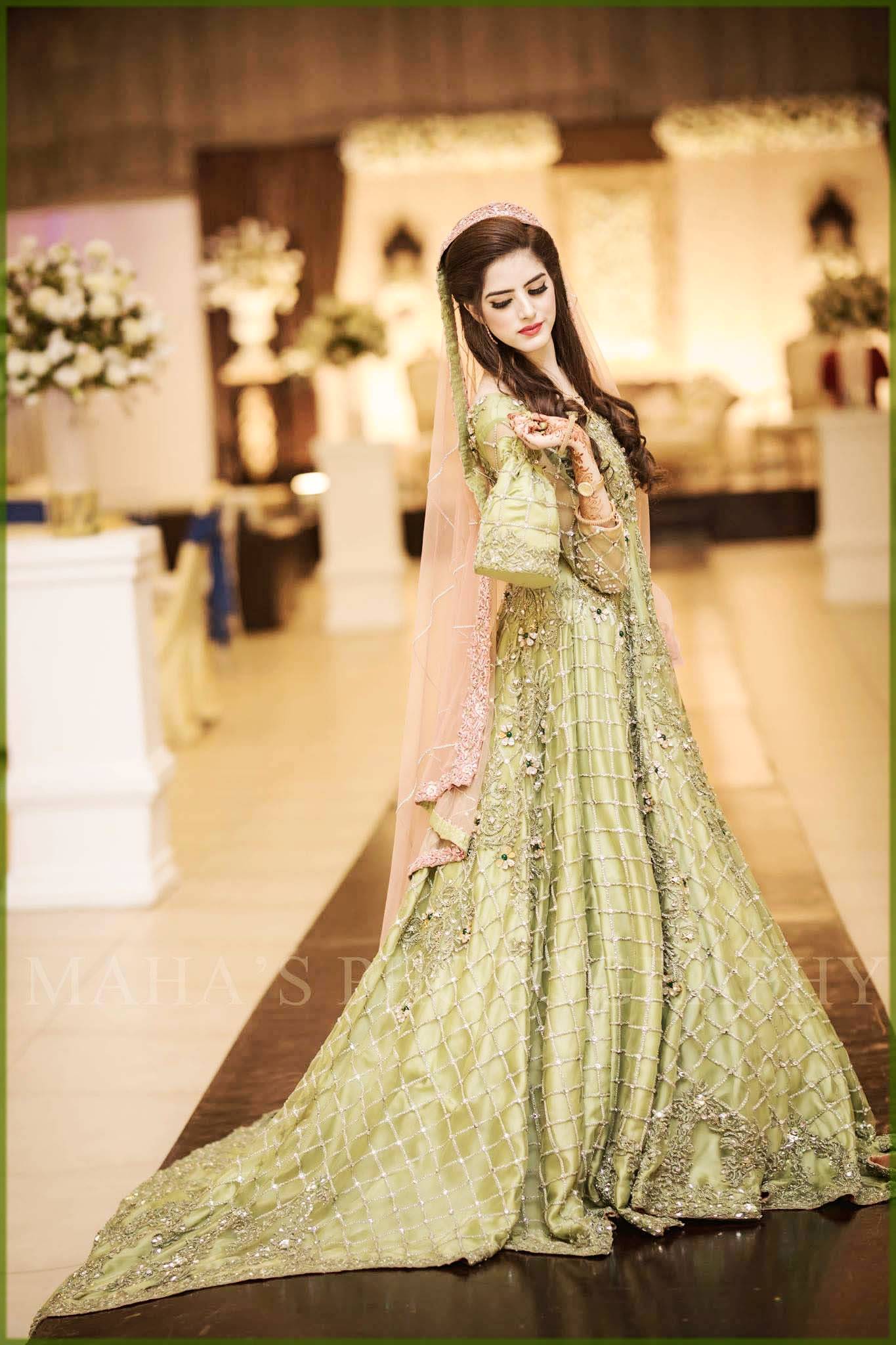 Light Green Net Bridal Maxi
There are many fabrics for creating maxi. The fashion industry aims to make the maxis of all the fabrics. They always focus on customer's demand and satisfaction. Therefore they make various maxis with essence. The net fabric looks delicate with light stonework on it. Moreover, the golden combinations add glam to light green color for walima attire.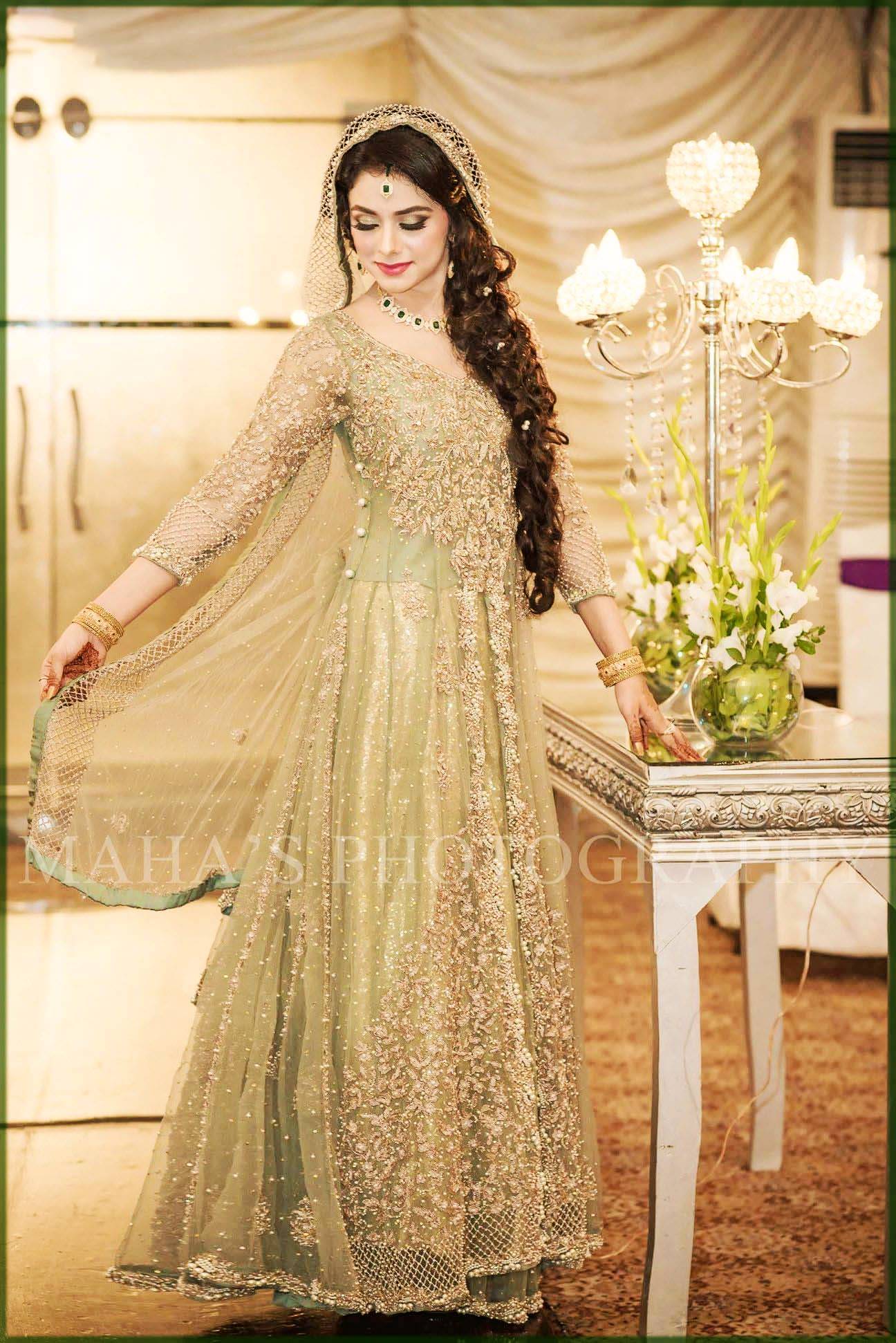 Silver Bridal Maxi with Fine Stone Work

The grey color is among the coolest colors for wedding wear. The brides always match the color codes with their better-half. Therefore, the grey color has many options for the walima outfit. It nicely pairs with many shades of grey for men. This light grey bridal maxi design has beautiful pearls and stonework on it. Moreover, it has small light pink floral designs in combination. This flowy maxi looks amazing.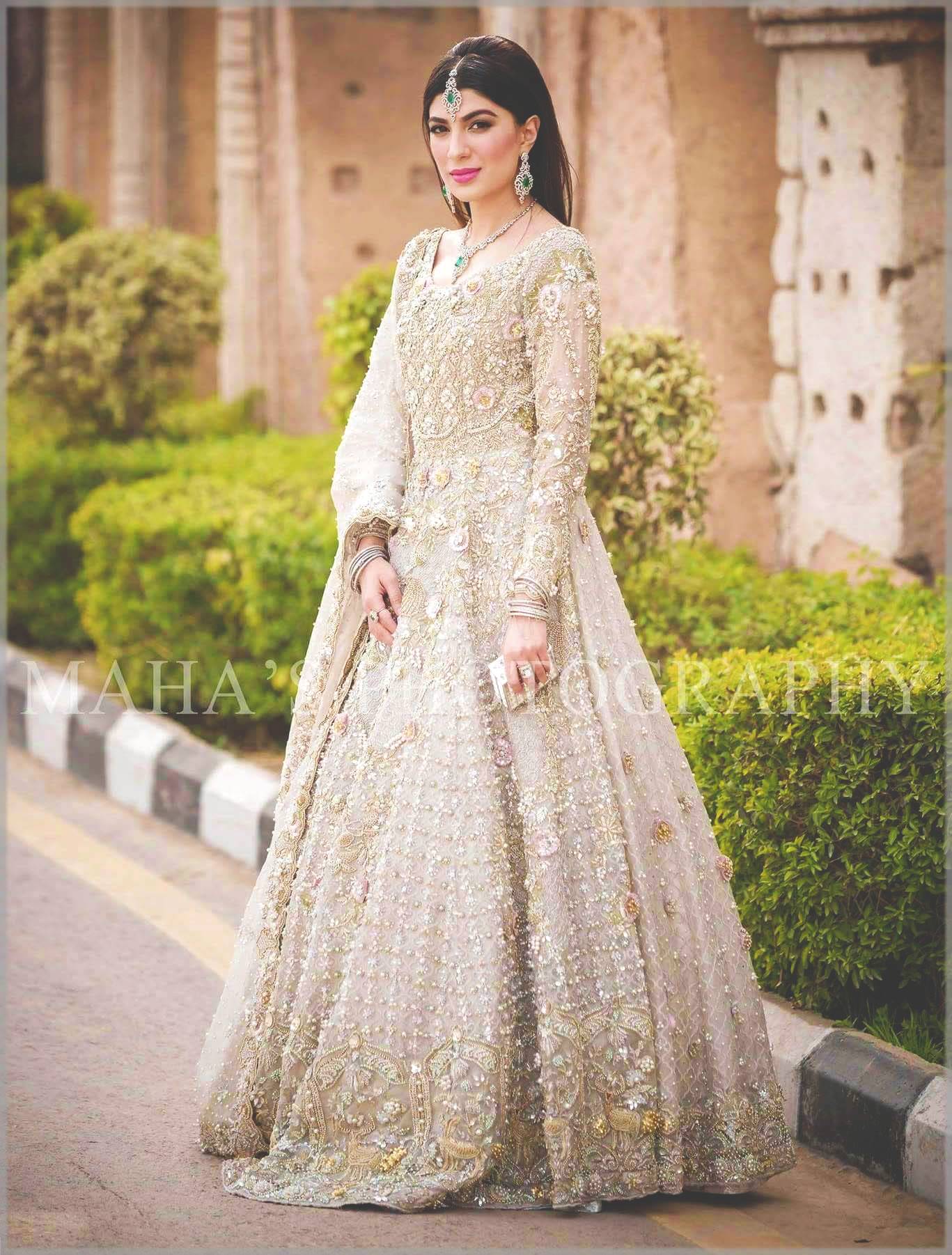 Grey Bridal Maxi with Dainty Tilla Work

The dark shade of grey color looks dazzling. The enchantress of overall walima attire comes up beautifully with net dupatta. Therefore, this sizzling outfit looks distinctive and brings a gleam to the bride.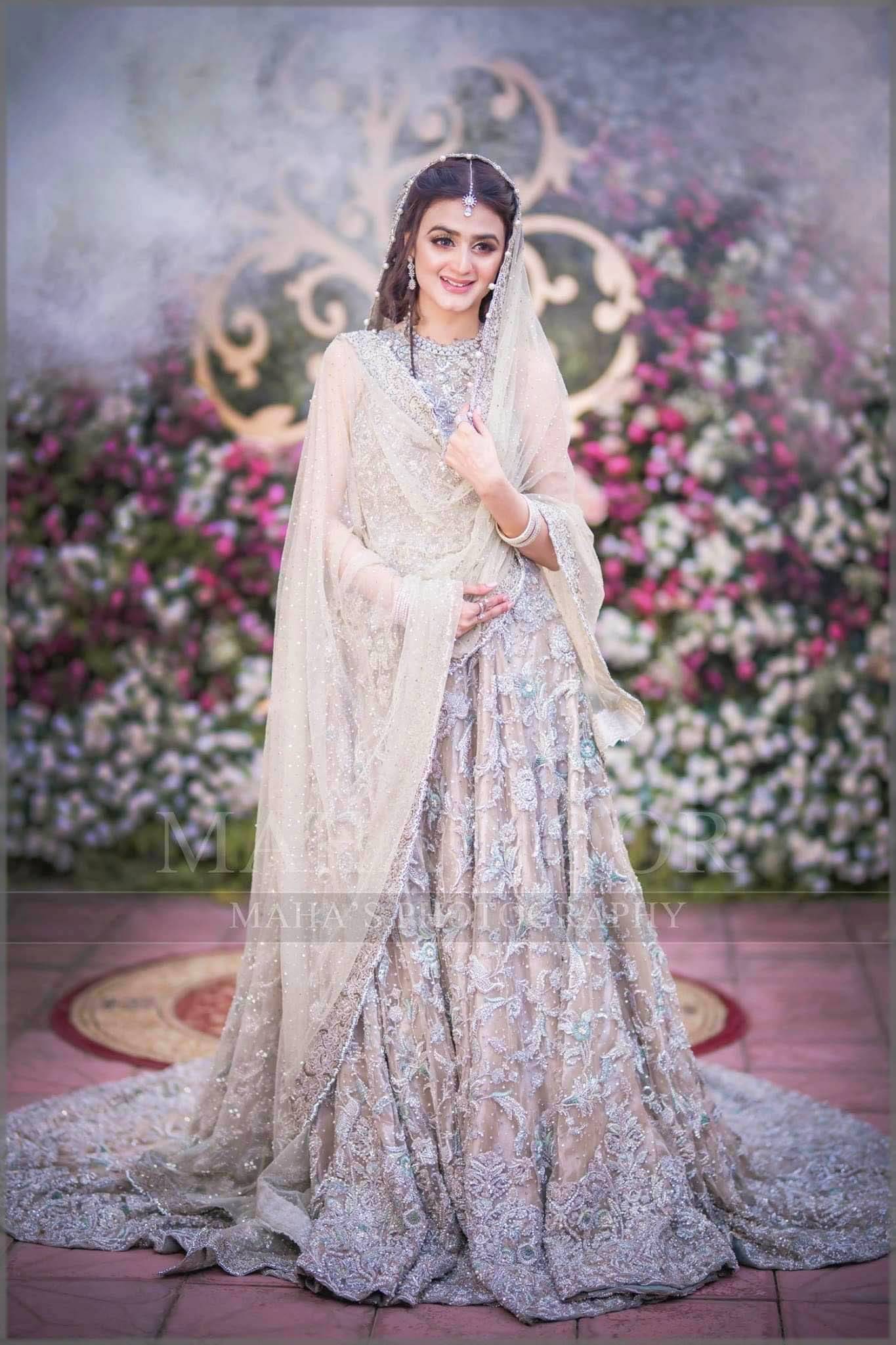 Sleeveless Bridal Maxi Designs by Asim Jofa
Asim Jofa is among the top leading brands in the fashion industry of Pakistan. It has a wide variety of luxury bridal designs, including maxis. Therefore, we are presenting you with an embellished collection of Asim Jofas maxis for bridal wear. Sleeveless designs are on trending nowadays even in bridal wear. Thus, considering the modern trends, Asim Jofa introduced an embellished sleeveless collection.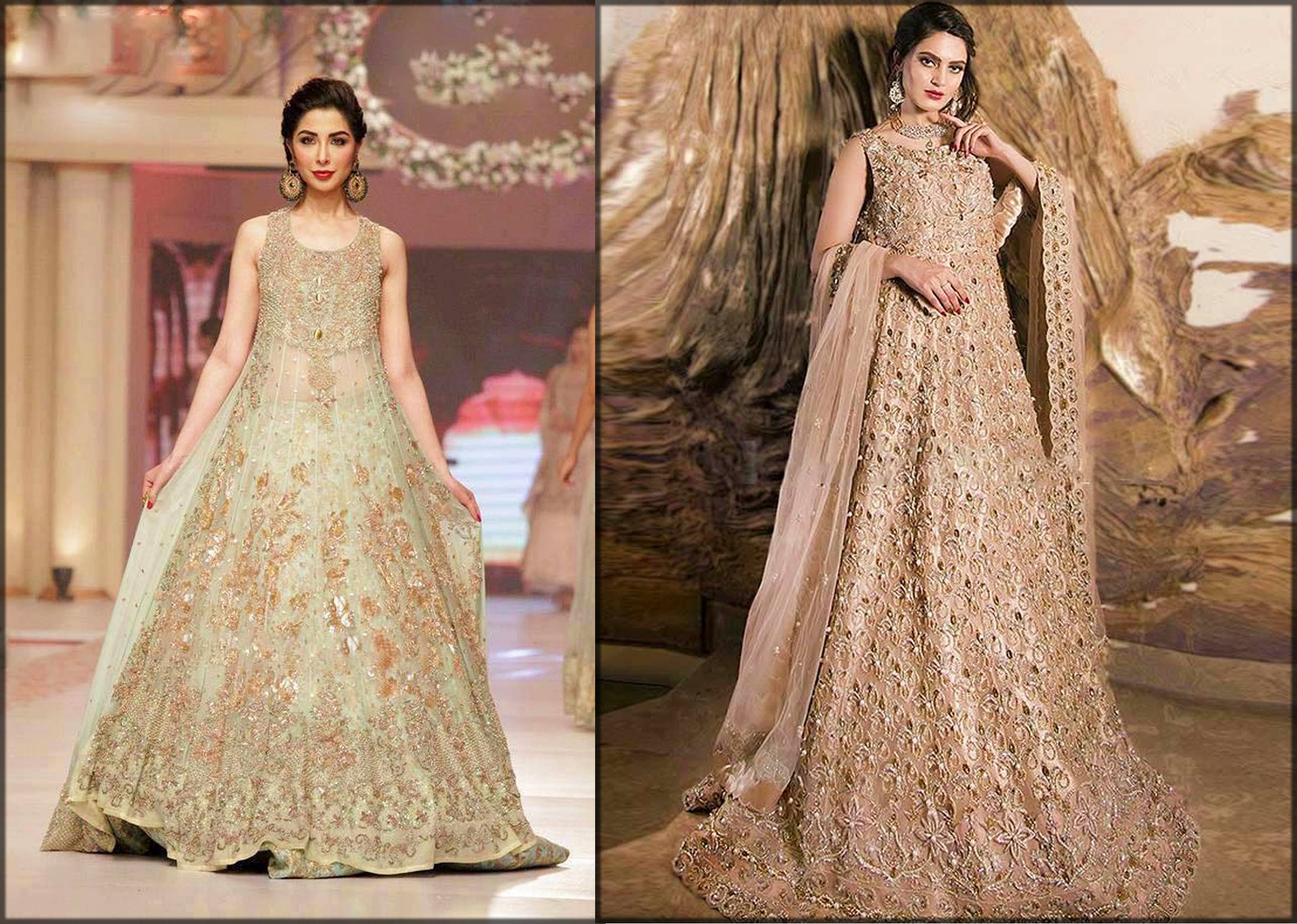 Ahmad Sultan's Wedding Maxi Designs
Ahmad Sultan is the most expensive and famous brand in Pakistan's fashion industry. Their collections are novel with an impeccable sense of designs. They are introducing the enthusiastic trends and vibrant colors with sophisticated fabrics and silhouettes. Here is beautiful Sara Khan wearing the alluring bridal maxi by Ahmad Sultan. The cool shade of maxi is looking elegant and magnificent.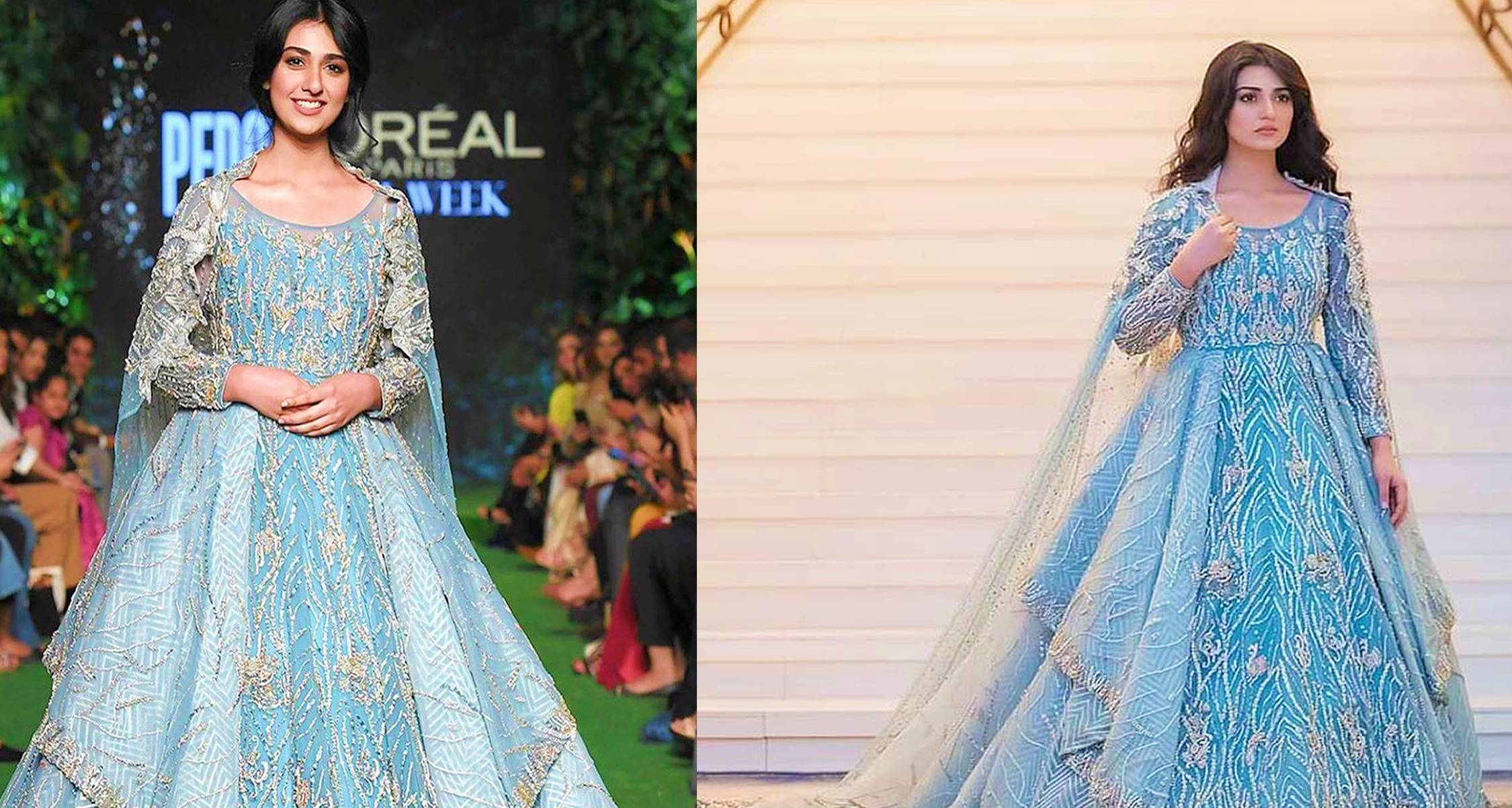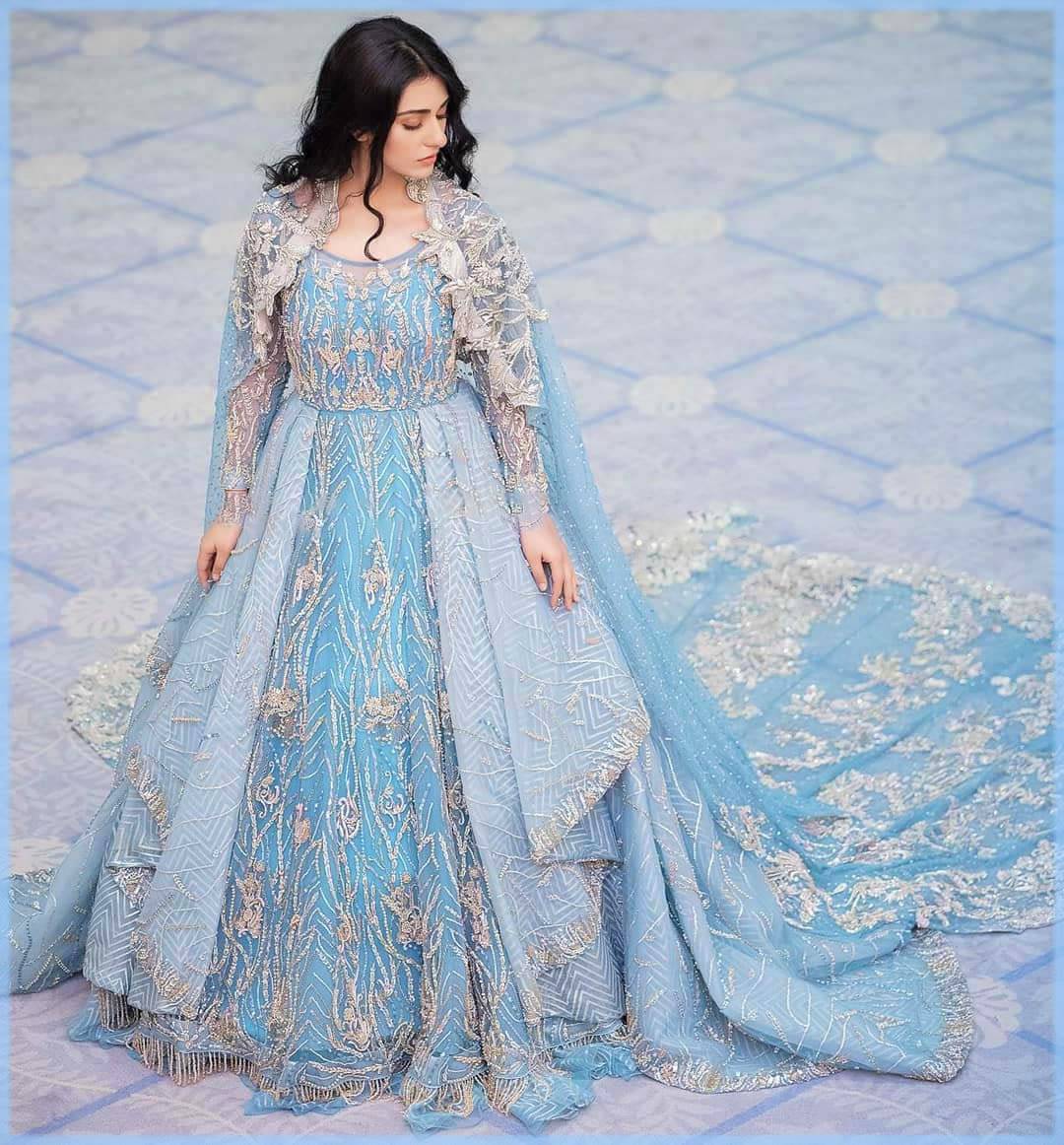 Exquisite beauty always comes with some eccentricity in the proportion. The same is the case with the walima bride. Here is an unusual yet delicate walima attire for the beautiful bride.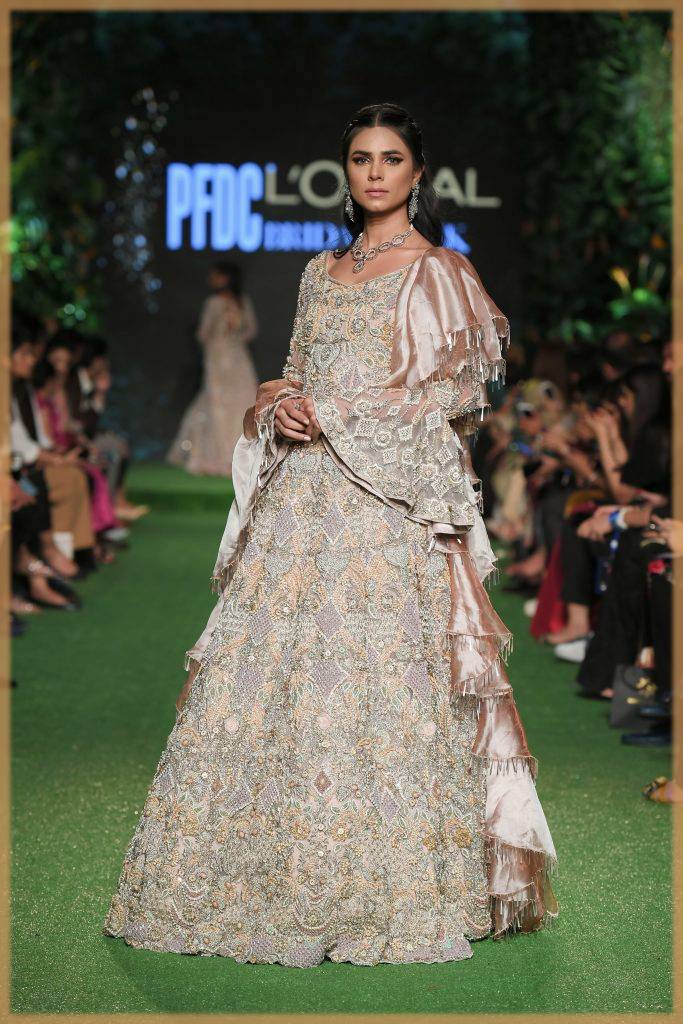 Bridal Maxi Designs by Reema Ahsan
Reema Ahsan is a prestigious brand for bridal wear that was formed in earlier 2006. It is famous for introducing dynamic designs in bridal wear. Pakistan is a beautiful assortment of diversity. This diversity reflects our clothing and fashion. It presents incredible models of maxis for the brides. However, the cost of these dresses is very much high. Therefore, all of the citizens may not be able to buy them. Mohsin Naveed Ranjha is a perfect brand for high-end luxury dresses.
Pistachio Green Maxi with Pink Floral Embroidery

The maxi gives a traditional craft with mirror and cut-work borders hence making it distinctive. This is a unique combination of pastel pink and beautiful green color. The modern rich motifs are in layer with silk. Moreover, the Resham and silk fabric lends an embellished look.
Ivory Bridal Maxi with Delicate Net Dupatta

The ivory is a unique hue for wedding wear. However, it looks marvelous when the outfit is in net fabric. It is a beautiful ivory gold gown style maxi having beautiful pearls and crystal stones on it. Moreover, the net dupatta has beads on it, bringing tuned elegance in overall attire.
Zainab Chottani Bridal Maxis
Zainab Chottani has an exclusive, classic, and beautiful collection of clothing in all the fabrics and variety. After getting much fame in formal and casual wear, the designer started introducing its bridal collection. Get stylish and brilliant maxi designs by Zainab Chottani.
Republic Womenswear Bridal Maxis
Republic women wear is a luxury and renowned fashion brand for its intricately detailed and magnificent designs. The maxi designs by the republic are distinctive and fantastic for brides. Moreover, these are of high cost and high quality. Ali Xeeshan has also launched its bridal collection recently.
Resham Rivaj Bridal Maxi Designs
Resham Rivaj is a luxury brand in the fashion industry of Pakistan. It has an exclusive collection of bridal wear of various styles. The maxis for bridal wear are among its purest collection. Beautiful Hira Mani is wearing Resham Rivaj's bridal maxi. The ash-grey color of maxi looks dazzling.
Pakistan is a country having different cultures and traditions. Therefore, Pakistani families prefer to choose their wedding attire according to the trends and traditions. Our collection of Maxis with incredible designs will aid you to grab the best outfit for your big day. Moreover, the collection of brands will let you know about the latest designs trending in Pakistan. However, some of you may not be able to avail the luxury branded outfits due to high costs. Besides, there are other designs available too. Moreover, these maxis look significantly stellar and unique for brides.