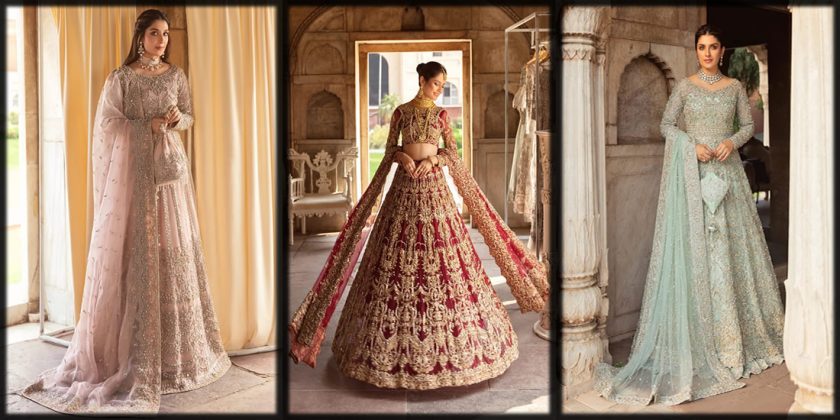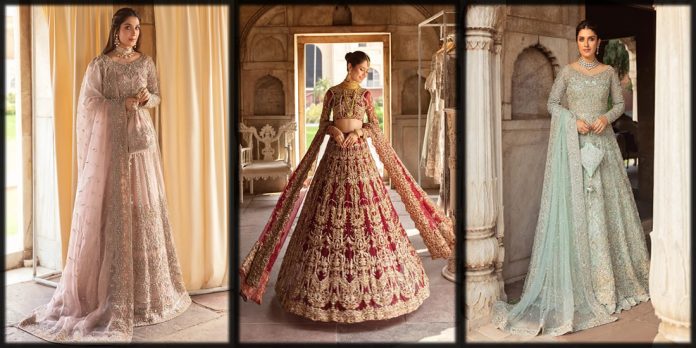 Fashion is always an outrage that people welcome and enjoy. Also, fashion is something that has deep associations with your outfit. People who invest more in their outfits than anything else are more likely to develop fashionable and modest looks. Even the brides look for a statement outfit that can bring a touch of elegance. Kanwal Malik bridal collection has a versatile variety of prettifying bridal dresses.
A woman feels more confidence and grace when she is wrapped in a luxury outfit. There are a couple of ways that can make you look beautiful. But, nothing beats the modesty of a bride when she wears an exquisite and appropriate dress on her wedding day. The big day is once in a lifetime event that has to remember for a lot of reasons. To make your wedding look more memorable, opt for the outfits by Kanwal Malik bridal collection below.
A timeless attire and can bring you an effortlessly chic and modest look. The creative and artistic bridal designers work day and night to bring modest attire for the bride and the groom. Well, a bride is more anxious about her wedding look as compared to the groom. Therefore, the newly emerging fashion designer has created magical and ethereal ensembles for the upcoming brides.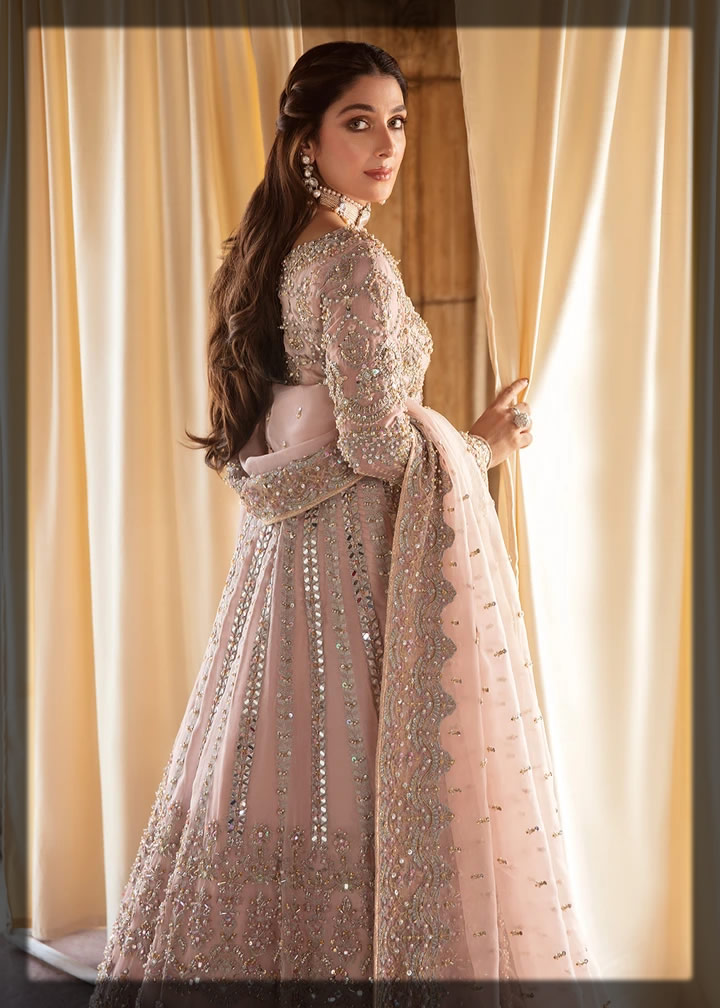 About the Creative Designer and Brand History
Kanwal Malik is the new fashion designer in town who started her clothing brand in 2018. In a short period, the designer gathered the attention of the public through its intricately embellished designs. The creative and artistic designer hired high-profile celebrities to introduce her luxury silhouettes. That is why people have started recognizing the powerhouse of fashion. The designer specializes in bridal wear for women.
You will find lavish bridal outfits in the following blog that is dazzlingly decorated to make your bridal look stunning and memorable. This year, wrap yourself in the rich and luxurious bridal wear by Kanwal Malik for a statement style. Kanwal Malik brings contemporary cut works, blushing color palettes, and powdery contrasts to make unique yet elegant outfits for the upcoming brides. Please take a while to explore the breathtaking bridal robes below.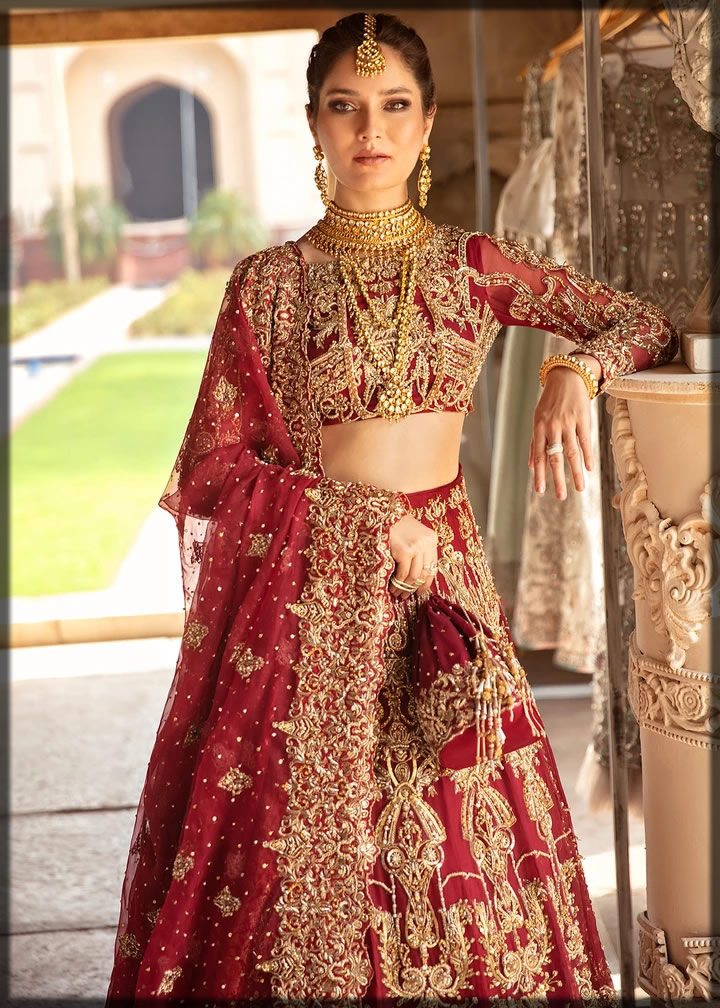 Kanwal Malik Latest Bridal Wedding Collection for Women

A woman shall never fade her individuality and originality while choosing a bridal outfit. Always remember to pick the style that can complement your looks and personality. This year, you can challenge your individuality with Kanwal Malik's stunning bridal campaign to create an illusion in your style. Mark the date to pick the lustrously embellished attires by Kanwal Malik. Erum Khan's bridal collection has likewise luxurious ensembles for brides.
Undoubtedly, fashion is the real armor to survive the reality of life. Every year brings you four seasons to modify your looks in the desired way. Several clothing brands and fashion designers launch their bridal collections to engage the public. You will see numerous bridal dresses by the new emerging designer Kanwal Malik in the blog below.
Please take a while to explore a wide range of bridal collections from various famous designers on our site.
Heavily Embellished Red Lehenga Choli
A joyous wedding event requires a stunning outfit to enhance the charm of the day. Indeed, Barat is the most significant day for the bride and the groom. Therefore, a bride looks for several bridal Barat dresses to choose the best one for herself. Here is an ethereal option for the bride by Kanwal Malik's bridal collection below. It would be best if you explore Saira Shakira's bridal collection for a more significant variety.
The deep red organza embellished dress comprises of embellished lehenga with magically hued choli. You can see the panel embellishment techniques on the lehenga. Well, the beauty of the dress is enhanced with motifs, pearls, and Sitara work. The gleaming details on the dupatta also add grace and glam to the dress. Give a thought to the following dress and create an illusion in your Barat look. The dresses are similar to Maria B's bridal collection in terms of details and design.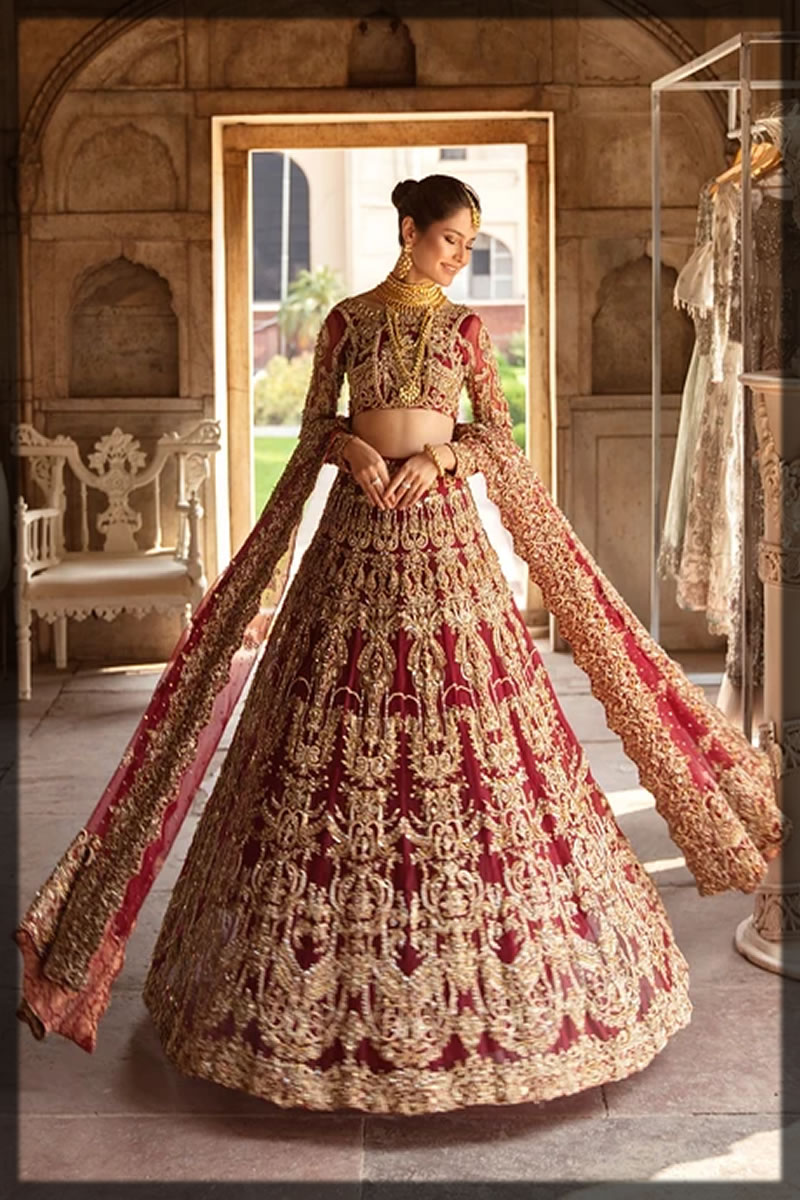 Bold and Regal Nude Pink Bridal Organza Gown
Are you looking for a nude color to wear on your walima day? Well, pink and ivory shades are very common to be worn on engagement and nikah as well. For instance, you can explore magnificent engagement dresses for a refined variety of attires. Remember that the love you give to yourself will always matter. Therefore, you must be picky about choosing the right kind of attire for your big day. Here is a heavily embellished bold and regal nude pink bridal organza gown style dress for you below.
The regal ensemble has heavy embellishments all over the front and back. Indeed, the front-open organza embellished gown is an ideal choice for the brides to wear on their walima. You can explore a fundamental variety of bridal walima dresses if you are conscious about your looks. I hope the following opulent statement designs will bring you the desired glam and grace. You can wear the outfit on your nikah as well. Explore bridal nikah dresses for a wide variety of embellished dresses for the brides as well.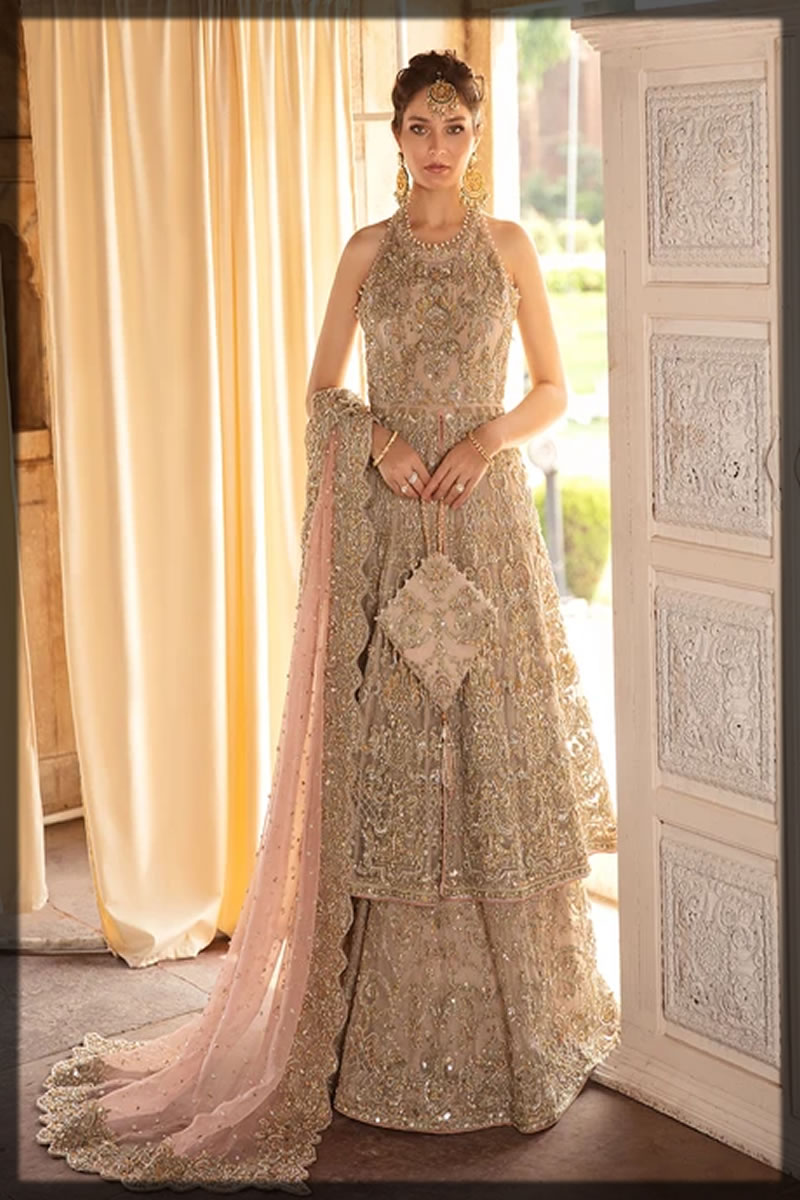 Korean Silk Plum Bridal Lehenga Choli
Korean silk is the new fabric that has entered the market and created a monopoly for its beauty. Nowadays, people prefer to wear trendy fabrics on their wedding day to exude a modest and refined look. Therefore, Kanwal Malik decided to bring you the fascinating fabric for bridal wear. You can spot many similar designs in Deepak Perwani's bridal collection as well. The creative designer brings unique Anarkali style bridal dresses for an individually glamorous look.
The stunning outfits below come with heavily embellished crop-tops for the brides. Further, you can spot tiny and heavy embellished techniques as required to create a youthful look. The portfolio has plum and black shades that are entirely rare to be worn at weddings. So, if you want to look different at your wedding, opt for the following decorative attires. Examine Mirusah's bridal collection for significant and unique designs.
Embellished Ravenna Bridals X Ayesha Omar
Bulbulay's famous actress and model Ayesha Omar is a well-recognized showbiz star in Pakistan. The actress has worked in many popular projects including "Zindagi Gulzar Hai" as Fawad Khan's sister. Currently, she has been working on Umera Ahmed's upcoming project where she will be observed as an SP officer across Saba Qamar and Sonya Hussayn. Here you will see the fashion icon raising the temperature in Kanwal Malik's Ravenna campaign below. Please take a while to explore the embellished dresses below.
The image gallery shows two incredibly crafted bridal dresses for the upcoming brides. The deep red embellished bridal gown can be an ideal choice to wear on Barat. You can visibly see the heavy embellishments on the dress from the top to the bottom. Further, you can spot a unique ice-blue shaded Peshwas that is an ideal option for the brides to wear on walima. Ahmad Sultan's bridal collection has a variety of bridal ensembles as well just like Kanwal Malik's catalog.
Romantic Revolutions Bridal Collection X Neha Rajpoot
Neha Rajpoot is a well-known fashion model in the fashion industry of Pakistan. The iconic star recently tied a knot with minister Salman Taseer's son Shahbaz Taseer. Neha arranged a beautiful reception event for close friends and family due to the covid restrictions. Here she is raising the temperatures by wearing exquisitely embellished bridal dresses below.
Please have a look at the royal and regal ensembles of the Kanwal Malik bridal collection below. All of the dresses are layered with tilla, motifs, and stonework to enhance the beauty of the dress. If you want comparable embellishment techniques, you can head over to Mohsin Naveed Ranjha's bridal collection. Undoubtedly, the dresses below are timelessly beautiful and appropriate for your wedding. Give it a thought and have a blissful wedding!
AARIZO Bridal Collection by Kanwal Malik Featuring Ayeza Khan
Ayeza Khan is one of the most talented models and actresses in Pakistan's showbiz industry. The actress is the wife of a famous actor and TV show host Danish Taimoor. Actress Ayeza Khan got fame after the historical drama of Pakistan's media industry in 2019. She played Mehwish in the drama serial "Mere Pas Tum Ho" across the ever young and smart Humayun Saeed. Afterward, the versatile actress played a comic role in Ramdhan's transmission drama Chupke Chupke as Meenu. Currently, she has been working on a couple of major projects for the TV channels and brand's collections.
In the following blog, you will see the talented and stylish Ayeza Khan wearing exquisitely embellished bridal dresses by Kanwal Malik. Ayeza Khan is a vision to behold in the luminously decorated bridal attires. If you want to exude elegance and grace like Ayeza, quickly pick up any outfit from the AARIZO collection below. The portfolio showcases, heavily embellished bridal walima dresses and others. Well, the cost of the dresses is high as compared to Zainab Chottani's bridal collection. But, you can manage your pocket and buy the fascinating bridal outfits from the following image gallery for a refined look.
So, Kanwal Malik bridal collection has every essential design that a bride needs to fulfill her requirements. The stunning and engaging portfolio above will enable you to get the best outfit for your bridal look. Plus, a combination of delicate jewelry and appropriate bridal makeup will amplify your entire look. Please give a chance to the collection above. Do not forget to appreciate the efforts of the designer in bringing mesmerizing bridal dresses.