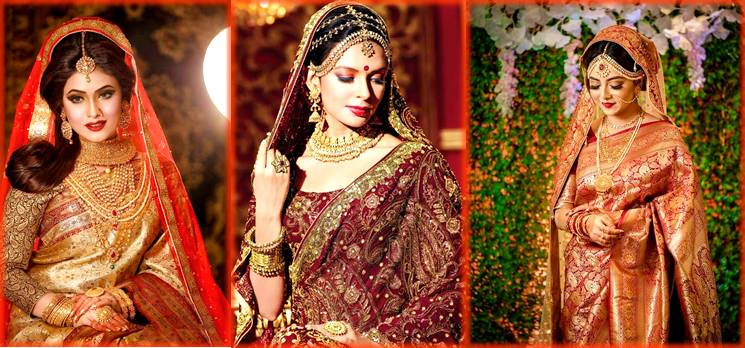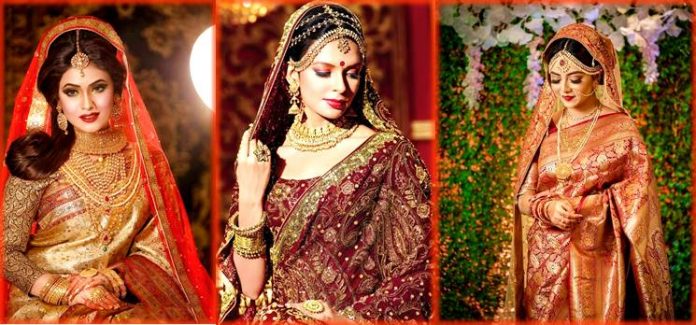 A trendy and most common female clothing in Indian culture is Saree. The majority of the women in the Indian subcontinent wear this garment both formally and casually. Sari consists of an unstitched piece of cloth whose length varies from 4.9 to 9 meters in diameter and 24 to 47 inches in breadth. Indian bridal saree designs are very famous in south-Asian states.
In the modern era, people consider saree as an essential part of Indian culture. It is customarily to wear it around the waist, ending up its one corner on the shoulder. People wear a sari with a corsage or blouse, followed by a massive flare known as ghagra.

Even after many years, the sari is worn in one of the most crowded and delightful parts of the Asian region. So, with revolution and remodeling, most modern styles of saris are made, and the most stylish ladies prefer to wear them at the wedding.
Traditions and Customs of Indian Bridal Saree Designs

Wearing a traditional saree is a culture of Indian Weddings. Since the partition of the sub-continent and even before the separation, Indian culture preferred wearing sari as their bridal dress. Also, a wedding sari is usually a combination of golden, green, and red colors. Most commonly, people prefer to wear red color.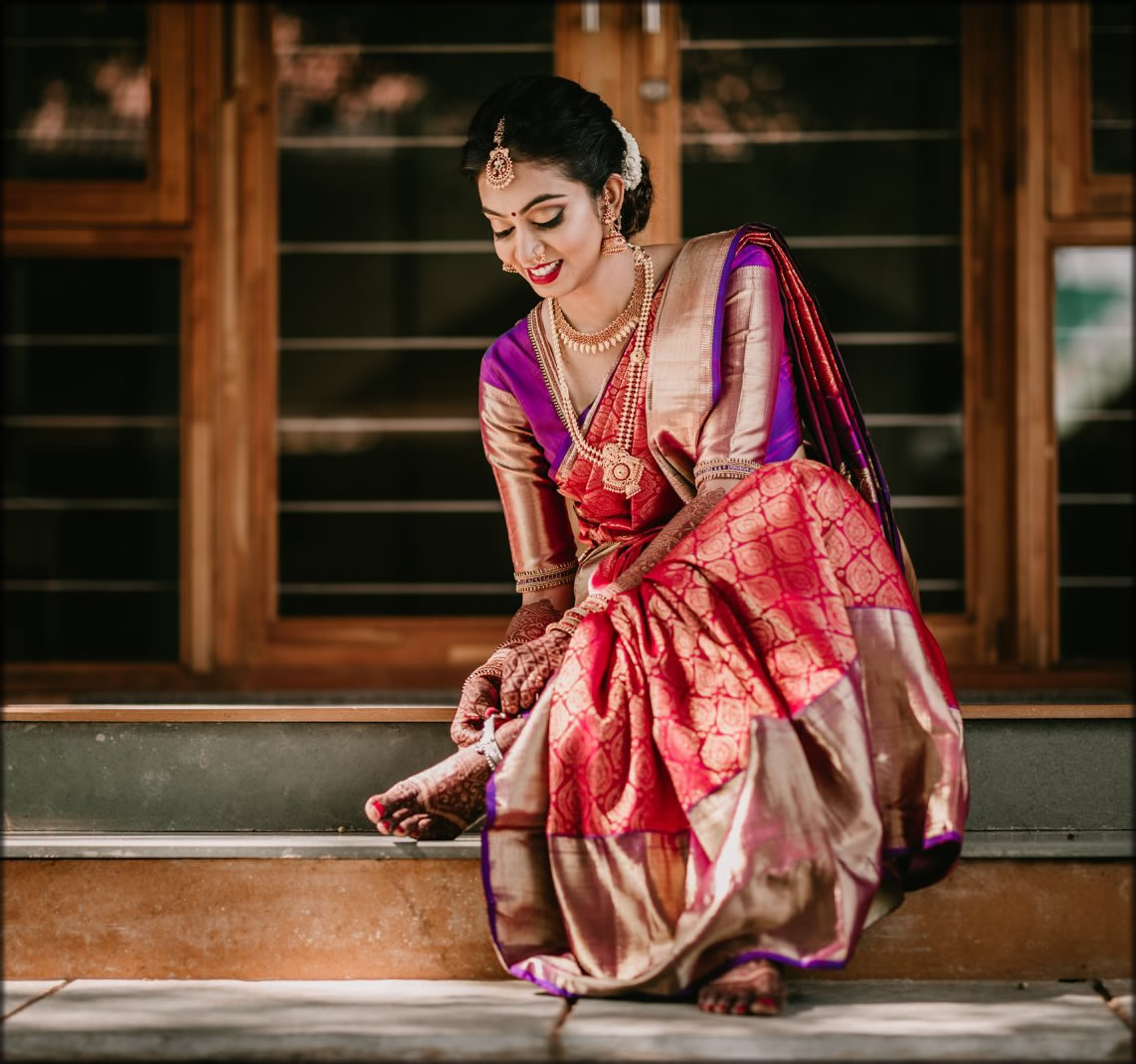 Stunning Indian Bridal Saree Collection for Desi Brides

Below mentioned are some types of Indian Desi saris which ladies prefer to wear at their wedding day:
Kanjeevaram is a region in Tami Nadu, India. So, it is evident that this name and the beautiful saree design has its origins from the Kanchipuram region. So, this type of sari is made up of silk fabric, and it is the most common type of Indian bridal dresses. The Karnataka and Andhra Pradesh are the second most common regions, and the women most likely wear Kanjeevaram sari as a bridal dress.
Fancy Banarsi Wedding Saree
Among all the famous and fancy sari designs, the Indian Banarsi saree has a populous rank among all. Also, they are common in India, and people from all over the world like to wear these as bridal dresses. The out of extraordinary parallel lines are drawn all over the sari fabric to make it pretty fabulous. Also, the bridal dress is mostly a combination of bright colors. Hence, it will never let the bride be out of sight of everyone.
Moreover, the choice to select a Banarsi sari as a bridal dress is epic, and that is why it is preferred not only in the Indian subcontinent but also among other Asian countries, especially in Bengal.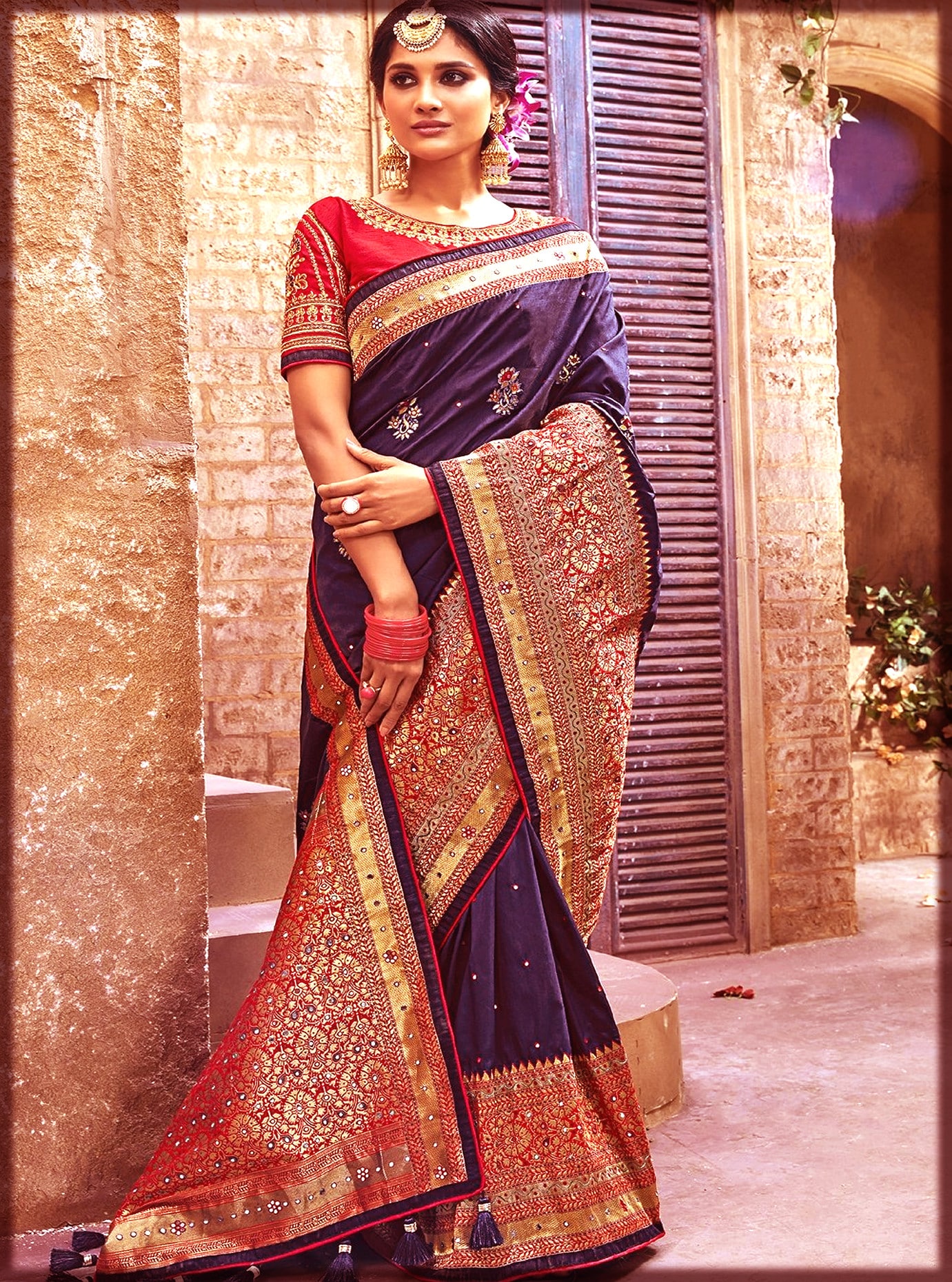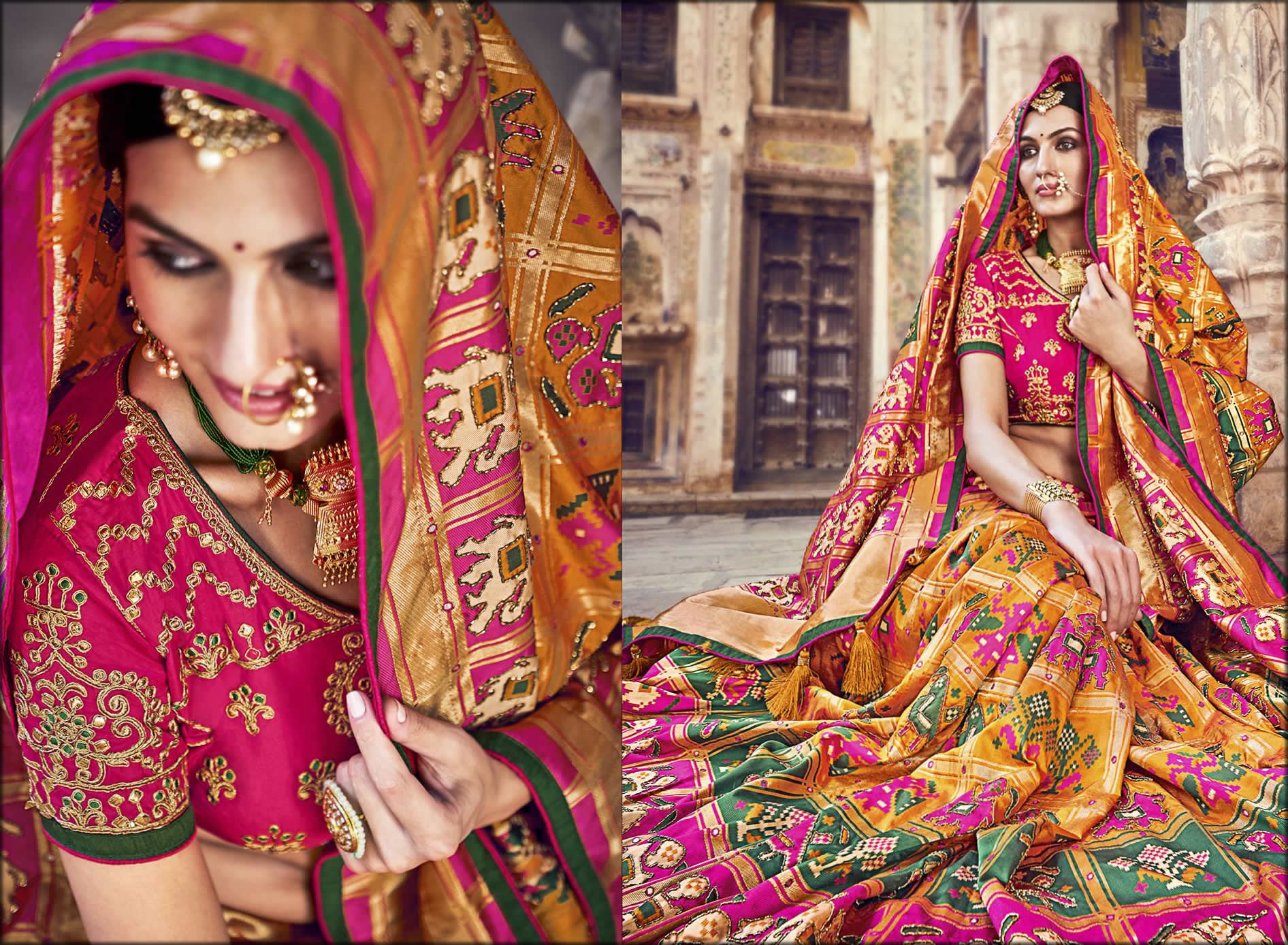 Assam Silk Saree for Desi Brides

Some people today still believe that being simple is the ultimate grace of a bride. Therefore, it is a mindset that ultimate beauty lies in simplicity and ends up looking glamorous. So, this fabric is unique and delicate. Wearing this fabric reflects your elite and refined choice. This beautiful saree design is very cost-friendly and looks stunning.
Gujrati Saree for Asian Brides

The origin of this Gujarati sari is from Gujrat, India. It is an embroidered design. Most commonly, the Gujarati designs are made of chiffon fabric. Also, gota Pati designs will add grace to the bride's look. Besides, the embroidered outfits in Asian countries are broadly cast off. The dainty and delicate work of gota on the sari looks very traditional and cultural.
As by the title, it implies, the embroidery of this saree is of Resham/silk. It is versatile attire among Indian bridal saree designs. So, it is made up of embroidered slosh from top to bottom in a sequential way. Also, a beautiful and heavy zari is appliqued on the saree in an elegant way to make it sophisticated and splendid.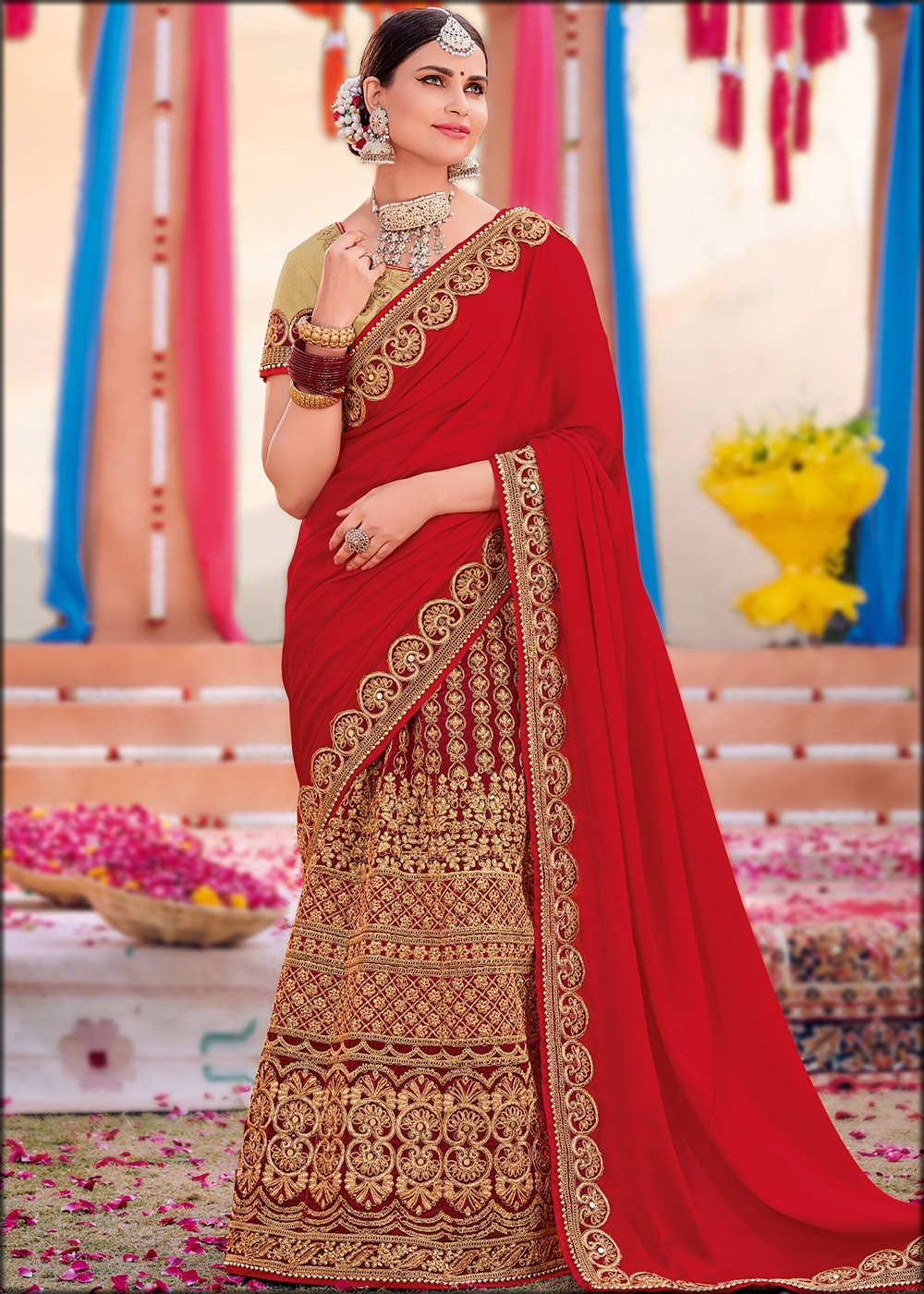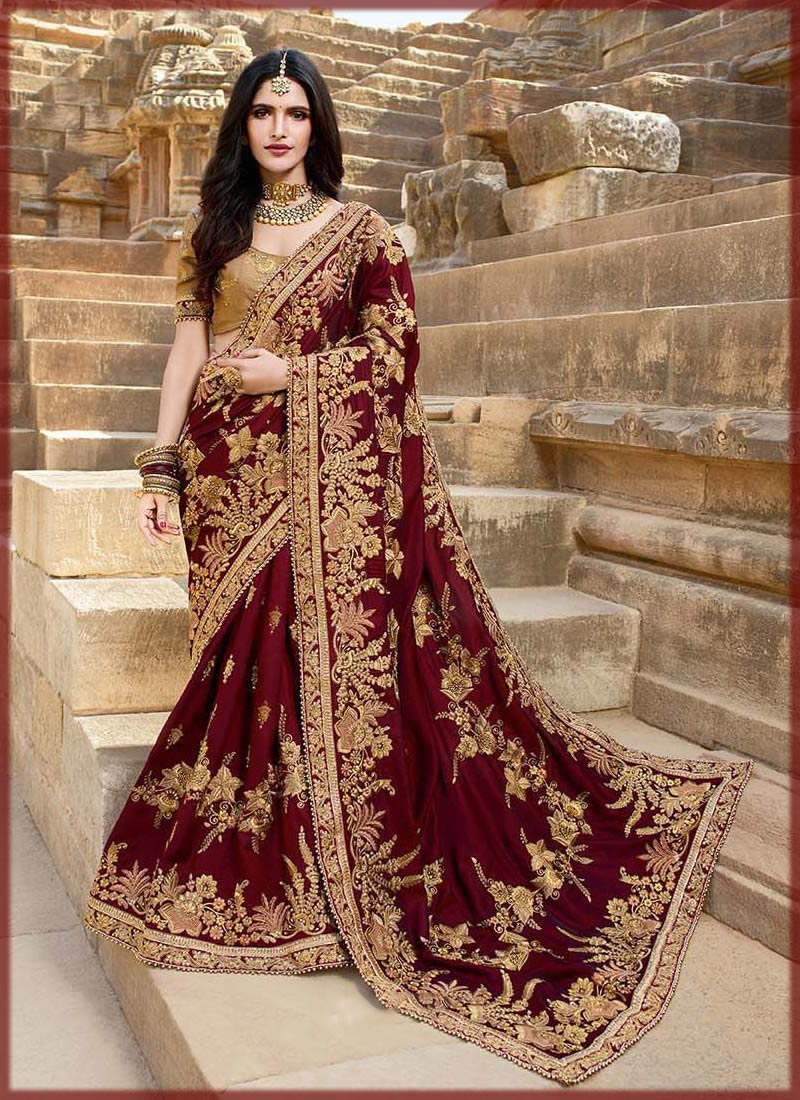 Versatile South-Indian Style Saree

This sari has a distinctive look from other bridal sarees and is the oldest design. Paired with simple choli, the banarsi silk saree looks very cultural. Also, this culturally designed saree is a part of south-Indian cultural heritage. People use to wear this saree in the old times as a bridal dress. Also, you can pair different kinds of Indian blouses with this style.
Bengali Wedding Saree designs

It is an orthodox designed sari which is hand-woven and threaded along with the fabric from head to toe. It reflects the real picture of Indian culture. Also, wearing a Bengali sari takes a lot of time to get ready but it is worth it.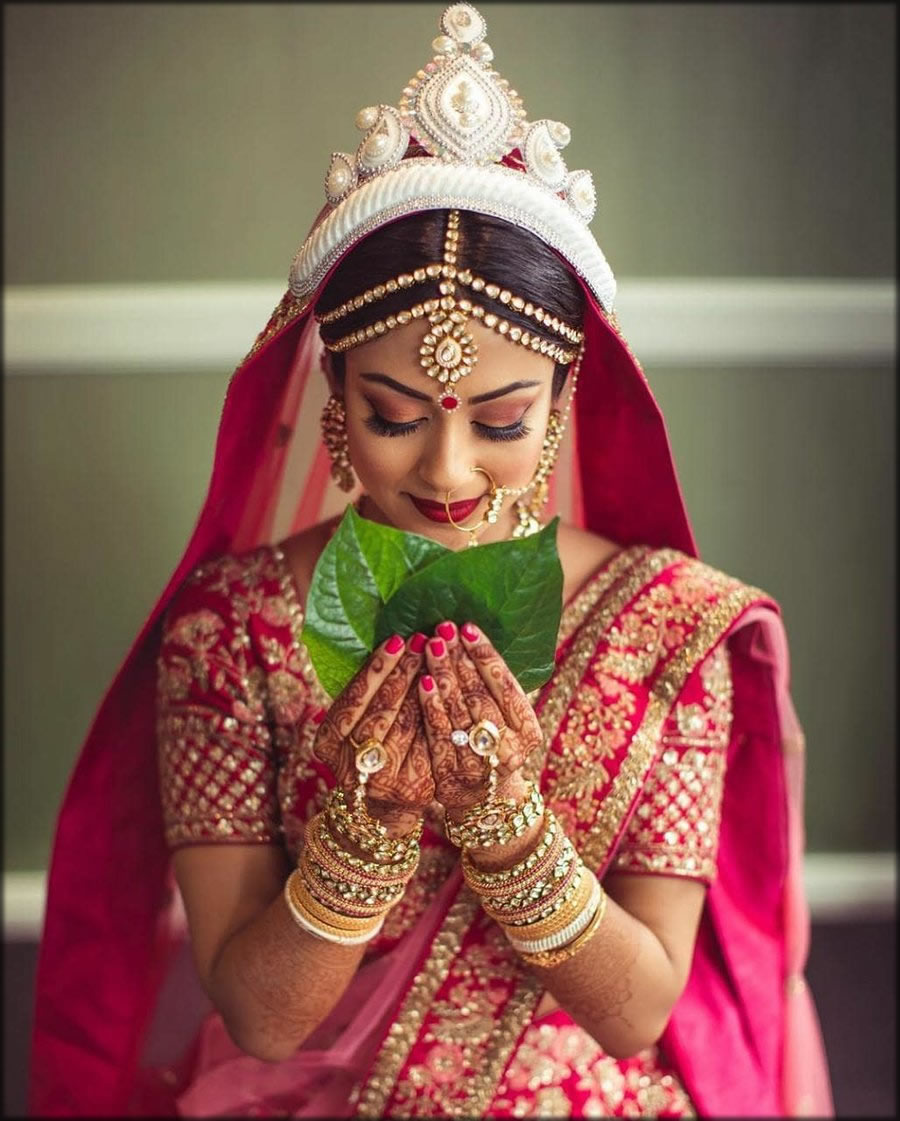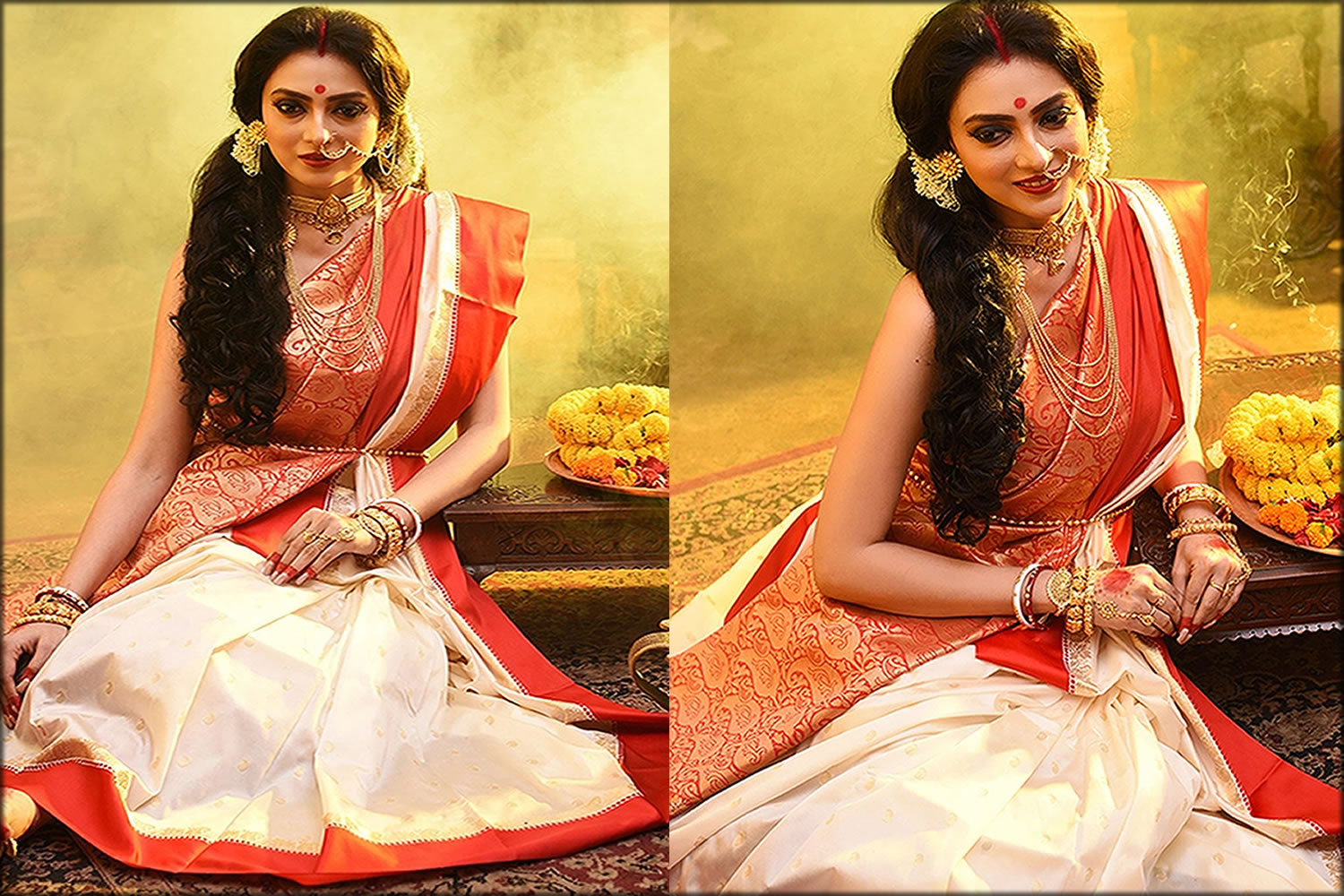 The Bandhani sari has its origins from the city Gujrat. It is also commonly famous as Bandhej sari. Indians make this sari from a variety of fabrics, i-e not only silk. So, cotton, chiffon, cotton-silk, and georgette are the most common fabrics that are used. Besides, it is among the most straightforward designs of saree and hence also worn as bridal wear.
Best Colors for Indian Bridal Saree
It is evident from the word wedding that ladies will wear bright and unique combinations of colors. So, wearing cheerful and promising colors on your wedding day, people consider having good fortunes shortly. Also, the Indian brides carefully choose such saree colors for their wedding so that they might be propitious.
Selection of Suitable Fabric for Saree

The fabric of any category depends on the current temperature conditions prevailing in the area where you live. Moreover, wearing sari as a bridal dress, it is pretty evident that its fabric will be according to the occasion.
Indian bridal saree designs are common in silk fabric. Moreover, wearing both cotton and silk fabrics, a complete ravishing look appears. Hence, you look completely gorgeous wearing a silk sari on your wedding day. However, people can wear saree as both formally and casually.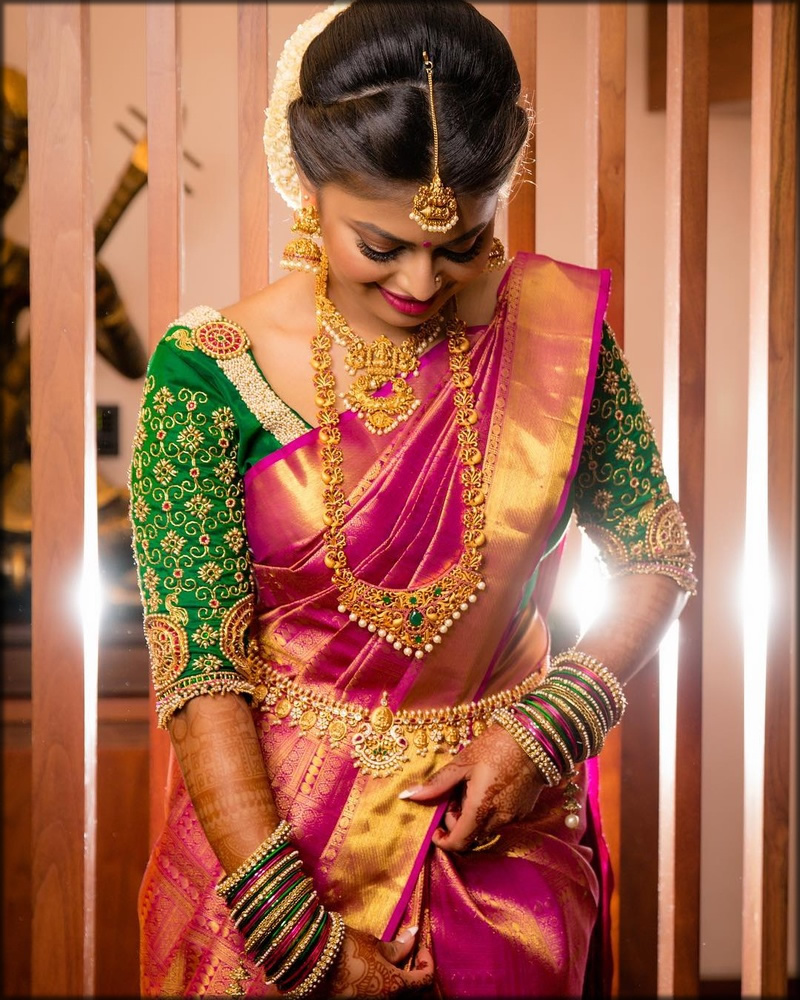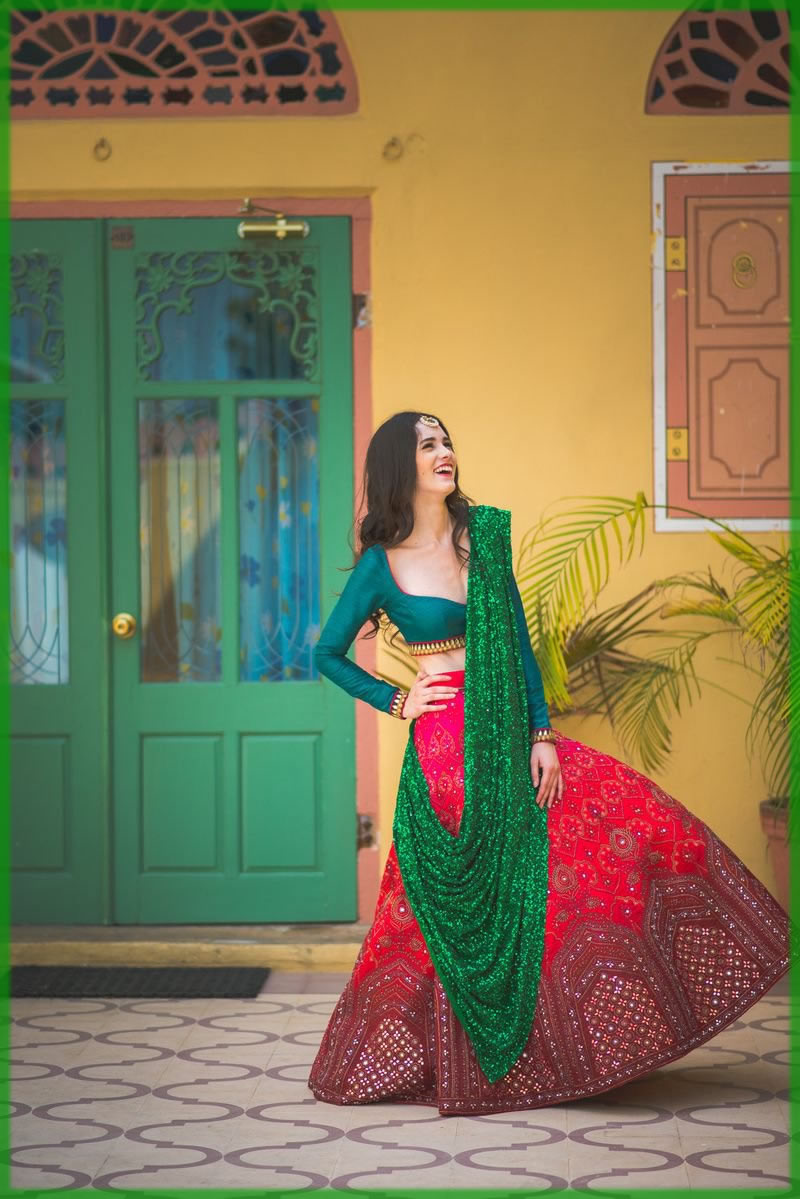 Some Amazing Traditional Looks to Try this Year!
Here we have some amazing Indian Bridal sari designs with pretty looks to try on your wedding day. Moreover, these looks will make your ultimate beauty more prominent and will outshine everyone.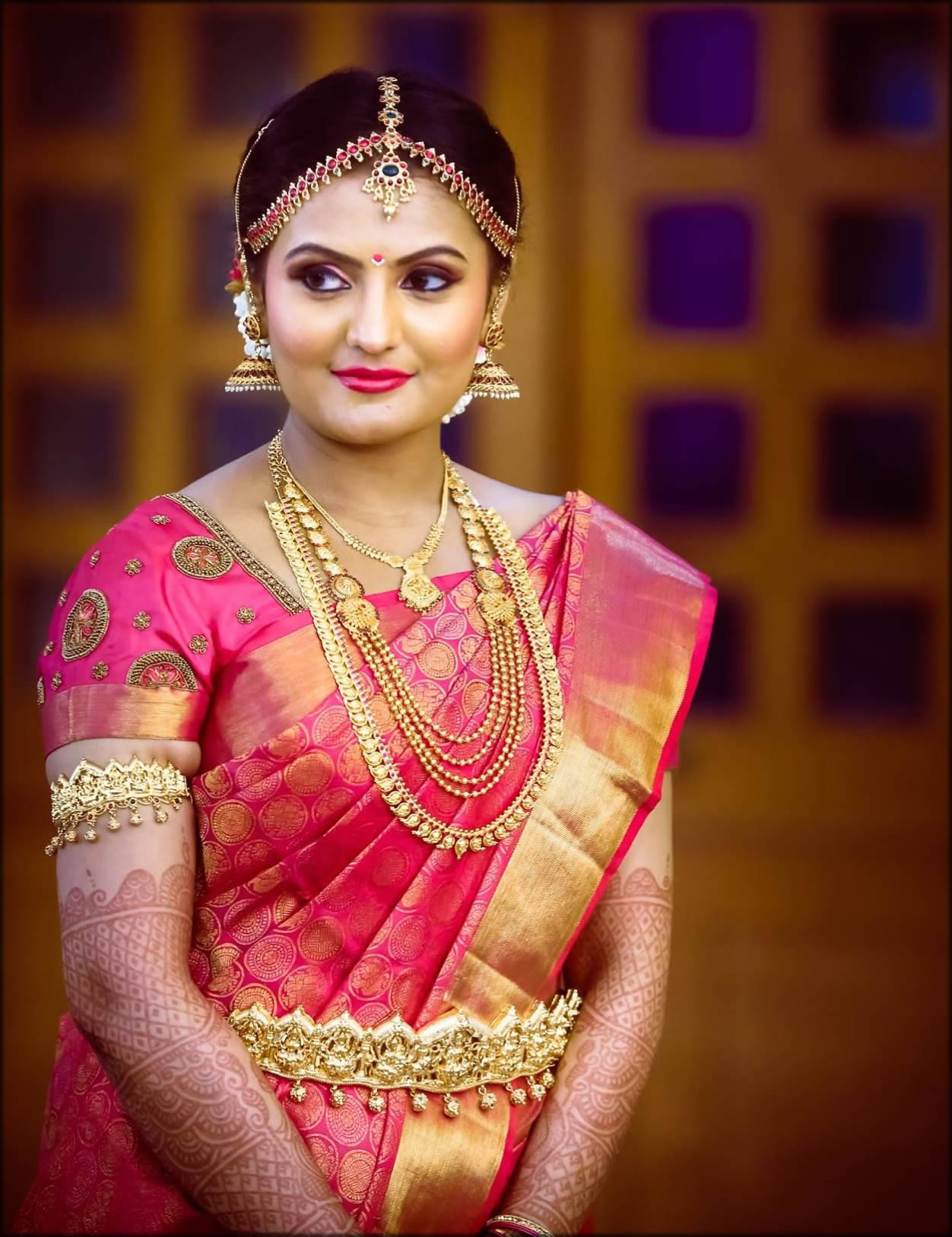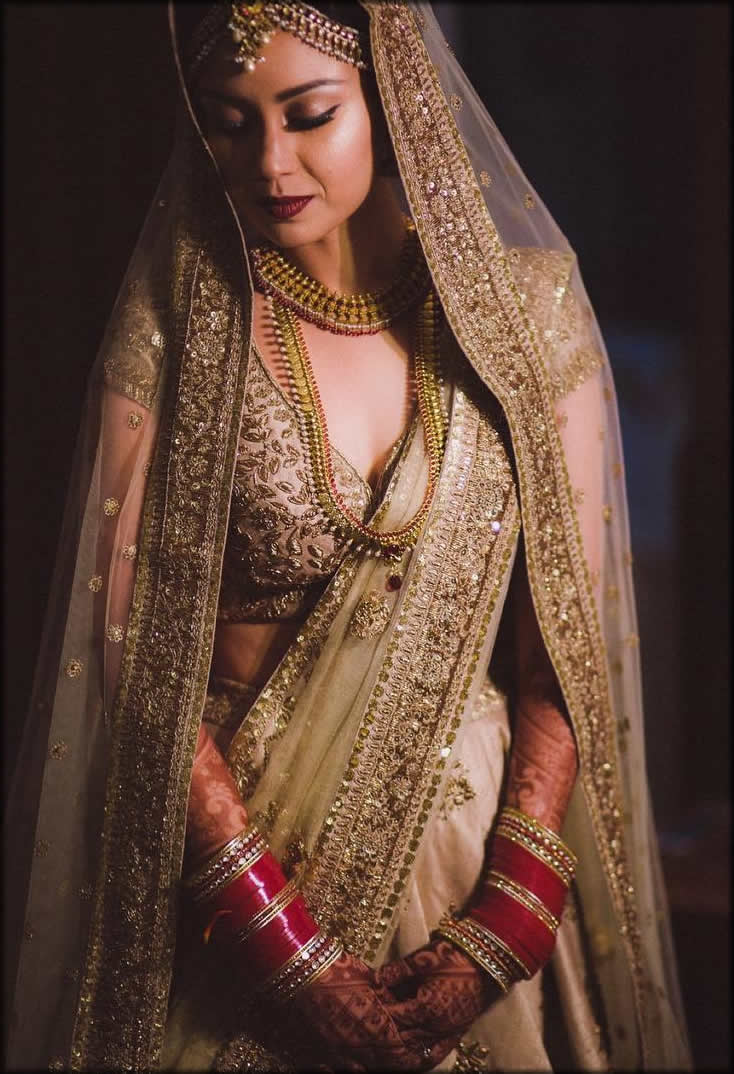 Indian Bridal Sarees by Top Designers
Who says that women are not quality conscious? Indeed, every upcoming bride thinks about wearing a dreamy outfit to create a magnificent look. On your memorable day, you must think about wearing a designer dress. If you want to wear a designer saree on your big day, here you go. Take a look at the Indian bridal saree designs by top Indian fashion designers:
Ritu Kumar saree collection.
Manish Malhotra bridal saree collection.
Tarun Tahiliani wedding sarees.
Rohit Bal bridal sari collection.
Sandeep Khosla bridal dresses.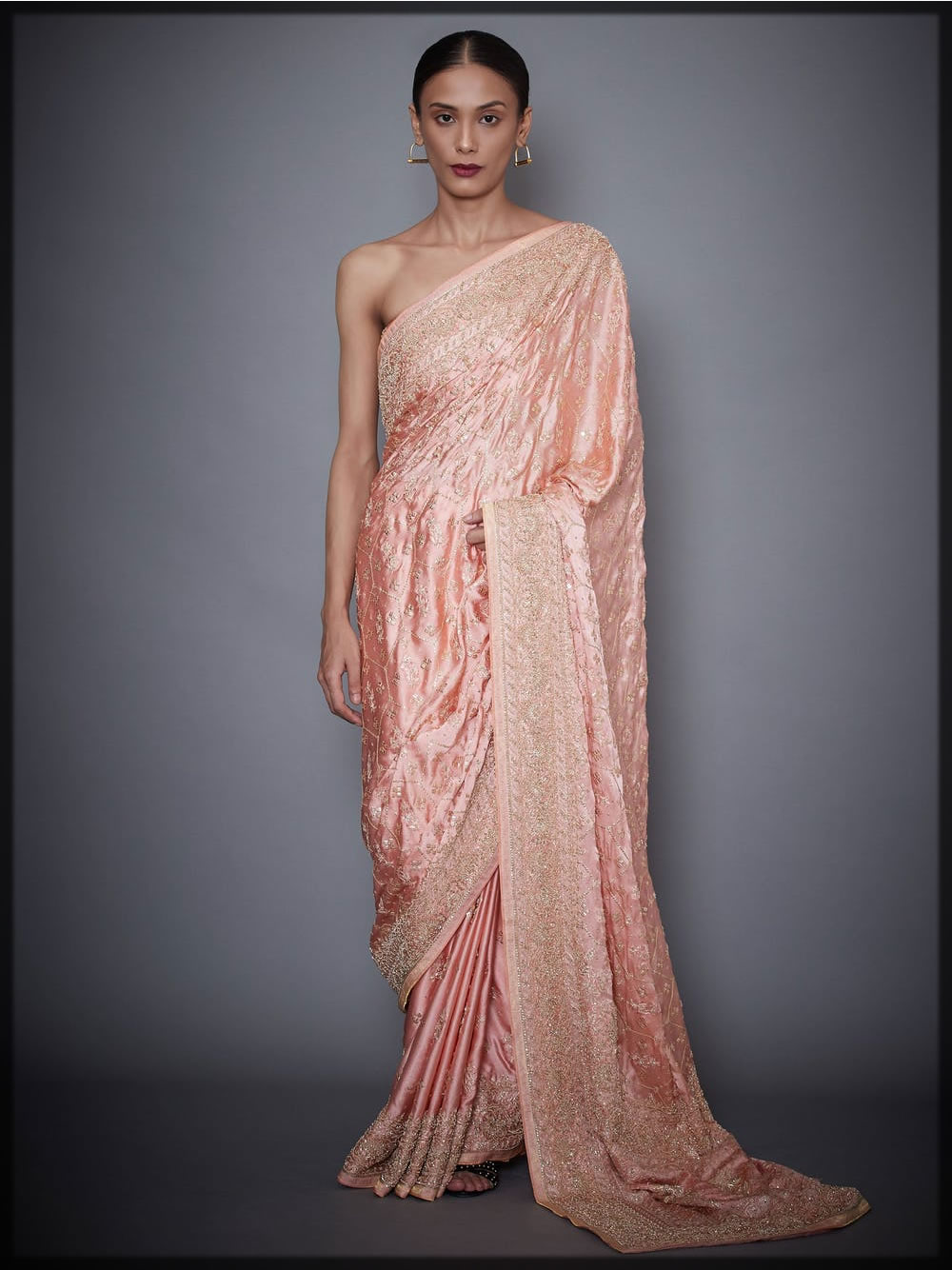 Ritu Kumar Saree Collection for Brides
Ritu Kumar is the most incredible yet most respected designer of India today. Since 1969, the designer started a unique style of clothing line that reflects the ancient traditions of Indian. The designer tried to create a unique look in a contemporary vocabulary. Therefore, she got success in developing innovative bridal and casual dresses for women.
The artistic and creative woman is famous for its distinctive use of colors, intricate embroideries. Also, you will explore gloriously rich Indian aesthetics in her collections. The designs have a significant impact in creating a monopoly in the country. Let's have a look at the breathtaking portfolio of Indian bridal saree designs by Ritu Kumar below.
Tarun Tahiliani Bridal Sari Collection
Tarun Tahiliani is a creative Indian designer who is famous for fine clothing and couture. The artistic man creates extravagant outfits with a fusion of rich and opulent apparel with western style. Therefore, the collections always convince and attract the public.
You might have seen the retail store of Tarun Tahiliani in New Delhi. So, you are never too late to buy your favorites. Please take a while to explore the exquisite sarees below. You can buy your favorite style from the nearest retail outlet of Tarun Tahiliani or online.
Manish Malhotra Saree Collection
Manish Malhotra is a famous fashion designer who is extensively known for his work in Bollywood. In addition, a renowned costume stylist, entrepreneur, and designer is serving the country for 30 years. Well, the talented young man started his career as a model but started designing to pursue his passion. Indeed, you will love the passionately created dresses.
Manish Malhotra saree collection brings you a variety of tastefully created dresses. The style icon and leading designer invest a lot of time and effort to create effortlessly chic ensembles for women. This time, you need to trust the creative designer for his abundant designs. Take a while to explore the engaging and attractive portfolio of Indian bridal saree designs below. Also, you can explore the fascinating Manish Malhotra bridal dresses for a wider variety.
Rohit Bal Saree Collection for Brides
Rohit Bal is among the top fashion designers in India and a legend whose resplendent style befalls designs like no other. The creative designer is known for his bizarre and meticulously embroidered dresses. The man earned his fashion sense through the National Institute of Fashion Technology (NIFT) in Delhi. Later, he started his setup in 1986. However, the designer launched his first independent collection in 1990. Here is a brief collection of Rohit Bal below.
The hardworking designer is always inspired by royalty and class. Therefore, you will see a couple of royal outfit ideas in his apparel collection. Well, in the given portfolio below, you will be able to see the extraordinarily chic and glamorous styles. So, style up yourself with rich fabrics like velvet, silk, and brocade to curate elaborate fashionwear. Indeed, you will love the sarees.
Sandeep Khosla Saree Collection
Sandeep Khosla stands among the dominating fashion designers in the clothing industry of India. Admittedly, the creative designer extracts new designs to create a unique look exuding elegance and grace. Many people admire the hardworking man for his spiritual techniques of art and craft. Well, the luxury powerhouse of fashion labels works under the name ASAL.
Finally, we are bringing you an engaging portfolio of Indian bridal saree designs by yours truly below. Would you please look at the meticulously embroidered and well-embellished dresses? Indeed, you will find luxurious designs accented with hand-made techniques to create a timelessly chic look. Undoubtedly, people will appreciate your struggle if you opt for any of the following dresses. Would you mind giving it a thought? Indeed, you will love the dresses.
Think about an occasion and then choose a sari for it yet, it is a unique outfit among south-Asian states, especially on their wedding day. Therefore, people commonly wear a sari. Also, this will always give a flawless look to you and hence, adds sparkle to the outfit.