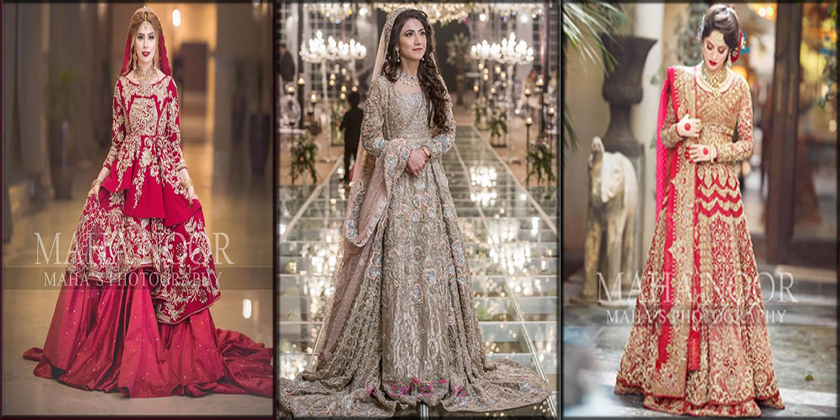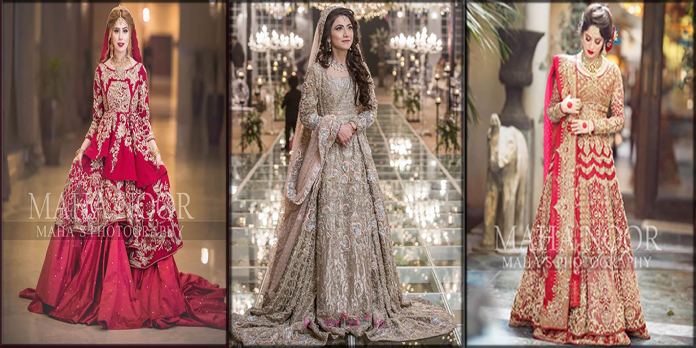 A wedding is the most special day for every woman out there. All they want is a dress as pretty as a picture. In this article, you will see the latest designs of bridal lehenga dresses that will help you choose a pleasing dress for your wedding. Lehenga is quite popular in the fashion industry, especially for weddings. It is a floor-length, pleated skirt, worn by the Indian and Pakistani women.
Lehenga is the most popular wedding dress among Pakistani bridals. Its mostly donned with a short shirt or a blouse. The neckline and the length of the sleeve always depend on the bride's choice. Many types of work, like gota, tilla or ethnic embroidery, are done on the lehenga to make it eye appealing.
Sharara and Gharara also fashionable dress in Pakistan, but lehenga with blouse or shirt is the most demanded dress, especially for the event of barat. Pakistani bridal dresses, liked by the women across the world. They also approached the designers of Pakistan for such as bridal dresses. Lehenga dresses are available with colours combinations in different styles.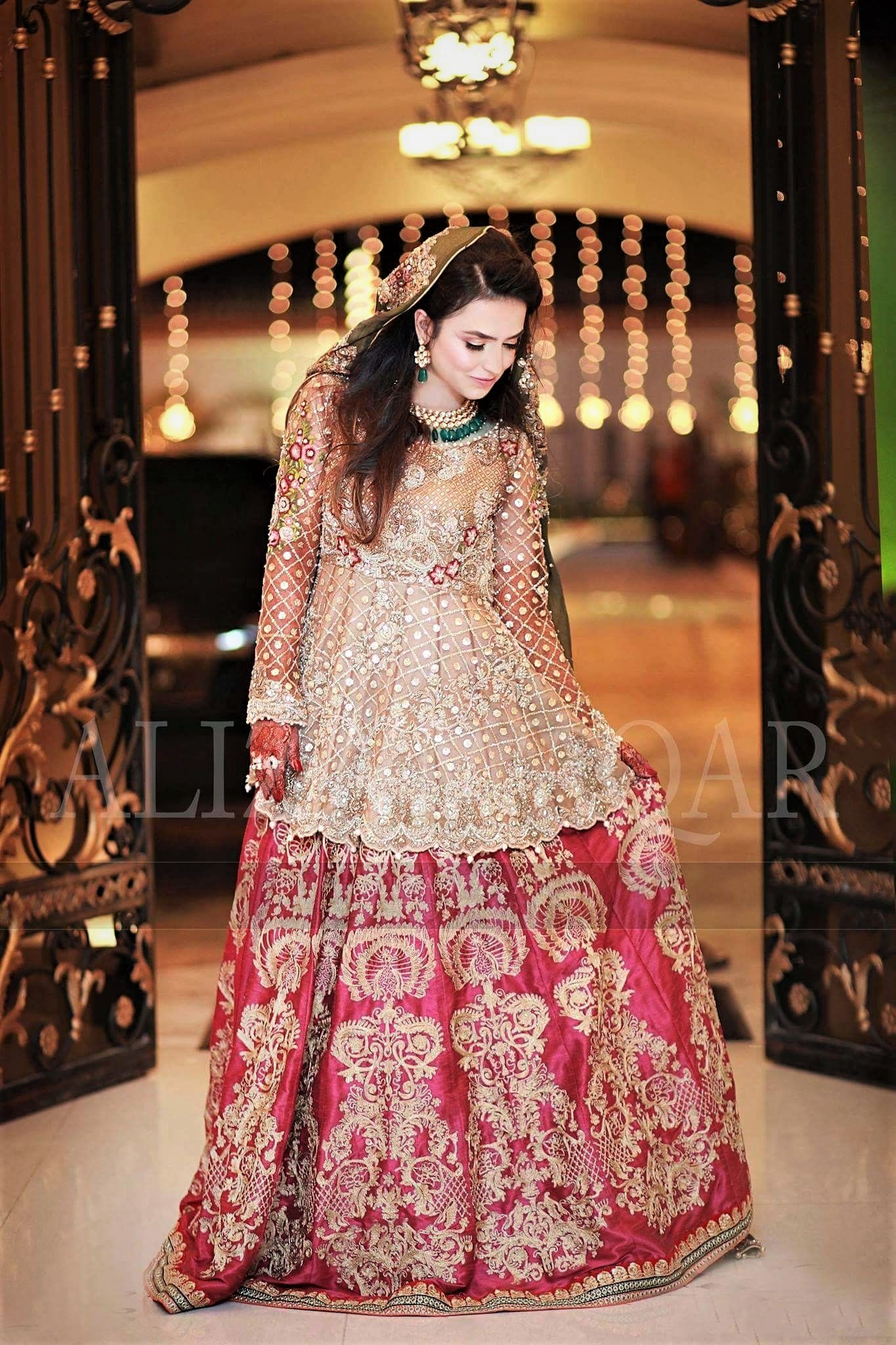 Anarkali – The Sign Of Beauty
Anarkali is known as the pomegranate blossom, which is a sign of beauty. A girl named, Anarkali was one of the Mughal servants, who often performed to entertain them. Her iconic and signature dress was a full flared frock with a tight churidar pyjama. They are now known as Anarkali frock. Over time, designers modified the iconic Anarkali dress according to their requirements.
Luxury fabrics such as brocade, silk, velvet, and muslin are from the Mughal era. Mughal women always wore luxury and heavy embroidered dresses to maintain their status and symbol of royalty. The Mughals inspire most of the bridal lehenga dresses designs.
Bridal Lehenga Dresses Designs & Trends

Bridal dresses are updating every other day. Designers introduce different designs every year according to trends. Below is the latest list of bridal lehenga dresses designs:
Let's start your glamorous life with a breathtaking and fantastic look. The JetStream colour lehenga gives you a pretty look with elegant jewellery, shoes and other accessories. Makeup plays an essential role in the bride's whole getup.
Tea pink attire with white and copper tile and gota embroidery looks fantastic. With the heavy clothing, lightweight jewellery, this combination is exquisite. Minimal makeup gives a bright look to the bride. You may think that all colours are the same, but basically, that's not true.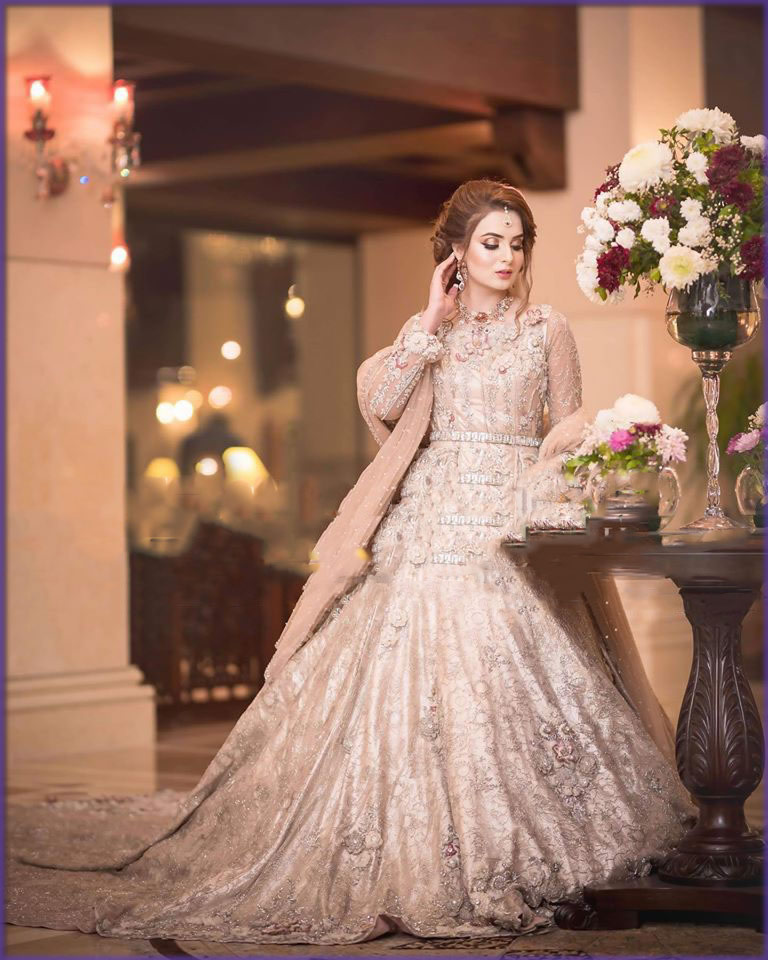 Multi-Colour Mehndi Dress
The yellow and green are the most likely colour in the Mehndi event. Pink base shirt with Allport's colour blouse makes the outfit heavenly. Handmade flower jewellery with bangles makes your mehndi event more beautiful. Tila and gota embroidered Anarkali style frock with silk lehenga also look graceful. The different colour contrast gives the dress an everlasting image.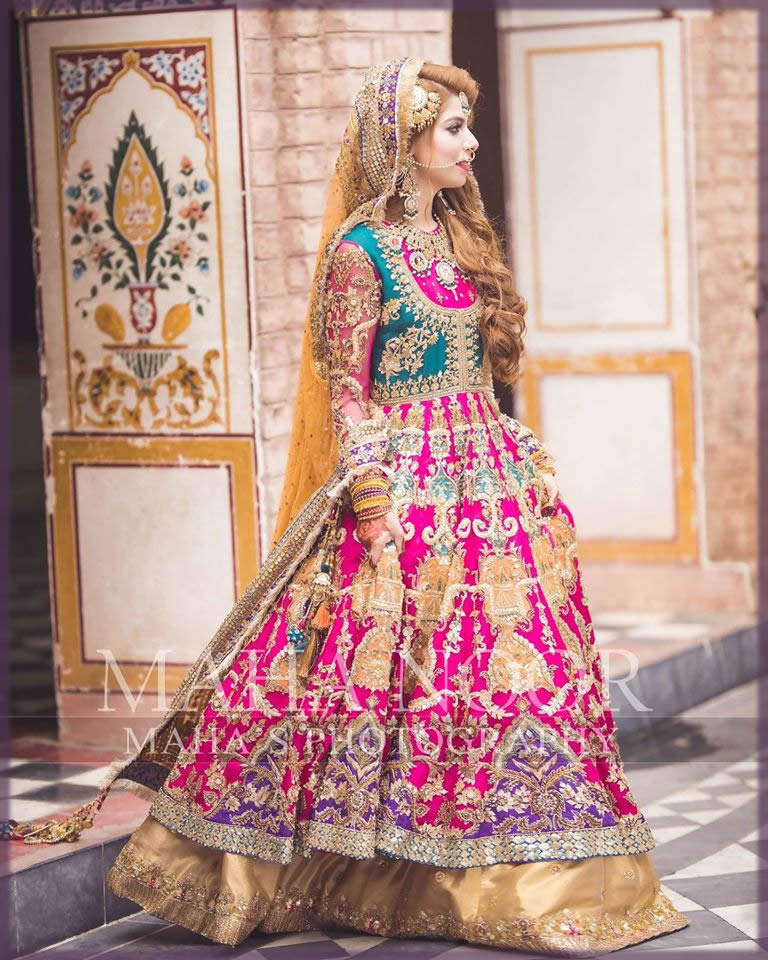 Open Gown in Orange Colour
Beautiful orange open gown bridal lehenga with dual-colour jewellery gives a stunning look to the bridal. Brides can choose this lehenga for the Mehndi event as well. This type of clothing has donned with the traditional accessories for an aesthetic look.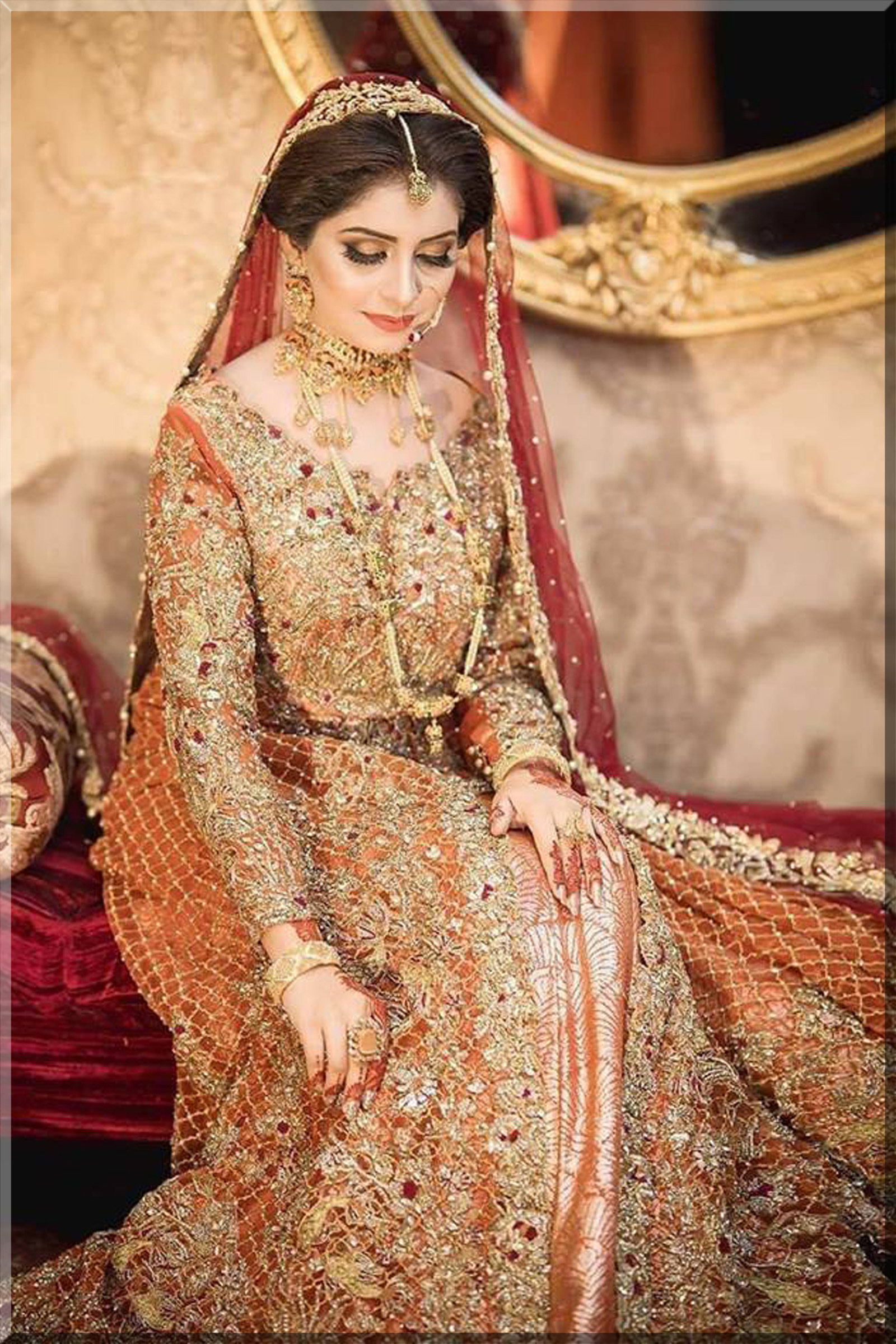 Well-Read Dress with Zari Work
Zari embroidered dresses are the priority of most brides ever. Dupatta, in a beautiful red colour, gives a traditional look. Beaten gold jewellery with this outfit makes an attractive look for brides. If you want to look beautiful, have a look at this conventional dress below.

Heavy Embroidered Lehenga in Peach

You must look outstanding on your big day. That is your day, and celebrate it as you want. Don't think about other's choices; carry what you want. Use traditional or ongoing fashion accessories according to your look. Make your day amazing and memorable. Below you can see how beautiful the bride looks with this gorgeous peachy-nude dress. You can never go wrong with nude colour dresses.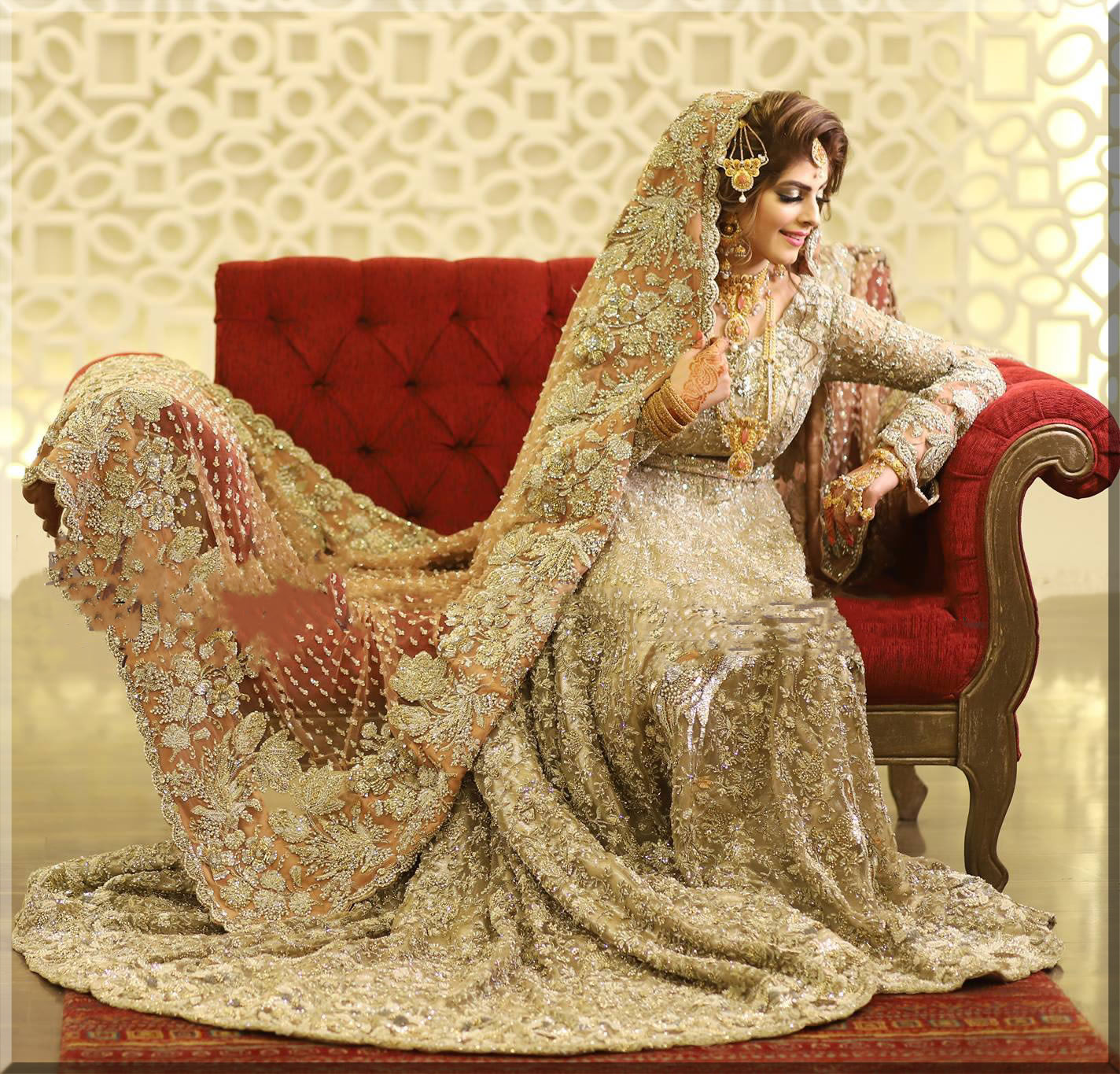 Amazing maroon tail gown with tilla embroidery is a heavenly combination. This dress colour gives you royal vibes. A hairstyle, makeup, accessories, shoes are the main ingredients, but dress plays an essential part in bridal look as well.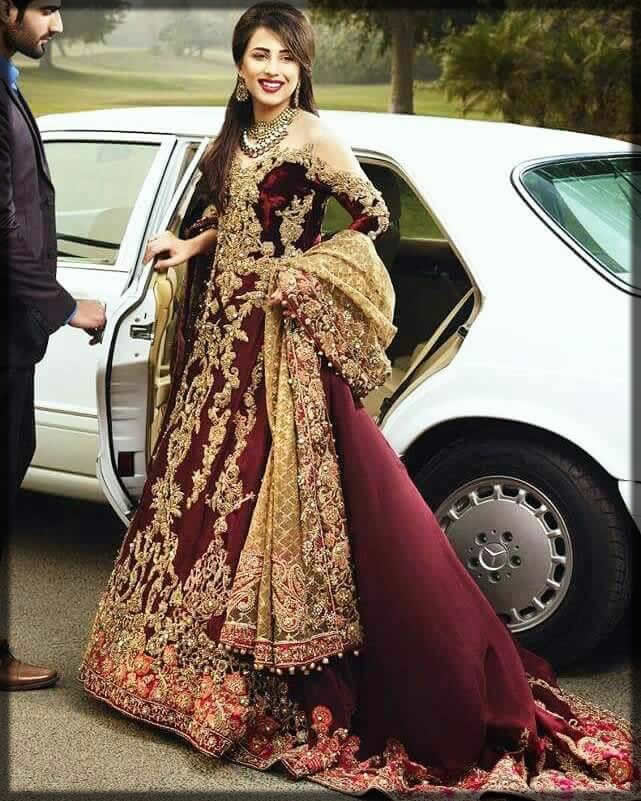 Brick Red Dress with Copper Embroidery
Red, Maroon, pink and other vibrant colours are the main priority on the first-day event. This Brick Red, with the copper colour combination and heavy border dupatta with the combination of dainty pearls, looks beautiful altogether. The bride in the picture below will help you in making a decision. We want to give awareness about the latest Bridal Lehenga designs.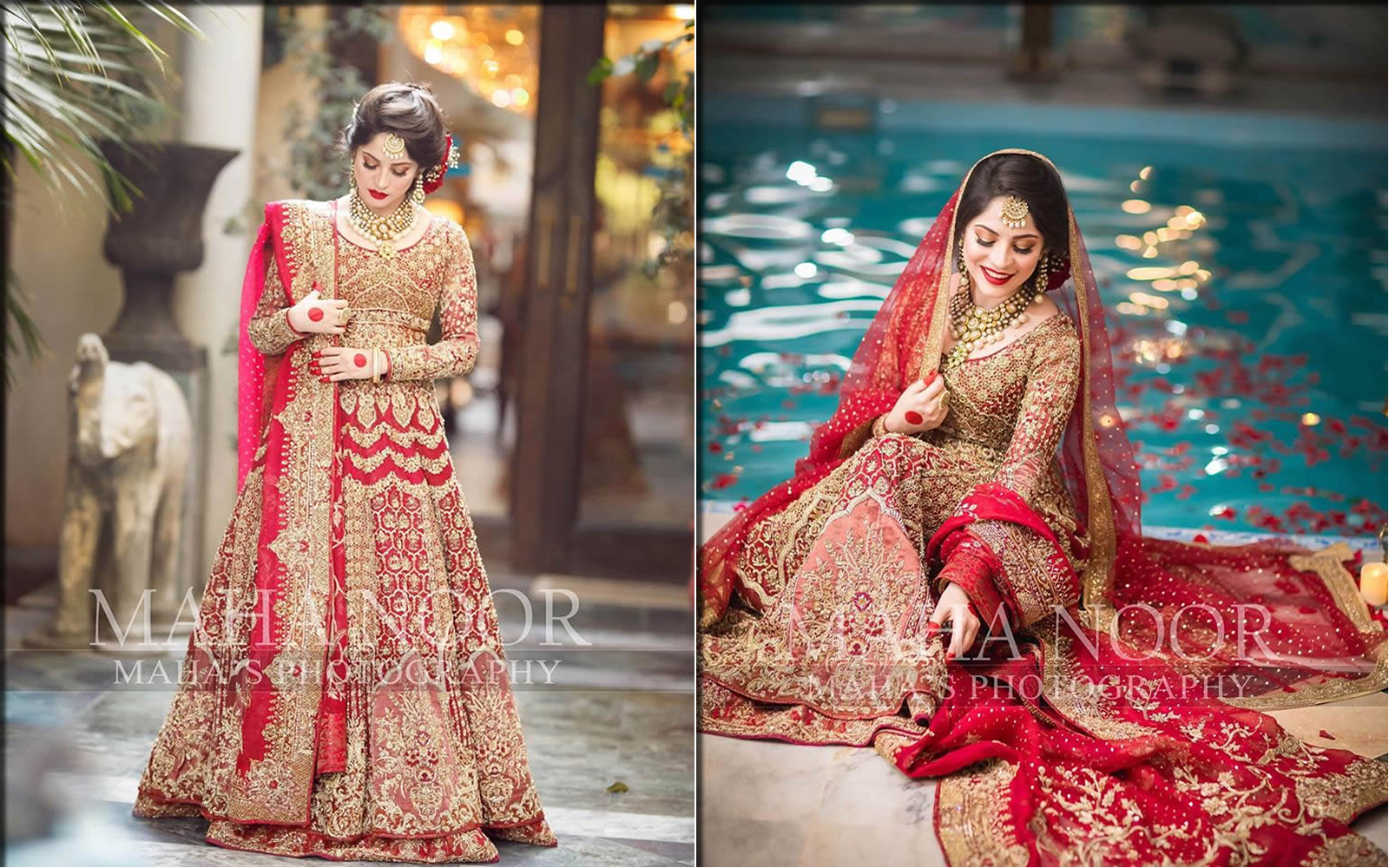 Long Front-Open Anarkali Frock

Anarkali dress is a well-known dress in the history of Sub-Continent. They wore this type of attire. That is still a famous dress and liked by the brides. White, half white, grey, peach, tea pink, zinc, light grey, sky-blue, and other bright colours mostly use for the second-day function of the wedding. 2nd-day's dresses are lightweight and less fancy then first-day dresses. At walima, the bride enjoys with her friends and family. This dusty purple Anarkali style lehenga is one of the best Indian bridal dresses that give you a comfortable and positive vibe.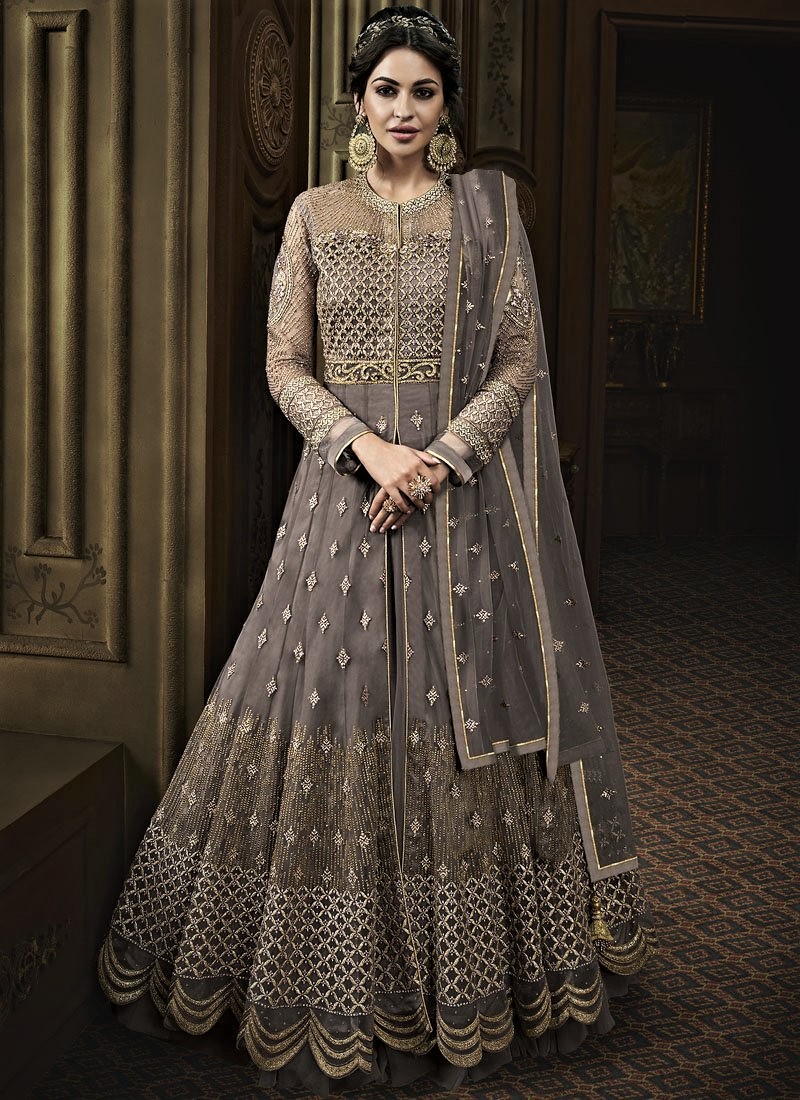 Royal Peplum Frock with Lehenga

Fantastic bridal lehenga dress with beautiful work gives a royal look to the bride. In the picture below, see the personality of the bride in this dress. The old-Rose colour with fabulous Ruffles and tiers looks exquisite. The Barat bride can carry this type of clothing and become the centre of attraction.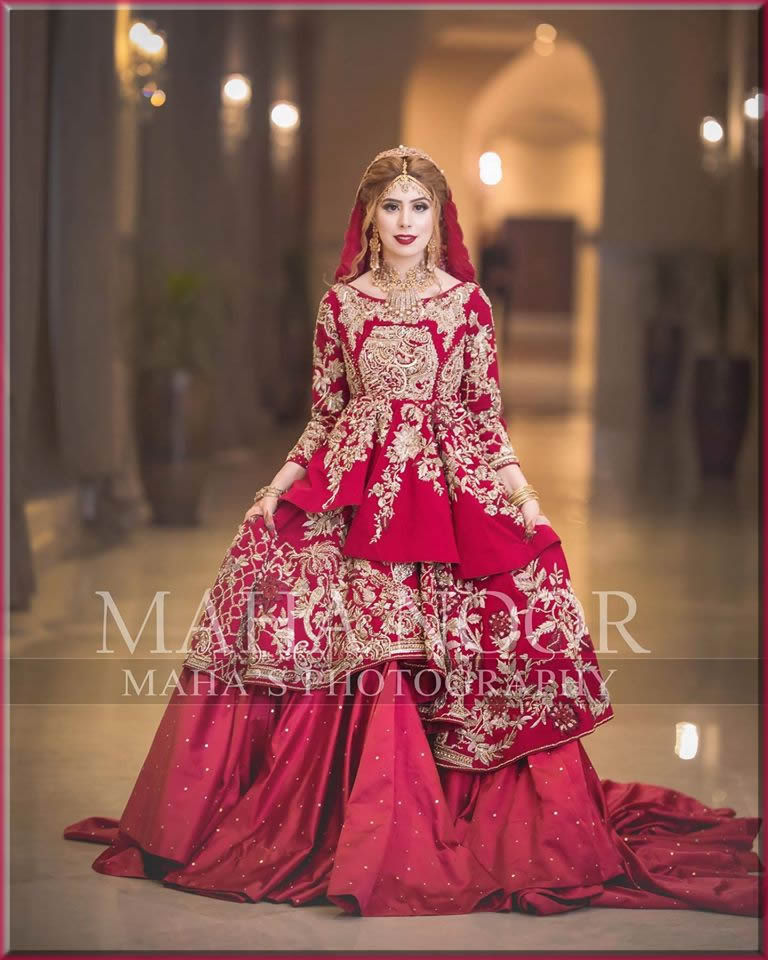 Long Tail Bridal Lehenga Dress
Sea green is a very magical colour, but if you are not confident with the colours and styles of your bridal lehenga dress has, jewellery may be a mismatch. Mostly girl fell in love with one colour or form, but it's hard to find. So, make a combination of your choice and then wear it. This bridal lehenga dress will help you in choosing a colour combination for your event dress. A short shirt with heavy embroidery and full sleeves creates a beautiful look. This style of clothing gives you a comfortable look.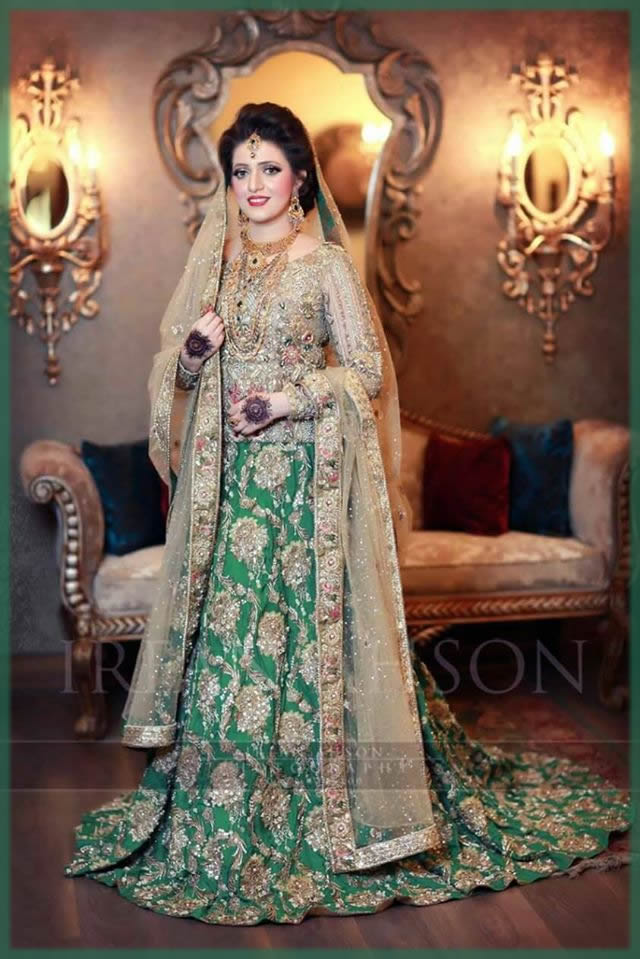 Bridal Heavy Maroon Lehenga Choli

Heavy light gold embroidery wear with maroon base gives a beautiful look to the barat bride. You can see the accessories combination below, for instance. A short and long necklace is looking fantastic. You can see the green stones in the jewellery, which matches with the bridal lehenga dress. The best match of accessories, fabric, colour combination and makeup makes you a perfect bride.

Red Orange Lehenga with Long Shirt

Mostly, Barat Brides prefer this type of dress. Therefore, a long shirt with lehenga is in demand. Double dupatta dress also includes in the modern fashion industry. Dupatta with red and maroon shades gives a traditional look to the bride. You can see how to assemble and carry this dress. Brides can take an example by the picture below.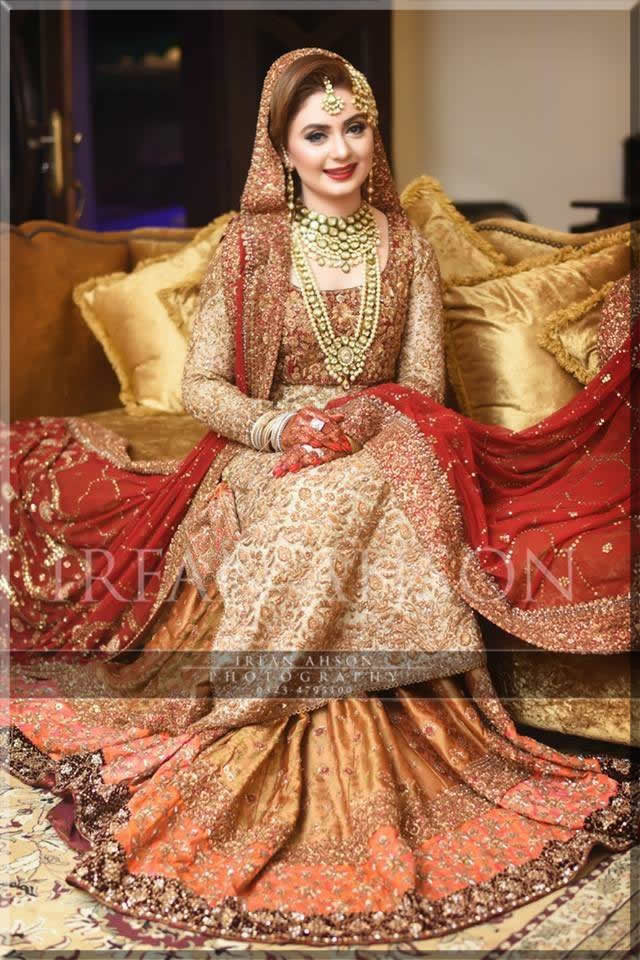 Dark Green Silk Lehenga with Open Gown

The green is an auspicious colour and a sign of elegance, prosperity, and happiness. Brides of today prefer off-beat bridal lehenga dresses on Reception. Jali-dar long shirt with the silk lehenga looks so elegant. Therefore, Brides can carry this type of clothing easily. This shirt looks like an open gown style and is very trendy nowadays.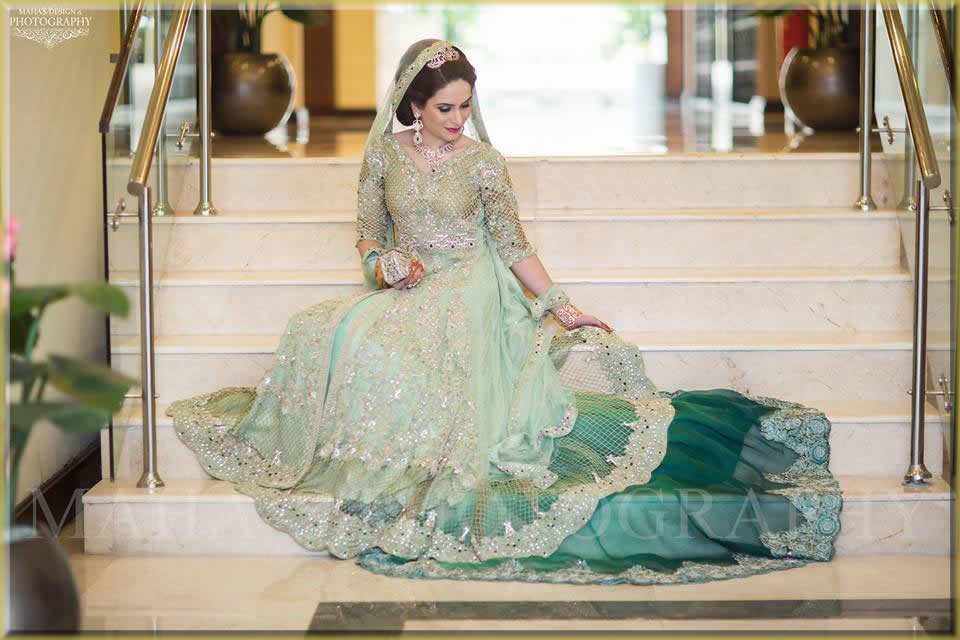 Role of Media in Fashion Industry

Back in time, people were not aware of style as compared to now. Old times were modest and straightforward. They were less concerned about new mania. But then came an era of fashion and idealism, where people started idealizing their role models. Fashion magazines began to stir the industry and then social media. Every kind of clothing is in fashion magazines, and designer launch collections every other day. These magazines and launches have a profound effect on public dressing taste.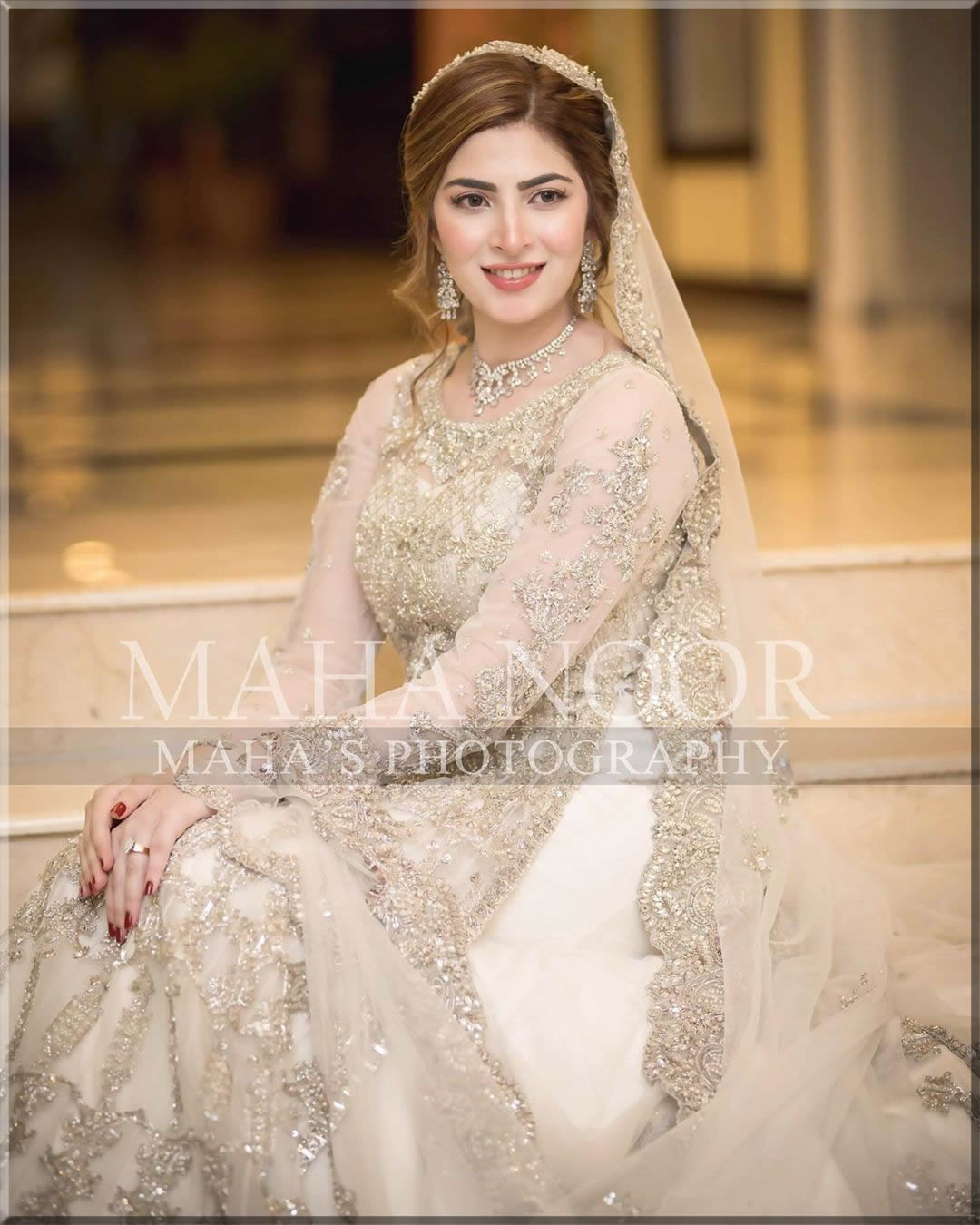 Media has a significant influence on the fashion industry. Fashion Journalism and social media play an essential role in fashion sense. Guidelines about attires can be found easily with the help of magazines, television, newspaper, social media, fashion blogs and many other resources. Nowadays, YouTube videos, fashion websites and fashion blogging are the primary sources of spreading fashion sense worldwide rapidly. These media outlets help us to learn a lot about the fashion industry.
Now it's not difficult to know about fashion. Thus, you can easily approach the trends in bridal lehenga dresses. If your wedding day is just around the corner and you are worried about your dress, then come and take an idea from these bride and groom wedding dresses given below.
Stunning designs of Bridal lehenga dresses are available here, and you can choose your mehndi, barat, and Walima bridal lehengas and colour combinations. You can see the Brides makeup and jewellery combination according to the bridal lehenga. If you want your guests to appreciate you, then prettify your look.
Similarly, a wedding is a special event, and every bride wants to look beautiful and pretty. She wants to enjoy her day correctly with all the attention of the guests. The primary purpose of this article is to provide recent updates about the latest Bridal Lehenga designs.