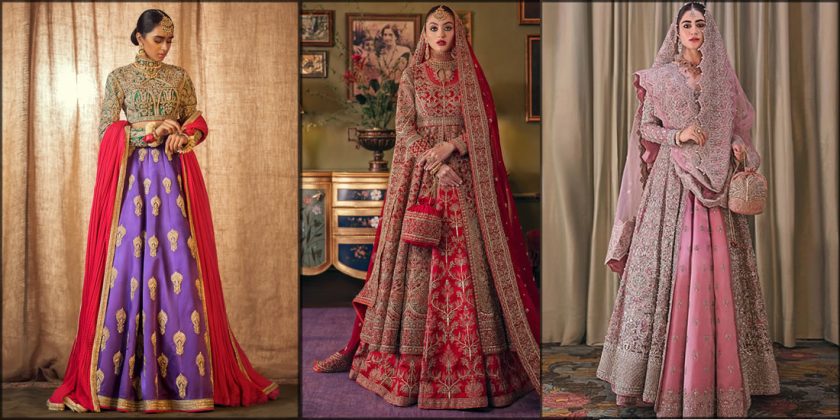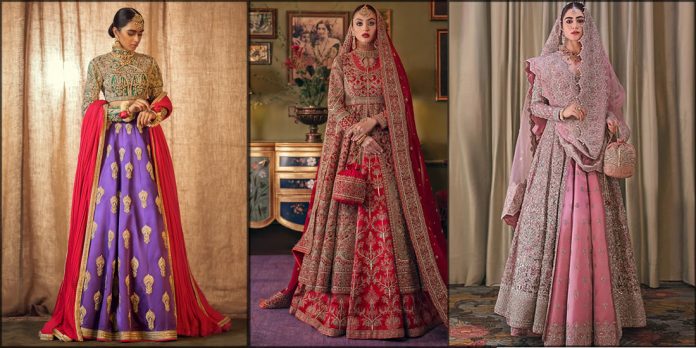 A well-embellished dress brings elegance to your personality. Especially, a wedding is an important occasion in which a bride must look different. To bring such unusual yet delicate looks, Hussain Rehar bridal collection aids you in getting splendid designs. So, reveal the secret of your beauty with a bit of struggle and fun of this designer.
With the emerging trends and traditions, everyone desires to wear a fashionable outfit on their big day. Indeed, it is a memorable event for a bride when she ties the knot with her man. Such a promising event requires decorative attire to boost the overall look. Undoubtedly, you will get lavishly luxurious bridal dresses below for an entirely modish and glamorous look.
The creative designer is all set to bring you glamorous bridal outfits for mehndi, barat, and walima day. Let's take a moment to overview the astounding dresses. Here you will see the statement styles by the creative designer in the portfolio below. Please have a look!
About the Designer and Brand 
Hussain Rehar is one of the finest Pakistani fashion designers and retailers in the textile industry of Pakistan. The new emerging talent started his career in august 2013. People love the architectural designs and detailed structures of the dresses. Moreover, the customers applaud the hand-embroidered techniques and embellishments of the dress that makes them unique.
Further, the designer creates modish and lavish apparel for women. The lookbook of the brand includes casual, formal, luxury, and bridal dresses for women. Additionally, it launches a seasonal assortment with dynamic styles to win the hearts of the public.
Latest Hussain Rehar Bridal Collection for Mehndi, Barat and Walima

A wedding dress is a very significant part of the whole event as it reflects the personality and style of a bride. Therefore, every bride shall be aware of the color, style, and design of the dress. Pakistani fashion designers design bridal dresses with exquisite details and designs. Here is the latest Hussain Rehar bridal collection for you to explore below. Also, check our complete range of bridal wear here.
Stunning Bridal Mehndi Dresses
Mehndi is the starting function of a wedding event that encourages women to buy colorful dresses. Besides the musical night, one must wear dazzling attire to look gorgeous. So, begin your musical night with staggering and decorative dresses by Hussain Rehar bridal collection. Plus, embellish your hands with creative and modest bridal mehndi designs to elevate your entire look. I hope you will love the embellishments and detailed structures below. Please have a quick look at the following image gallery to pick the desired dress.
Tawny Shaded Lehenga Choli

Undoubtedly, tawny is the most common selection of teens to wear at their wedding events. Here is a simple yet graceful bridal mehndi dress for you below. The raw silk lehenga is coordinated with an embellished choli for a perfect combination. Further, it has a royal embellished dupatta for a whole look. Wear contrasting bangles and exquisite jewelry to complete your looks.
Embellished Violet and Green Lehenga Choli

We urge our lovely brides to pick an extraordinary dress for their every wedding event. Here is the one modest and classic violet and green lehenga choli for the mehndi event of brides. The following lehenga is fully embellished from top to bottom. However, it has a more elaborate border with a large flare to improve the quality look of the dress. Further, it is paired with contrasting green and golden crop-top choli and chunri dupatta with embellished borders. Get similar dresses from Manish Malhotra bridal collection.
Striking Bridal Outfit for Mehndi
Are you looking for a fierce combination for your mehndi night? If so, then look at how beautiful ensemble below. Let's give a thought to the following green maxi that is coordinated with a purple gharara. It has an embellished orange dupatta with classical borders for an elevated look. Mohsin Naveed Ranjha bridal collection offers likewise combinations as well.
Orange Blue Bridal Lehenga Choli
A lot of brides prefer pretty orange colors to wear on their mehndi night. Here we have a pleasant and delightful orange and blue  lehenga choli for the upcoming brides. The following lehenga has an elaborated flare for a perfect swirling picture. Well, the lehenga is simple while it is coordinated with an embellished blue choli. Plus, it has a striking red dupatta with sprayed Chan and border embellishments for a complete look.
Rusty Orange Bridal Lehenga Choli
A little embellishment can bring you a royal and pure look. Hence, the following royal orange outfit will be a great option and choice for a traditional bride. Cover your emotions with the flaunting and staggering lehenga choli below. The fully embellished bridal dress is paired with a contrasting green dupatta. Get similar designs and embellishments from Zara Ahmed bridal dresses and rock your event.
Beautiful Red Outfits for Barat Day
Barat is the most significant event of wedding. A woman leaves her house, her parents, and siblings to tie a knot with her better half. Since it is an emotional event, so it requires a style that can overcome the sadness. Here we have stunning bridal barat dresses for you below.
There are a number of fashion designers and artists who are busy creating youthful designs for women. For instance, you can explore the flaunting Saira Shakira Bridal collection to get tremendous styles. Here is the voguish portfolio of essential red dresses for brides.
Trendy Long Shirt with Lehenga
On the prestigious event of barat, a bride must acquire obsession. The glamorous combination below is very common for Barat day. Therefore, Hussain Rehar brings you an embellished red long shirt with a flared red lehenga. It has an embellished net dupatta with decorative borders for a whole exciting look. Prefer glam bridal makeup with the following dress. Please give it a thought!
Classic Open-Gown Style Lehenga for Brides
Despite lehenga choli, a floor-length open gown style dress will be a smart choice to wear on Barat day. Here we are presenting you with embellished and heavily decorated open gown style dresses below. Further, the gowns are blended with an embellished lehenga. Furthermore, the following outfits have matching red embellished bridal dupattas for a whole vibe.
Heavily Embellished Lehenga Choli

A bride shall exude elegance in a glowing way to set the stage on fire. But, this could never be possible unless you have a good piece of advice from the experts. Plus, a brilliant bridal outfit is also significant for a truly presentable look. Here is the one radiant red dress below. The following red bridal dress has a heavily embellished lehenga. Further, the decorative choli with heavily embellished sleeves makes the outfit ideal for the barat bride.
Now take a look at the gorgeous and embellished red gown and lehenga below. There are tiny embellishments all over the lehenga but an elaborated border with a large flare. Hence, it can be an ideal option for you to wear on barat.
Walima Dresses by Hussain Rehar Bridal Collection
The final and third event of a wedding is walima. After a glamourous look on the barat day, a bride needs to retain her beauty. Therefore, a well-decorative but light in shade dress is required for walima. Here we have some bridal walima dresses for you to explore. Take a glance at the ravishing and luxurious walima dresses below.
Peach Embellished Walima Dress for Brides
The following embellished dress has a decorative Kurti. Further, it has a heavily embellished lehenga with different patterns for an attractive look. Minimal decorative bridal dupatta completes the whole vibe of the bride. Plus, you can explore likewise dresses from the latest Ali Xeeshan bridal collection. Please give a thought to the luxurious style below.
Graceful Grey Lehenga Choli

Hussain Rehar concentrates on attractive patterns with a little sparkle and grace. For instance, please take a look at the image gallery to explore the walima dress. The gorgeous grey ensemble has tiny embellishments on the lehenga. Further, it has a little embroidered and decorative border for the edges of the lehenga. There is a nicely adorn crop top choli with a net dupatta with heavily embellished borders for a whole exquisite look.
Embellished Lavender Walima Dress
Hussain Rehar bridal collection brings you a dynamic yet enchanting lavender walima attire. The pure banarsi lehenga choli has heavy embellishments all over the front. Further, it has a net dupatta with ravishing borders that make the outfit perfect for walima. Check out Tena Durrani bridal collection for more Walima dresses and have a blissful event.
Floor-Length Sky Blue Embellished Walima Attire
The floor-length golden dress has heavy embellishments from the top to the bottom. Further, it has a massive flare that makes it voguish. Well, the design is fitted till the waistline and then falls into a huge flare till the floor. The 3D embellishments are coordinated with a bottle green net dupatta with embellished borders. Hence, it is an ideal option for walima.
So, it is time to go through the process of exploring and selecting the outfit for your big day. So, make your wedding memorable with the glittery styles above. I hope you liked the whole bridal collection as it is worth wearing on the most important events of your life. Let us know which dress is your favorite and whether will you try it or not!!