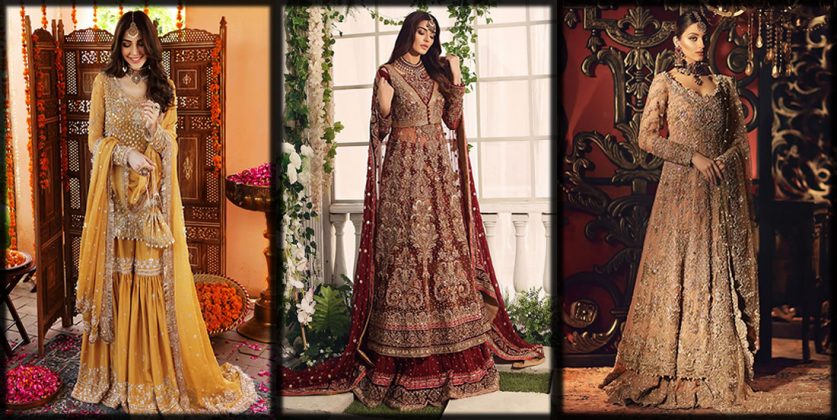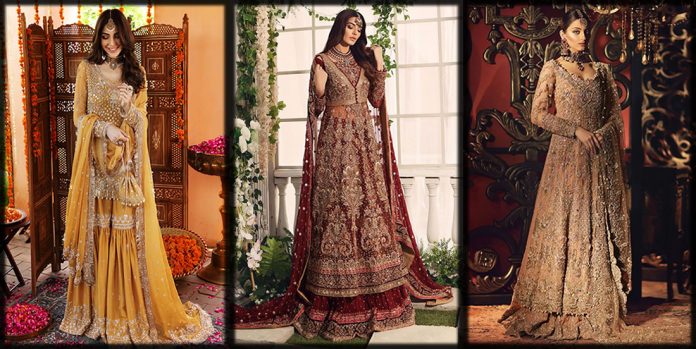 Despite the emotions and love, a woman must be curious about her bridal look. Make sure that you look gracious and glamorous on your wedding day. There are certain clothing brands and fashion designers who launch intriguing collections for brides. Aisha Imran bridal collection brings you a variety of volumes to make your looks attractive.
People always pay attention to brides who are well-managed and wear appropriate outfits. It is essential to consider the colors and designs according to your looks. Red does not suit everyone, as the same sun melts the ice and hardens the clay. Therefore, a red shade isn't mandatory if it does not match your complexion.
So, you will find a variety of colors to wear at your wedding. Indeed, a great and wise choice will bring you the desired glam and grace. Aisha Imran always facilitates the audience with a range of hues and designs. So, please take a while to explore the following bridal collection of the year. Also, do not forget to applaud the designer.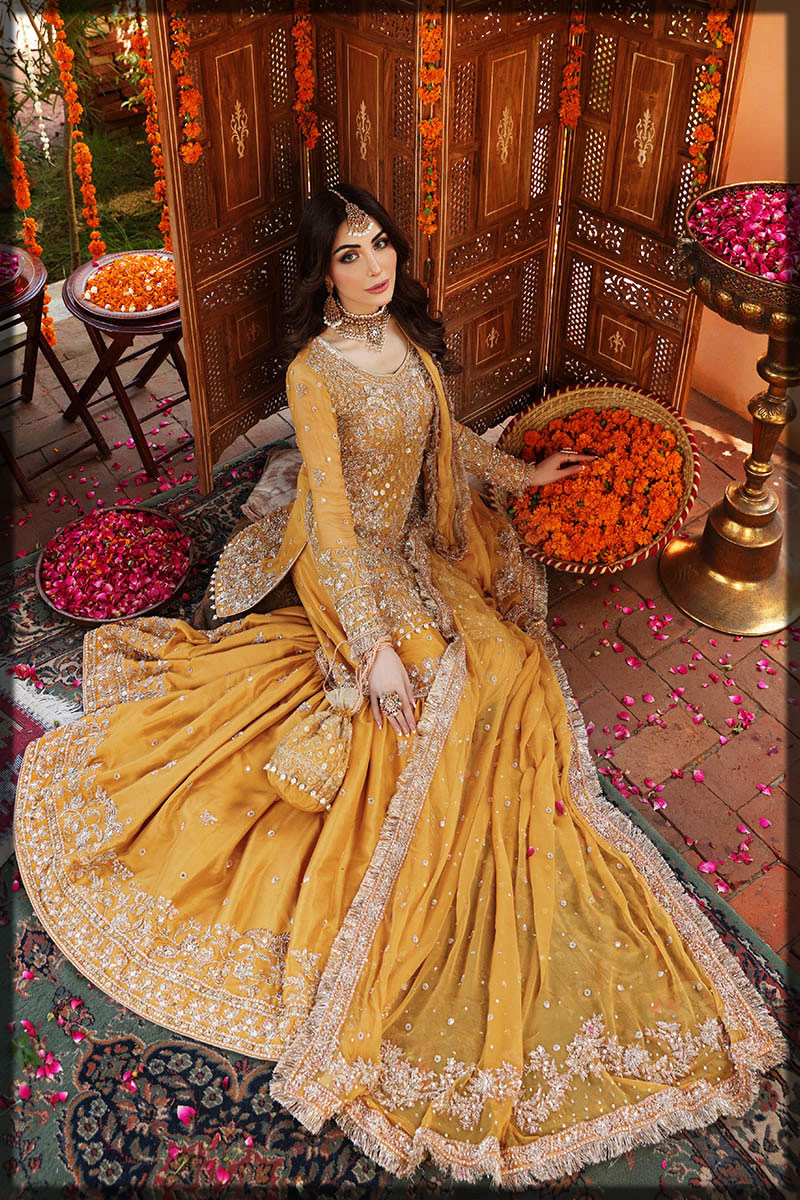 About the Creative Designer and Brand
Aisha Imran is the finest and most artistic fashion designer in the clothing industry of Pakistan. The leading designer is famous for its bridal collection, but you will see several supplies. People love the artistic patterns of luxury pret. Also, the designer has a wide range of formal wedding guest dresses. So, please shout out to the designer and opt for a classic ensemble by Aisha Imran's bridal collection for your wedding day.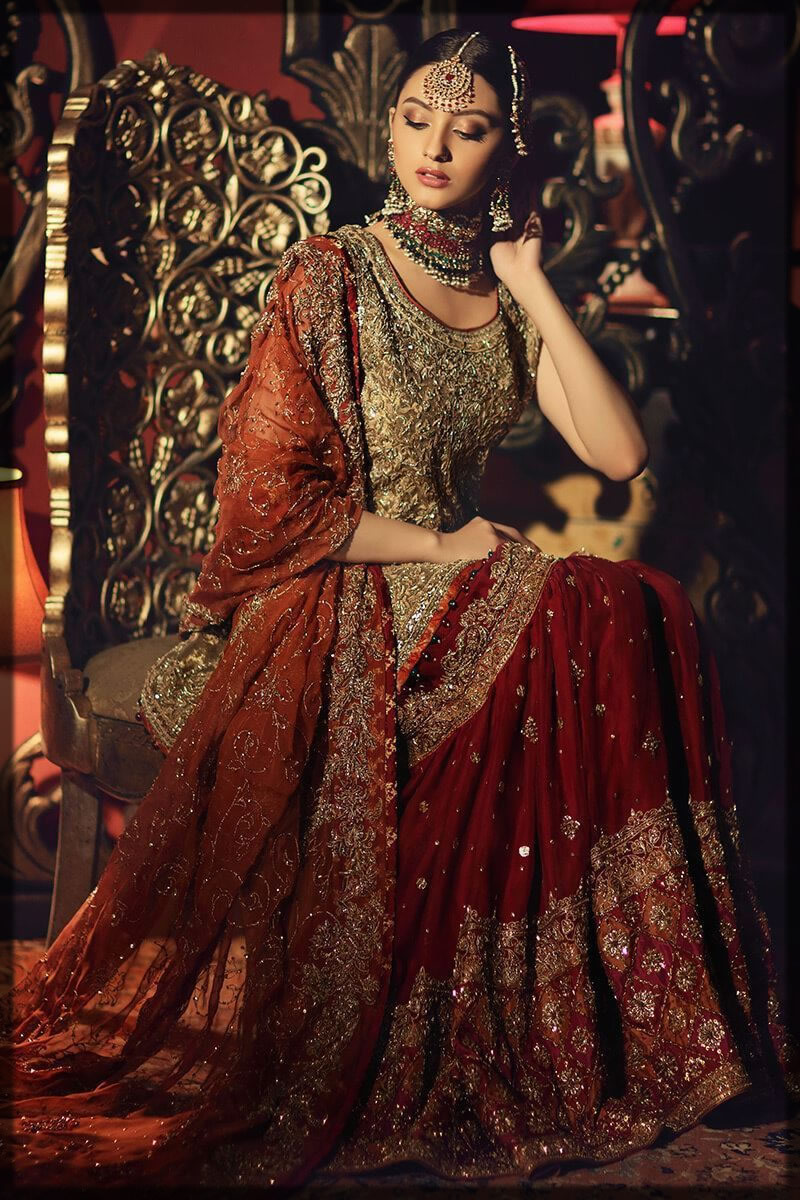 Aisha Imran's Latest Bridal Wedding Dresses Collection
The paradoxical behavior of a bride is always rare and unreal. Instead, a woman tries to remain in the limelight of the event. Therefore, she tries her best to wear and carry a dress perfectly. A wedding is an auspicious event for every bride and groom. People will offend by the awful designs and colors and prefer delightful dresses. I am glad to say that you are in a place where you will get a tremendous and wide variety of bridal outfits. Would you mind taking a while to explore the delicious and enchanting bridal volumes by Aisha Imran?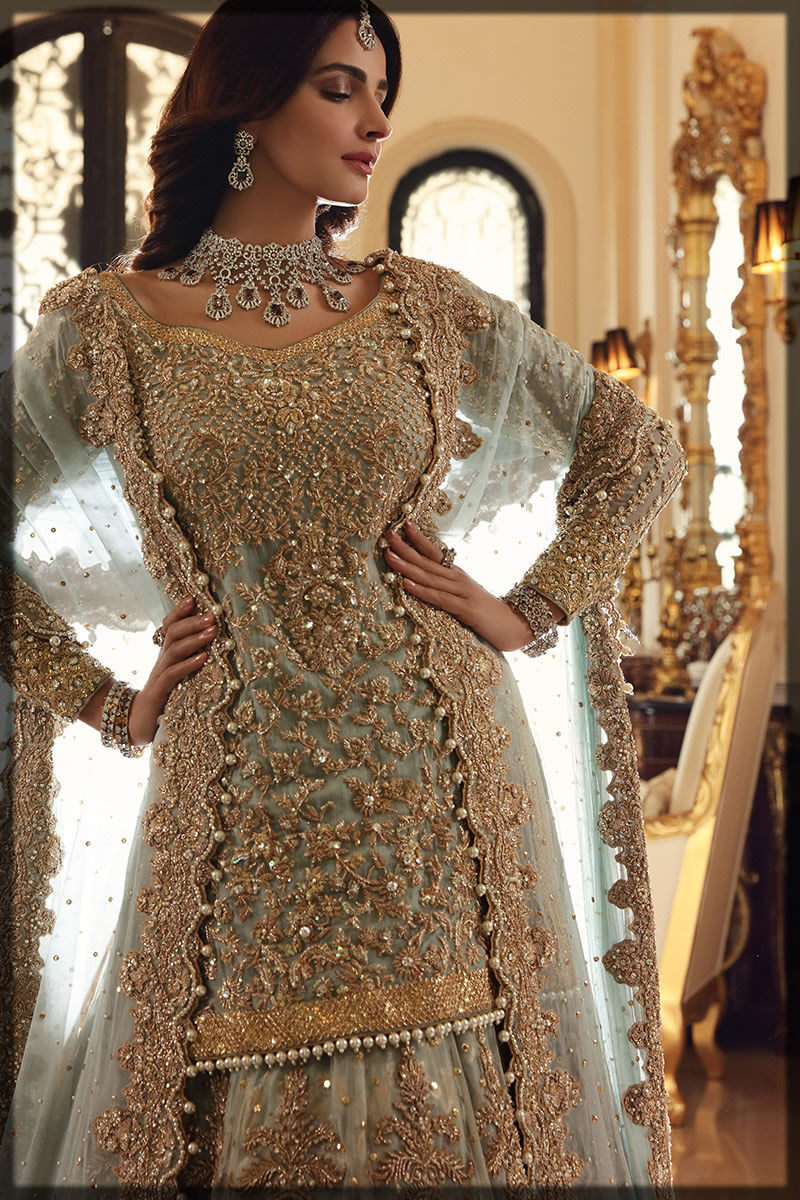 Latest AISHA Collection X Ayeza Khan
Ayeza Khan is one of Pakistan's media industry's finest actresses and models. Chand Taara's famous actresses have been seen in various collections of top clothing brands. You might have seen her in different lawn and winter campaigns as well. Here is an exclusive portfolio of Aisha Imran's AISHA collection featuring your favorite Ayeza Khan.
Please look at the engaging portfolio of delicately crafted bridal dresses below. The delightful shades will bring the most incredible feeling to your eyes. Indeed, it is a sight for sore eyes and the best choice for the bride to wear on her wedding day. Step into the world of modesty and try the following exclusive bridal dresses by Aisha Imran's collection for your big day.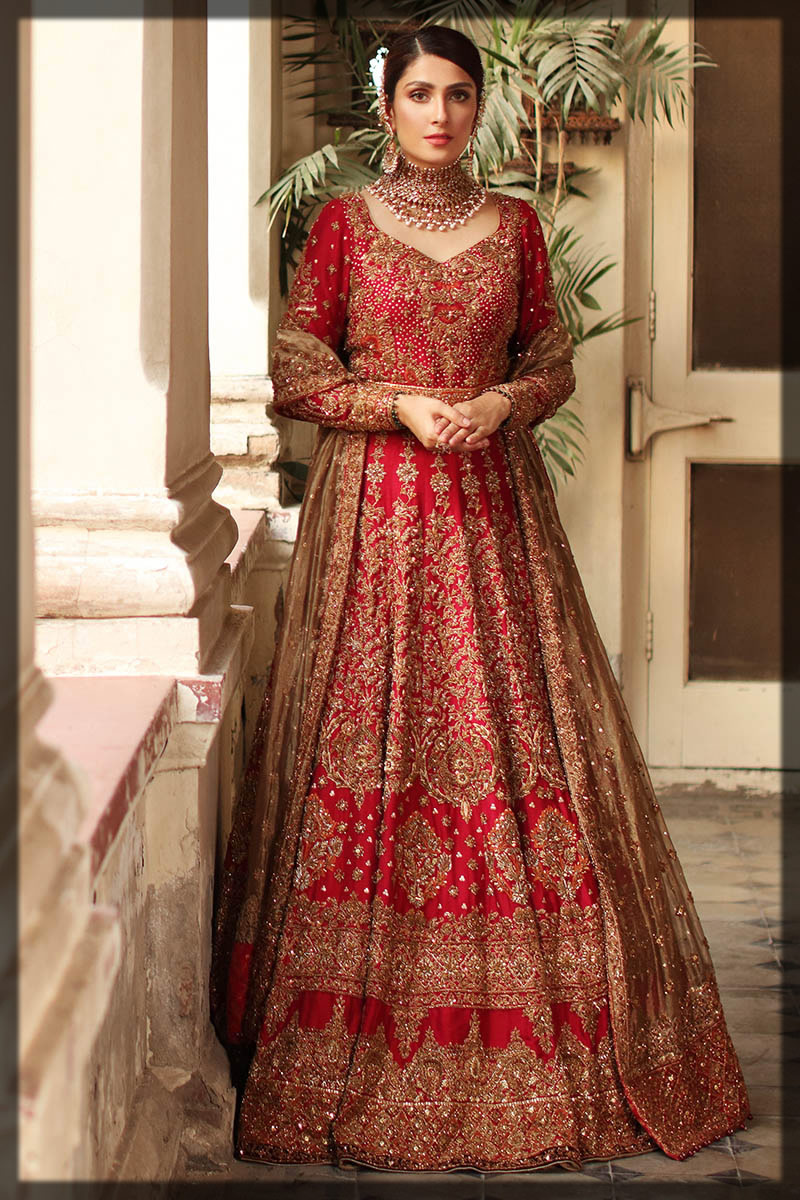 BAAD-E-SABA Bridal Mehndi Collection
Mehndi is the most colorful event of the wedding. The brides look for a vast collection of bridal mehndi dresses to make their looks dignified and beautiful. Here we have a range of gorgeous dresses for Mehndi brides. BAAD-E-SABA collection brings classical and contemporary outfit ideas to make your colorful event more splendid and memorable. Please look at the gracious and elegant dresses for your initial wedding event.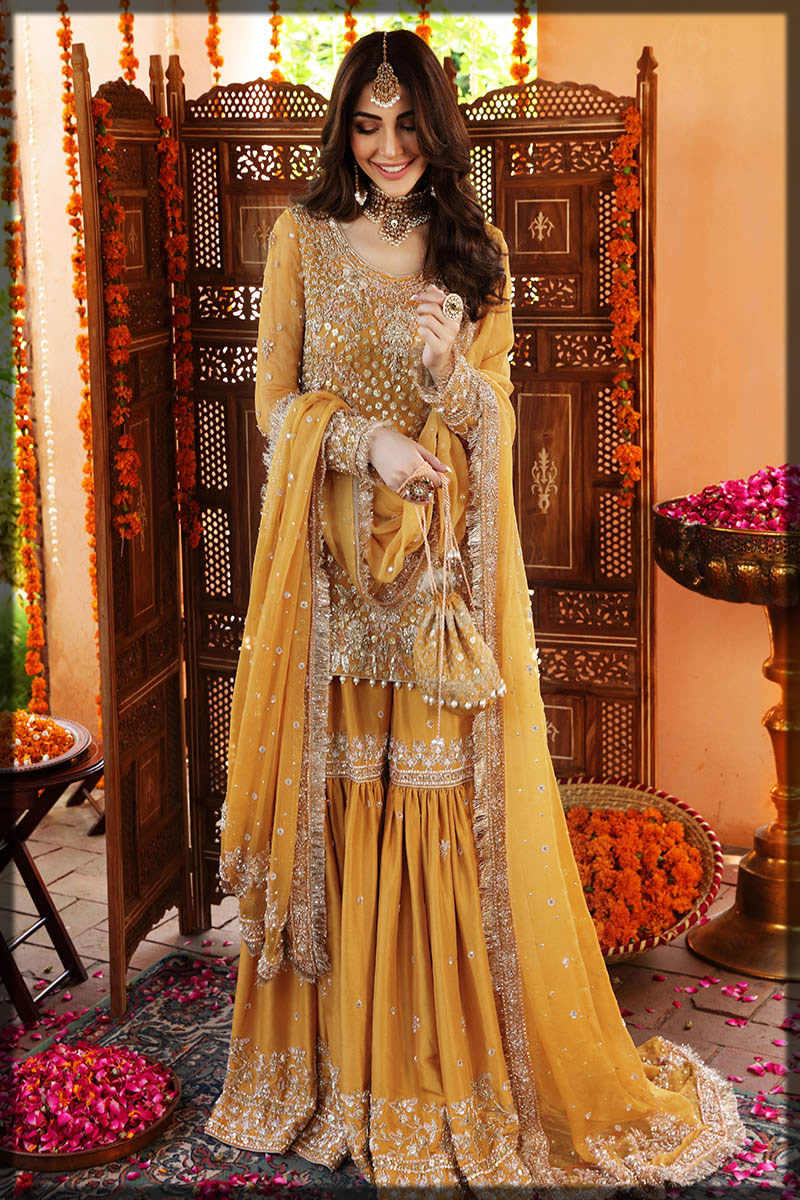 Shehrzade Collection X Saba Qamar
The supermodel and actress, aka lux girl Saba Qamar, is always a perfect choice for the clothing debut. Indeed, the gorgeous fashion icon knows how to don a bridal dress elegantly. The stylish and versatile actress exudes elegance in the Shehrzade bridal collection of Aisha Imran. Please take a while to look at the following gorgeous and luxurious dresses featuring Saba Qamar. I hope you will love the awesome artistic designs. Indeed, the attractive ensembles will meet your desire to look beautiful.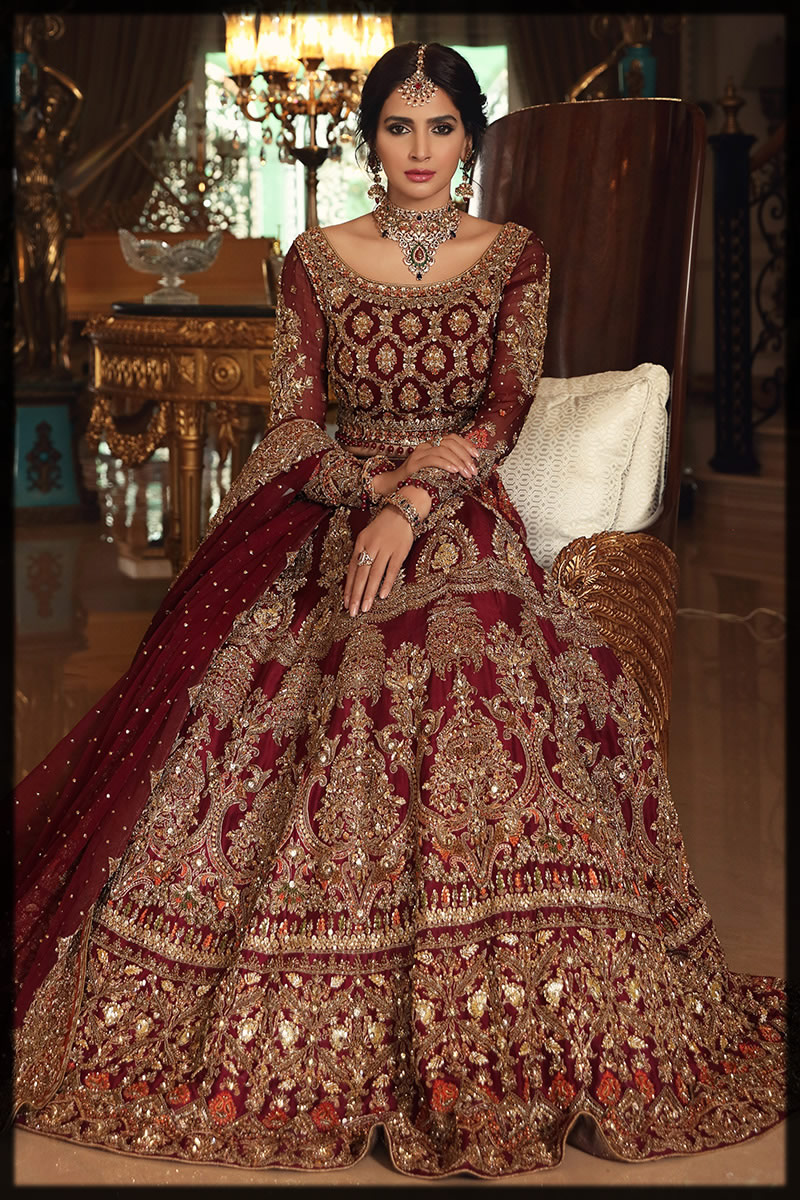 Aqua Haze Bridal Lehenga with Shirt
Style on point and royal elegance, Saba Qamar exudes elegance in the royal chic aqua haze bridal dress below. You can also look for a similar style and shade from Tena Durrani's bridal collection. But Aisha Imran serves the audience with flawless and luxurious attires to make your wedding look attractive and mesmerizing.
So, if you are looking for a noticeable dress, opt for the following heavily embellished aqua haze dress. The heavily embellished chiffon shirt is coordinated with flared embellished lehenga. Further, it is blended with a chiffon embellished dupatta for a complete look. Get similar royal dresses from Maria B's bridal collection and have a blissful day.
Maroon Raw Silk Bridal Lehenga
Shyness is a language, but you must be confident wearing a warm and graceful dress. Usually, teens prefer red and maroon shades to wear on their Barat. Here is a splendid maroon raw silk bridal Barat dress for you below. Please give it a thought!
Saba Qamar always impresses us with her gorgeous looks and on-point elegance. Look at the following image gallery and examine the royal dignity of raw silk bridal dresses. Get ravishing styles from Deepak Perwani's bridal collection and have a gorgeous look.
Deep Blue Raw Silk Bridal Dress
Do you know how to make splendid combinations? Who says you can not wear a blue dress on your Barat day? So, Aisha Imran proves once again that you can be your beautiful if you make a wise decision. The artistic and creative designer brings you a youthful combination of deep blue and salsa maroon below. Please give it a thought!!
The astonishing hue combined beautifully with the salsa maroon shade. You can see the heavily embellished deep blue raw silk gown coordinated with a flared lehenga. Further, it blends with a chiffon embroidered maroon dupatta to bring a touch of elegance and grace. Hence, the combination by Aisha Imran is applaudable and ideal for teens.
Exclusive NORAH Collection X Saadia Khan
No one in the world is exempted from style and fashion. Instead, women have more right to dress up shabbily to look impeccably classic. Indeed, a wedding is an occasion to appear unusually beautiful. Aisha Imran's bridal collection brings an exclusive NORAH collection to create a sparkle in your style. The portfolio features the style icon Sadia Khan for the representation of dynamic chic and versatile hues with impeccable designs.
Sadia Khan is one of the hottest models and actresses in Pakistan's fashion and showbiz industry. The gorgeous lady was seen in the popular drama Khuda Aur Muhabbat across Imran Abbas. Usually, you will see Sadia as a fashion model who beautifully dons every kind of dress. The following image gallery shows the ever-gorgeous Sadia Khan wearing Aisha Imran's bridal gowns. Please take a while to explore the dresses below.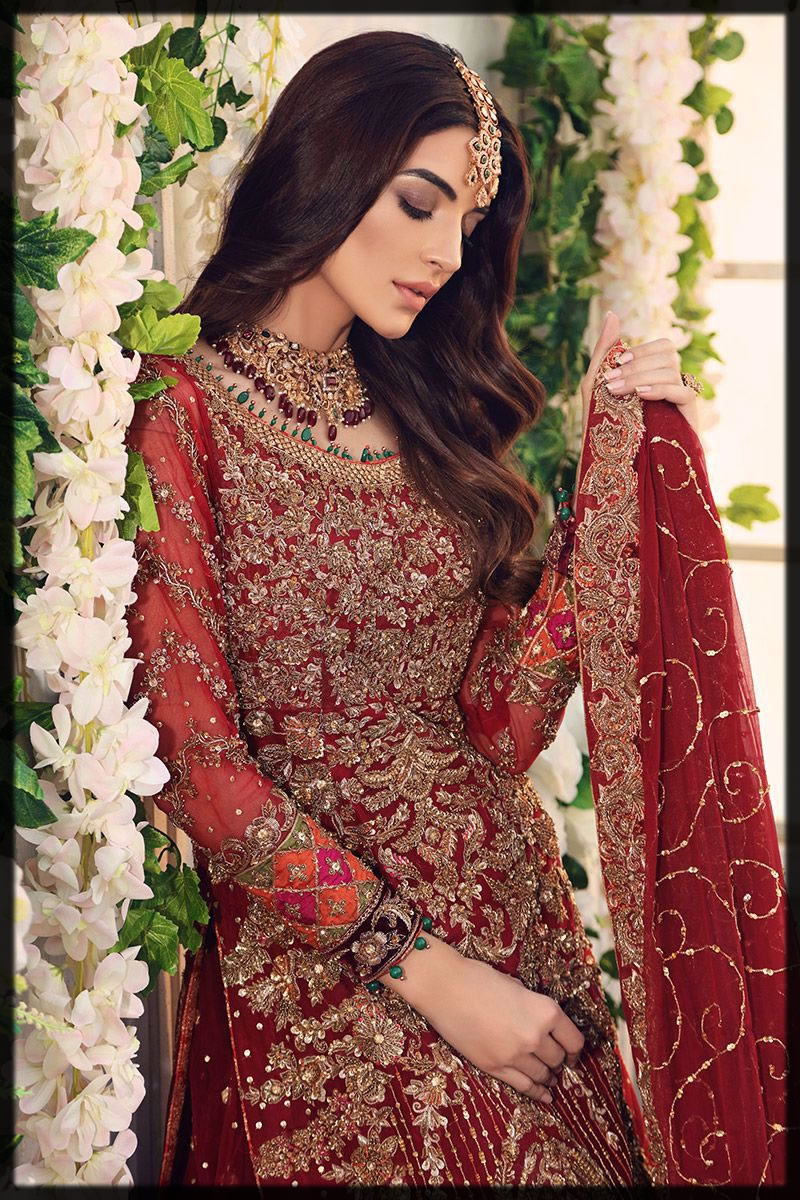 Heavily Embellished Barat Dresses

A woman's act and impact must be courageous. While looking for a bridal outfit, it is essential to consider the generosity of hues and intricate designs. The creative designer must be applauded for her efforts to bring satisfying and propelling designs. You can also find more appropriate and chic ensembles from Zainab Chottani bridal collection.
Here we have the heavily embellished bridal Barat dresses for you by the creative designer. The deep, blush, and red salsa ensembles have heavy embellishments on the entire surface of the attire. To keep yourself sane, make sure to combine delicate jewelry. Pick up your favorite dress from the image gallery below and make your big day memorable.
Walima/Reception Dresses for Brides
If you are looking for bridal walima dresses, you are in the right place. Aisha Imran's NORAH collection has magnificent walima dresses for brides. You can decide what to wear on your second-day event of wedding and pick accordingly. Asim Jofa's bridal collection facilitates likewise as well.
In the following image gallery, you can see the gorgeous Sadia Khan wearing splendid bridal dresses. The generosity of hues and dynamic designs make an outfit worth wearing. You can get similar embellished dresses from Saira Shakira bridal collection too. Please consider the following ensembles and have a blissful wedding day.
Daastan-e-Ishq Aisha Imran Bridal Collection
Life brings you a couple of chances to make yourself beautiful. Indeed, women who modify their looks according to the latest fashion trends have more respect and attention. Therefore, wear a classic yet contemporary outfit to gain popularity and watch as a bride. Ahmad Sultan's bridal collection has a lot of options for you.
Aisha Imran brings you another anticipated Daastan-e-Ishq bridal collection for your convenience. The attractive and blissful portfolio consists of splendid and embellished dresses for the brides. Undoubtedly, HSY bridal collection has similar embellished dresses too. Please give a thought to the comprehensive yet complete portfolio below.
Red Bridal Barat Dresses by Aisha Imran
A bride must opt for a style that encourages her to look bold and confident. Meanwhile, it would help if you considered versatile styles to create an illusion in your class. Break the stereotypical myth that you can only wear a lehenga on Barat. You can wear a gown, maxi, and gharara as well. There are a couple of bridal maxi designs for teens to appear different.
In the following image gallery, you can see four different bridal dresses for Barat. The versatility of designs and voguish hues will propel you to choose gorgeous dresses. You can also get many opinions and techniques from Sadaf Fawad Khan's bridal collection. Please have a look at the breathtaking portfolio of the Daastan-e-Ishq collection below.
Peachy Ensembles for Walima Brides
Beautiful women always inspire other people in their surroundings to make better choices for themselves. Therefore, an intelligent decision is vital to the bride's beauty. Aisha Imran continuously focuses on tiny embellishments to produce drastic results. You can see similar techniques in Ali Xeeshan's bridal collection as well.
The following image gallery shows two peachy ensembles for the brides. You can either wear the dresses on engagement or nikah or walima. The suitable shades will add more fuel to your beauty. Hence, it can be an ideal and best choice for a girl. Please consider the dresses, and do not forget to applaud the designer for this effort.
So, these were beautifully designed dresses from Aisha Imran, and I bet you cannot take your eyes off these because they are breathtakingly beautiful. You can get these dresses for your big day, and you will not regret buying these for sure. Let us know your thoughts in the comments section below; we would love to discuss your experience with Aisha!