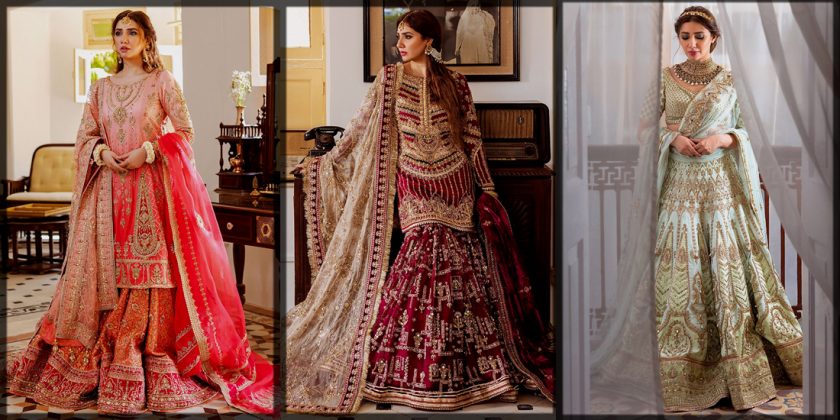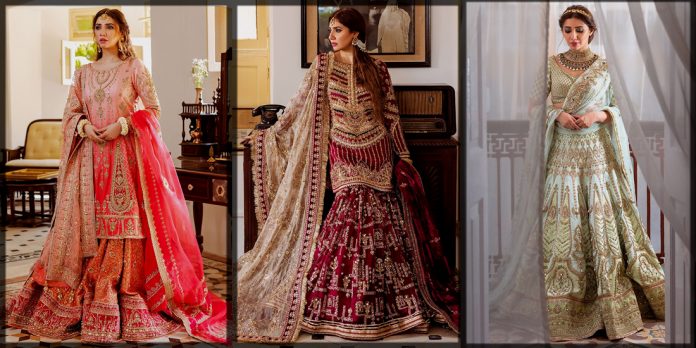 MNR is among the famous Pakistani fashion designers that each season offers extravagant bridal outfits. Mohsin Naveed Ranjha bridal collection contains a variety of alluring dresses with fantastic art. Moreover, extraordinary hues are utilized to make these attires breathtaking.
A wedding is the most special event that comes just once in a lifetime. Hence all of us want to make our event more memorable and jazzier. This is all possible when you wear a dashing and remarkable outfit because the outfit is a vital thing that adds more attractiveness and shine to your look.
Moshin Naveed Ranjha collaborated with famous television actresses "Mahira Khan", Aymen Saleem, Ayeza khan, and "Maya Ali" for the shoot. In the latest bridal collection of Mohsin, you will receive the mehndi, nikkah, barat, and walima attires for brides that indeed make your look splendid and add more charm and appeal to your look. Explore this blog towards the end and check out the latest collection of MNR.
Mohsin Naveed Ranjha..!!!
Mohsin Naveed Ranjha jumped into the fashion industry in early 2011. However, his brand officially started working in 2013. Moreover, he is among those fashion designers who have earned much fame in a short period. Now it is becoming the most loving and well-known brand because of its unique and alluring crafted attires.
The designer studio of Mohsin Naveed Ranjha is in Gujranwala. After his success there, he started his work in Lahore near MM Alam road. He started his work with 2-3 employees, currently, he is working with 400 employees in his industry. It offers an online shopping facility for the comfort and satisfaction of its clients.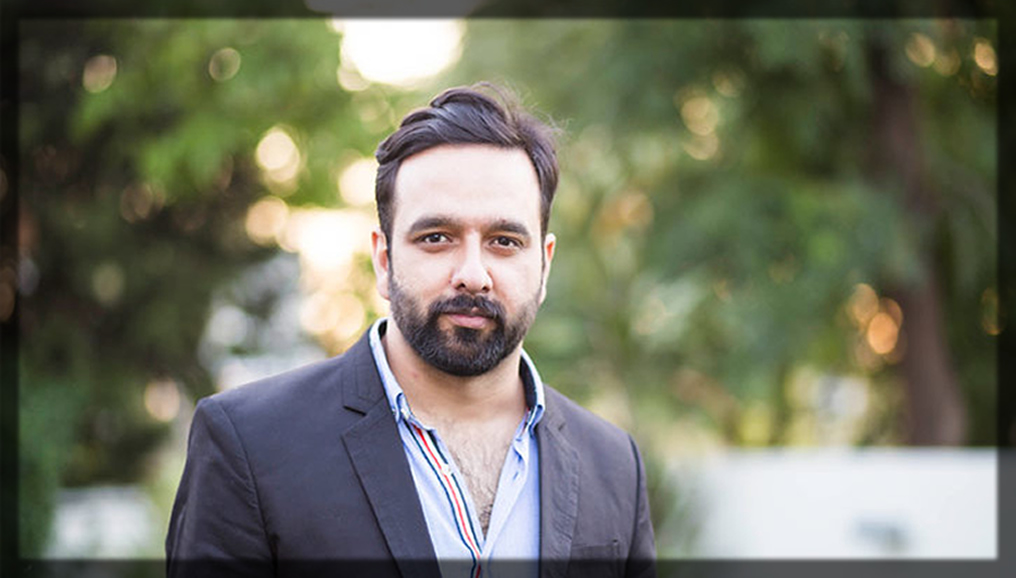 Latest Mohsin Naveed Ranjha Bridal Collection for Nikkah, Mehndi, Barat, and Walima



In the MNR store, you will find a great variety of formal, semi-formal, and bridal wear, and shawls for women. The best thing about this brand is that it focuses on every design for crafting incredible dresses for women of all ages. Moreover, there is a great variety of wedding wear according to the different events of the wedding. These categories include:
Nikkah Wear.

Bridal outfit for mehndi.

Classy outfits for barat.

A stunning collection for walima
1- Classic Bridal Nikkah Dresses by MNR
A traditional Pakistani wedding has four main events. Nikkah is the first main event among these functions. It is a marriage contract between two people. Some girls want to look dazzling on their nikah day. Therefore, they look for fantastic outfits to wear. Mohsin Naveed Ranjha has a variety of dresses of light hues that are preferably worn on nikkah day. However, the styles of dresses vary from each other. Take a look at the following nikkah collection. For more variety, check out Tena Durrani Bridal Collection.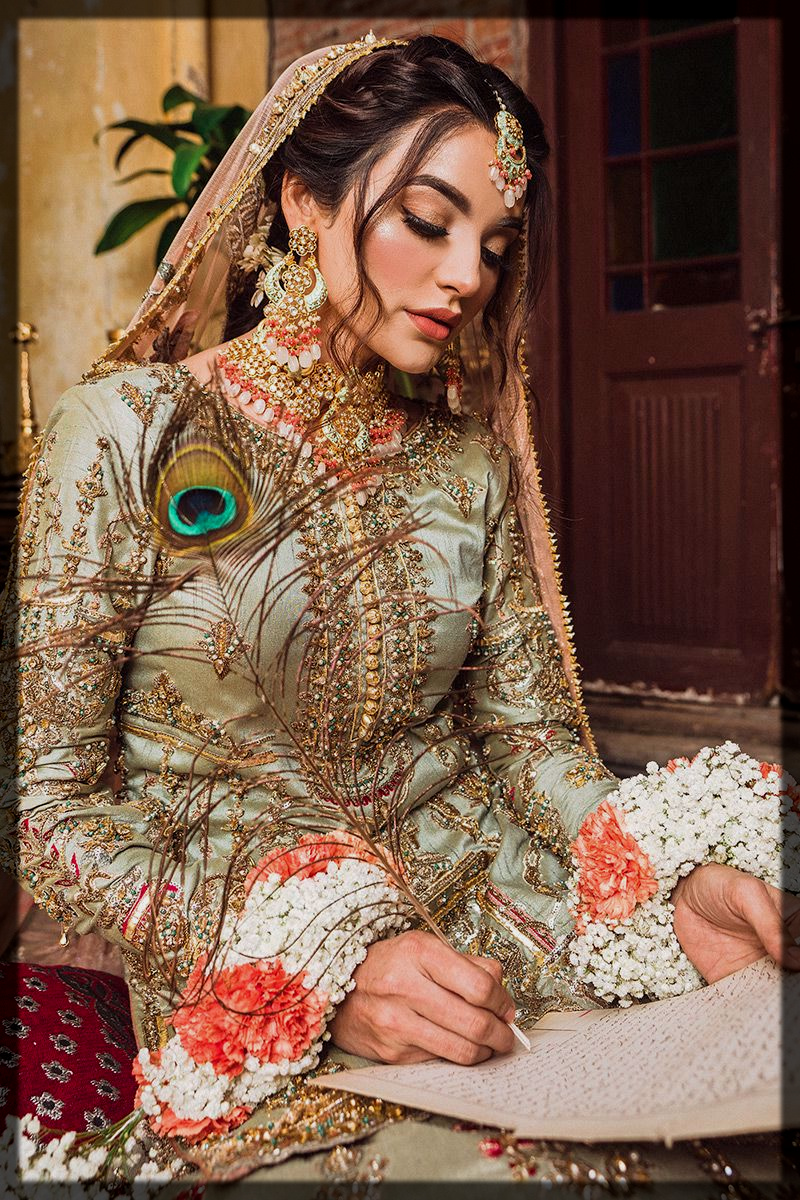 The pink color has deep associations with nature and the environment. Moreover, wearing such beautiful colors reflects freshness, and people consider it for good fortune. The color looks fantastic when it comes up nicely with golden shade in contrast. Wearing such a distinctive combination makes you look different. Therefore, brides prefer to choose such attire for their nikkah. Grab this stunning outfit from the MNR store and make all of your breathtaking and dazzling looks. For more nikkah dresses, visit the Saira Shakira bridal dresses.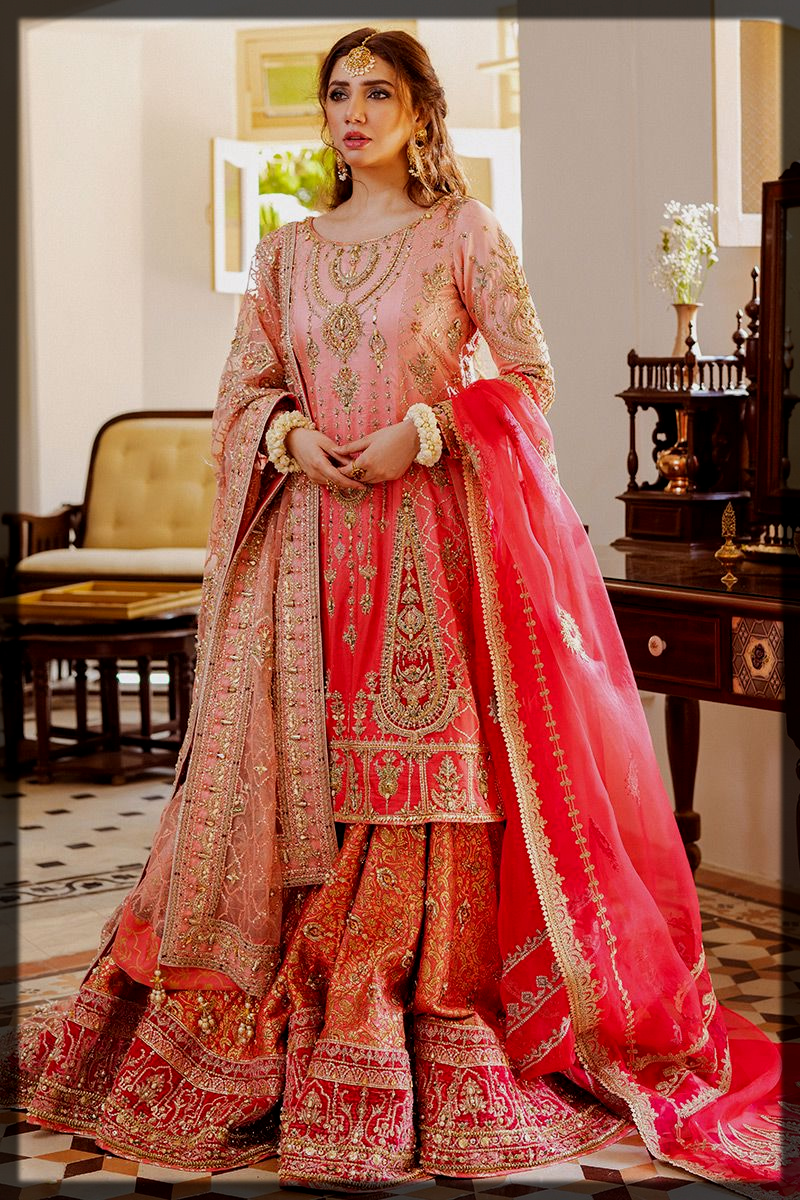 Orange is a delicate and charming color that purely gives a feminine look. Therefore, women prefer to wear a stylish dress of this lovely shade on their nikkah. Look at the floor-length lehenga choli that makes you look impressive and pretty. The dabka and sequins artwork brings shinning to this outfit. You can likewise wear this cool outfit at your mehndi night to make your look striking.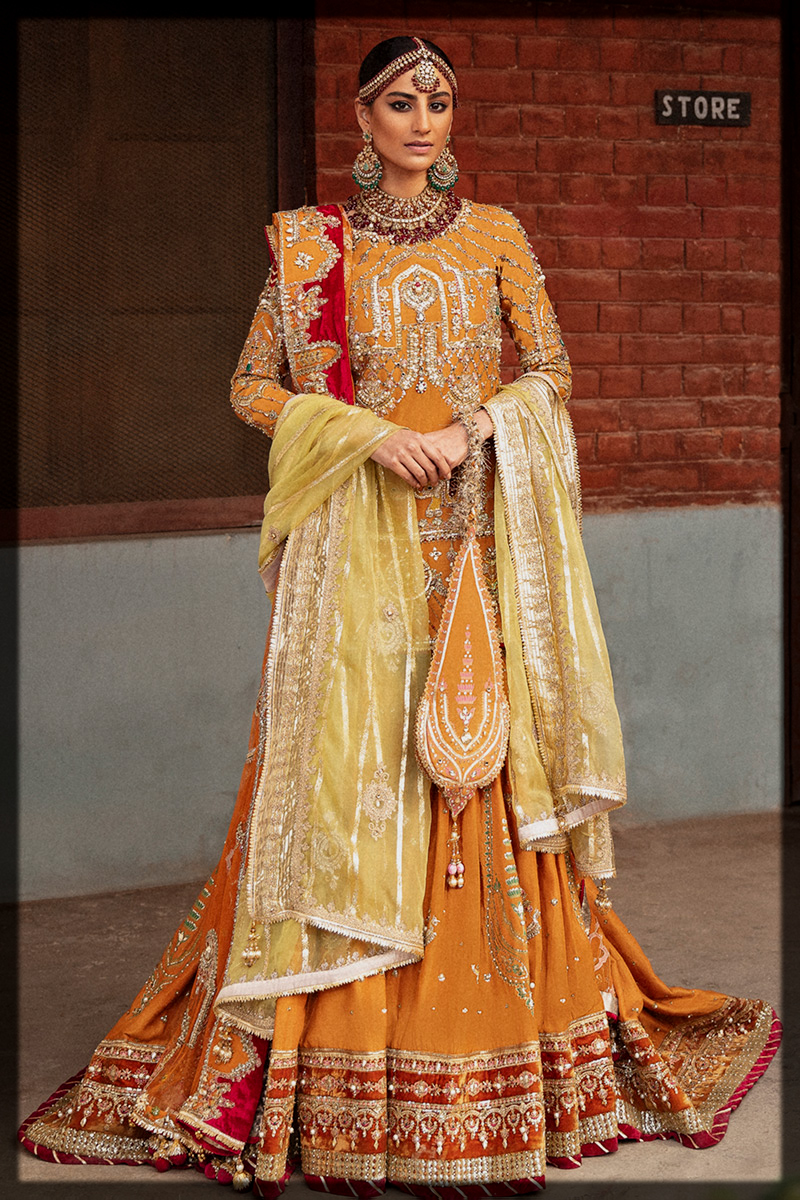 Green Raw Silk Kameez and Gharara for Nikkah
Green is a color of peace and harmony. It shows sympathy and looks decent whenever you wear it both formally and casually. Therefore, most of the girls prefer to wear green dresses as their nikkah outfit.
Look down at the green raw silk shirt paired with the stylish net gharara. However, the peach-shaded net dupatta over it looks pretty impressive, making it much more beautiful. The entire dress is beautifully furnished with the gota and sequins craft that make the outfit more classical. Match this bridal nikkah outfit with fantastic makeup and lightweight adornments to get decent although the impressive look on your nikkah day.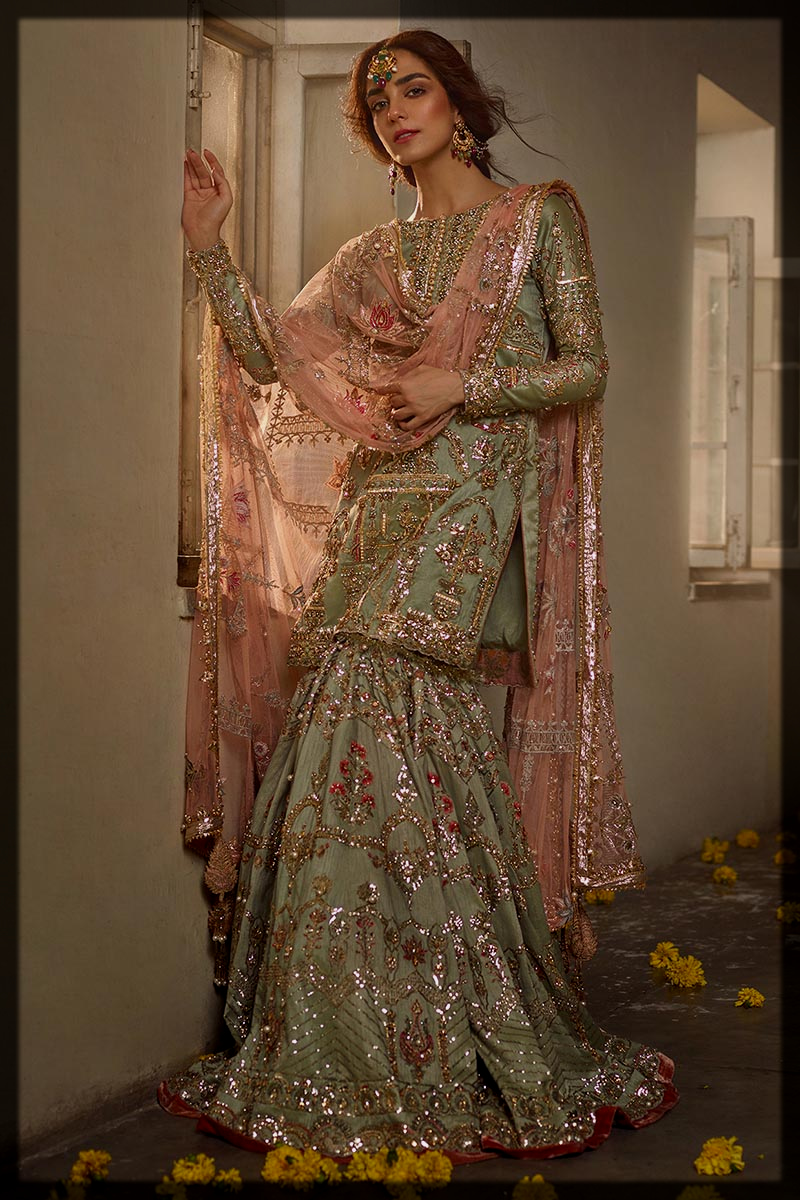 Traditional White Lehenga Choli

Pakistan is a country with diverse cultures. Therefore, some traditional women prefer to wear such dresses, which reflect their lavish lifestyle. Have a look at the following conventional white lehenga choli. It looks magnificent on your nikkah day. Moreover, wearing a fresh flower garland of white and red color with this white attire brings out entirely a traditional look.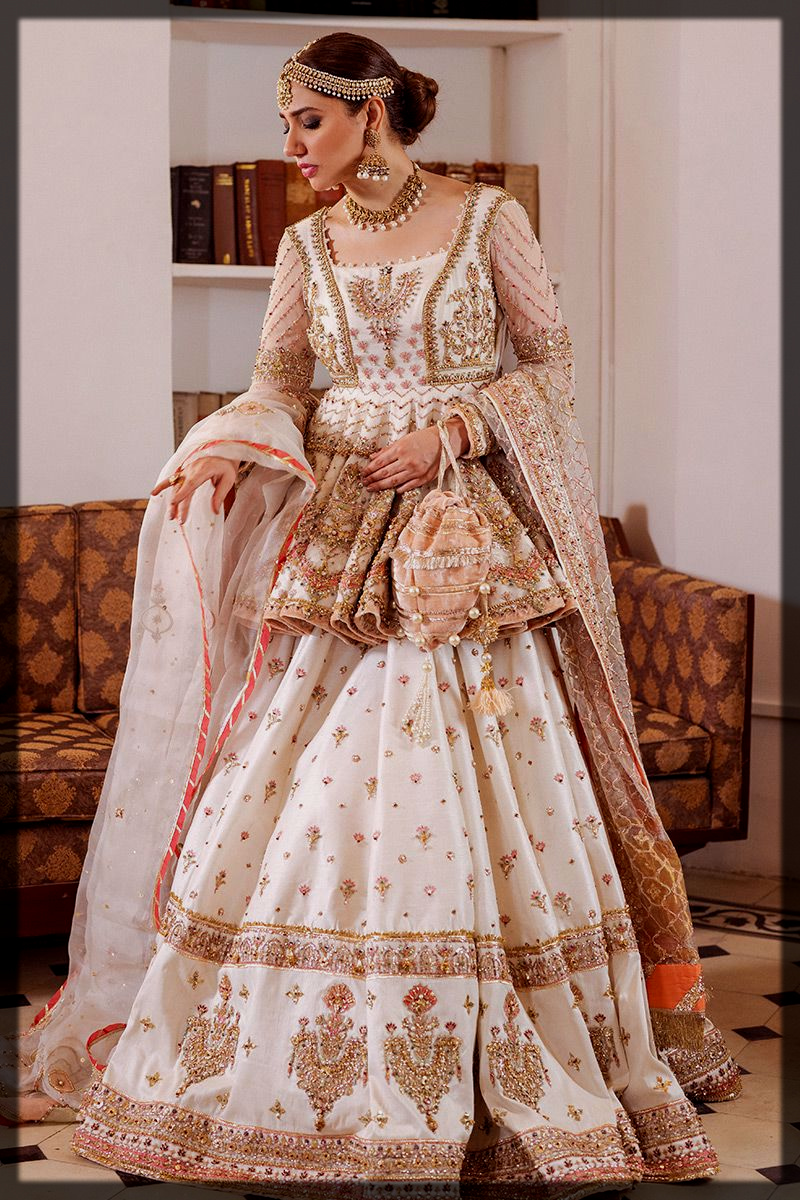 2- Stylish Mehndi Dresses by MNR
Mehndi is a musical night that is celebrated one day before barat. It is a traditional gathering with immense fun and laughter. The colorful night implies to wear colorful dresses. Therefore, mehndi brides always go for a gorgeous and dazzling dress to make their mehndi look awe-inspiring and breathtaking. Let's look at the following mehndi collection by MNR that surely helps you add more sparkle to your mehndi glance. Moreover, the beautiful color combinations of their outfits make your mehndi night splendid and striking.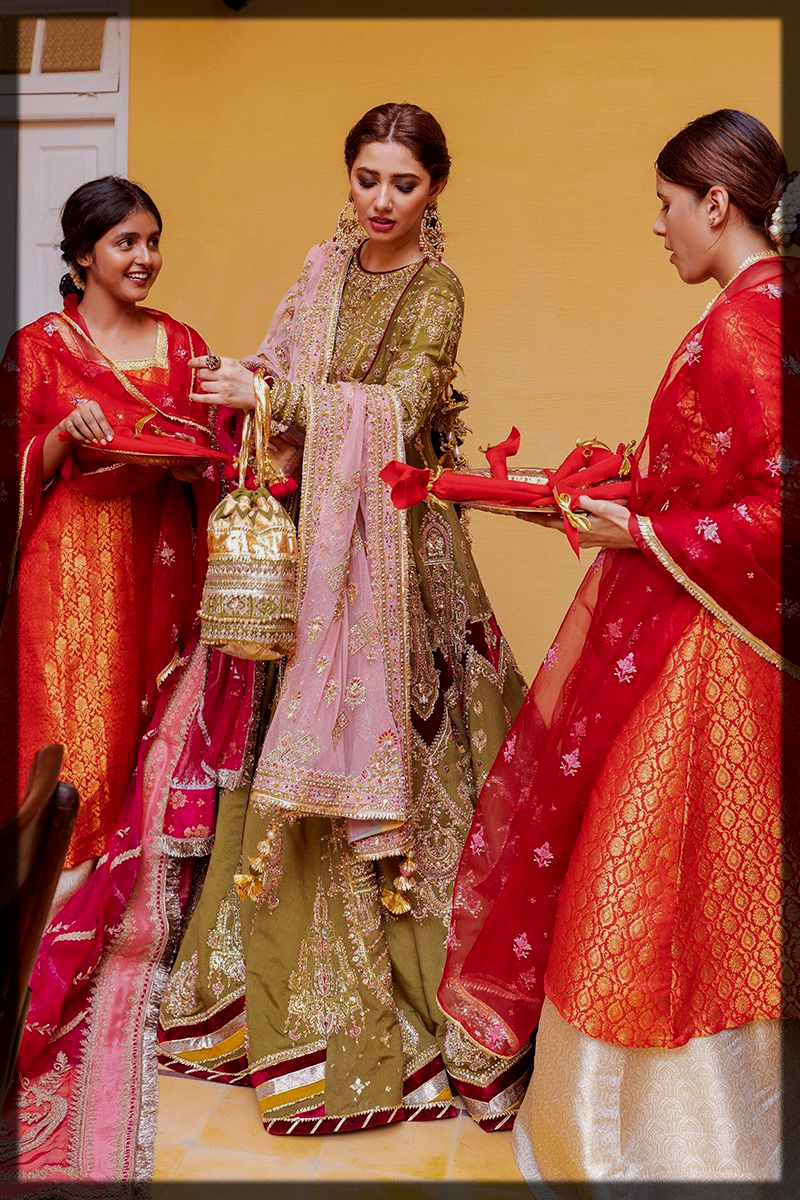 Sparkling Orange and Maroon Mixture Dress

Orange is the most common color to wear on mehndi. The below orange hues bridal outfit is nicely paired with maroon color that makes this outfit livelier. If you want to make your mehndi night extra sparkling, then this outfit is for you. All you need is to pair it with delicate accessories to grab the traditional look. Try the black smokey eye makeup among the nude shaded lipstick with this outfits to look extra captivating. HSY bridal collection is also worth buying this year.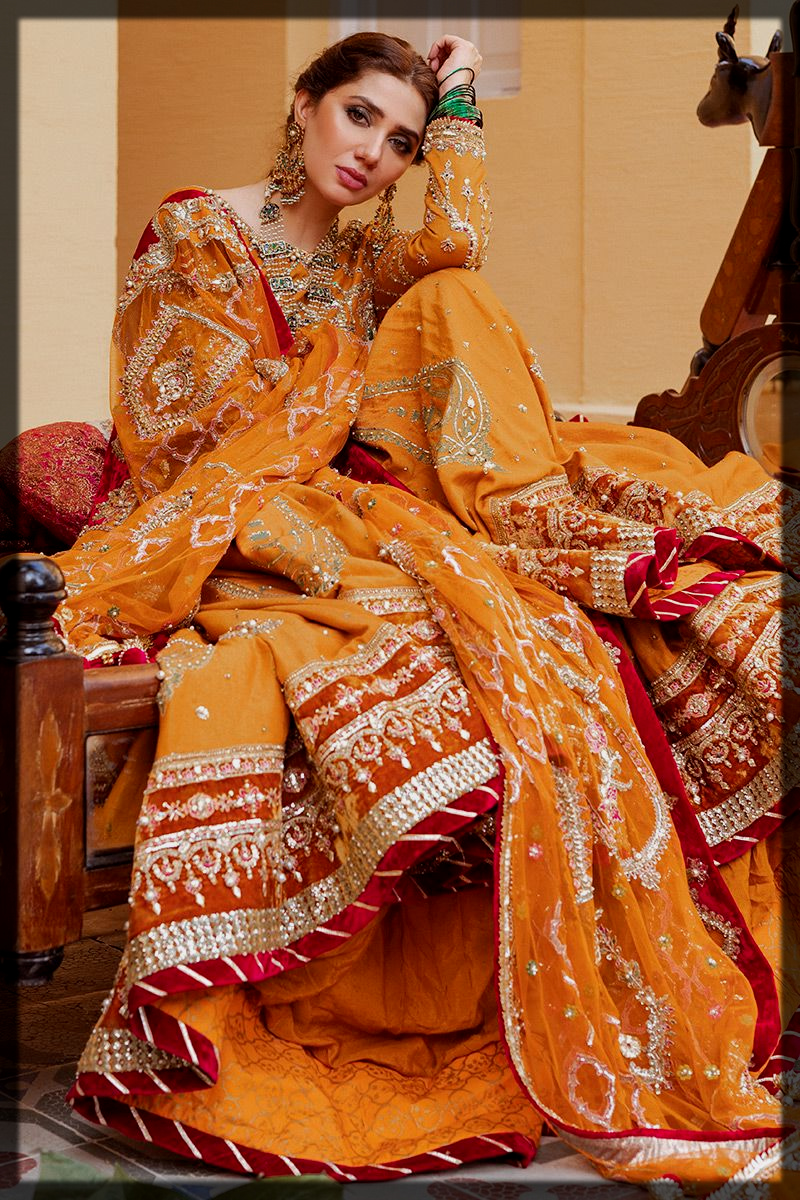 Mint Green Lehenga Choli for Mehndi
Mint green is the softest and breathtaking hues that make your mehndi night more dazzling. This mint-green bridal lehenga choli is improved with the gold sequins artwork. You can also carry this outfit as your walima outfit to make your look graceful. With this heavily embellished outfit, skip the earrings and only wear a heavy traditional necklace to complete your classy look. Further, tie your hair in a low bun and apply the bronzer makeup to make all of your appealing and alluring looks.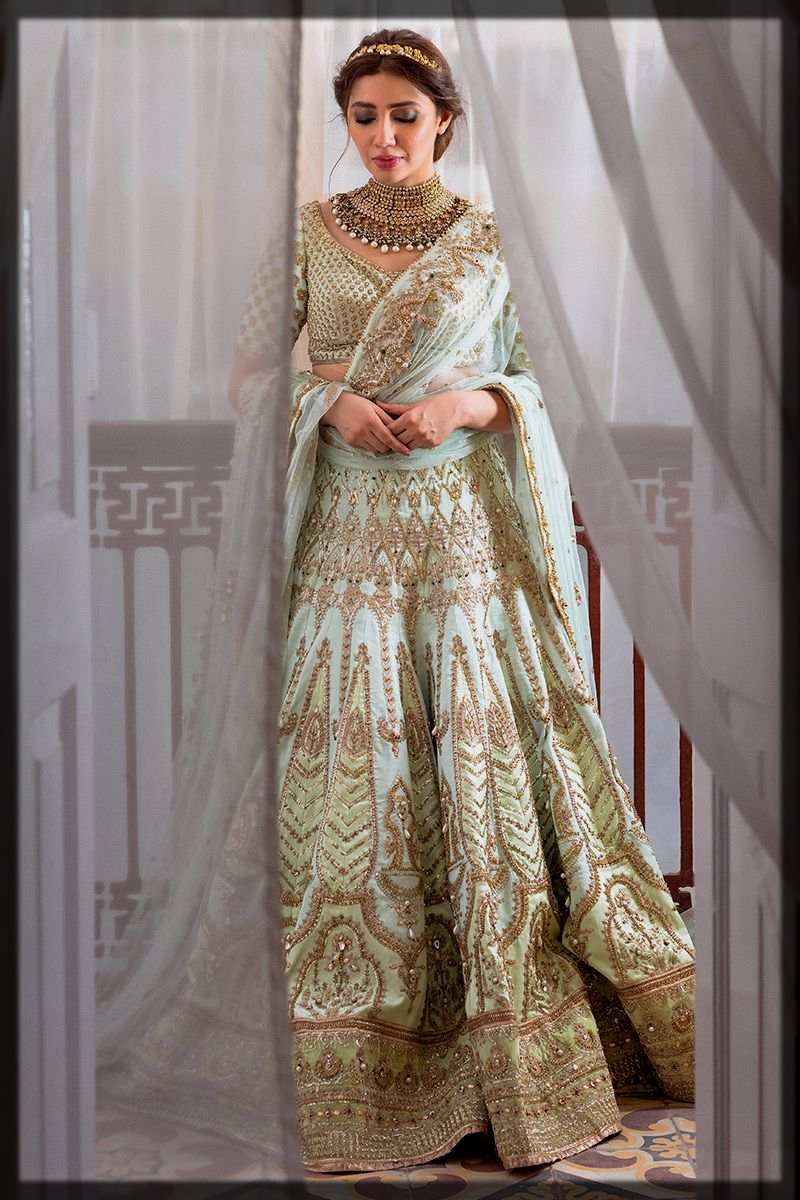 Pistachio-Green Front Open Traditional Maxi for Brides

This bright pistachio-green front open bridal maxi design is ideal for those ladies who want a brighter look for mehndi and desire to wear a dark outfit. It is paired with the blush pink dupattas that supplement more shine to your bridal look and make it dazzling. Grab this outfit and make your mehndi look splendid and jazzy.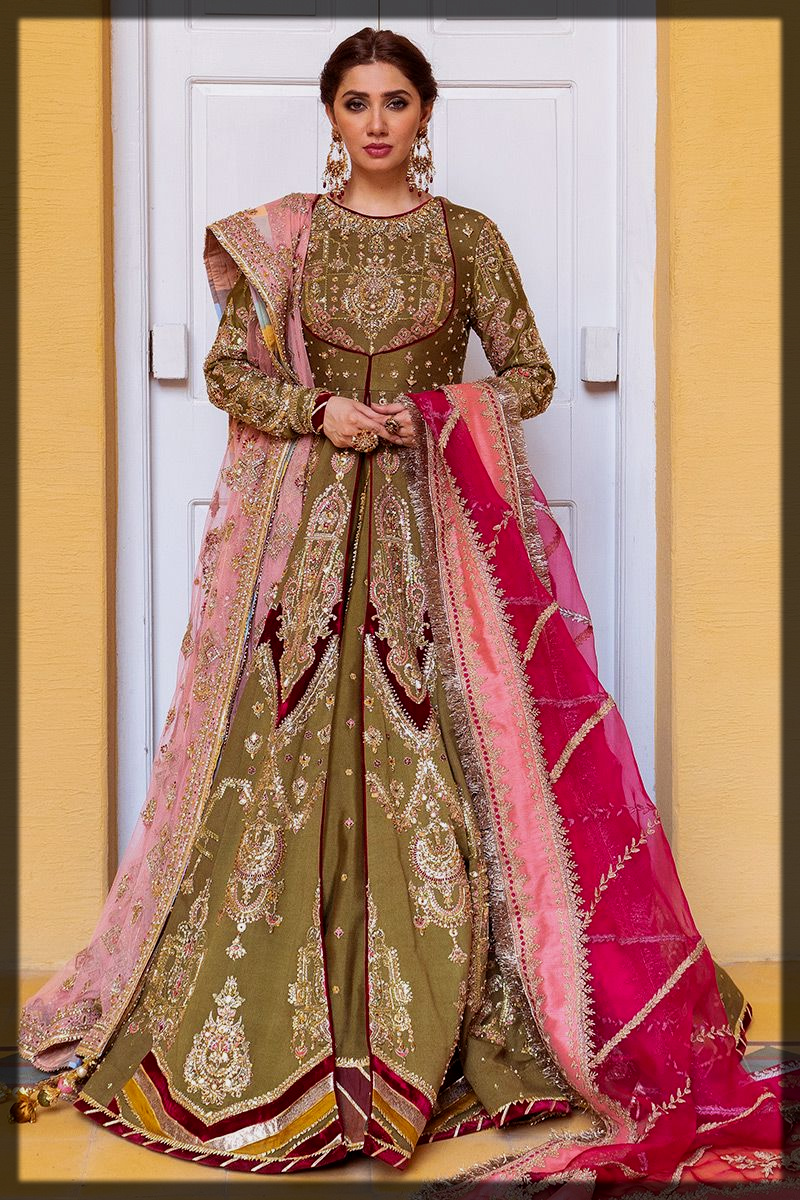 Short Shirt and Gharara in Bottle Green Hues

If you look for a short shirt and gharara suit, look at the bottle green short shirt paired with the jamawar sharara. One of the best and stunning attire from the MNR bridal dresses for the mehndi night ot look splendid and sparkling.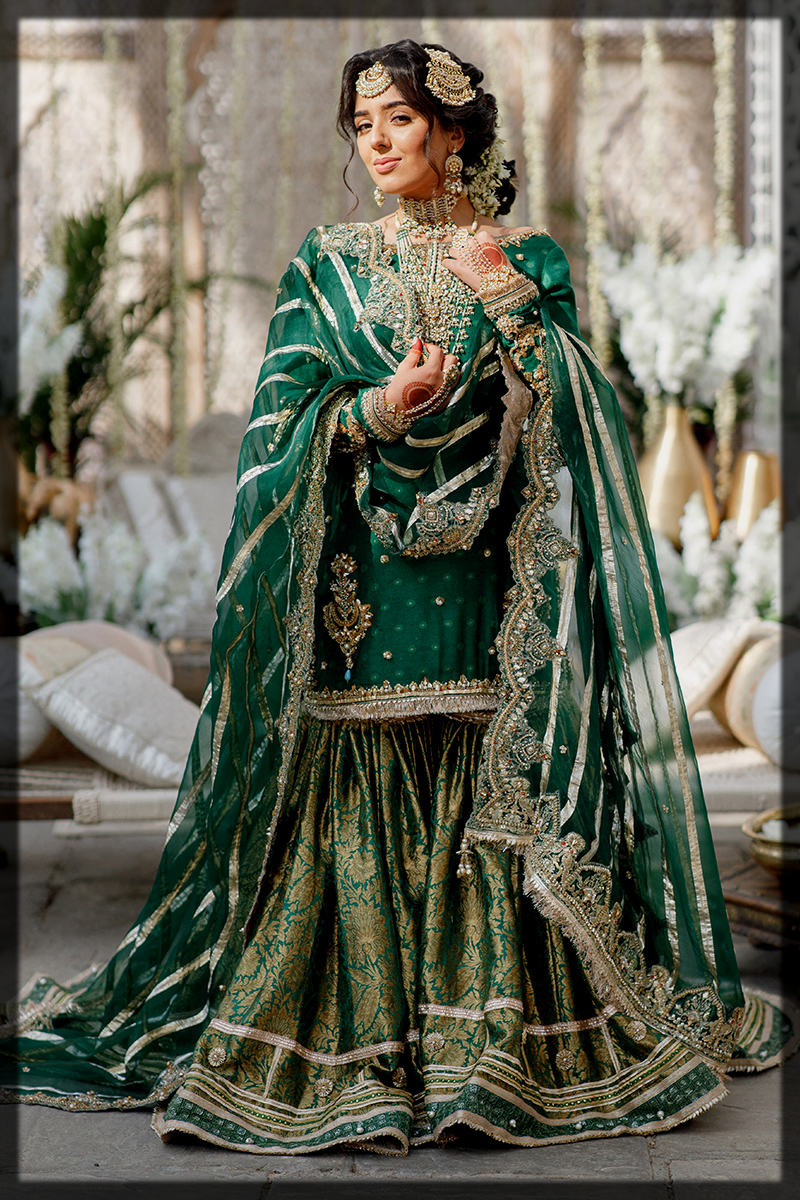 3- Bridal Barat Dresses by Mohsin Naveed Ranjha
There is an elegant collection of bridal barat outfits by MNR. The collection includes a variety of designs made with pure and excellent fabrics. Moreover, the unique patterns and artwork enforce women to look for these dresses for their bridal wear. These dresses are exquisitely adorned with beautiful embellishments that help the brides to improve their bridal look and make it extra chic and breathtaking.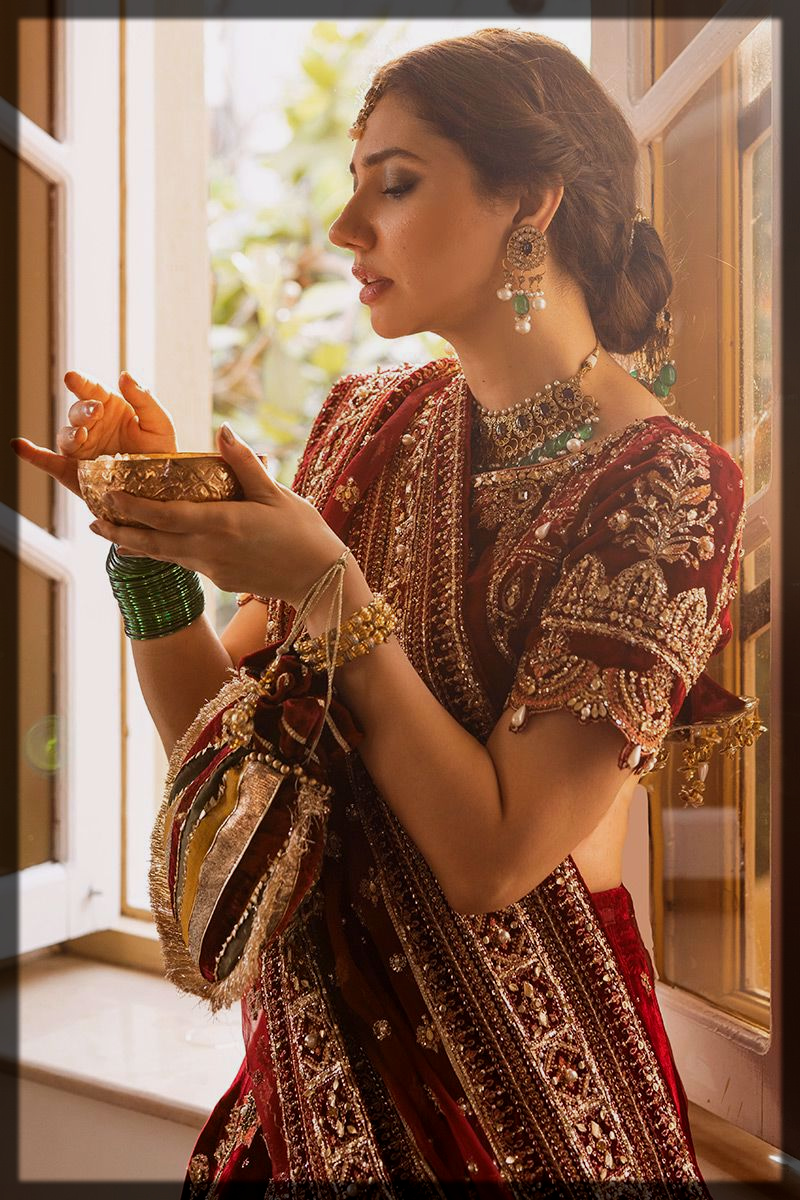 The tail maxi style is distinctive among bridal designs. However, most of the young generation prefer to have a tail outfit for their wedding event. Hence, MNR offers the farshi maxi for barat brides.
The below long farshi maxi is adorned with the tilla and kora artwork that adds more glow to your look. It is paired with the lehenga that is further improved with golden embellishments. Try to wear lightweight adornments with this heavily decorated attire to get a graceful and enchanting look.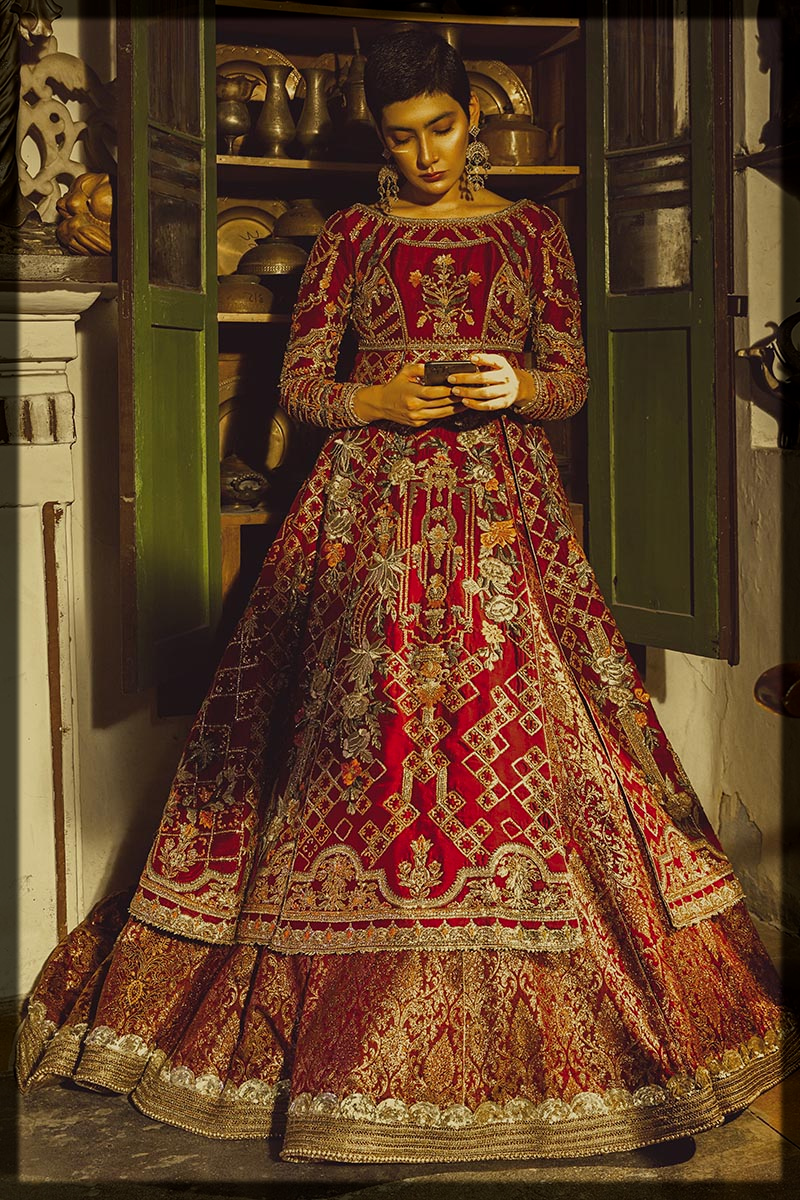 Organza peplum with Velvet Lehenga

Peplum is a short and well-adorned style of garment that makes any character more breathtaking and modest. Wearing a peplum brings a distinctive touch for brides. Therefore, they look for a glamorous peplum for their wedding day.
Velvet is a woven tufted fabric in which the cut threads are evenly distributed. However, the short dense pile gives it a distinctive look. Moreover, it is a smooth fabric that is made from natural and synthetic fibers. Mohsin Naveed Ranjha bridal collection contains a few wonderful velvet designs. Have a look at this lavishly embellished peplum in stunning red and golden combination.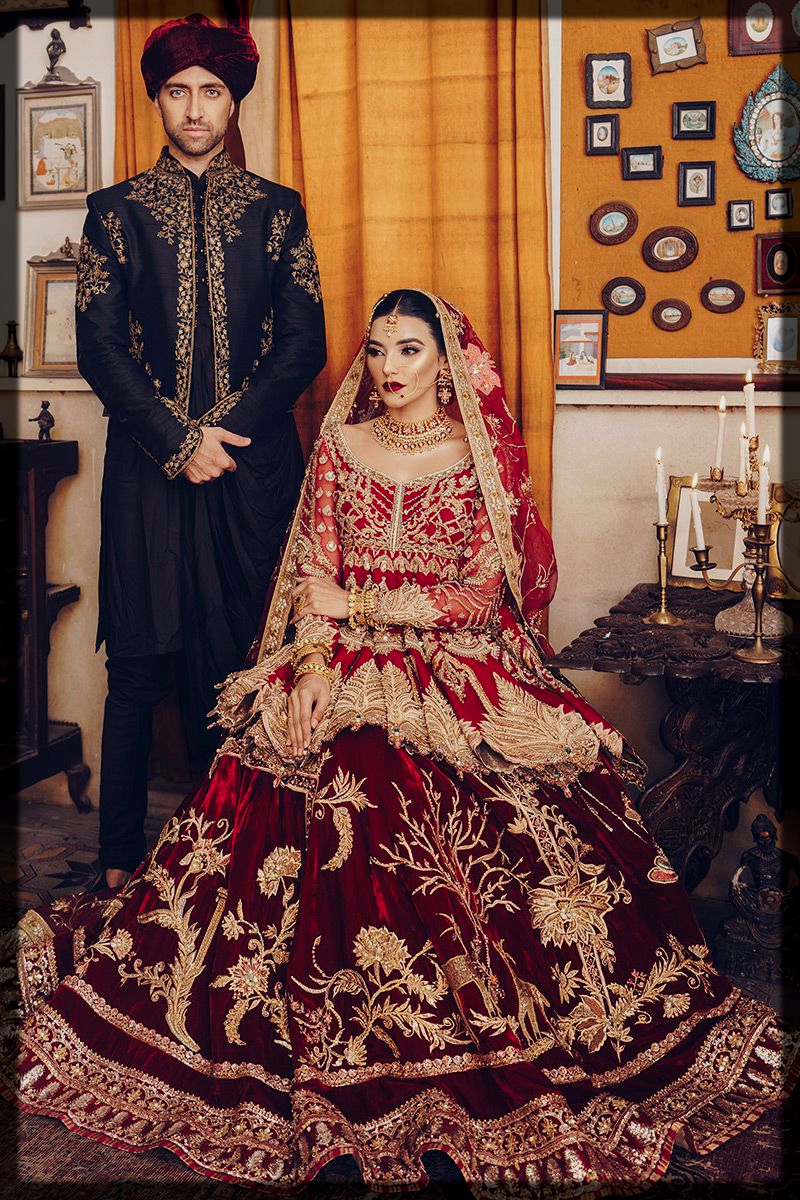 Burgundy Heavily Embellished Gharara and Shirt for Barat Bride
Are you looking for a fully embellished traditional outfit for your barat day? At that point, look at this burgundy hues gharara and shirt that is fully adorned with fantastic artwork. You can additionally consume this cool outfit at your nikkah or engagement ceremony if you like.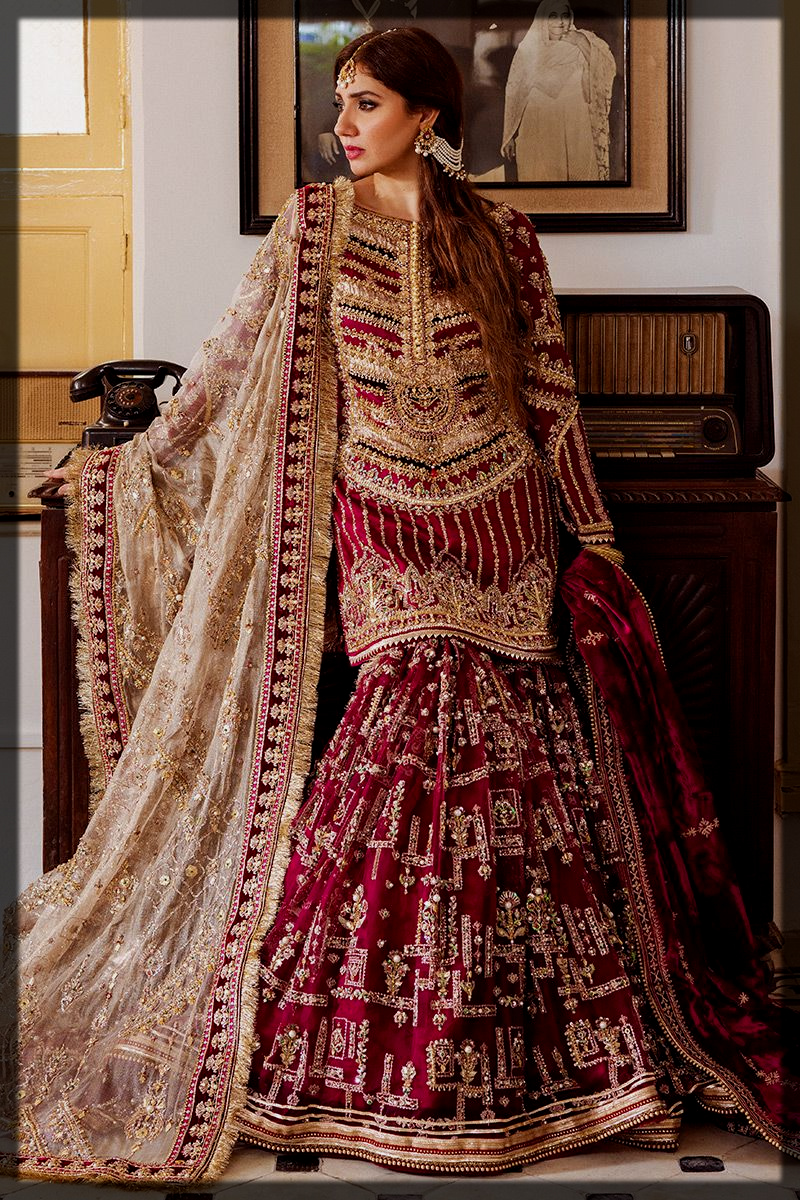 Gold Embellished Bridal Shirt and Sharara

Sharara is a pair of loose trousers having a full flare. However, it always comes up with a straight Kurti. Look at this embellished shirt and sharara. The marvelous artwork on the dress adds exquisite beauty to it. Moreover, the red dupatta, in contrast over it looks dazzling. Grab this outfit for your barat day and make all of your captivating and dashing looks.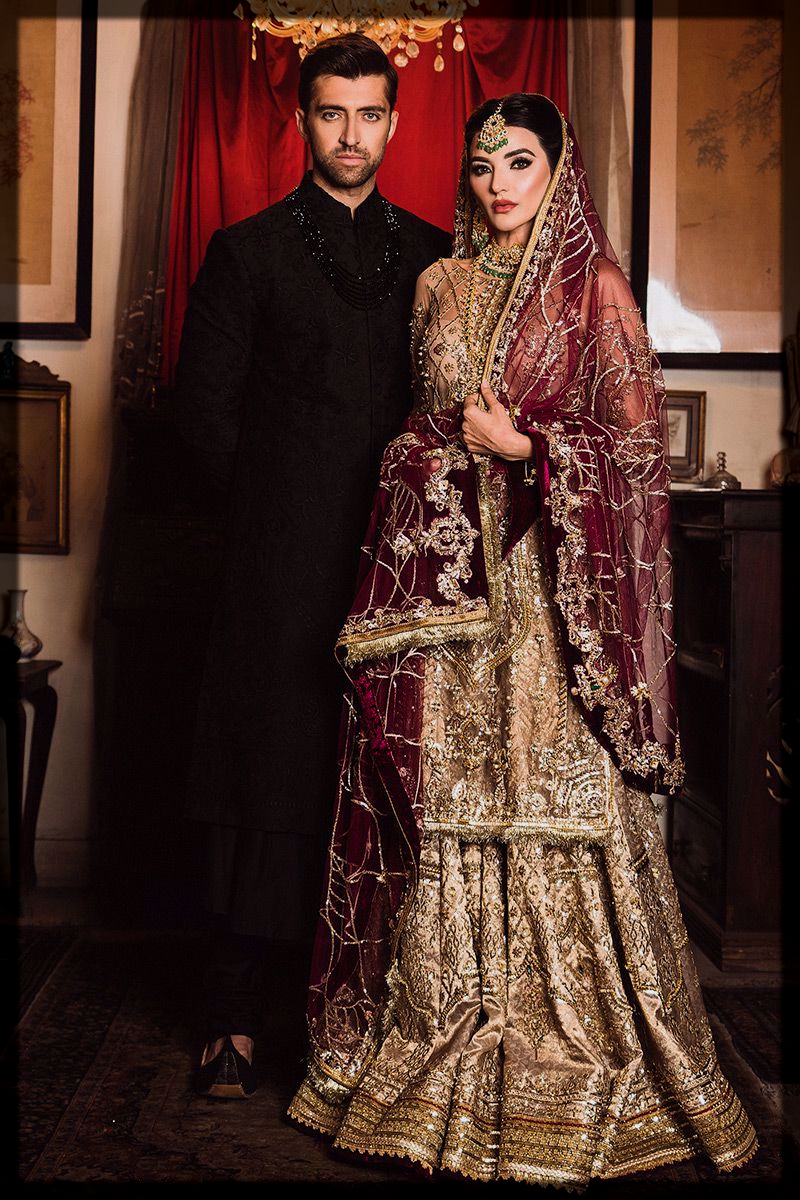 4- Stunning Walima Collection by MNR

Walima is the third main event of Pakistani weddings. Therefore, it likewise has the same significance as the other events. Brides look for the fantastic walima dress everywhere on the internet and in markets. So for their ease, we gathered the top brand MNR bridal clothes for your comfort. This collection will help you to select the best outfit for your event.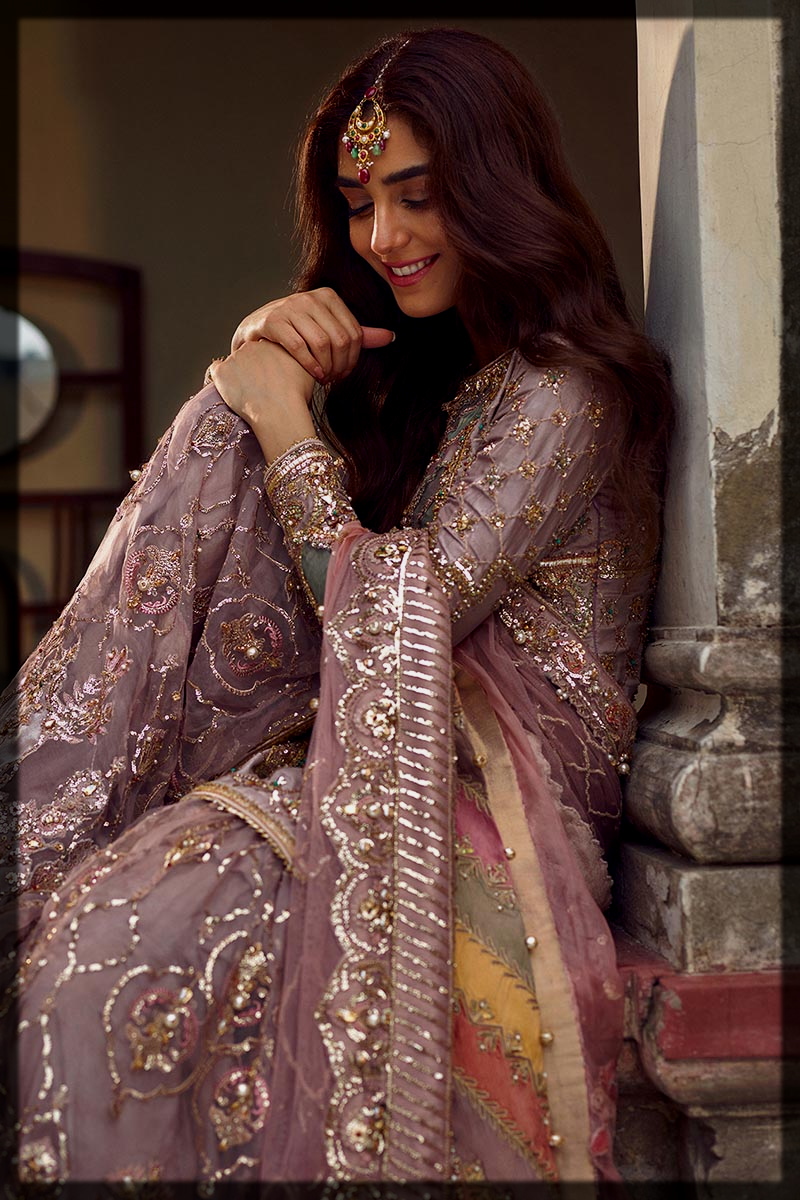 Fantastic Coral Pink Gharara and Shirts for Walima
Gharara is the most common outfit that girls prefer on their walima. Therefore, we are presenting fantastic gharara designs for those who are looking for a fabulous outfit. Take a look at the following gharara styles in coral pink color. This beautifully crafted gharara with an embellished shirt adds an impressive look to the bride on walima.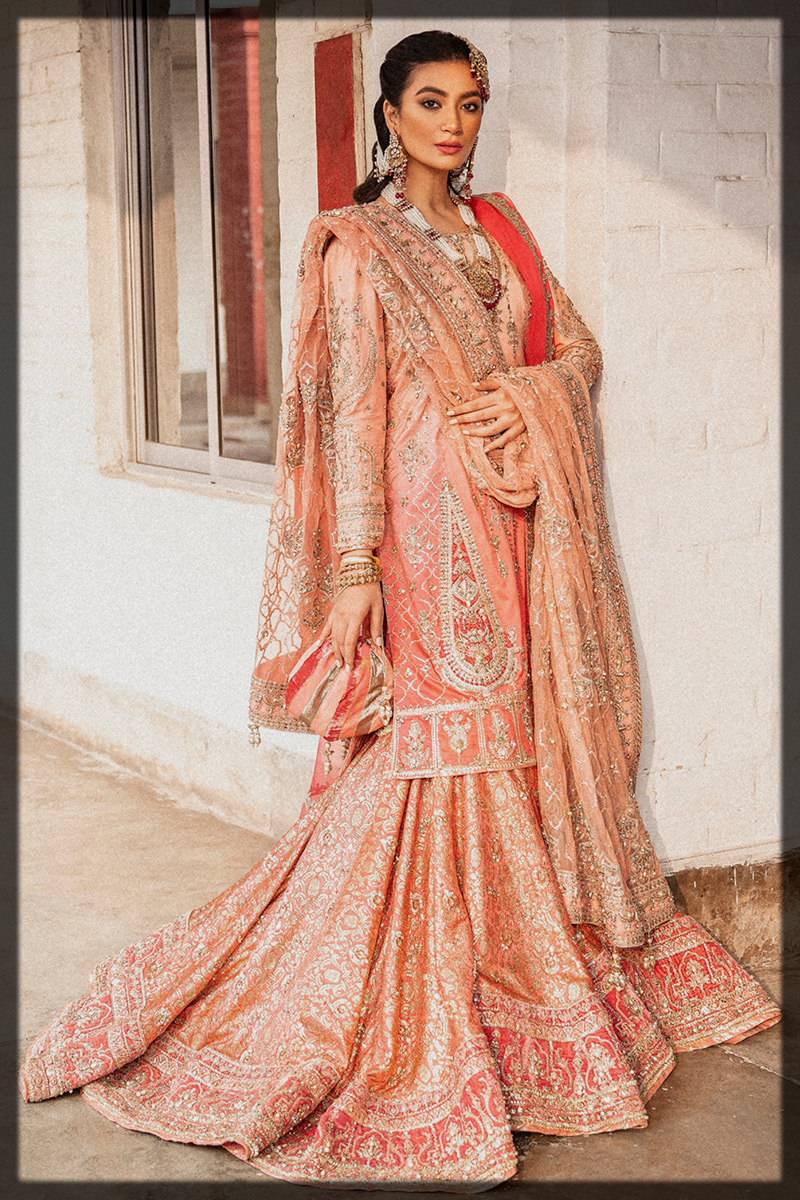 Sky Blue Lehenga Choli with Red & Orange Dupatta for Walima
Some girls like to wear a very distinctive style of lehenga choli on their walima. Therefore, we present a unique form of lehenga choli for those girls from the MNR collection. This exquisite sky blue shaded dress looks very eye-catching and dazzling. It is paired with the maroon organza dupatta that indeed makes you look prettiest and charming. Ali Xeeshan bridal collection is launched in the market for ambitious women.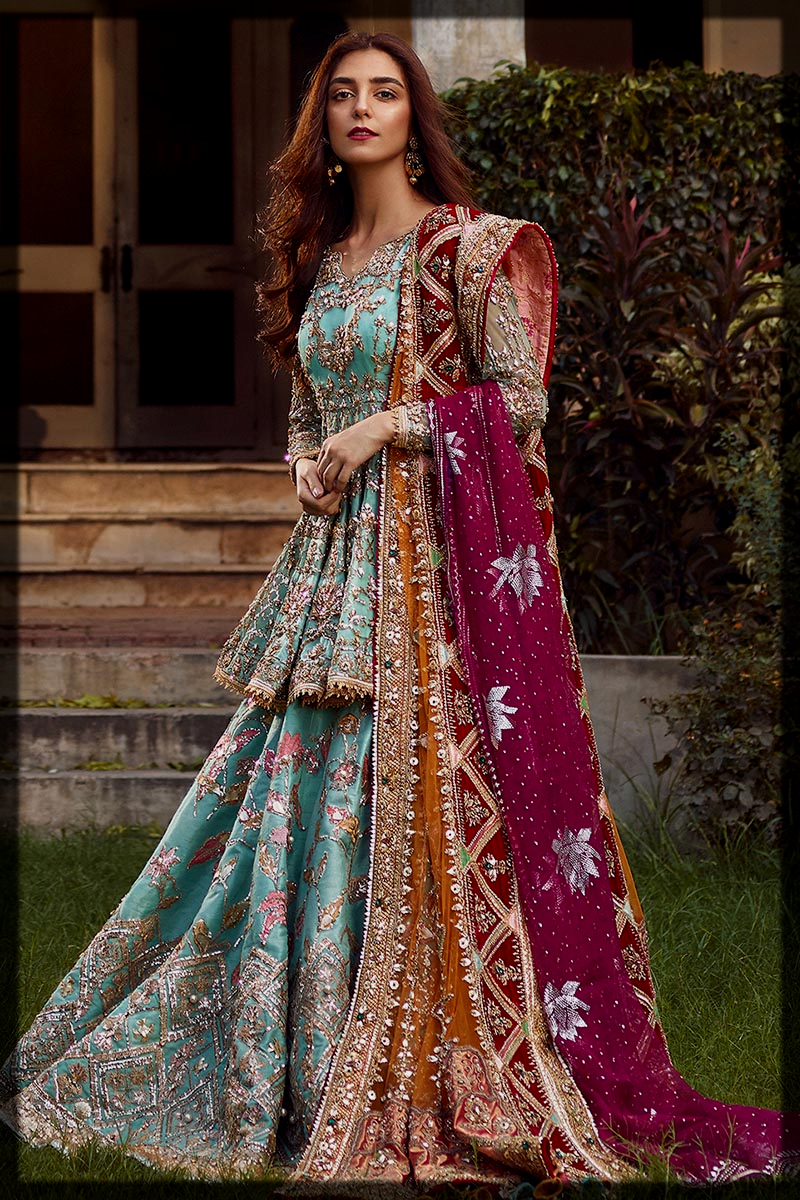 Beautiful Raw Silk Mohsin Naveed Ranjha Bridal Outfit

The raw silk is somehow lighter in weight than the silk fabric. Therefore, it is commonly used in crafting bridal dresses. The following beautiful raw silk lehenga with a short choli has beautiful decorations of golden shades. Moreover, the stunning gotta and dabka work on the net organza dupatta looks ravishing.
Incredible Gold-Net Shirt with Heavily Embroidered Zari Sharara

The below long shirt and sharara are decorated with signature lotus and motifs. Moreover, the stunning pearls and beads purely provide a gorgeous look to this walima outfit. It is paired with the breathtaking maroon dupatta has the velvet patch with embellished borders makes this outfit unique and excellent. Pair this outfit with nude makeup and pearls adornments to make all of your jazzier and stunning looks.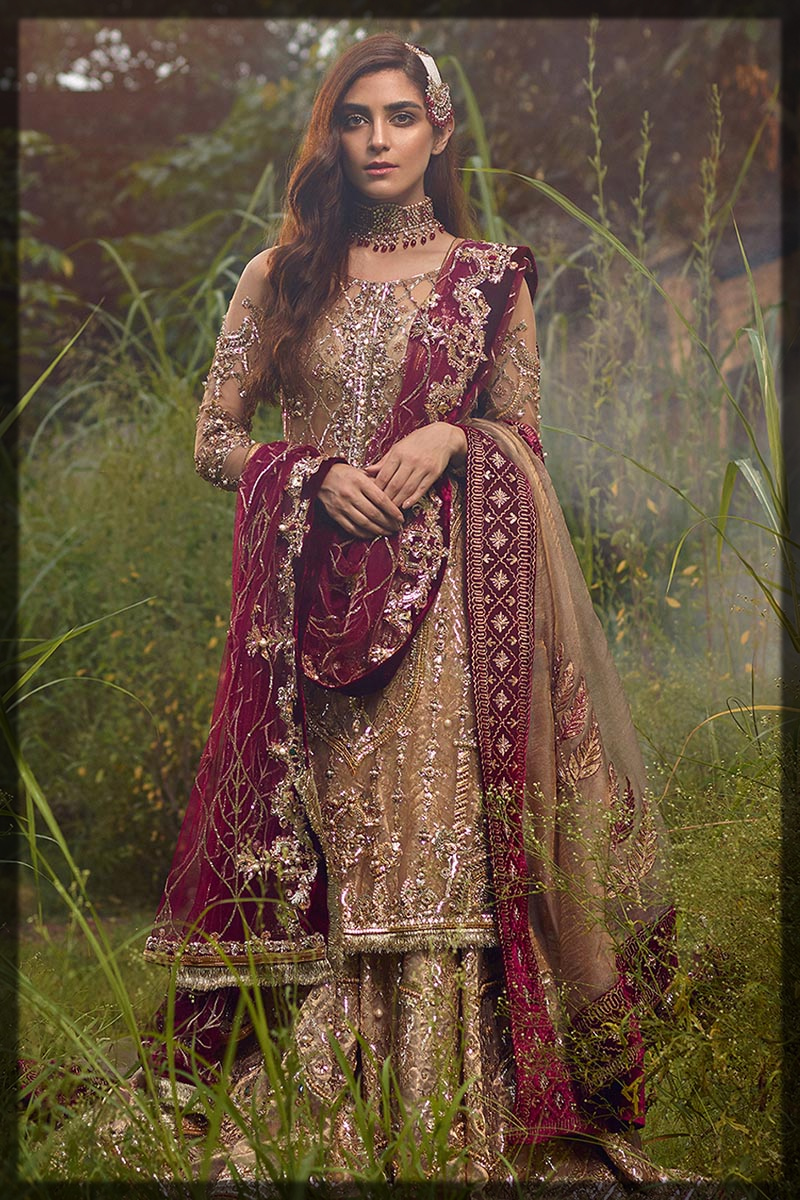 Ayeza khan x Mohsin Naveed Ranjha Bridal Collection

MNR recently launched its latest collection featuring the talented Ayeza Khan. In this latest catalog, you will find a stunning variety of bridal nikkah, mehndi, walima, and barat dresses. These luxurious dresses are made with stones, dabka, sheesha, sequins, and pearls artwork. Moreover, the color combinations of these dresses are just mind-blowing that indeed refresh your look and make it extra dazzling.
You only need to pick the right outfit according to your body figure, skin tone, and occasion. Moreover, combine your luxury outfit with nude yet bronzer makeup and minimal accessories to dazzle the night.
Aymen Saleem x MNR
Let's explore the latest bridal collection by MNR featuring the gorgeous Aymen Saleem. Here you will find luxurious bridal dresses for nikkah, barat, mehndi, and walima ceremonies. These stunning dresses are enriched with kora, dabka, sequins, and stones artwork. So, make your wedding even more extraordinary by picking any below attire.
The stunning bridal dresses of Mohsin are available in all the latest designs. A wedding is a special event, and every girl wants to add sparkle to her outfit on her special day. The predominancy of this article is to provide you a collection of stunning bridal outfits so you can get some ideas about the latest trend and make all of your jazzier and more breathtaking looks on your big day.