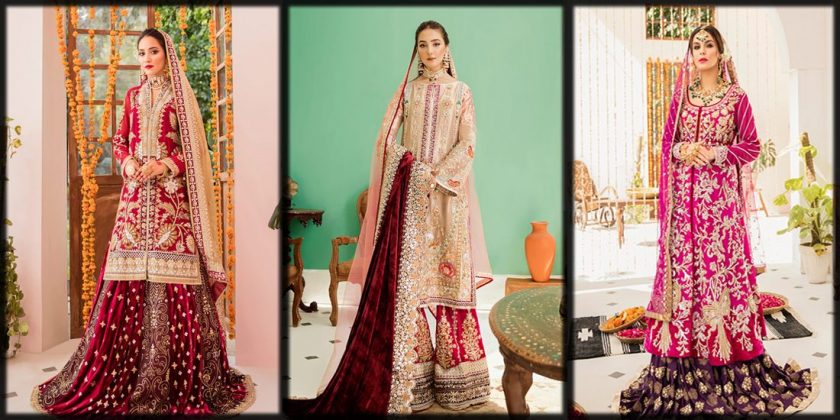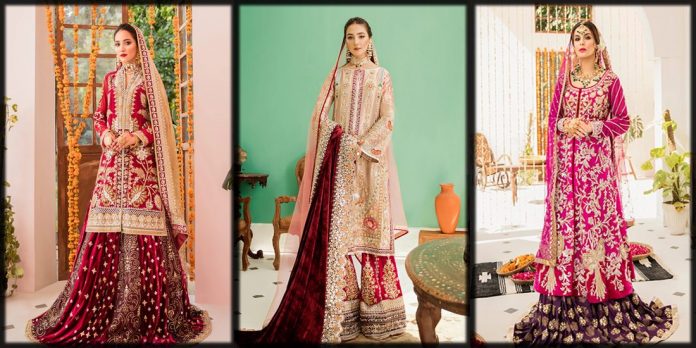 Undoubtedly, beauty is the illumination of personality and soul. No one can slay unless he/she struggles for it. Marriage is the occasion that requires illuminating ensembles for a dramatic yet delightful look. Therefore, brides and grooms search for a variety of modest designs. For all upcoming brides, the Sable Vogue bridal collection has something exciting.
In order to express beauty in the right way, one must be conscious about their choices and preferences. I would like to encourage the brides to prefer quality over everything else. Indeed, the right quality design will bring you the desired elegance and grace. Money can buy you many expensive and well-embellished dresses with a variety of styles and grace.
For instance, we are bringing you an engaging portfolio of Pakistani bridal dresses below. You will find a couple of Mehndi, Barat, and Walima dresses for brides in our blog. It is time to avail myself of the chance and stop overthinking. Have a look at the following Sable Vogue bridal collection.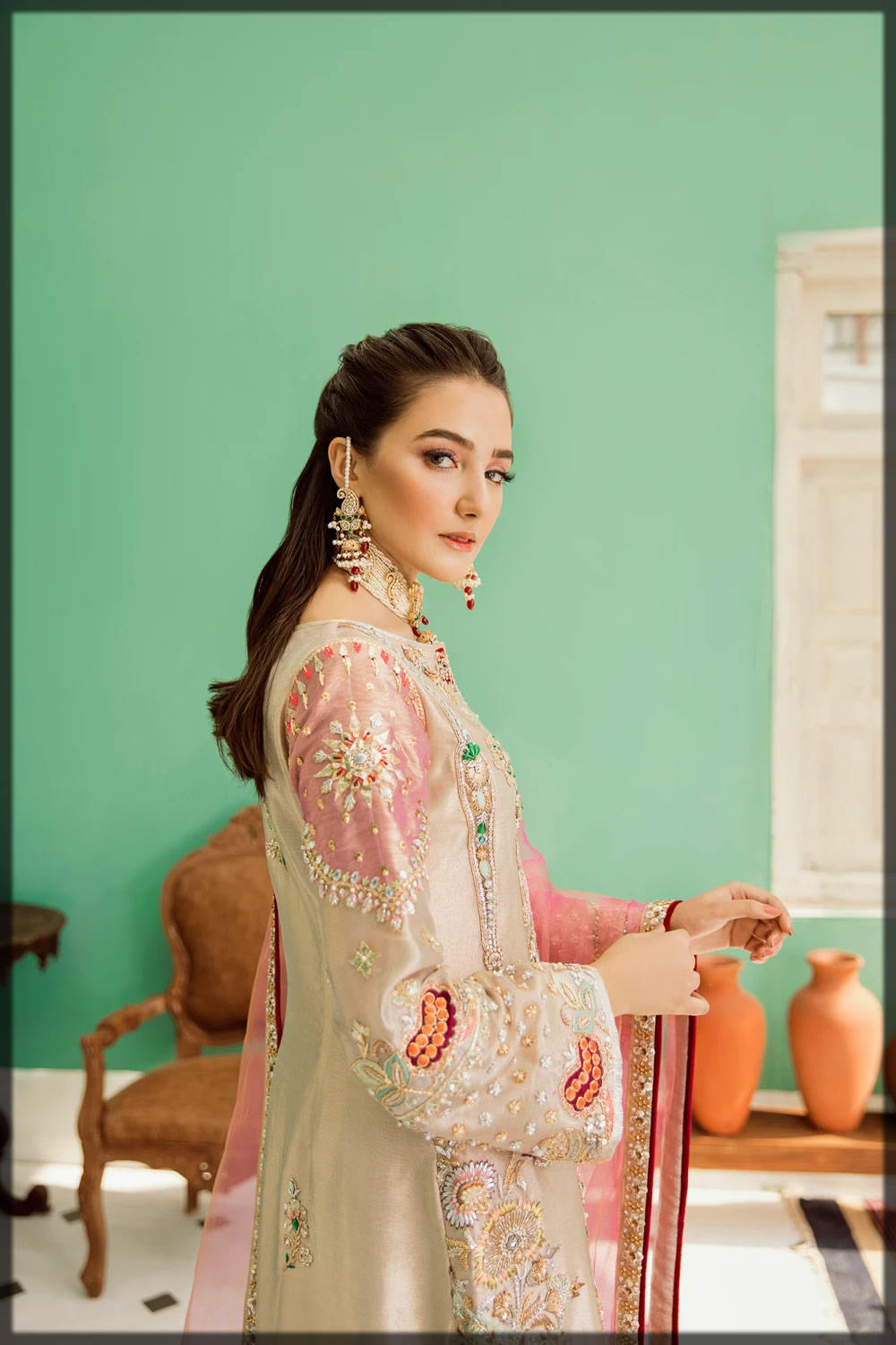 About the Creative Designer and Brand History
Sable Vogue is a luxurious clothing brand that is famous for women's clothing. The creative brand focuses on market niche strategies and creates segmented designs for the public. Also, the makers have experience in the couture of Paris and Milan too. Therefore, you will see a modest portfolio that is slightly different from the other fashion brands and designers. With continuous struggle and hard work, the brand expanded its collection in the US and Europe along with domestic expansion.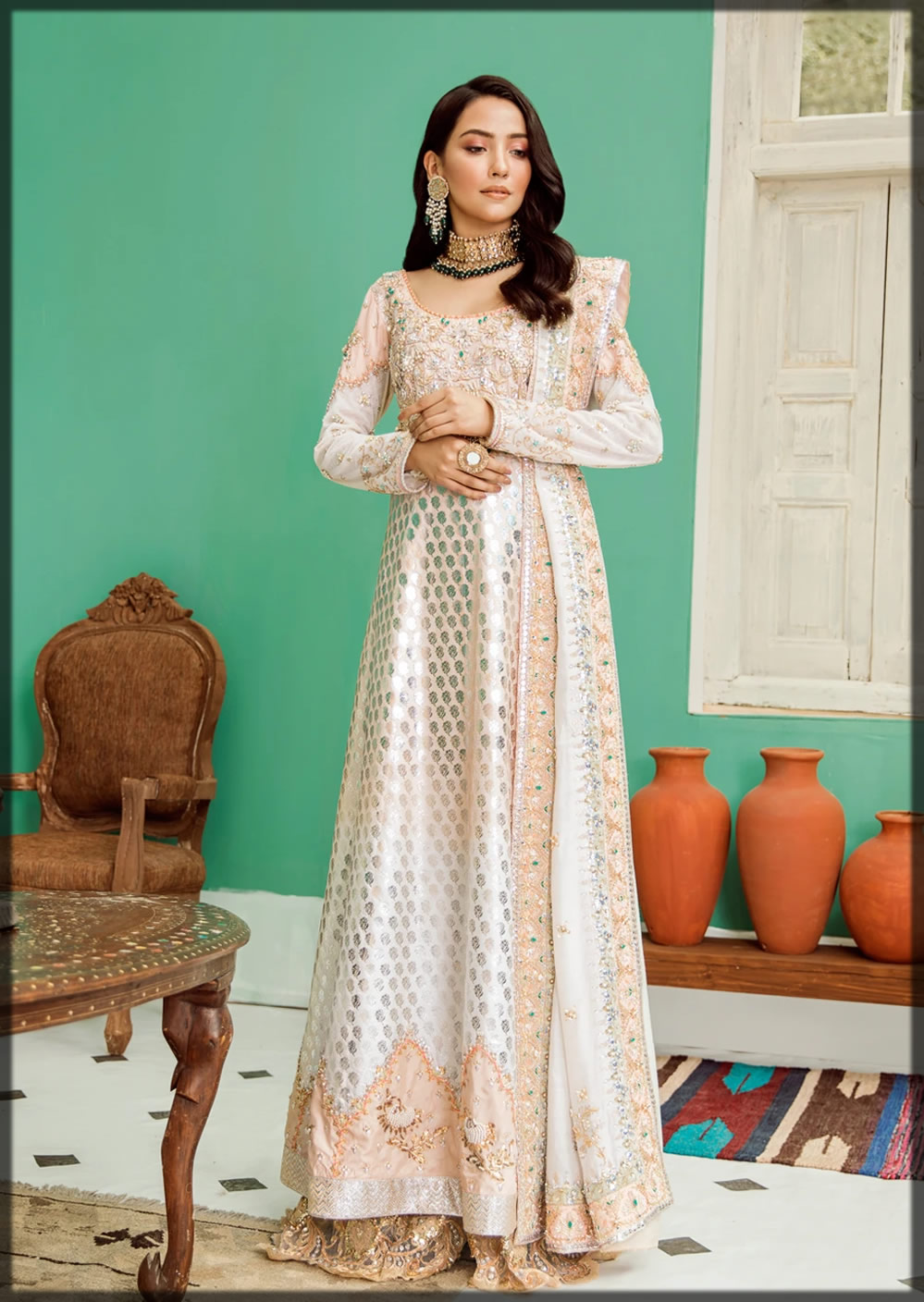 Sable Vogue Latest Bridal Collection for Mehndi, Barat and Walima
A wedding is an auspicious moment for the two people who promise to spend their lives happily ever after. Therefore, the couple tries to make their memorable event worth it by wearing a classic outfit. Also, the brides struggle to settle their looks in a bizarre way to exude elegance and grace. For instance, we are bringing you some crazy bridal outfits below.
There are a couple of top-rated Pakistani fashion designers who launch their bridal collections every year with amazing designs. You might have seen a duo of creative and artistic collections before. It's the time to explore the completely innovative and inspiring mehndi, barat, and walima dresses. Here is the latest and luxurious Sable Vogue bridal collection for girls below.
Also, explore our complete range of bridal wear by top designers here.
Beautiful Mehndi Dresses for Brides by Sable Vogue
The wedding events are started with a musical gathering of mehndi. People love to call musicians and artists to make their events melodious and memorable. Usually, teens prefer to wear subtle and colorful shades on this musical night for a pure dramatic look. For instance, we are bringing you a unique and stylish collection of bridal mehndi dresses by Sable Vogue below. So, are you ready to rock your melodious night? If so, then please extract some time to explore the following dark green, subtle orange, royal blue, and other mehndi dresses.
Angrakha Style Bridal Mehndi Dress
Who says that a bride can not wear Angrakha style dresses on her wedding day? Let me tell you that mehndi is the event that brings you an opportunity to create an illusion in your style. Therefore, one should never miss the chance to opt for classy and ethereal ensembles. Here we have a dark green appropriate and heavily embellished bridal dress for mehndi below.
The lavishly constructed outfit has unique embellishments on the front and back. Further, you can see additional velvet patches on the outfit. The stone and tilla work is enhanced with pearl finishing. Therefore, you should apply a minimalistic henna style to overshadow the highlights. Please give a thought to the following dress and have a blast on your mehndi.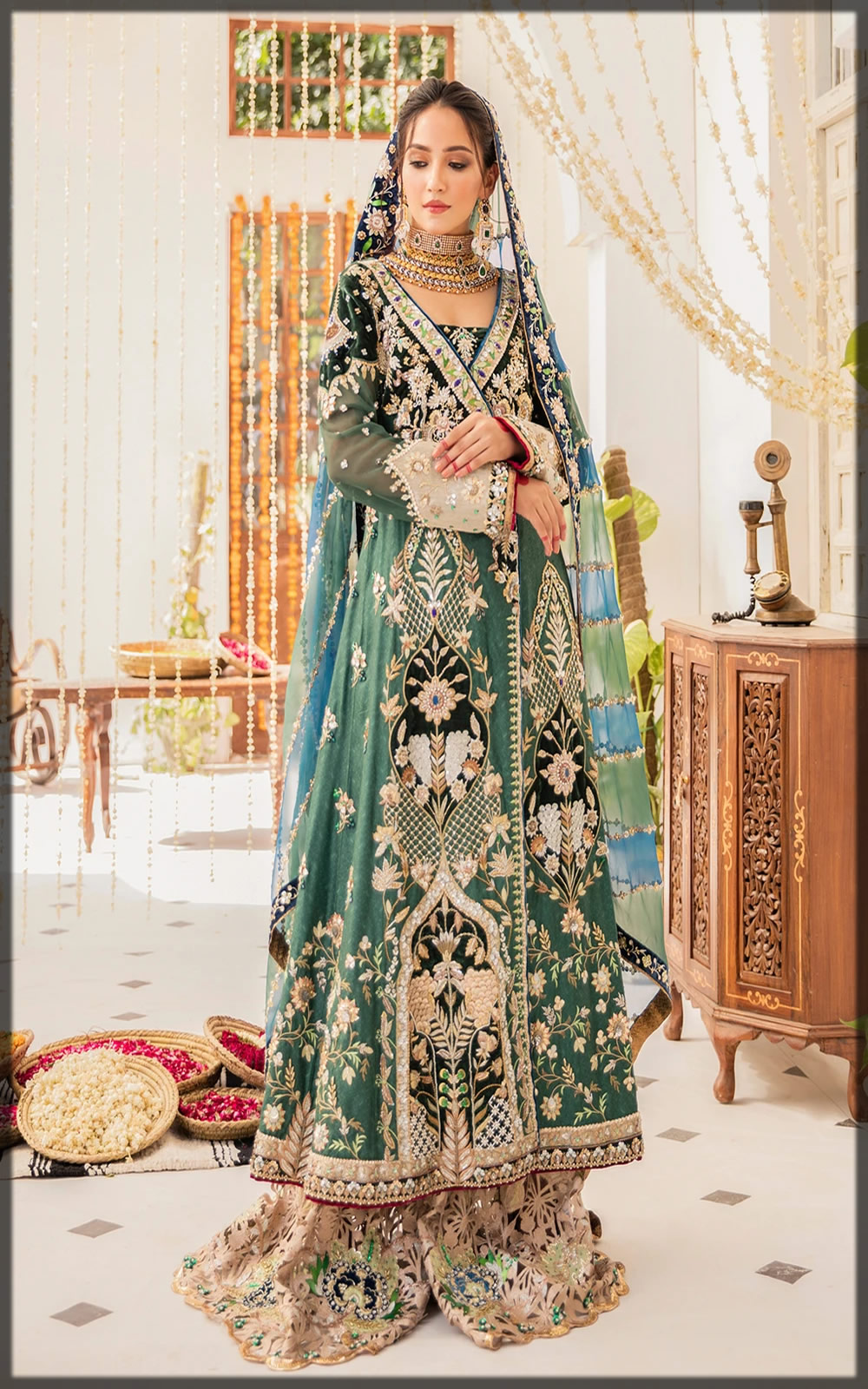 Heavily Embellished Orange Lehenga Choli
Challenge your individuality on your mehndi night with the following heavily embellished orange lehenga and crop top choli. Sable vogue never fails to impress the public with its authentic and stylish designs. You will rarely find a masterpiece like the following to wear at your wedding.
The design comes with a heavily embellished lehenga with crop top choli. Further, it is coordinated with a pearl-embellished net dupatta. Make a proper finishing with exquisite bridal makeup and have a joyous event. You can get similar dresses from Mohsin Naveed Ranjha bridal collection too.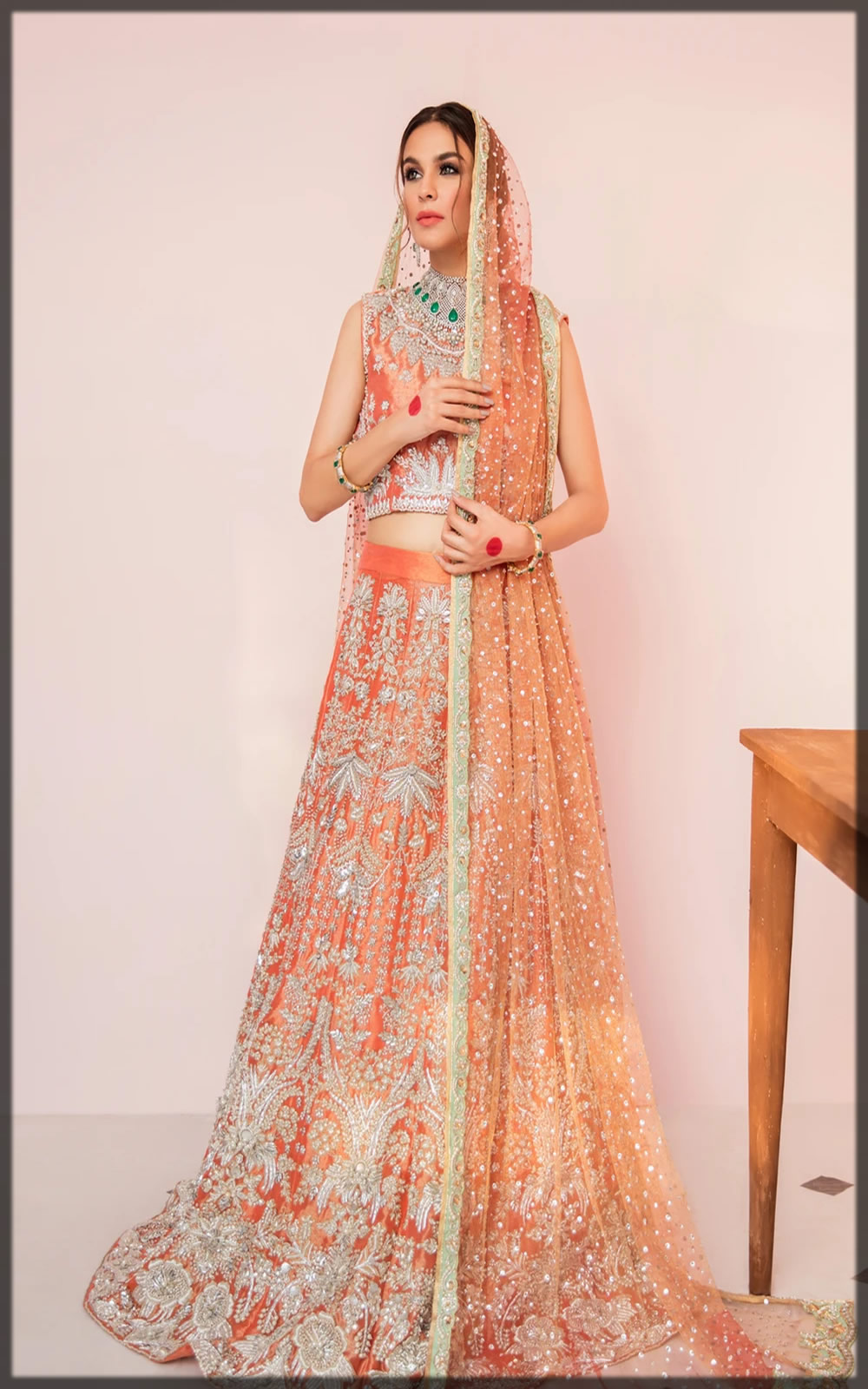 Vibrant Barat Dresses for Wedding Brides
After a blissful mehndi night, brides are ready to create a more traditional look on their big day. Indeed, Barat is the most significant and memorable day for a bride. Therefore, she always looks for a vibrant and chic style to create an illuminating and impressive look. Here we have a collection of extravagant bridal barat dresses for you. Please have a look at the portfolio.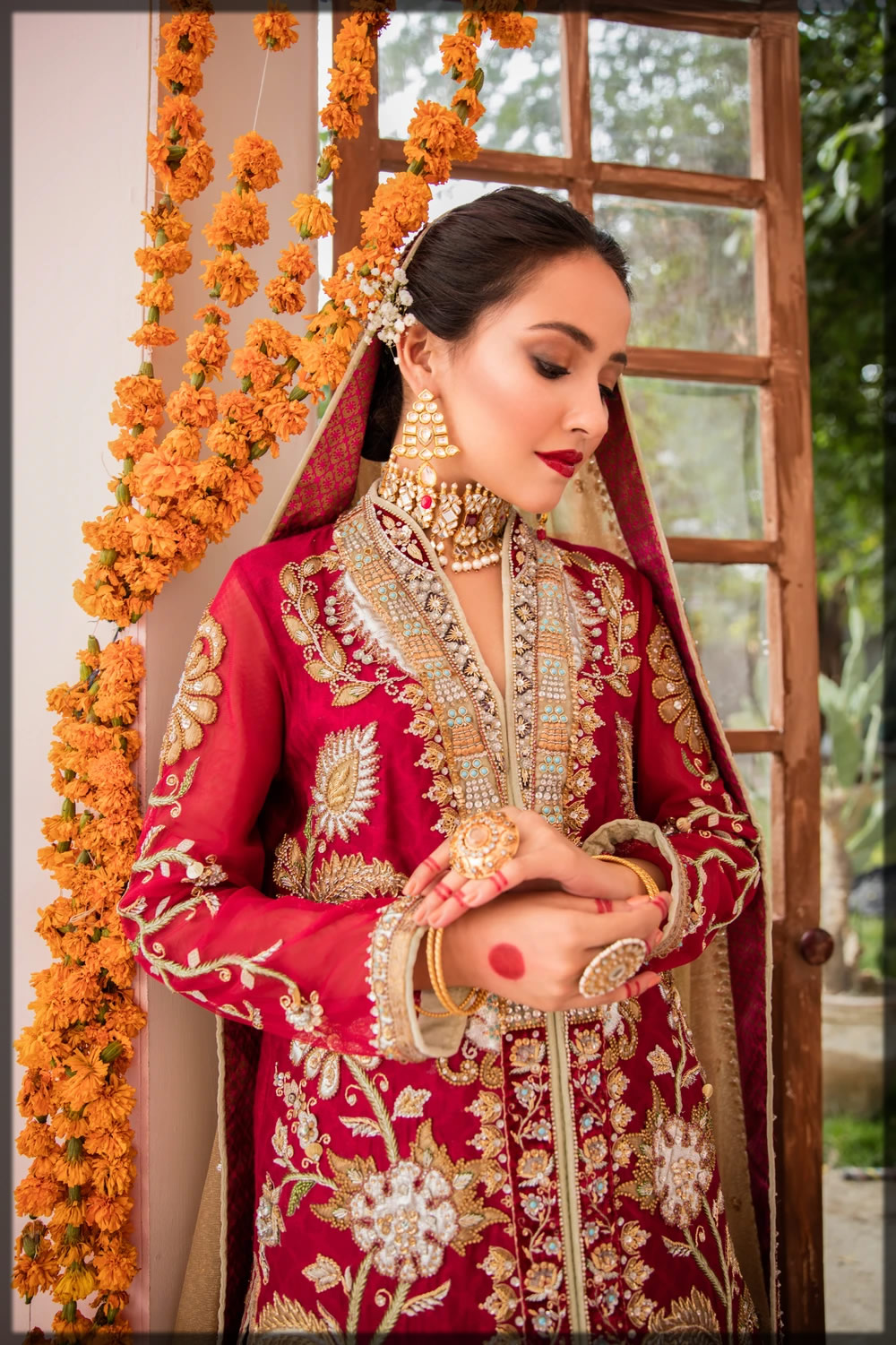 Embellished Front Open Shirt with Velvet Trouser
Front-open shirts are always welcomed by modern women for a progressively stunning look. Here is a unique and ethereal bridal dress for you that consists of a front-open shirt with velvet trousers. If you want flared lehenga choli and sharara dresses, you can explore Ali Xeeshan bridal collection.
Please take a while to explore the following embellished dress. The high-neck design has a fully embroidered and heavily embellished front with a cut. Further, it has a velvet embellished patch for the border. The outfit is completed with velvet trousers. Also, the velvet dupatta has an embellished border to complete the bridal vibe of the look. Please give it a thought!!
Contrasting Peach and Red Bridal Barat Dress
Who says that peach is the color for walima or engagement? Well, you might have seen splendid engagement dresses in peach color, but you can wear the same shade on Barat too. Here is a beautiful peach-colored dress for you. The following style has a straight long knee-length shirt with heavy embellishments.
Further, it has appropriately embroidered sleeves and back. The outfit is coordinated with a heavily embellished contrasting red palazzo. Plain net dupatta with embellished borders completes the whole look. You can carry a velvet red shawl to upgrade the look.
Shocking Pink and Plum Bridal Dress
Vibrant combinations always bring satisfactory looks. Also, a bride always wants to brighten up her look on her big day to achieve her dreams. Therefore, Sable Vogue brings you a dreamy combination for your Barat day. Please take a look at the following sharara dress.
The outfit comes in a vibrant combination of shocking pink and plum. You can see the heavily embellished bright pink shirt that comes with a plum embellished georgette lehenga. Get similar vibrant combinations from Saira Shakira bridal collection for your big day!
Embellished Red Bridal Shalwar Kameez
Those who do not want to neglect their cultural heritage always look for a traditional style for their big day. Who says that a bride can not wear shalwar kameez? Breaking the myths and stereotypes, Sable Vogue stepped in to bring a fascinating yet delectable ensemble for you.
Please take a look at the following embellished bridal shalwar kameez. The outfit has a fully embellished neckline and front. Further, it has an embellished shalwar with an elaborated design. The golden dupatta with embellished borders completes the whole look of the dress.
Sable Vogue Bridal Walima Dresses Collection

After a dignified barat look, a girl wants to bring a confident and charismatic look on her walima too. Therefore, a girl searches for a couple of bridal walima dresses to pick the right one. Sable vogue bridal collection brings you another engaging portfolio of pleasant designs below. Please take a while to explore the refreshing and delightful walima dresses for brides below.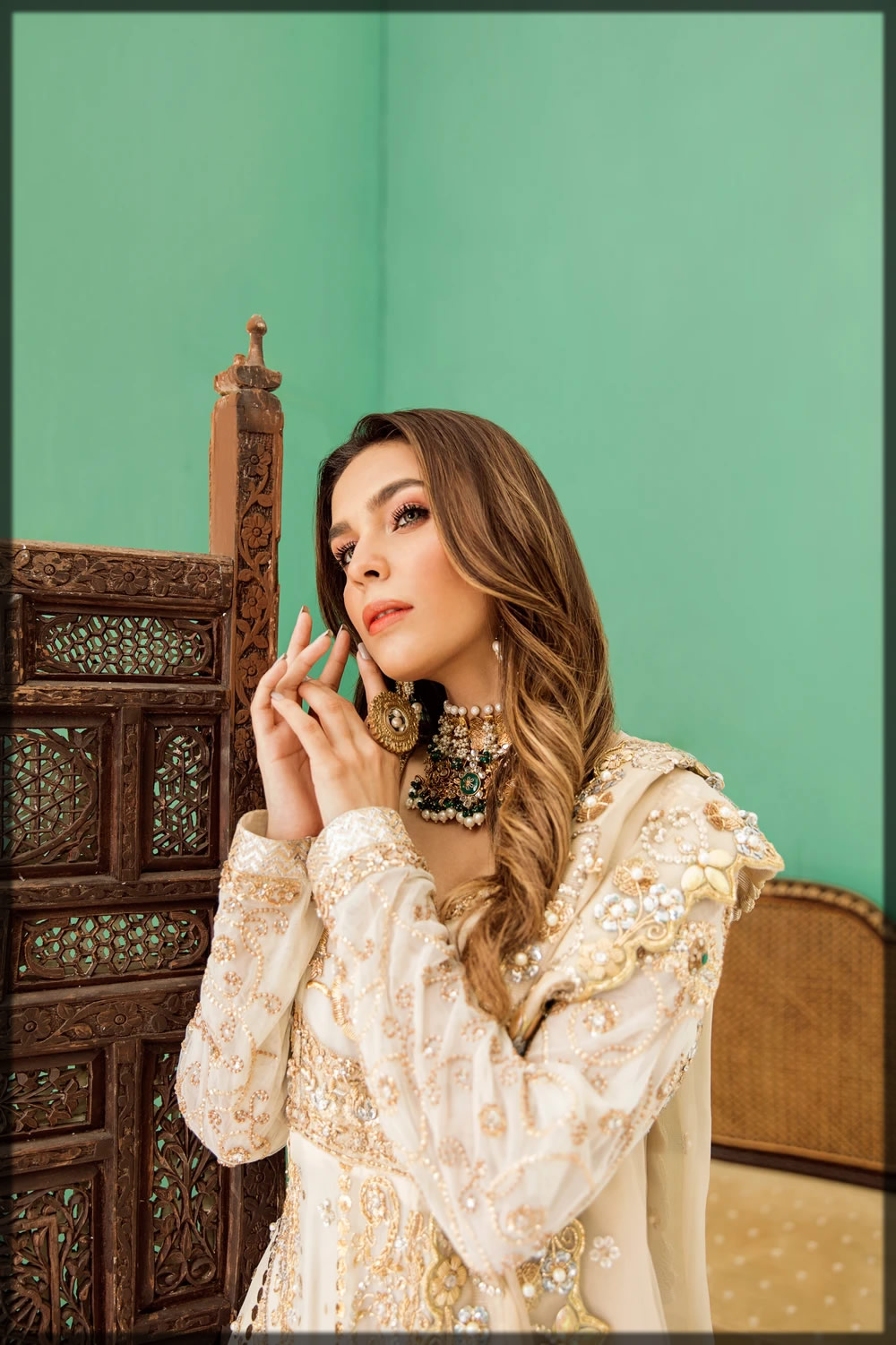 Gorgeous Pistachio Green Embellished Dress
Pistachio green color is by far the most pretty and pleasant color to wear on walima. Therefore, we are presenting you with an enchanting shade and design below. The short-length embellished shirt is combined with georgette printed and pasted lehenga.
Further, it has a net embellished dupatta with side borders for a whole attractive look. A contrasting orange dupatta looks magnificent to enhance the entire grace of the dress. Get similar walima dress combinations and designs from Sadaf Fawad Khan bridal collection.
Light Rusty Net Embellished Dress
Well, you might have seen a variety of embellished dresses in Zainab Chottani bridal collection, but here is more variety. It would be best if you opt for the following light rust ensemble for your walima look.
The heavily embellished and flowy Peshwas can be an ideal choice to wear on walima. Plus, you can create a more subtle and magnificent look if you wear delicate jewelry with this dress. Please take a while to explore the following dress.
Peach Ensembles for Walima Look
It is not essential to wear peach color on walima, but it looks refreshing. Sable vogue bridal collection brings you another image gallery presenting two peach-colored walima dresses. You might have seen more variety in Ahmad Sultan bridal collection, but here is a delightful gallery below. Please give a thought to the following dresses.
So, what are you waiting for? The most inspirational and splendid collection of the year has been launched. Sable Vogue bridal collection is ready to refresh your soul. Please opt for a dress that can suit well to your complexion and personality. I hope you will love the grace and generosity of hues and styles above.