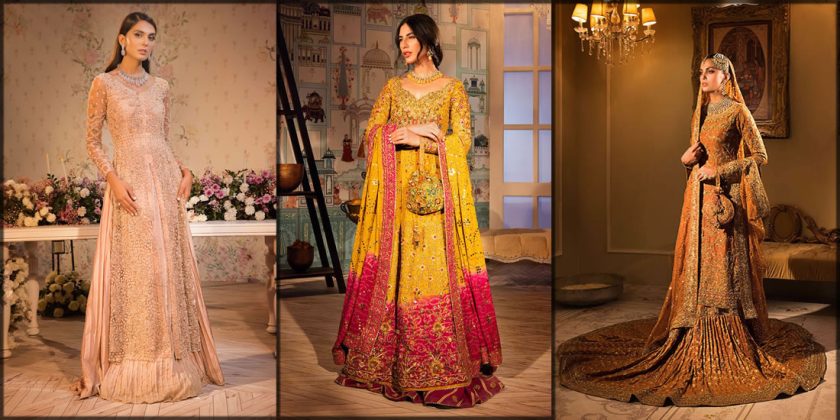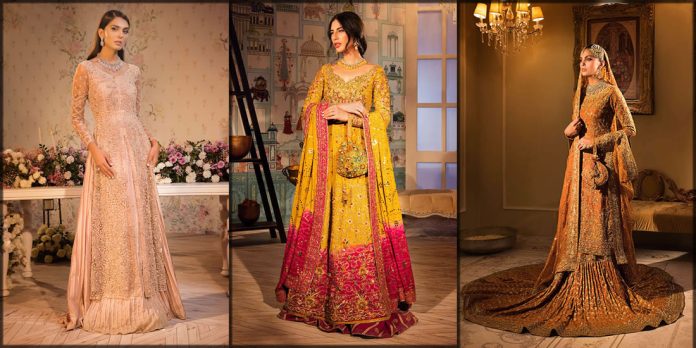 A wedding is the most beautiful thing that has ever happened in someone's life. It is the day when a girl leaves her parents and her childhood home for someone special and starts a new life. So like the feeling, the wedding dress should be beautiful too. With this thought, here we have Ansab Jahangir bridal collection that contains the prettiest and most luxurious dresses for brides. Hence making our big day more memorable.
Ansab Jahangir is the most passionate brand that every wedding season offers dazzling and appealing attire for women of all ages. Recently it launched its bridal collection for all brides who want to look more than a princess on their wedding day. Trust me, these fantastic dresses by Ansab will indeed update your bridal look and make it more charming and radiant. This season, the Ansab Jahangir brand has collaborated with Chupke Chupke actress "Ayeza Khan" for the bridal shoot.
The latest bridal collection of Ansab Jahangir is loaded with beautiful bridal attires. You will get engagement, nikkah, mehndi, Barat, and walima dresses in the most striking shades and patterns. All dark and light shades are used in making the bridal dresses so that everyone can easily pick the color they like. Let's browse the trendy and newest bridal collection by Ansab Jahangir below.
Ansab Jahangir Bridal Engagement, Nikkah, Mehndi, Barat and Walima Collection

Ansab Jahangir always satisfies its clients by providing elegant attires. It also offers all types of dresses for brides to make their wedding event more exciting and unforgettable. Always remember, the not only outfit will make you pretty. You furthermore need the right pair of shoes, classical accessories, trendy hairstyle, and striking makeup to make your overall bridal look beyond beautiful. In the newest bridal collection of Ansab, you will get the:
Engagement Dresses.


Nikkah Dresses.

Mehndi Dresses.


Barat Dresses.

Walima Dresses.
1- Beautiful Engagement Dresses for Brides
Every young girl prefers to execute her engagement day more exceptionally by wearing a fashionable and extravagant outfit. Hence, we have explored the brand to pick some trendy and lavish attires to make your event more classy and awe-inspiring.
Are you worried about your engagement dress and want to look classy on your big day by wearing a striking outfit? The recent collection of engagement dresses by Ansab Jahangir is indeed pretty breathtaking. For more dresses, explore the latest and fancy bridal engagement dresses.
Zardozi Worked Taupe Gown with Organza Ruffle Lengha
Are you looking for a traditional and modern outfit for your engagement? At that point, the taupe gown is the best. The zardozi worked gown is paired with the ruffle lehenga that indeed adds more charm and grace to your bridal look. Moreover, you can wear this fashionable outfit at your nikkah ceremony to look more decent. With this kora and Dabka work outfit, keep your adornments and makeup minimal to make all of your striking looks. For more similar dresses, visit the Saira Shakira bridal collection.
Sprayed Sequins Kalidaar Gown for Engagement Brides
If you like to wear the traditional kalidaar gown, then the below outfit is for you. The sprayed sequins worked gown is further adorned with the zari and stones work. Further. the gown is paired with a gharara, making this outfit more classical and dazzling. One of the best and most stunning outfits for your engagement to look more smart and chic. Try wearing the green and golden shaded gemstone with this lovely outfit to make all of your breathtaking flashes.
2- Ansab Jahangir Bridal Nikkah Dresses
Nikkah is the most important event in a girl's life. The day when one signature changes your whole life. So, start your new beginning by wearing a bright and stunning dress. The bride and groom always remain the center of attention. Hence both must dress up well at all wedding events.
For your nikkah event, the Ansab Jahangir brand is the most trustworthy that offers all kinds of nikkah dresses for women, including lehenga choli, gown, maxi, and shalwar kameez style. So you can effortlessly pick any style you like to wear. These latest bridal nikkah dresses of Ansab are improved with sequins, kora, dabka, and shimmery artwork.
White Raw Silk Pure Dabka Worked Kalidar with a Gold Jamawar Lehenga
Girls of all ages prefer the nude shaded attires for nikkah. The below-white raw silk kalidaar gown is ideal for those who want to look decent and modest. The jamavar lehenga and organza cut-worked dupatta enhance the glory of this outfit. If you want to look smarter, pair your sleek white outfit with lightweight accessories and striking makeup to make all your striking and alluring looks. Further, tie your hair in a bun style to look more pretty.

3- Colorful Mayun/Mehndi Dresses for Bridal
Mehndi is one of the most-awaited and joyful events, in which all family members come to bless the bride by applying the henna on the bride's hand. Mehndi is considered a colorful event. Hence you must need a classical and remarkable dress to make your mehndi event more breathtaking.
In the latest bridal collection of Ansab, you will receive all the colorful bridal dresses for the mehndi event. You will find the green, yellow, pink, orange, shocking pink, and lime hues dress that is prettified with excellent artwork. Look down at the image gallery of Ansab Jahangir bridal mehndi dresses and pick your favorite style for your mehndi event.
Mustard and Fuchsia Pink Chunri Ensemble

Mustard is considered the traditional color for the mehndi event. If you want to grab the classic look on your event, give a chance to this mustard long gown that refreshes your look and makes it more dazzling. Combine this sleek outfit with the yellow shaded accessories and brownish makeup to make all of your astonishing and appealing looks. Never forget to wear the"Gajra" on both hands, adding immeasurable vibes to your mehndi look.
Emerald Green Zardozi Worked Lehenga Choli

If you don't like the typical mehndi yellow color but still want to look classic and traditional? Then pick this emerald green lehenga choli from the collection, and I am sure you will never be dissatisfied. This beautiful outfit is furnished with golden tilla and dabka work, making your mehndi look more striking and captivating. Combine this fabulous outfit with golden jewelry, green bangles, stunning makeup, and a trendy hairstyle to get a graceful look. Deepak Perwani bridal collection also comprises the impressive mehndi attires for the bride.
4- Ansab Jahangir Bridal Barat Dresses
Bridal Barat dresses are the most searched topic because many of us want to make our Barat day more special and memorable. It is achievable when you look more than a princess. To look beautiful on your special day, you need an impressive outfit. Because the outfit is the most significant thing that makes any style more stable and dazzling, let's explore the latest bridal dresses of Ansab Jahangir that accommodate a wide variety of Barat dresses in the most striking and lovely hues and patterns.
Red Wedding Dress for Barat Brides



Red is the mythical color that all brides like to wear on Barat day. The below bright red long shirt is heavily adorned with sequins and kora work. It is paired with the gharara and heavily embellished dupattas. This dress is perfect for those brides who like to wear heavily decorated clothing. For an impressive and decent look, pair this striking outfit with bold makeup and single necklaces to make your look more pretty. Further, split your hair in mid-parting by adding some curls and wear the high heel shoes to complete your look.
 Burnt Orange Long Kameez with Kattan Jamawar Farshi Lengha

Burnt orange is a different and stunning color that is in trend these days. Nowadays, ladies love to wear orange outfits on their big day. So, for those ladies, the below outfit is best. The all burnt orange outfit is prettified with the golden 3D flowers and golden kora work. Moreover, it is paired with the Kattan jamawar farshi lehenga. You can likewise wear this breathtaking outfit at your nikkah or walima ceremony as you like. Further, have a look at the Asima Jofa bridal collection for more variety.
5- Ansab Jahangir Bridal Walima Dresses Collection

Walima has a significant value in Islam, and it is mandatory after the nikkah/Barat. The walima brides prefer to wear light and nude shaded attires. According to this concern, Ansab used light and nude shades for making its bridal walima dresses. You will get all nude shaded attires in the latest collection of Ansab in the following styles:

All you require is to grab the right attire to adorn yourself well. 
Coral Pink Long Shirt with Farshi Gharara And Pure Lame Mesoori Dupatta

On walima, usually, brides wear the gown or maxi. Hence all notable brands of Pakistan offer a wide variety of bridal maxi dresses. If you also like to wear the maxi on your walima, pick this below outfit by Ansab Jahangir to make you look like a princess. All you need is to pair it with beaded accessories and appealing makeup.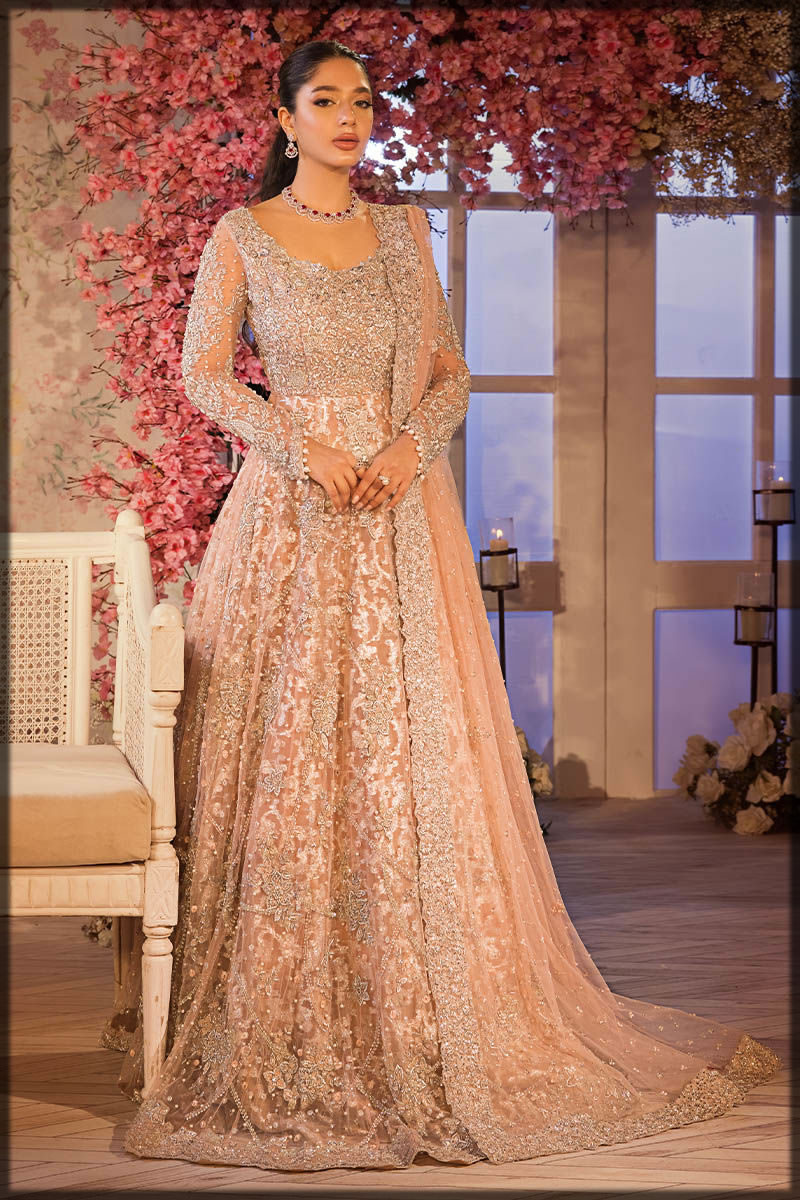 Bridal Saree by Ansab Jahangir for Walima Brides
For gatherings, weddings, and occasions, most of us like to wear a saree to look more modest and smart. For your reception, you can pick this stunning saree and add more shine to your look. All you require is to pair it with the classical adornments and makeup to grab a decent and striking look. Moreover, explore the Fahad Hussayn bridal dresses.
Malmaison Rose Metallic Shimmer Lehenga Choli with a Scalloped Dupatta
Malmaison Rose is a combo of vivid and dazzling hues best for the reception to slay the event. Take a look below at the metallic shimmer lehenga choli that is prettified with the shimmery and dabka artwork, indeed adds more sparkle and shine to your walima look. Pair this fabulous outfit with pinkish makeup and a classical hairstyle to surprise the crowd with your pretty and adorable look. For more shimmery dresses, explore the Maria B bridal dresses. 
Ansab Jahangir Bridal Collection x Ayeza Khan

Did you know about the strategic launch of dresses by clothing brands? If not, then you need to notice the changes and advancements. The technological advancement aids to create innovative designs, despite the season & occasion. You will experience many volumes of lawn and winter dresses by your favorite brands. Similarly, the bridal designers launch new & modest volumes of bridal dresses for the upcoming brides. You can confirm the words by exploring Aisha Imran's bridal collection as it has recently updated a new volume.
Similarly, Ansab Jahangir has launched another impressive volume of bridal dresses for you. Please take a while to explore the charming and pleasant dresses below. The sheen and glamorous combinations and attractive designs will make you look beautiful at your wedding. You can see many designs of Mehndi, Barat, Walima, and Nikah dresses in the following portfolio. Well, there is a similar variety in the Mirusah Bridal collection as well. But, you will look significantly modern and beautiful if you will opt for Ansab Jahangir's following collection.
This stunning Ansab Jahangir bridal collection is conceived with pure and soft fabric that updates and refreshes your bridal look and keeps you fresh and cool. Try to pick lavish attire according to your skin tone, body shape, event, and choice. Because some dresses look good on the slim figure while many others look adorable on the fat figure. So, try to pick the right outfit to make all of your breathtaking and appealing looks.