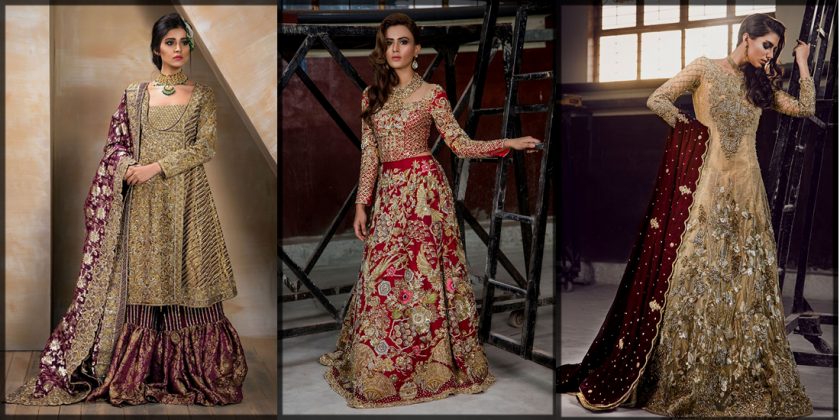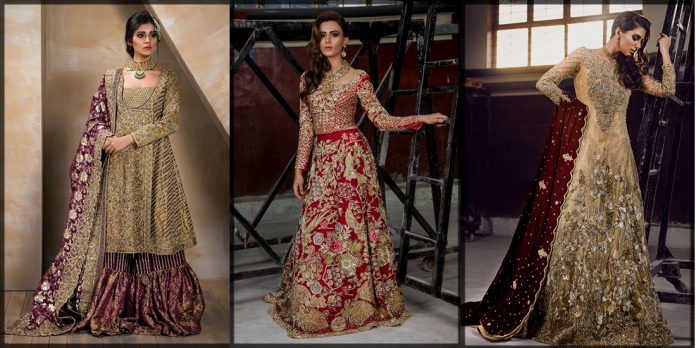 Beauty is not having a beautiful face, it's all about wearing a classy and striking outfit. So, be luminous as the sun on your wedding day by wearing a luxurious and dazzling outfit. So let's explore the Mirusah bridal collection and wear the fantastic outfit on your momentous day to illustrate your character.
A satisfying inner gives the simple lady courage to walk with confidence. For example, you are in the center of attention on your wedding day, and everyone is excited to see the bride's outfit. Furthermore, when your inner soul is happy, then you will walk in confidence. Hence always pick the adorable outfit to make your intellect satisfied and spread your fragrance & sparkle everywhere.
In the latest Mirusha bridal collection, you will get the latest styles of dresses for all brides. They use the newest pattern and brilliant colors shades to make its latest collection awe-inspiring. So let's browse this blog towards the end and get the incredible and beautiful attires for mehndi, walima, and barat brides.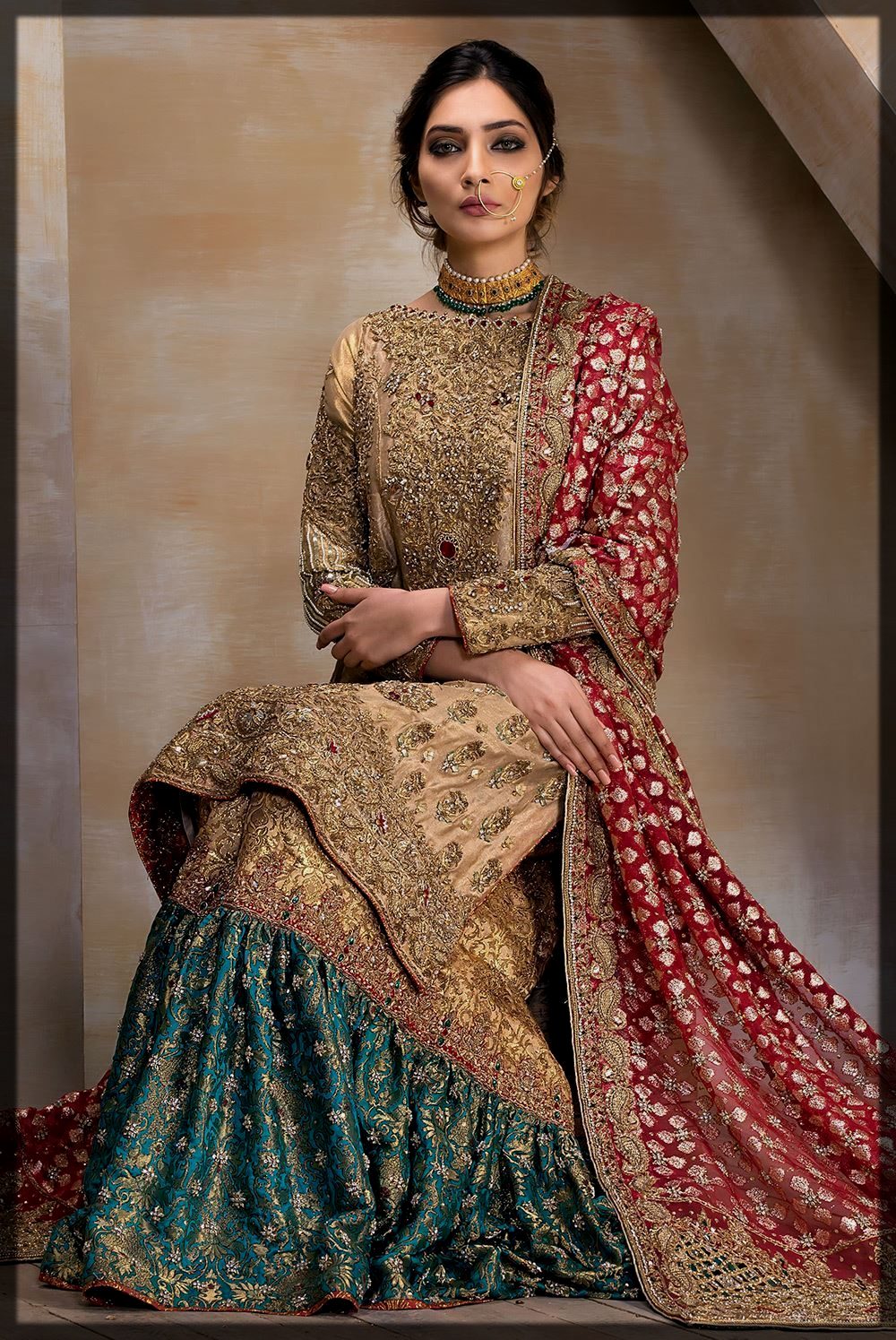 Mirusah Biography
Mirusah is the name of strength and resilience. The main headquarter of this brand is in Lahore. It offers various varieties of dresses, including luxury pret, semi-formal, formal, and bridal. In their dresses, you find the uniqueness and newness that renew your look and make it more dazzling. It also offers a worldwide shipping facility for its clients. 
Return and Exchange Policy:
Here is some strict policy of this brand.
Specially customized formals, bridals, and semi-formals will not be exchanged.

Washed, used, or altered dresses can't be changed.

You will return or exchange the product if you have the original price, tag, and packaging. 
Shipping Fee:
Within Pakistan 300RS.

International shipping charges are 30$.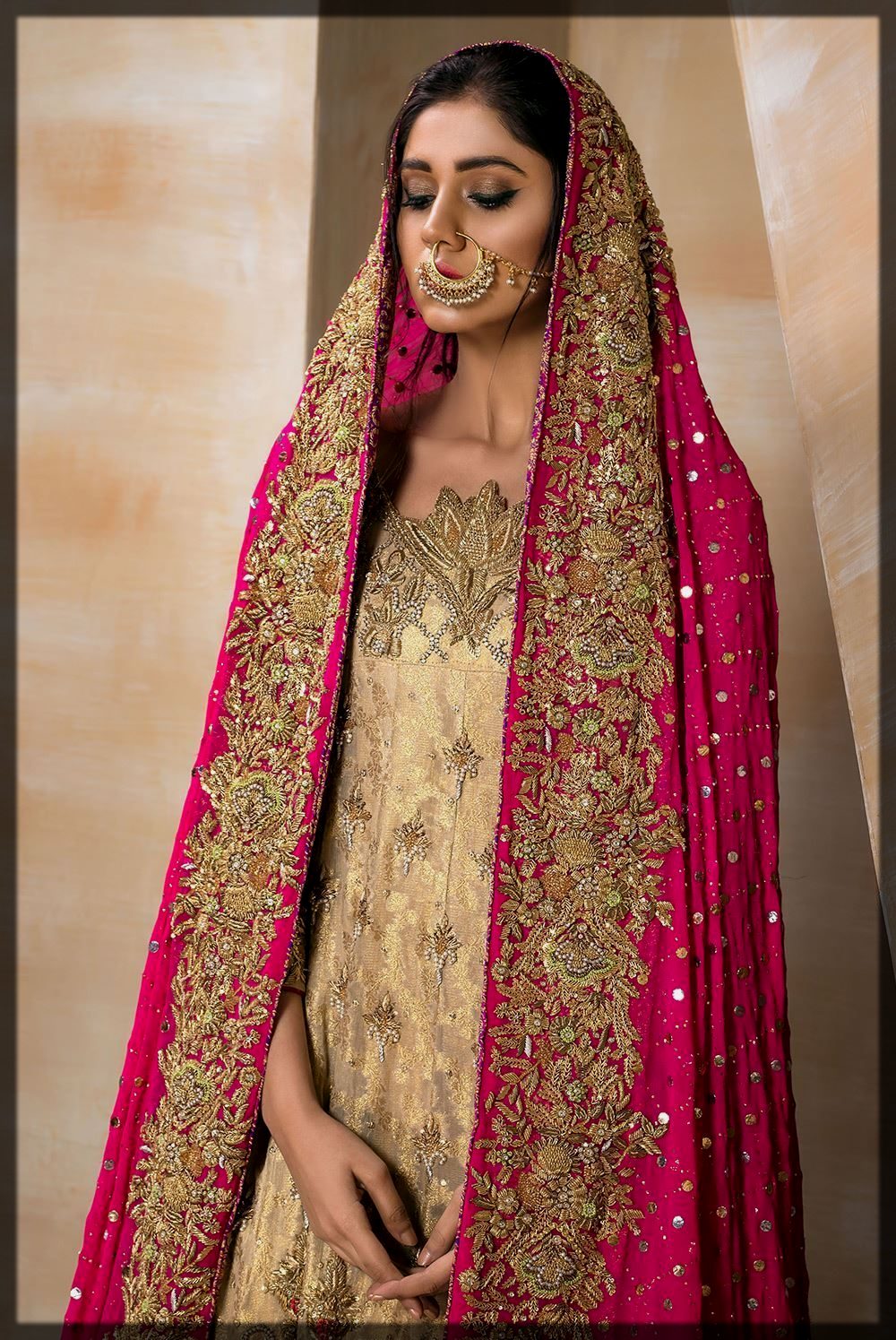 Classical Bridal Dresses Collection for Women by Mirusah

Wearing a classical and appealing outfit is the fantasy of women. Hence they start preparation a month ago to make their wedding event jazzier. For this, they explore many notable brands to find the best bridal outfit for themselves. So for your comfort, we have gathered the best bridal dresses from the Mirusah catalog that indeed gives joy to your heart by making your bridal look splendid and striking.
In their bridal dresses, you will get elegance, class, and self-fulfillment that surely makes your bridal look incredible.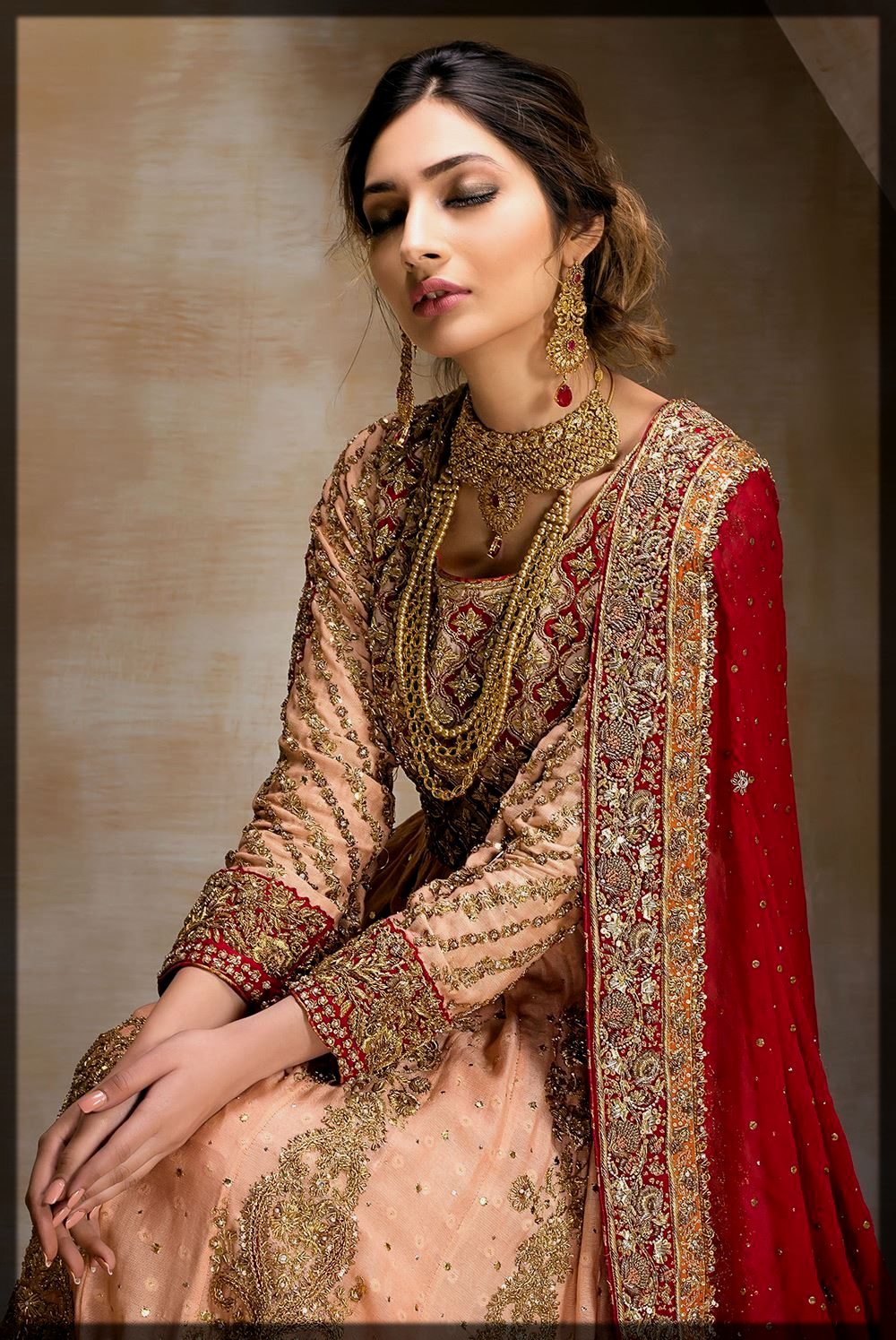 Gold Tissue Shirt with Gharara for Brides

This beautiful combination is perfect for those brides who want to get a queen look on their big day. Gold tissue shirt fully embellished with sequins and zari work is matched with the zari organza dupatta, which has heavily adored borders. In addition, it is paired with a deep green and gold gharara. You can wear this stunning outfit on your barat day to make your bridal look extraordinary.
With this striking outfit, try to apply the nude makeup with smokey eye makeup and wear the golden and green shaded necklace to make your look extra sparkling. Furthermore, wear the classical bridal nose pin and catch a fantastic glimpse.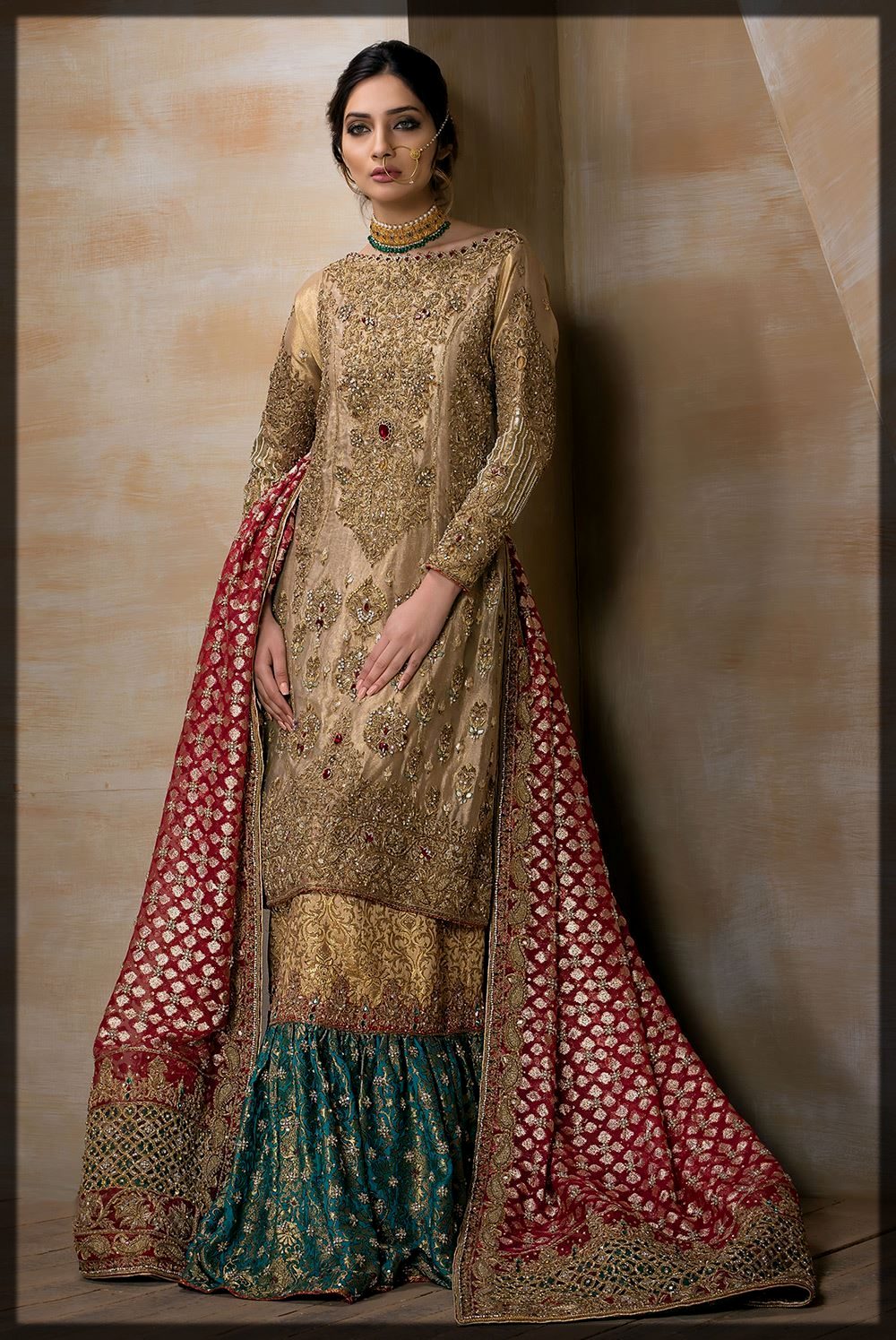 Engaging Silver and Lilac Mirusah Bridal Outfit
For walima, usually, brides prefer the nude and soft-shaded outfit. So for those brides, the below silver and lilac bridal maxi is the best. This stunning Pakistani bridal maxi is adorned with thousands of crystals. It is paired with the lilac dupattas and gharara that are likewise encrusted with delicate embroidery.
If you want to make your walima look breathtaking, never skip this outfit and pair it with lightweight makeup, straight hair, and matched gemstones. Also, visit the Bridal walima dresses blog for more dresses.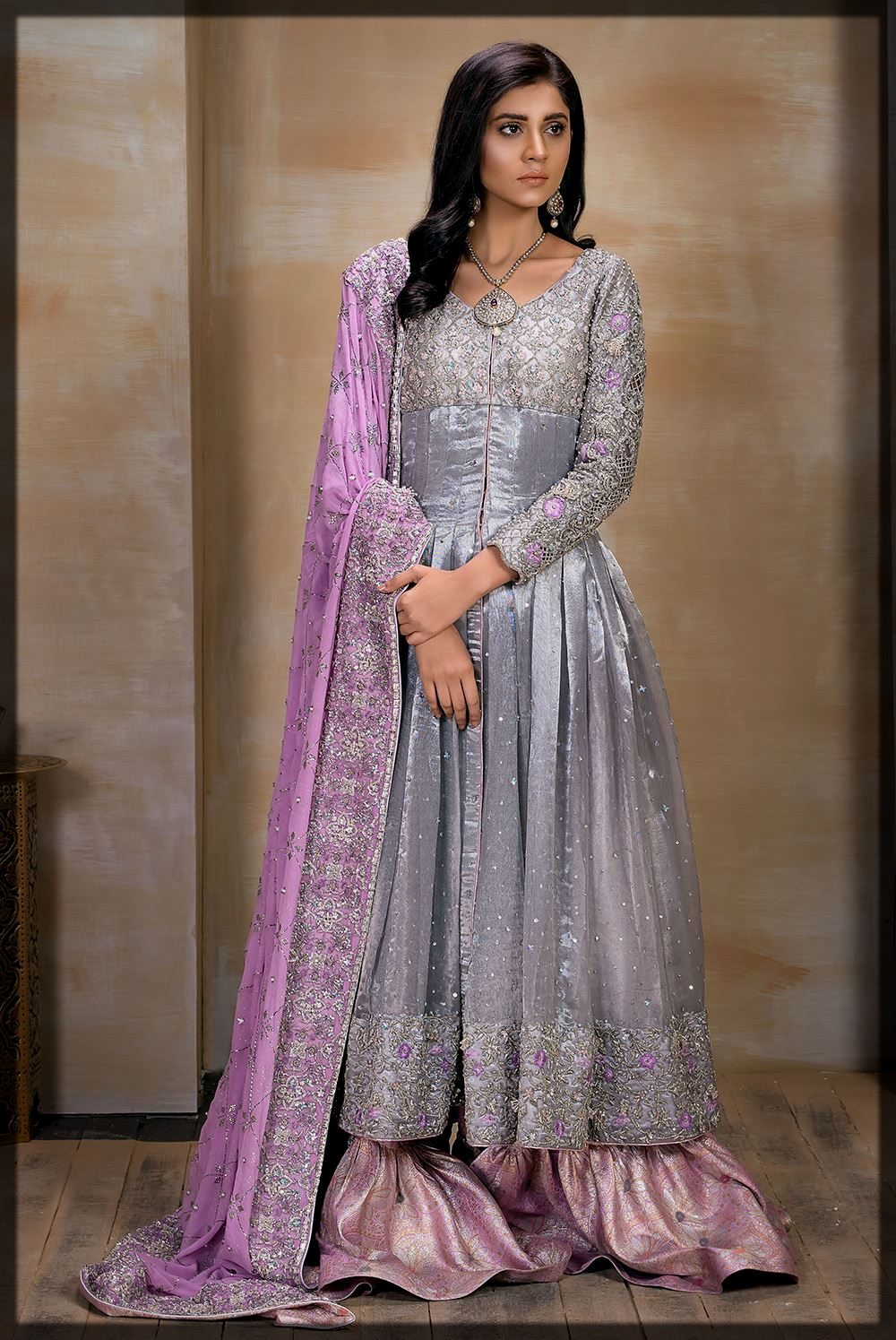 Soft Peach and Deep Red Bridal Barat Outfit
Another most enchanting and adorable combination for barat brides. The soft peach heavily enhanced maxi has the deep red fully embellished blouse. Further, it is paired with the deep red lehenga and dupatta that are also nicely riched. One of the most appealing outfits from the Mirusah bridal collection to slay your barat event. For more attires, explore the bridal barat dresses that contain impressive clothes for brides. 
Some Fashion Tips: With this softly shaded outfit, apply nude yet delicate makeup and massive gemstones. Further, wear the matched block heel shoes, knot the hair in any trendy style you like, and make your look extraordinary and charming. 
Gold Kalidar Gown with Pink Kamdaani Bridal Dupatta
Everyone prefers unique attire to stand out. However, this one is undoubtedly a beauty! Look down at this beautiful gold and pink outfit from the Mirusah bridal collection that gives you a royal look. The beautiful gold kalidar gown with a rich neckline is paired with a gorgeous pink dupatta and gharara. 
Pro Tips: If you want to grab the stunning look like the below model, then you need to obey the followings steps:
Apply the brownish makeup with smokey eyeshadows and cat eyeliner.

Skip the others accessories and only wear the nose pin.

Tie your hair in a loose bun style.

Wear the cone high heel shoes, and your captivating bridal glimpse is ready.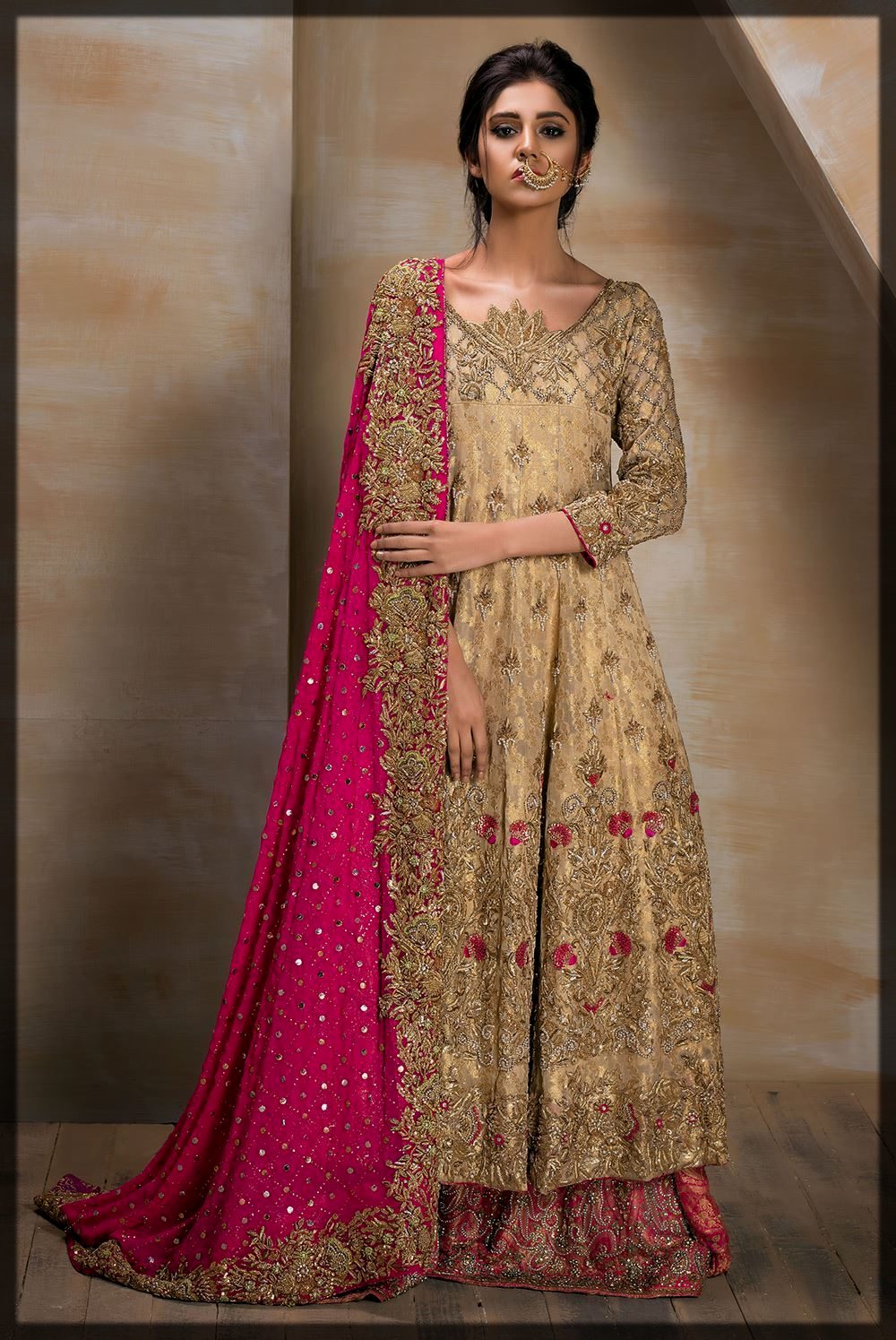 Bronze and Gold  Heavily Embellished Mirusah Bridal Outfit
Mirusah well knows how to play with the colors. Hence you find the stunning bridal attires that are prepared with the brilliant and fantastic color combination. As you see below, the bronzer and gold bridal outfit is fully embellished with the crystal and sequins artwork. You can carry this outfit on your barat, mehndi, or walima day according to your choice. Tena Durrani bridal dresses are also paired with unique color combinations, check it also.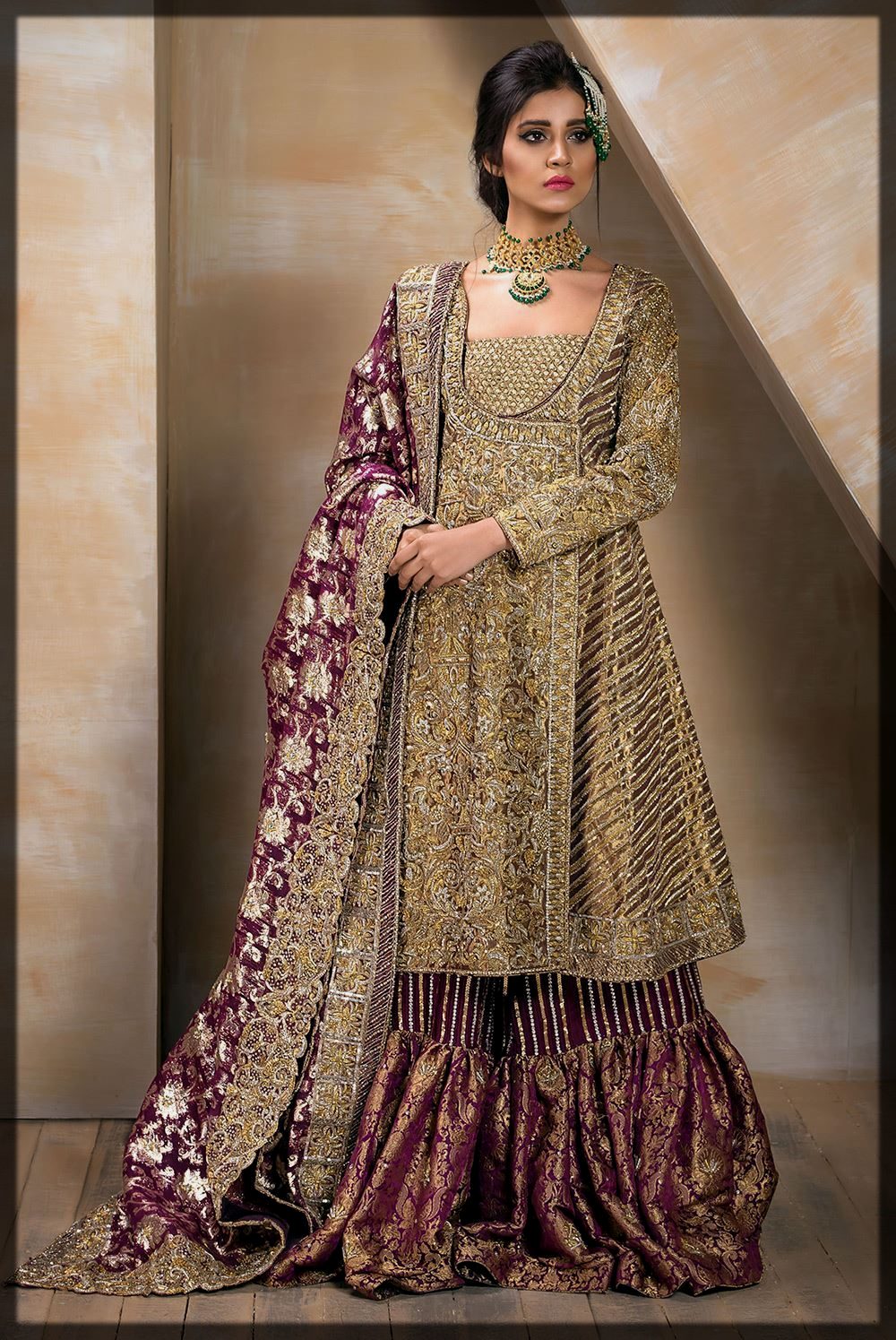 Richly Hand-Embellished Mirusah Bridal Dress
Suppose you make your bridal look awe-inspiring on your engagement day. Then grab this richly hand-embellished outfit from the Mirusah store. That is artfully decorated with bronze and golds work. You can also carry this outfit to any wedding event to make your look splendid and striking.
Mirusah also provides the facility of customization for their clients. So you can customize your own dress according to your choice. All you ought is to go to the official site of Mirsha and place your order. You can also visit their physical store, which is situated in Lahore. Furthermore, browse the engagement bridal dresses for more variety.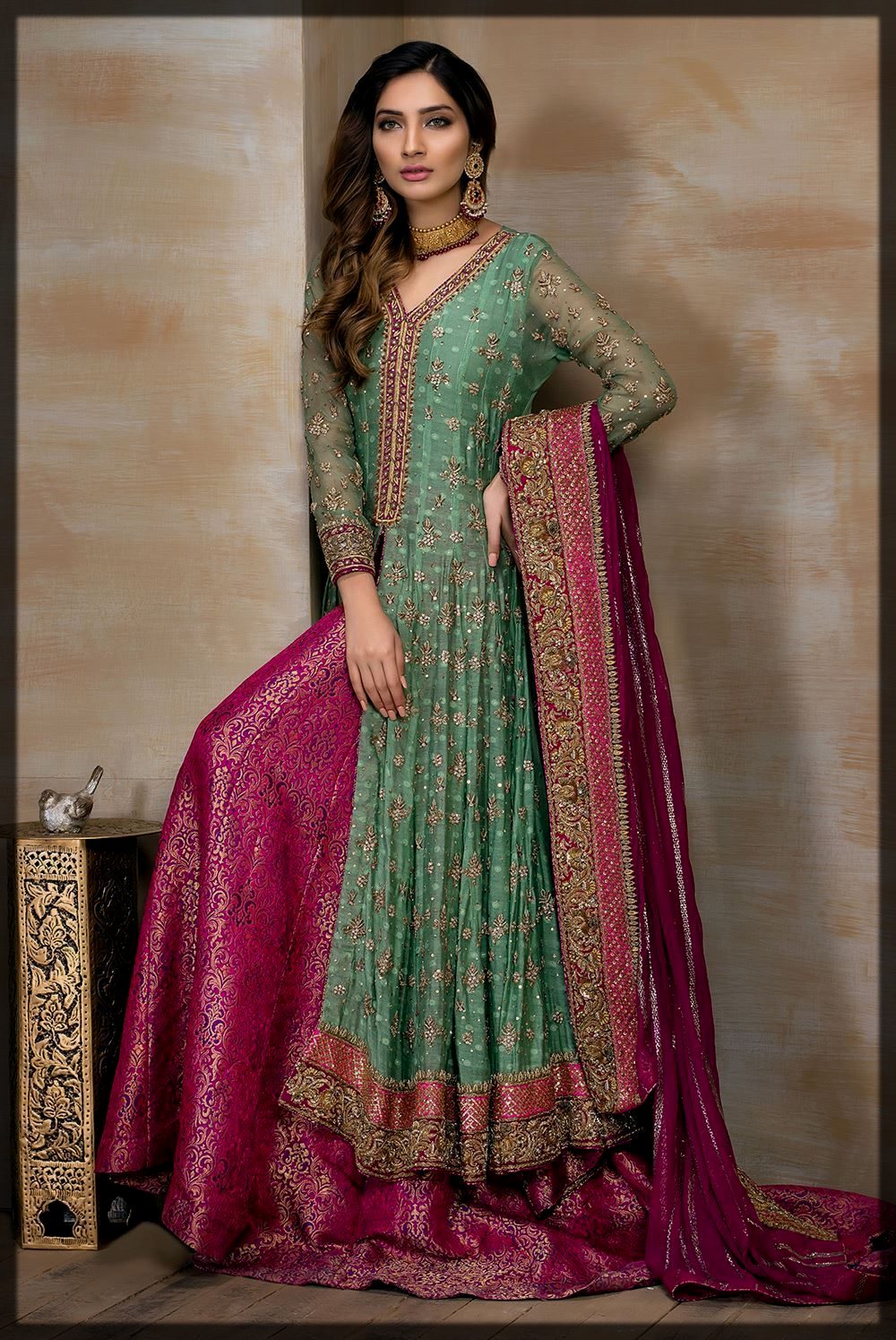 Classy Red Lehenga Choli with Impeccable Detailing
The barat brides like to carry the traditional red lehenga on barat day. So look down at the gorgeous shade of red that is thoroughly oriental with motifs and impeccable detailing. This outfit indeed gives you a luxurious look. So hurry up and grab this outfit from the Mirusah store and add more glory and charm to your look. Also, visit the Hsy bridal dresses for more options.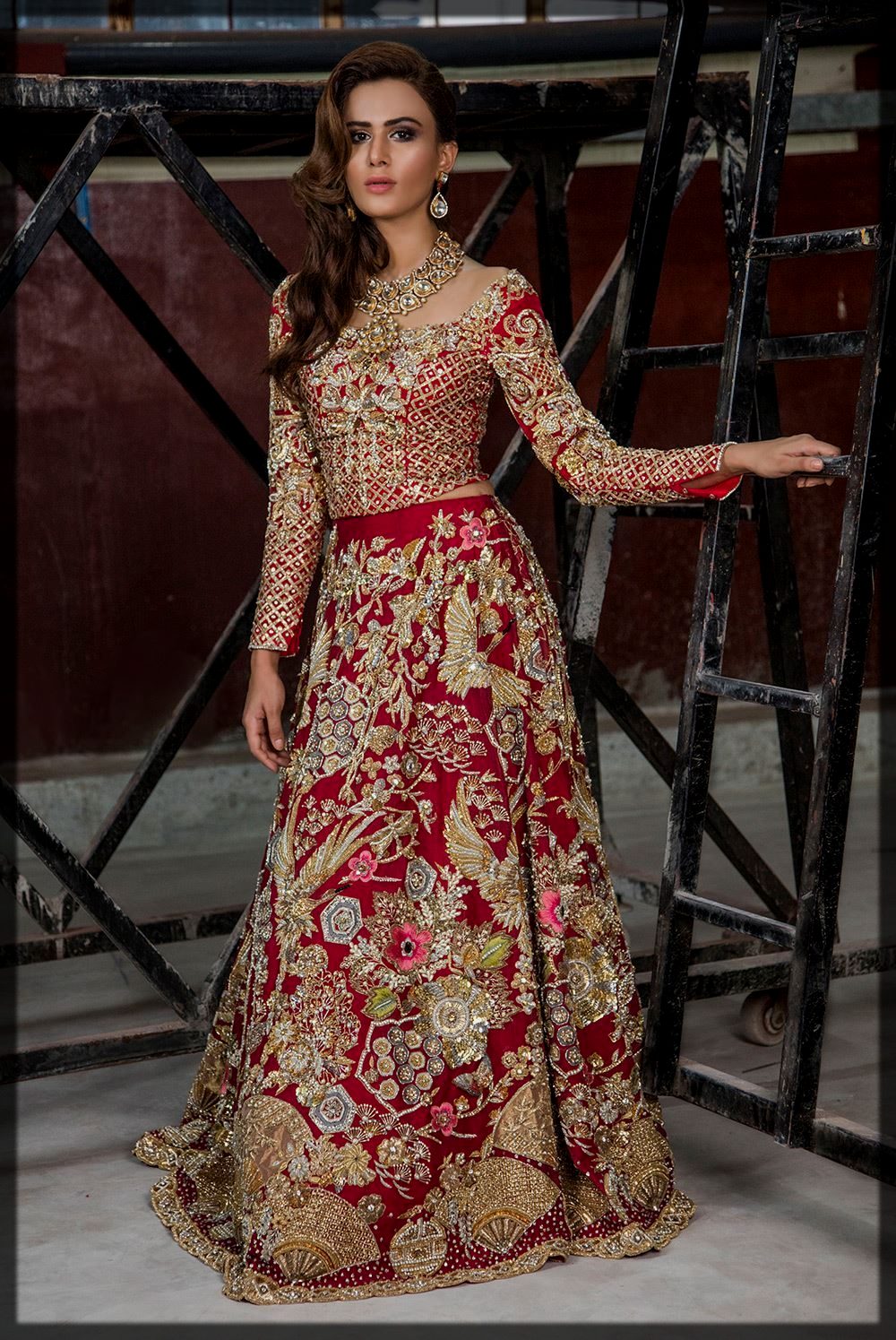 Metallic Glod Tissue Gown for Brides
If you want to wear the latest pattern attire on your big day. Then without any equivocation, catch this metallic gown and increases your barat beauty. The beautiful tissue gown with a luxurious trail help to make you look royal. Moreover, the outfit and dupatta are prettified with sequin, crystals, and a metal wire that makes you look rich and stunning. Fahad Hussayn bridal dresses also offer gorgeous gowns in tissue and metallic fabric for brides.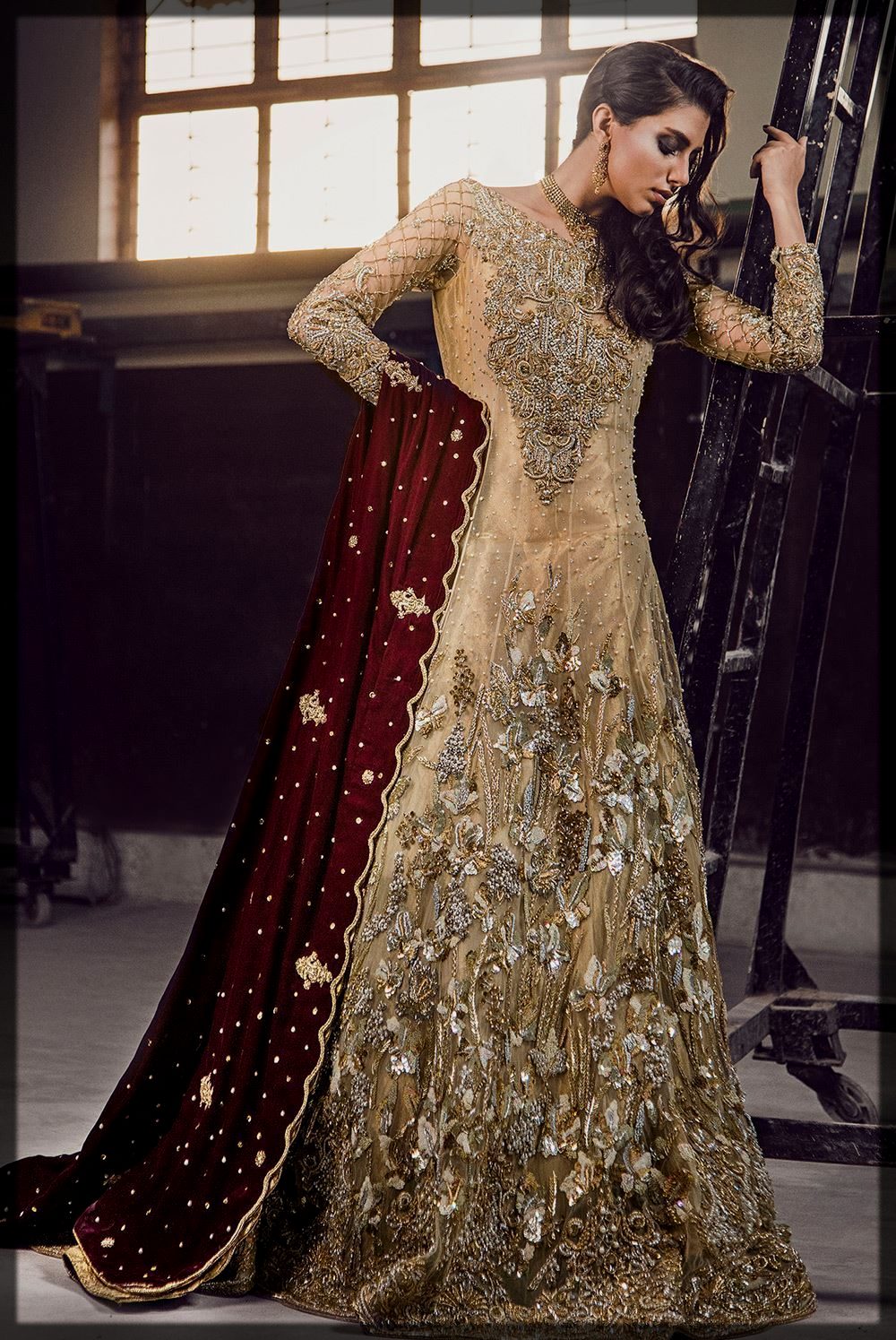 Beautiful Sky Blue Peplum with Lehenga
Peplum and lehenga is the ideal choice for fashionable girls. This sky blue outfit contains the short sky blue peplum that is fully adorned, and it is paired with the net lehenga that enhances with the pearls and the Resham accents. You can wear this captivating outfit at your engagement party to make your look splendid and striking. Furthermore, you can also carry this adorable outfit on your Walima day. Ali Xeeshan bridal dresses are also very awe-inspiring.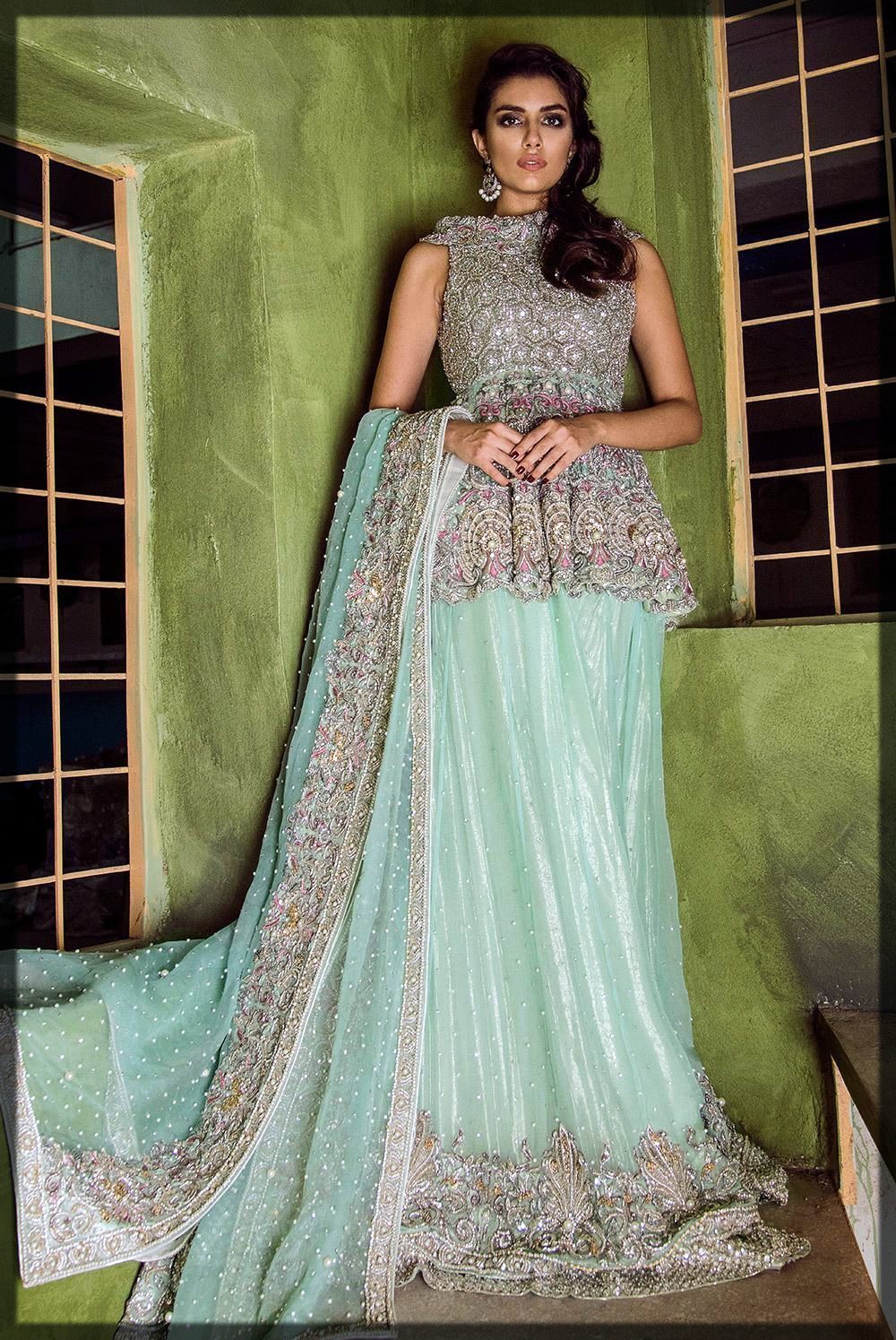 Heavily Embellished Mirusah Bridal Dress
Some girls want to remain classical and decent. In contrast, many others like to wear heavily embellished dresses to make their bridal look luxurious. So, for those ladies, the below outfit is best that indeed gives them a rich and royal look on their momentous day.
You can wear this outfit at your barat event and also engagement. The choice is yours. Further, pair this striking outfit with nude makeup, loose curls hair, massive gemstones, and high heel shoes to stand out. Moreover, explore the Maria B bridal dresses that likewise contain the heavily enhanced dresses for brides.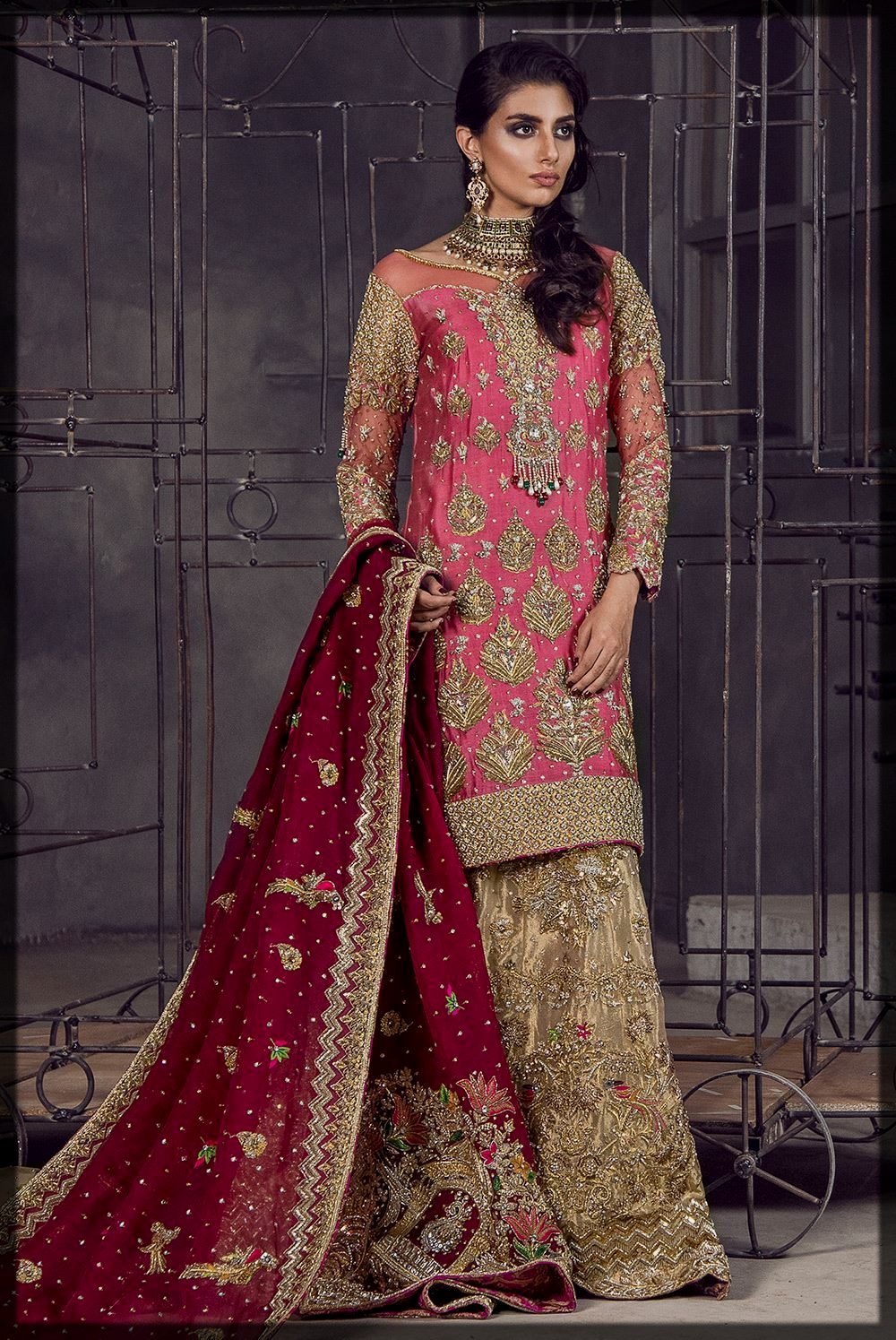 In this Mirusah bridal collection, you will get beautiful bridal attires that are prepared with the best color combinations and patterns. You can carry these attires to your wedding to make your look splendid and striking. You can likewise wear these dresses at your sibling's wedding if you like. All you have to do is grab the right shade and pattern according to the latest trend and fashion.