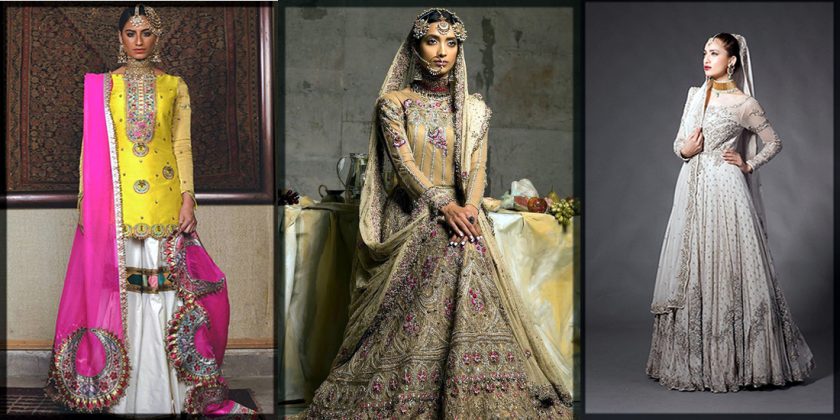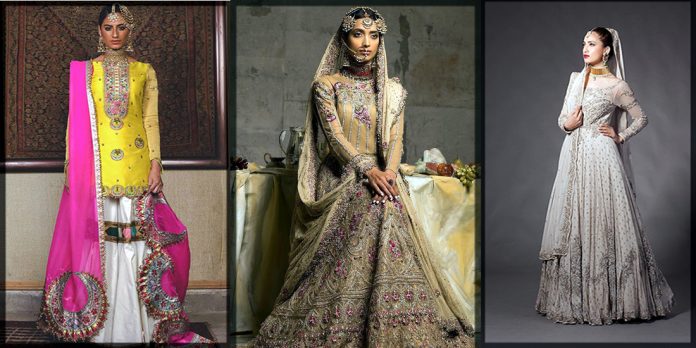 Check this blog to find the latest Fahad Hussayn bridal collection and make your look engaging and lavishing by wearing the stylish outfit from the Fahad Hussayn Studio. This brand consistently tries its best to furnish the most charming and beautiful clothing types to its customers.
A wedding is the most fantastic day of everyone's life. It is the day when the bride wishes to look appealing. Particularly, young ladies want to set the new trends by wearing the most exquisite and lavish dress on the big day.
These clothing types comprise of most contemporary and fantastic styles that will make your look dazzling and flawless. If you need to make your wedding occasion more noteworthy, at that point, all you need is to co-ordinate your outfit with the gems and tasteful footwear and complete your wedding look.

Fahad Hussayn Bridal Mehndi, Barat & Walima Wedding Dresses Collection

In the Fahad Hussayn wedding assortment, you will discover the carefully assembled designs with a conventional touch. The thread, zardozi, gota, and tilla work is used on delicate fabrics like silk, chiffon, etc. for making their attires more innovative and animated. In this blog, you will get the mehndi, walima, and barat day dresses, which will add to the charm of the wedding day and make it more striking. In their assortment, you will get a wide range of wedding dresses with an eastern touch.
Gharara Dress for Mehndi/Mayun

Have a look at this chic yellow, shocking pink and white outfit. It is the most dazzling outfit for your mehndi event. Mehndi is a colorful event, so you need to pick a multi-colored dress for making your event more agreeable and magnificent. Selecting the bridal mehndi dresses has always been a tricky task.
This classy dress has a yellow silk shirt that is beautifully furnished with the gotta and zari work. It is combined with the pretty shocking pink gotta work dupatta in a peacock style that will help to make your mehndi event more charming and delightful. Combine this elegant gharara dress with heavy jewelry and complete your beautiful mehndi look.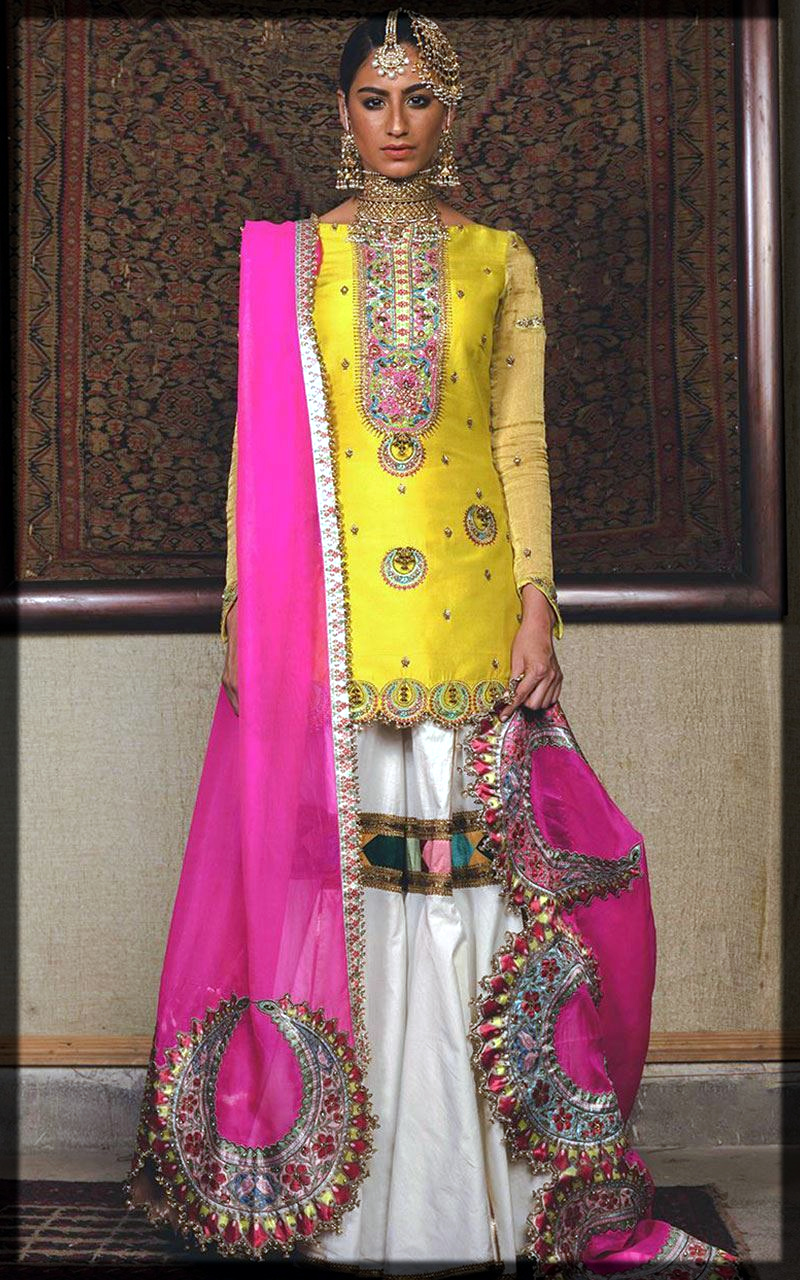 Designer Lehenga Choli for Mehndi Brides

This is another, most elegant, and lavish mehndi dress which you can try on your mehndi event to make it memorable. The mehndi is a bright event when relatives and friends are gathered to bless the bride by doing the Rasam-E-Hina.
In the event, everyone becomes eager to see the bridal dress. So, the bride must dress up nicely for making good impressions on others. If you love the traditional theme, try this ancient theme dress at your event that is decorated with the zari and kora work. It is paired with the chiffon dupatta that is heavily decorated with the zari patches.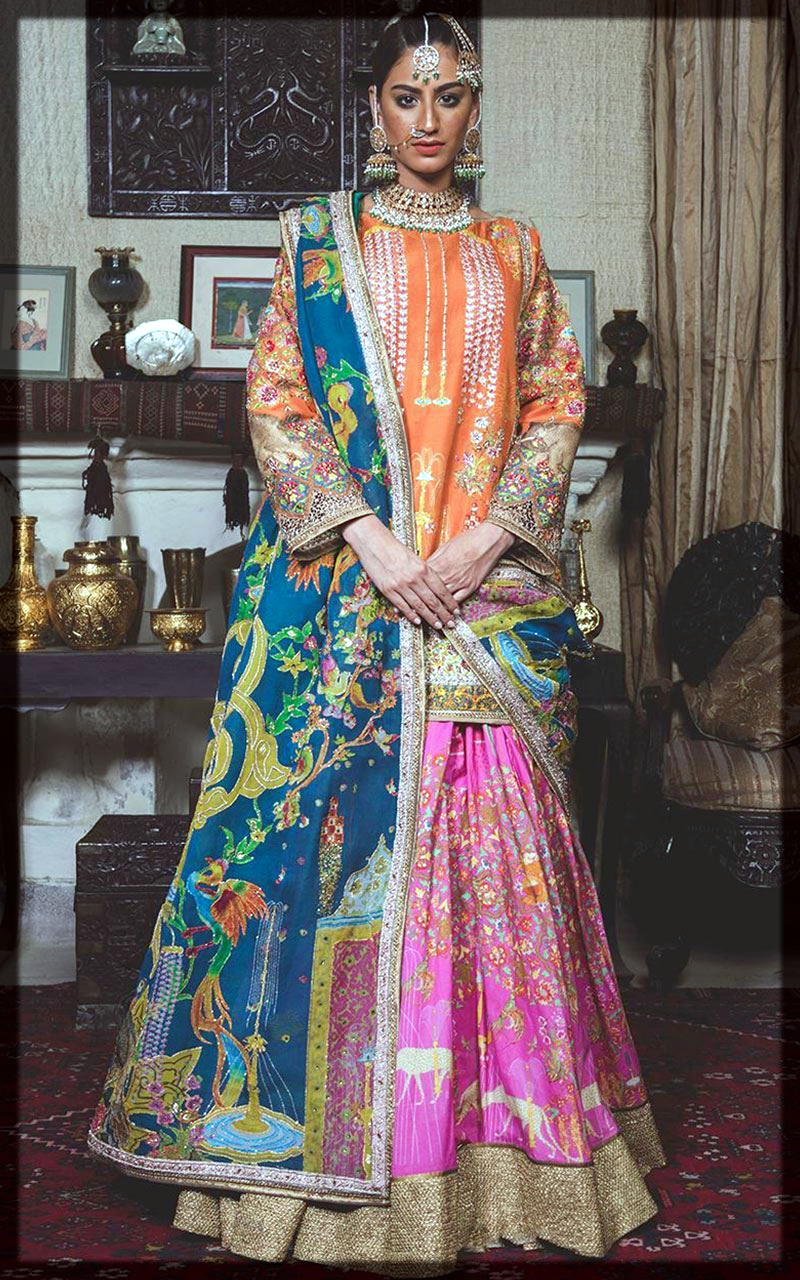 Banarsi Ghaghra Dress for Mehndi Event

If you want to try something new and want to wear the latest style of dress then try this banarsi Ghaghra with a short shirt. The t-pink shirt is embellished with crystals and multi-colored threads. This stylish and appealing dress will help to add more charm to your mehndi event. It is paired with the lavish orange net dupatta with the maroon kora work on four-sided borders. This dress is heavily decorated, so pair it with lightweight gems and minimal makeup to complete your incredible and astonishing look.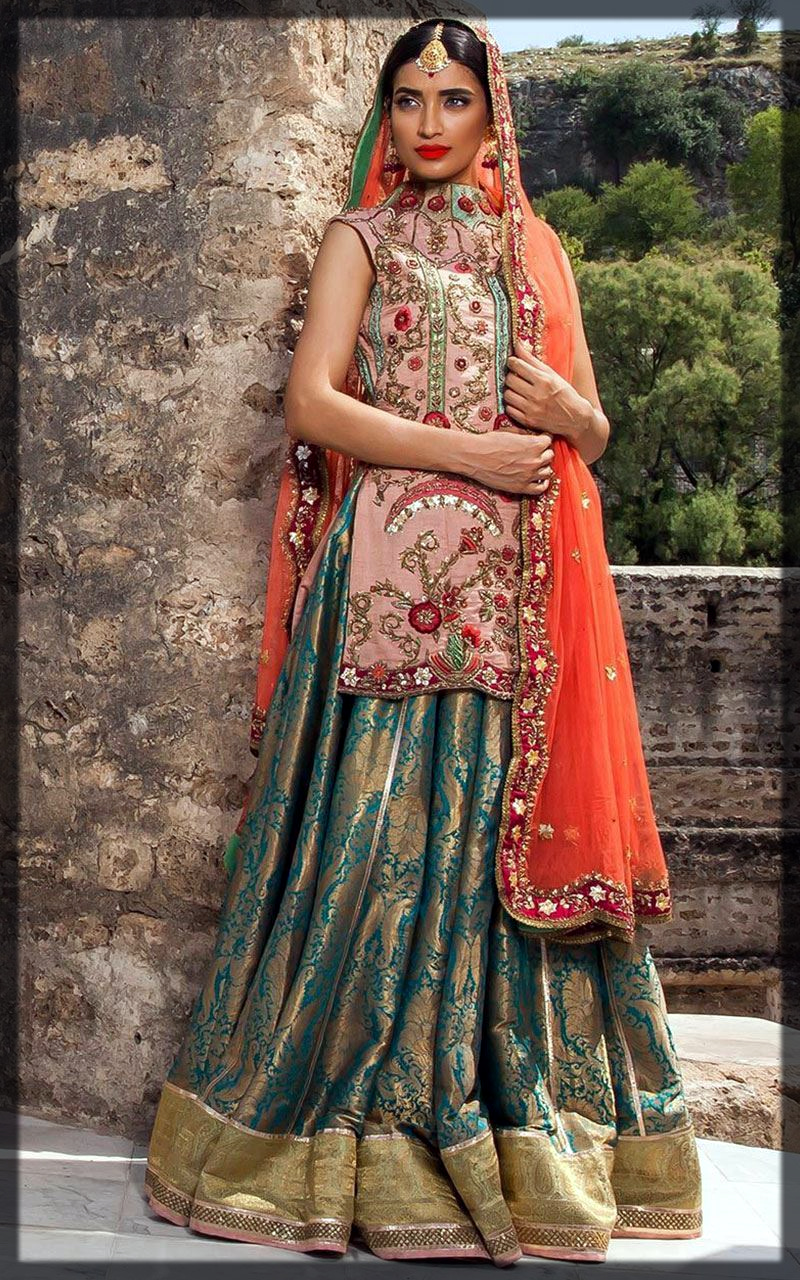 Fully Embellished Maxi for Barat Day

Barat is the most important day in every lady's life. It is a life-changing event that comes only at one time in life. So, every lady needs to wear a luxurious outfit for making her barat day more special and memorable. Usually, on the day of barat, women prefer to wear heavily embellished attires because heavily decorated attires give you a magnificent and luxurious look.
Below is the most striking heavily furnished bridal maxi that is paired with the Kundan zari dupatta. All the bridal barat dresses are beautifully furnished with kora, dabka, zari, and crystal work in the collection.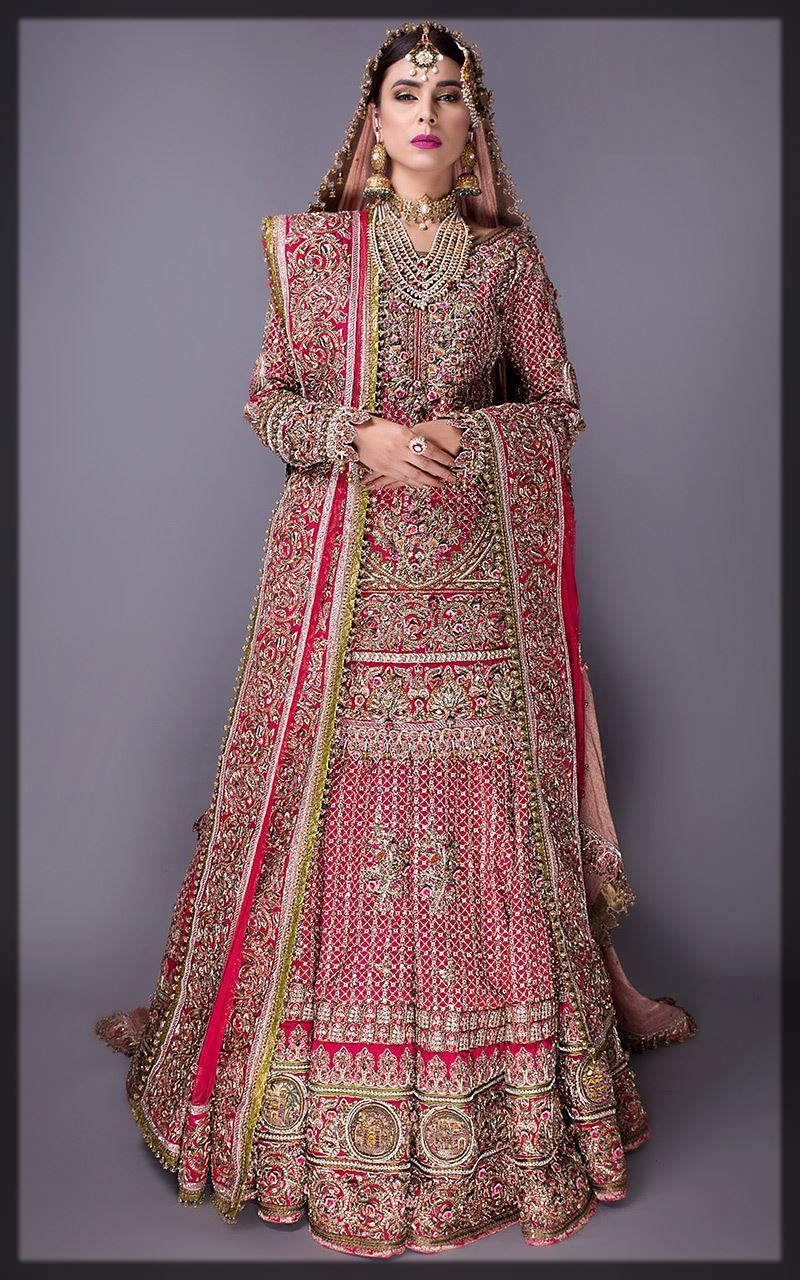 Traditional Red Lehenga Choli in Silk Fabric

If you want a traditional red look on your barat day, then try this classy dress. The gorgeous silk lehenga is beautifully adorned with zardozi handcrafted embroidery. The shirt and lehenga are lightweight and on the other hand, the dupatta is heavily furnished with the dabka and string work.
After wearing this lavish attire, combine your outfit with golden jewelry to get an appealing and modest look. For getting more bewitching bridal dresses, also visit the Zainab Chottani bridal collection. Furthermore, apply the nude lipstick with the red/maroon blush, and golden smokey eyes. Also, wear red bangles on both hands and now you are ready to go.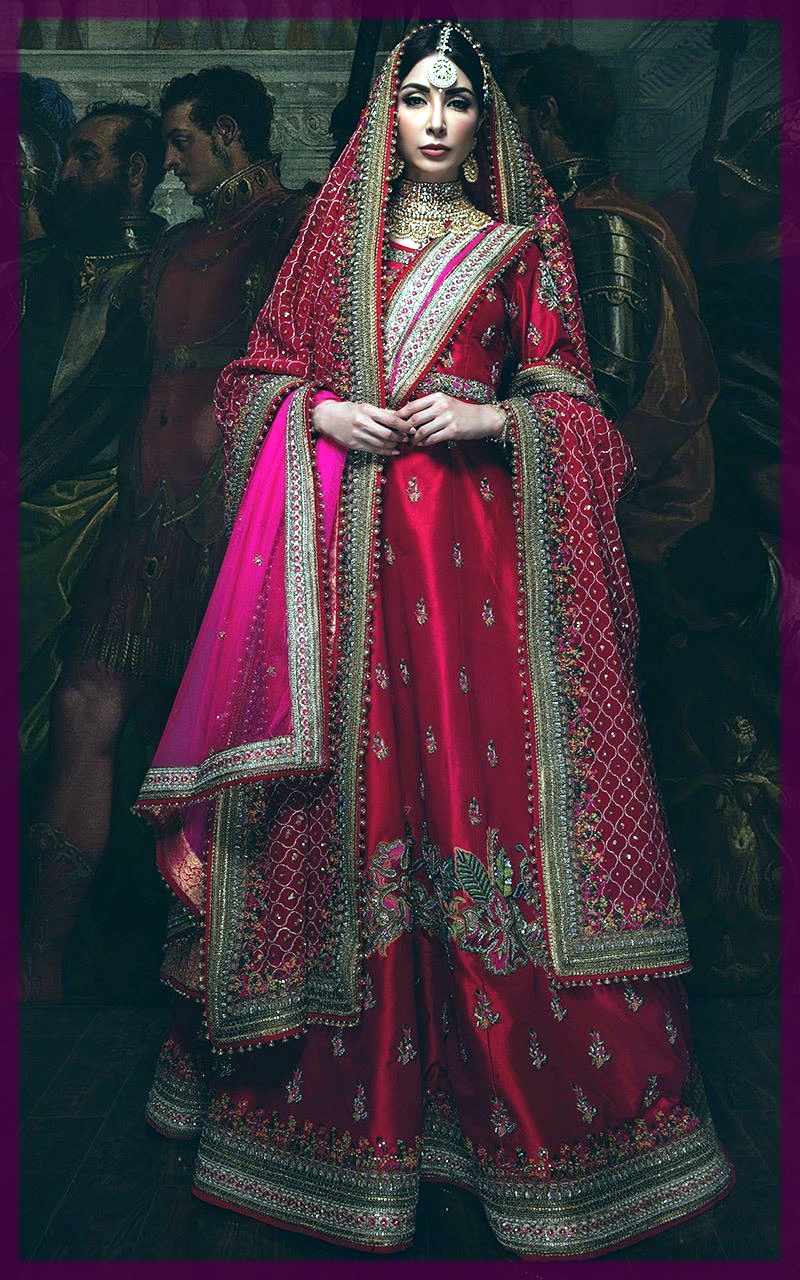 Bridal Lehenga Dress with Long Shirt

This dress is a classy mixture of magenta and maroon. The most fascinating and dazzling combination will help to attain your ideal bridal look and make it more dashing. Tena Durrani's bridal collection has also gained a wide appreciation from its customers.
The floor-length lehenga with the knee-length shirt is wholly decorated with sequins and dabka work. It is paired with the maroon silk dupatta. If you want to make your look luxury, then try this stunning and lovely outfit on your barat day. Surely this dress will force others to appreciate you.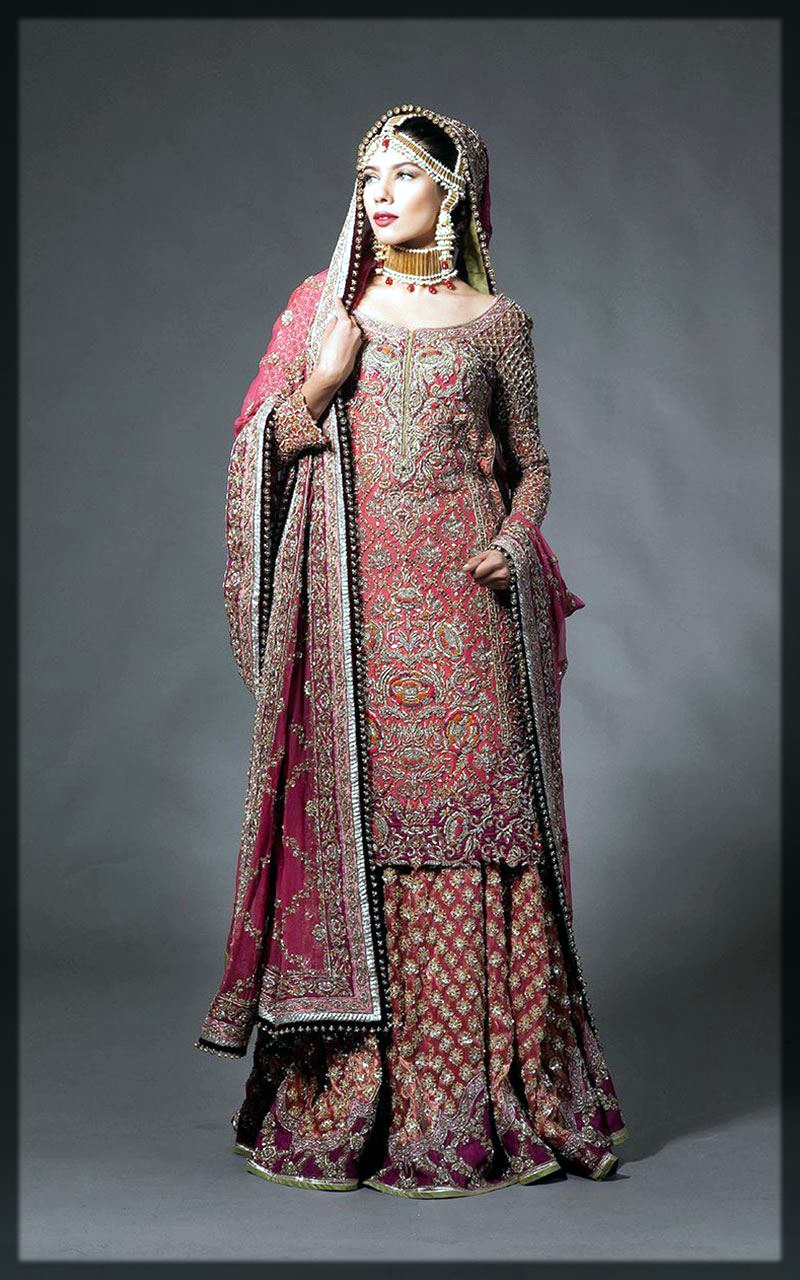 Front-Open Bridal Lehenga Outfit for Barat

This heavily embroidered bridal lehenga dresses for those ladies who like to wear heavy attires. Review this stunning and captivating A-line front open shirt. The shirt is heavily adorned with the dabka and kora work. It is paired with the chiffon banarsi gharara and net dupatta.
Because the dress is heavily adorned, so try to wear lightweight jewelry with this dress for making your look stunning and decent. Also, wear high heels so you can walk comfortably. Match this lavish outfit with nude makeup. You can wear this dress at your reception and even on your barat day by combining it with the red shawl.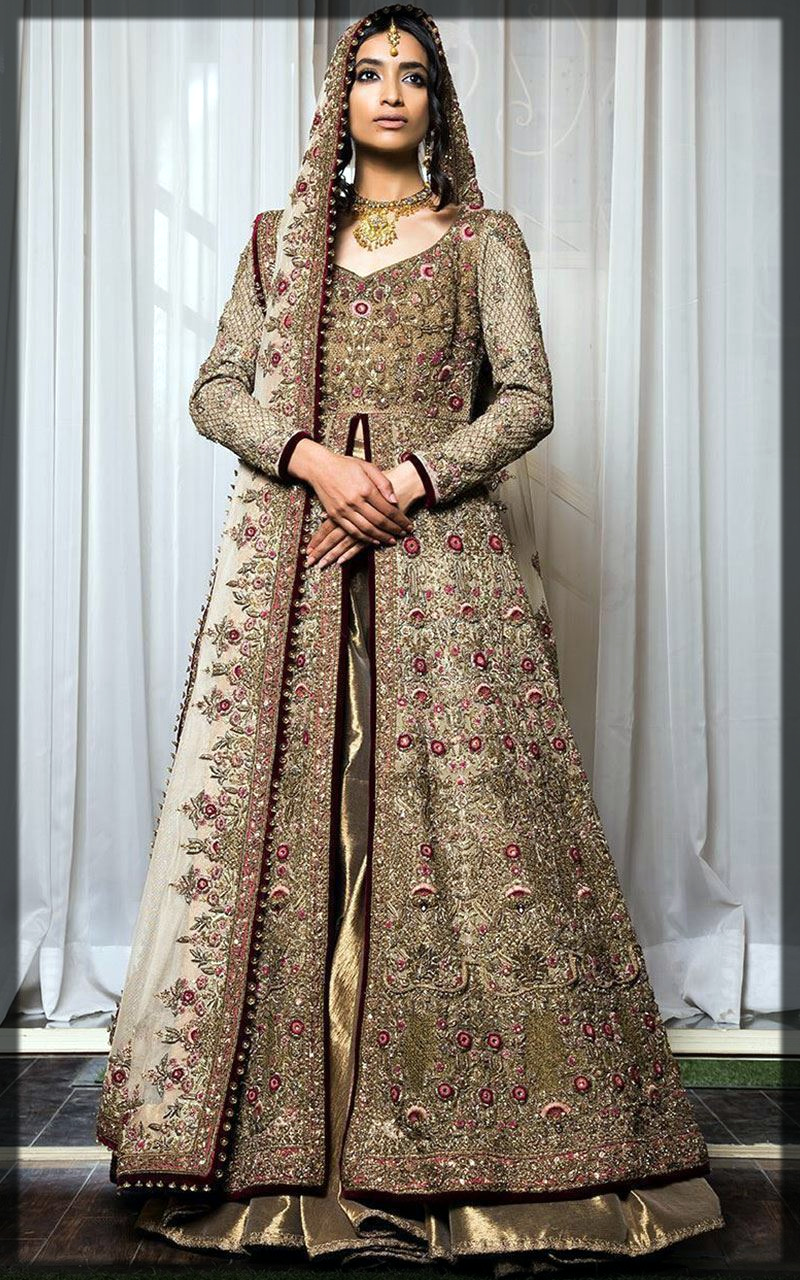 Fully Embellished Gown Dress for Reception

If you do not want to wear a typical color like red, maroon, grey, and silver at your wedding event, then try this ice blue gown dress that will make you look killer and dashing. As you can see below, the ice blue gown is fully decorated with sequins and kora work. If you want to get this type of look, then apply the bright colored lip color and add a touch of ice blue into your black smokey eyes. Combine the bridal walima dresses with classy heels for a perfect look.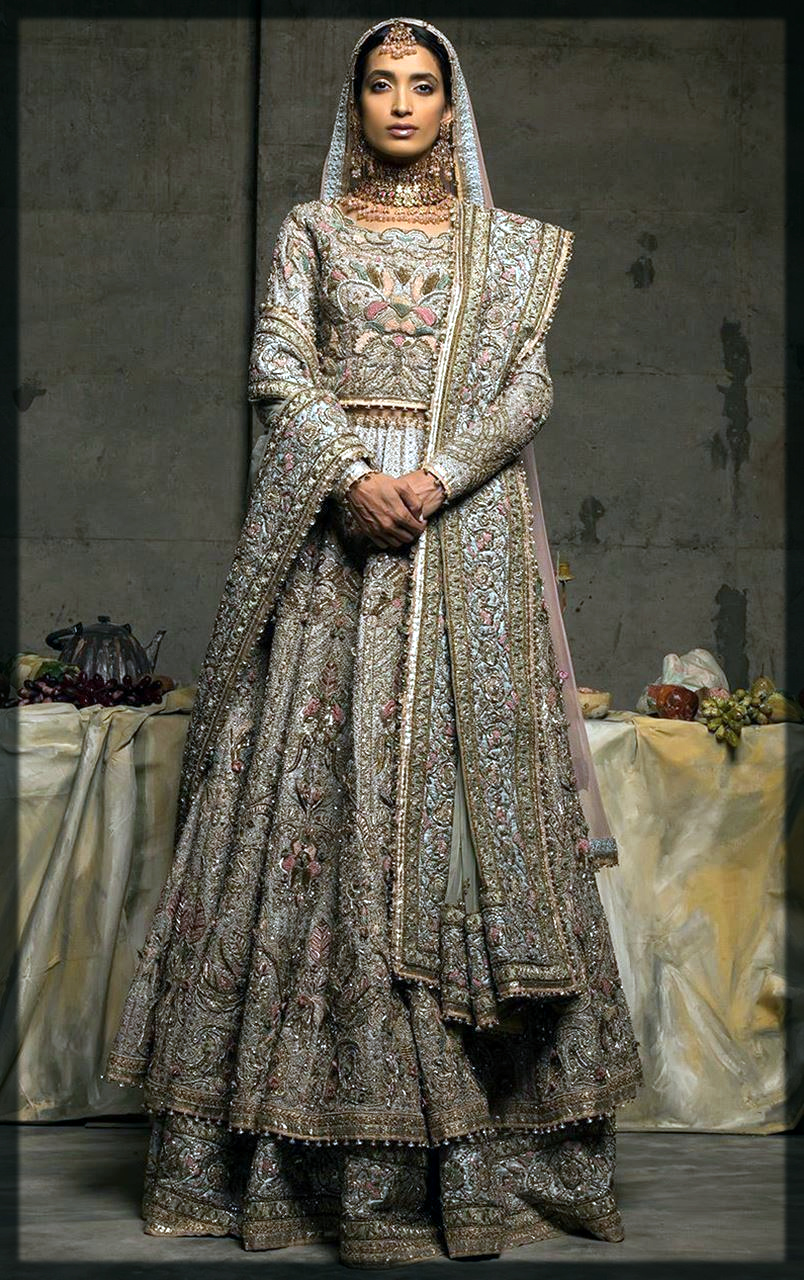 Fahad Hussayn Bridal Maxi for Walima

It is one of the most decent dresses for your walima day. On the reception day, girls prefer to wear a nude color like ivory, silver, grey, light pink, etc. So, this one is the perfect shade and style to carry on reception.
The beautiful ivory-shaded bridal maxi design is furnished with dabka to make you look stunning at your reception. You can wear dark hues like sky blue, gold, silver, and royal blue gems with this outfit because the white color dress will appear more ideal with the prominent jewels and makeup.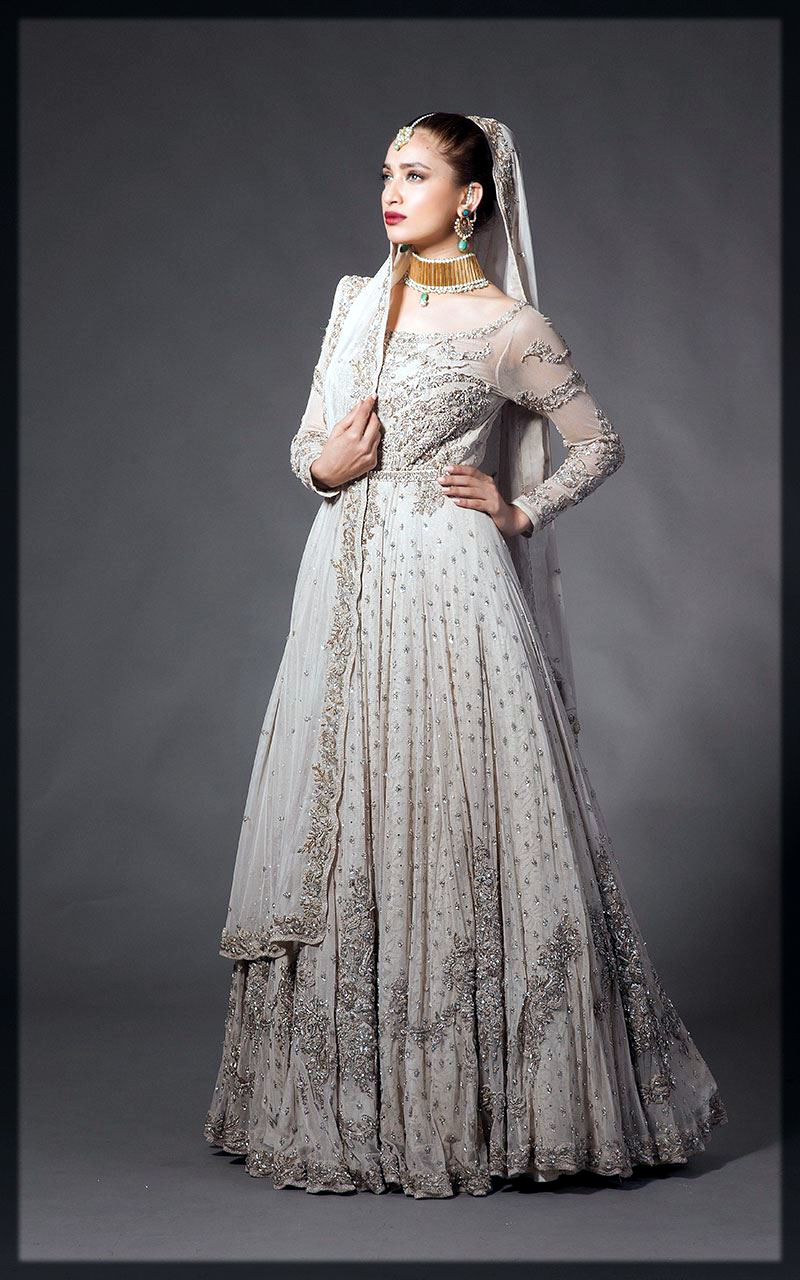 Bridal Saree Collection for Walima Day

Saree is the chicest style that will add more charm to your personality. If you want to moderate your look and make it more alluring and dashing then try these sarees from the Fahad Hussayn bridal collection. These sarees will not only look ravishing but also the grace of this dress is unmatchable. Indian bridal saree designs also offer the classic and mesmerizing styles in the saree.
All you need is to combine your saree with incredible makeup and striking gems. With a saree, try to wear the long hoops with the choker to get a modest look. Also, wear high heels and complete your stunning bridal look.
Image Gallery of Fahad Hussayn Bridal Collection

Fahad Hussayn bridal collection has always managed to create traditional and beautiful wedding dresses. Let's take a look at a variety of such wonderful attires. These beautiful dresses are giving a pool of options to women and they can select the one, which fulfills their demands.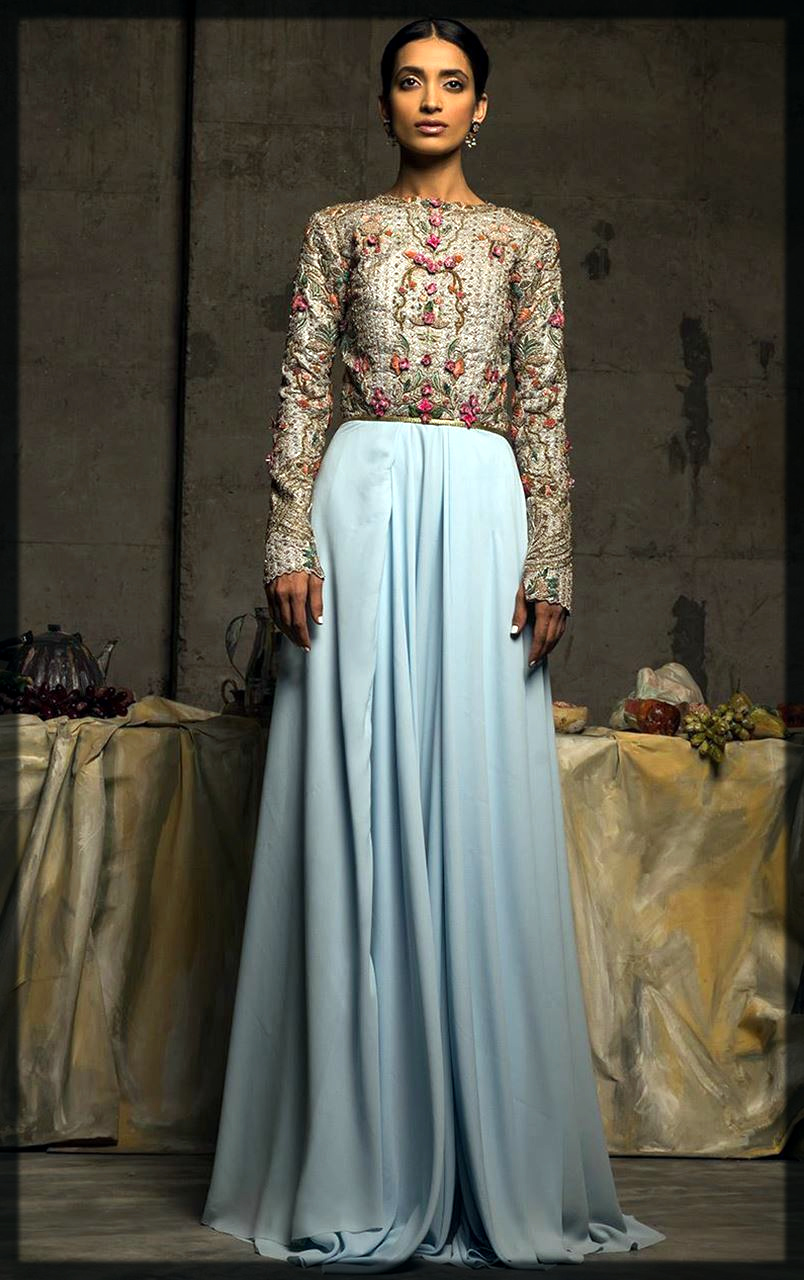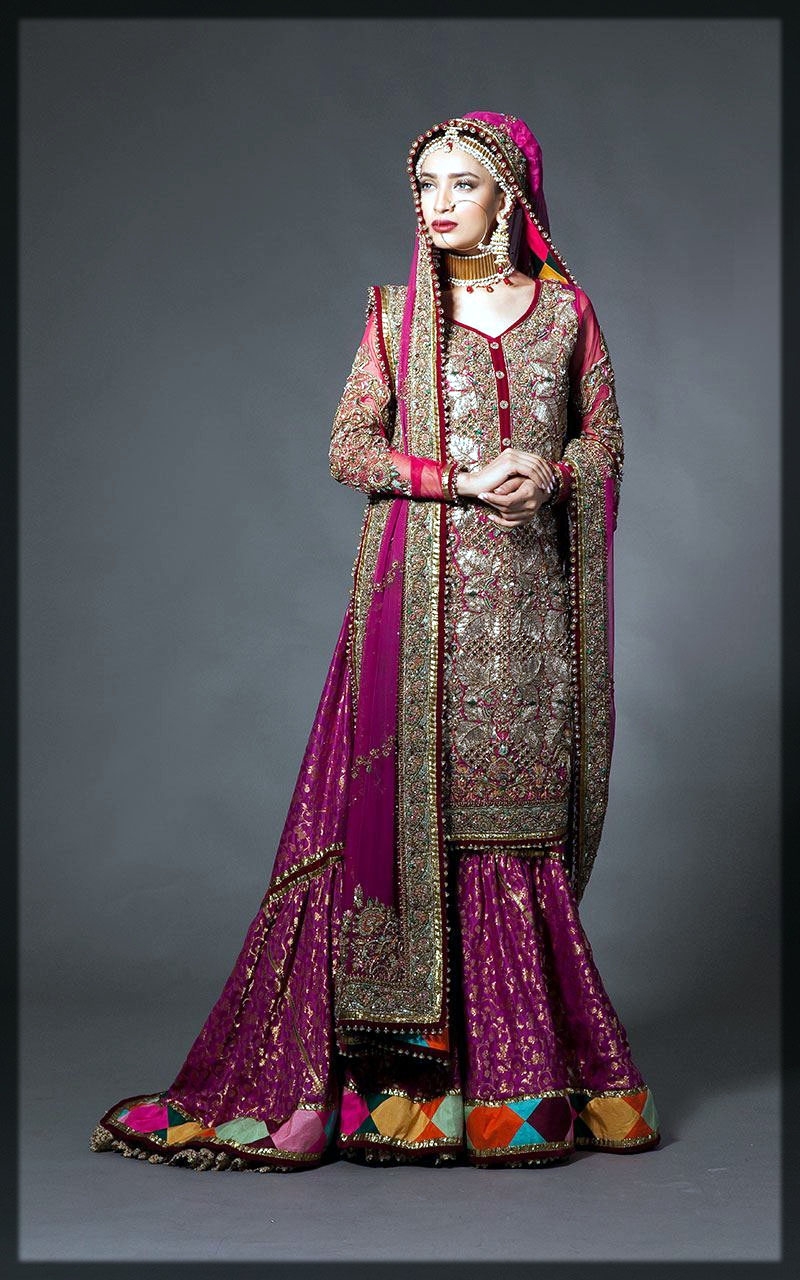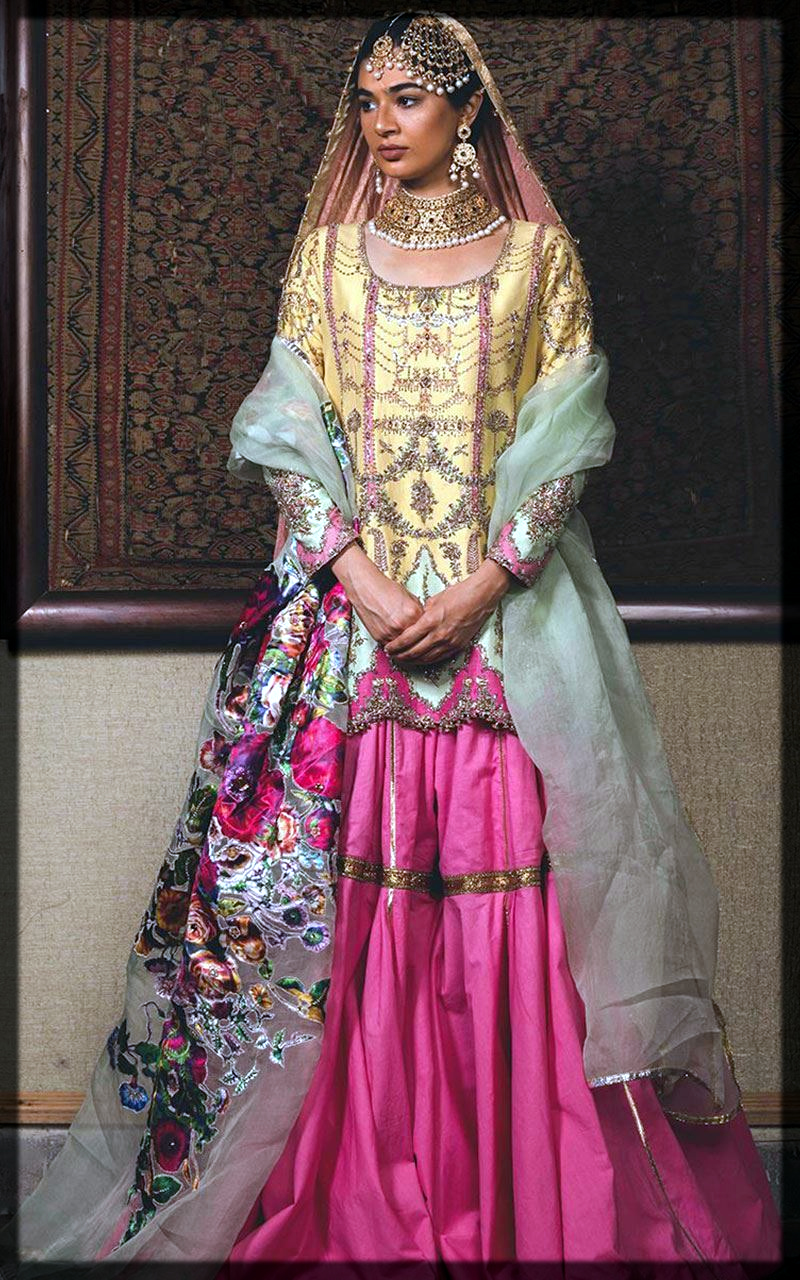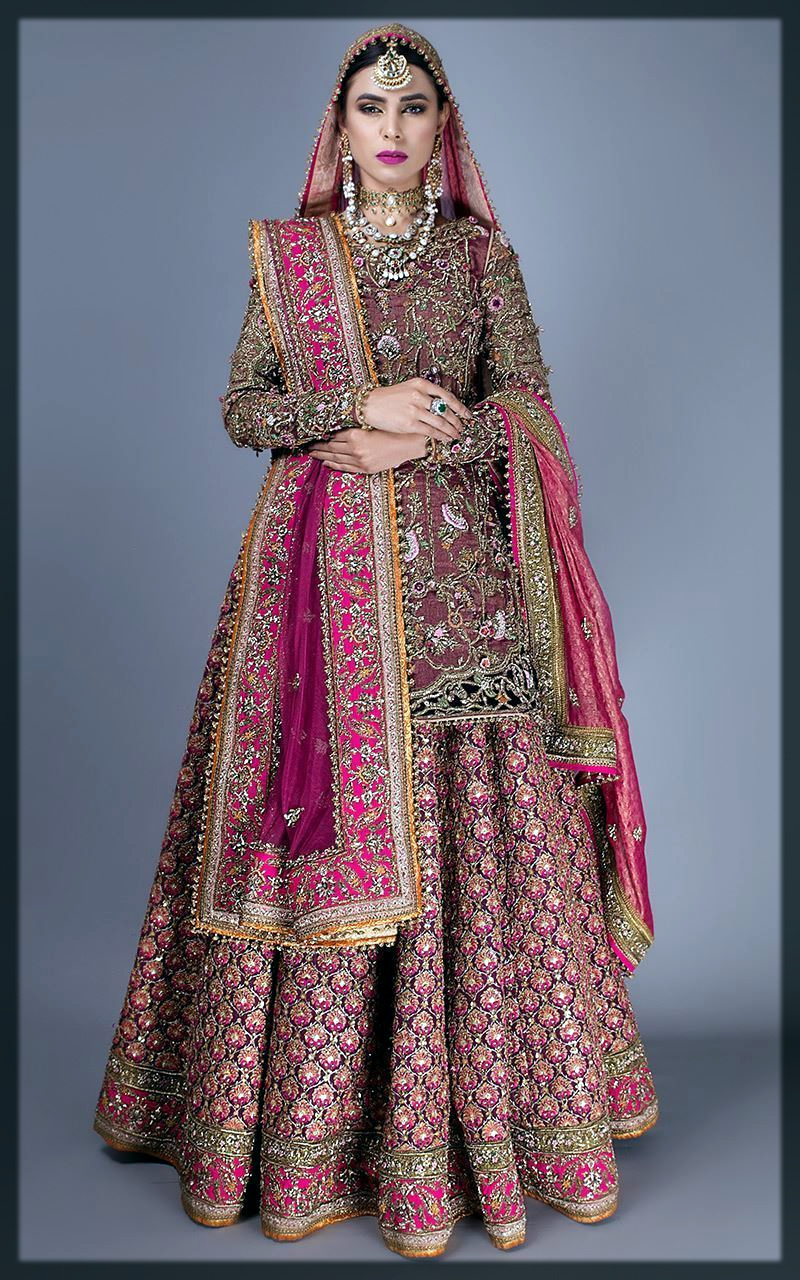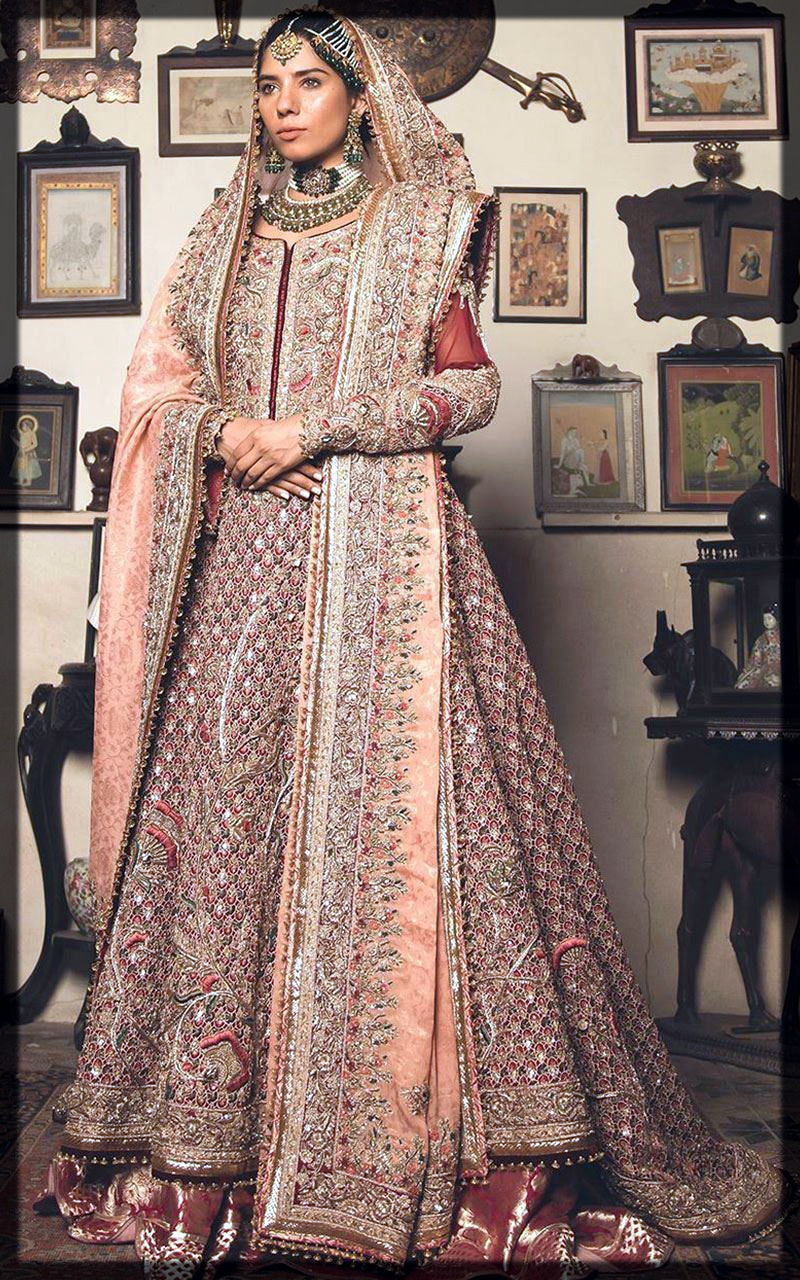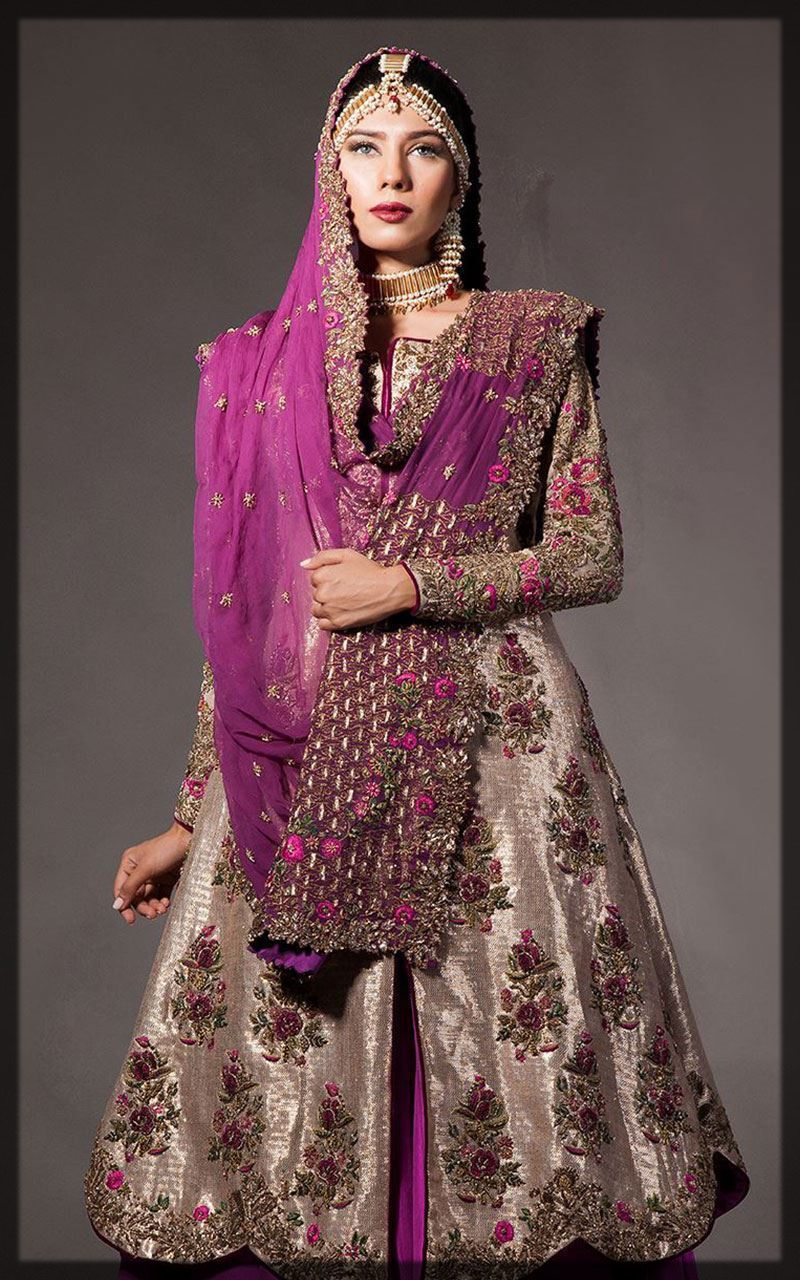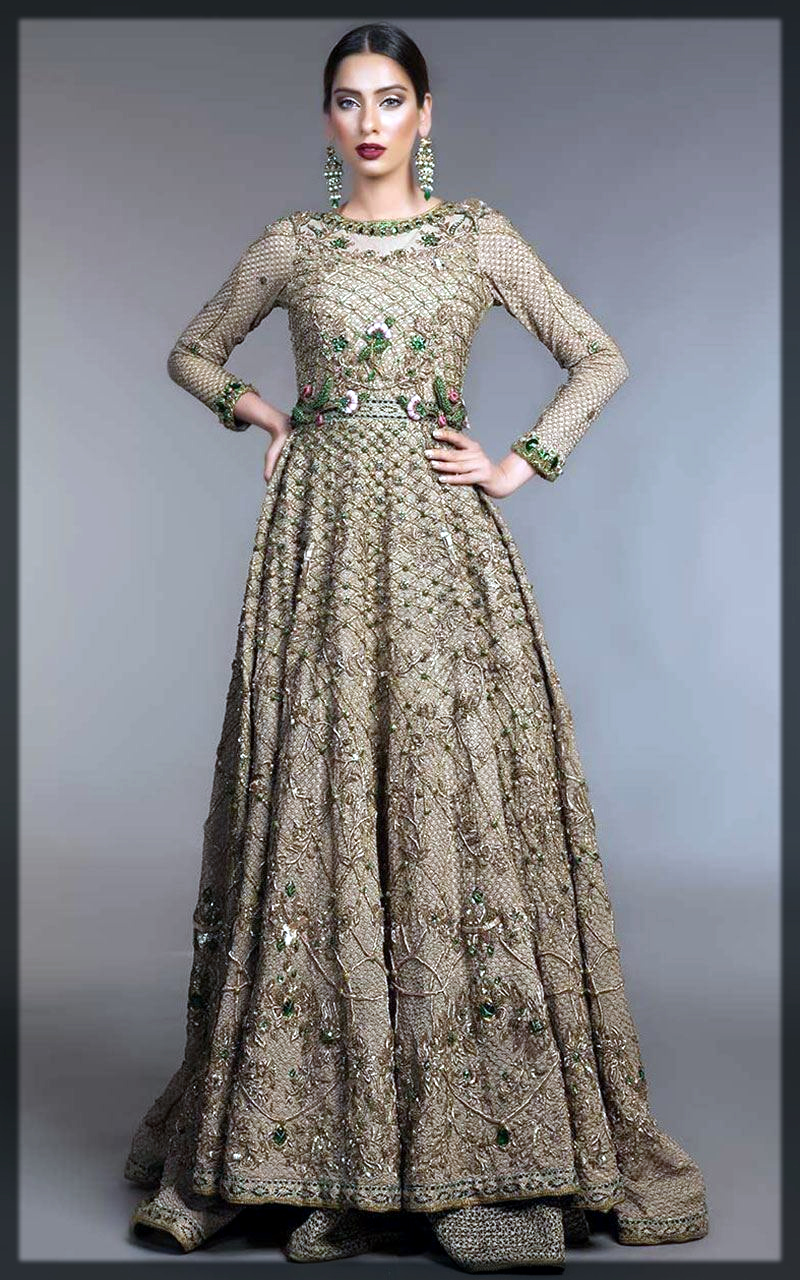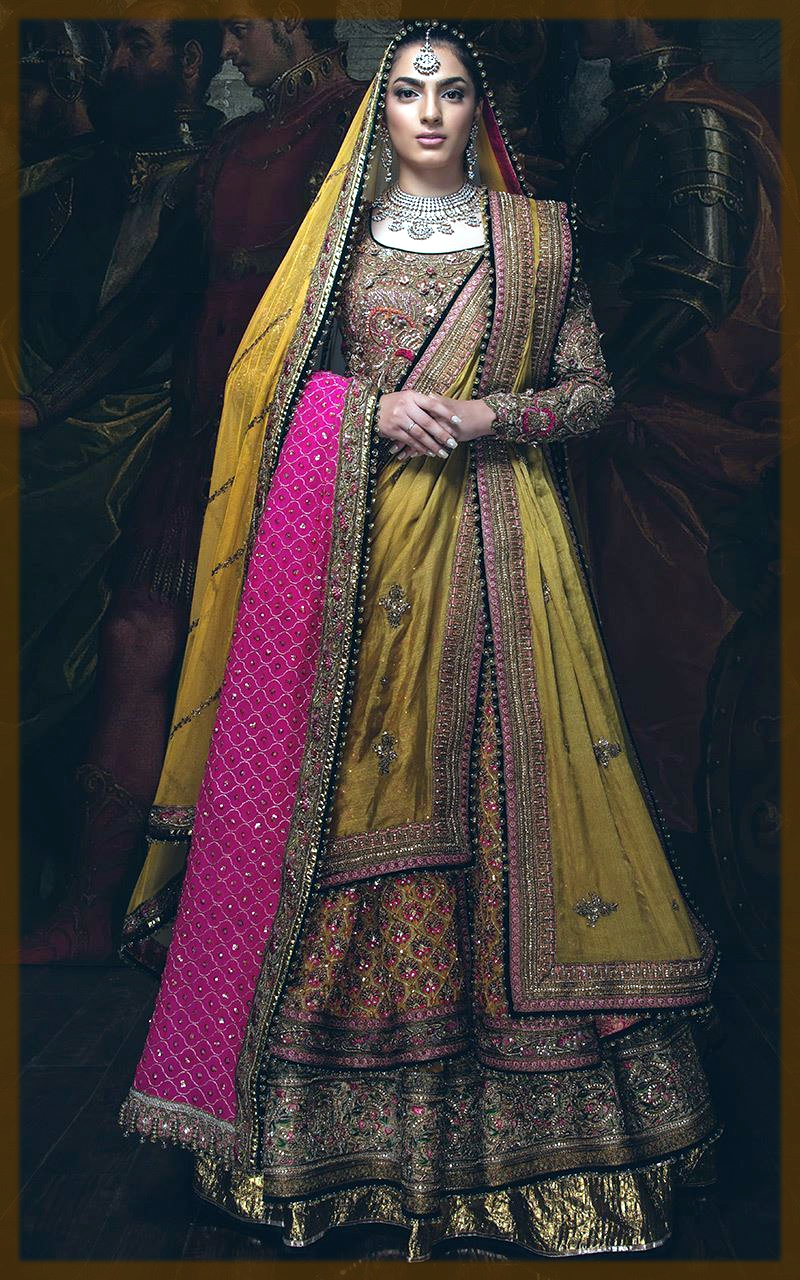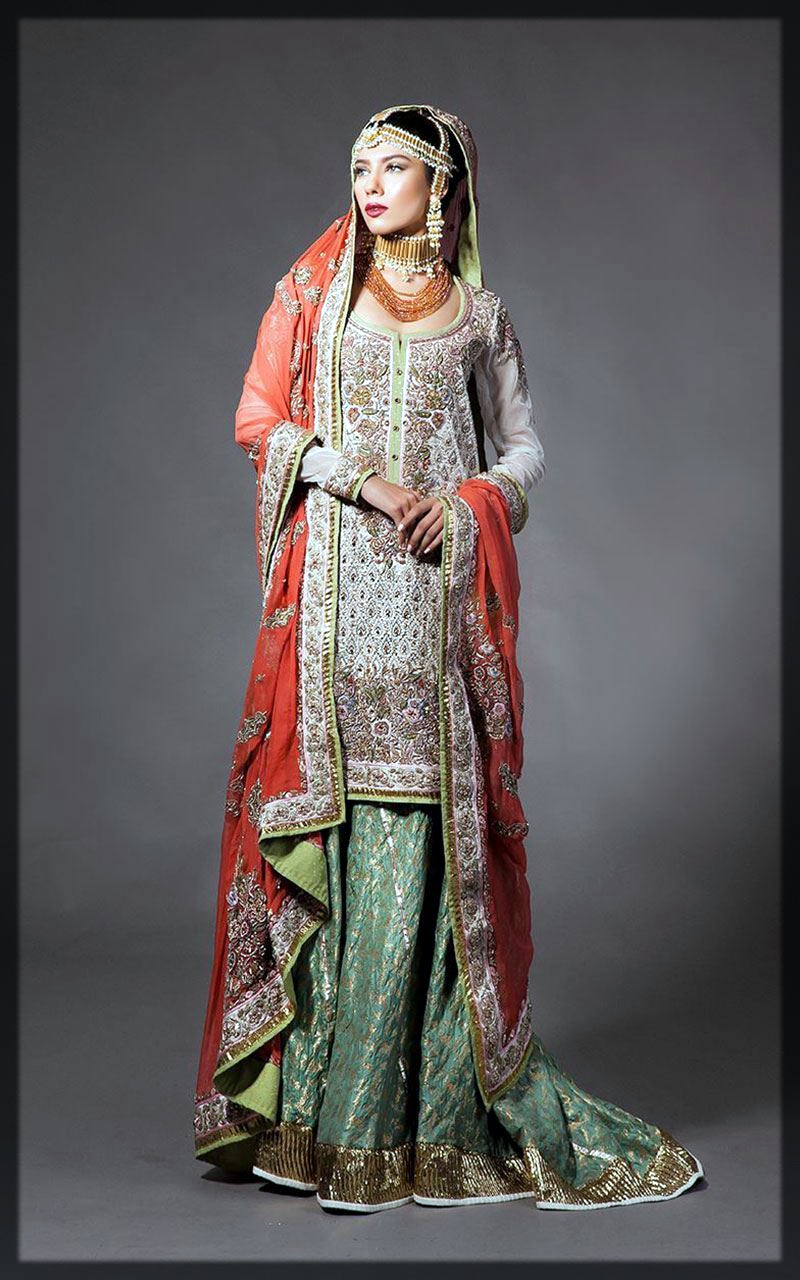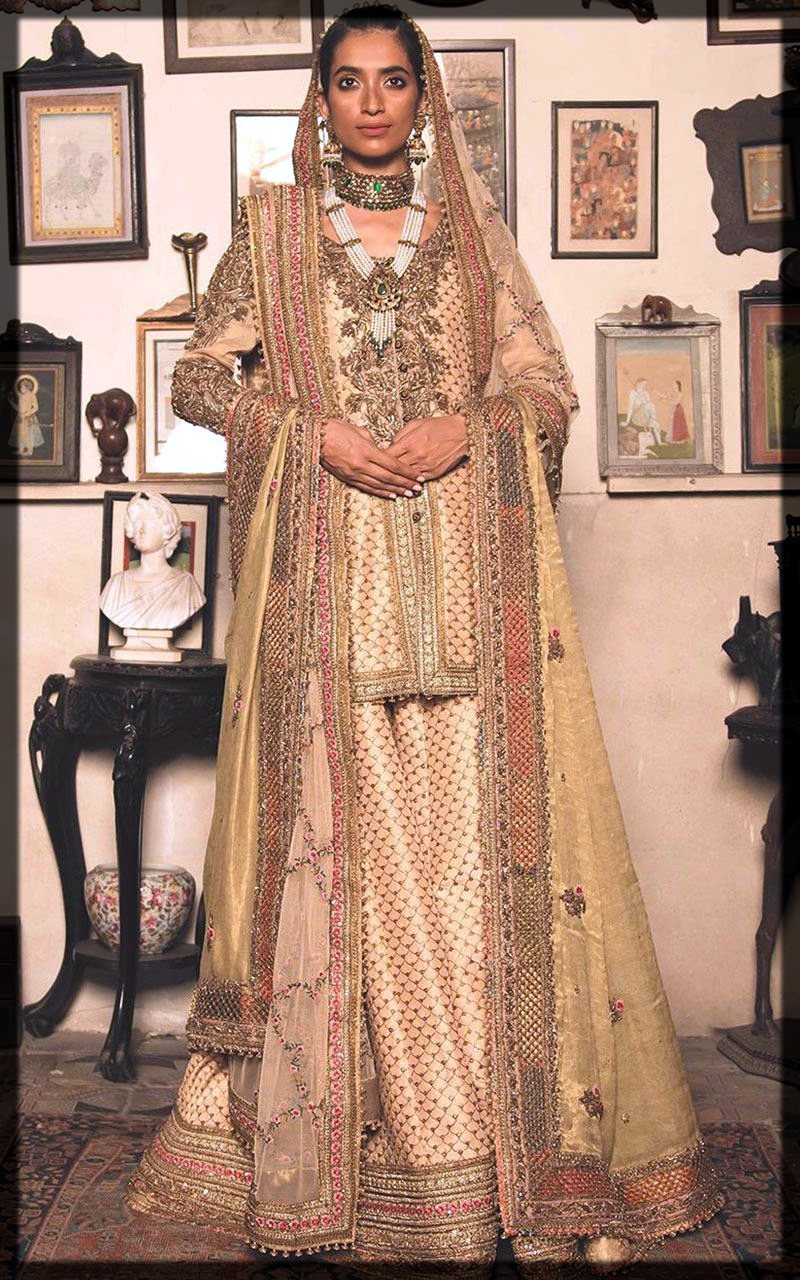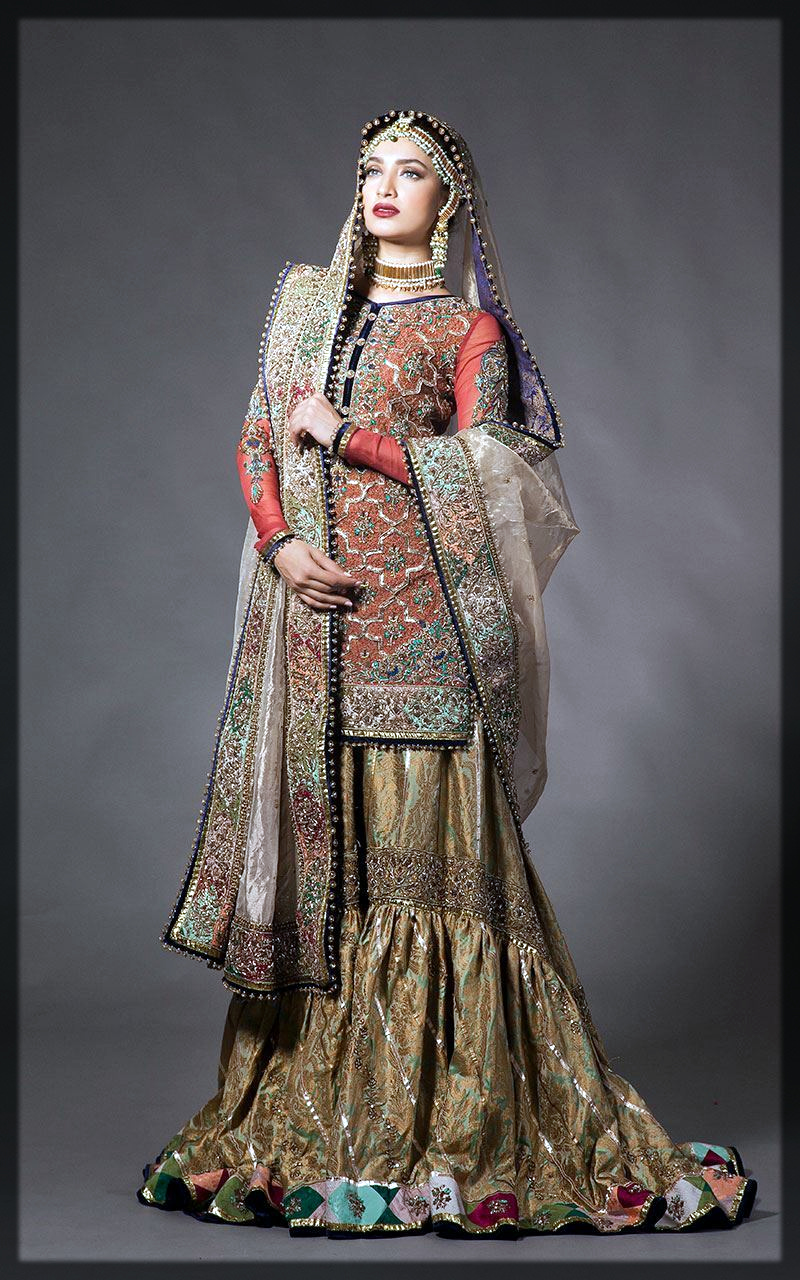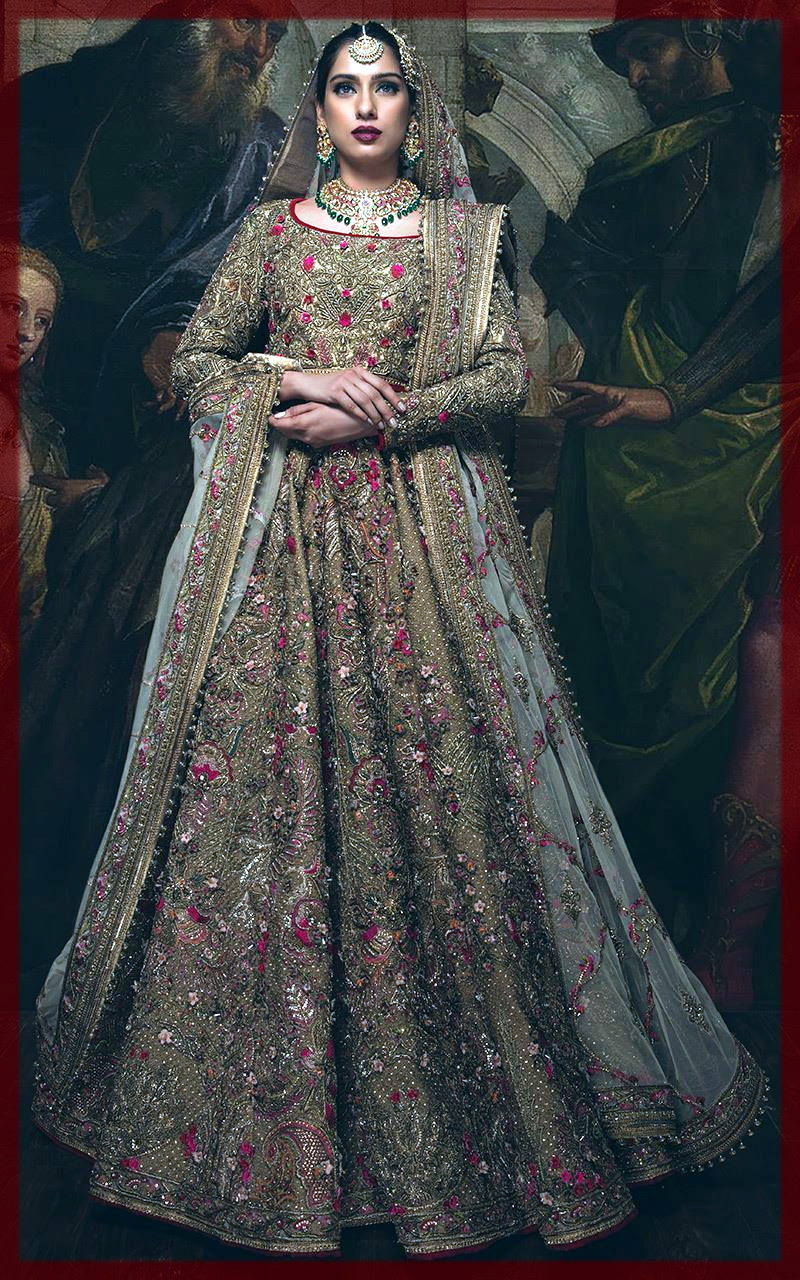 If you need to have beautiful attire for your big day then you are in the right place. The Fahad's luxurious marriage assortment will fill your heart with joy and will also help to make your look appealing. The following collection has dresses according to the demand of all wedding events like mehndi, barat, and walima. So, do not miss this opportunity to get your desired attire from the store.