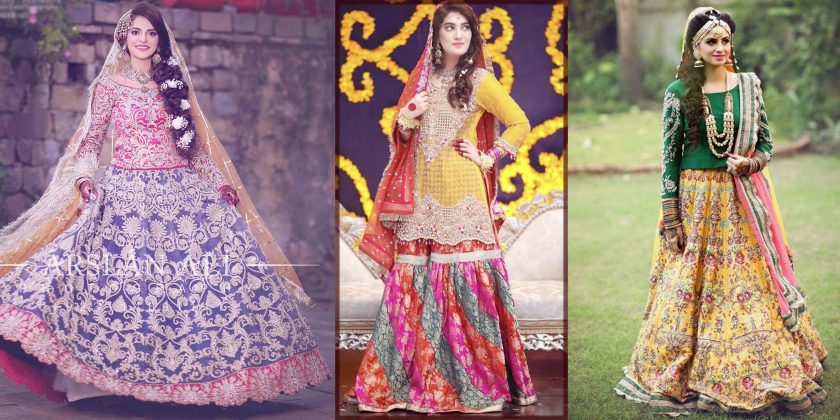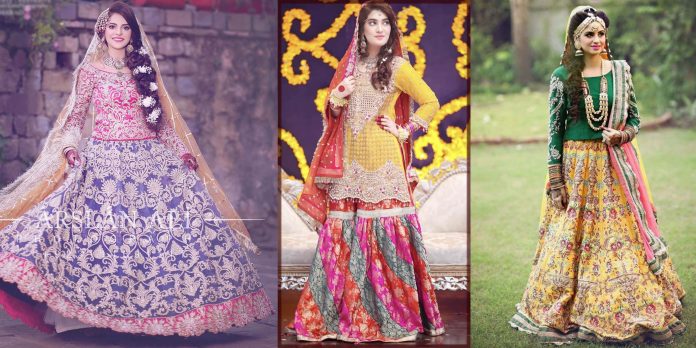 The mehndi event is part of pre-wedding preparations and is one of the joyous occasions in which boys and girls dance together. And make a memorable event by organizing some funny and joyful plans. They dance, Luddi, bhangra, songs and many other things at this event. With time, the trend for wedding dresses is changing. Nowadays, the designers are launching their latest bridal mehndi dresses collection because it's a wedding season!
This event is full of amusing ritual observance — the way to celebrate the wedding event with joyful melodies. The new generation has always been a little extra, so a beautiful bridal Mehndi dress is a must-have. Except for all the typical traditional dresses, modern designs are also in the collection often.
The Mehendi function is always the most awaited. Family members join together to bless the bride. But the most important reason for this function is to prettify the bride's hands with the bridal mehndi designs. If we look back, simplicity preferred during the mehndi ceremony. Now, the trend has risen to a whole new level, and far more is more!
Dresses According to Our Culture
The bright yellow is the traditional color, and hence it is always in fashion. The fashion trends change and repeat itself after a specific interval of time. Vibrant and exquisite dresses are preferable in this century. Culture has been modifying according to desires and preferences. Women are siding more towards fancier dresses as compare to simple Mehndi dresses in the past. New color combinations are in fashion and trends are set every other day.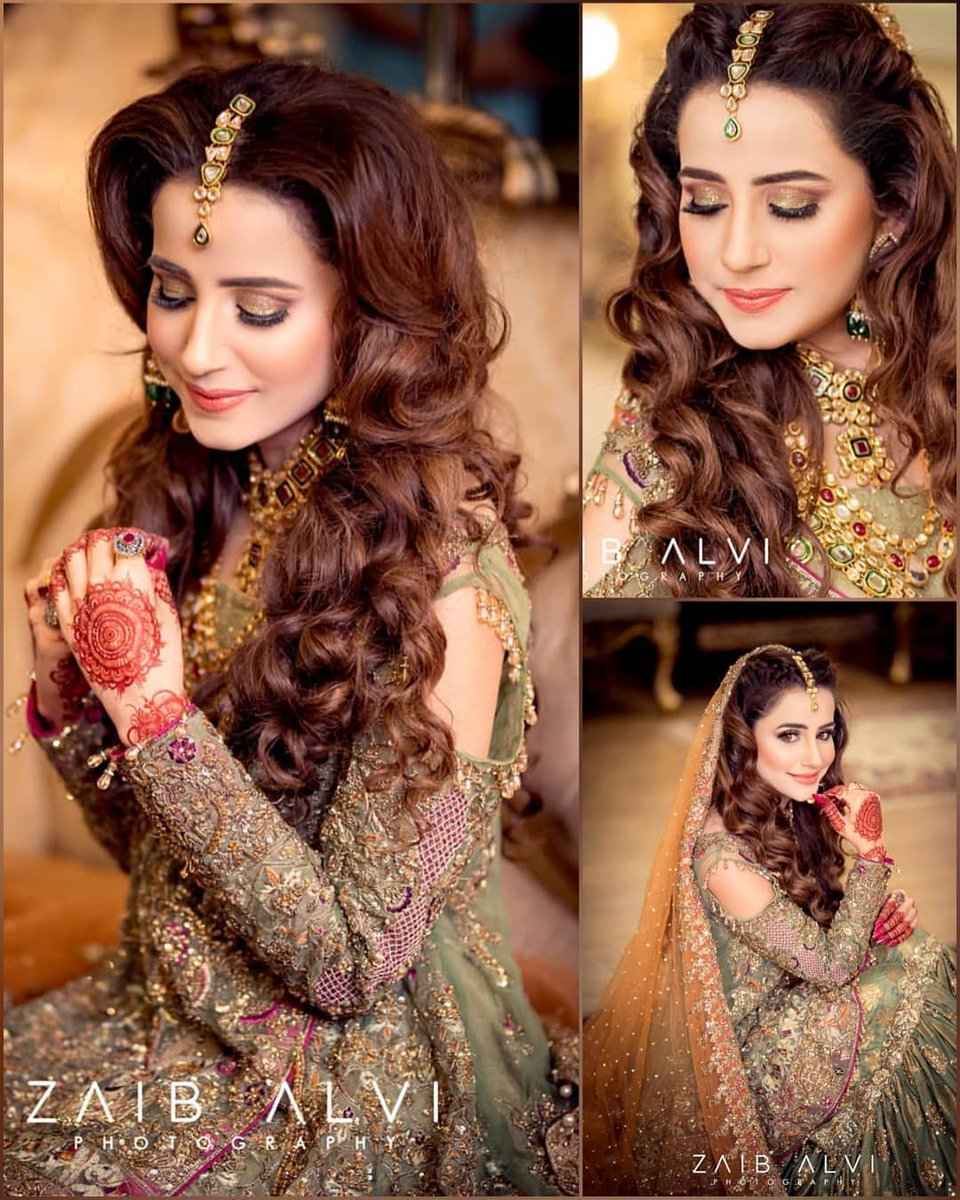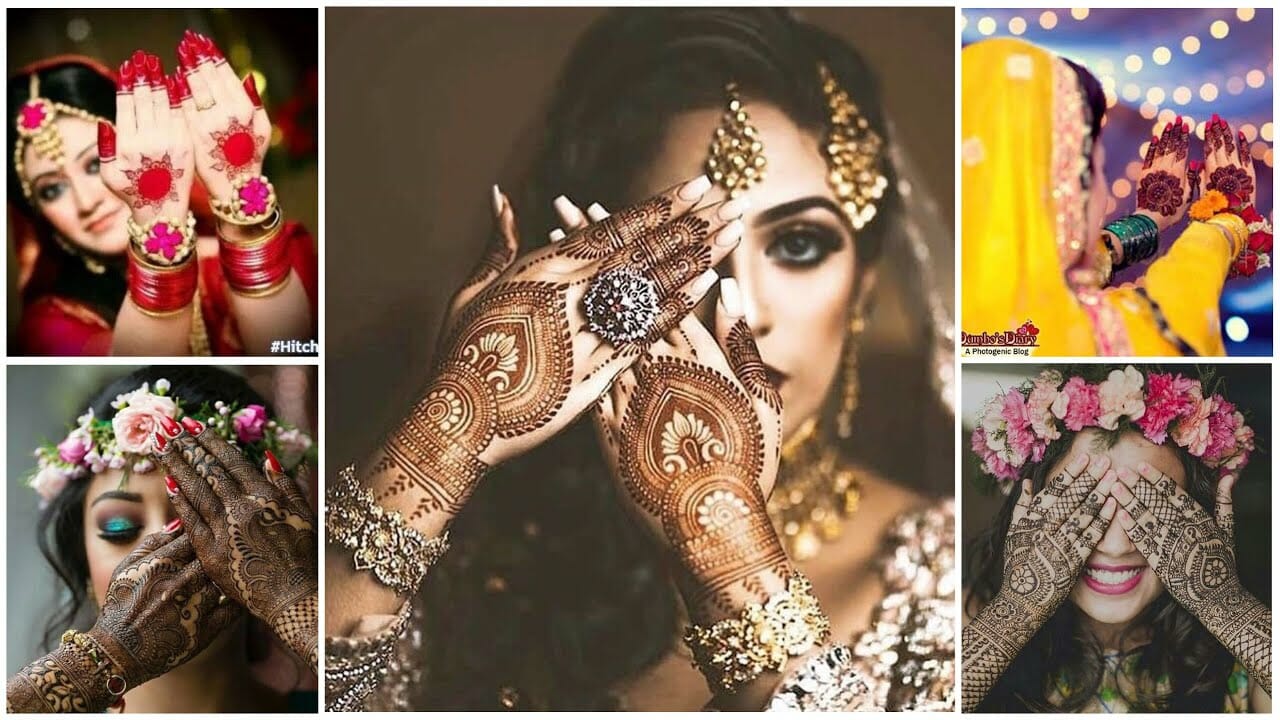 Trend Setters: Bollywood and Lollywood
Bollywood and Lollywood are getting more and more trends every other day with their lehenga outfits and wedding dresses, showing off their culture and customs.
Recently, Anushka and Aiman khan set the trend of Ghaghra choli on the mehndi ceremony by wearing the Ghagra choli on their mehndi event.
Every girl wants to experiment on her special day. She dreams for this day and wants to look great. Usually, a yellow color dress wore with green combinations is quite traditional. But now white, pink, blue, and purple also added into the mix. Below we have presented some of the elegant bridal mehndi dresses for you, including robes, sharara, gowns, lehenga, gharara and the list goes on.
Plain Shalwar Kameez
Shalwar kameez is a traditional outfit worn by Punjabi women. In the past, it was a ritual to wear simple shalwar kameez on their mehndi event. Even now, most Punjabi girls prefer to wear shalwar kameez to represent their culture. Here is the collection of simple shalwar kameez.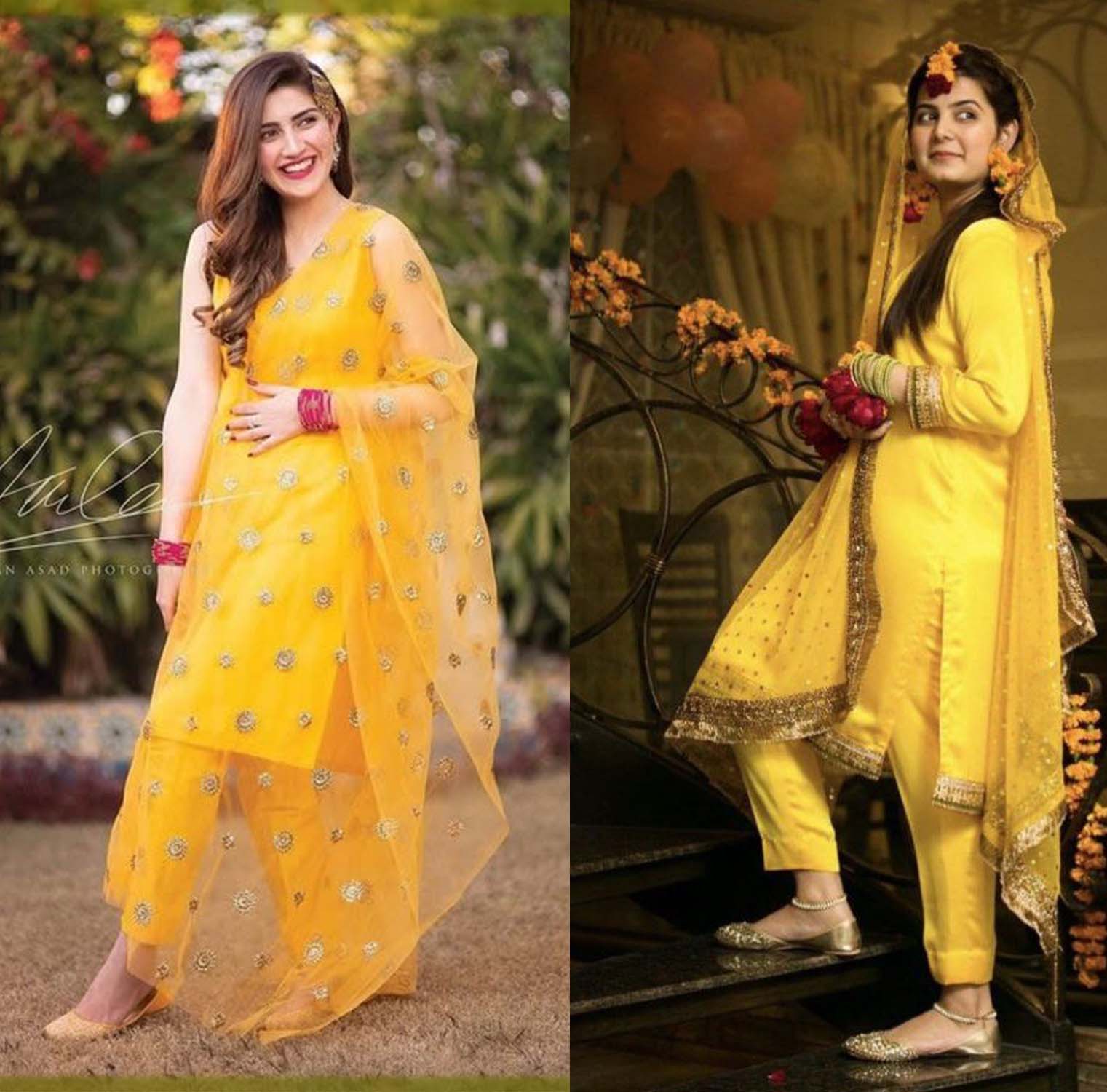 Bridal Mehndi Dresses – Sharara Designs
Asian brides usually wear sharara, especially Pakistani brides. It is always in fashion and is becoming a new favorite of Pakistani designers including Maria B, Sana safinaz, and many more. The designer set the modern trend by combining the two or three colors in the mehndi outfit. The mixture adds up the beauty of the dress. Here is the perfect color combination for mehndi events.
Blue Velvet Daisy Sharara
It's the best Velvet plum sharara with a long shirt embroidered with Mashani work that will give you a lovely look. The pine dupatta with a four-sided light punch border is the best combination for your mehndi event.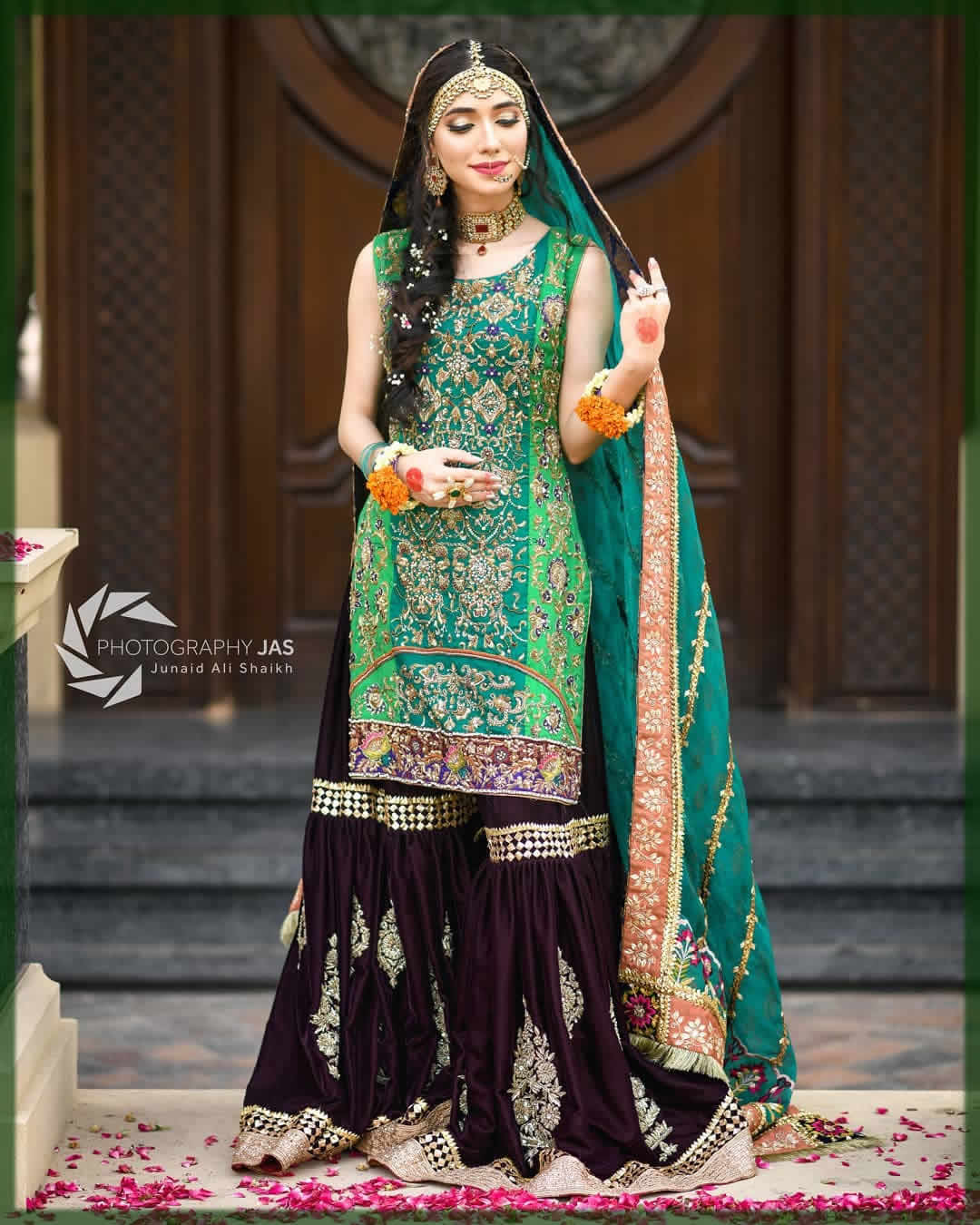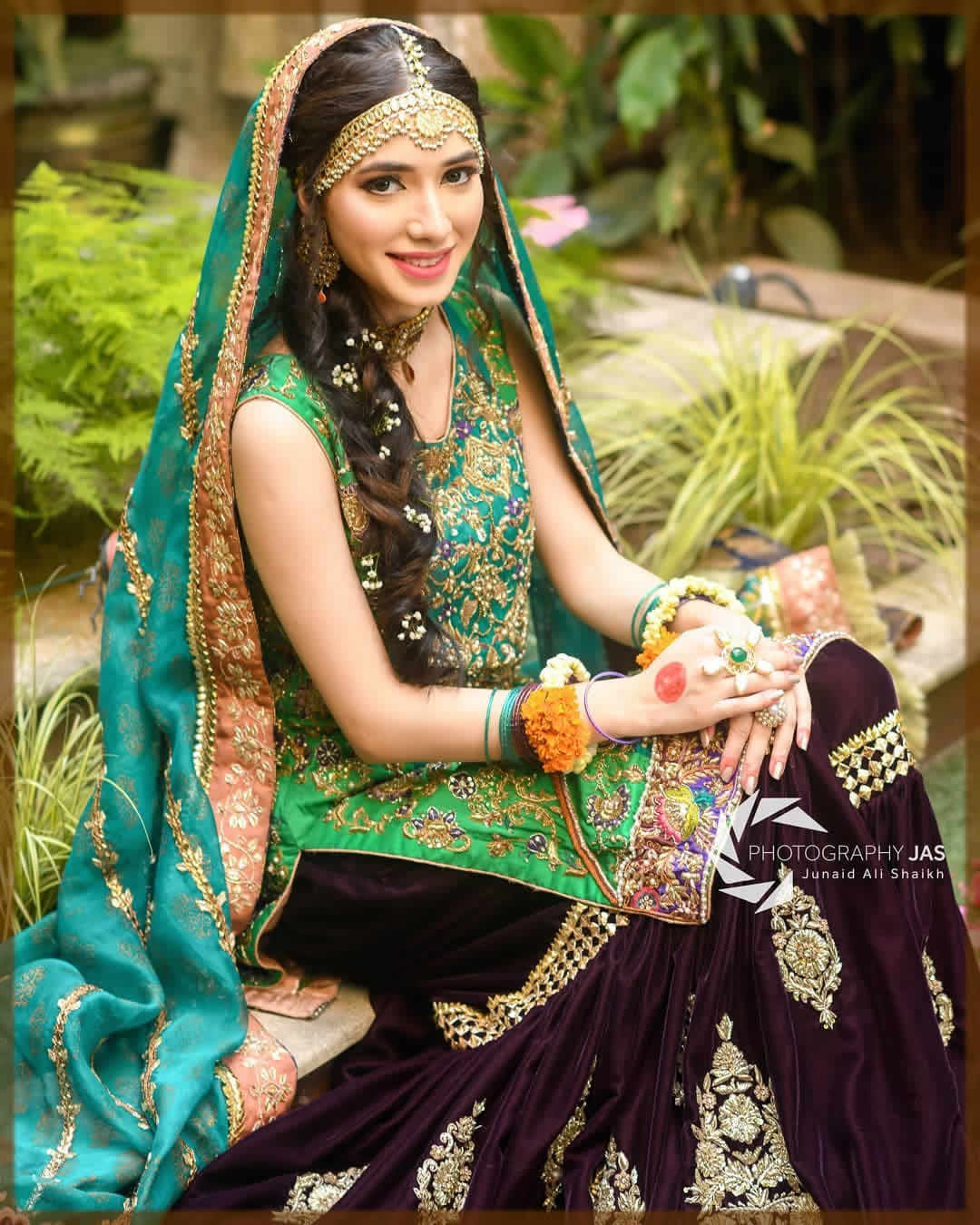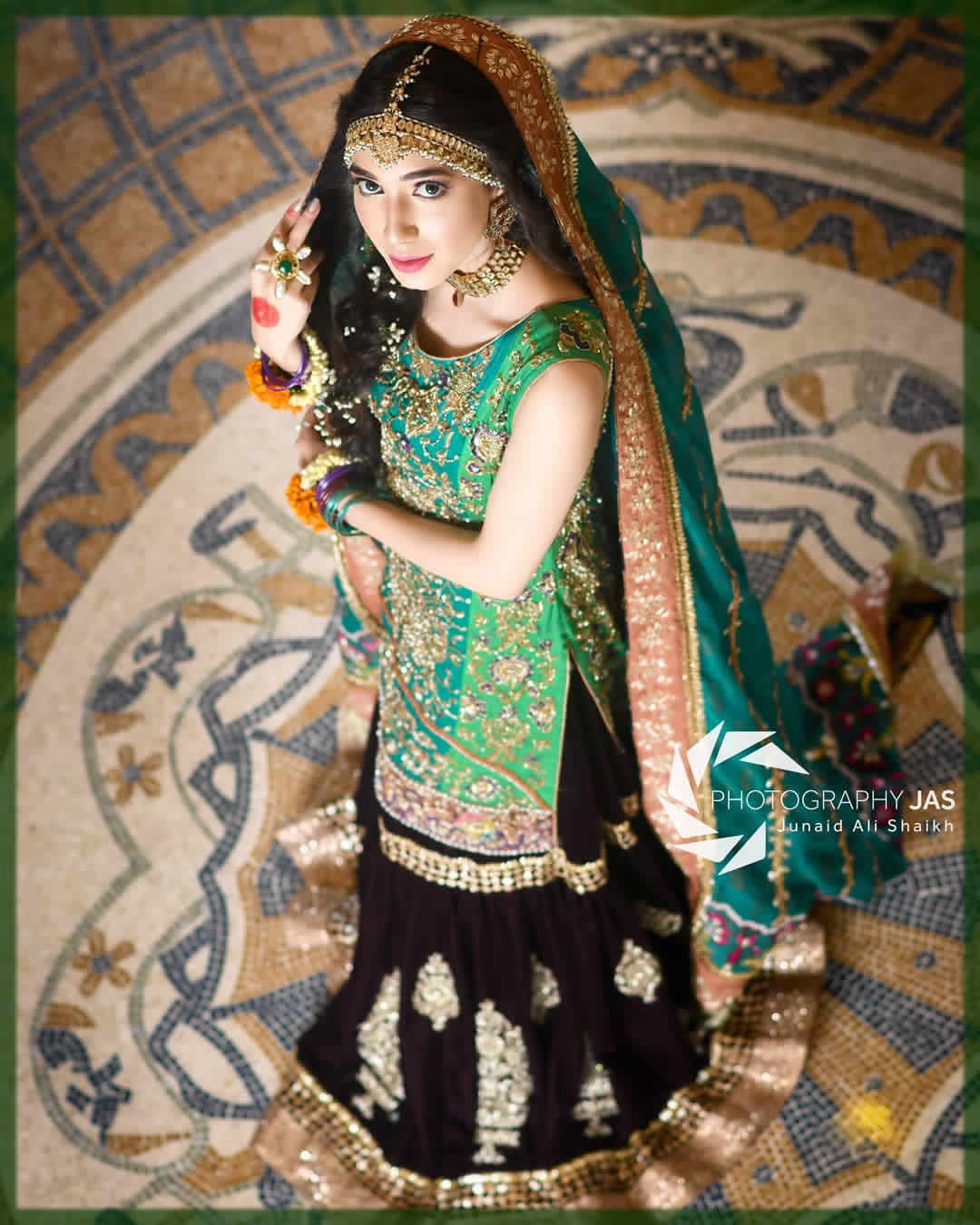 Multi Sharara with Yellow Embroidered Shirt
Yellow shirt with multicolored jamma-war sharara along with red dupatta will look magnificent at your special event. The side-swept curls are a simple yet classic way to flourish your beautiful looks on your big day.

Anarkali Suit with Flared Gharara
Below is one of the most elegant Indian bridal dresses with the best color combination. You can go for fresh flower jewelry and keep your hair open to get this gorgeous look. You can opt for this soothing color combo for your Mehndi ceremony just the way she did.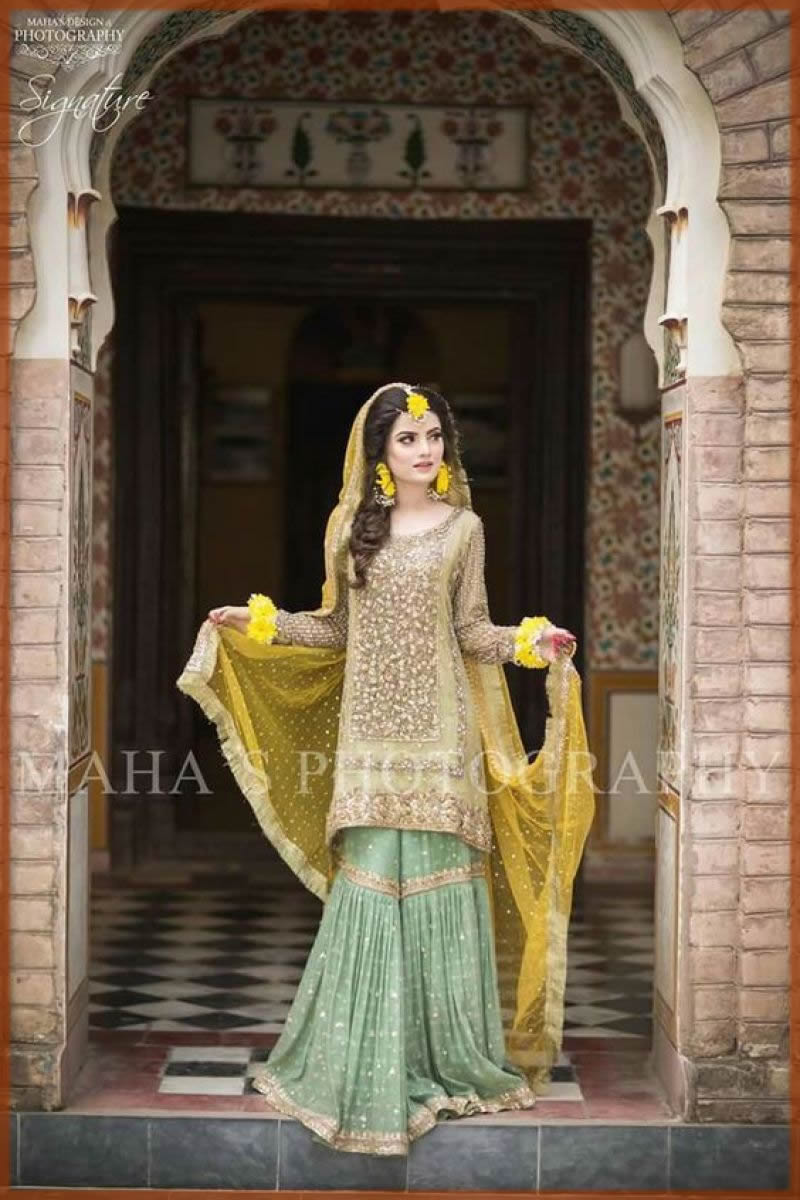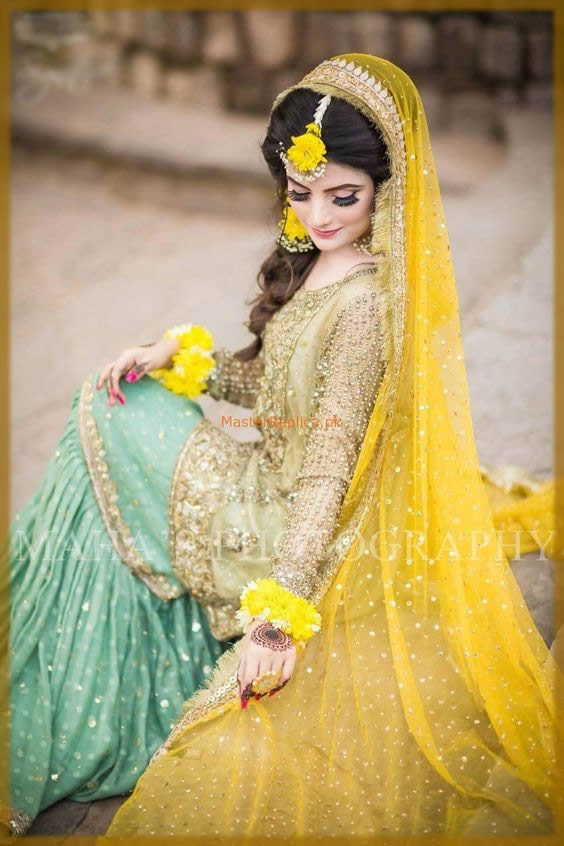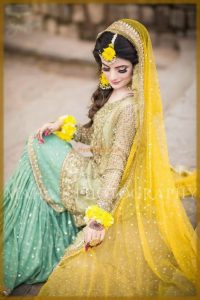 Exclusive Mehndi Dress for Bride
Beautiful small mirror worked sharara and heavy embroidery on shirts are entirely fantastic. The whole variety prepared with full of concentration is the best match for wedding ceremonies. This kind of dress will enhance your beauty. It's the best way to catch the attention of others by wearing this kind of dress with these color combinations.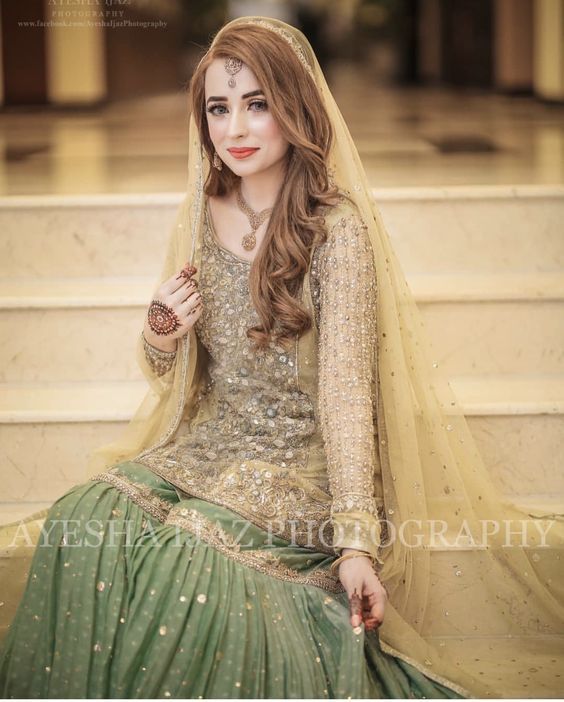 Bridal Mehndi Lehengas and Ghagra Choli Dresses
Lehenga and ghagra are in-trend nowadays. Girls always love to wear lehengas. The lehenga with a short blouse is the most trendy style for this season. And it works surprized when worn with the perfect accessories like jhumar, jhumkas and choker necklace.
Yellow and green are known as the best color combinations for the Mehndi dresses. If you don't want to look typical in these traditional color combination of yellow and green, you can try out the different tone colors as well. Now designers are launching a new collection of mehndi dresses by combining different colors. The best color combinations for lehenga and ghagra choli for the bride are exhibited below:
Bloom Lehenga Choli
Multicolored lehenga outfit for brides is a fresh style nowadays for mehndi function. This latest design will make your wedding amazingly beautiful. Classic curls and jhummar, tikka with gold necklace will enhance your beauty with this particular outfit.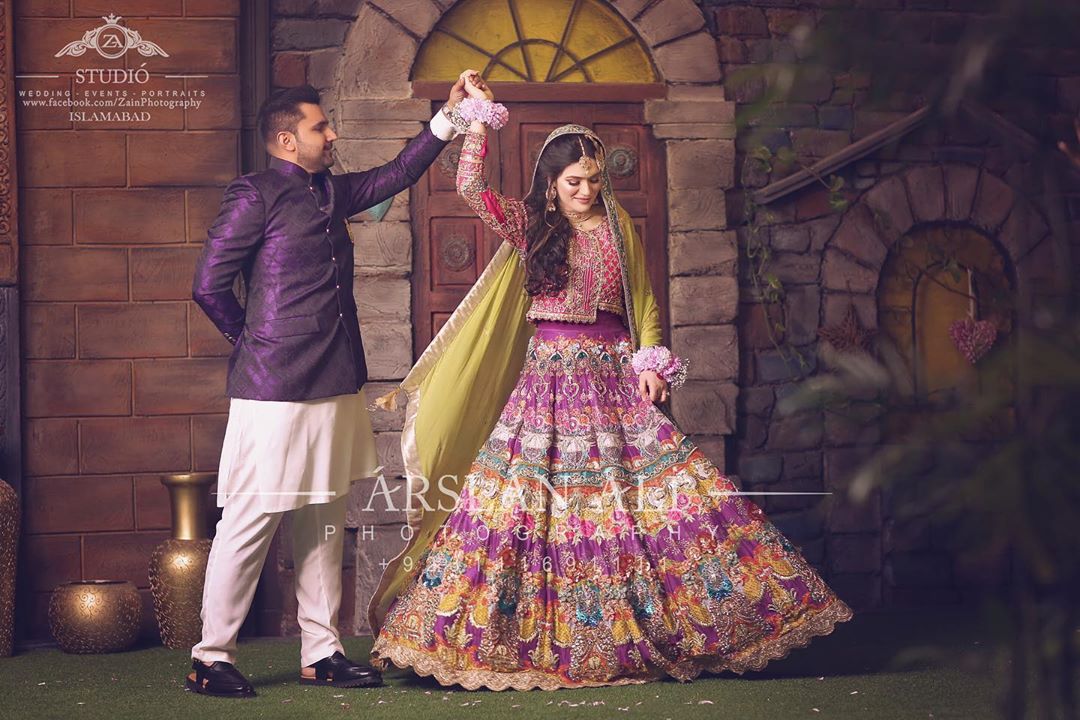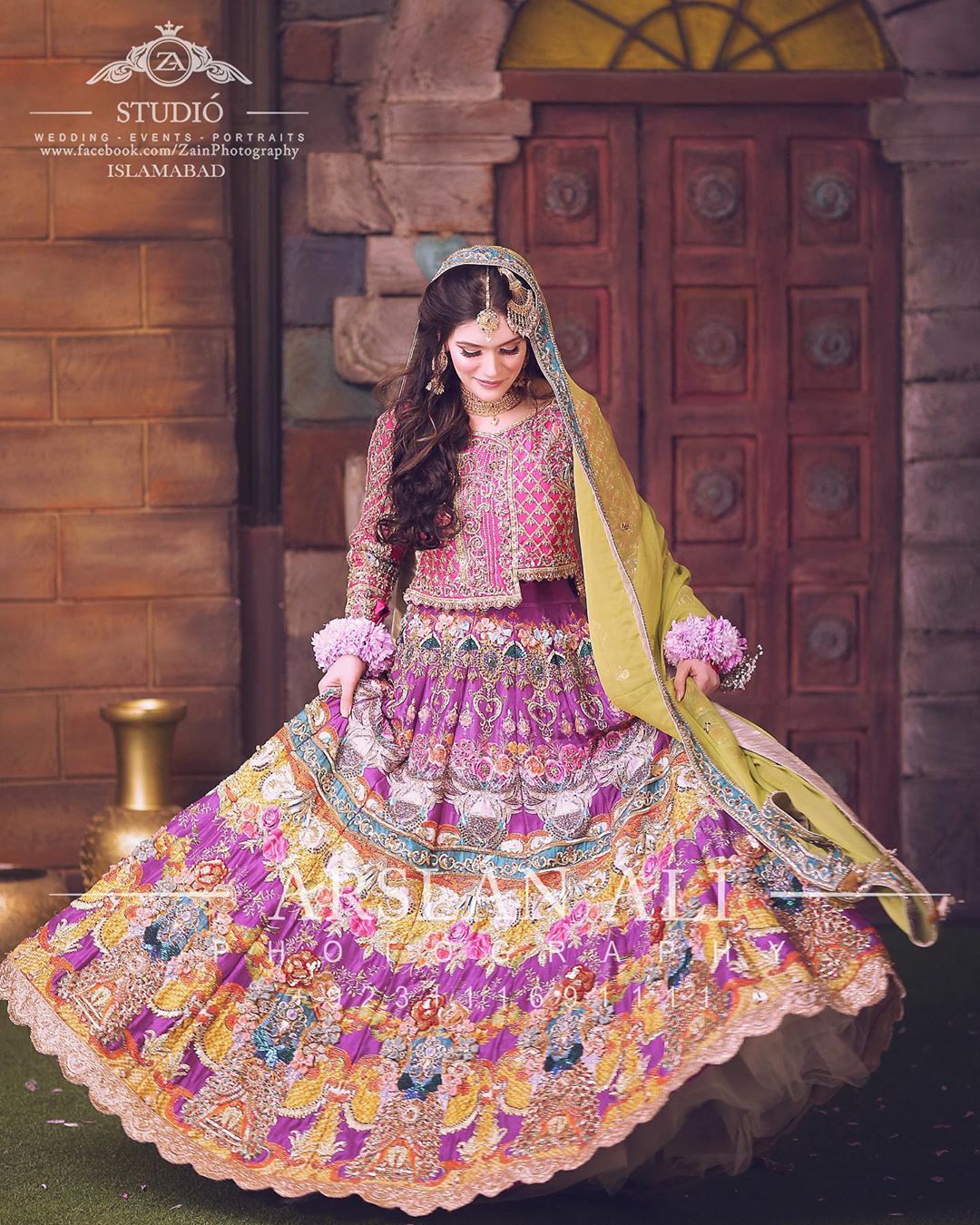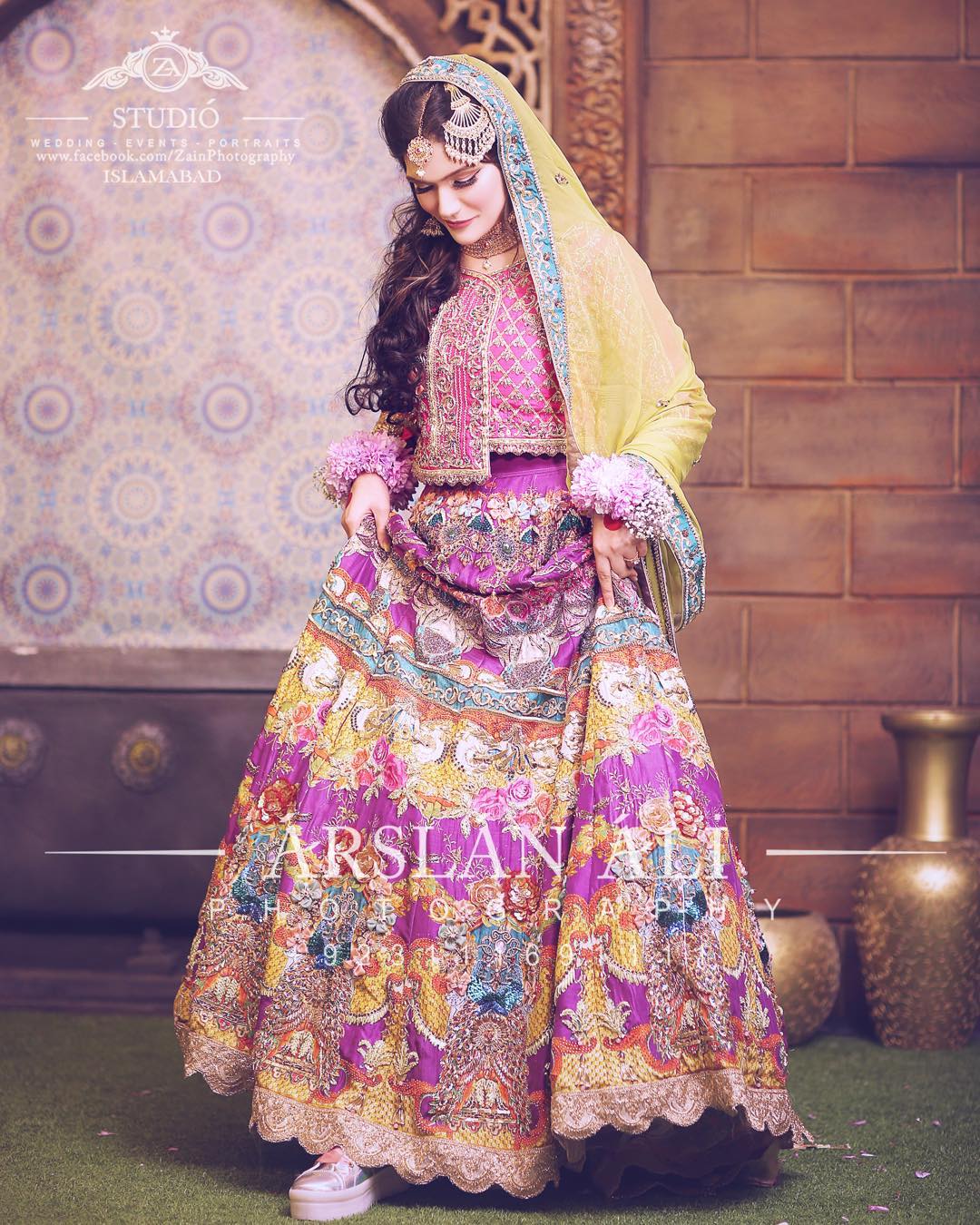 Embroidered Navy Blue Chiffon Lehenga
One of the most beautiful Luxury bridal dresses, made of velvet fabric looks voluminous. An extraordinary design introduced for brides. Mehndi dress with gotta work in navy blue, orange, and the yellow combination looks perfect.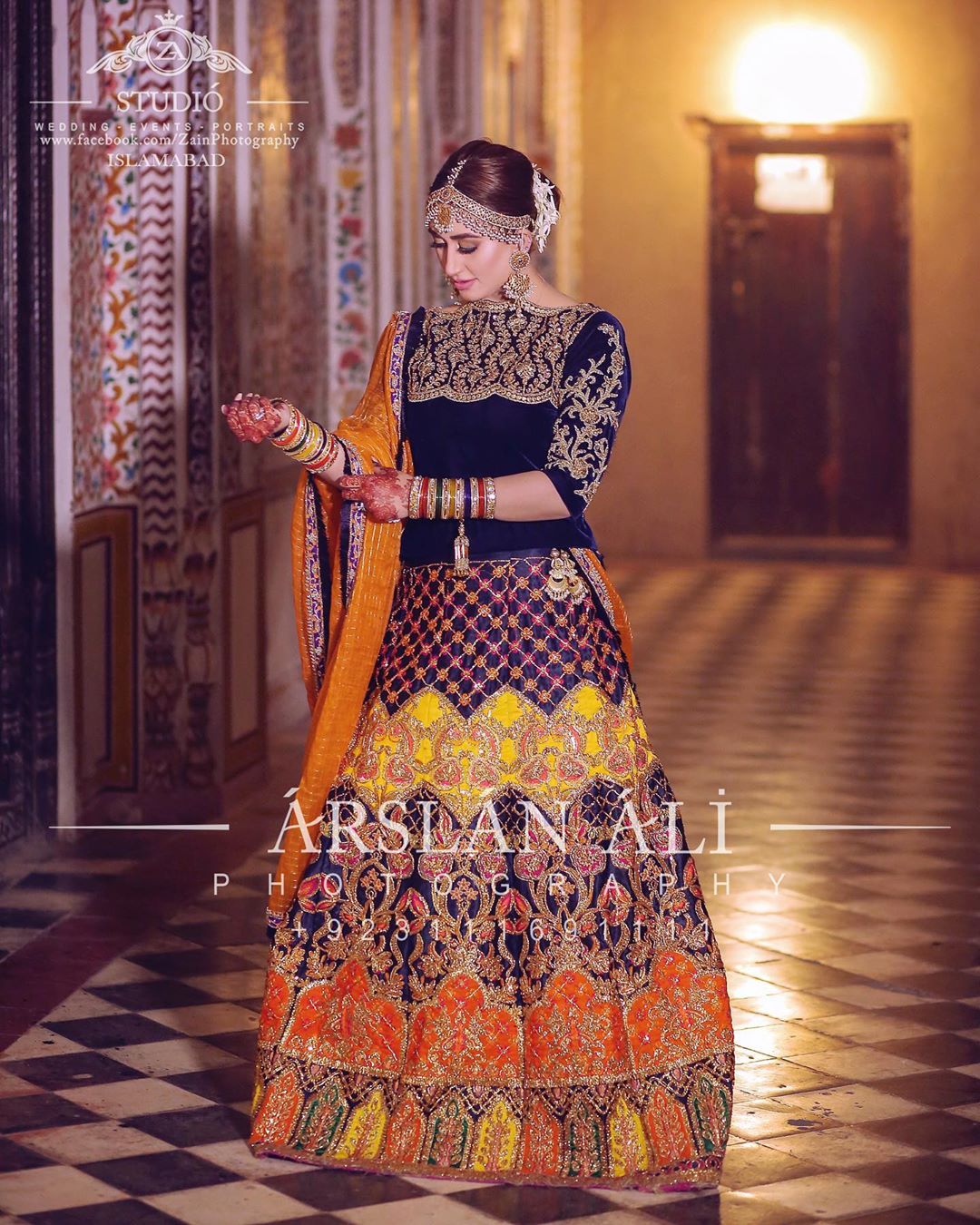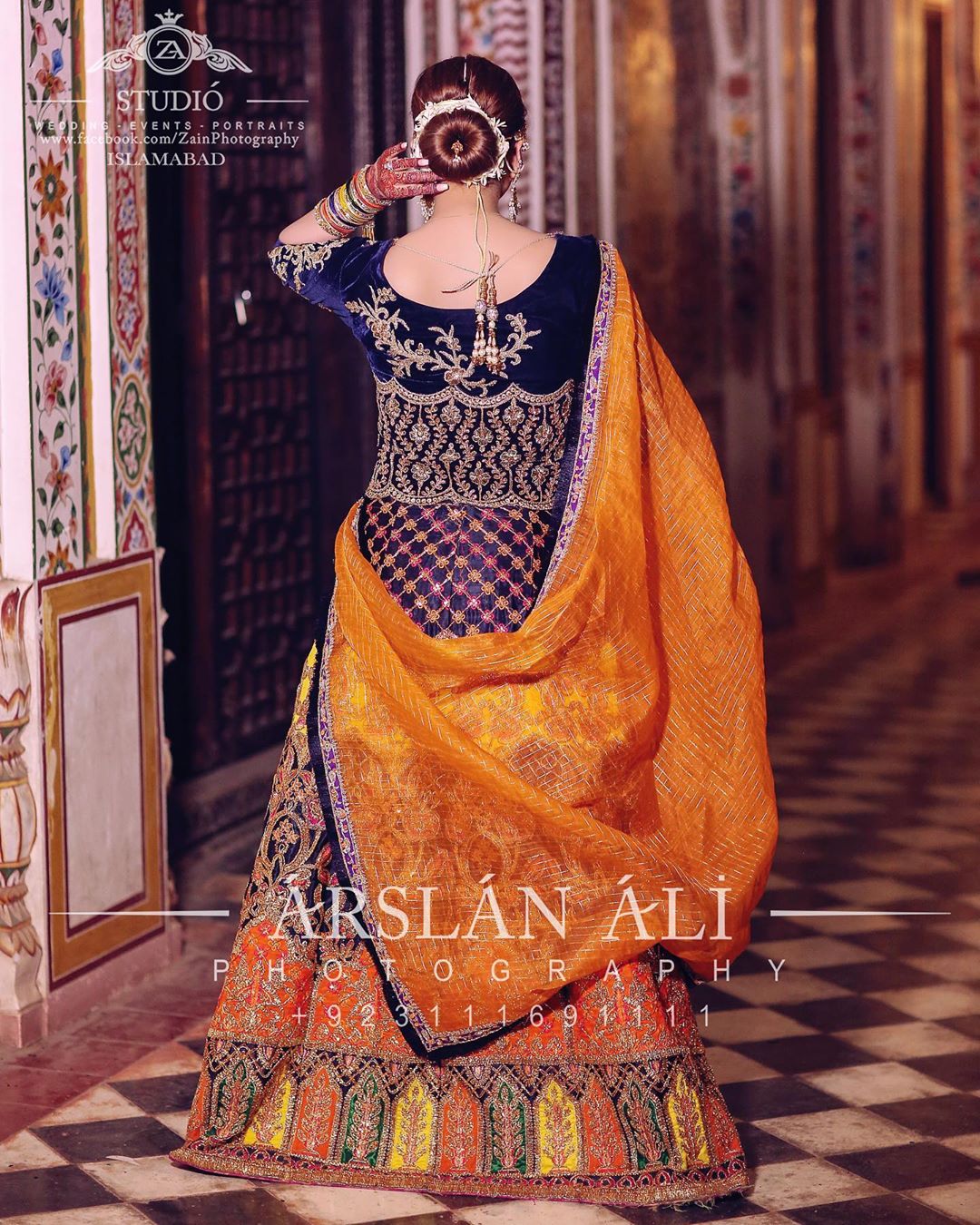 Fawn Gold Lehenga with Short Blouse
Embroidered jamawar lehenga is a new fashion style for brides these days. This dress is perfect for girls at the mehndi event. Get this elegant look on your great day with multi-layered accessories and bangles to shine bright like a diamond.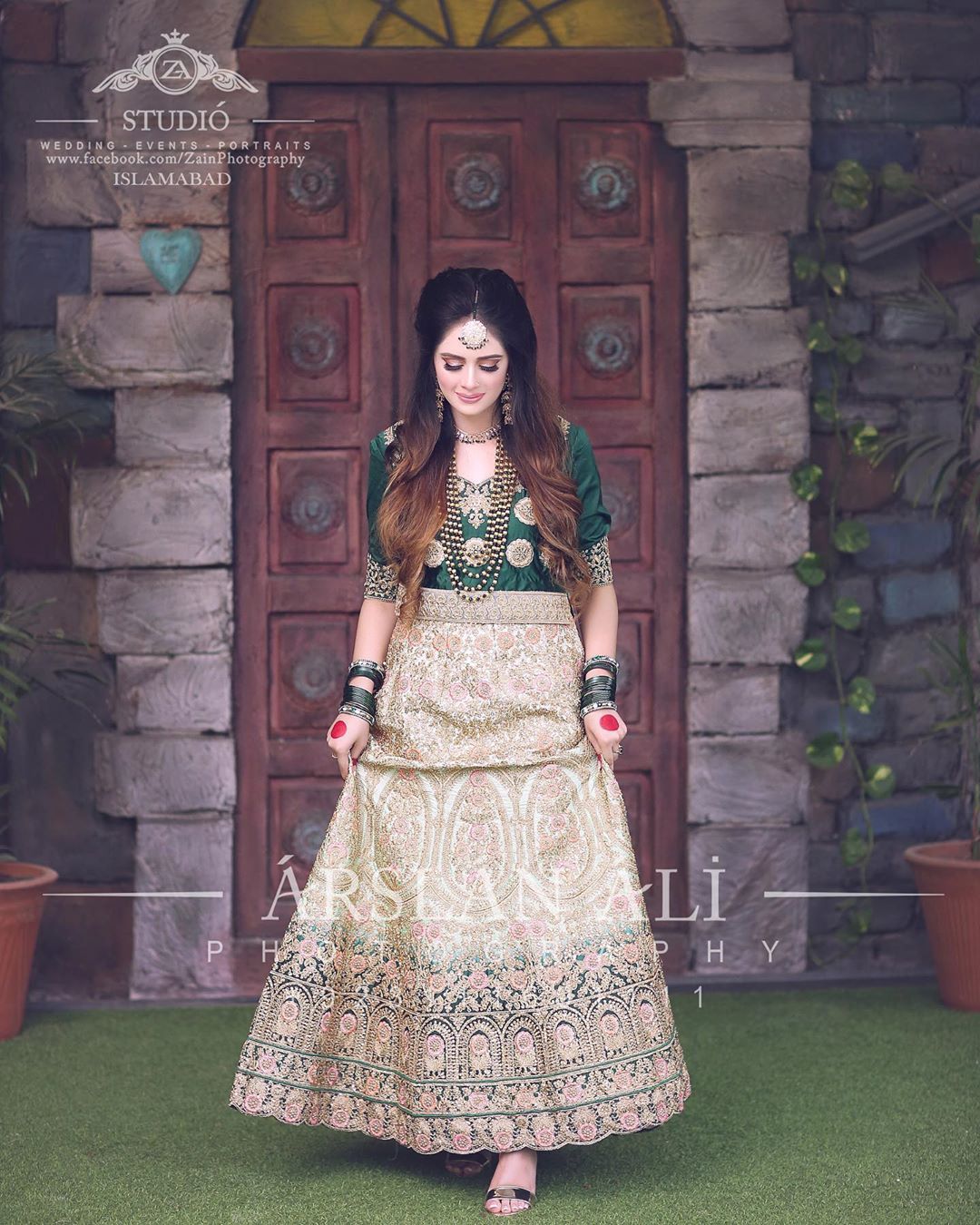 Yellow Gladiolus Lehenga 
Lehenga, with some heavy embroidery work with a plain simple blouse, will outshine everyone on night and evening functions. You can wear heavy jewelry with a solid color blouse. Matha Patti is also very trendy nowadays so you can go for it as well.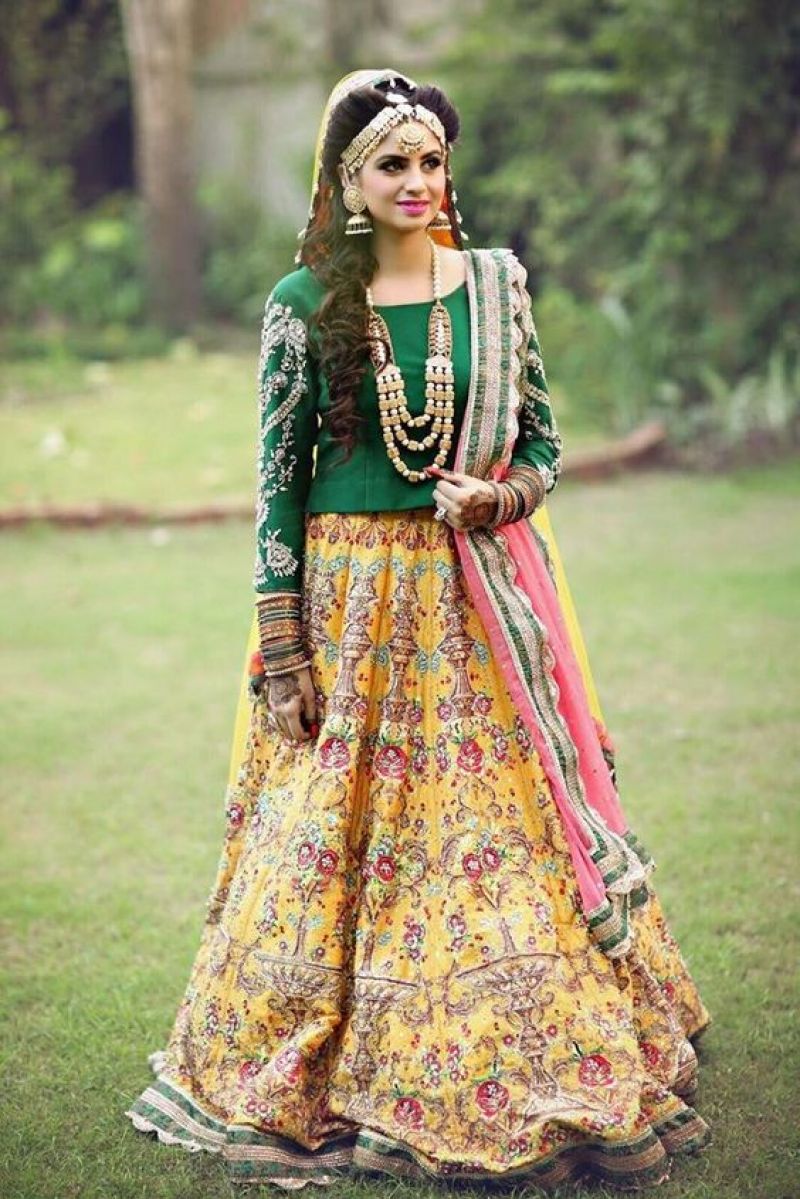 Amethyst Blue Lehenga Dress
The golden combination of the Amethyst blue lehengas looks so good. The golden tilla work on the lehenga is in fashion nowadays. If you want to hold that elegant look and fixate other people's eyes on you, choose this combo for you. This beautiful floral hairstyle is a testimony to that. With just some artificial flowers in silver and a simple teased braid looks outstanding.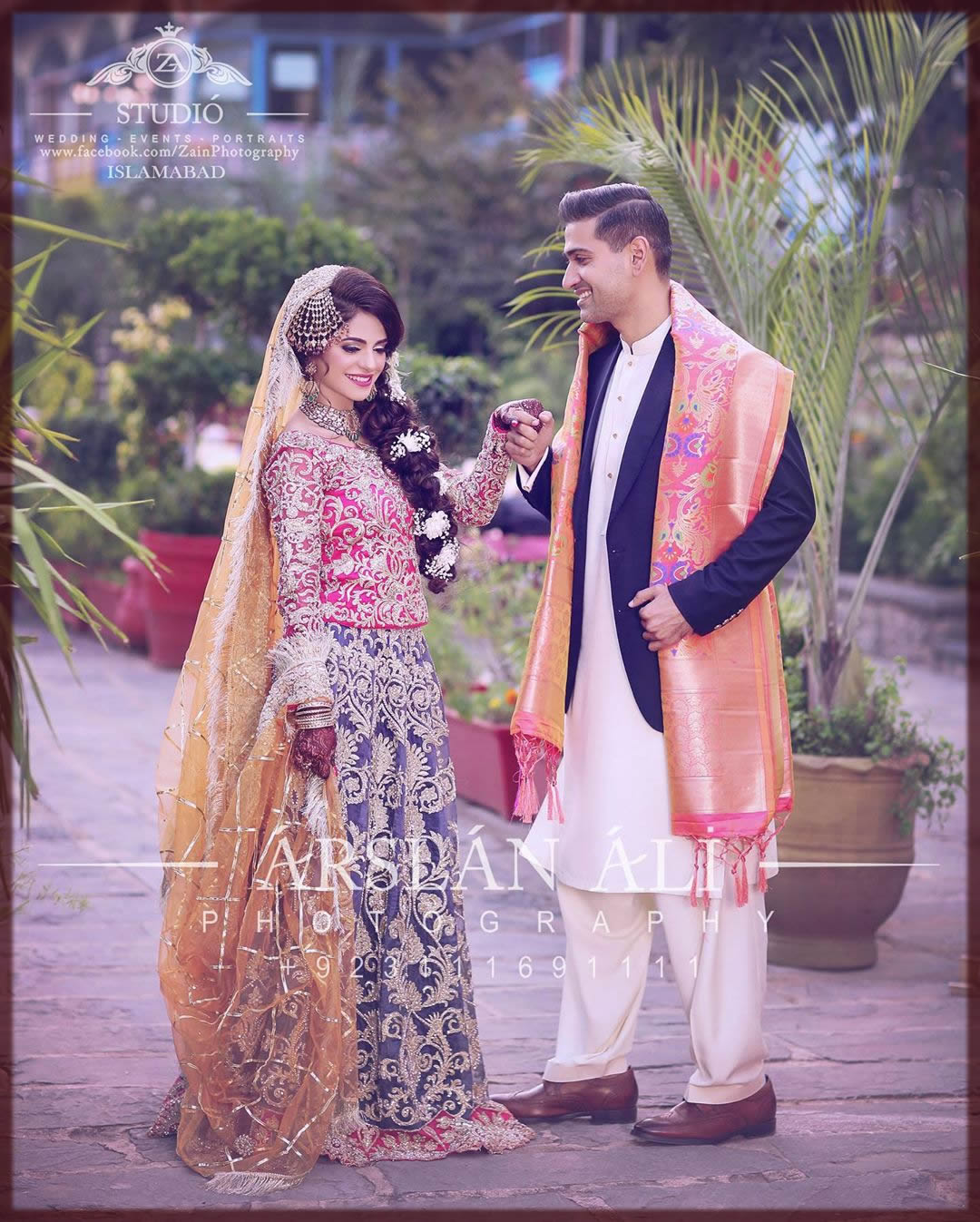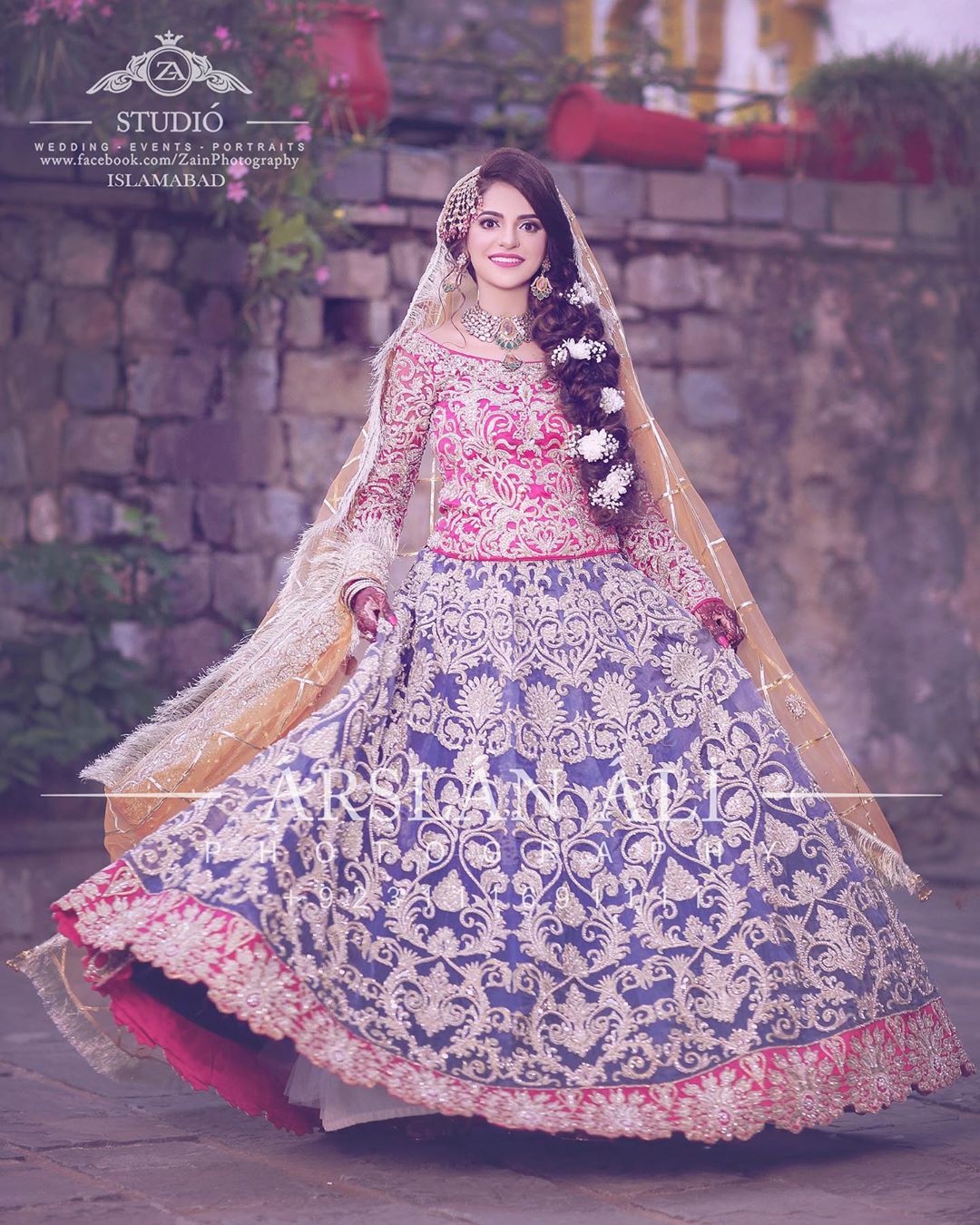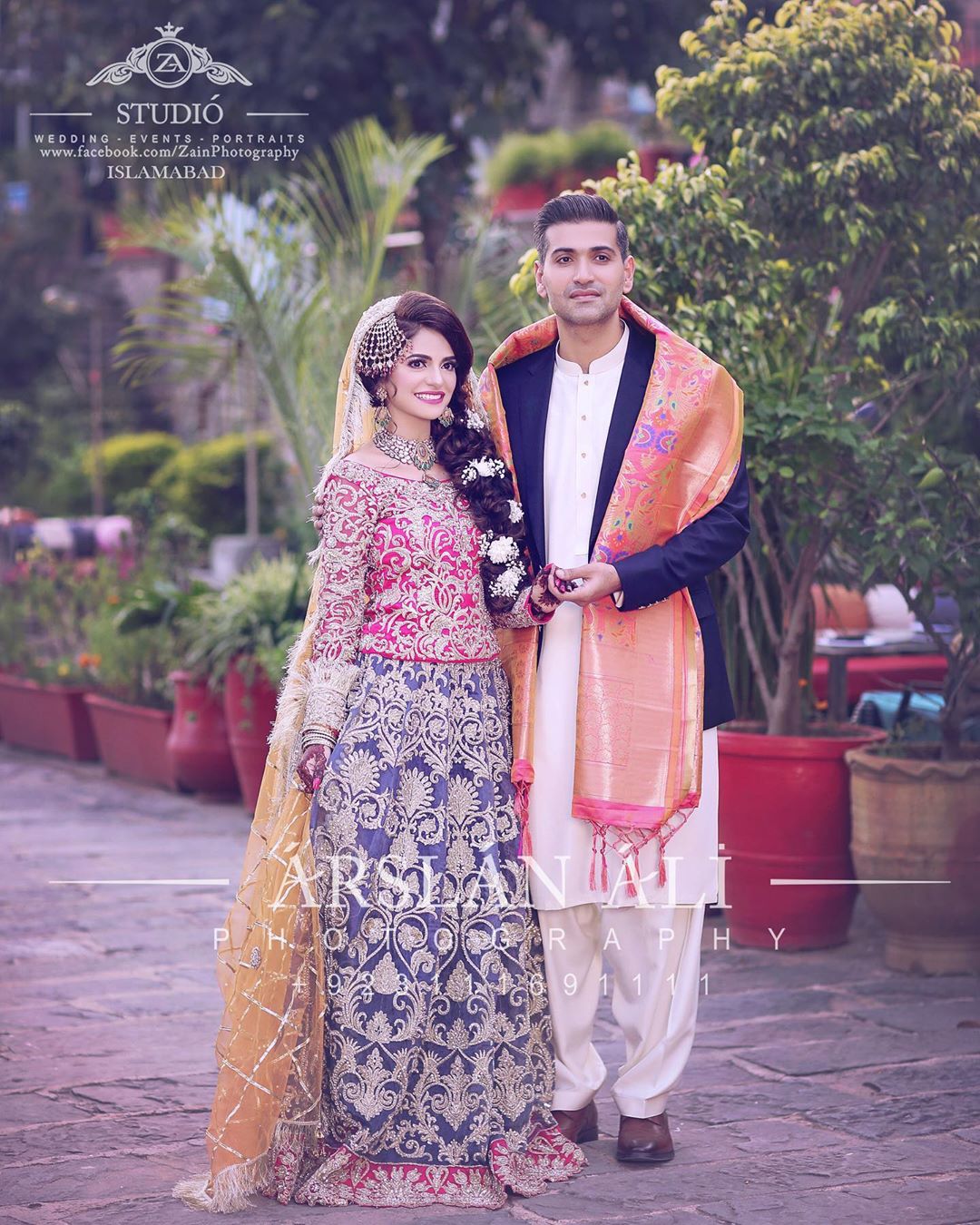 Orange Lily Lehenga
Women always want attractive and fancy dresses for their events. So, the new mirror work designs check all the boxes. These would help you sparkle in the mehndi event. If you want to make your game flashy in the right way, try this.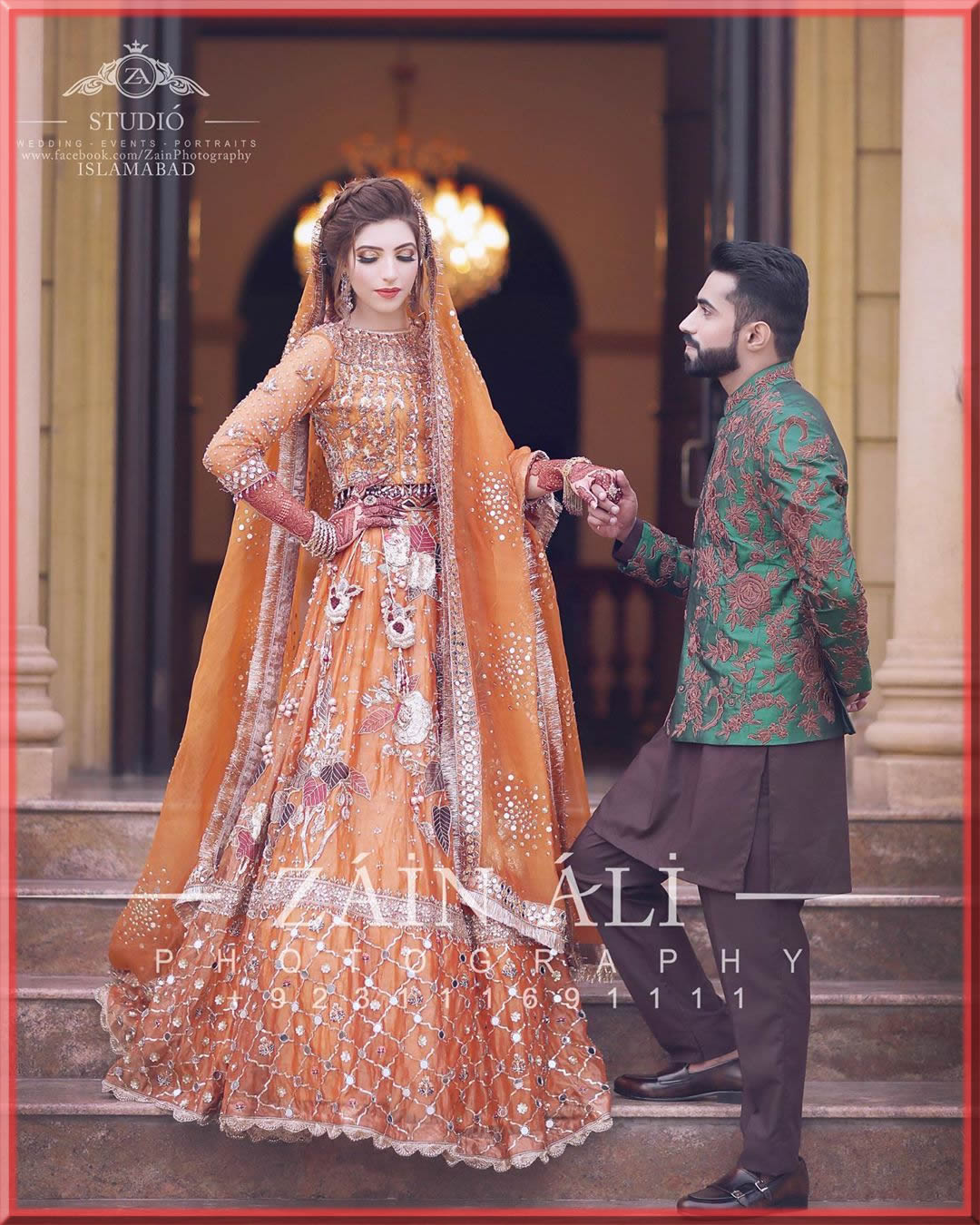 Olive Green Mantle Lehenga
Beautiful hand-embroidery work on the overall dress looks exquisite with other color combinations. It's is the calmest color combination that ladies of every age prefer and especially the bride. You can see in the following picture she is wearing a choker and a hair pendant! Get this outline made with rare stones, white gold, or any material. It's all up to you.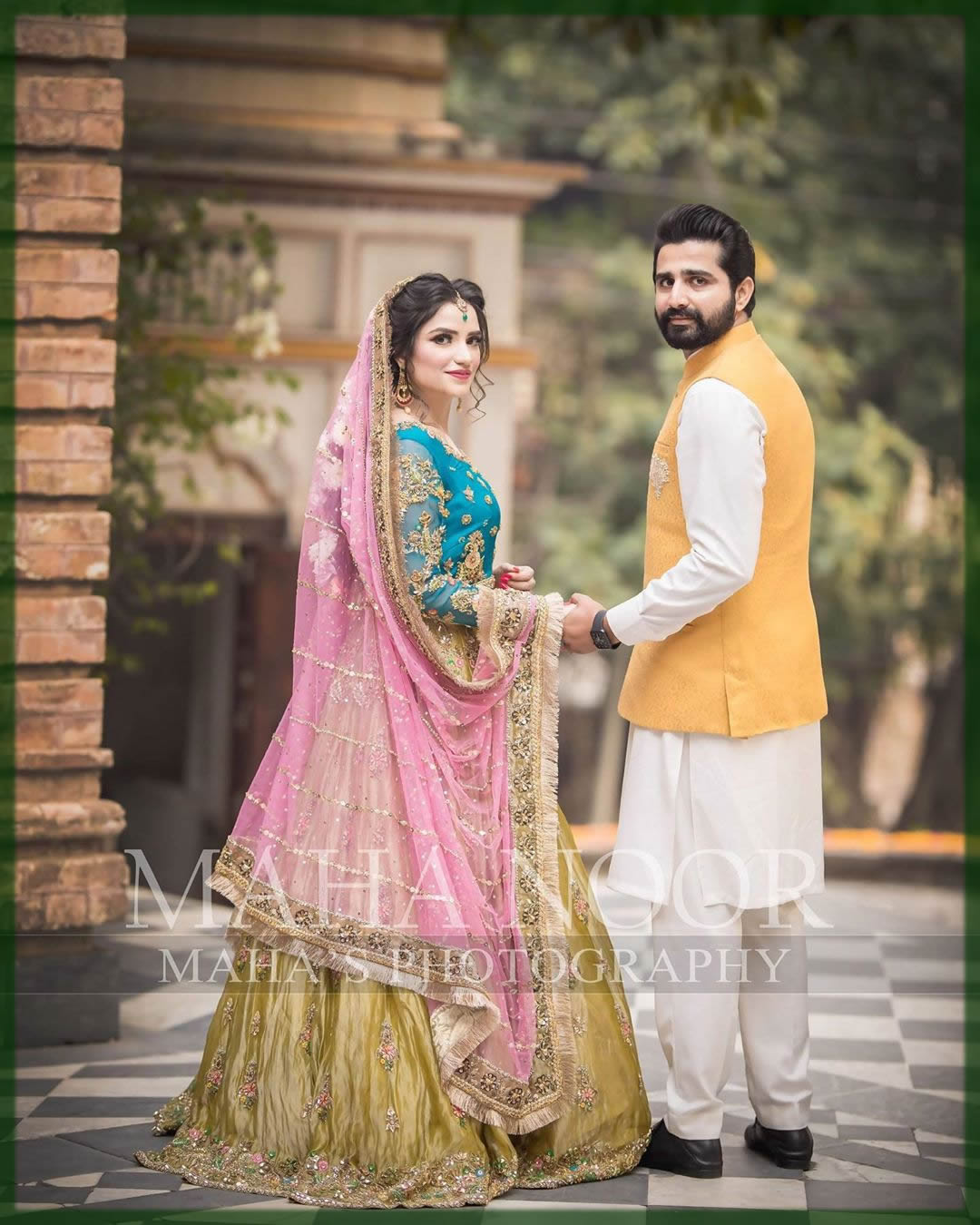 Single Color Mayun/Mehndi Dress
Yellow with silver embroidery lehenga and plain dupatta with a four-sided border is the best combination for a fresh yet traditional look. Keep your hairs open with light curls if you want this kind of look.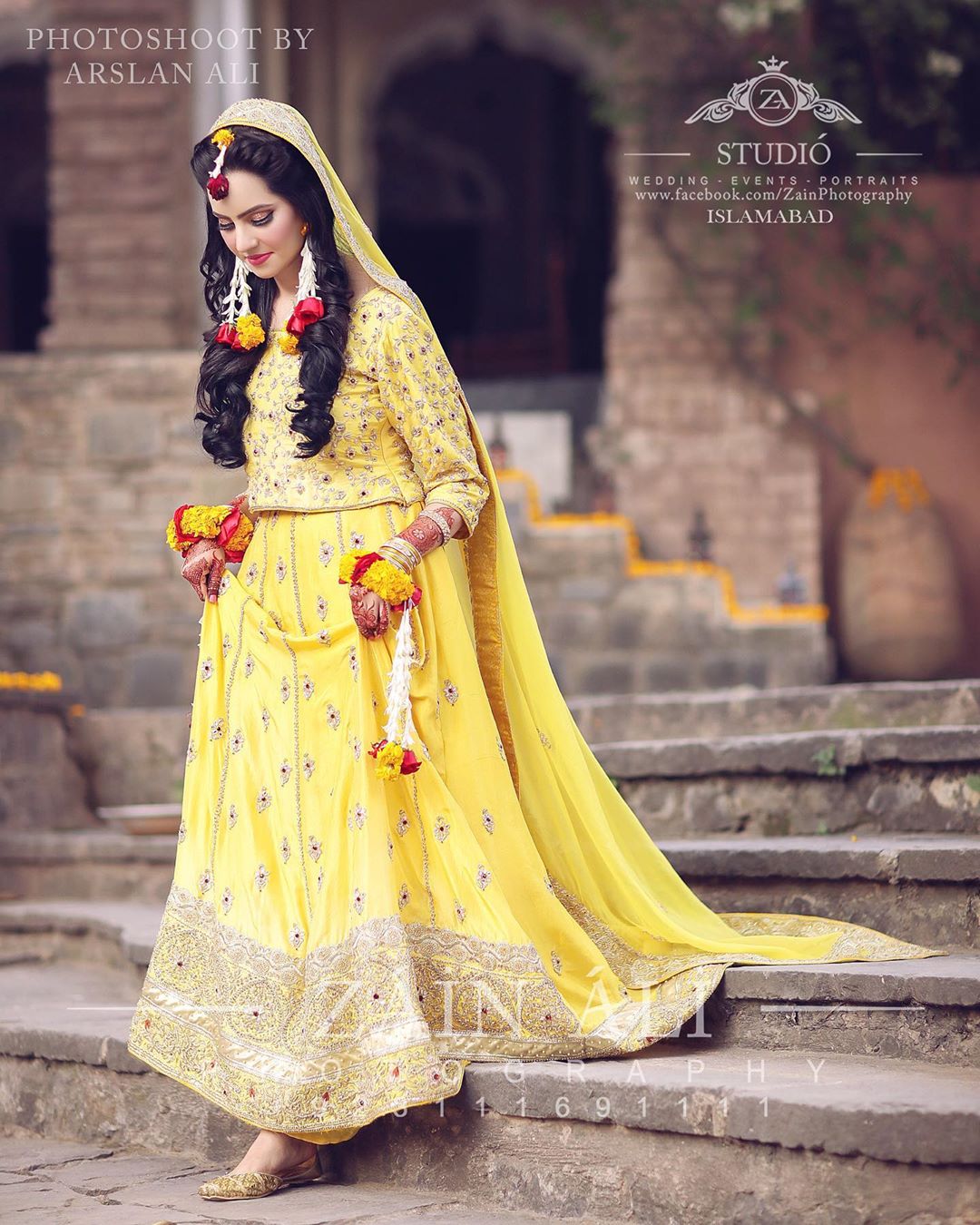 Nomi Ansari Ghagra Choli and Lehenga Collection
Nomi Ansari is one of the best Pakistani designers. He is known as the king of colors. Make your wedding day special with an attractive wedding wear collection by Nomi Ansari.
If you are waiting for elegant and unique outfits that will make your wedding moments beautiful, then Nomi Ansari Bridal Lehenga Collection is released. This collection will make your special day more special.
The designer knows how to play with the color scheme. All of his collections appear in beautiful chrome and contrast, along with beautiful designs, which look very outstanding. Here is the Nomi Ansari Bridal Dress Collection for you people.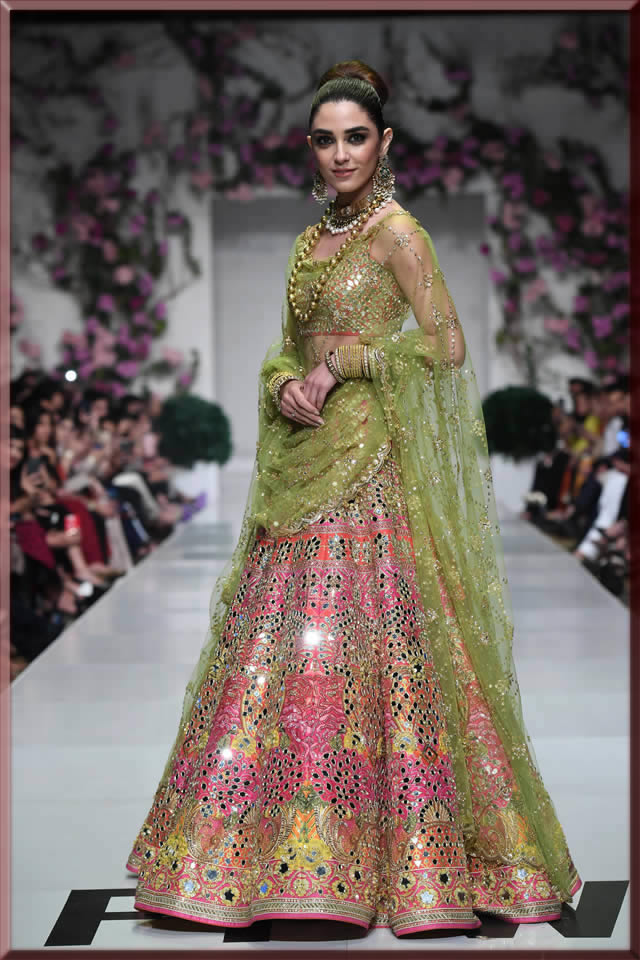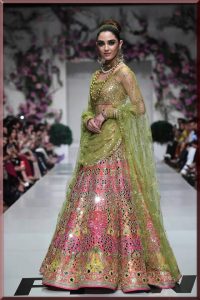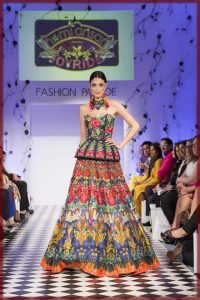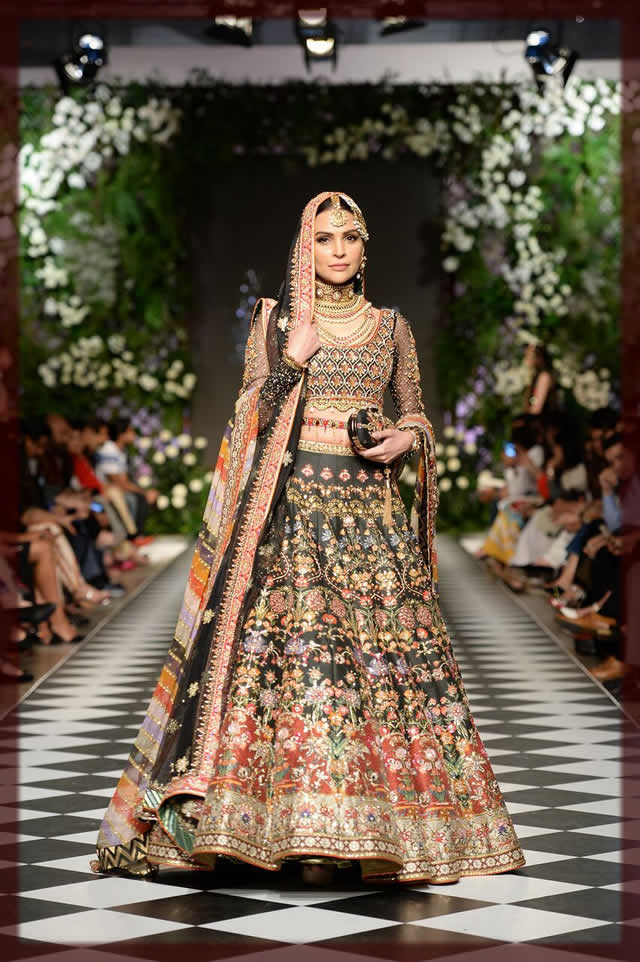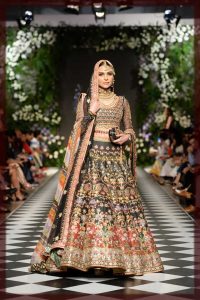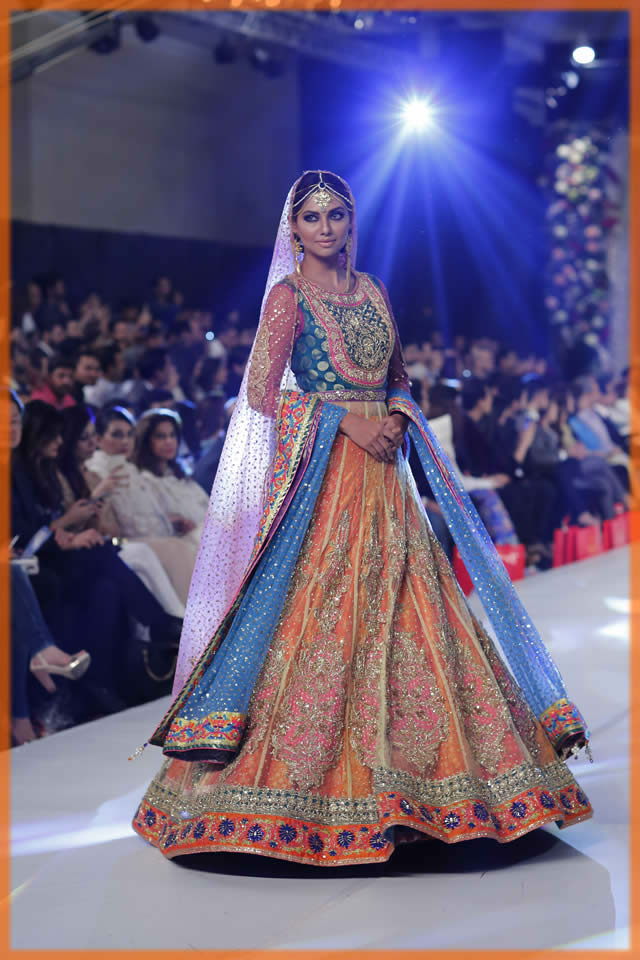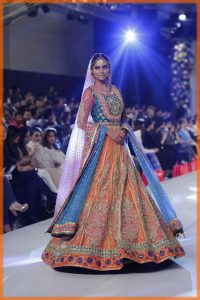 Aiman Khan is a Pakistani television actress. She is celebrating a year of togetherness with her husband, Muneeb Butt. They both get married last year. They had a total of eight events. Aiman khan wore Erum Khan's outfit with soft makeup on her mehndi event that was gorgeous. Look how attractive and cute they both are looking together.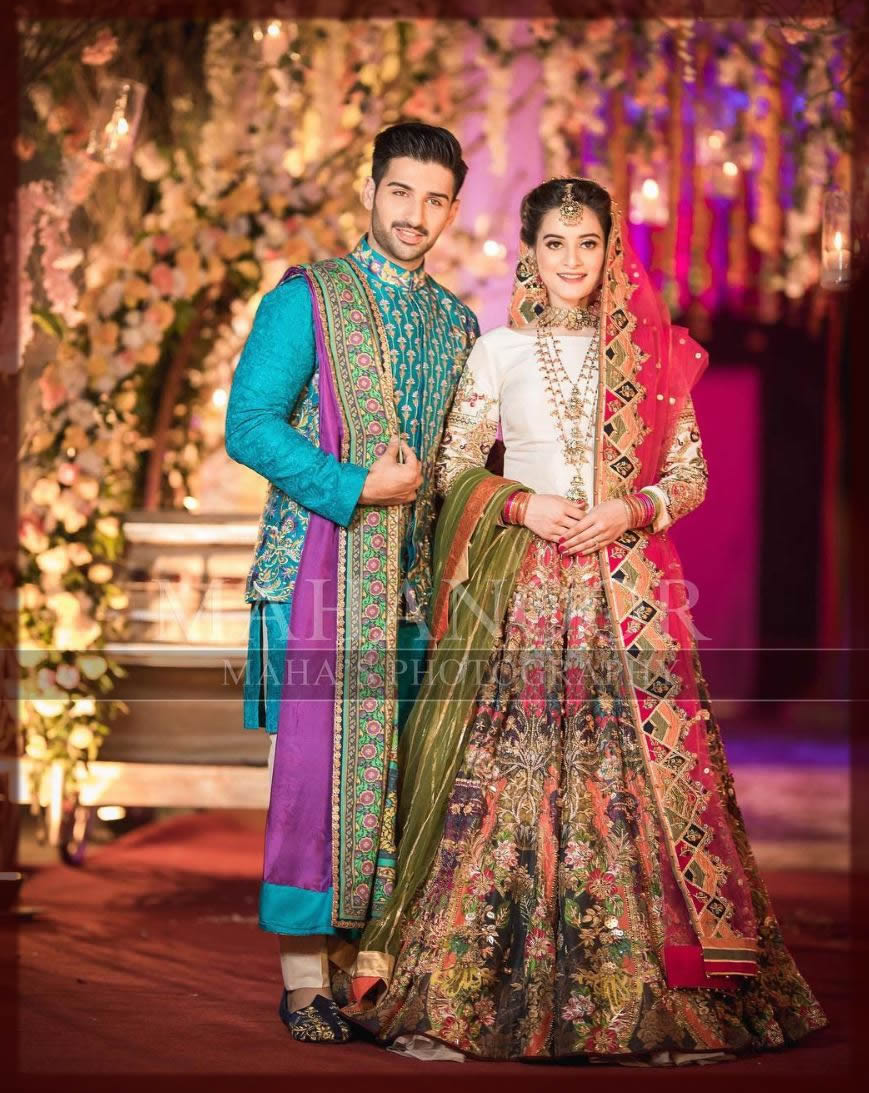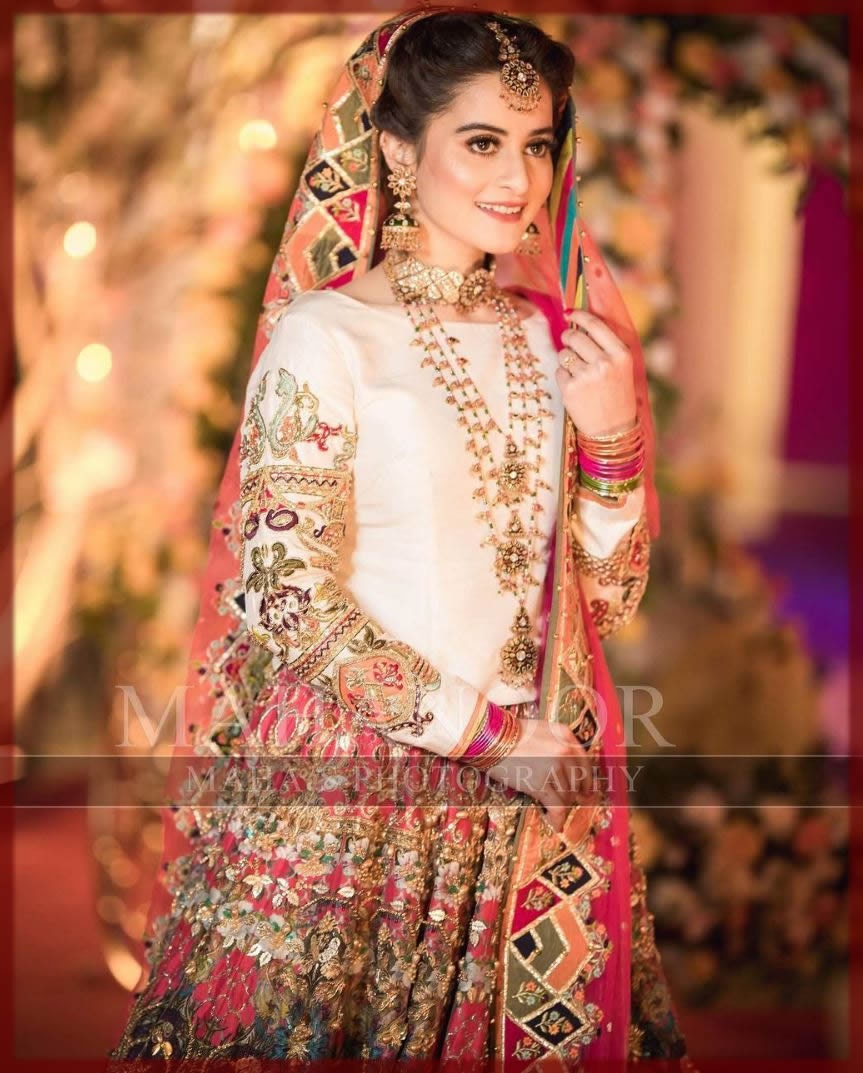 Ayesha Khan is also a famous Pakistani television actress. She quit the showbiz after she married Major Uqbah Mali. Ayesha looks super gorgeous at her wedding ceremony. She wore half white skirt with a maroon velvet blouse along with a Gotti dupatta.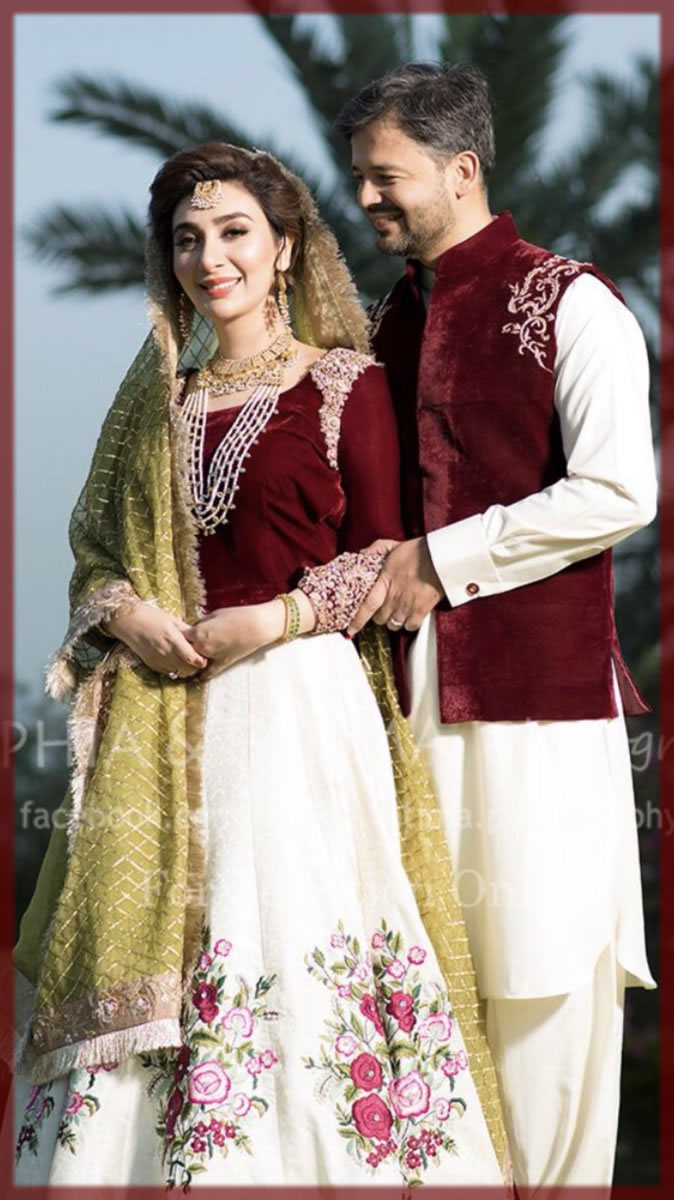 Bridal Mehndi Frocks and Gowns Designs
Frocks are a symbol of beauty for young ladies. Everyone has their own choices in clothing like recently Aiman khan wore Ghaghra choli on her mehndi event. Nowadays, Iqra Aziz's wedding is just around the corner, and she wore a yellow dress on her mehndi event.
Iqra Aziz looks lovely in this long umbrella frock. Faiza Saqlain designs this dress, and she looks as radiant as a person she is, sure she looks simple yet elegant.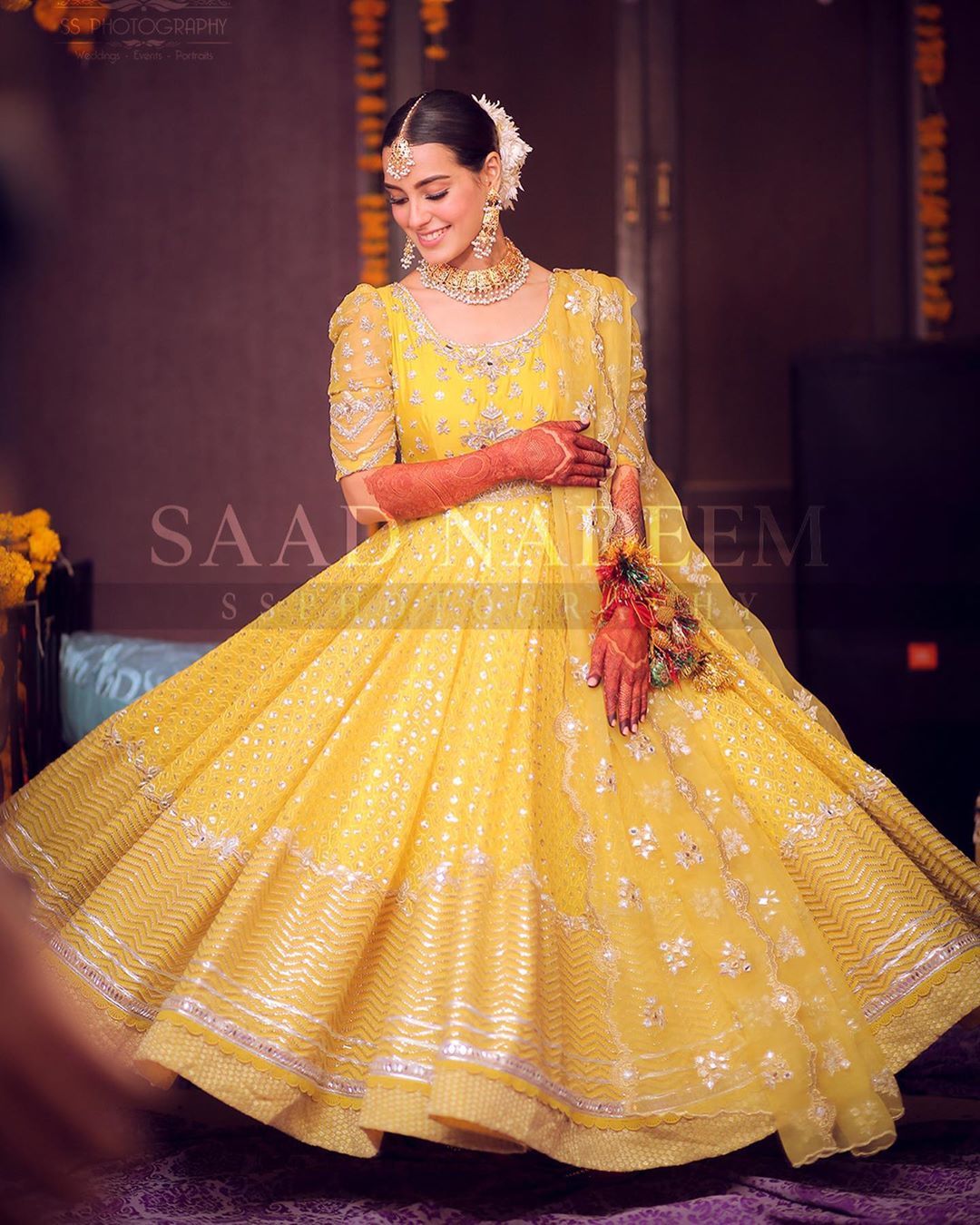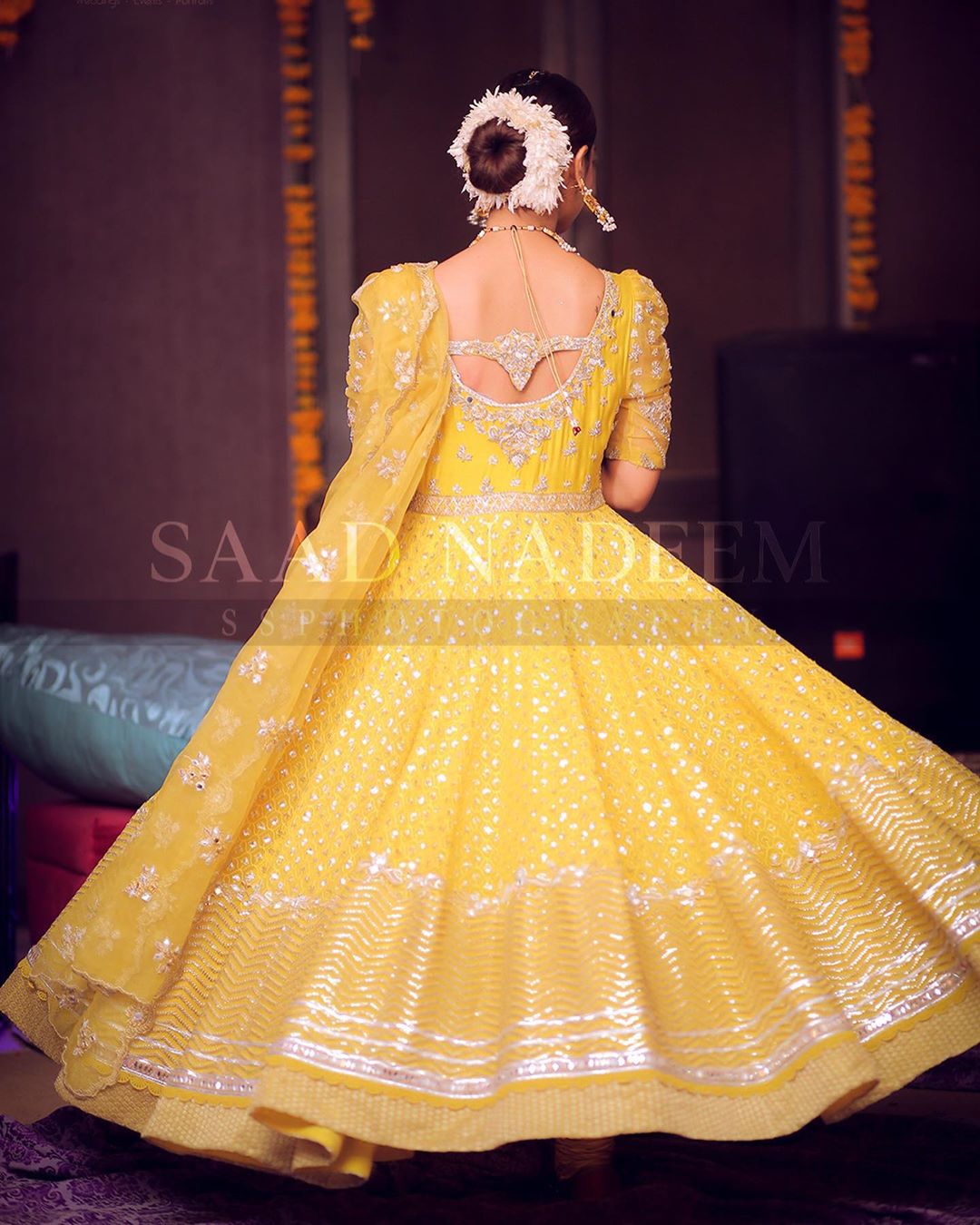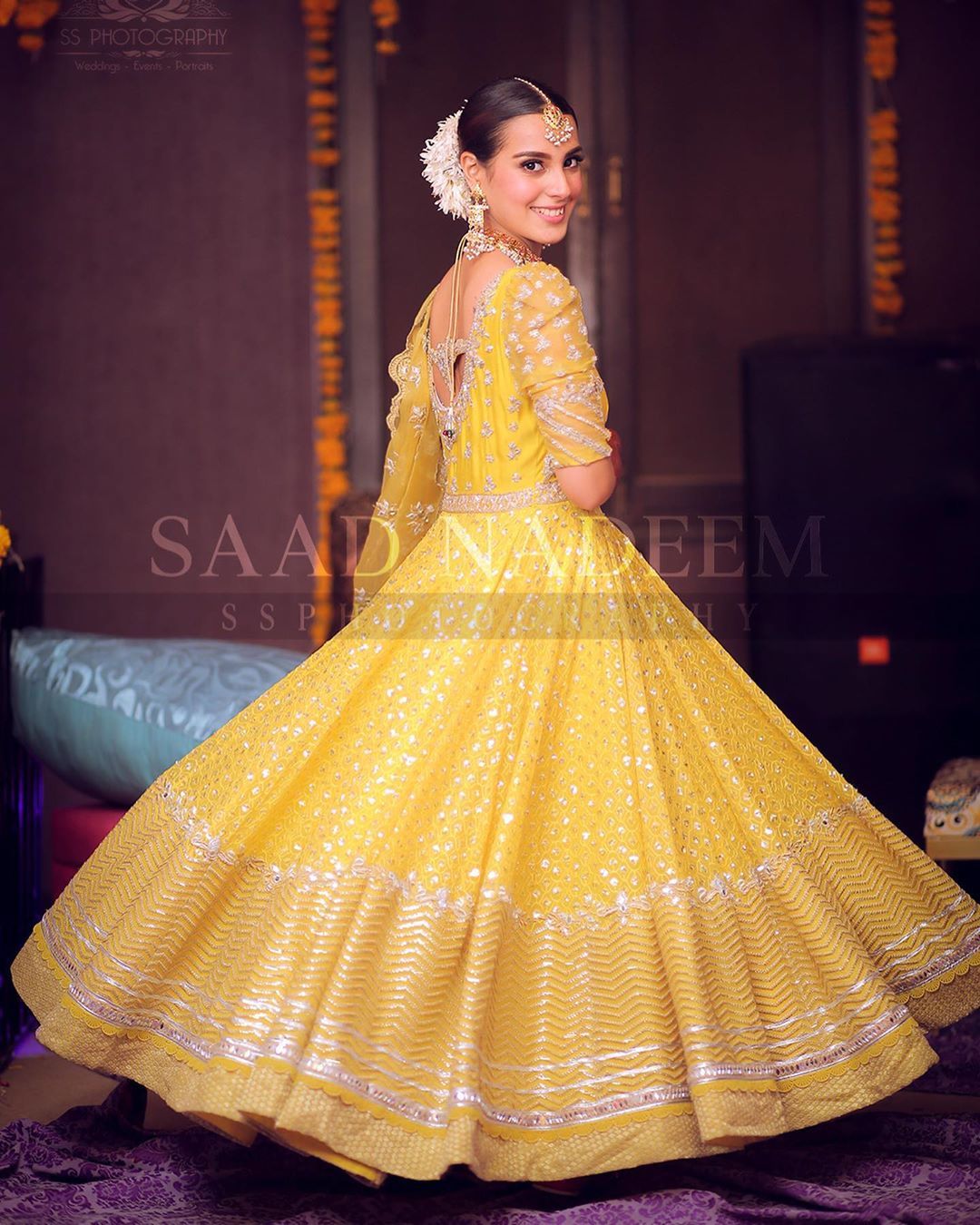 Yellow Frock for Mayun Bride
You can choose a yellow dress for mayun with sheesha work on it along with a simple churidar pajama. Messy Twisted Half tied hairstyle with this outfit, helps you to look stunning on your day. You can go for fresh flower jewelry to attain this kind of look on your special day.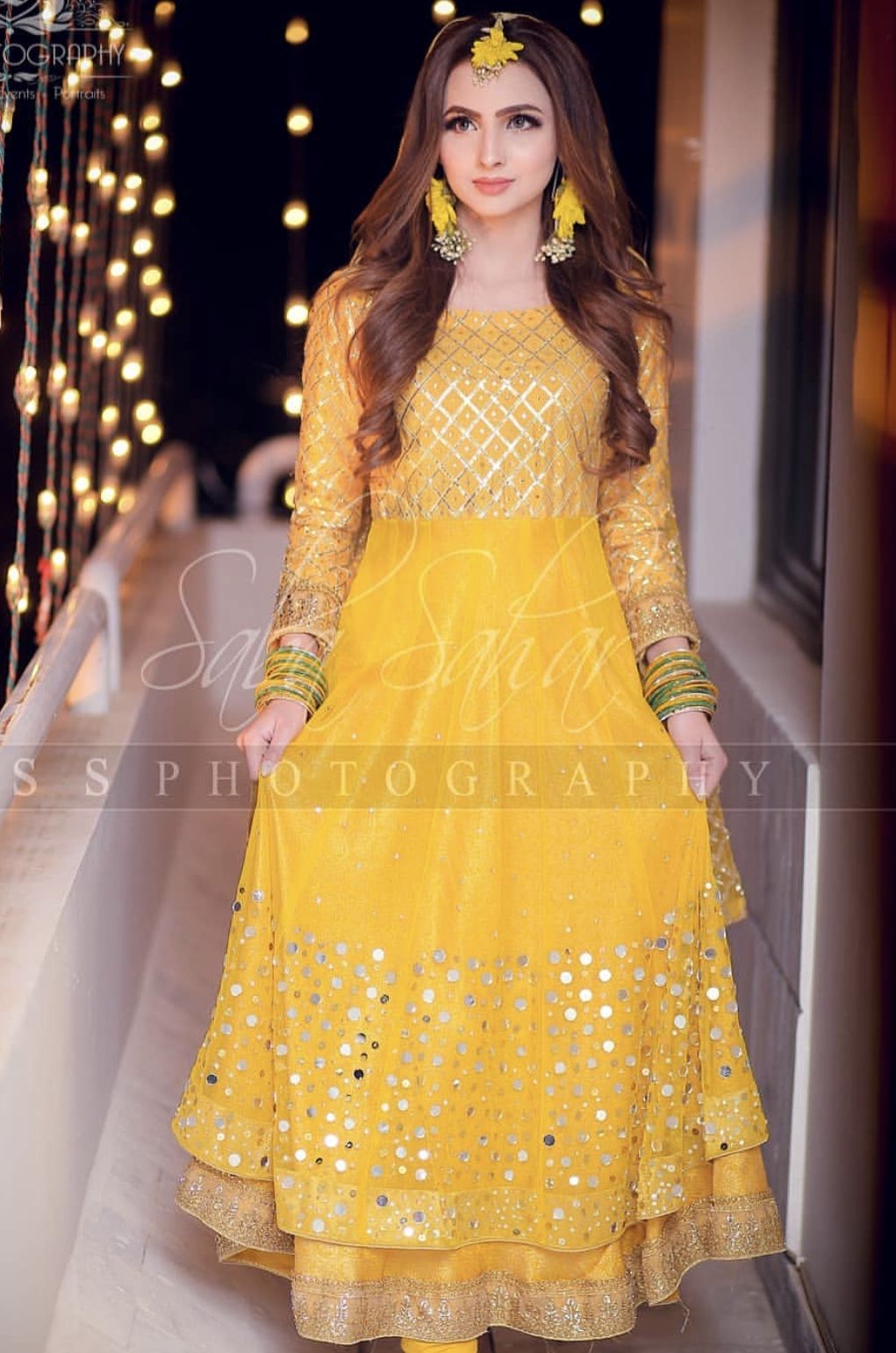 Angrakha Style Anarkali Frock
This one is the most lovely and trendy Pakistani bridal dress with embroidery, from top to bottom. Full expensive kora work on an Anarkali dress makes the outfit luxurious. This kind of Anarkali dress will surely make your wedding day special.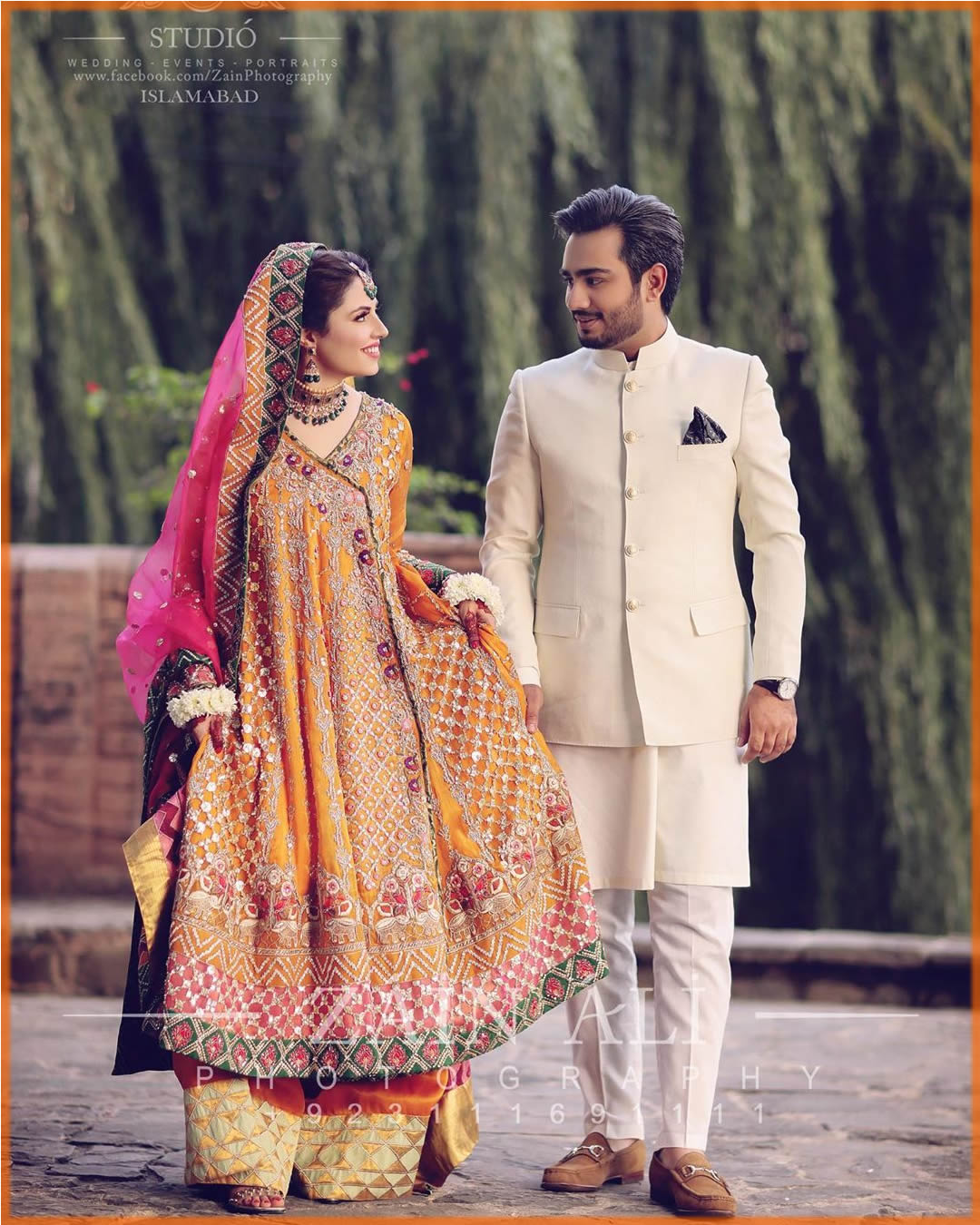 Floor-length Bridal Mehndi Dresses
This combo contains the most recent designs of Umbrella dresses with beautiful patterns and styles. Zari, Dabka work, and tilla work used to design these attires. Gota also used for piping. This innovative and custom design is amazing and would make your event fantastic.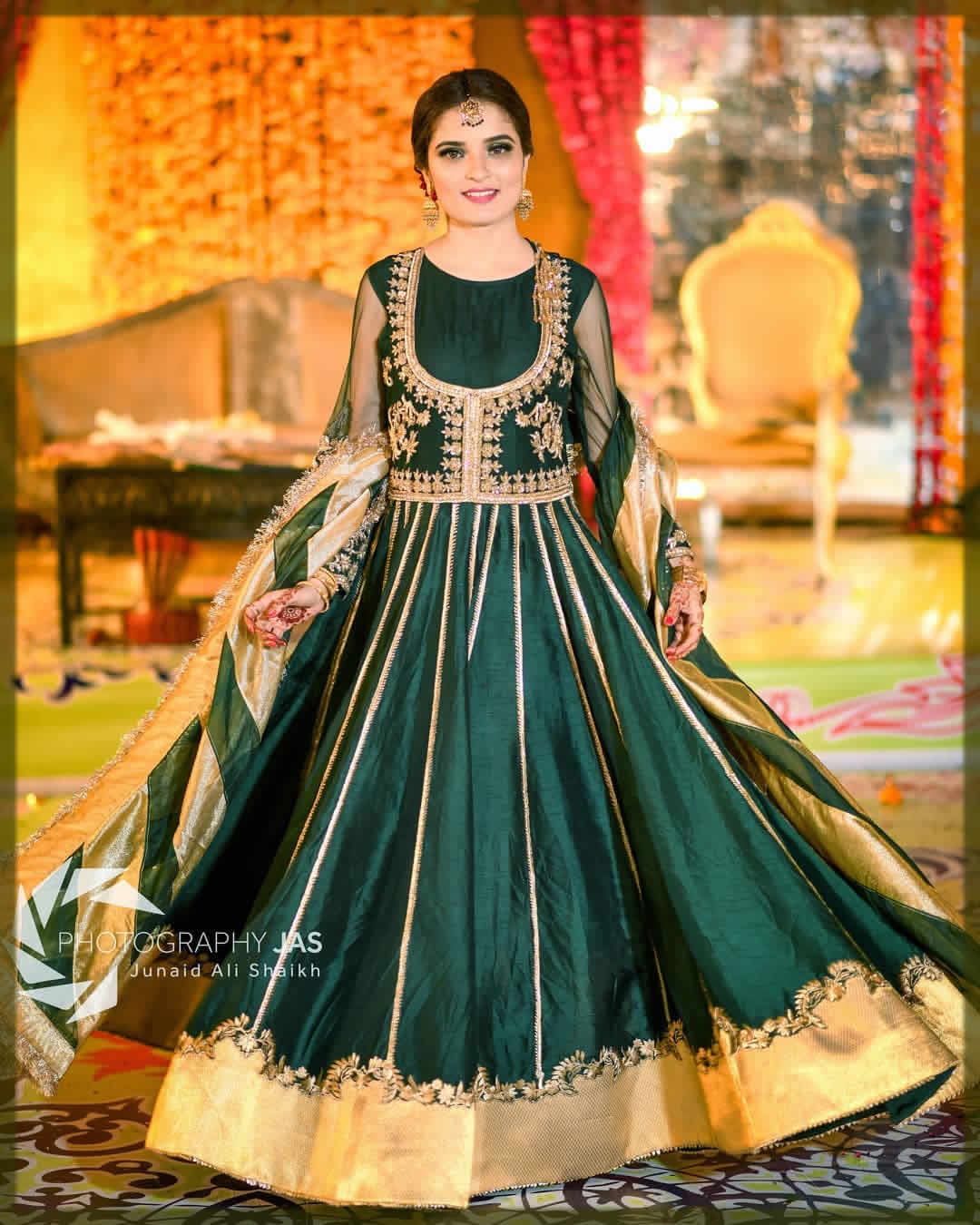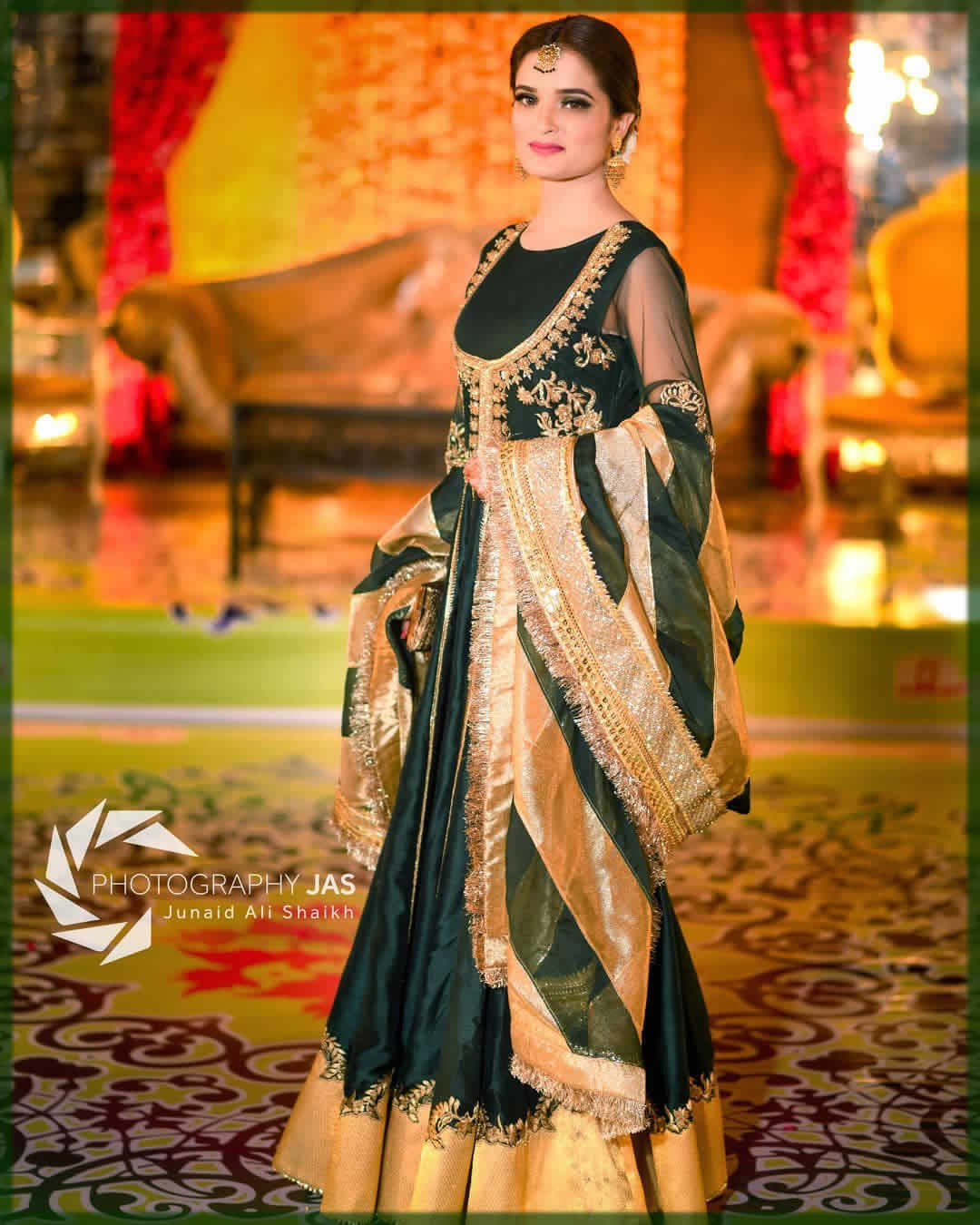 Every girl Love charm and wants to update their wardrobe with the latest fashion trends. But in a busy place, she finds less time to visit the market. So, she starts penetrating for some useful stuff on the internet. In this article, I have shared different and latest designs of bridal mehndi dresses. I hope this collection will be helpful to you.