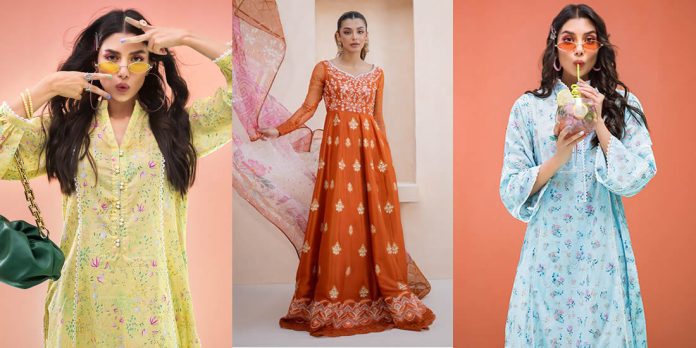 Ansab Jahangir is one of the most prominent fashion designers and retail brands in the industry of Pakistan. The leading retailer delivers fantasy-based clothing styles to the public for their dreamy looks. You must be an excellent explorer to look chic and modest in every style. Here, we have a style guide for you that will aid you in getting gorgeous looks. Ansab Jahangir winter collection will give you a radiant vibe with glamorous outfits.
Do you want to grasp the attention of the public around you? Did you know how your favorite designer grasped the attention of the whole world? It is not as easy as it seems. A lot of day and night struggle brings such PR and makes people trustworthy. Well, the creative designer did it with continuous effort, and today, the world recognizes the young talent for his extravagant designs. Let's take a moment to appreciate the designer.
This year, delve into luxury with the majestic and dynamic ensembles from the Ansab Jahangir winter collection. The intricately crafted dresses are highly anticipated to bring you a modish and divine look. So, what are you waiting for? Rush quickly to your nearest retail store or buy favorites online from Ansab Jahangir's website.
About the Creative Designer and Brand History
Ansab Jahangir is one of the youngest and truly finest designers in the history of Pakistan. The creative artist is famous for elegant and contemporary dresses for both men and women. Recently, you might have witnessed the luxurious Ansab Jahangir bridal dresses. Here is yet another portfolio of the winter collections by the famous and artistic designer.
From traditional to contemporary to luxe, Ansab Jahangir has a range of outerwear for women. Probably, many of you have spotted several Pakistani celebrities wearing the classic ensembles by Ansab. Also, you can spot your favorite stars in the Ansab Janahgir Eid collection. Here, you will get a variety of velvet and silk dresses from your favorite designer.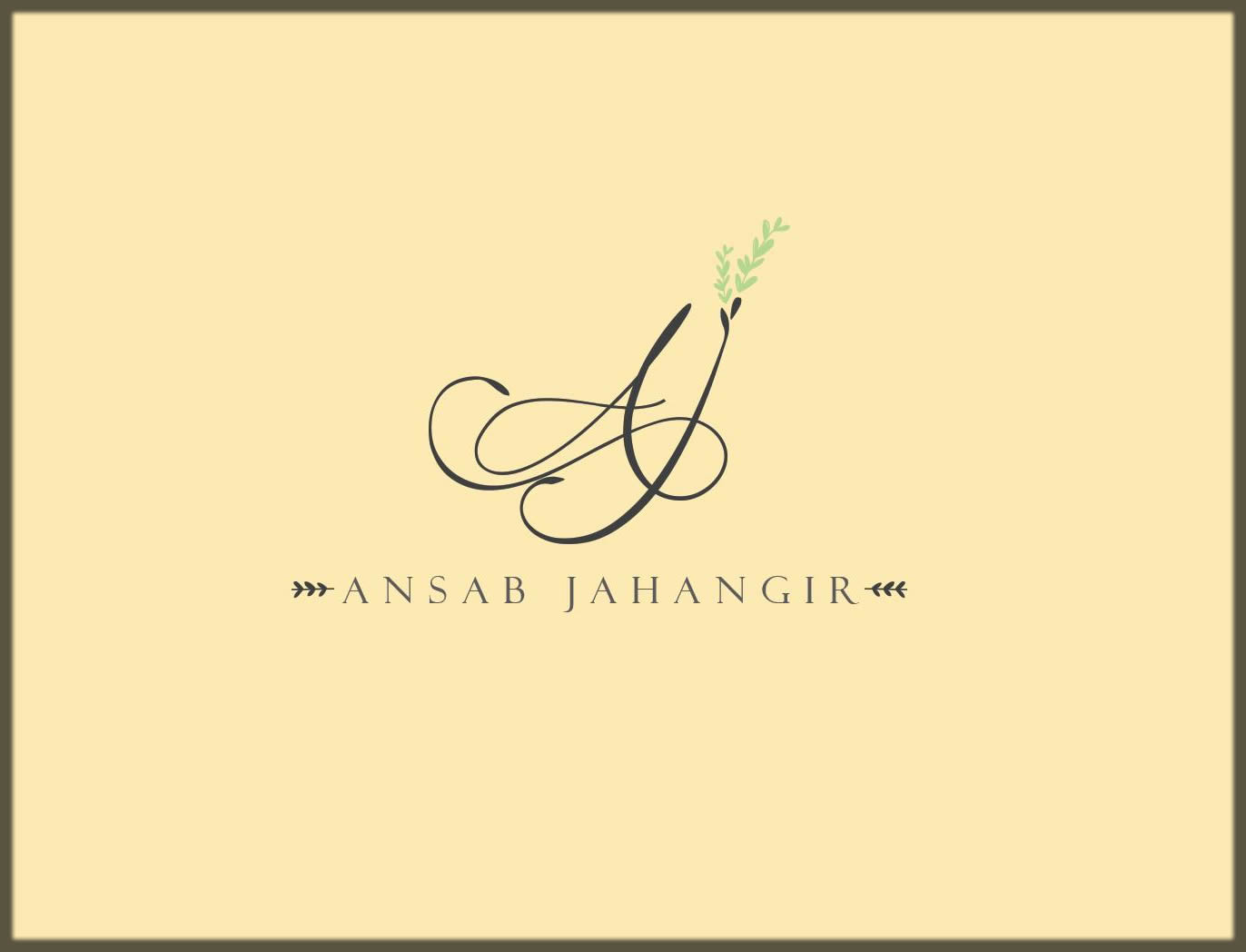 Ansab Jahangir Latest Winter Collection for Women (Prices)

There is no age limit to fashion and style. Instead, everyone desires to construct a unique and glamorous style despite age and race. Indeed, every human has a right to create illuminating looks with some struggle and exploration. Also, dressing well is an easy way to eliminate depression and negative thoughts. Ansab Jahangir Winter Collection will keep you engaged to pull back your happiness, joy, and laughter with a refined and magnificent look.
Everyone has a sparkle and shine that glows from within. However, some people may not have radiant outfits to enhance their glow. We have certain glamorous styles in our blog below that will bring your lost shine back to your soul and character. A peaceful and satisfied soul can shine brighter than a dull one. Therefore, inner satisfaction is crucial for a modest look. So, let's satisfy your inside by discovering mesmerizing dresses below.
Don't limit yourself to only one brand; explore more winter collections from other brands, too.
Luxurious Ready-to-Wear Winter Velvet Dresses for Women
Modish women will always try the lavish apparel of the Ansab Jahangir winter collection. The flaunting collection has been launched with engaging and attractive velvet designs for women. The extraordinarily created ensembles with a fusion of tradition will get you a chance to look modest. Moreover, glamorous formal dresses are ready to strike you in this season.
Well, if you are not fond of formal clothing, you can also go for a simple yet decorative outfit. Ansab Jahangir summer collection offers easy-breezy summer attires for women. So, if you dislike wearing heavily embellished outfits, go for the casual ones. But, give at least one thought and a chance to the following dresses, too. Indeed, you won't regret it!! The prices of all the dresses are also mentioned for your ease.
Gota Floral Booti Sleek Blue Velvet Peshwas
As you explore deeper into the world of Coralie, you will learn the fundamentals of what makes glamor and style tick. This stunning ensemble features a luxurious teal blue velvet koti that has been intricately embroidered with resham, kora dabka, and tikki stones. It creates a definitive fashion statement when it is accessorized with an elegantly designed tassels kalidaar and a medium silk block-printed dupatta, both of which exhibit your excellent sense of style and emanate an air of timelessly elegant sophistication.
These stones provide a touch of opulence and intricate craftsmanship to the piece. Many people think that blue is the most profound color in the family of hues. However, there is a lot of grace in this beautiful shade that propels the designers to create at least one style in this color. Well, you might have seen a lot of variety in Pakistani silk dresses for women before. But here is a profound yet delicate collection of blue and red velvet dresses for you.
Elegant Emerald Green Velvet Dress

Esmeralda will take you on a magical journey into a world of timeless beauty. This beautiful, classy, emerald green silk A-line shirt is a real work of art. It is decorated with zari work and resham details that are very carefully made and tell a fascinating story of master craftsmanship. The shimmering shine of the dabka embellishments and the soft shine of the gota cut beads make this piece a marvelous work of art. When you step out in public wearing Esmeralda, your presence is filled with wealth and beauty that draws everyone to you. There is more variety of velvet dresses in the Nishat Linen winter collection for women.
Deep Maroon Long Velvet Dress
Submerge yourself in the warm embrace of the burgundy velvet. Richness can be seen in every stitch that was used to stretch and sew this maroon velvet blouse. Every moment is made more beautiful with the addition of dabka, gota, and shining stones due to these ornate embellishments.
Now is your time to shine, since velvet is having a moment in Vogue. Please have a deep look at the detailed and luxurious ensemble below. The gorgeous maroon costumes come with a fully embroidered front and organza dupattas. If you love to wear a plain velvet dress, you can explore the Asim Jofa winter collection, as it has more variety.
Blue Embroidered Velvet Long Dress

Eira is a wonderful work of art in terms of both its design and its skilled craftsmanship; wear it to feel a new and exciting sensation in the world of fashion. The neckline of this exquisite item is adorned with handwork and embroidery that have been painstakingly made, resulting in a one-of-a-kind masterpiece. Our dedication to creating a unique ensemble that establishes new benchmarks is highlighted by the elaborate craftsmanship on the sleeves of the garment.
Please take a while to discover the gracious blue one-shoulder dress below. Undoubtedly, the creative artwork and combination of aesthetic and contemporary techniques will create a captivating aura around you. All that you need is to absorb the fictional sight of the public. Grab more embellished and well-decorative velvet dresses from the Ethnic by Outfitters winter collection.
Ansab Jahangir Basic Cotton Pret Collection
As there is no age for success, there is no age limit for a woman to look beautiful. Undoubtedly, dressing up well to step out for any gathering is a form of good manners. A woman must cherish every moment of life with love and energy. Everyone must know that you are not answerable to anyone about your looks. No one has the right to question and judge your personality. So, get up, dress up, and impress your rivals with your impressive and beautiful looks. Ansab Jahangir's winter collection will assist you with it.
Nothing can beat the grace of a plain and basic outfit. That is why many brands launch their exceptional portfolio of basic dresses. You might have witnessed many graceful basic dresses in Sadaf Fawad Khan winter collection before. Here is a collection of essential Karandi dresses for you. Ansab Jahangir's winter collection is a beautiful blend of modern and contemporary outfits. If you do not like a velvet dress, opt for the following basic Pret. You will find many colors ready to bring you the desired grace. Zara Shahjahan winter collection also has an extensive variety of basic Pret for women to endure and conquer.
This chic azure blue grass co-ord set is just what you need for those warm days of summer. It has exquisite ivory lace details all throughout the A-line silhouette, including the side panels, the neckline, the sleeves, and along the A-line. In addition, there is a pair of matching patterned straight pants with pintucks and lace details included in the set.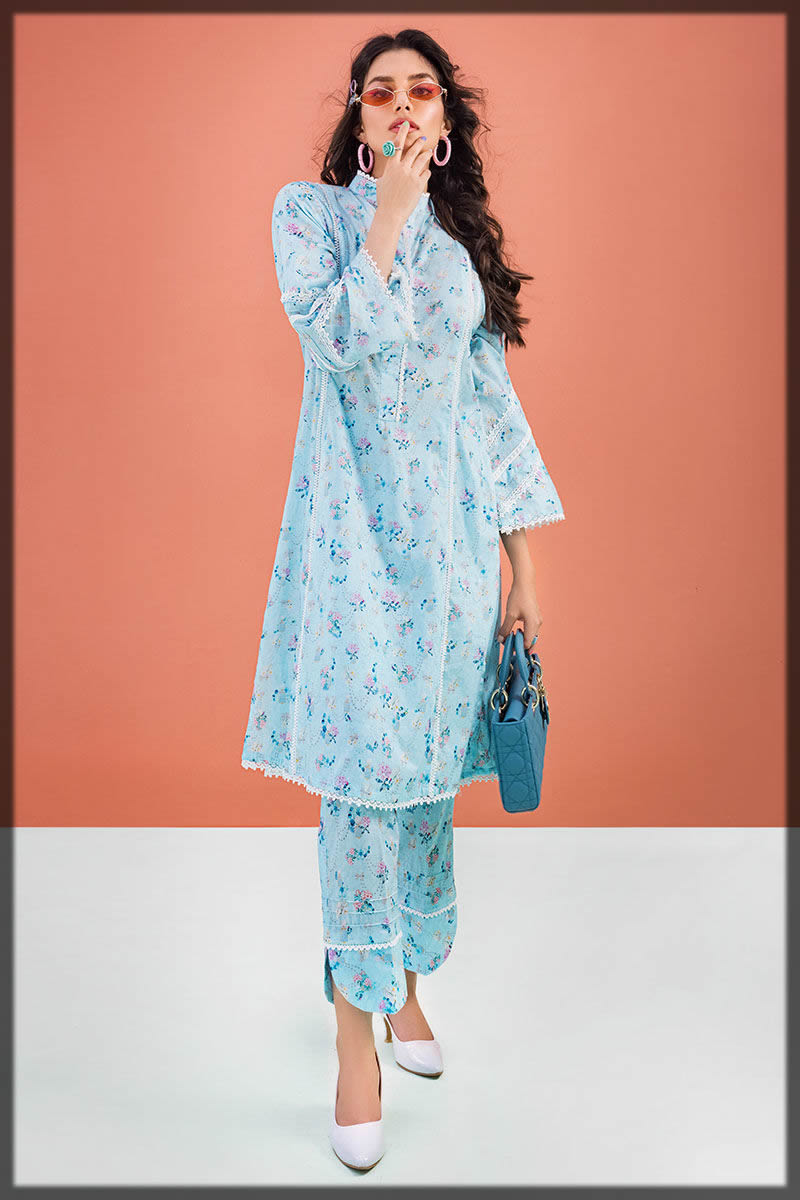 A kurta with a continuous digital print is made from a lemon-yellow canvas. It is combined with tulip pants, giving an A-line shape. The cuffs and hem of this set are embellished with delicate lace.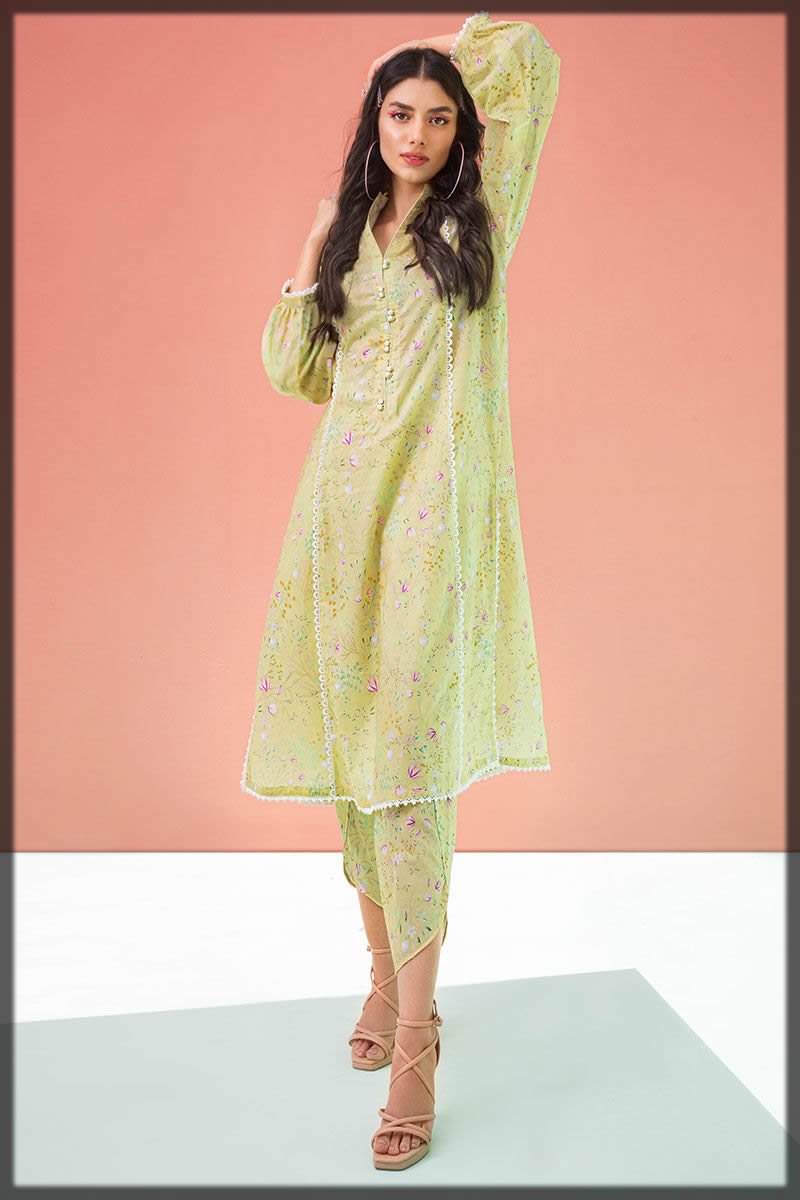 This kurta and wide-leg pants pair will help you stay cool and comfy all day long. The A-line dress is digitally printed on fluorescent pink canvas. The neckline, sleeves, front, and side seams are all decorated with lace.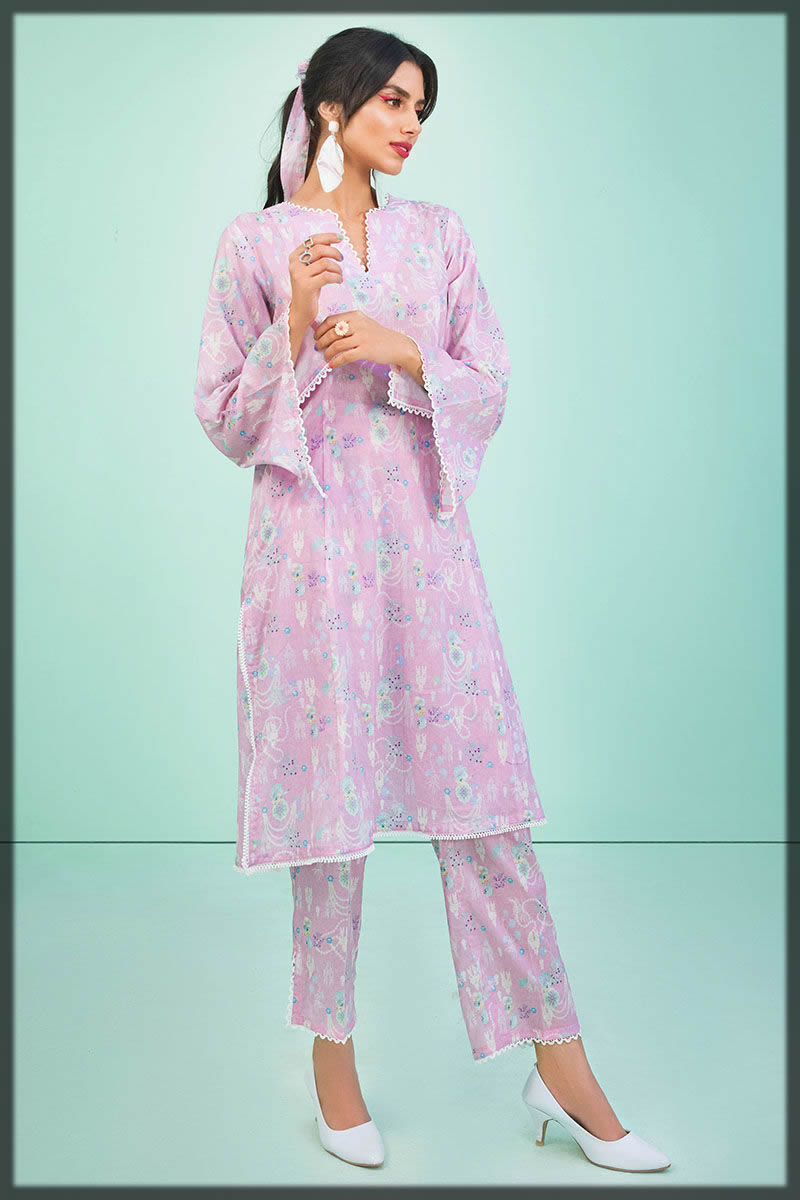 This outfit has an oversized box kurta with exquisite lace sleeves and pearl neckline accents. Together with elegant straight pants, it exudes timeless elegance and current style.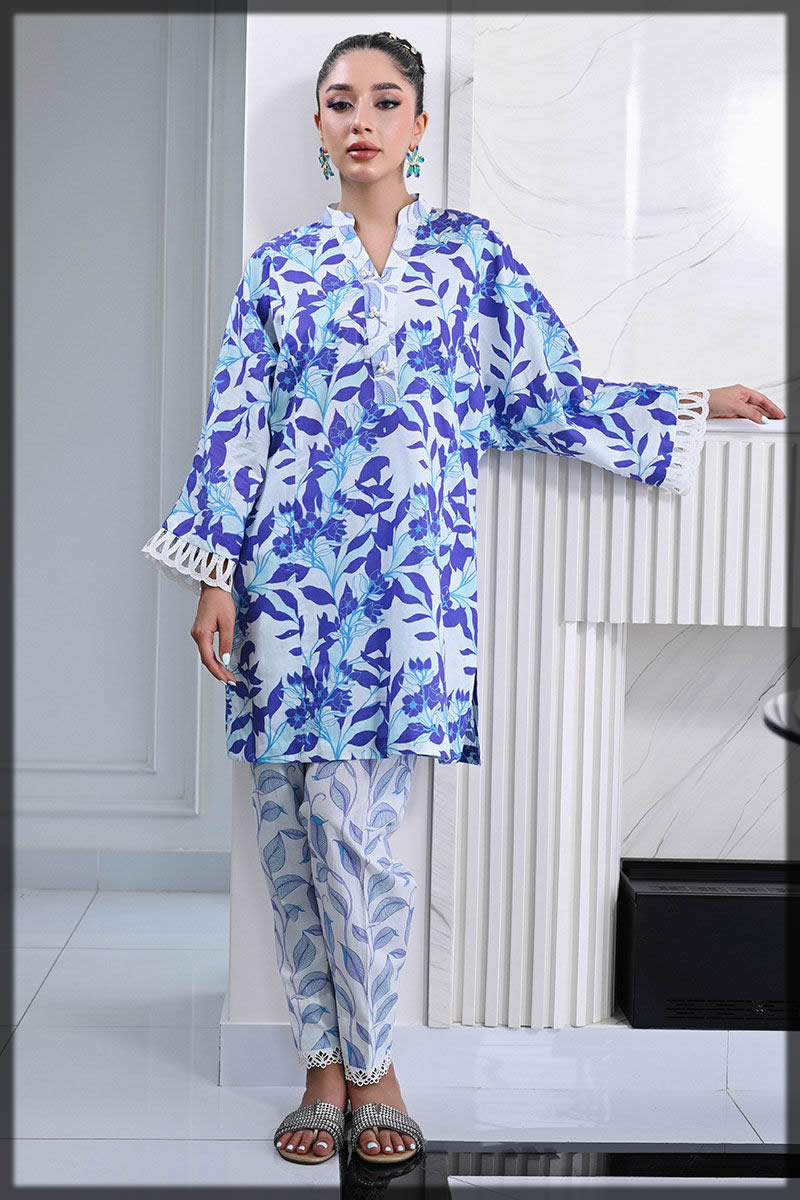 The shirt collar and cuffs on this short box kurta are both large and decorated with edgy lace. It's worn with a pair of straight-leg jeans for a bold and fashionable look.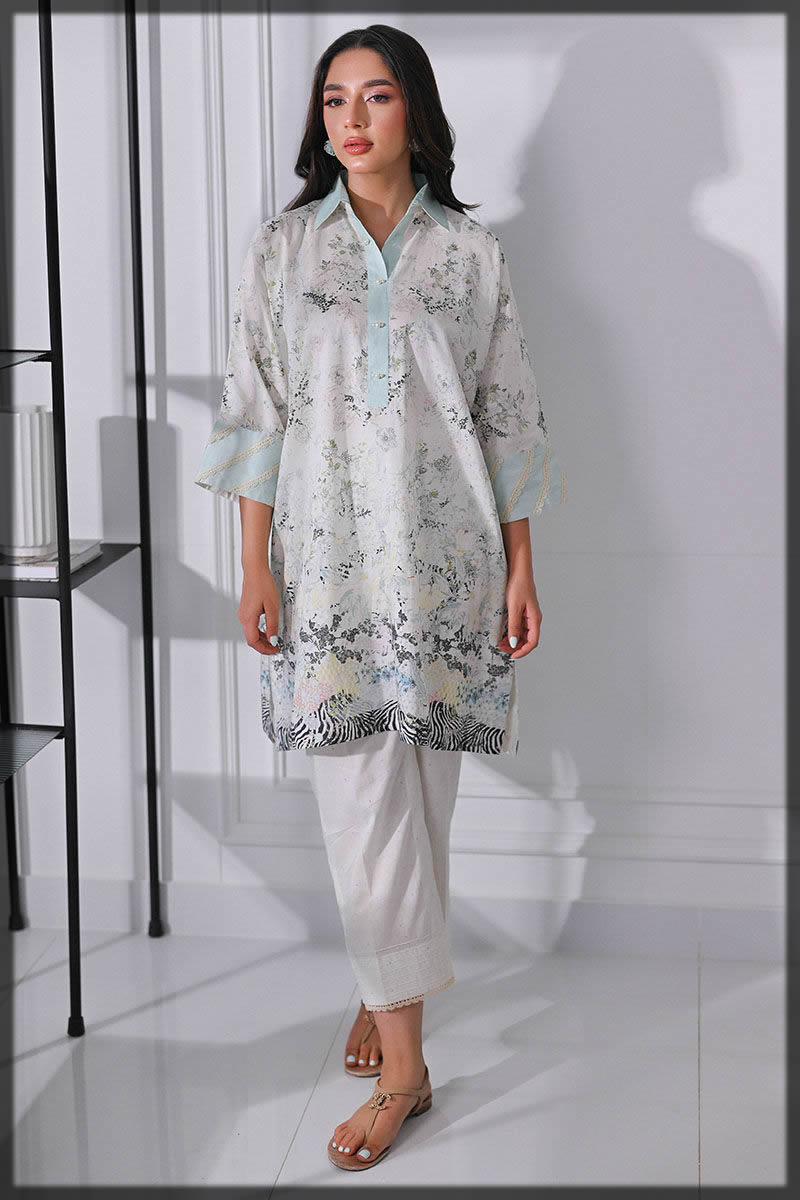 Get ready for stylish, comfortable summer clothes. This box kurta with big cuffs and button detailing goes well with scallop-accented slim shalwar pants. Celebrate simplicity that makes a statement and upgrade your everyday clothing with excellence.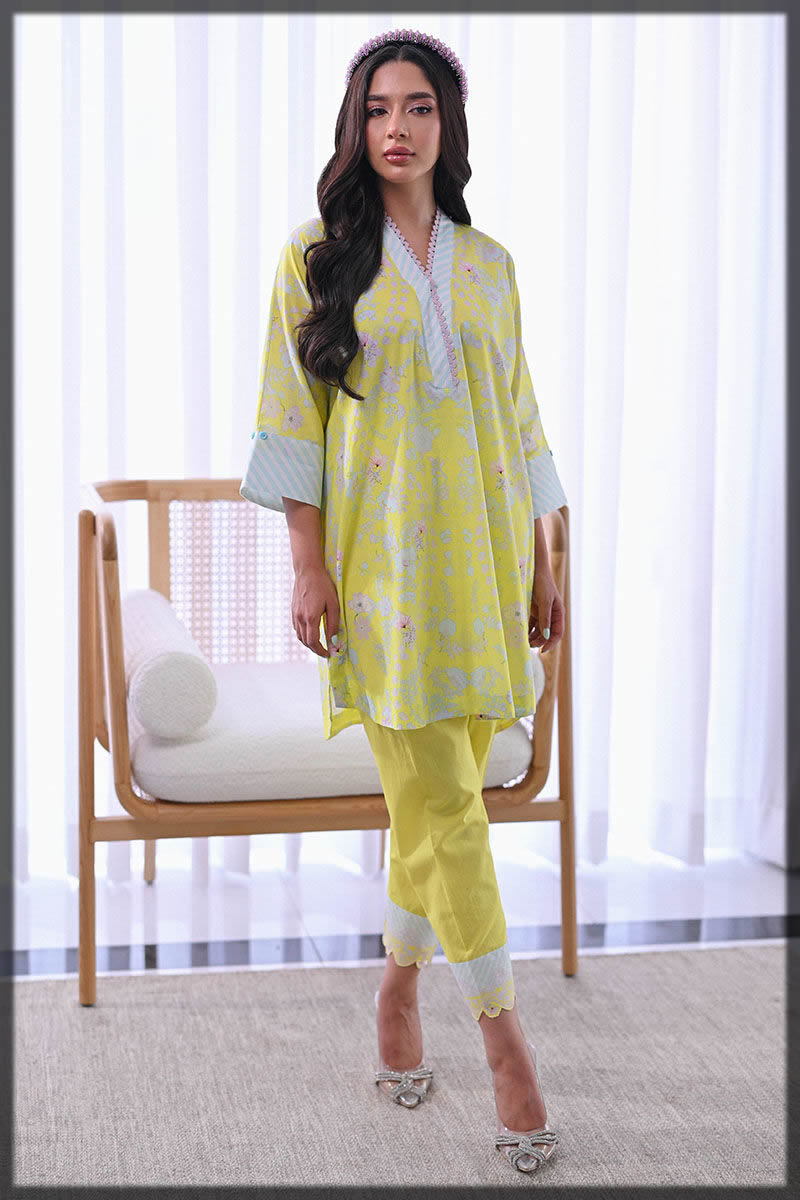 Ready-to-Wear Luxe Silk Dresses by Ansab Jahangir Winter Collection
Women who belong to a strong and supportive background have the privilege to try modest outfits. A graceful outfit is the most influential characteristic of a woman. However, it is always a norm to consider your boundaries and never step out and beyond. Admittedly, you can have the most charismatic look if you pick a nice color and modern style. I hope the following ready-to-wear luxe silk dresses will give you the right to rock. Also, you can explore the Qalamkar winter collection to seek splendid ready-to-wear silk dresses for teens.
Please give pause to your scroll and take a look at the breathtaking portfolio of Ansab Jahangir below. Society will give you more power and respect if you follow the latest trends while staying in your zone. So, try the following perfect colors and styles for your winter look and leave the public shocked and confused. There is much more variety in the Salitex winter collection for women, too. But, I hope the following dresses will attract you more to buy and wear. Retain your lost glam and grace with the following silk outfits.
A-line shirt with a digital print and a silk dupatta of medium length. The shirt's neckline is embellished with lovely hand embroidery. The dupatta is adorned with organza and gota. This outfit combines contemporary and classic elements. Add some traditional flair with a pair of mustard straight-leg pants. Gold yellow with jamawaar borders and Indian-inspired ornamental motifs give this pattern a baroque feel. Chatta Patti borders to finish the festive look.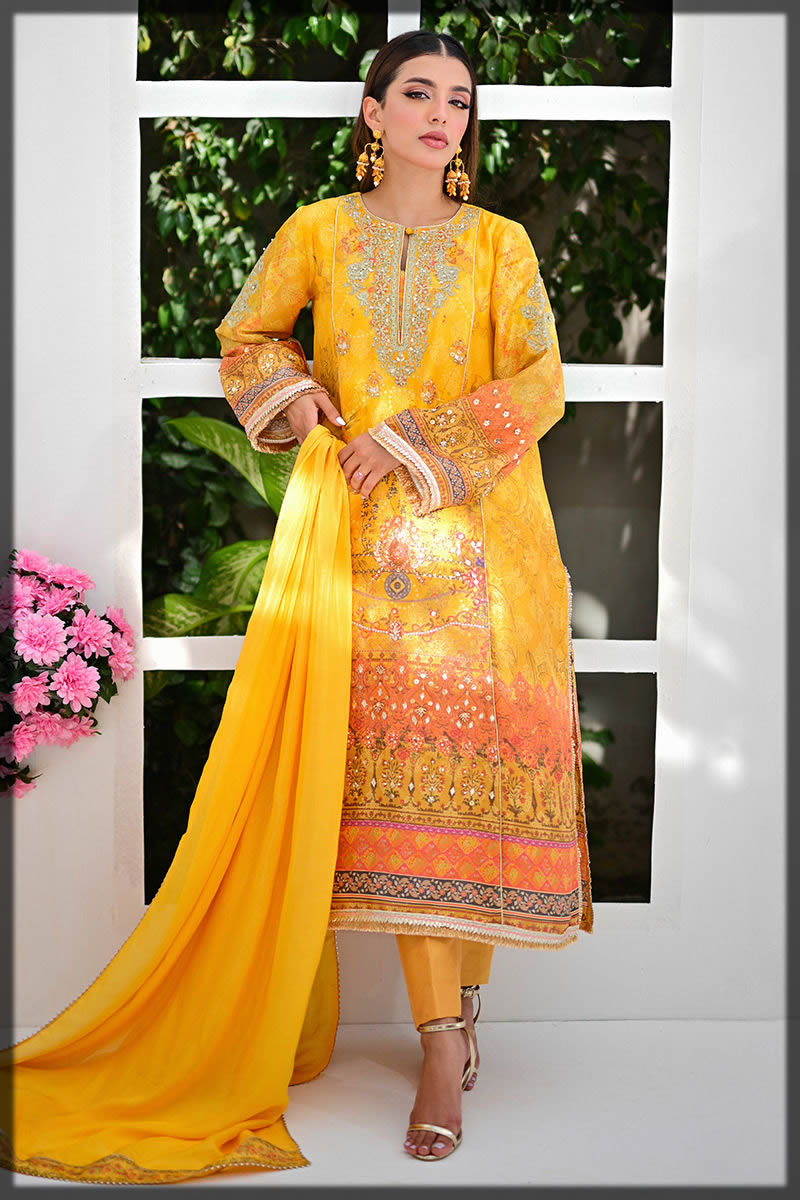 The A-line kurta has stunning embroidery of organza and gota sequences and stones along the neckline. It is accessorized with an organza and gota-detailed medium-sized silk dupatta. Put together a daring yet refined ensemble by pairing it with bright orange crush pants.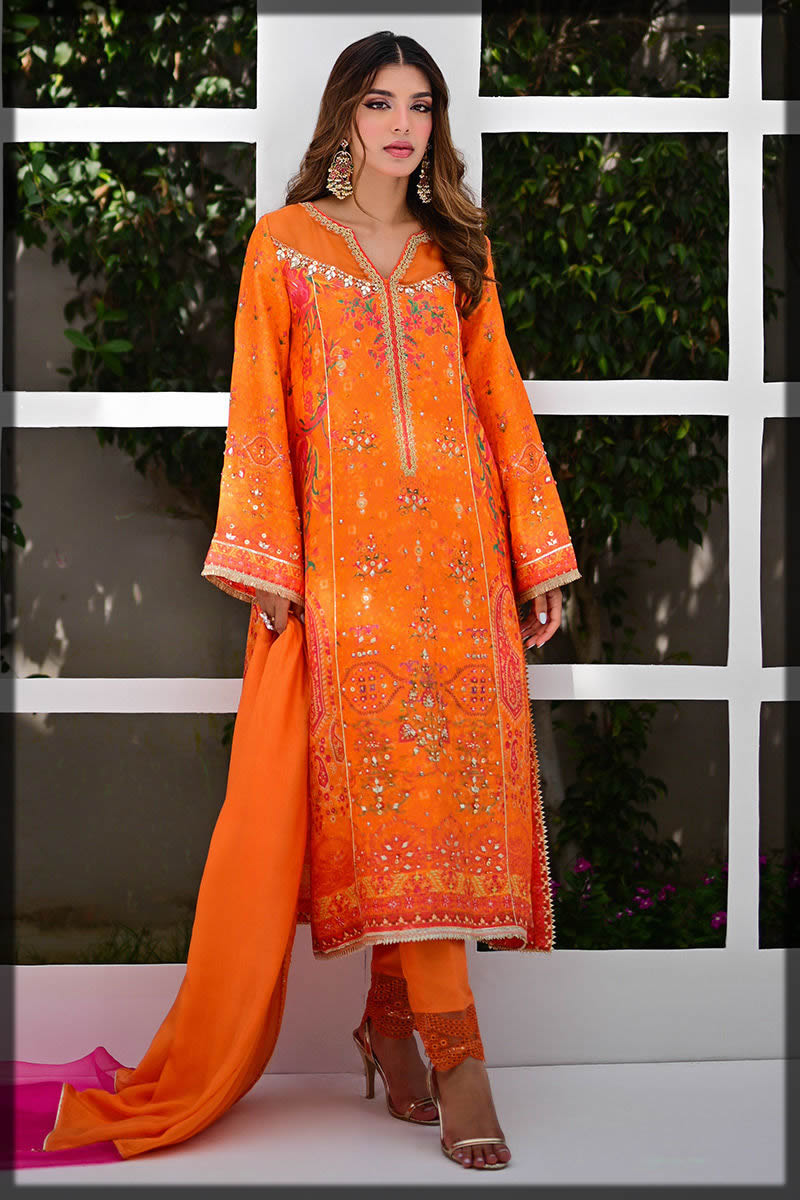 The A-line shirt shines with detailed gota sequins and delicate stones, adding to its charm. It's matched with a medium silk dupatta that has a salmon and mint dip-dyed effect, creating a visual masterpiece. The outfit is finished with a white izaar featuring tasteful gota detailing. The design combines ethnic and French floral patterns, with added jewel ornaments, celebrating festive colors and bringing joy and elegance together.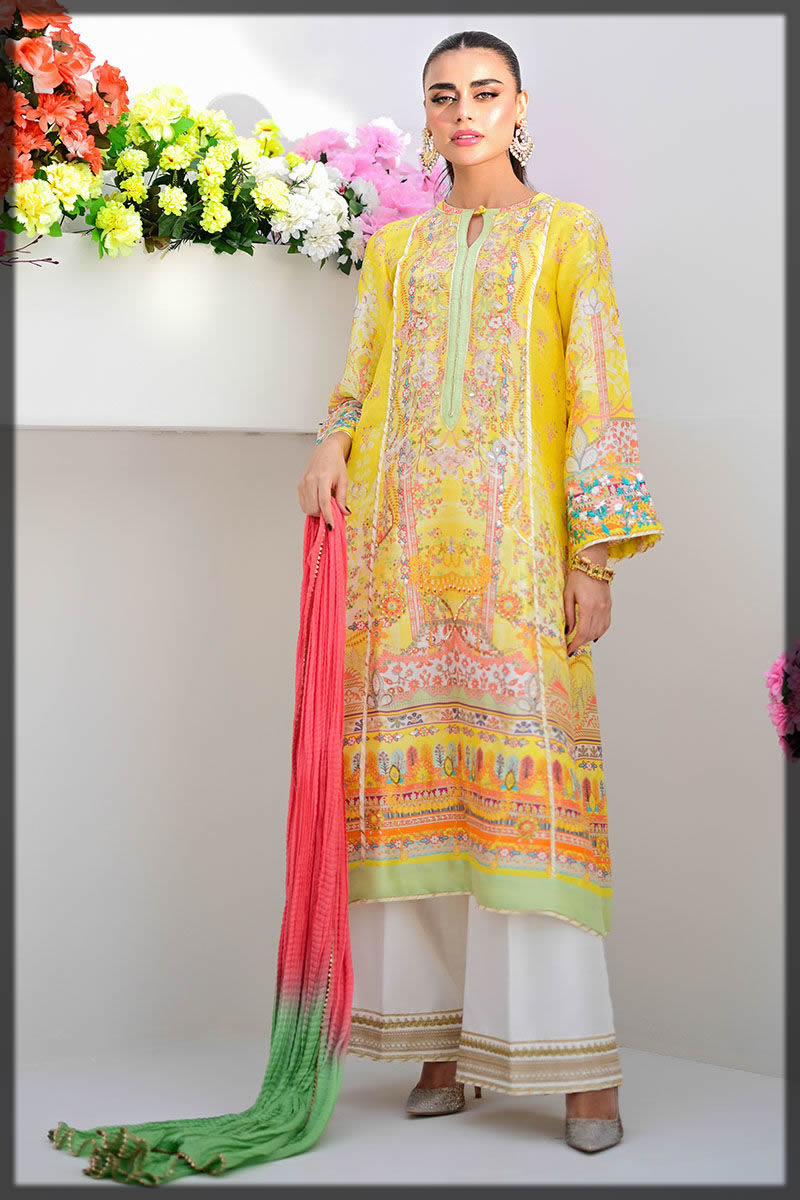 This beautiful A-line tunic has been embellished with intricate handwork to complement the print. Pair it with embroidered lilac pants for a polished look. The medium-length silk dupatta is patterned with organza and silver gotas, lending the ensemble a simple, sophisticated air. Its timeless design and neutral color palette make it a versatile addition to any wardrobe. The ensemble is a wardrobe staple because of the complex borders, which were inspired by Indian materials and feature beautiful monochromatic designs.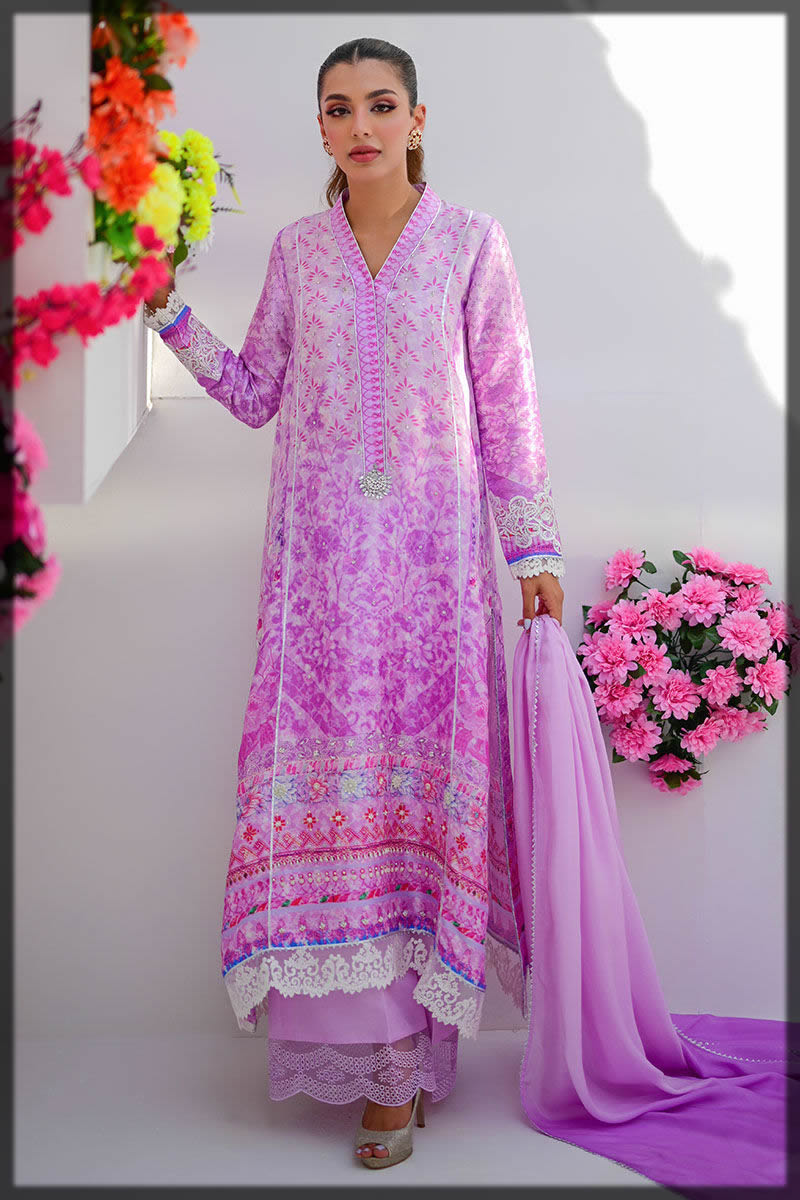 Get to know 'Adriana,' a fusion of sophisticated style and vivacious celebration. Traditional touches can be found in the shirt's straight Angharkha cut and the medium silk dupatta's organza and gota embellishment. Explore a world of flaming pink framed by a border of blue reminiscent of the ancient subcontinent's architecture and vegetation.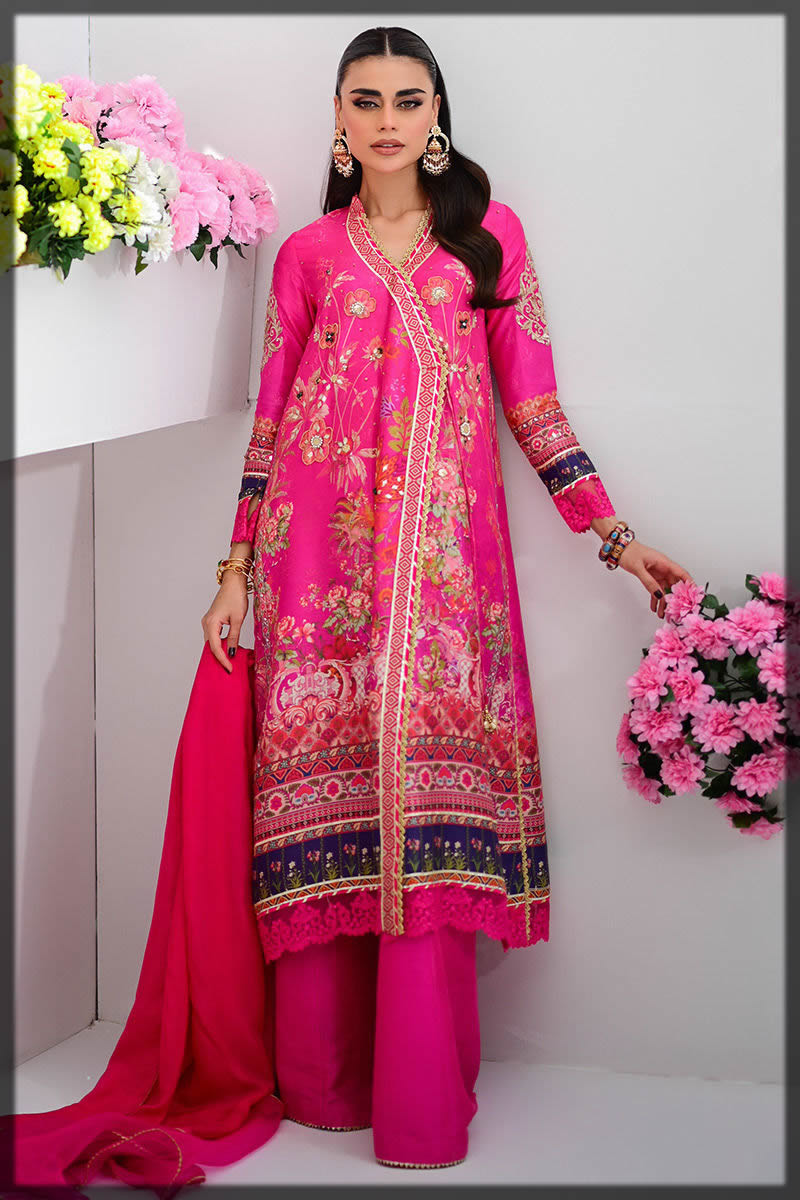 The creative designer has a lot of stunning ensembles in his collection for women of all ages. It is the time to make yourself ready to indulge in positivity and shine. Never let anyone dull your sparkle, and dress up in a kind and modest way to satisfy yourself. Be the event's spotlight and make heads turn on you with the flaunting Ansab Jahangir Winter Collection for women. I hope you will love the dresses and appreciate the designer's efforts for this creation.