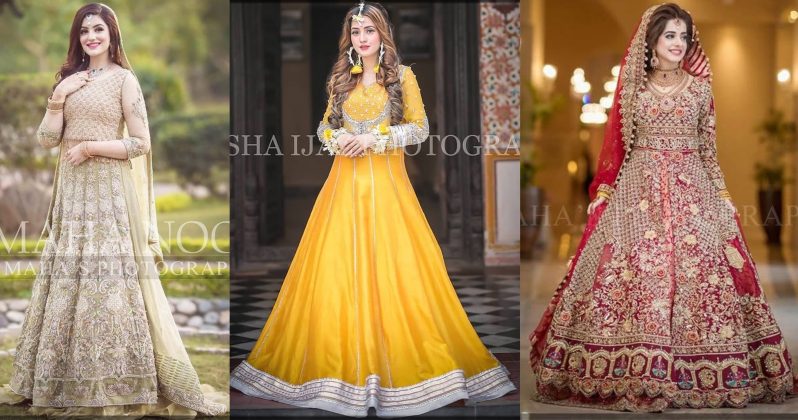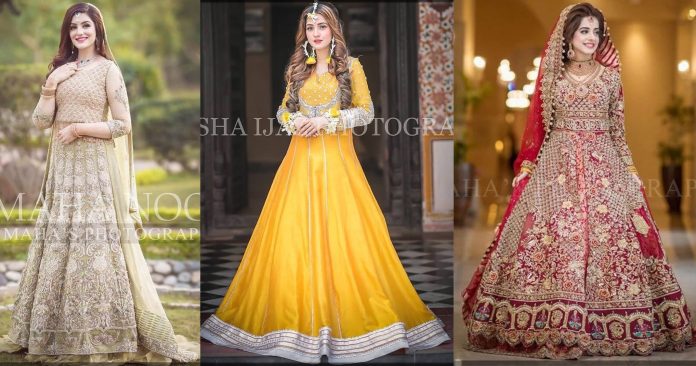 Every bride wants to wear a stunning and unique dress at her wedding. Latest Pakistani Bridal Dresses preferred in weddings are Maxi frocks, Lehnga choli, Floor-length frocks, Sari outfits and Bridal gowns.
Top designer designs wedding dresses like Sharara, Sharara-kurta, red velvet lehenga, Ghagra choli, and Anarkali Frocks preferred in Pakistan. Pakistani designers are mostly using the fabrics charmeuse, Chiffon, crepe, organdy, Tissue. Much More silk, organza, cambric, rayon, and other for a fabulous and flowy look. Colours in demand for bridal dresses are Light Gray colours, Orange, Shocking Pink, Emerald Green and Dust Golden. Maroon and Red with the work of stones such as zircon, kora, pearls, crystals, dapqa, zardozi, and applique.
Pakistani bridal dresses are stunning and incredibly famous all over the world. Pakistani brides prefer to wear the best available clothing at the wedding. Bridal gowns in Pakistan are in trend. According to our culture, Lehenga choli is the most popular bridal dress in Pakistan. Brides tend to choose typical, yet unique designs.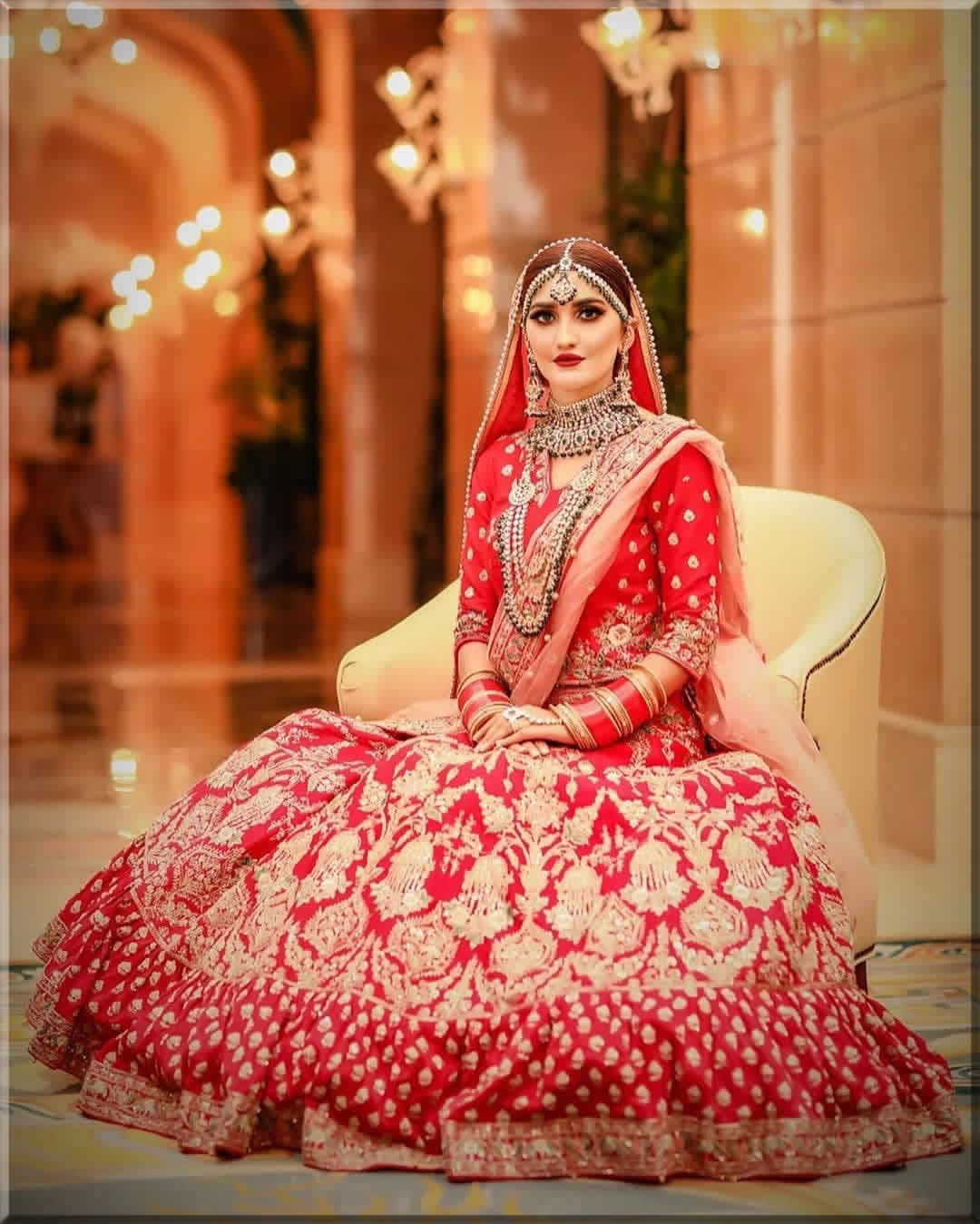 Pakistani Bridal Dresses Wedding Wear Collection
Pakistani bridal dresses are mostly preferred because they check all the boxes of tradition and cultural demands. Hence Families organize functions with friends and relatives with a traditional perspective. Similarly, these functions include a bridal shower, Upton, Dholki, Mehndi, Barat and Walima. These events require gorgeous dresses, of course.
Latest Bridal Lehengas and Gowns Collection
Wedding dresses are the topmost priority of designers in the Pakistani fashion industry. Latest Pakistani bridal dresses showcased in our blog will help all those brides-to-be, who are seeking for a most elegant and attractive outfit for their big day. All wedding functions are essential for the bride, but mehndi is the most enjoyable function among all.
Elegant Bridal Mayun Mehndi Dresses

Mehndi is the event held almost one day before the wedding. Bride's mostly like the yellow and green colours to dress at Mehndi function. We can see modern, trendy and incredible styles every year at the wedding collections from our designers. This year, we can see girls prefer new designs of beautiful mehndi attires that are unique and elegant. Every girl wants to look pretty and perfect on the day of the Mehndi function.

Some unique dresses that are dressed by brides this year and will continue next year are as follow:
Multi-Layer Mehndi Dress:
Multi-layer dresses are unique and fabulous dresses that are popular among girls nowadays. It is a beautiful bell-shaped frock with simple coloured ribbons and full flare.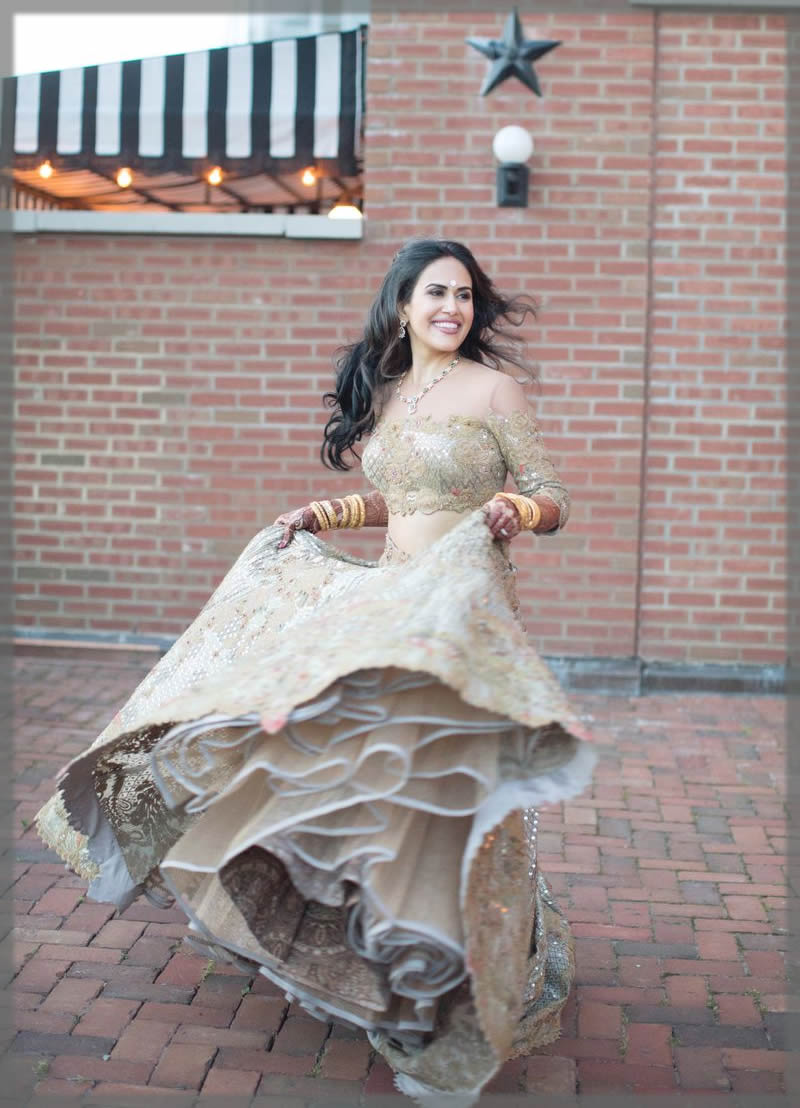 Silk Lehenga Choli with Multi Shades:
Multi-shaded silk Lehenga is the beautiful lehenga style that attracts girls the most with the silk fabric design. Various print designs on ghagra and simple one-colour choli carried by the girls at the mehndi event look beautiful.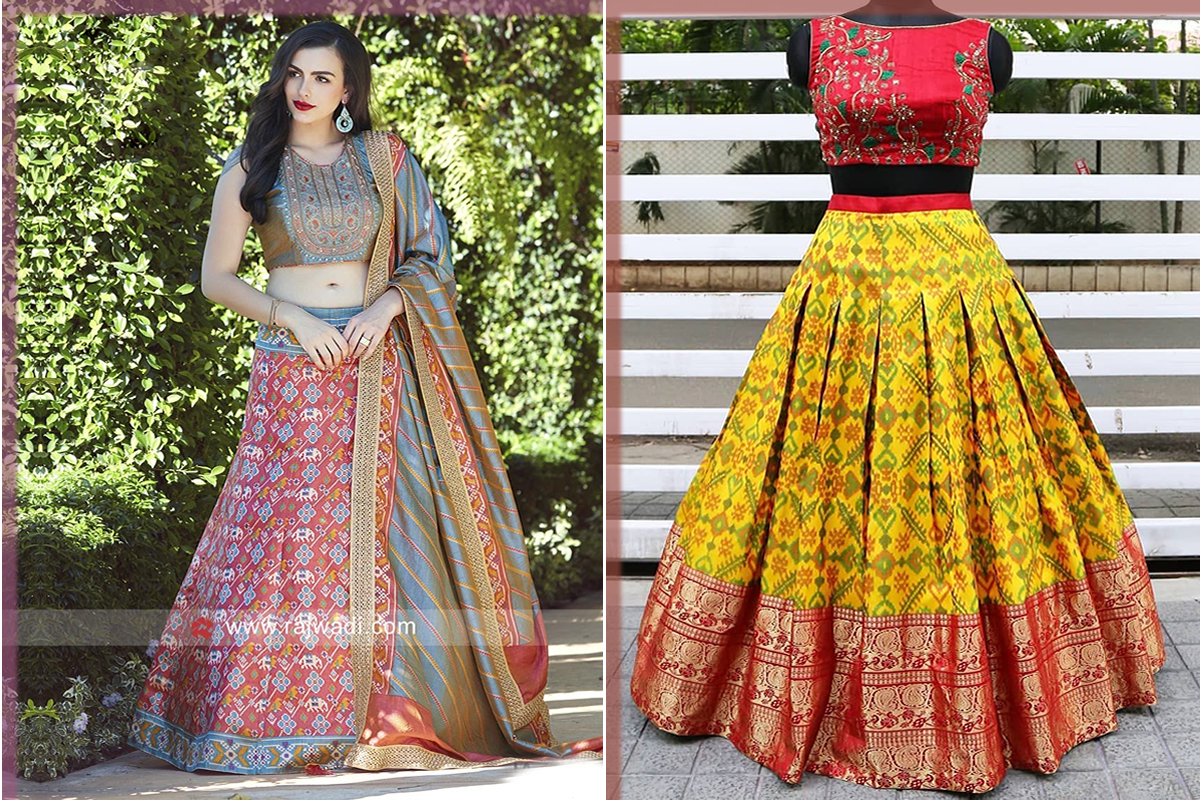 Short Shirt with Sharara: 
Yellow embroidered shirt with sharara is a new style for Mehndi events. Peachy silk shirt with embellished hemline and simple net sharara gives you a stunning look. That style is the best and likely donned by the girls nowadays in Pakistani bridal dresses.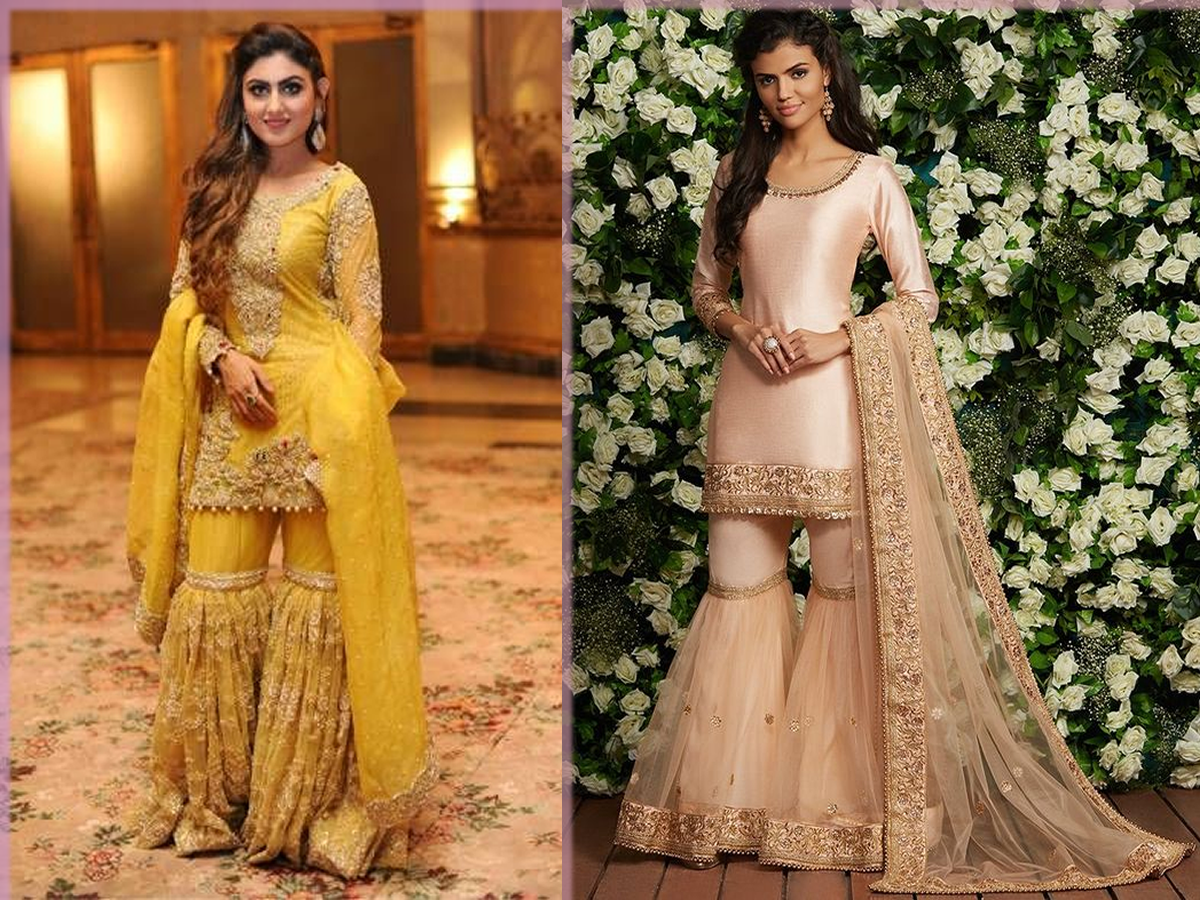 The most elegant and beautiful dresses for the Mehndi events are ethnic Kashmiri dresses. The dress top fully embroidered with exquisite gota work. Shisha and nagina work also look stunning with velvet lehenga. Simple flowery lehenga with short choli makes this dress more stunning. Multi-shaded embroidery shirts with simple bangles are the most attractive style for the girls.

Bridal Shower Dresses for Brides-to-Be
The bridal shower is about fun with friends. It is kind of a bachelorette party for the bride and organized by her friends and cousins. It is a theme-based event. Bride dress according to the theme and usually wear gowns or western style skirts.

Pakistani Trendy Barat Dresses for Wedding
Wearing a lehenga dresses concept comes from the Mughal empire. The woman of Mughal's liked these types of dresses like ghagra choli and Anarkali suits. The bridal gowns of Pakistani designers, inspired by the ladies and girls of all cultures. The people of other countries are very crazy to see the ornamental dresses of the bride.
The vintage bridal dress style looks so elegant and incredible. When we think about the bride, our mind imagines the dress fancier than fantasy. The trend of short frock style, saree, lehengas, maxi, a gown for girls is very in for the Barat event. Barat is the best function of the wedding. Everyone celebrates this day with great zeal and zest.
Bridal Gowns Collection



The gown is the dress that covers the body entirely and flows down to the floor. This outfit has various varieties. Every season, the designer tries to modify it with some different and unique styles for the wedding dresses. Gowns have become an vital part of the wedding. Some gown designs are as follow:
Ankara style extracts from the Angrakha frocks style. At mehndi and wedding functions, girls like to carry the Ankara gowns. Ankara is just like a frock style and gives a pretty look. That is a perfect winter and summer style collection.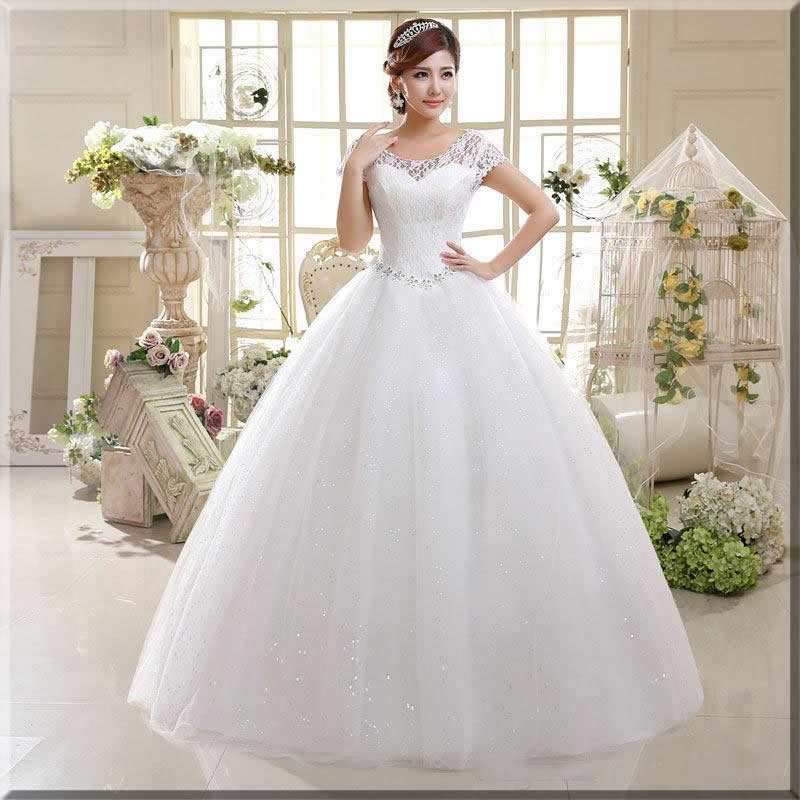 Some ladies and girls like to wear heavy dresses for weddings. They only prefer comfortable and light dresses at Mayon and mehndi functions. A fancy gown with full sleeves is the best idea for the tasks of walima. It gives you an elegant look and increases your personality charm.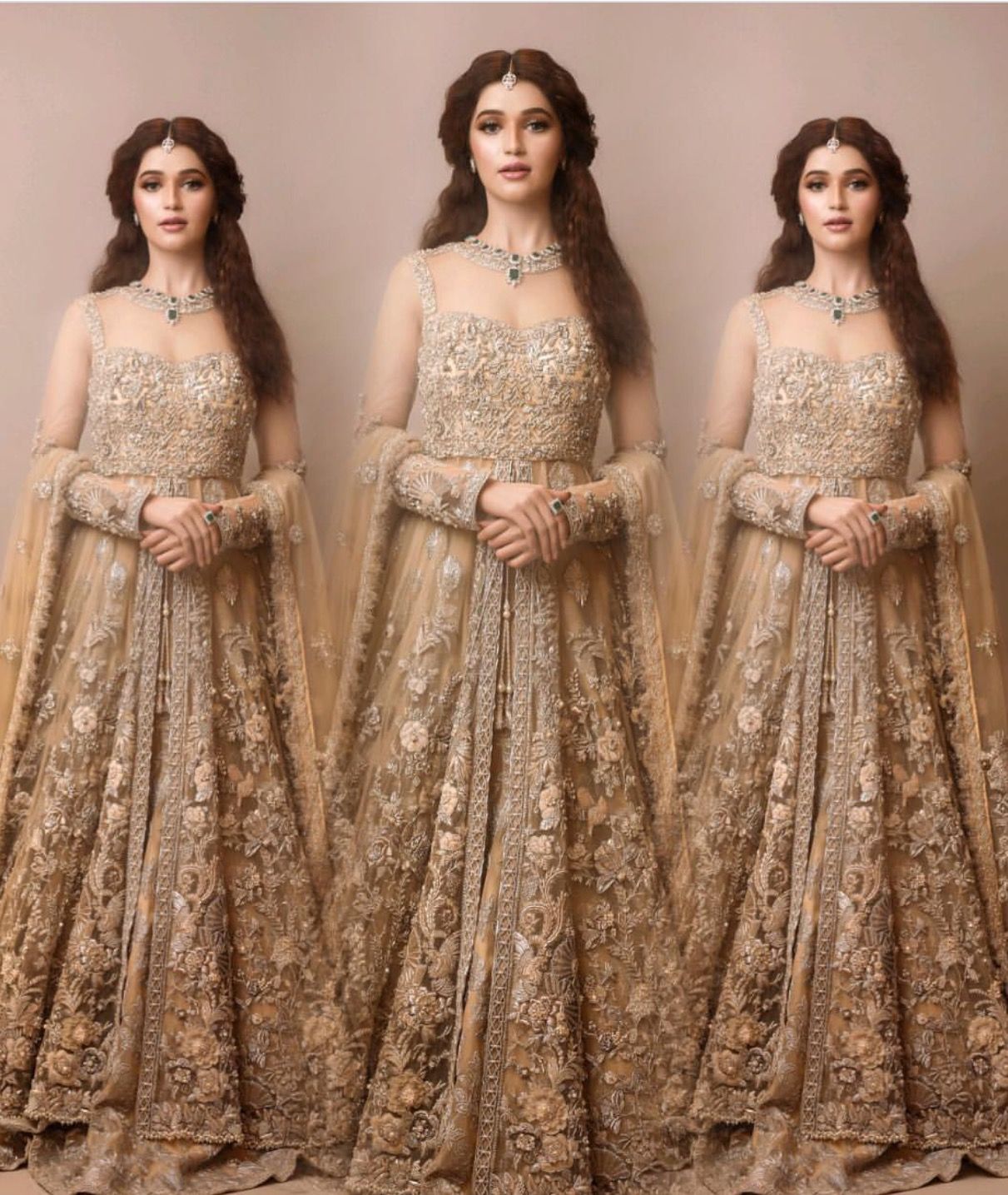 Anarkali dresses are the most common style in Pakistan. On wedding events that are the most demanded. This stuff is unique and inspirational. The gown, paired with a pure net dupatta — girls most like this type of attire.
A-line dress trend is very famous among Pakistani women, and it is a beautiful outfit with long-sleeves. This dress gives you a very natural look. A-line is the best style to make your personality incredible due to traditional values.
Velvet is the most beautiful and elegant fabric in Pakistan. Its use in any dress to increases the outfit's beauty. That style has become fashionable and much pretty nowadays. Velvet is a beautiful collection and a great piece of attraction. Shining velvet make your personality more attractive. Women feel comfortable yet fancier in this kind of outfits.
Pakistani Bridal Walima Dresses

Walima is a grand event where the families of Groom and Bridal invites their guests for lunch or dinner to celebrate their happiness. It is held right after Barat. Every bride wishes to wear a unique dress at the wedding ceremony for looking gorgeous and attractive. At the event of walima, the primary focus is the bride's attire.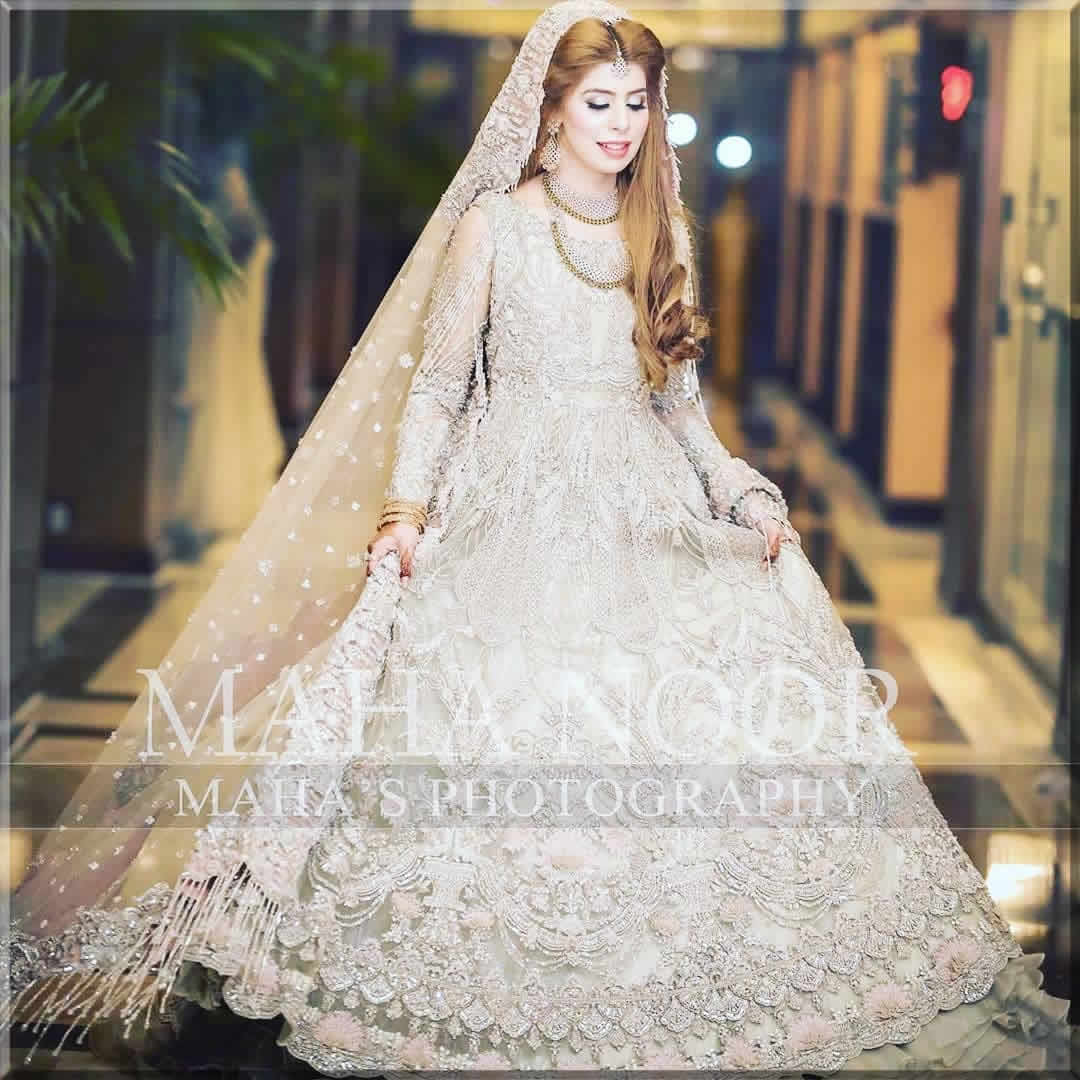 Local designers are offering unique and latest collection every year; that is the reason Pakistani bridal dresses are famous and demanded all over the world. Pakistani designers make luxury and royal dresses for everyone.
Some royal and luxury dresses for the brides are:
Frock with Choli and Jacket

Walima Maxi and gown

Fancy lehenga dresses for brides

Embroidered saree

Casual bride dresses

Walima Bridal Maxi with Lehenga:
Maxi design in Pakistan for brides is very exquisite. That is the best style which looks so beautiful at every wedding event. The quality fabric used for wedding dresses with expensive embroidery. The Stonework and the dabki work make the dress more elegant. Pure chiffon dupatta with the bordered embroidery makes dupatta lighter and easy to carry. It gives grip to dupatta for settling it on the bride's shoulder and head.
Light colours bridal dresses are in demand nowadays. Light colour dresses look so modern and chic. We have seen many brides with the light colour maxi and gowns. White, half white, silver, light golden, beige, and grey colour dresses for this event.
Floor-Length Maxis for Brides:
What are the well embroidered and eye-catching outfits? Maxi is our traditional outfit and necessary for wedding events. Without the maxi dress, we are not satisfied with the bride's walima look. The fancy dress makes women's personalities more attractive and impressive for others with a royal look.
We can see in the past era, walima wears are not too essential, but over the period; as a result, walima dresses hold equal importance in the fashion industry.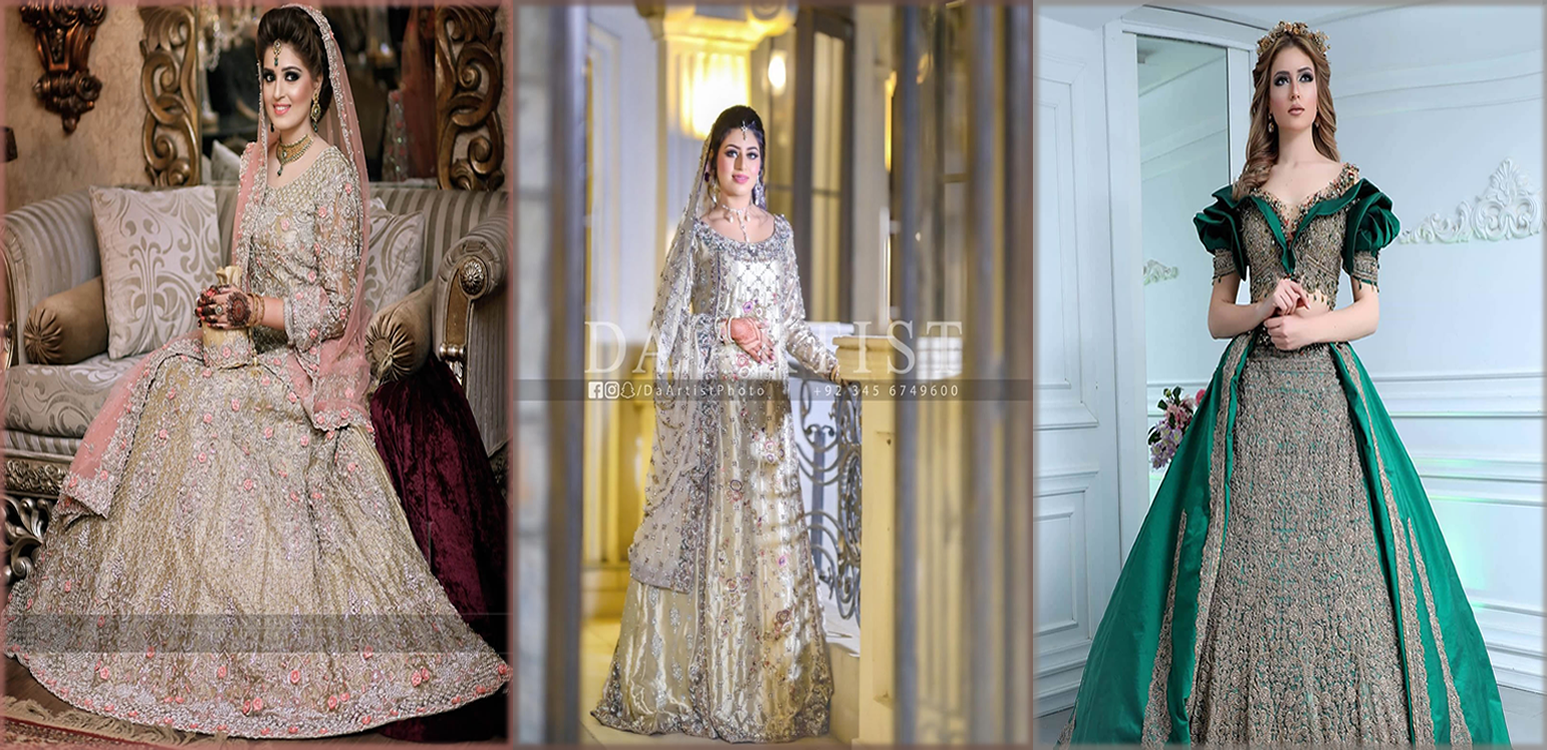 Stylish Wedding Dresses for Bridesmaids



Stylish yet casual dresses are very comfortable to wear at the wedding function, mostly in the summer season. Bridesmaid dresses also hold some significance. Therefore, the particular outfit should be contemporary and sophisticated. However, there are no rules and regulations for bridesmaid's dress. Simply, it should be stylish and modish such as floor-length flowy gowns or a off-beat chic lehenga choli etc

Famous Pakistani Designers Wedding Dresses



Pakistani Designers are doing the best work in Pakistan and the modern people of others. Some famous designers and their collections are as follow:
| | | |
| --- | --- | --- |
| Asim Jofa | HSY bridal collection | Maria B Bridal Collection |
| Faraz Manan | Nomi Ansari | Elan Bridal Collection |
| Tena Durrani | Deepak Perwani | Saira Rizwan |
| Zainab Chottani | Zara Shahjahan | Fahad Hussayn |
| Sania Maskatiya | Karma | Umer Sayeed |
| Shamshad Hashwani | Aisha Imran | Nida Azwer |
| Mirah | Sheeba Kapadia | Ayesha Ibrahim |
Your dream dress must be lying in some designer's closet. You can pick any Designer collection for your special day. This article is for your convenience, and you can find everything here in one place.