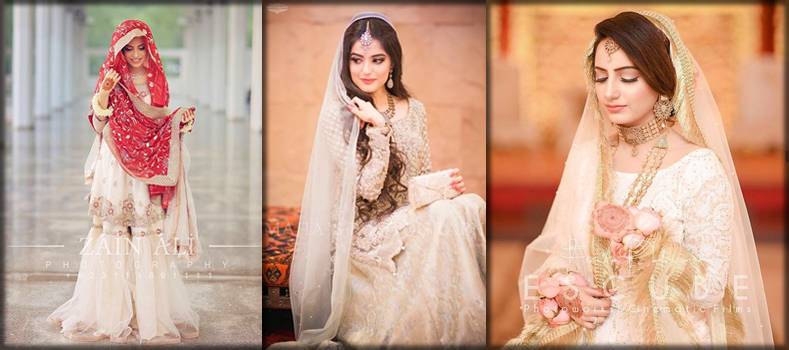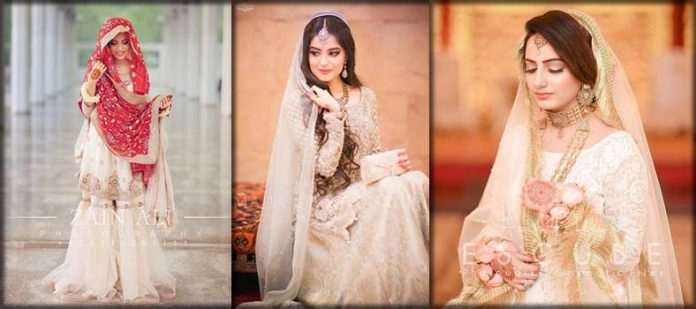 In Islam, the right word for marriage is nikkah. It is a legal contract between a man and a woman. It is a formal binding that outlines the rights and responsibilities of the groom and bride. Girls of the new generation long for wearing incredible bridal nikkah dresses for their essential occasion. Therefore, we are presenting you with a luxury collection for the bridal nikkah dresses.
A variety of marriage practices exist in the world, and nikkah is the one followed by Muslims. Every woman wants to look their best on their nikkah day. Moreover, every girl prefers to wear unique and stunning dresses with marvelous designs.
Girls nowadays do not have enough time to visit the market for purchasing clothes, especially in the summer season. Therefore, we facilitate you by providing a variety of mesmerizing dresses that you can order online easily.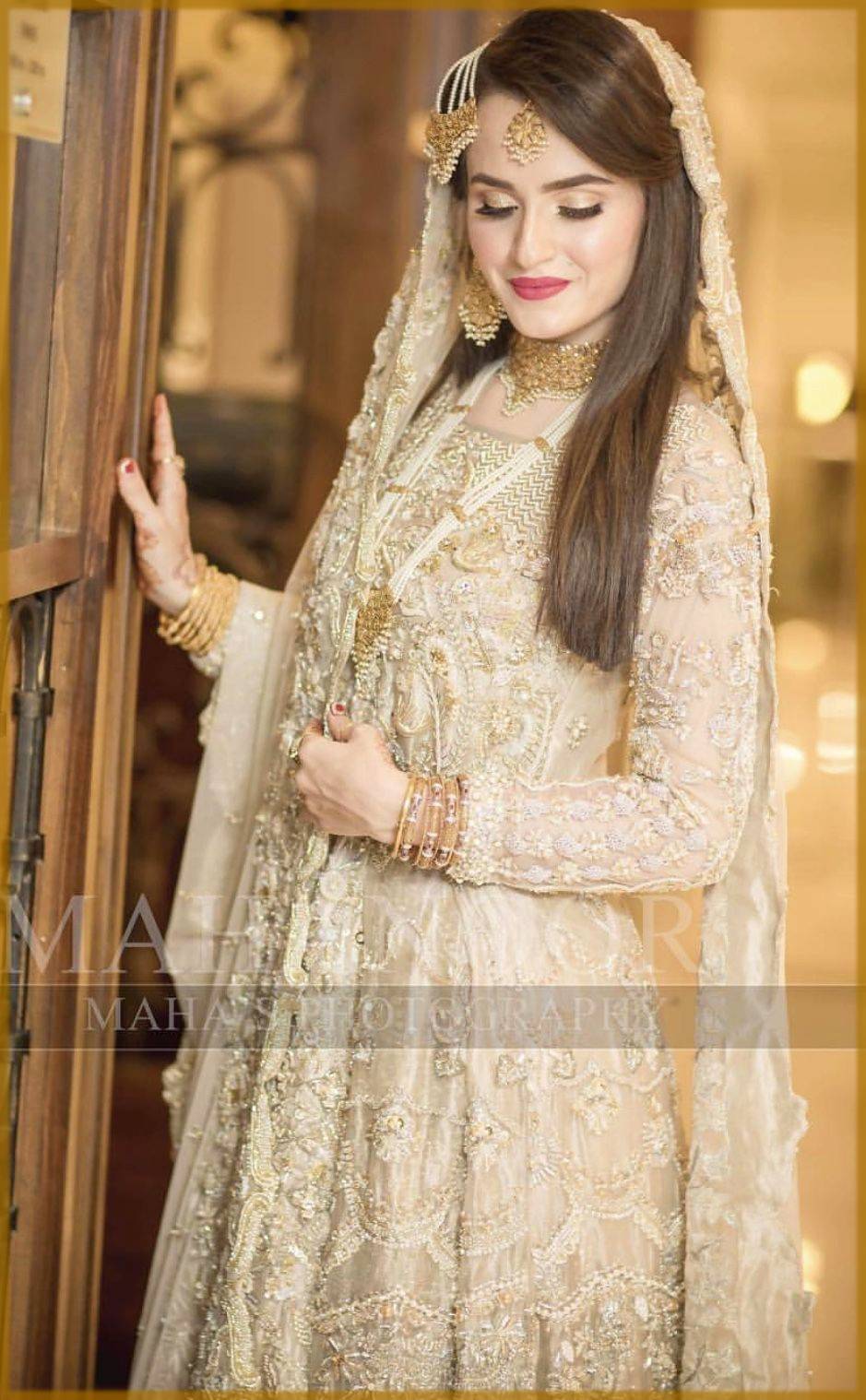 Trendy Pakistani Nikkah Dresses for Bride-to-be

There are no specific hues for bridal nikkah dresses. However, some of the colors are trendy for nikkah wear. These are:
Peach Shade
Green Shades
Grey Shades
For the sake of creating an embellished yet classy look on your special day, you may choose this outfit for your stunning looks. It is an incredible dress in the light peach shade for your nikkah. Moreover, the matching golden color, in contrast, looks charming. However, wearing delicate golden jewelry with it will add much gleam to your attire. Check out more amazing bridal dresses from Mohsin Naveed Ranjha.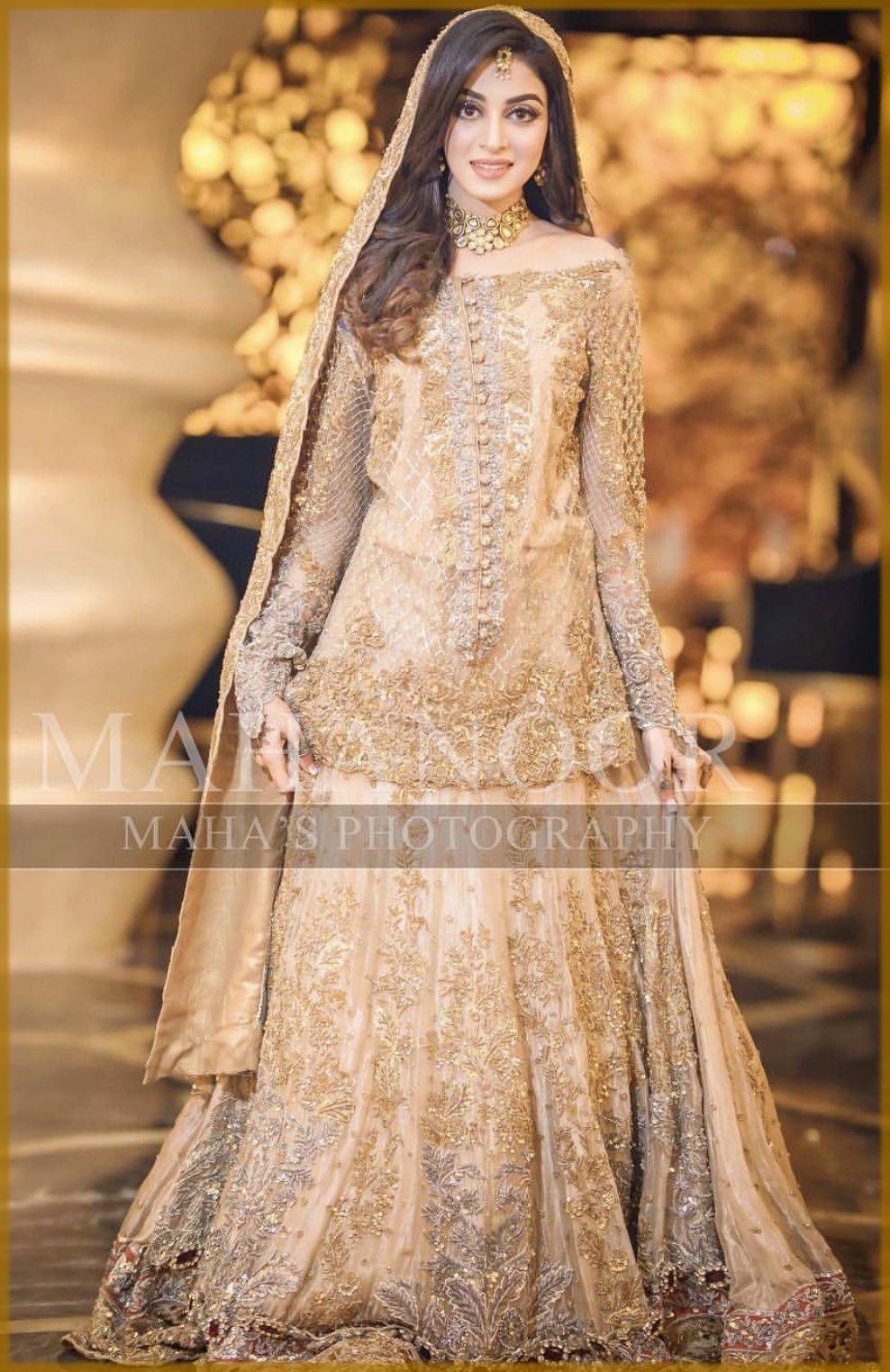 Stunning Gharara Style Bridal Nikkah Dresses
Ghagra is a garment having huge flare from the bottom of knees stretching till the toes. It is an elegant outfit preferable for events including, engagement, and nikkah, etc. Therefore, we have a collection of ghagra designs for nikkah. Take a look at these stunning outfits. Crystal green shade and pink color are the customer's number one choice. Therefore, we facilitate such consumers by providing extravagant designs for bridal dresses in these shades.
Golden Bridal Nikkah Dress
Wearing golden color always reflects traditional looks in our outfit. Therefore, brides nowadays prefer to choose a golden dress for special occasions. Moreover, the unique, in contrast, jewelry makes it look even more fantastic. Ali Xeeshan has beautiful dresses that you can wear on your nikkah day.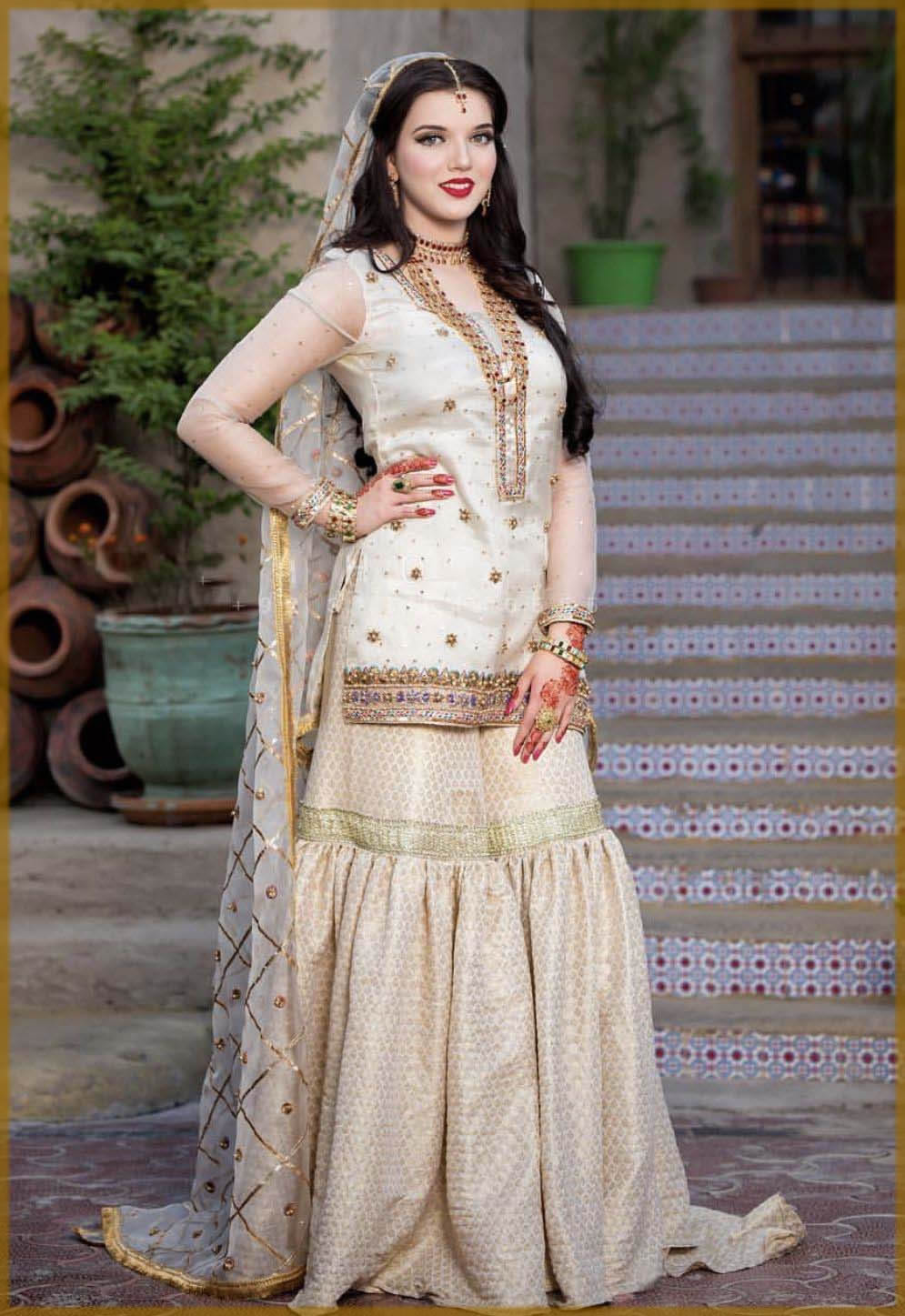 Legendary Bridal Nikkah Dresses
Pakistan is a country having traditions from generation to generation. Therefore, people here prefer to wear dresses according to their cultural norms on their big day. This reflects their culture. Moreover, wearing such traditional attire brings a simple yet elegant look. Have a look at this traditional collection for bridal nikkah dresses. Stunning Naimal Khawar is wearing such a beautiful traditional dress on her nikkah. Her dupatta draping style is looking very elegant.
Pistachio green color is the first choice of women for their bridal nikkah dress. Therefore, we are presenting you with an incredible outfit for your event. This exquisite dress adds much gleam to your overall look on your big day.
Traditional White and Red Combination
The white and red color always looks simplest and delicate. However, the ultimate sophistication lies within simplicity. Therefore, we present you with a simple yet elegant design for your nikkah. This red dupatta, in contrast to white, looks amazing.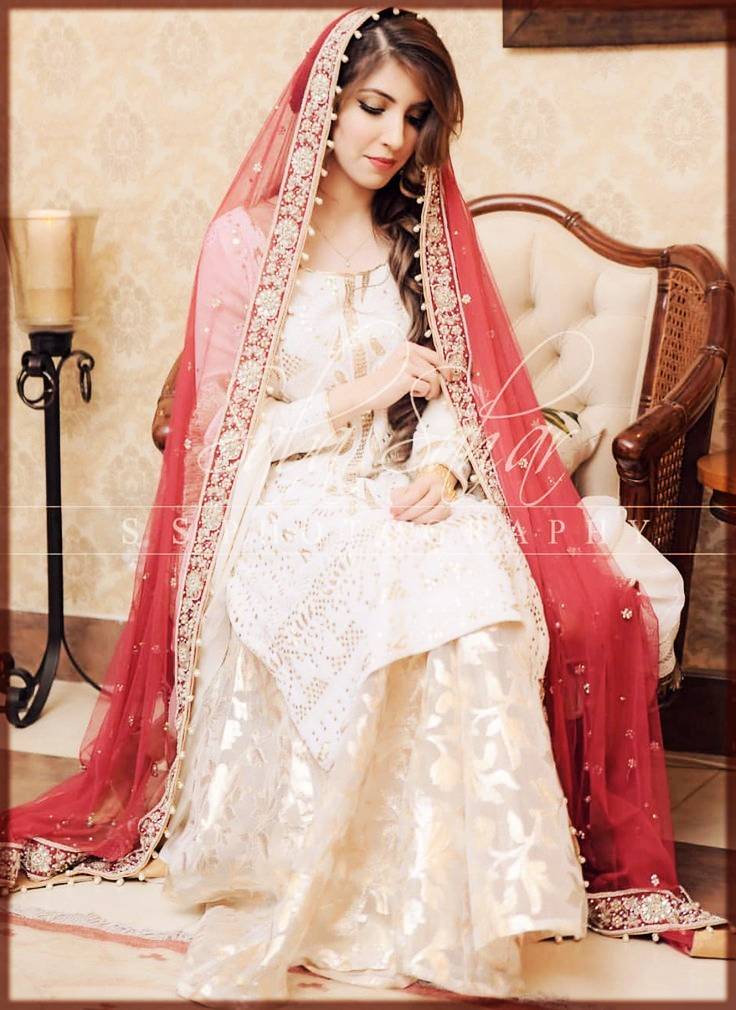 Stylish Sharara Designs for Nikkah
Sharara is an elegant three-piece outfit with a massive flare. The skirt-like outline of sharara resembles the shape of an umbrella. Therefore, young girls of the modern era like to choose sharara for their special day.
Net Sharara Style for Nikkah
Net is a unique yet familiar fabric for fancy clothing. The yarns are fused at intersections. It results in structures with open spaces between the threads. This beautifully crafted dress of net fabric looks fantastic. Most of the girls prefer sharara with short length. Therefore, we have this stunning style of sharara with a little dress for your event. Moreover, the entire embroidery on the cape and edges of sharara looks impressive. Take a look at Tena Durrani's bridal collection for more variety.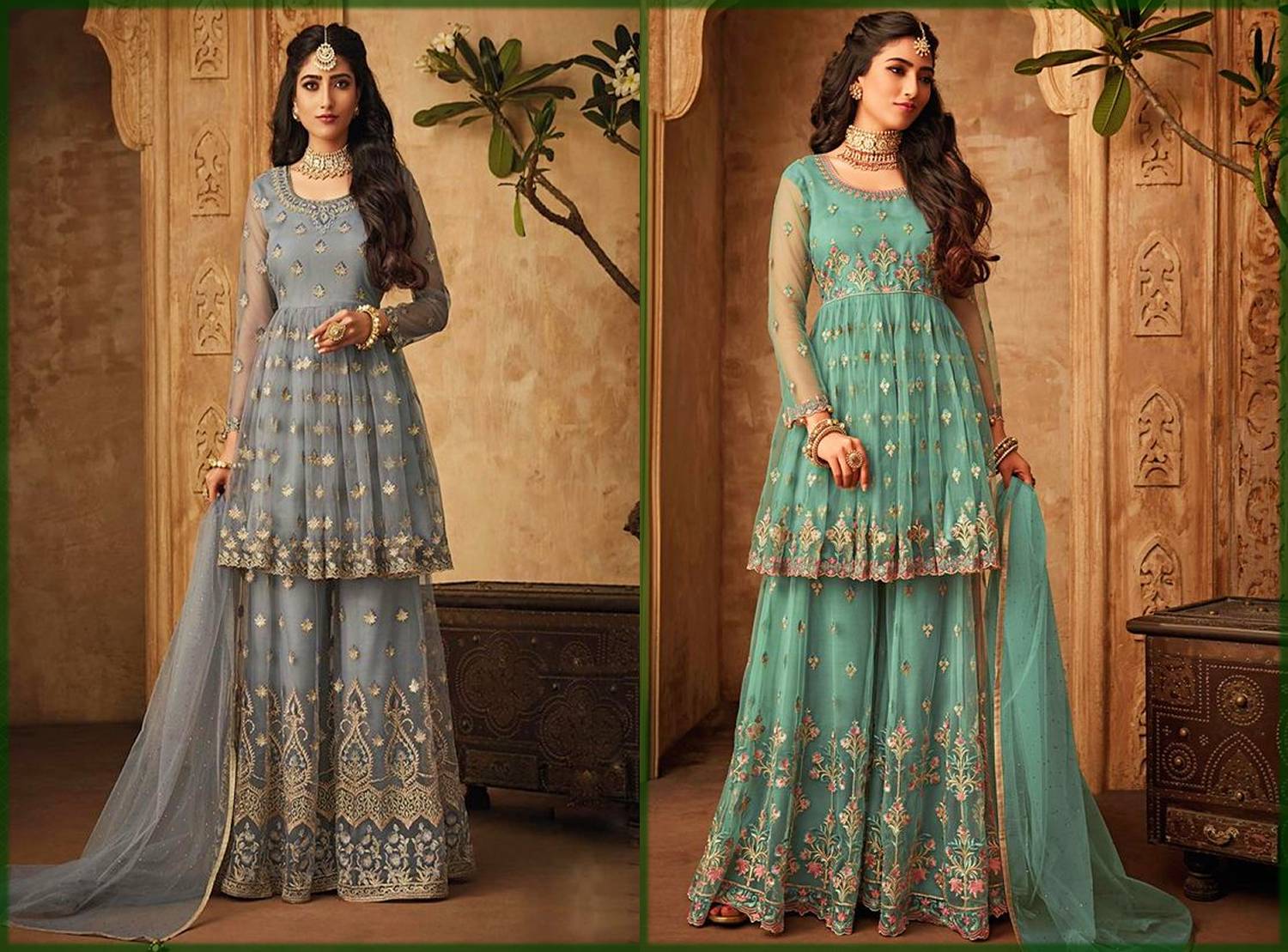 Embellished Sharara Designs
Some girls want to look simple while others look for super fancy dresses. Therefore, we have both styles for our buyers. You can choose whichever you want. The following are two embellished sharara designs with long shirts. This comes with delicate sequins and zari art. Therefore, it looks extravagant when you wear such attire on your big day.
Georgette Sharara Designs for Nikah
Just opposite to net, Georgette is a fabric containing twisted yarns. Its creation is unique concerning its wrinkled surface. Therefore, brides nowadays like to wear a georgette dress to have a stylish and elegant look. Take a look at this beautiful off-white trendy combination. The pink color always comes up beautifully with off-white. HSY bridal collection is also worth buying this year.
Sizzling Gown Designs for Nikkah
The gown is a usual loose frock from knee to full length. It is a traditional garment that is worn by modern women. The unique designs of gowns are available for the public. Let's take a look at the sizzling gowns for nikkah.
Alluring Gowns for Nikkah
Nikah is unique, and once in a lifetime event. Therefore, every girl wants to choose their best outfits. The following collection of gowns is highly expensive yet elegant. Thus, the girls who can bear such high costs will prefer them. The exclusive designs and zari art on these gowns bring elegance in the bridal outfit. Moreover, the distinctive bridal hairstyles with such attire will add much grace to the bride.
Some women prefer to wear heavy wedding dresses for their nikkah. Therefore, we are presenting you with magnificent, massive, and embellished gowns for them. Such a heavy art of mirror and zari looks ravishing.
Bridal Nikkah Dresses in Velvet
Velvet is a unique tufted, woven fabric. The short, dense pile of threads gives it a soft yet distinctive feel. This synthetic and smooth fabric looks dazzling. Therefore, modern women prefer to wear velvet at weddings. Let's have a look at the stunning collection of bridal nikkah dresses in velvet designs. Wearing velvet looks extravagant. Therefore, girls nowadays prefer to wear velvet dresses of beautiful colors and designs.
Embellished Velvet Attire for Nikkah Wear
Every girl wants to choose a stunning dress for their big day. Some girls who prefer to wear velvet look for a unique hue for their outfit. Therefore, here are two chic dresses for those who want to look dazzling.
 Bridal Nikkah Dresses in Frock Style
Frock style is a typical garment characterized by reaching down the thighs or knees. Despite the revolution in designs and styles, still, these dresses are usually elegant for brides. Therefore, girls prefer to wear Anarkali frocks on their nikah day. Moreover, the variety of designs and styles makes it much easier for those who are fond of wearing such attire.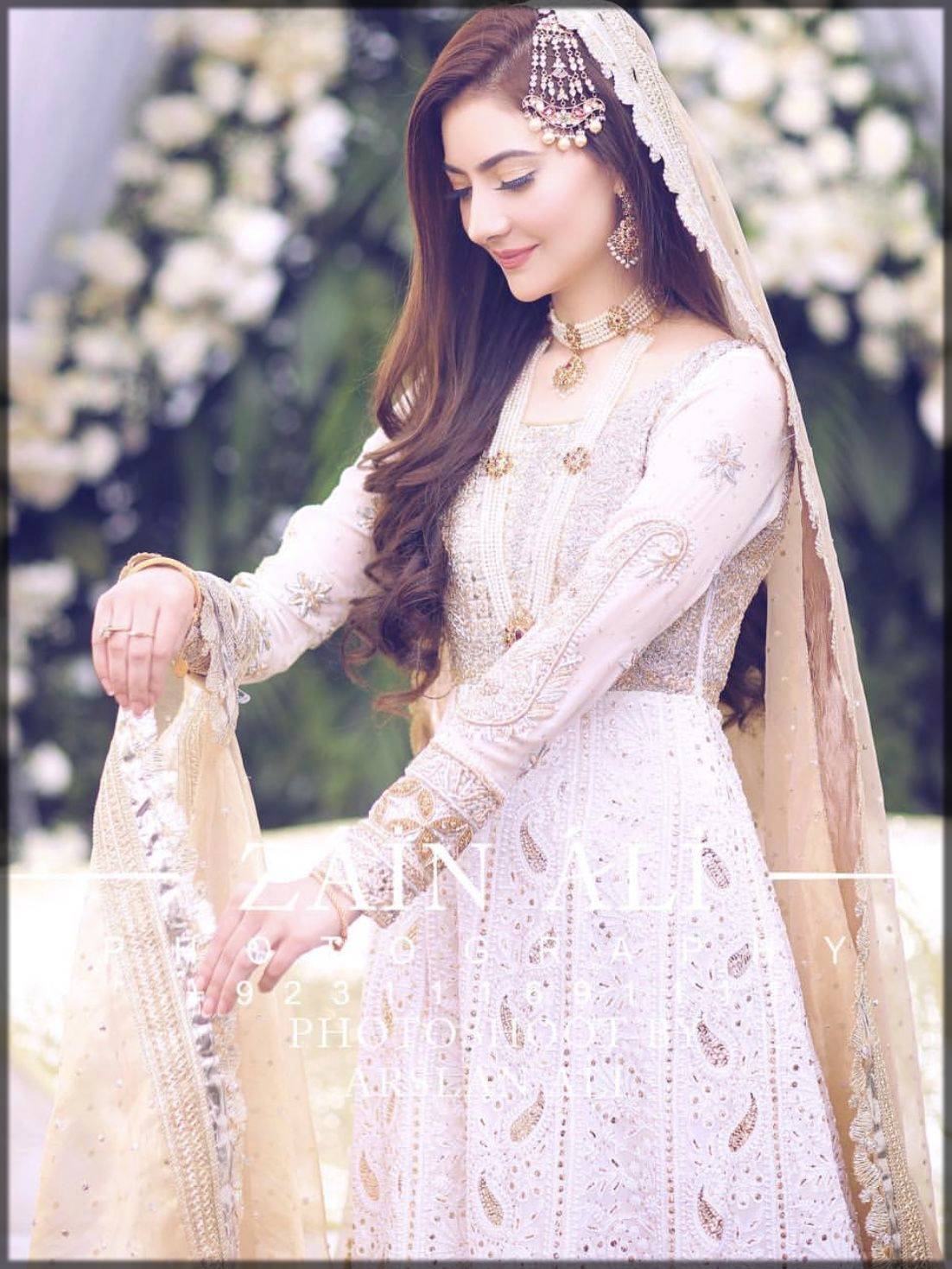 Fancy Bridal Nikkah Dress
The pink is the highly demanded color by most of the girls. Therefore, we are presenting you with an extravagant dress in light pink shade. This embellished dress has stonework from top to bottom. The massive flare of the frock with beads and stones is looking fantastic.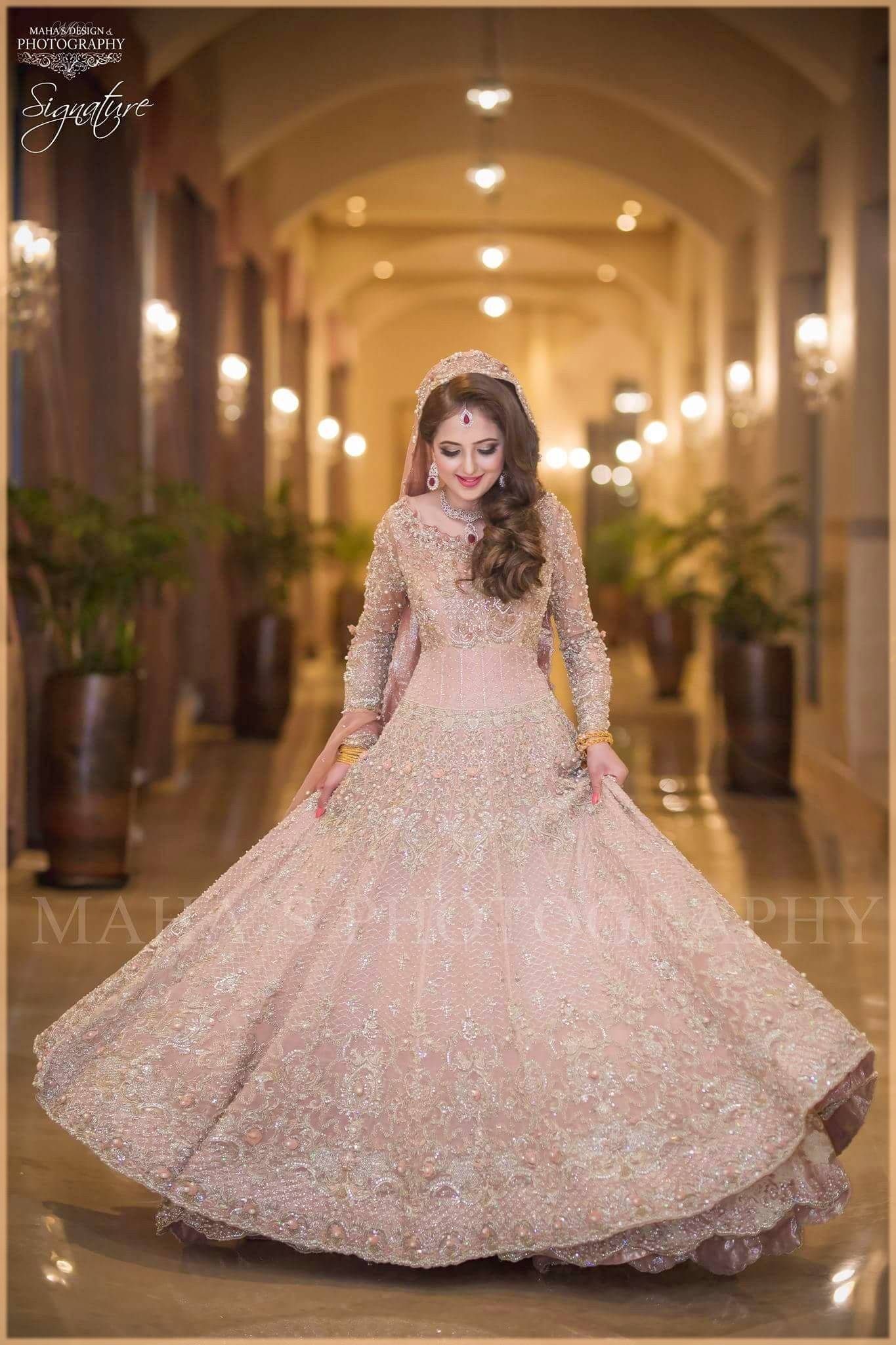 It is a dream of every girl to wear stylish and stunning dresses on their special event. So, they can choose their favorites from above. This collection will help you to look vibrant and elegant. Therefore, pair your dresses with beautiful combinations in contrast. Moreover, your entire look will be enhanced with makeup. So, implement the best composition with these dresses for your extravagant looks.