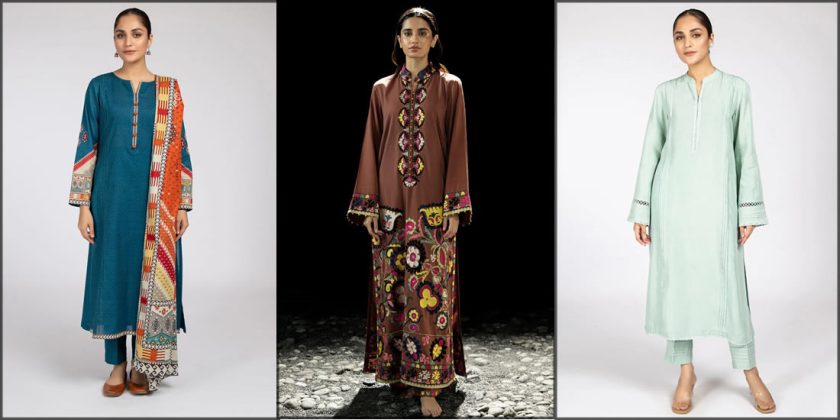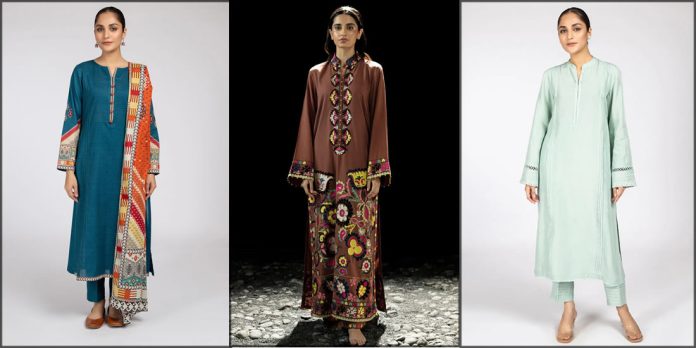 Kayseria always tries to satisfy its clients by introducing jazzier attires. This season, the Kayseria winter collection likewise launched the most marvelous and noteworthy attires for women of all ages. This latest collection helps the ladies to adorn themselves and make all of their looks pretty by wearing the most impressive and comfy outfits.
It used the khaddar, marina, linen, and slub khaddar texture for making its winter dresses more comfy and reliable. Furthermore, used the thread and sequins artwork for decorated its winter attires well. Moreover, you will get dyed, embellished, embroidered, and printed outfits in all lovely shades. These dresses are very stunning and impressive that you can wear them at any casual or formal winter gathering.
To check all the latest winter collections of Kayseria, you need to read this blog until the end. Also, their prices are mentioned so you can purchase any dress according to your budget. Keep reading this blog to get the most excellent and dazzling collection by Kayseria.
Kayseria Intro..!!!
Tahera Dar is the owner of the Kayseria brand who is a well know designer of Pakistan. Kayseria brand was established in 1985 to serve the public with high-quality and fantastic manufacturing of clothes. Kayseria always tries to make wonderful clothes to satisfy its clients, hence each season, it offers elegant dresses for kids and women. Today, it is recognized as the lady's most favorite brand because of its unique and dazzling crafted attires.
Latest Kayseria Winter Collection (Unstitched, Pret, and Luxury Dresses)
Finally, your wait is over! the notable brand Kayseria has recently launched the winter collection with the most alluring and livelier attires. The Kayseria winter collection is awe-inspiring because it prepared all of its attires with the most beautiful colors and themes. All these dresses are very majestic that you can wear them at any casual or formal event for looking more graceful and elegant. In its latest winter collection, you will find the following dresses:
Moreover, explore our latest winter collection catalog and check out the newest winter collection of all leading brands of Pakistan. 
1- Kayseria Winter Unstitched Collection
As you know, the summer has ended, and it's time to embrace the cold winter season and set up your wardrobe with the latest winter outfits. Because the classy outfit also helps to make all of your looks splendid and striking. This winter, the Kayseria has used pure fabric for making its unique and stunning winter unstitched dresses for women. Kayseria has used the pure karandi and khaddar stuff for making its elegant winter attires for women. Like the Limelight clothing series, it also gives you the online facility to easily buy the ideal outfit if you don't have time to visit the outlet.
Dyed Printed Khaddar and Linen 1PC Collection
The dyed collection is specially designed for teenagers because youngsters love to wear printed and dyed attires. You can also wear these dyed dresses at any casual or formal event. In the dyed attires by Kayseria, you will get glammy hues and patterns that will enhance the outlook of your personality.
Most teenagers prefer to wear printed dresses because printed dresses are in-trend these days. Youngsters always want to follow fashion trends every season. The printed attires are available with long, medium, and short shirts. Check out the following impressive bright and intensely shaded single shirts and grab your favorite one.
Classy Printed and Embellished Two-Piece Viscose Karandi Attires
The embellished and digitally printed dress helps to complete your formal look by making it more exciting. Following beautifully embellished viscose karandi attires help to make your formal event more memorable. You can stitch these embroidered attires in an Anarkali frock style, or any style you like the most.
Tip: With these note-worthy embellished outfits, you need to do minimal makeup for looking more cuter.
Warm Three-Piece Winter Khaddar Dresses for Women
If you are going to a wedding event or social gathering, then the attractive and beautiful embroidered dress will make you look more stunning and relaxed. These three-piece embroidered dresses by Kayseria will help to keep you warm because they are specially prepared with khaddar and slub texture.
If you are going to a formal event, at that point, combine your elegant winter dress with lightweight gems. You can also get the embroidered dresses by the So Kamal winter collection in any style as per the event.
2- Beautiful Kayseria Pret Collection
Wanna look dazzling and charming in this winter season? Check out the latest pret collection by Kayseria with incredible fabrics and hues. These dresses are the best choice for looking outstanding. You can view the newest collection with prices below. I hope this stunning collection will fulfill your aspirations.
Nowadays, finding a good tailor is a very challenging task. Therefore, women prefer to buy pret attires. In the ready-to-wear winter collection by Kayseria, you will get the most remarkable and breathtaking designs in the most beautiful colors. You should also visit the Warda winter collection to see the latest trends and attires.
Have a look at the latest and stylish kurta collection by Kayseri. This season, the brand has brought the most classy Kurti/kurta designs for women. You can match your kurta with a sharara for the traditional look. However, if you want to make your look modest, then combine it with black jeans or Capri.
In the 2PC collection by Kayseria, you will get shirts and trousers that come in vibrant hues, dazzling patterns, and styles. These 2PC outfits are in the khaddar texture. So you can cheer for this winter season by wearing these cool and comfortable clothes.
Have a look at the incredible and lovely khaddar suits that are wholly adorned with thread artwork, delicate prints, and motifs. One of the most striking and elegant outfits that will overpower anyone to appreciate you and your dressing sense. These dresses are ideal for wedding events and will add more elegance to your winter parties.
Look at the most decent 3Pc khaddar and karandi dresses. These all-dashing attire will add more charm to your winter look by making it more noteworthy. Likewise, the following three-piece shalwar kameez dress with embroidery on the neck area, daman, and sleeves will make the dress more luxurious. For unique and enchanting three-piece attires, go for the Khaadi clothing range.
3- Kayseria Unstitched Luxury Collection
If you want to make your look luxurious at any party at that point, have a look at the luxury winter collection by Kayseria that offers luxe khaddar, karandi, and velvet dresses in all beautiful shades. All these dresses are fully decorated with the most alluring styles and patterns. These formal dresses are best to wear at parties and events. That will help to make all of your looks splendid and jazzier.
Embroidered Karandi Shawls for Winters

The stylish suits with the Karandi shawl are new fashions that kayseria has introduced this season. So if you are a trend follower and follow every seasonal trend, hurry up and buy these luxury karandi shawls and make all of your looks fashionable. Bonanza Satrangi winter attires also managed to create this season's innovative and stylish designs.

Warm 3PC Winter Dresses for Women
Are you looking for a luxury winter wedding dress that will add more charm to your look? Then explore the fantastic and stunning 3PC suits made with sequins, motifs, thread, and pearl work below. These 3PC karandi and khaddar suits are the most outstanding choice to wear for making you look more splendid and striking.
Note: If you want to make your look extra chic and smart, pair your heavily furnished outfit with nude makeup, minimal gemstones, and classical footwear. Moreover, for a more stunning look, tie your hair in a trendy hairstyle and add more sparkle and glam to your look.
4- Kayseria Luxury Pret Collection
Are you looking for an appealing yet modest outfit for winter festive? At that point, explore this luxury pret collection by Kayseria. It offers striking attires in cotton silk, jacquard, velvet, silk net, and zari slub textures. Plus, they offer all sorts of modest and chicest styles of dresses like palazzo shirts, long maxi or gowns, Capri shirts, and gharara styles dresses.
Moreover, they used all bright colors to make its luxury collection awe-inspiring. Because they know, these days ladies prefer to wear the delightful attires. Look down and choose the  one for yourself to get the charming yet alluring gaze. All you necessities is to pair your luxury suit with massive gemstones, high heel shoes, a trendy hairstyle, and nude makeup to dazzle.
5- "Shah Pari" Unstitched Saree Collection by Kayseria
In a world of impure apparel, a saree can make a girl shine. The specialty of saree is that it is very easy to carry and can be consumed by anyone. Hence young girls like to carry the saree at any event to make them look alluring and dazzling. Accordingly, for rocking your winter gathering and celebrations, Kayseria recently launched the "Shah Pari" catalog that contains appealing sarees in georgette chiffon and raw silk textures for women of all ages. Both are the comfiest fabrics that not only normalize your look also give you a relaxing look.
They used delicate embroidery and vivid tints to make its saree collection extraordinary. Moreover, the finishing and detailing of these sarees are just mind-blowing as you can see below. You can wear these sarees at any formal and wedding occasion to get the prettiest gaze. So grab any below saree to add extra appeal and allure to your look. With your lightweight saree try to wear the beaded and pearls gemstone, apply the nude makeup and wear the high heel shoes to stand out.
These are the most fascinating and striking winter dresses by Kayseria. I hope this blog will assist you in purchasing the most glammy and elegant winter attires. The prices of all these dresses are also mentioned for your ease. After checking all of these dresses, you may go for the one according to your liking and budget.