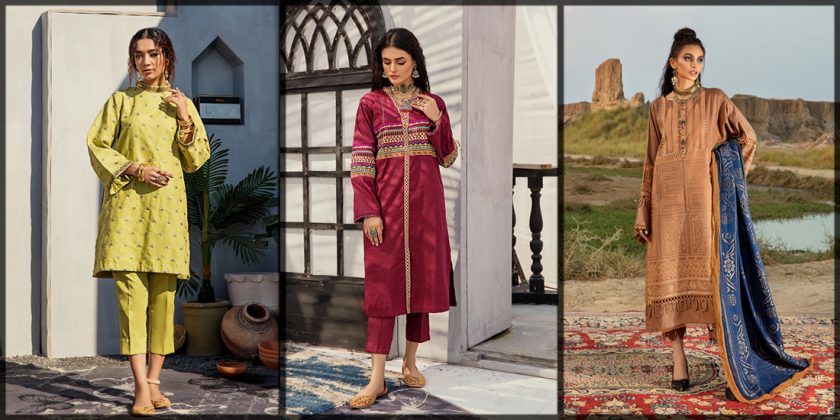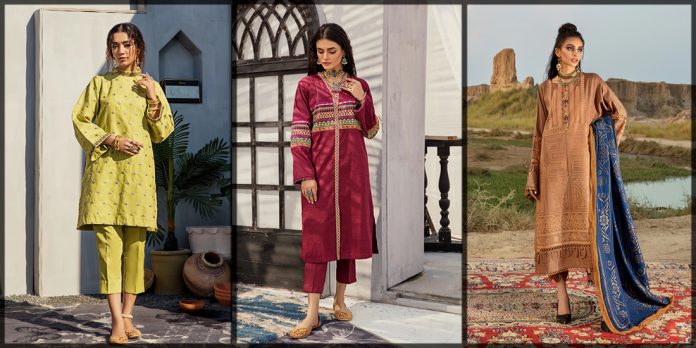 Ittehad Textiles is one of the notable brands in the fashion industry of Pakistan. It is very famous for new styles and designs. Plus, the designer's aesthetic sense engages the public to look for this brand's chic outfits. Well, here is the recent Ittehad Textiles winter collection for you, which is available online and at stores.
Almost all clothing brands follow the traditions and culture of Pakistan. Therefore, they come up with an exclusive variety of trendy designs. Similarly, you can see a wide variety of colors and patterns in the recent winter assortment of Ittehad that indeed renew your look and make it more striking. Plus, all these tasteful prints and embroidery will make you more gorgeous and stylish.
This season, Ittehad used the thread and motifs artwork for manufacturing its clothes. So, are you ready to gather some vibrant stuff? Then, let's invest some time to explore the winter clothes below. Indeed, you will get a vivid and cheerful dress with astonishing designs for yourself from the below list.
About Ittehad Textiles
Ittehad is the leading brand of Pakistan that brings a wide range of textiles under one roof. It started its journey with one outlet in 2011. Today, it has several outlets in the major cities of Pakistan. Mirza Ghani is the owner of the brand. The primary purpose of the Ittehad brand is to serve its clients with stylish, comfortable, and high-quality apparel. Each season it brings the latest and unique collection of dresses for women, men, and kids. This season additionally brings the chicest clothing for women of all ages. Let's browse.
Beautiful Ittehad Textiles Winter Collection for Women

Recently, you might have explored the seasonal attires of several clothing brands. With the arrival of the fall, women rush to get the latest wardrobe. Usually, they go for vibrant colors according to seasonal trends. Meanwhile, some prefer to have light colors according to their age and liking. Here you can explore an exclusive variety of winter clothing. A broad spectrum of women has liked the vibrant and stylish designs by the Orient Textiles winter collection.
The winter season is all about colors and magic. Therefore, all the clothing brands come up with a flaunting collection. Do you want to make your season enjoyable? If so, then I can assure you that the below collection will rock your winter. So, explore the stunning portfolio of Ittehad Textiles' winter collection. For more such dresses, browse through the Generation winter collection.
1- Ittehad Unstitched Fall Winter Collection
The style that you wear reflects your attitude and taste. So, always have a dress that is enthusiastic enough. You must appreciate the beauty of the winter season by carrying exquisite outfits. Indeed, the choice of the right color and style will make you look stunning. Plus, those who need a compliment on their dresses can have this selection. Get a subtle look from the unstitched digitally printed linen and cotton assortment below. I hope the extravagant variety will propel you to buy these suits. Khaadi winter collection has also presented various classy designs in the linen fabric.
Many leading brands offer the most common winter fabrics this season. So, you can make your cold season more comfortable by wearing the following exquisite styles. Have a look at the winter unstitched collection of Ittehad Textiles that likewise brings striking clothes for women. The following unique self-printed dresses by Ittehad will make your entire look elegant and candid. Furthermore, the lovely and versatile dresses will fulfill the demand of your events. They will also enhance your looks by the dignified patterns. So, hurry up and get your desired clothing from any nearest outlet of Ittehad Textiles. 
Comfortable Two and Three-Piece Linen Collection
Are you looking for a soft fabric to wear? Probably, some of you may have skin issues. Such itchy and sensitive skin needs a smooth and silky texture. Therefore, several brands launch their impressive linen collection.
Below are some excellent two-piece and three-piece linen outfits for you. You can style up in the way you like. Remember, superb stitching brings out the ultimate elegance. Therefore, go for a professional dressmaker for a beautiful wardrobe. You can see a similar variety in the Chinyere winter clothing range.
Casual Winter Cotton Attires
Indeed, a style reflects your personality and sense. A woman always looks for a decent yet comfortable dress to wear at home. Therefore, choose a classy and easy-going dress for comfort and joy. Here are some extraordinary two-piece cotton dresses for you. The impressive dotted and floral prints will make you jazzier. You can also get casual and comfortable dresses in the Beechtree winter collection.
These first two dresses in grey and black colors have classic self-prints on them. The decent prints of the last two beige and purple attires are also captivating. You can easily select the one for your daily routine and casual wear. All you require is to combine your casual outfit with decent gemstones, stunning makeup, and casual shoes for getting the perfect gaze.
Winter Digital Linen Collection (Three-Piece Suits)
Linen is the most relaxing and comfortable fabric to wear in winter. Especially, women who are allergic to harsh fabrics like khaddar and Karandi shall opt for linen dresses. Ittehad textiles winter collection brings you mesmerizing and easy-going three-piece linen dresses for this year's cozy weather. Please have a look at the colorful and delightful suits below.
The image gallery below shows beautiful and rich winter dresses. Undoubtedly, a woman with the class must opt for a timeless and chic ensemble. Therefore, the following paste-printed linen ensembles will be ideal to wear in winter. Please give a thought to the mesmerizing collection below and bring joy and laughter to your winter vibes.
2- Essential Ittehad Textiles Pret Winter Collection
Embark upon the dreamy winter journey with the warm attires below. Indeed, the intense cold and frizzy weather will propel you to opt for a warm outfit. Therefore, different brands offer a mandatory khaddar collection for the public. Because khaddar is considered the warmest fabric for the winter season. Below is a fantastic portfolio of classic two-piece khaddar, linen, yan dyed, cotton, and jacquard outfits with the loveliest prints. Moreover, astonishing khaddar styles have also been created in the Bareeze winter collection. 
RIM-JHIM Pret Collection for Teens
Are you a college-going student? Do you want to make your morning look enchanting and attractive? Well, it's all about perspective and priority. Nowadays, teens prefer to wear a delightful shirt at formal gatherings and birthday parties. Therefore, the Ittehad Textile winter collection brings you an exceptional portfolio of RIM-JHIM shirts to wear this winter.
Would you mind taking a glance at the following portfolio? Indeed, you will never regret investing your time and money to explore the basic pret shirts. You can easily combine contrasting trousers, jeans, or flared pants with mesmerizing shirts to upgrade your looks. Elevate your entire grace with delicate jewelry and a nice choice of footwear.
Two-Piece Casual Collection
Teen girls have always been searching for vibrant hues and simple vogues apparel to look decent and striking. Take a look at the youthful combinations below containing the simple yet classical shirts matched with the plain Capri trouser. Additionally, these captivating prints are self-sufficient to rock your beauty.tiss
All below dresses are very soothing to the eyes. The prints of these attires are so beautifully designed that normalize your look, add charm to your personality, and made it more dazzling. You can wear these attires at any casual gathering to make all of your cool and pretty gazes. For more sleeking looks, pair up excellent footwear and keep your hair open. Warda's winter clothing range is also presenting likewise flaunting dresses. 
Two-Piece Embroidered Dresses

Well, there is an immense variety of two-piece embroidered dresses in the Junaid Jamshed winter collection. But, some women look for Ittehad fabric. Their comfortable material brings the next level of satisfaction and pleasure. So, enjoy the loveliest comprehensive two-piece winter dresses below. The mesmerizing combinations and artistic patterns will turn heads on you. Plus, you will get praise from everyone out there. So, let's have a look at the variety below.
3- Essential Festive Velvet Collection for Women
Intense cold weather hints at buying cozy and comfortable fabrics to wear in winter. Therefore, the clothing brands launch an exceptional assortment of casual and embellished velvet attires. There are a couple of brands that do not launch velvet collections due to some reason. However, you will find innovative velvet dresses in Nishat Linen's winter collection.
Here is an exclusive variety of unstitched velvet ensembles by Ittihad's winter collection. Please take a while to discover the warm and magical styles below. You can pick any of the following dresses for your winter evening parties or formal gatherings. Indeed, you are likely to appear updated if you will give a try to any of the following styles. Please give it a thought!
4- Voguish Premium Series for Winter Season

The freezing breeze and chilly weather outside appear more classy with a premium winter outfit. Women wonder to have a high-quality staggering outfit for winter evenings. Hence all brands must include luxury dresses for women of all ages in their seasonal collection. Take a look below and get mesmerized by the amazing premium variety launched by the famous brand. You can rock the winter season and the events that come with it by wearing these iconic dresses.

Are you ready to hit differently among the galaxy of individuals? Ok, so have a look at the breathtaking collection below. All the dresses of vibrant hues reflect the real sense of fashion. All you need is to combine stylish footwear for distinctive looks. Plus, keep your hair open while wearing the dresses below for jazzier looks. Taana Baana's winter collection is also presenting numerous designs in its latest clothing range.
Ittehad Textiles Formal Series
Women are searching for a style that blossoms. Moreover, through the culture of our country, designers are busy crafting the ethnic variety alongside formal seasonal wear. Ittehad Textiles also brings many nicely embroidered dresses for formal wear. The dresses are available at reasonable and affordable prices.

Explore the chic assortment below that you can carry at any of your formal events to look more modest and elegant. Indeed, you will stand out by choosing these styles. So, grab your utmost desired and lovely styles from the recent assortment of Ittehad Textiles winter catalog and add a bit of glamour and grace to your looks and personality. Sitara Studio winter collection also has simple yet elegant winter attires at moderate rates.
5- Faixa Faixal Mastani Collection
Let's have a look at the Mastani collection by Ittehad that offers the most amazing attires in all bright and lovely shades. These majestic dresses are made with tilla, adda, sequins, and thread work. Plus historic and traditional themes have used the design these dresses that indeed increase your overall beauty and make it beyond dazzling.
You can carry these dresses at any formal and wedding event to make all of your breathtaking and noteworthy gazes. With these classical attires try to wear Rajhastani jewelry, bronzer makeup, flat khussa shoes, and a classy bun hairstyle to catch the breathtaking flash.
6.
Premium Fall Collection Volume 2 (Karandi and Khaddar Attires)
Are you looking for some more premium attires? Undoubtedly, it is never too technical to bring out the glam and shine from within. Yet, you need to explore a variety of outfit ideas to choose the best one for yourself. While choosing a unique style, always remember to consider your personality traits. If a style does not go with your personality, it won't bring you grace and glam. Therefore, we have a style guide for you for the premium dresses. Please check out the extensive category of winter collection for more beguiling styles.
Ittehad Textiles premium collection brings you some intriguing and beguiling ensembles of your choice. Well, it might be agony to comprehend the beauty of a woman when she is dressed up shabbily. Luckily, you are in a place where you will get a variety of dazzling styles that will ace your looks. Please have a look at the breathtaking embroidered dresses below. Volume 2 of the premium series offers karandi, silk karandi, and khaddar embroidered dresses with complementary trousers and dupatta. Please give it a thought!!
Mehrunisa Wedding Formal Collection 
Let's explore the latest "Mehrunisa" collection by Ittehad that offers hand embroidered attires for women of all ages. These stunning dresses are made with organza, net and chiffon textures. Plus, the pani, Sitara, zardozi, naqshi crystal, sequins, pearls, and bedki artworks are done on these clothes.
You can carry these attires for any wedding affairs to add more elegance and sparkle to your look. You can also wear these ensembles on social and formal gatherings for getting the exquisite look.
Moreover, the texture of these dresses is too soft and reliable which helps you to voluntarily enjoy your event. So look down and choose the best one for yourself to upgrade your look.
With these dresses, all you need is to
Apply nude yet bronzer makeup
Wear massive gemstones
Wear the high heel shoes
And style your hair in a low-bun hairstyle to catch the attention of the audience and add extra radiance and gleam to your look.
Get enchanting dresses here for chilly weather. It is a fact that winter hues are pretty versatile. So, get your favorite color and style from the dresses above. I hope you will love the chicest prints and well-decorated attires by this brand because all dresses are just mind-blowing and indeed refresh your look and make it more dazzling. So, are you ready to rock your winters with the mesmerizing variety above?