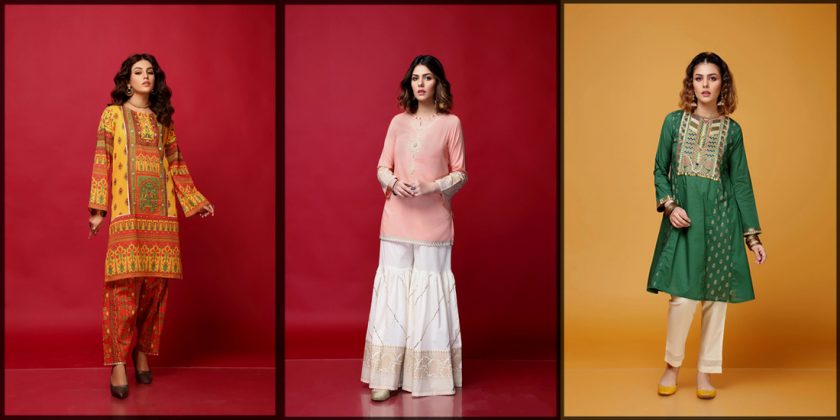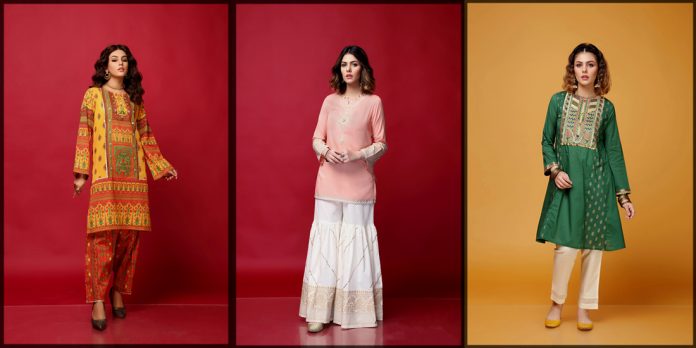 Rang Ja is the most adoring and loving brand that offers traditional dresses for women of all ages every season. If you are looking for something legendary for Eid, at that point, the Rang Ja Eid collection is the best. It offers impressive attires in the most amazing shades.
Fashion is a tendency to say who you are. Hence, you need a chic outfit to demonstrate your solid character. Clothes are the best way to add more grace and charm to your glimpse. Therefore, women prefer to wear modest and latest pattern clothes to look more chic and smart on every occasion.
In the latest Eid collection of Rang Ja, you will receive dark and fresh hues dresses with the traditional touch that will increase your overall beauty. You will get the one, two, and three-piece dresses here that indeed refresh your Eid look and make it more dazzling and appealing. Scroll down to watch the complete catalog along with prices!!
About The Brand History
The colorful brand Rang Ja was founded in 2012 in Pakistan. The brand has evolved the ambiance of the fashion industry beautifully by providing one-of-a-kind vibrant collections and ethnic dresses with a fantastic color range. The brand now makes an available broad range of fashionable short shirts, frocks, shalwar kameez, and all-season specially tailored ready-to-wear clothes – for girls who love to wear energetic colors with mesmerizing embroidery and cuts. You can tell by the name of the brand about the theme and variety of clothing they present.
Stylesnic always appreciates fashion and quality. We have a beautiful and latest eid collection of every distinctive brand. You can find all your favorite brands under one roof of our brand. So, explore and save your time for searching different brands online. 
Rang Ja Stitched Eid Collection for Women (New Arrivals)

Women always want to look up to date and modest at any occasion and event. So, for those ladies, all brands try to design the latest and trendy pattern clothes to fulfill their wishes to look jazzier and breathtaking. The latest Rang Ja Eid collection surely helps you out to look more captivating and breathtaking because it contains appealing dresses in vibrant and vivid tones. The trendy patterns, traditional themes, fresh and dark hues make this collection more noteworthy and awe-inspiring.
Rang Ja Eid Sharara Dress for Young Girls

If you want to try something unique and traditional, at that point, the below dress is the best. The beige knee-length kurta indeed updates your Eid look and make it more striking. The multi-colored sharara adds more appeal to this outfit. You can pair this dashing outfit with the silk or organza dupatta according to your choice. Combine this fabulous outfit with nude makeup and traditional accessories to make all of your attractive and dazzling looks. For more festive dresses, visit the Khaadi eid collection.
Luxury Sleek Black Chiffon Suit by Rang Ja
Black is the most dazzling and classical shade that each lady wishes to wear at any event. The sleek black hues not only improve your personality also add more charm and grace to it. This Eid, amaze everyone by wearing the below black outfit. The stunning black knee-length plain frock is combined with the exclusive Jalidar jacket that is further improved with the multicolored thread embroidery that surely adds more attractiveness to your Eid look.
Fashion Tips:
If you want to get the traditional look, then pair it with the multicolored sharara.
While for a casual and decent look, pair it with the plain Capri or trousers.
With this black outfit, apply bold makeup and wear artistic adornments to make all of your gorgeous and remarkable looks.
Further, wear the bangles on both hands, and your pretty traditional look is completed.
Elegant

3PC Summer Eid Dress
Red is the most noteworthy and appealing shade. The below knee-length shirt is furnished with the sequins and thread work is paired with the plain trouser and green and red combo Chunri dupatta is the ideal choice for Eid to look more splendid and jazzier.
You can likewise wear this fashionable outfit at any formal gathering to get a decent look. With your red embroidered outfit, Keep your makeup and accessories minimal to get an appealing gaze. Further, wear the khussa footwear and make all of your legendary Eid looks. For more embellished dresses, explore the Salitex luxury eid collection.
Off-White Jacquard Frock for Women
Jacquard fabric is a special kind of fabric that is mostly used for formal dresses. Many people feel shy to wear the jacquard suit in summer. But believe me, it is the comfiest yet relaxing texture that you can also wear during the hot days of summer.
The below-off white jacquard frock is furnished with red 3D flowers. You can combine your jacquard frock with the jacquard sharara or gharara as you like. If you are going to wear this fabulous dress on Eid, then never forget to wear the beaded necklace to look more stylish and smart. For more jacquard dresses, visit the Limelight eid collection.
Traditional Printed Lawn Suit for Eid

The below-printed suit for those girls who like to wear the printed attires at any festival. One of the most stunning and noteworthy suits to look more modest and smart. You can likewise wear this classy outfit at any causal, formal, and social events to make all of your breathtaking and dazzling looks. With this classy outfit, you need to follow the subsequent eid fashion trends for a perfect eid look.

Apply the bold yet elegant makeup.

Wear the long hoops.

Wear the bangles on both hands.

Apply the Tikki mehndi design on the back of the hands.

Wear the high heel shoes.
And you are ready to go. Nishat Linen eid collection also contains the dashing eid dresses in the most amazing colors and patterns, Check it as well.

Floral Printed Lawn Dress for Teens
Teen girls prefer the short length dresses to look more modest and cute. The below orange, green, and blue shaded short top is the ideal choice to wear. You can pair it with the plain blue gharara to get the traditional look. For a decent and casual look, pair it with the simple Capri.
Combine this pretty printed suit with the "afghani" style choker that is in-trend these days. Further, apply simple makeup and wear the bangles on both hands to complete your dazzling Eid look. The Nimsay eid collection also offers adorable printed dresses for women of all ages.
Purple Embroidered Suit with Blended Silk Dupatta

Purple and pink are the most beautiful hues of the ladies. Purple-colored dresses help to add more shine to a girl's look. The coming up next purple suit contains the front open-jacket style shirt, plain purple trouser, and blended silk dupattas.
You can also wear this dashing dress at any formal gathering to make all of your splendid and appealing looks. Merge this suit with the khussa footwear, nude makeup. For a decent and remarkable style, skip the jewelry. Mushq luxury pret eid collection also contains the embroidered dresses in purple hues, check it also.
Many of us like to wear Mughal and historical themed dresses. Hence, Rang Ja always offers a wide variety of dresses in traditional themes. The below Mughal themed dress in the yellow, green, and red combination is just superb. One of the best historic themed dresses that undoubtedly improves your character and makes it more dazzling.
This stunning suit is made with pure lawn fabric that also shields you from the hot rays of the sun. You can also wear this fabulous dress at your sister's dholak to get a fantastic and pretty look. For more similar outfits, visit the Ansab Jahangir eid collection.
Classical Chiffon Printed Suit with Colorful Sleeves

Chiffon is a delicate and suitable texture for summer parties. It also keeps you safe and secure from the melting days of summer and likewise helps to freely enjoy any event and party. The below red chiffon kurta that is further adorned with the pearl neckline and multicolored sleeves is the best choice to wear this Eid. You can also wear this dazzling outfit at any mayun and mehndi ceremonies to look more chic and alluring. Combine this red chiffon dress with classical adornments to make all of your awe-inspiring looks.
Royal Black Printed Lawn Frock
If you want to look more breathtaking and impressive on Eid, at that point, grab this jet black long frock from the Rang Ja store that indeed renews your look and makes it more alluring. If you want to get this type of look on Eid, then you need to do the following things:
Apply the brownish makeup.

Wear the round circular hoops.

Wear the peep-toe shoes.

Keep your hair open by adding some loose curls. 

Prettify your nails with trendy eid nail art.
And you are all set to go. Further, have a look at the Maria B festive eid collection for more open options. 
Trendy Designs of Festive Suits for Girls by Rang Ja

Let's explore the entire stylish Eid collection by Rang Ja. You will get the different styles of eid dresses including kurta pajama, short shirt and sharara, frock and Capri, shalwar kameez and jacket style frock. Grab any style and make your look more splendid and striking. Try to match your outfit with classy makeup, dazzling adornments, and trendy hairstyle to make all of your jazzier and awe-inspiring looks. Further, for a casual look, pair your outfit with the flat slipper or chappal, while for a modest and smart look, pair your outfit with the high heels.
Now it's right time to buy some dresses to make your Eid look more stunning and appealing. Hurry up and place your order. Like many other notable brands, it also offers a free home delivery service to its clients. Now you can get your desired outfit at your doorstep with a single click. If you don't have any idea about online shopping, then all you need is to go to the official site of Rang Ja, select your dress, and add it to the cart, now give some personal detail to get the order at your doorstep, and place your order. Within 5 to 6 days, you will get your parcel. Have a blessed and joyful Eid!! 🙂