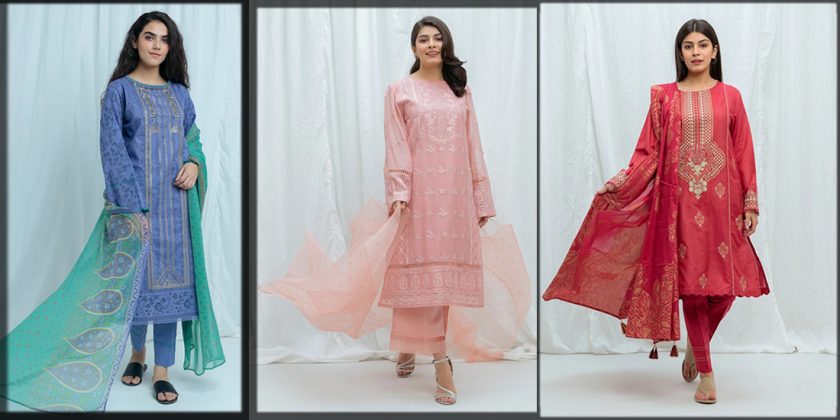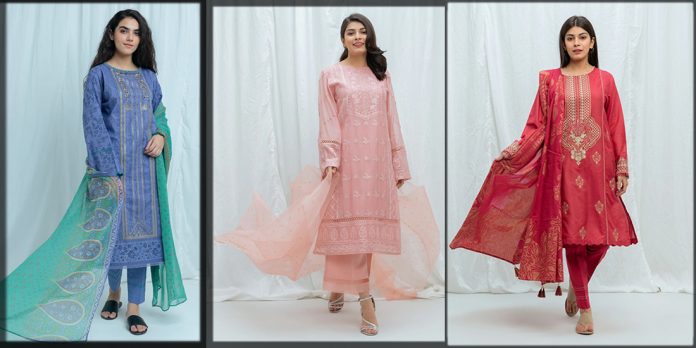 Beechtree Eid collection is one of the most anticipated collections of the year. Since it offers too much variety for customers. The festive celebrations are in the summer season. Therefore Beechtree used the lawn and jacquard fabrics to shield their customers from the melting summer season so they can freely and happily enjoy all the precious moments of Eid.
Maybe your life is not perfect, but you can make it perfect by wearing a lovely and stunning outfit. Because the fabulous clothes make you remember how beautiful life is. So make your life extra beautiful and sparkling by wearing the dashing outfit this Eid by renewing yourself well.
Always try to wear the dazzling outfit on any occasion to express not to impress. In the latest festive collection of Beechtree, you will get the lawn, jacquard, and chiffon attires made with bright and fresh hues that indeed restore your Eid look. Let's explore the newest and freshest festive collection of Beechtree.
Stunning and Classy BeechTree Eid Collection

Nowadays, ladies are eager to purchase beautiful clothes for Eid. In a planet full of trends, sometimes women just desire to wear something classic. For those girls, BeechTree introduces the ethnic dresses, as you can examine below. Look at the most advanced dresses below that will indeed elevate your look and make it even more classy and chic, like Ego Eid Collection.
Beechtree is one of the most loving brands among women. Maybe one of the only brands that tune in to buyers' input and structure the dresses according to client needs and likings. The exclusive brand that works for clients' necessities. If you are searching for your best festive dresses, look at the Beechtree Eid collection that adds more elegance to your style. Elegance is the only power that never fades so always dress up nicely and inspire the crowd with your elegance.
1- Comfiest Unstitched Printed Lawn Eid Collection
Beechtree festive variety contains a wide variety of unstitched lawn suits with a fantastic color theme. The best choice for those young ladies who need to wear a lightweight and comfortable dress on this Eid is printed lawn dresses. The lawn is considered the comfiest texture that numerous girls generally like to wear. It is an extremely lightweight texture that will likewise keep you secure from the blistering beams of the sun during the summer. Likewise, check some comfortable lawn dresses from the Sana Safinaz Eid Collection you can also wear in this festive season. 
Beige Printed Shirt with Printed Lawn Dupatta
Beige is the most cherished color in Pakistan, and every woman wants to wear it. This Eid, try this beige printed shirt, and I am sure you will never be disappointed. It is paired with the printed lawn dupatta that is improved with the geometric pattern. 
The best pair with this geometric pattern shirt is the blue gasp trouser. You can similarly consolidate it with wide pants as you like. Youngsters necessitate a couple of alterations and new structured clothes to seem one of a kind on Eid. So, grab the below two-piece suits from the Beechtree store and get a pretty and impressive look. Get more classy two or three-piece attires from the Maria B Eid Collection.
Peachy Charm 3PC Printed Suit for Girls
Look at this peachy dress, which is fantastic and has the best color combination. The weaved neckline makes it progressively lovely. It is combined with the printed chiffon dupatta and peachy lawn trouser. Apply nude or pinkish makeup with this dress and creates your optimal look. 
If you are stressed over your lovely Eid dress, feel relaxed because many top brands, including Gul Ahmed Eid Collection, are currently available in outlets and online stores. Go and grab your desired clothing from your favorite brand and make all of your jazzier and striking looks. 
2- Unstitched Embroidered BeechTree Eid Collection
Are you looking for something graceful and impressive? By then, endeavor these embroidered dresses. You can get the best-embroidered dresses with appealing and eye-catching structures in this collection. This is an tremendous variety of exaggerated dresses with two-piece and three-piece suits.
These shirts are beautifully improved from the neckline and sleeves. Chiffon, voil, and net printed dupattas are matched with these printed shirts to complete them. Similarly, many lovely printed Eid dresses are also available in the Ethnic by Outfitters Eid Collection. 
Sunshine Yellow Embroidered Shirt with Printed Blended Chiffon Dupatta
Yellow is the fittest shade for beating the summer heat with style. This beautiful 2PC suit indeed refreshes your Eid look and makes it more dazzling and stunning. You can pair this 2PC suit with the lawn trouser to make this outfit more luxurious and chic.
With your yellow outfit, keep your makeup and jewelry minimal to get a fantastic and gorgeous look. You can likewise wear this ashing outfit at any formal gathering and even at your friend's birthday party to make you look extra smart and appealing.
Classy Blue Embroidered Eid Suit
Blue is the extraordinary summer color that intensifies your personality and makes it more jazzier. The below three-piece suit is the best choice to wear on any festive happening to increase your beauty. The front of the shirt is furnished with the silver sequins work that makes the outfit more classical and dazzling. Further, the printed dupatta adds more grace and charm to this outfit. Match this lovely outfit with curly hair and pinkish makeup to get a decent and breathtaking look.
3- Jacquard Eid Attires
Jacquard is another comfortable fabric for the late spring season. Take a look at the easygoing jacquard clothing types that are upgraded with the string and thread work. Further, a couple of pearls are in the same way used to make it all the more dazzling and magnificant. For making your mid-year Eid tremendous and charming, allow these jacquard dresses that are the best to wear in the hot summer season. The Zellbury Eid Collection is also very appealing and has an astounding color palette.
Jacquard is considered as the conventional texture, so you can likewise wear these clothing types at any gathering or get-together. Look at the accompanying jacquard formal clothing types that, without a doubt, will improve your Eid look and makes it increasingly beautiful and enchanting. Additionally, get some more jazzy jacquard attires from the Bonanza Satrangi summer collection that are also very impressive. 
Arctic Blue 2PC Jacquard Eid Suit for Women
Here is the most remarkable and stunning jacquard suit that will help to get the gorgeous and elegant look on Eid. The pink and purple thread work makes this arctic blue outfit more charming and jazzier. The soft jacquard fabric of this outfit also shields you from the summer season.
With this cool outfit, apply the nude yet impressive makeup, keep your hair open by adding some curls and wear any light shaded chappal to get the lovely look.
Sleek Black Jacquard Summer Eid Suit
Black is the most favored shade that each lady wishes to wear. The mustard and black color combination make this outfit remarkable and breathtaking, as you can see below. If you want to make get the slaying look, then without any doubt, grab this sleek black jacquard suit from the Beechtree and make your Eid look more appealing and cute.
4- Unstitched Dresses – Full Catalog
Now have a look at the complete portfolio of Beechtree unstitched Eid dresses and grab your favorite dress. Always pick the right shaded outfit according to your skin tone, like
If you have a fair skin coloration at that point, you can choose the yellow, red, purple, mustard, and black outfit to make your look smarter.

On the other hand, if you have a dark skin temper, then you need to pick the dark shaded outfits to get the public attention. 
Explore the image gallery beneath and get the most beguiling and exemplary dress for your Eid. Their costs are additionally referenced, so you can purchase any clothing as per your financial limit. For more variety, check out Nishat Linen eid dresses.
5- Beechtree Stitched Eid Collection
Review these stitched suits that are prepared for the youngest generation. The printed and embroidered short and long shirts are further structured with the square, geometric print, sequins, and thread artwork. You will also get the classy two or three-piece attires in the stitched catalog. These pret dresses are made with yarn-dyed, jacquard, and lawn texture. Have a look!
 Embroidered Jacquard Shirt With Jacquard Dupatta
Venture this 2PC embroidered jacquard outfit that will change your Eid appearance. It's a striking style that you can likewise wear at late spring gatherings and get-togethers. You can wear this casual jacquard dress this mid-year and make yourself incredible and stunning. Pair this excellent jacquard suit with plain trousers to make this outfit more lovely. Apply the bronzer makeup with the brown lip color and wear the high heel shoes to get the breathtaking look. 
Yarn-Dyed Foil Printed Shirt with Band Collar

The yarn-dyed is another cool fabric for the summer season. Look at the yarn-dyed foil printed straight shirt that improved with the band collar. Pair this kurta with the plain white pant and grab the public attention.
6- Stitched Dresses- Full Catalog
Let's explore the entire catalog of stitched dresses that contain all bright and dark-shaded outfits in the most fabulous themes and designs. You can likewise wear these stunning attires at any casual and even at formal gatherings. For more pret dresses, explore the Bareeze Eid collection.
Five Ways to Achieve the Ideal Festive look
Dress:

 As the Eid days are going to be hot, be cautious while picking your dress color. Grey, lemon yellow, white, pink, light green, and blue are the hues that will make you look increasingly bright and upbeat.

Shirt Types

: Both long and short kurtas are in trend these days, so pick any style that improves your Eid look.

Pant Types

: There are numerous sorts of pants that make one look impeccable, i.e., cigarette pants, ribboned pants, woven pants, wide gasp pants, and cambric pants.

Hairdos:

Hairstyles will enhance your Eid look. So, always remember to style your hair with the best eid hairstyles. There are many hairstyles, including curls, ponytails, hair bun, etc. Pick any one according to your dress design to make your Eid look increasingly elegant and beautiful.

Accessories:

 Eid is viewed as deficient without specific accessories like bangles and mehndi, so apply some dazzling mehndi structures on your hands and wear some conventional jade jewelry for the customary Eid look.

Makeup

: The young lady's look is consistently incomplete without cosmetics. Apply some bold or natural makeup as you like according to your dress color and design.
All these stunning dresses will encourage you to make your Eid look extra engaging. All you necessitate is to choose the best style of outfit as per your choice, body size, and skin tone. The Beechtree provides the best facility for shopping in Pakistan. It will assist you in doing your Eid shopping from your home without encountering crowded markets. To getting your dress at your doorstep, all you necessitate is to simply go to the official pages of Beechtree, then select your desire dress and add it to the cart, then place your order, and within few days, get your dress.