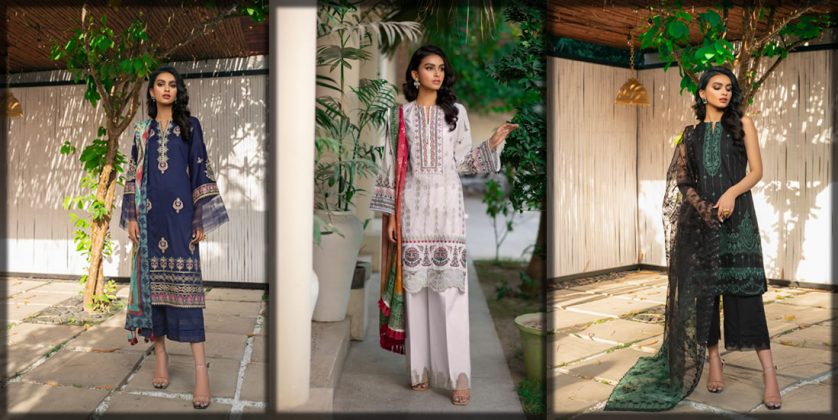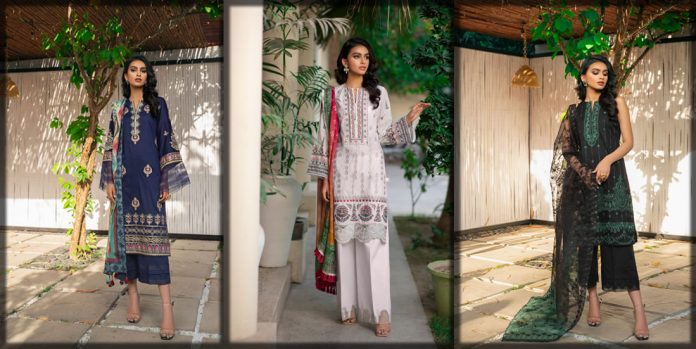 Eid is a special occasion for all Muslims around the globe. The holy month of Ramadhan is followed by Eid-ul-Fitr on the first of Shawwal. After the moon sights, people rush towards their practices. Women tend to get an enthusiastic outfit for themselves to stay modest and unique. Here is the Saira Rizwan latest eid collection for you with modest and unique styles.
There is always a competition among women to pick the most stylish dress for themselves. We can not deny the fact that Pakistani designers bring a lot of variety for women. Still, everyone strives to look different and chic as compared to the others. I hope that the Saira Rizwan eid collection will bring you the desired styles for this year's holy festival.
So, are you ready to explore the fascinating dresses here? Do you want to bring alluring and unique looks to your personality? If so, then head over to the following blog and pick the outfit that suits your personality. I hope you will never regret your selection here. The following portfolio will engage you enough to take a pause and buy the dresses.
About the Creative Designer and Brand History
Saira Rizwan is one of the finest fashion designers in the industry of Pakistan. The creative designer struggles to bring dazzling outfits for women. Additionally, she created a monopoly for being the best designer for bridal wear. You might have seen Saira Rizwan bridal collection before that is a phenomenal demonstration of creative art.
The apparel collection of this leading brand includes casual and formal wear for women. It offers a stitching facility to its quality customers too. Moreover, the brand offers highly enthusiastic bridal dresses and sarees as well. However, we have its eid collection for you here. You can discover the Saira Rizwan luxury lawn collection as well.
Explore our latest eid collection and get all the famous designer brands in one place. Your hustle is over and now you can search for your desired eid dress through our collection of all eid catalogs.
Saira Rizwan Latest Eid Collection for Women with Prices

Eid is not about just greetings and making sweet dishes. Instead, it the respectful celebration of the Muslim community that is followed by colorful outfits and jewelry, etc. People invite their relatives as guests on this holy festival to celebrate the love of Eid with loved ones. Everyone wants to look beautiful in massive gatherings where you know that everyone will notice you. Therefore we are bringing you some beautiful Eid ensembles.
Saira Rizwan eid collection is a brilliant mix of contemporary and exemplary outfits. Further, the fusion of enchanting colors comes with intricate designs. Such inspirational outfits will definitely add more fuel to the fire, making you staggering. Additionally, it will create an illusion in your style and ideal for your Eid look. Please take a deep breath and explore the following luxurious three-piece outfits for yourself.
Unstitched Three-Piece Embroidered Eid Dresses (New Arrivals)

Women always search for a complete three-piece dress. Undoubtedly, there comes a real grace whenever you wear a complete outfit. Therefore, we are bringing you the luxurious three-piece Pakistani eid dresses by Saira Rizwan here. The following image gallery shows a beautiful portfolio of lawn and jacquard dresses. Pick up the dress that can suit your personality.
Pearl White Embroidered Lawn Dress
Nothing can beat the grace of a white dress. You can never deny the fact that white is the most dignified shade among the family of colors. The beauty of this shade is that it combines easily with the other colors for an impactful look. Many people like it to wear with a red dupatta for a pure traditional look. You can see such a design in the Salitex eid collection. However, here it comes with a traditional printed shocking pink dupatta.
Please take a look at the following dress. The delicate pearl white dress comes in luxurious embroidery on the front. The beautiful embroidered neckline and border are making the dress much graceful. However, it has a digitally printed back and sleeves. The contrasting shocking pink dupatta is completing the entire beautiful look of the dress. Keep your hair open and apply minimal makeup with the following dress to elevate your looks.
Chikan Kari Embroidered Lawn Dress
If you want to make your eid look much magnificent and staggering, then you need to choose a different style and fabric. Undoubtedly, those who look different will always catch the eyes. It is a very important thing to choose a fabric that brings comfort. Some people might get skin rashes and itching because of a harsh fabric. Well, here is the famous summer fabric for you. The following chikan Kari embroidered dress is ready for Eid.
A fully embroidered dress will always bring dazzle to your looks. Plus, it will appeal more to your character. Therefore, we will suggest you opt for a heavily embroidered and decorative outfit for Eid. The following black chikan Kari dress comes with bottle green embroidery all over the shirt. However, it has plain basic trousers for grace. The embroidered and embellished organza dupatta is making the outfit ideal for you.
Pink Embroidered Lawn Outfit for Eid
Sustainable fashion requires a different outfit at different gatherings. Therefore, everyone shall think about sustainable clothing on different occasions. Beyond the buzzwords and uncertainty, it is ethical if you pick a slightly expensive outfit for yourself. Saira Rizwan's eid dresses are comparatively expensive as compared to the other brands. However, you can get affordable ensembles from the Khaadi latest eid collection for women.
Walk over the ramp of this world with the beautiful pink dress. The following pretty shade is ideal for teens and young girls. The following dress is fully embroidered and embellished from the front. However, it has a plain back and sleeves. The floral printed organza dupatta is elevating the entire graceful look of the outfit. Undoubtedly, it will turn heads on you if you opt for this dress. Give loose curls to your hair for a dazzling and pure look.
Blue Jacquard Embroidered Suit for Eid
In the modern world of fashion, everyone is Eco-conscious about branded clothes. Also, the designers seek to craft ethical pieces of fashion according to our cultural norms. Some designer revive the cultural heritage of our country through the beautiful demonstration of clothes. Here is such a magical and enthusiastic jacquard outfit for you. Undoubtedly, the ethical design and graceful patterns will never ruin your holy event.
The following embellished navy blue jacquard outfit has delicate embroidery on the front. Also, it comes in fancy embroidered sleeves, along with an additional organza border. However, it has a plain and basic back for an ultimate grace. The embroidered neckline patterns are so graceful that you must think about it. Further, it has a floral printed silk dupatta for a complete look. Please give it a thought and have a blissful Eid.
Embellished Deep Red Eid Outfit
If you pay a little more, you can get a much more dazzling outfit. Undoubtedly, the cheaper dresses may lack the quality of fabric. On the contrary, an expensive dress will be rich in material, fabric, design, and patterns. You might feel that the dresses of Saira are expensive, but you will be loving the fabric and styles. However, you can buy affordable embroidered dresses from Mushq luxury eid collection. It offers a variety of graceful attires.
Below is the most wanted and purchases color of the year for you. Despite the seasonal changes and occasion, women always show love towards the red color. Therefore, Saira brings you an enchanting deep red heavily embroidered and embellished dress for eid. The fully embellished dress will be an ideal option for teens to wear on Eid. Also, the printed chiffon dupatta will create a pure pleasant look. Please give it a thought.
Yellow Embroidered Jacquard Dress
As a consumer, women have enough power to change the surroundings with an appropriate dress. Luckily, there are a lot of clothing brands and designers who create blissful dresses for the public. Meanwhile, social media guides the public about the latest fashion and trends. Therefore, we are bringing you the trendy sunshine yellow dress for eid.
The following attire comes in an embroidered neckline and border. Indeed, the decorative patterns are making the entire look quite appropriate and stunning. Further, it has a contrasting plain white trousers. However, the embroidered net organza dupatta is the prettiest feature of the dress. Keep your hair open to create an illusion in your style.
Embellished Dark Green Lawn Dress
Remember that your outfit is for cherishing, not for hoarding. Indeed, no dress is worth a garment unless a human lives in it. So, always appreciate the efforts of your designers and buy the branded clothes. It will bring you peace and happiness. Let's celebrate this year's eid with one of the astounding and embellished bottle green dresses below.
The embellished dress has a fully embroidered and decorative front. However, you can buy matching buttons to decorate your neckline just like the model below. Further, it has fully embroidered sleeves and a plain printed back. The blended chiffon dupatta is completing the entire grace of the dress. Get similar designs from Mohsin Naveed Ranjha eid collection.
Shocking Pink Chikan Kari Embroidered Dress
Always choose a dress well and make it last forever. Once you wear a flaunting dress, people will always remember your look. Also, they will admire you for looking ever gorgeous in the outfit. Do you want to be remembered in grateful words? If so, then quickly go for the following shocking pink chikan Kari embroidered lawn outfit.
The revolution will look fabulous if you wear it correctly. Plus, the right combination of footwear will upgrade your looks. The following devastating chikan Kari outfit comes in fully embroidered front, back, and sleeves. Also, it has an embroidered chiffon dupatta for a completely different look. An ethnic khussa will make your looks progressively stunning.
Saira Rizwan Eid collection is offering dynamic styles with a fusion of modesty and trendy clothes for you. You need to pick up a dress that can suit your complexion and personality. Undoubtedly, you will succeed in making a unique look if you pick any of the dresses above. Head over to the nearest retail store or order your favorite dress online. Have a blissful festival with the latest and chicest Saira Rizwan eid collection.