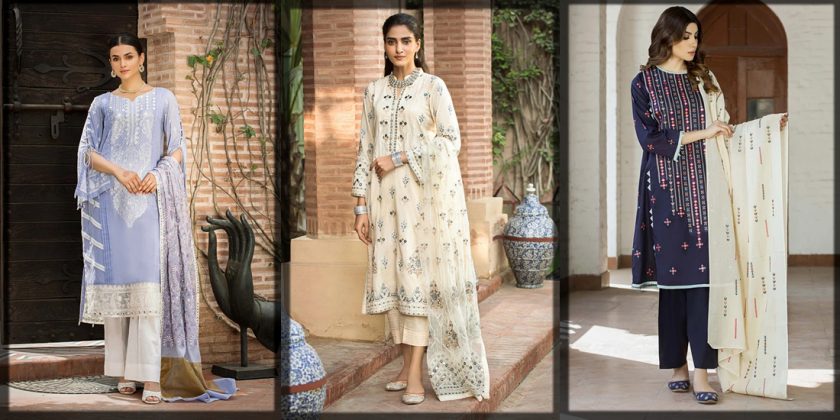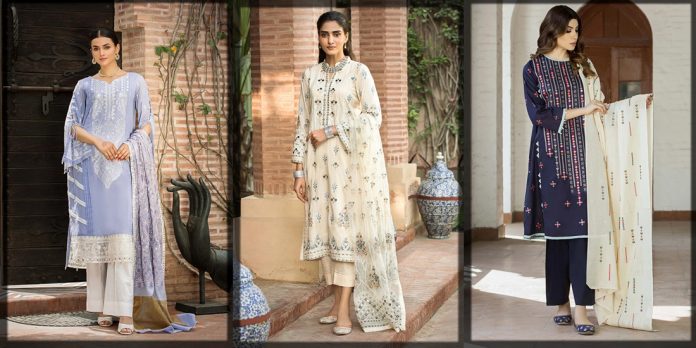 A woman can be a center of attraction if she dons an outfit correctly. Undoubtedly, everyone wants to stay gorgeous in the galaxy of individuals. So, in a world where you can be anything, be classy. Everyone knows that eid is ahead, so a nice outfit shall be in the closet. Pick the mesmerizing dress from the Taana Baana Eid collection this year.
I know that women are brand conscious. It is pretty evident that everyone will buy a significant style for their children too. You can easily decide what to wear on eid if you have a complete demonstration of it. Fortunately, we are always number one to bring you the essential collection of the year. Here is the most awaited eid collection of the year for you.
A fantastic mix of colors and designs will catch your heart. Also, it may force you to quickly grab the dress before it gets out of stock. Let me tell you that you are gonna slay on eid if you opt for any of the outfits from the portfolio below. So, take a deep breath and quickly take a tour of the following article. I hope it will help you to choose an eid dress.
About the Brand History
Taana Baana is a famous clothing brand that offers premium quality clothing fabric to its customers. Additionally, it focuses on intricate and classic patterns to create youthful designs. The makers artfully depict the ethnic and wealthy artisans through efforts. Further, the brand ensures to deliver modest and fashioned products to the public. Having strong PR in the market, the leading brand has deep roots in ethnicity. If you want to wear a unique piece of art, quickly grab an outfit from Taana Baana embroidered eid collection.
Explore our latest eid collection and get all the famous designer brands in one place. Your hustle is over and now you can search for your desired eid dress through our collection of all eid catalogs.
Latest Taana Baana Eid Collection for Women Catalogue (Fresh Arrivals)
You can not look beautiful accidentally unless you struggle for it. Indeed, your beauty will shine out of your soul if you wear a subtle dress. A woman has to decide about what she wants and what she needs. Undoubtedly, such realization will lead to positive decisions. Finally, you will pick a color and style that you haven't tried before at any event. Such a powerful decision will make you look different and classy on any occasion.
Wake up yourself for the most awaiting collection of the year. Eid festival is just around the corner, and there is too much cluttering among the women's clothing brands. Indeed, every brand has tried its best to craft modest dresses for women. I am glad to say that Taana Baana has rocked the market with the most flaunting and statement styles. The awe-inspiring hues will bring you the essential glam. Please take a look at the eid dresses below and give them a thought.
1- Unstitched Embroidered Dresses for Eid (BANO Collection)

There is unquestionably no absolute choice of a woman whenever it comes to the point of the outfit. Assuredly, only a woman can struggle much hard to find an art piece of cloth. Luckily, you are fortunate if you are reading our blog currently. The Bano portfolio below is presenting you with some flawless lawn and jacquard designs to buy and wear on eid.
An expressionless face will make you dull and dead. Never let anyone dull your shine. Now, you can shine out of your soul effortlessly by wearing a majestic outfit from the Bano collection. Head over to the nearest retail outlet of Taana Baana to pick your favorite lawn suit for eid festival. Also, you can avail the online shopping facility from their website if you can not step outside (in case).
Lime Green Embroidered Lawn Suit with Embroidered Jacquard Dupatta

Teens always look for a soft and gentle color at any event. Indeed, the softness of the shade brings many delicate and desired looks to people. Therefore, we are bringing you a gorgeous lime green embroidered dress for eid. Give a thought to the beautiful dress below.
The green outfit below has an embroidered neckline. Further, it has two delicately embroidered side panels, damn and sleeves. The embroidered jacquard dupatta is enhancing the entire look. Get more festive dresses from the Mushq eid collection which are amazing.
Mauve Embroidered Lawn Suit for Eid by Taana Baana

The mauve shade is the most delicate in the family of colors. Many old-age women love the combination of white and mauve as it upgrades their grace. Therefore, the Taana Baana eid collection presents you with one of the most refined combinations of mauve below.
The embroidered lawn shirt has a fully embroidered front. Further, it has a detailed organza patch that adds more shine and appeals to this outfit. The embroidered jacquard dupatta is completing the entire look of the dress. Please give it a thought!
Sunshine Yellow Embroidered Eid Dress for Young Girls

Sunshine yellow dresses serve a significant look to women in summer. Undoubtedly, the scorching sun is enough to feel the intensity of hot. But, a likewise sunshine dress will amplify the feeling of the season. Here is the stunning yellow embroidered eid dress for you.
The front of the shirts is fully embroidered from top to bottom. It is combined with a gold jacquard dupatta. Grab this outfit from the Taana Baana store if you want to get the appealing look this Eid. Furthermore, Pair this decent suit with brownish makeup, hair bun, round hoops, and khussa shoes to make your Eid look extra charming and shining.
2- Taana Baana Classic Eid Collection

With the excellence of heart, everyone can gain the look that they desire. If you want that everyone shall clap for you whenever you walk aside, you must be classy. Undoubtedly, a little eccentricity will always enhance your looks. For the sake of progressively stunning looks, Taana Baana has launched an additional eid volume for you. Just in case, if you didn't like any dress from their first volume, here is another classic portfolio for you.
The following image gallery is a beautiful mixture of essential designs for you. The fusion of color palettes and incredible artwork has created a unique style for you. Pick up the dress that can coordinate with your complexion and personality. A little application of makeup will elevate your entire look. Get yourself a vigorous outfit at a slightly higher cost. However, if you are searching for an affordable dress, the Sapphire eid collection will help you.
Off White Embroidered Lawn Suit with Organza Printed Check Dupatta

Have you ever try an off-white outfit on eid? If no, then there is no need to regret it. We are here to vanish your regrets and diminish your negative thoughts. Stay cheerful with the illuminating embroidered off-white dress by Taana Baana eid collection.
The following prettiest ensemble is ready to make your eid look enchanted and glamorous. There are vertical embroidered patterns on the neckline, with an embroidered motif on its edges. The organza printed check dupatta completes the entire look of the dress.
Teal Blue Embroidered Lawn Suit for Modern Girls

Do you want to be a temptation wrapped in exquisite elegance? Well, there is no competition between elegance and grace. Once you are as beautiful outside as you are from inside, you can conquer the world. To amplify the beauty of your soul, always go for a wise and pleasant outfit. Here is such a dramatic and graceful teal blue dress for you.
Please take a while to discover a bit complicated design below. The front of the shirt is heavily embroidered in pink and lime green for a royal look. However, you can see minimal patterns on the back and sleeves. Further, it has a teal blue crinkle embroidered dupatta. With this impressive suit keep your hair open and apply minimal makeup to get the gorgeous and captivating look on Eid. Explore the latest Khaadi eid collection for chicer and flaunting combinations for eid.
Silver Green Mountains Pattern Outfit by Taana Baana

If you want to assay something unique and novel? Then pick this silver green outfit from the Taana Baana store and add more grace to your look. The mountains style embroidered on the front of the shirt makes this outfit novel. It is combined with plain trousers and embroidered crinkle dupattas. You can also wear this lightweight and decent artwork outfit at any formal and social event to complete your splendid and striking look.
3- Taana Baana Signature Eid Series

If you are looking for formal attires, then look down at the latest signature collection by Taana Baana that contains the impressive attires in the most amazing shades. You can likewise wear these attires at any formal and wedding events to make your look splendid.
These classical attires are embellished with sequins and thread artwork, just like the Charizma eid collection. So all you need is to pair your signature suit with the dazzling gemstones, impressive makeup, and trendy hairstyle to make you look extra beautiful and pretty.
Grey Embroidered Lawn Suit
To bring out the good in yourself, you must be unique. Therefore, you should pick a different color and style to stay distinctive. If you want to bring angelic looks, quickly go for the following angel blue embroidered lawn dress for this year's holy festival.
The creative outfit has an embroidered front with a cutwork damn. It comes in a beautiful combination of grey and delicate blue colors. Further, it coordinated with a graceful crinkle dupatta. You can likewise wear this cool outfit at any social gathering to get a fantastic and dazzling look. Get similar combinations from Saadia Asad's eid collection too.
Maroon Embroidered Lawn Suit with Contrast Check Silk Dupatta

Taana Baana urges to bring all the essential colors for women. So, here is a beautiful maroon embroidered dress for you. We have beautiful maroon dresses in Zara Shahjahan's eid collection as well. The outfit comes in brilliant contrast with beige. The dress has a delicately embroidered on the front of the shirt. Further, it has a graceful embroidered border and sleeves. The contrasting beige check silk dupatta is completing the entire look of the outfit.
Sleek Black Sindhi Artwork Suit from Taana Baana Eid Collection

An entire vibrant combination can bring many striking looks to your personality. Significantly, the young and teen girls shall go for such loud combinations to maintain their youthful looks. For instance, please take a look at the beautiful and energetic outfit below.
The classic sleek black blue shirt has an extensive and elongated embroidered neckline. It is paired with the plain trouser crinkle dupattas. If you are going to wear this classical outfit this eid, then pair it with graceful makeup, stylish gemstones, and open hair to add more attractiveness and shine to your loo. The Bonanza Satrangi eid collection also contains similar lawn designs and attractive prints. Give them a chance too!
Festive Dresses from the Eid Catalog

Look at the complete catalog of Taana Baana eid collection that contains casual and formal attires in all lovely shades. So you can grab any outfit according to your preference and adorn yourself well. Never forget to prettify your hands with the best henna art and extravagant nail art to make your eid look extra smart and chic. You can likewise wear these classical attires at any social gathering, casual gathering, wedding event, and evening parties to make all of your breathtaking and noteworthy looks.
It has become a ritual to judge a woman with her clothes and appearance. In such circumstances, everyone shall choose a dress that can upgrade their looks and grace. Fortunately, Taana Baana has stepped into the industry with distinctive eid dresses. You need to pick up a flaunting style that coordinates well with your personality and complexion. Delve into opulence with the dramatic and eye-catching dresses above.