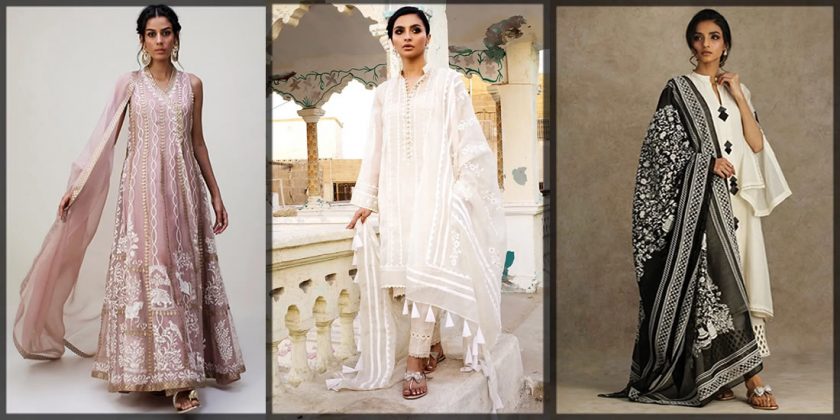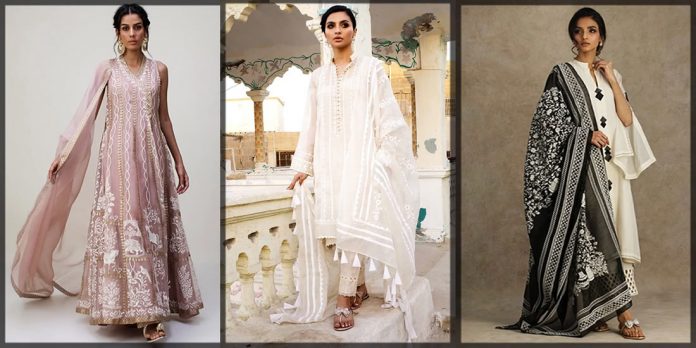 Nida Azwer eid collection has been launched in stores and online for the public. The creative designer has versatile basic and luxury dresses for women to wear on Eid. Fortunately, all the essential dresses have mandatory decorative patterns for a stunning Eid look. Let's extract a bit of time to seek the flaunting and magnificent Eid ensembles by the notable brand here.
Pakistan's textile industry is running successfully via electronic commerce. Also, technological advancement has lead to innovative designs. There is a couple of innovative designers available to create youthful designs for women. Moreover, the latest weaving and stitching techniques have enabled designers to enhance their apparel beyond infinity.
Eid is a special holy occasion that the Muslims celebrate with due respect and love. To make their event much memorable and beautiful, everyone needs an exquisite outfit. There are a lot of clothing brands that craft unique assortments for both men and women to wear on Eid. I am sure you will like the staggering ensembles by the leading fashion designer below.
About the Creative Designer and Brand History
Nida Azwer is serving Pakistan's fashion industry from 2005 to date. The designer completed her fashion designing at Indus Valley school of art and architecture. Many people love her ensembles for immense creativity and vintage designs. Moreover, the designer is inspired by traditional crafts like zardozi and tilla embroidery. The apparel collection Nida Azwer includes fabulous unstitched and ready-to-wear casual and formal dresses.
The powerhouse of fashion ensures premium quality fabric and design. You can visibly observe that the designer has revived the cultural heritage through meticulously crafted dresses. Further, the hand-embroidered embellishments will hook you to buy more dresses from the same brand. The designer has been nominated several times in Lux style awards for new emerging talent in 2008 and best fashion designer in 2015. Nida Azwer won the award of Best Designer at the Nesvita Women of Strength Awards in 2009.
Our site is solely dedicated to fashion and beauty. Go through our latest eid catalog and get your desired dress for eid.
Latest Nida Azwer Eid Collection for Women (New Arrivals)

If you want to be graceful in appearance and style, you must be elegant. There are a lot of ways to bring the inside elegance out. But, a good form of dressing always stands at number one. Many people believe that putting silence on face and simplicity in the outfit will not bring you the desired joy of life. Your life is given to you once, so you must be careful about it. Therefore, we are here to guide you about some fashion tips and tricks for Eid.
Your special occasion can be delightful if you wear a staggering ensemble from your favorite brand. There are a lot of famous clothing brands that offer premium quality designs for the public. Nida Azwer stands among the top fashion designers of Pakistan with distinction in Bridal couture. You might have seen the recent Nida Azwer luxury lawn collection for women before. Here you will see the glamorous and graceful Eid ensembles by the top designer.
Nida Azwer Muzlin Black & White Eid
Collection

The majority of the women are seen wearing all white or other complementing colors on festive occasions like eid. The beauty and the grace in the black and white combo are unbeatable. Nida Azwer has included five iconic black and white dresses with dainty detailing and artistic crafting.
The dresses are enhanced with the age-old craft of kamdani, complimented with contemporary textures in pure white thread work to give it a modern twist. These dresses are a classic addition to your wardrobe. The beautiful ethereal black and white combination with embroidered floral and fauna motifs on the jet black solid base is what you need for this festive season.
Latest Ready-To-Wear Nida Azwer Eid Collection

The tailors disappoint their customers near Eid due to massive clusters of people. Therefore, we suggest our audience opt for a pret ensemble instead of an unstitched outfit. You can explore a wide assortment of ready-to-wear dresses from the Zara Shahjahan's eid collection as well. Here is the iconic portfolio of Nida Azwer ready to wear eid collection for you below.
Blooming Sunshine Yellow Lawn Suit
If you want to brighten up your looks differently, opt for an unusual yet chic shade and style. Undoubtedly, adventurous women love to wear gorgeous attire. If you want to pursue happiness and grace at the same time, I will suggest you wear a yellow dress. Undoubtedly, a blooming sunshine yellow ensemble has a million times more class than the other shades. You can get similar colors from the latest Taana Baana eid collection for women.
Take a look at the following charming dress. The enchanting yellow cotton net shirt has beautiful white patterns all over the front. Indeed, the lovely white embroidered screen looks perfect in contrast to the yellow shirt. Further, it is coordinated with a plain basic pencil pant style for elevating the whole look. There is a beautiful cotton net dupatta with beautiful pearl patterns that makes the outfit worth wearing on Eid. Please give it a thought!
Hot Pink Cotton Eid Suit for Eid

People will always notice a woman with the choice of her clothes and shoes. Therefore, we always urge our customers to dress nicely if they want to be remembered in good books. The modern era is the era where following traditions is a must thing. Well, it all depends on your mind and decision about what you want to wear. On this year's Eid, I will suggest you opt for the glittery hot pink cotton net suit below. I hope you will not regret our proposition.
The stunning outfit has separate voguish panels for the front. Further, there is a lavish organza border for enhancing the grace of the dress. You can see the delicate patchwork and gold screen print on the front. The dress has plain straight pants to complete the grace of the attire. However, the copper tissue dupatta has beautiful screen printing and zari lace that will give a pure Eid look. Make a loose low-bun and wear delicate earrings to complete your look. Also, explore more styles from the Mushq's eid collection for women.
Toral Ivory Embroidered Cotton Silk Suit
A dangerous woman is the one who carries silence on her lips and style in her personality. You can see a lot of such graceful women around who wear designer dresses for elegance. Fortunately, Nida Azwer brings you a dynamic portfolio that offers stimulative and essential styles for you. However, the prices of the dresses are comparatively high than the other clothing brands. You can get affordable dresses from the Khaadi eid collection for women.
Here is a beautifully crafted ivory embroidered cotton silk dress for you. The outfit is created in a black and white textured triangle with delicate embroidery. Further, you can see the unique Turkish sleeve style that will surely give an oomph to the outfit. Moreover, it is coordinated with a fabulous textured criss-cross trouser to complete the vibe. The cotton net contrasting dupatta has beautiful screen printing for a pretty eid look. Please give it a thought.
Buff Beige Geometric Silk Suit
Undoubtedly, fashion is the armor to survive the reality of life. You must be modest in your looks and personality for the sake of survival. Also, you need a pair of classic shoes and a nice dress to compliment your whole look. Eid is a special occasion on which every woman gets noticed. Also, people judge the other ones around and give them a good or bad compliment. Go for the following buff beige dress if you want to get a positive compliment.
The best thing that you can put is a refreshing smile. Any dress alone will not make you stunning. Sometimes, arrogant people wear an expensive dress but never get a compliment. You can enhance your look with the following beige silk geometric dress that has three-dimensional embellishments. Also, it has a cotton net dupatta with contrasting tassels that will elevate your look. Get similar designs from the latest Cross Stitch's eid collection.
Luxury SHADMANI Eid Volume for Women
A basic embroidered dress can not fulfill your desires if you are looking for an outstanding ensemble. There are a lot of women who look for a luxurious embroidered and well-decorative dress. Therefore, the Nida Azwer eid collection presents you with a wide assortment of luxury hand embroidered dresses. You can explore more flaunting attires from Faiza Saqlain's eid collection too. Please have a look at the following mandatory eid outfits.
Stylish Angrakha Style Peshwas and Frock
A flowy Peshwas or a floor-length frock, Nida Azwer brings you the most demanded styles for Eid. There are a lot of angrakha style dresses for women by famous clothing brands. However, the following image gallery brings you the engaging and energetic styles for Eid. Please extract some time to have a quick glance at the following styles.
You can imagine that how stunning you will look in the following gorgeous ensembles. The flowy pink Peshwas has a thread embroidered front with white details and screen printing. On the contrary, the sea-green angrakha style knee-length frock is beautiful too. Get dresses likewise from the Fahad Hussayn's eid collection and enjoy your day.
Essential White Dresses for Eid
There is an absolute beauty in white color. Also, no other shade can beat the grace and harmony of the dignified white dress. Usually, a lot of people prefer to wear this color on Eid to show harmony and peace. Therefore, Nida Azwer eid collection presents you with a special collection of white dresses so that you can cope up with your desires and dreams. Therefore, we are bringing you the flaunting off-white hand-embroidered choga with traditional gharara for Eid.
Have a quick look at the image gallery below that showcases two different dresses to you. The signature craft revives the cultural heritage of the country. Secondly, there is an embroidered Kalidar dress that has floral motifs on it. The intricate lace detailing will take you to the Mughal era where such traditions were common. Indeed you will love these magical dresses.
Hand Embroidered Botanical Festive Wear

Undoubtedly, if you wear a simple dress, you will be the most elegant one. People say that wearing light colors reflect elegance and harmony. For instance, please have a quick glance at the delightful hand embroidered red and beige eid ensemble below. The signature ensembles have beautiful embroidered patterns all over the front. Further, it is enhanced with traditional Resham and gotta work for pure heritage.
Beautiful Embroidered Dresses from the Eid Catalog
Buckle up and get your minds blown with the festive collection by Nida Azwer. The delicate thread work and detailing of the dresses will leave you in awe. The collection has a limited number of eid dresses, so you don't have to get confused about what you want. Here are some embroidered articles of clothing from the eid catalog.
So, what are you waiting for? The most dignified and well-established collection of the year is here. Nida Azwer has created magnificent Eid ensembles for women to make their looks progressively stunning. Indeed, people will rate your looks positively, and you will get good compliments. Head over to the nearest retail outlet or buy your favorite dress online.