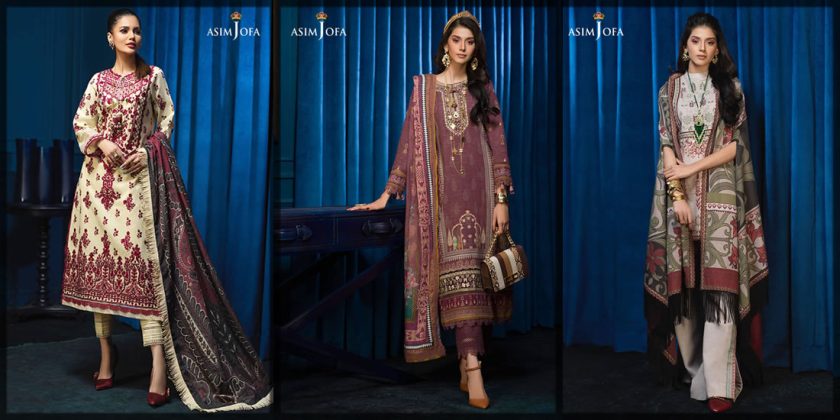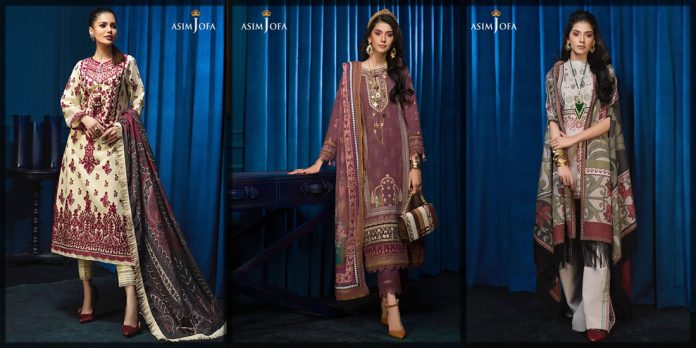 Fashion is a sort of daily air that tends to change all the time. Plus, women are fond of clothing and fashion. Women are always rounded by the top fashion trends and love to follow them. Therefore, the designers keep the morale of the public by providing exquisite and modest attires. Here is the Asim Jofa winter collection for women to keep them updated.
The modern era requires a little decorative outfit than casual. To survive the daily armor of reality, it is essential for everyone to have a nice piece of dress in their closet. It is the time to fill up the spaces with the flaunting winter dresses. Undoubtedly, the exquisitely embroidered and delicately elaborated dresses will get you a positive compliment for your satisfaction.
So, what are you waiting for? Take a deep breath and give a pause to your scroll here. We are presenting you with the glamorous, chic, and most wanted styles of the year below. Indeed, the lavishly created outfits will bring out the shine, and you will be able to stand confidently. Head over to the blog below and explore the dramatic winter dresses along with prices.
About the Creative Designer and Brand History
Asim Jofa is one of the most creative designers in the fashion industry of Pakistan. Asim Jofa stepped into the Fashion industry like a breath of fresh air. He continued the legacy of his forefathers with delectable designs. He started his career with a jewelry line 12 years ago. Afterward, he was able to establish the highly exclusive diamond gallery with continuous effort. The creative designer was able to create ripples in the fashion industry as he was a certified designer. That is people recognize him as a powerhouse of fashion.
Asim completed his graduation in fashion design from the prestigious Central Saint Martins institute. The designer achieved many awards and received appreciation for his various collections displayed on the runways in the fashion capitals of the world. He has been honored with IAFA International Asian Fashion Awards as the Best Designer Brand in 2012. In the same year, Asim bagged the collection of the Year award held by the Pakistan Fashion Awards. He continues to improve on perfection and in the future, Asim plans to create more buzz and dress Pakistani women fabulously, breaking fashion stereotypes along the way.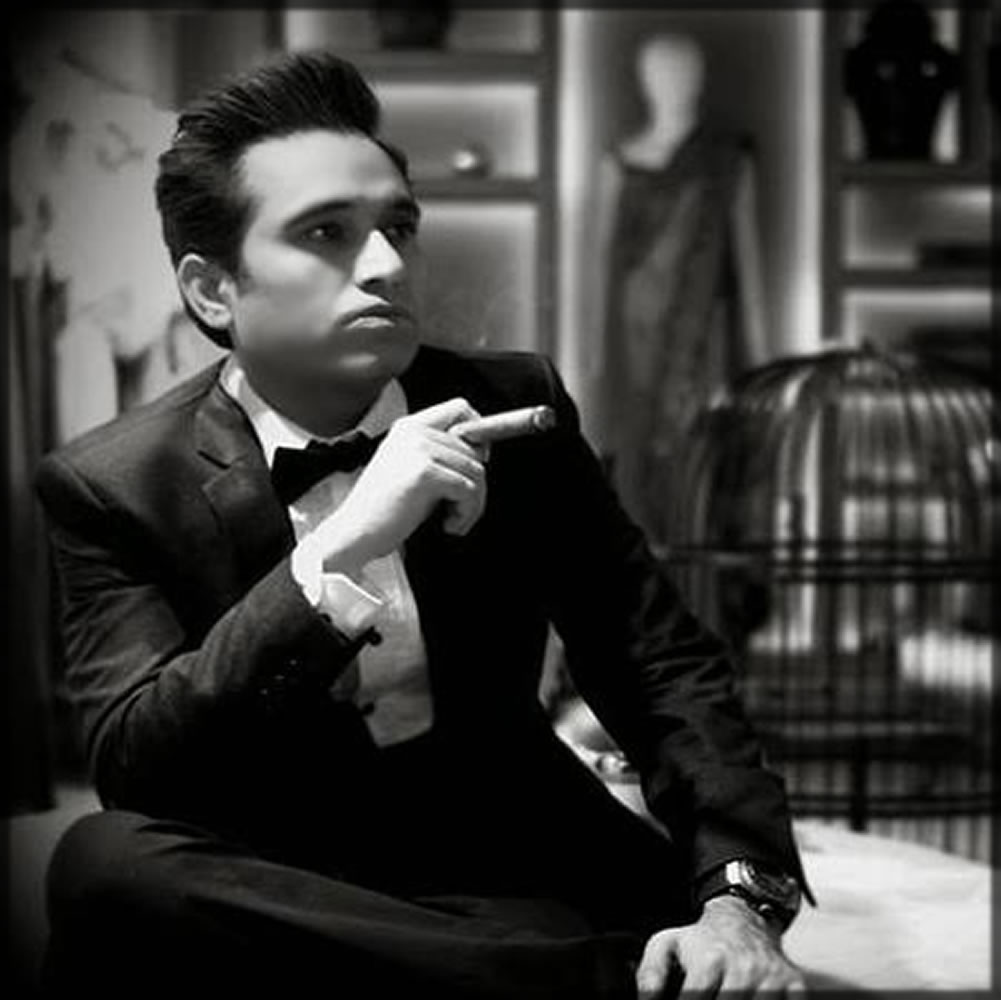 Asim Jofa Luxury Winter Collection for Women (New Arrivals)

Asim Jofa is one of the famous designers of Pakistan's fashion industry. The leading designer stands among the top Pakistani fashion designers. Well, the designer is famous for his luxury dresses for women. But, his apparel collection includes a variety of casual, formal, and luxury lawn dresses. Also, he launches his seasonal lawn collection every year at affordable prices. For instance, you can have a look at Asim Jofa luxury lawn for splendid dresses.
You might have seen the flaunting Asim Jofa bridal collection with enthusiastic and dynamic styles for women. But, here is the exclusive collection of winter dresses for women with glamorous styles. Moreover, be yourself and challenge your shine with the exquisite dresses below. Undoubtedly, you will fall in love with yourself with the staggering dresses below. The portfolio offers a dynamic and chic variety of khaddar, cambric, karandi and velvet dresses for women.
You can get a wholesome variety of winter collections at our site that is just a click away.
Unstitched Asim Jofa ASRA Collection for Women
With the arrival of fall, the clothing brands and fashion designers start launching their seasonal collections. You will get a variety of styles at slightly low and very high prices at different brands. Well, there are certain brands that bring dreamy ensembles at an affordable cost. Asim Jofa stands among those top designers who take good care of their customers. You can observe comparable styles in Sapphire winter collection for women as well.
Please have a look at the gracious winter outfits by Asim Jofa's collection. Each outfit is created with full attention for a perfect and gracious look. Also, winters require many fabrics that are comfortable to wear and carry. This year, emanate charm and elegance by wearing aesthetic ensembles of Asim Jofa's winter collection. Undoubtedly, it will work for you!
Pre-Fall Cambric Dresses for Women
Beauty is the reflection of your inner side that comes naturally to your face. Therefore, it is essential to feel happy before you think about a beautiful outfit. Winters hint at many fashion trends that can be followed for a royal and modest look. Therefore, we guide the audience to make their inner self happy and satisfied before choosing an outfit. Behind every aesthetic look, there is an array of struggles that brings the desired grace to a woman. This year, bring royal elegance with the cambric embroidered dresses from Asim Jofa's winter collection.
Indeed, a pre-winter season requires a blended cotton attire that is appropriate for an autumn look. You can see an elaborated variety of cambric dresses in Limelight winter collection as well. But, nothing can beat the exquisite beauty of Asim Jofa's creative attires. In the following image gallery, you will discover amazing cambric dresses that are a result of continuous hard work. The amalgamation of motifs and tiny embroidered techniques enabled the dresses to bring you a gracious look. Apply minimal makeup and opt for comfortable winter shoes to complete your entire look. Indeed, it will bring you the desired glam!
Warm Khaddar Three-Piece Suits
You will find some people around you who will value beauty in a ridiculous way. Try to refrain from interacting with such stereotypical people who always overvalue while evaluating. Just be yourself and feel comfortable in whatever you are wearing. Asim Jofa's winter collection impresses us yet again with a flawless and comfortable portfolio. After smashing the cambric dresses, here is another portfolio of warm khaddar dresses. You can also see khaddar embroidered dresses in Cross Stitch winter collection.
Please have a look at the enchanting and delightful portfolio below. Indeed, you will experience a genuinely aesthetic feeling if you will pick a warm ensemble from the collection below. The awe-inspiring hues and the warmth of the fabric are sufficient to get you a pure winter vibe. Plus, you can follow simple rules to upgrade your winter looks. The following embroidered khaddar attires will amplify your looks if you will combine the perfect pair of shoes. Moreover, you can notice more elaborated styles in Qalamkar latest winter collection that you may like to buy.
Blended Karandi Attires by Asim Jofa Winter Collection

Women who love to wear Karandi dresses will always opt for blended attires for a pure aesthetic look. People around you are not meant to look alike. Therefore, comparing yourself and your choices with others is not a sane approach. Be thankful for what you have and how you appear to attract the public. Indeed, a striking appearance will turn heads on you and make you look different. This year, challenge your individuality with Asim Jofa's stunning Karandi dresses. Well, the Taana Baana winter collection has more variety of silk Karandi dresses.
So, if you want to captivate the audience with an ethereal look, opt for the following beige embroidered dresses. The tiny and intricate details on the Karandi fabric will make you stand out among the public at large. Also, you will be able to stand in the limelight for a positive compliment. Embrace yourself the way you are and adorn yourself in the mesmerizing Karandi dresses for a polished look. You can explore more likewise variety from Orient Textiles winter collection as well. Let us know about your valuable feedback!
Makhmal Velvet Collection Featuring Aymen Saleem
How can winters be cherishing without velvet attire? Well, there are many people who love winters for the love of velvet. The aesthetic and soft fabrics are available in many different styles. Also, the top clothing brands launch their exclusive velvet collection for the public to have the best possible style. So, here is a breathtaking portfolio by the top fashion designer Asim Jofa below. The Makhmal velvet collection features the style icon, Aymen Saleem. Hence, Chupke Chupke's famous actress is the new crush of Pakistanis as an emerging talent.
Aymen Saleem graduated from a European university and served international bank, JP Morgan, for several years. Later, she decided to join Pakistan's showbiz industry and started her career as a debut in Chupke Chupke. Therefore, the drama created hype among the public and got fame for the actress. Asim Jofa decided to set the bar high with Aymen Saleem as the face of his new collection. So, here you will see the emerging fashion icon in an entirely new avatar.
Get yourself a splendid and stylish outfit at an affordable price from Asim Jofa winter collection for women. The designer has a lot of magical dresses that will emanate charm and grace. choose an outfit that makes you happy regardless of what people will think about you. So, ooze and exude elegance with the rightly embroidered and appropriately created winter dresses by Asim Jofa above. Let us know about your feedback.