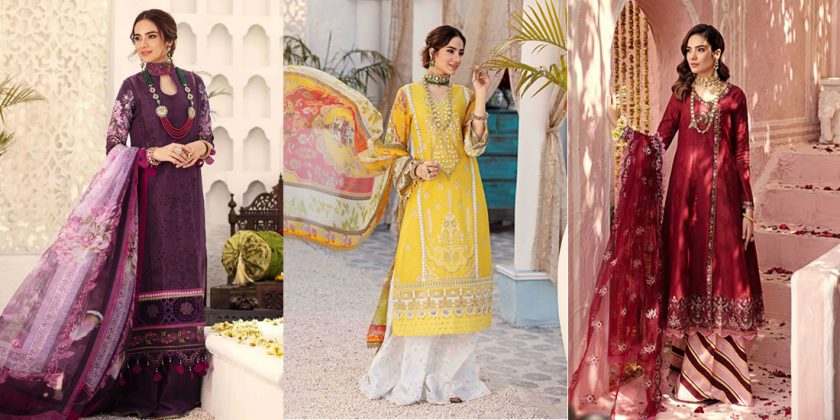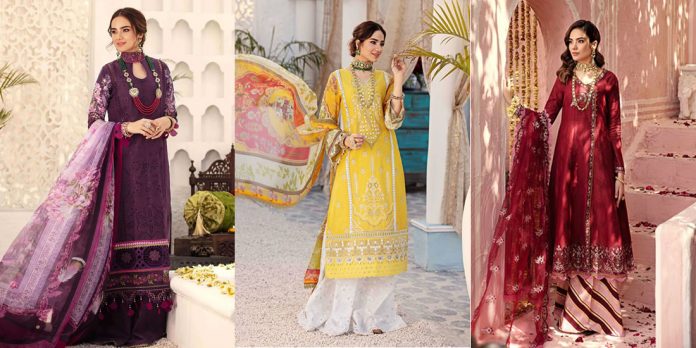 Noor by Saadia Asad is one of the finest fashion retailers in the industry of Pakistan. The high-end fashion retailer is famous for its dramatic designs and quality fabric. Additionally, the powerhouse of fashion is renowned for the significant statement styles for women. Here is the inspirational and artistic Noor by Saadia Asad eid collection for you below.
Women always try to make their looks slightly different from their competitors around. It isn't a rivalry but quite normal that a woman is curious about another woman's outfit. Therefore, Pakistani fashion designers struggle to create imaginary styles for their customers. Undoubtedly, you will get your desired Eid ensemble from the collection below.
The portfolio below demonstrates a fantastic fusion of dynamic hues. Additionally, the color designs and intricate patterns will bring sparkle to your looks. Do you want to make your eid look blazingly classy? If so, then blindly go for the following statement styles. Admittedly, you will meet a variety of splendid ensembles here for your holy festival.
About the Creative Designer and Brand History
Saadia Asad stands among the creative designers in the fashion and textile industry of Pakistan. She creates innovative designs for her lovely customers with advanced techniques. Also, she has roots across the boundaries of Pakistan that is a proud moment for Pakistanis. She represents herself internationally as a true patriot with tasteful designs.
The artwork of Saadia Asad is a brilliant fusion of eastern and western styles. That is why people admire her a lot. She follows preppy trends and always focuses on delivering premium quality fabric and design to the market. The designer was formerly an economics student at the London School of economics, also known as LSE.
Being a student in London and still working in Pakistan is a true symbol of patriotism. Saadia started fashion designing as her passion. And, whenever you work on what was your dream, you never feel many struggles for it. Instead, it is always fun to do the work that you love. Therefore, Saadia's collection has always inspired us with creative styles.
Explore our latest eid collection and get all the famous designer brands in one place. Your hustle is over and now you can search for your desired eid dress through our collection of all eid catalogs.
Latest Noor Eid Chikankari Collection by Saadia Asad (Full Catalog)
Good vibes always come whenever you dress up gracefully in a modest way. You need to follow strict rules if you want to kill the bad vibes. Indeed, it can be done beautifully if you have a variety of clothing ranges and options. But, picking the right outfit is very crucial as all the game revolves around it. So, we are here to show you some essential styles.
There is a unique significance of Chikankari dresses. Every season, the top clothing brands launch their special embroidered unstitched eid collection for women. Undoubtedly, Sadia's eid collection is a phenomenal mixture of vibrant hues and classy styles. The fusion of two qualities creates exquisite designs. Hence, this Chikankari assortment is ideal for women of all ages. Please take a while to explore the dramatic ad eye-catching eid dresses below.
Pastel Hued Chikankari Eid Attires
A woman can look infinitely chic if she dons a classy pastel outfit. Also, you can be undeniably mysterious and progressively stunning in the magical dresses below. Please take a while to have a glance at the pastel Chikankari Eid ensembles below. You can explore the Noor by Saadia Asad luxury lawn as well. Please give a thought to the inspiring dresses along with their prices.
Bright Festive Chikankari Dresses
The Chikankari catalog showcases the most awaited compilation of Eid. Indeed, the delicately embroidered jacquard, lawn, and bright classic Chikan Kari dresses will bring you dazzling looks. Further, the dresses are combined with embroidered chanderi and printed silk dupattas for elegance. Some dresses have separate central and side panels to create an enchanting eid look. Get yourself a suitable attire for Eid that can coordinate with your personality and complexion. Minimal makeup and proper hairstyle will enhance your attractive looks.
Exclusive Unstitched Collection Featuring Ayeza Khan
A couple of top-rated actresses have been hired for the demonstration of lawn and eid collections. Therefore, Noor by Sadia Asad hired Ayeza Khan for the second time for their unstitched eid collection. Before this, Ayeza Khan was seen in their summer collection too. Also, there are many other clothing brands whose portfolio showcases the gorgeous actress. She got fame after the historical drama serial Mere Pass Tum Ho in 2019.
The iconic and versatile actress is famous for being the queen of Pakistan television. She portrays her character fantastically. Here she dons the glamorous embroidered Chikan Kari lawn dresses. Please take a quick tour of the following image gallery to seek wonderful dresses. The intricate designs and magical patterns will propel you to get any of the outfits. Additionally, the high-quality and comfortable fabric will make your holy festival much memorable. Please pick up the dress that can suit your complexion and enjoy your event.
Stitched/Ready-to-Wear Saadia Asad Eid Collection for Girls
Self-confidence is the best outfit that anyone can wear and rock the world. But, you can never gain confidence until to have a modest dress. I am glad to say that we will facilitate you by offering a couple of modest Eid ensembles so that you can slay. Indeed, you will be able to conquer the event with the energetic ready-to-wear dresses by Saadia.
A piece of cloth alone has no significance. But, once a human dons it, its beauty gets double and triple. So, do you want to multiply your beauty? If so, then please take a look at the impressive Pakistani eid dresses below. Saadia's energetic portfolio is all set to bring your lost elegance back to you. Please take a while to have a glance at the following portfolio.
Ash Grey Embroidered Organza Suit
No one is allowed to underestimate the power of a good outfit that can bring you a dazzle. You are lucky if you are reading this article. I can assure you that the following dress will make your looks increasingly attractive on eid. Here we have an organza embroidered grey outfit for you. However, you can get stitched lawn dresses as well from Ego eid collection.
The model below dons a glamorous Eid ensemble from Saadia's collection. It has an embroidered front with a lacey neckline. Further, the embroidered sleeves are enhanced with Chatta Patti borders for pure elegance. It has a silver cotton net jacquard dupatta with a little trimming of organza. The dyed raw silk trouser is completing the entire look.
Embroidered Green Cotton Net Suit
Pearl tassels always make an outfit more magnificent and extraordinary. Do you want to don an extraordinary outfit for this year's holy festival? If so, then the following embroidered pistachio green outfit can be the best choice. However, you can get more similar shades from the Mohsin Naveed Ranjha eid collection.
The following cotton net dress by Saadia Asad eid collection has a delicately embroidered neckline. Further, it has a lacey embroidered border and sleeves. The sleeves are enhanced with tassels for a more chic look. Moreover, it has a hand-embellished net dupatta for elegance. The beautiful dupatta comes in tow-sided lace borders and organza-pleated pallu for an entire look.
Beige Embroidered Organza Dress
You can not look different until you struggle for it. Indeed, hard work pays you off if you remain consistent with it. Always struggle hard to choose a splendid outfit for yourself. Explore the Mushq luxury pret eid collection for significant styles and magnificent designs.
Here is an embroidered beige organza embroidered ensemble for you. The dress comes in hand embroidered neckline and hangings. Further, it is coordinated with floral printed organza dupatta with lace finishing and mirror work. Please give it a thought.
Embroidered Peach Organza Dress for Eid
Cutwork and sequin embroidered techniques always bring a unique look to the dress. The advancement in technology has made it easy for the textile industry and designers to create such innovative dresses. Check out So Kamal's eid collection for demonstration.
Here is a beautiful peachy cutwork ensemble by Saadia Asad Eid Collection for you. The outfit is enhanced with pearl hangings on the border and sleeves. Further, it has a dyed net dupatta with lace on the four sides. The embroidered organza sleeves are making the dress ideal for Eid.
Festive Black Organza Embroidered Dress
People who are critically obsessed with black always search for it to wear on Eid. There are some stereotypes who claim that it is not a symbol of good fortunes if you wear black every time. But, people who do not bother with such stereotypes are the coolest. Here is the glamorous black outfit by Saadia Asad Eid Collection for you.
Below is a dazzling black embroidered organza dress for you. It has a stylish neckline decorated with hand embellished buttons. Further, it has a woven organza dupatta with extensive pearl hangings. The plain raw silk black trouser is completing the entire look.
Royal Blue Embroidered Cotton Silk Net Dress
Who says that you can not wear an embellished silk dress on Eid? Well, there are too many varieties of silk fabric. You shouldn't confuse one type with another one. Let me tell you that we are presenting you with a cotton silk net outfit with embroidery here.
Please give a thought to the embellished dress below. The front of the shirt is heavily embellished with tassels and Chatta Patti's work. Further, it comes with a woven silk shawl with sequins and tassels. The criss-cross patterns on raw silk trouser complete the look.
Eid Chikan Kari Volume 2 for Women
Eid is a religious occasion to be celebrated with dignity and love. Muslims around the globe enjoy a pleasant event full of laughter and joy. Meanwhile, everyone thinks about a classic outfit for a graceful yet attractive look. Especially, women can never stick to the same menu every time. Instead, they explore a variety of brands and different collections for themselves.
I am glad to say that Saadia Asad always shows concern about women's clothing designs. Therefore, she created illuminating styles with versatile patterns and designs for the audience. Here is an immediate glimpse of some more chikan Kari embroidered lawn dresses below. Please take a while to explore the basic and statement styles of Noor by Saadia Asad below.
Elegant Light Summer Colors for Teens
Do you want to challenge the complexity of your personality? If so, then Eid is the most appropriate time of the year to make different looks. Now, you can construct a wholly unique yet attractive Eid looks with the Saadia Asad's engaging light chikan Kari dresses below.
The portfolio below is a beautiful blend of graceful hues. Plus, you can see refined embellishments and embroidered patterns that add fuel to the whole look. Make a progressively gorgeous and stunning appearance with the flaunting ensembles below.
Vibrant Chikan Kari Embroidered Suits
Let your soul and spirit fly with the incredible artwork of Saadia Asad. Undoubtedly, the catchy colors and prints will bring you a more glamorous look. Therefore, we are presenting you with an essential portfolio of Vibrant chikan Kari embroidered dresses here.
Please give a pause to scroll and have a look at the following mesmerizing shades. The brilliant and voguish hues will bring dignified looks to your personality. Indeed, you will be able to create an illusion in your appearance with the attractive statement styles below.
So, the most anticipated Eid collection has been launched. The portfolio above is a beautiful demonstration of statement styles for you. You can easily pick the ethnic outfit according to your preferences. Further, you can go for minimal makeup and hairstyles to elevate your looks. Please give a thought to the inspiring outfits by Saadia Asad Eid Collection. Let us know when you acknowledge our efforts and guidelines—looking forward to your feedback!