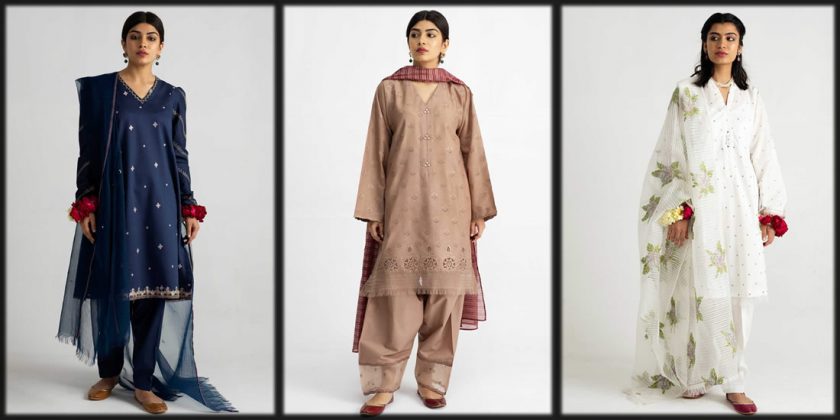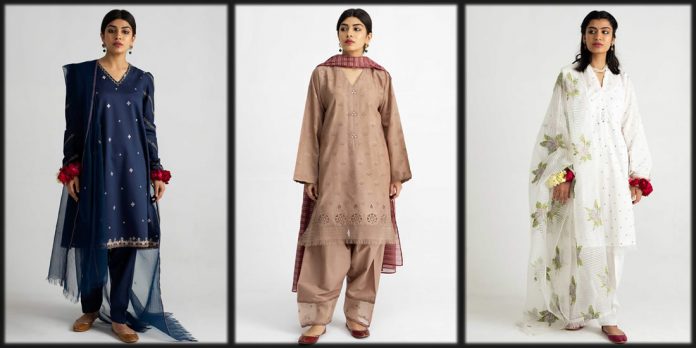 With the arrival of summer, people rush towards the clothing brands for a better outfit. Meanwhile, Eid-ul-Fitr is coming as Ramadan has almost arrived. Therefore, women are searching for a fantastic eid outfit for themselves and their children. Zara Shahjahan Eid collection offers unique clothing styles for you to wear at this year's religious festival.
The modern era is the era of fashion and trends. Luckily, Pakistan has the top creative designers who struggle day and night for their customers. The modern weaving techniques and high-quality fabrics make an outfit dazzling and highly appropriate. Plus, the comfortable clothes and striking pattern will double the charm of any summer event.
So, are you ready to explore the flaunting Eid ensembles? Please take a deep breath as we have a fabulous assortment here. The following blog is a versatile demonstration of incredible outfits. You can get your desired color and style from the following image gallery. Let's extract some time to explore the mesmerizing eid collection of the year below along with prices.
Latest Zara Shahjahan Eid Collection for Women (Full Catalog)

Women must possess a strong decision power to pick the right kind of clothes. Undoubtedly, people will remember you gratefully if you dress up correctly for any event. Whatever the party's theme is, people will always notice a girl with her clothes' choice. Therefore, we are bringing you some engaging dresses for your upcoming Eid. Indeed, you will love the exquisite designs and beautiful combinations for yourself.
The portfolio of Zara Shahjahan is a beautiful mix of stunning hand-crafted outfits. The apparel collection includes bridals, Luxury Pret, and Pret to Lawn collections. Also, some of the fusion statements are a glorified celebration of vintage Pakistani fashion. The techniques represent the pinnacle of craftsmanship, unsurpassed quality of fabrics, and attention to detail. Pick up your favorite eid outfit from the collection below.
About the Creative Designer and Brand
Zara Shahjahan is one of the finest and a well-known creative designer.  She continues to serve the industry with her innovative clothing designs. Undoubtedly, she is free from the shackles of the fickle world with a timeless approach to fashion. Further, she is confident of her past and grounded enough in her roots to embrace tradition in its purest form. Therefore, she extremely invigorates people around her with her iconic designs. This is what we aim to achieve. We give our clients the power to get sensational outfits.
At the core of our brand lies a strong focus on fashion. We try to bring chic, feminine, and, more importantly, very wearable outfits for women. The idea makes us the only premium clothing/lifestyle brand in Pakistan with the broadest product range. Additionally, Zara Shahjahan is famous for the and rapidly growing retail presence in Pakistan. The largest and structured brand has seven running and functional stores and others opening soon.
Ready-to-Wear Eid Collection by Zara Shahjahan (New Arrivals)

As the days come nearer and nearer, the pressure on the tailors gets higher and higher. In such circumstances, many tailors refuse to get further stitching orders. So, what to do in such a situation? Will you never get your eid outfit if any tailor refuses to take your order? No, not at all. Instead, it would be best if you cleverly thought about the alternate solutions for it.
Go for the pret outfit instead of an unstitched piece of cloth. Several brands bring their unique pret collection for eid wear. Undoubtedly, the classical patterns and delicate stitching designs look more innovative than the unstitched dresses. Pick up your desired outfit from the Zara Shahjahan eid collection below and have a blast on this eid.
Essential White Lawn Outfit for Eid

White is the color of bliss and charm. Fortunately, every brand launches its exceptional assortment of white and black dresses for the crazy public. You can seek suitable styles in black and white from the latest Faiza Saqlain eid collection.
Below is the graceful white floral embroidered outfit for you to wear this eid. The dotted patterned shirt looks dramatic with the floral printed striped organza dupatta. Further, you can wear a rose garland to elevate your look just like the model does.
Grey Printed Lawn Outfit for Eid
Here we are presenting you with the modest grey kurta sharara outfit for eid here. Below is a beautiful floral printed stitched kurta for you. The outfit is coordinated with a flared sharara which complements the kurta very well. Plus, it comes with an embroidered organza dupatta for an utterly dazzling look.

Dull Pink Sharara Outfit for Teens
Pink is the time favorite color of the majority of teens and youth. Below is a beautifully printed kurta for you. We are presenting you with the pink kurta sharara outfit for eid here. However, you can explore shade likewise in the recent Deepak Perwani festive collection for delicate outfits. It comes with an organza dupatta. The outfit is coordinated with a flared sharara for an enchanted look. Indeed, it will bring you the desired glamorous eid look.
Navy Blue Shalwar Kameez for Eid
Navy blue is the color of grace and dignity. If you want to bring charismatic looks, go for the navy blue dress. Here we are bringing you the one dignified outfit for eid. However, you can explore more dresses likewise from Nishat Linen eid collection for women.
Let's take a look at the flared navy blue kurta below. The outfit coordinates with a graceful plain shalwar for a dazzling look. Further, the cross-stitch patterns make it chicer and classy. The sequined organza dupatta is completing the entire intricate look of the outfit.
Sky Blue Festive Wear Kurta Shalwar
Undoubtedly, no one can beat the charm of light summer colors. Such outfits have exquisite beauty with some strangeness in the proportion. Therefore, people love to opt for such an unusual color for any event. Here is the floral printed sky blue suit for you.
The following light blue kurta comes with peach floral patterns on the front and back of the shirt. Further, it has a plain shalwar in contrast. However, the sequined embroidered organza dupatta is completing the vibe. Wear an ethnic khussa to complete your looks.
Graceful Coffee Brown Lawn Dress
Are you looking for an coffee brown dress for eid-ul-Fitr? Undoubtedly, you will slay differently in the dramatic combination. Therefore, Zara Shahjahan's eid collection brings you a blazingly stunning attire. Please take a look at the following image gallery.
The stylish schiffli embroidered kurta comes with a decorative neckline. It has a fancy contrasting lace on the daman for a captivating look. Further, it coordinates with an embroidered woven organza dupatta. I prefer a low-bun hairstyle for a contemporary look.
Classy Black and White Eid Outift
Black is the most demanded color among the ladies. Despite the season and weather conditions, women still look for a black dress. Many people say that one shall refrain from wearing a black dress in summer as it is an intense heat absorbent. But, women still buy it.
Below is a slim-fit kurta for you to wear this Eid. Get yourself the dramatic outfit from the latest Zara Shahjahan's eid collection for women. The stylish kurta is coordinated with a white churidar pajama. Plus, it has a woven organza dupatta to complete the look.
Tea-Pink Kurta Shalwar for Eid
Tea-pink is the most beloved color concerning women. Significantly, the teens and college-going girls look for a soft hue to add grace to their looks. Therefore, we are bringing you the gorgeous and splendid color of the season for your Eid. Please give it a thought!
The schiffli embroidered kurta has a delicate neckline and border. Further, it has graceful sleeve patterns for a soft look. The kurta is coordinated with a plain shalwar. However, the embroidered woven organza dupatta is completing the entire vibe for an eid look.
Custard Yellow Outfit for Eid
Eid-ul-Fitr is a festival that relates to sugary sweets. Meanwhile, the teens look for an outfit that can resemble their sweet dish. So, here is a sparkling custard yellow outfit for you. The embroidered loose kurta is rendered with colorful schiffli embroidery all over the shirt. Further, it has a plain basic shalwar for an exemplary look. However, the embroidered pink woven organza dupatta is completing the glamorous look. Please give it a thought!
Deep Red Eid Ensemble for Teens
How can a festival go without a pair of vibrant outfits? Never let anyone dull our spark and shine. Instead, you need to get a voguish dress that can elevate your dynamic looks. Here we have such a dramatic and inspirational deep red eid ensemble for you to wear. You can boost your look with minimal makeup and an appropriate hairstyle.
The outfit below is ideal for teens and young girls. The regular kurta is rendered with classic embroidery all over the shirt. Further, it has a beautiful neckline design and an organza embroidered patch for sleeves. Plus, it comes in straight trousers, instead of shalwar. The embroidered chiffon dupatta is completing the entire look of the dress.
Zara Shahjahan Luxury Eid Collection
Eid festival can never be joyful without a classic and luxury ensemble. Besides the casual and embroidered dresses, some people search for a more decorative dress. Eid greetings and meetings require a youthful statement style to stay modest. Luckily, Zara Shahjahan consistently crafts magnificent designs for its lovely public. You might have seen the ready-to-wear well-decorative dresses in the portfolio above, but here is a more attractive assortment. Please have a quick look at the image gallery below to seek new outfits.
In a busy routine, a fabulous dress is enough for a pleasing look. Women who are exhausted in the kitchen can pick a dramatic outfit to overcome their untidy looks. After making all the essentials for lunch and dinner, dress up in the right way to enjoy your day. The following portfolio has a couple of options for you. Pick up a dress that can coordinate well with your complexion and personality. Apply minimal makeup and keep your hair open for an entire gorgeous look. For more similar dresses, explore the Limelight's Eid Collection.
Zara Shahjahan Eid collection has been launched online and in stores. You can quickly grab your favorites any time. Undoubtedly, the ravishing styles and essential colors will make your holy festival much memorable. Go for a style that compliments your personality well. Plus, choose a color wisely according to your complexion. I hope the piece of advice will pay you something. I wish you excellent luck with your upcoming holy festival.