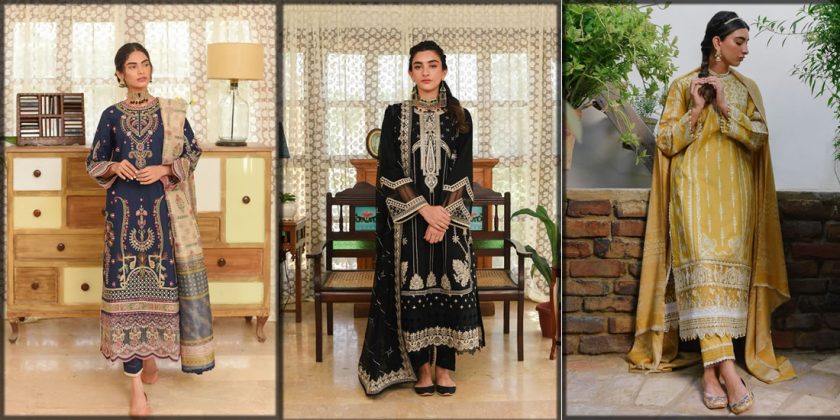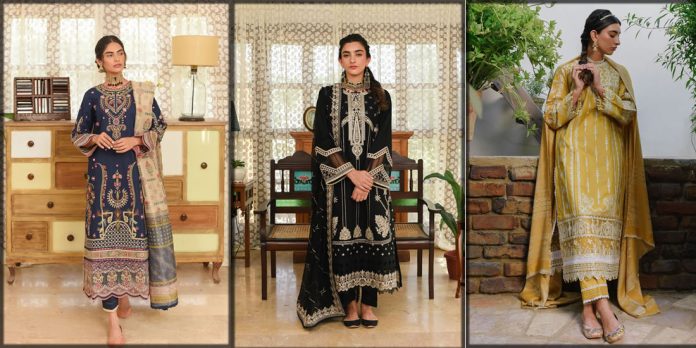 Spend this winter season with a cup of coffee or a delightful warm dress. Well, it is all about priorities and perception. Some people perceive winters to get comfortable, with warm clothing and long boots for ease and warmth. Qalamkar winter collection offers all the essential colors and designs for women.
Every moment should be enjoyed with a mind full of love and satisfaction. This year, make memories with Qalamkar's winter collection. The entire portfolio is effortlessly chic yet thoroughly satisfactory designs. Here you will get the linen and khaddar dresses in all vivid shades and classical patterns. So, fasten your belts and move ahead to grab your favorites soon before it gets late.
So, are you ready to explore the fascinating winter attires? Undoubtedly, you will love the delightful combinations and rhythmic patterns on the dresses below. Qalamkar takes good care of the public at large. Therefore, the brand creates magical designs for people to enjoy their season.
About the Creative Designer and Brand History
There are very few designers who care about the cultural sentiments of the public and create outfits accordingly. Qalamkar is a newly emerged fashion brand that grabbed the public's attention with its breathtaking designs. Many famous Pakistani celebrities have been spotted wearing ethereal ensembles by Qalamkar because of its extraordinary clothes.
However, we are here to show you the dynamic and richly crafted winter dresses for women by Qalamkar. Before this, you might have seen luxurious designs from Qalamkar's summer collection as well. Please have a look at the following winter collection along with prices.
Qalamkar Luxury Winter Dresses Collection for Women

A luxury dress must be comfortable, otherwise, it won't be a luxury outfit. The modern era requires a bit of decoration on casual attire as well. No matter where you go, you must wear an appropriate outfit with a nice pair of shoes for perfection. Winters call for a warm and comfortable dress for men and women to stay classy. Undoubtedly, there are a lot of clothing brands and fashion designers who bring seasonal collections for women. However, you can also explore Rang Rasiya's winter collection for women to get more prettifying styles for winter.
Here is the latest Qalamkar's winter collection for women below. The ethnic ensembles are created with much depth and hard work to satisfy the customers. Undoubtedly, women look for luxurious dresses for winter nights for a memorable day. Therefore, we bring you the most dazzling and well-decorative fall dresses here. Go through more winter collections from your favorite brands to find a perfect winter wardrobe for yourself and the people you love.
1- Unstitched Linen Winter Collection (New Arrivals)

With the arrival of fall, women search for their favorite brands to pick a comfortable dress. The warmth of winter is sufficient to propel the public for a modest style. Luckily, you are in the place where you will get a variety of mesmerizing and comfortable attires for winter.
It is time to fill up your wardrobes with illuminating winter dresses. Please have a look at the following linen collection to get yourself a perfect outfit for the winter season.
Graceful Black Winter Ensembles for Women
Whether it is a casual occasion or a formal event, women who wear black will always choose black over other colors. Therefore, the Pakistani fashion designers bring an independent corner of black ensembles for both men and women. Undoubtedly, a black outfit has a special place in the wardrobe and hearts of every human. People who want to bring magic to their personalities will always look for a gracious black ensemble. Do you want a black dress?
If so, then you are in the right place. Qalamkar's winter collection brings you three gracious black linen dresses. For instance, you can overview the following image to seek splendid design. This beautiful black dress is enriched with golden embroidery. You can carry this astonishing attire at any formal event by pairing it with black gemstones. You can get more black dresses with hybrids of other colors from the Bareeze winter collection.
Yellow and Aqua Embroidered Linen Dress for Women
The magic and mystique of vibrant colors never fail to impress the women. Nowadays, everyone waits anxiously for the modest and updated version of clothes. Meanwhile, the top clothing brands and fashion designers create magical stuff for men and women to exude elegance. Undoubtedly, an appropriate outfit can bring you the desired glamour and grace.
Look down at the beautiful yellow and aqua combo dress that adds more elegance and sparkle to your winter look. The thread embroidery and sequins artwork are done on this linen dress to make it extraordinary. You can wear this cool dress for a decent flash at any casual and formal event.
2- Qalamkar Winter Shawl Collection X Minal Khan
Winters are always incomplete unless you wear a graceful dress that comes with an embroidered shawl. Certainly, a lot of clothing brands launch their special assortment of shawl dresses for women. Here is an exclusive variety from Qalamkar's winter collection that presents you with dynamic styles. The collection features the very gorgeous and versatile Minal Khan as the face of the portfolio. Before this, you might have seen Minal in Cross Stitch's winter collection as well. Let's have a look at another intriguing collection.
Essential Black Dresses for Teens
People who wear black are always remembered in good books for having the best color choices. Indeed, many people believe that people who have colorful minds always prefer black over others. Therefore, the Qalamkar winter collection brings you two graceful black dresses with shawls below. You may like similar styles from the Sana Safinaz winter collection that are recently launched. Please have a look at the embroidered dresses below.
Gotta embroidered dresses are always the number one priority of teens and adults. Here we have two stunning black dresses that are illustrated with gotta embroidered techniques. The graceful karandi dresses have separate embroidered patches for daman, shoulders, sleeves, and back. Further, they are coordinated with plain trousers and stylish dupattas. Get yourself any of the dresses below for an entirely flawless and graceful vibe.
Classic Beige Embroidered Dresses for Women
Please have a quick glance at the ethereal yet attractive portfolio of beige dresses below. The beauty of the unique shade is that it combines effortlessly with other dark shades. For example, you can see the magic of the second dress that comes with a black shawl. Follow certain pro tips and tricks to manage your grace with the Qalamkar's winter dresses. Indeed, you will never regret wearing stylish attire from the winter collection here. Sapphire's winter collection has a variety of beige dresses with shawls that you may like.
Vibrant Maroon Embroidered Karandi Dresses
Let's give a thought to the following heavily embroidered maroon dresses. Qalamkar winter collection has impressed the public with a variety of thoughtful designs. Qalamkar has a lot of variety of vibrant dresses like you have seen before in Taana Baana's winter collection. But, you will never find a beautiful maroon dress like the following ones. Please give it a thought and have fun!!
Olive Green Embroidered Karandi Dresses
Olives are not just to be a part of your plate in winters but also a part of your wardrobe. Yes, it is time to fill your vacant closets with enchanting shades of olive green for glam. Qalamkar winter collection has two essential shades for you to try in winter. However, you can seek plenty of other shawl dresses from Beechtree's winter collection as well.
Let's take a moment to cherish the beauty of the following dresses. Indeed, you will be able to stand out among the public at large if you opt for the following distinct designs. Nishat Linen's winter collection has similar rich details on shawl dresses as well. Pick the favorite dress for your evening look and enjoy the bliss of winter with love and laughter.
This year, you need to embrace the ethnicity of Qalamkar with love and affection. Undoubtedly, the new emerging clothing brand has a lot of styles for both men and women. It is time to replace your wardrobe with warm and comfortable winter dresses. Hating the cold and loving the winter outfit will take you to another level of charm and comfort. Please have a look above at the delightful winter portfolio of Qalamkar.