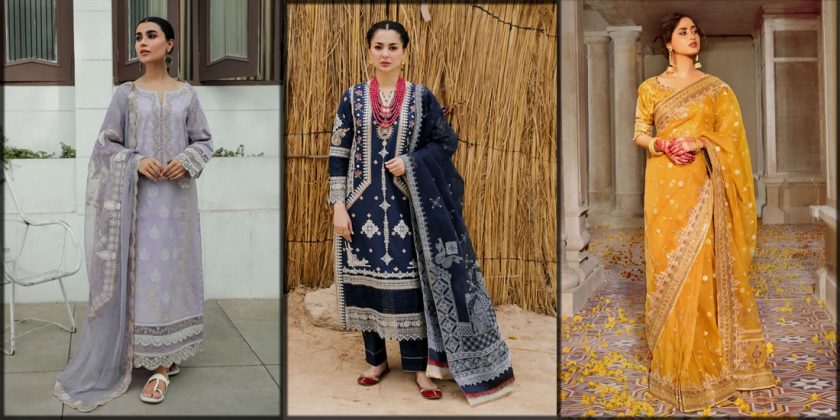 This summer, present a classy look by wearing a splendid outfit from the Qalamkar luxury lawn collection that is recently launched. Here you will receive hand-embellished attires in the lawn, cotton net, jacquard, and chiffon textures. So, hurry up and elevate your wardrobe with this beautiful summer collection of Qalamkar that indeed append more elegance and grace to your look. 
The latest summer collection of Qalamkar contains unstitched and ready-to-wear lawn suits at affordable prices. Pani, thread, dabka, kora, schiffli, laser-cut, and gotta artistry are utilized to design the latest collection of Qalamkar. Moreover, you will find a breathtaking display of beauty in these attires because they all are alluringly crafted. 
This season, QalamKar features the famous and talented television actresses "Hania Amir"  & "Sajal Ali" in their campaign to promote the brand. Let's explore the latest collection of Qalamkar below to grab the best outfit for yourself to shine at all forthcoming summer events. 
Latest Qalamkar Luxury Lawn Collection for Women

Are you looking for embroidered yet comfortable outfits? At that point, the below Qalamkar dresses are best. These dresses make your look more sumptuous and keep you safe from the melting days of summer. So you can comfortably and joyfully enjoy all festivals. These dresses are paired with the silk, net, and jacquard dupattas that are moreover decently furnished with lightweight embroidery.
In the unstitch group of attires, you will receive stunning dresses in all the unique designs and shades. Buy any dress of your choice and get it stitch by yourself according to your body shape and size. See the latest stitching styles of Pakistani dresses that are in trend nowadays to style your clothing in the trendy style to look modest and appealing.
1- Qalamkar Casual Pret for Women
Many of us, especially teens, like to carry ready-to-wear attires for our comfort. So Qalamkar provides a wide variety of pret dresses in all beautiful styles. In its latest pret section, you will get all the latest styles of clothing, including long shirt capri, A-line frock, and many others.
The prices of these attires are too low, which everyone can easily buy. Moreover, you can also get these dresses at your door by online order.
Jacquard Embroidered Outfit with Weaved Organza Dupatta
Your BFF's birthday is coming soon?? And you want to look splendid and charming at your BFF's birthday party? Then grab this impressive outfit from the QalamKar store and prettify yourself well. You only need to pair your outfit with heavy earrings and inspire the crowd with your modern yet legendary look. The Junaid Jamshed spring-summer collection also offers modest attires for women and young girls, check it too.
Classy Pink Qalamkar Luxury Lawn Suit for Girls



Pink is the most demanding and beautiful shade for the youngsters to look lavish. This luxury pink suit will make you look more pretty and lovely at any evening party. You can also wear this cool outfit at your friend's wedding to inspire others with your attractive look. Try to keep your makeup minimal for a more satisfactory look with this heavily adorned dress.
2- Luxury Festive Lawn'22
Now have a look at the luxury festive lawn collection of Qalamkar that offers striking dresses in all bright and dark shades. The dori, thread, and sheesha artwork are used to design these lawn dresses well. You can carry these ensembles for any casual or formal event to add an extra glimmer to your gaze.
Gotta & Lasercut Embroidered Summer Lawn Suit
Are you scanning for a decent and splendid outfit for your birthday party? Then, pick this extraordinary outfit from the Qalamkar store and make all of your pretty and awe-inspiring looks. You can customize this unstitched dress same as the picture below for the perfect look. Moreover, you can also modify this dress as per your choice and need.
Suppose you want to grab others' attention on your birthday and want to look more beautiful than others. Then wear this stunning outfit and apply the bold makeup. Further, wear casual earrings to get a modest look. Finally, pair your outfit with the khussa for gabbing the traditional flash. Additionally, visit the Khaadi summer collection that likewise offers the chic dresses you can wear to make all of your gorgeous looks.
Sky Blue Luxury Lawn Suit by Qalamkar



Everyone wants to look gorgeous and captivating in every season. Therefore in each season, all designers showcase quality dresses for their customers. This summer, say hello to this sky blue and white dress. Gotta embroidered dresses are in-trend these days. Hence many notable brands, including Sable Vogue  add more perspective to your looks by including the gotta attires in their seasonal collections. 
You can wear this sky blue dress at any formal or wedding reception to make your look more elegant and lovely.

3- Qalamkar ساحل Luxury Lawn'23
The unstitched dresses by QalamKar are woven with handicrafts and embroidery. The tassels, patches, motifs, and pearls make the attires more impressive. All fresh hues like blue, maroon, green, black, and peach are used to make the luxury collection beautiful. These dresses are paired with foam printed, jacquard, silk, and net dupattas. Let's explore the latest QalamKar unstitched summer collection.
Grab this outfit to make all of your stunning and captivating looks. All you need is to pair it with heavy adornments and footwear. Plus, style your hair in any trendy style to get the cutest look. Manara luxury lawn also contains sumptuous summer attires, give it a shot too! You can wear this classy outfit at any formal gathering and even at the wedding of your beloved one. Pair this elegant outfit with the "Rajasthani" necklace and nude makeup to get a decent and modest look. For more variety like this, explore the Taana Baana summer collection.
4- Qalamkar QLINE Collection
If you can't afford the expensive clothes, but you want to wear the striking attire from the Qalamkar store. Then look at this Qline collection that offers dazzling lawn attires in under 7000, which everyone can easily buy.
These cheapest dresses are also richly crafted. Plus, the color combination of these dresses is just fantastic, adding more refinement and glory to your summer look. You can carry these dresses for any casual event to get the incredible flash. All you ought to do is combine your luxe suit with brilliant ornaments and bold makeup for an extraordinary look.
Schiffli Embroidered Suit with Zari Jacquard Weaved Dupatta

Have a look at the chikankari embroidered suit that indeed refreshes your look. The front of the shirt is adorned with block-printed side panels and a thread embroidered border. In addition, the multicolored zari jacquard dupatta adds more refinement to this outfit. If you don't like to carry the jacquard dupatta, at that point, you can pair your schiffli suit with the chiffon or any dupatta you want.
Wear this outfit at any formal gathering to make all of your stunning and noteworthy looks. Pair this fabulous outfit with brownish makeup and straight loose hair to get a captivating look. You can likewise wear this fabulous dress at your sister's nikkah by pairing it with heavy adornment and bold makeup to make you look more modest and chic. Plus, wear the high heel shoes and encourage the others with your pretty and glamorous look.
Sleek Black Qalamkar Luxury Lawn Suit

Black is the most splendid shade that adds more grace and shine to your look. The black suit with the golden embroidery is the ideal choice to make all of your striking and splendid looks. You can wear this dashing outfit at any formal gathering to get an impressive look.
Pair this sleek outfit with impressive makeup and adornments. Wear the Sindhi-style neck choker and earrings by keeping your straight hair open to complete your dazzling look. You can also skip the ornaments if you want to keep your flash decent and simple. The choice is yours. Further, explore the Mushq spring-summer luxury lawn assortments for more embroidered dresses. 
5- Festive Formals by Qalamkar

Searching for a festive outfit to allure? Look down to explore the optimistic catalog of Qalamakar that offers organza, chiffon, cotton net, and raw silk dresses. These beautiful attires are enhanced with the gotta and laser-cut embroider that adds more charm to our look by making it chicer.
Gotta Embroidered Saree on Organza
Saree is the most classical style of garments that women of all ages love to carry. No matter what the occasion is, ladies like to wear the saree to stand out. Look at this beautiful organza saree by Qalamkar, richly crafted with Dori, gotta, and sheesha artistry. You can wear this splendid saree at any causal and formal events.
Pair this fabulous dress with the khussa and heavy adornments to make your look more pretty and traditional. Knot your hair in a low pony style and open some front strands to get the modest and chic style. Also, tour the Zaha by Khadija Shah luxury lawn collection for more awesome suits.
Qalamkar Luxury Lawn Suit with Gotta and Lasercut Embroidered

Women always want to resemble more chic and appealing. Below tea pink is the most classy and graceful outfit for those girls who want to look prettier than others. You wear this dress at your sister's wedding to impress others with your modest and alluring look.
With this outfit, skip the necklaces and wear the decent tops only. Plus, apply nude makeup. Remember to add kajal in your eyes to make all of your breathtaking and awe-inspiring looks. Gul Ahmed's summer collection also contains the embroidered dress, check it as well.
Tips to Keep Your Cothes New:
If you want to keep your dress fresh and new, then you need to obey the following tips to keep your dresses brand-new:
Use cold water to wash your clothing.

Pick a suitable detergent. 

Don't use chlorine bleach

Avoid sun because the Sunlight can fade the colors of the dress.

Never hang wet or soggy clothes in your wardrobe.

Never store your clothes in plastic bags.

Hang your clothing safely.

Wash your garments only when they smell dirty.
Hand Luxe Collection by Qalamkar
With the timeless charm of embellished details, this impressive catalog features a splendid work of dabka and zardozi on raw silk, organza, and poly silk. This stunning catalog is completed with beautifully draped dupattas and satisfactory detailing pants that are also artfully illustrated with handcrafted work.
You can carry these beautiful attires at any wedding event to make all of your stunning and jazzier flashes. You only need to pair your luxe suit with the massive gemstones, nude makeup, and high heel shoes to add extra sparkle to your wedding look.
I hope the Qalamkar luxury lawn collection will satisfy your demands and need. Now is a time to beat the summer with your unique and impressive look. For this, you need a classy outfit. In this manner, the luxury lawn collection of Qalamkar helps you out to make your summer display more noteworthy. Hurry up and go to the nearest outlet of Qalamkar and grab your favorite outfit to make your look more awe-inspiring.