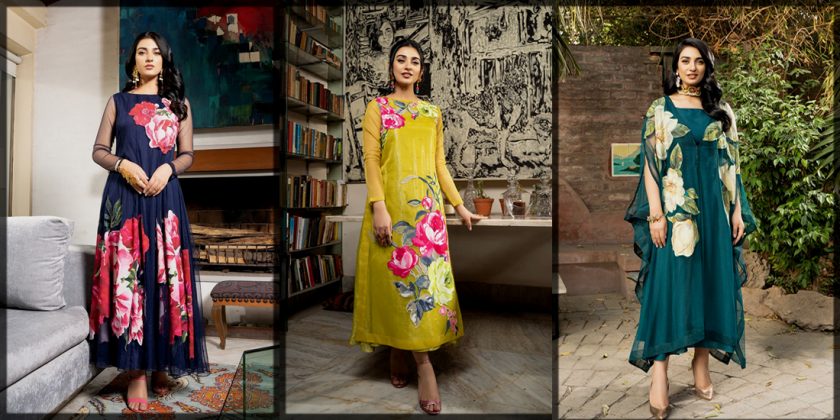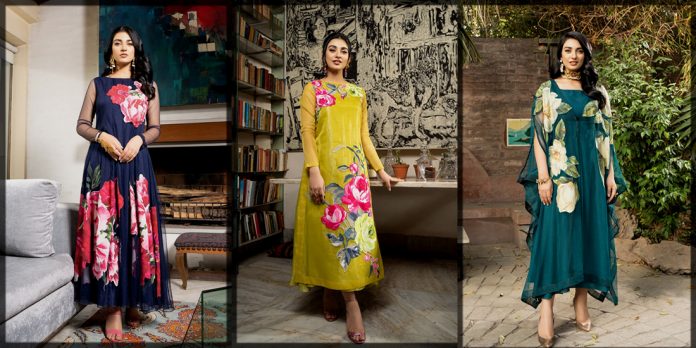 Lulusar is the most adoring brand in Pakistan that brings the traditional floral theme dresses for women and young girls. As you know, Eid is coming soon, and everyone is excited to buy the new clothes. Hence all notable brand of Pakistan launched their best Eid dresses. Likewise, Lulusar launched its latest Eid collection with the best designs. Let's explore the Lulusar Eid collection. 
In its latest collection, you will get ready-to-wear dresses in the best mixture of colors and designs. This Eid, Lulusar brand has chooe unique designs and patterns. Investigate this blog towards the end to check out the newest eid catalogue of Lulusar, along with prices.
Lulusar's latest stunner eid collection contains modest attires for young girls and women so they can adorn themselves well and refresh their eid look by making it more dazzling and cute. They used pure fabrics like sheer organza, soft crepe, fabric soft, net fabric, and sheer net to make their lavish eid dresses. 
Lulusar Stitched Eid Dresses Collection for Women (New Arrivals)

This eid, Lulusar offers a wide range of delicate sheer organza and crepe fabric attires in their festive catalog. They endeavor fantastic dresses with batwing, simple, and slit sleeves. Choose the best style outfit as per your skin tone, body size, and choice to make most of your eid days. The coloration palette and color combinations are unique. Moreover, the most different thing about this collection is that the slips are made with shimmery fabric to add more appeal to the dresses.
Take a look below to check Lulusar's latest collection. Further, some other makeup and accessories tips are also mentioned so you can prettify yourself well on eid and make your look more attractive and noteworthy. Its latest eid collection contains the following styles of outfits. You can explore the Nishat Linen eid collection in detail with prices and features for more similar outfits.
Explore our latest eid collection and get all the famous designer brands in one place. Your hustle is over and now you can search for your desired eid dress through our collection of all eid catalogs.
Black Floral Baroque Printed Top with Batwing Sleeves
Black is the most loving color that every lady wishes to wear. This jet black kurta is made with soft crepe fabric with a pop of white color on the upper front of the shirt. This black shirt is furnished with floral and baroque print. The batwing sleeves with dainty detailing make this black outfit more engaging.
The floral printed bunches are scattered on the front, which complements the spring-summer season very well. You can pair this cool kurta with plain black trousers or palazzo as you like. The Saira Rizwan embroidered eid collection is worth buying this merry season because they have launched a wide variety of eid attires in their festive catalog.
High Low Pink Kurta in Soft Crepe Fabric

The below lovely pink soft crepe fabric Kurti in floral and geometric print is the best choice to wear to add more grace and appeal to your eid look. The appliqued organza detail makes this Kurti more chic and dazzling. You can likewise wear this Kurti at any casual and formal gathering.
The v-neck shape of the shirt makes it more modest and stylish. You can pair this dashing Kurti with plain white flared pants. With this incredible Kurti, apply lightweight makeup and wear the lightweight, long hoops to make your eid look more lovely and gorgeous. Also, explore the Noor by Saadia Asad eid collection that contains luxury eid suits for women.
Grey Sheer Organza Embellished A-line Shirt

Are you looking for something unique and long? Then give a chance to this grey sheer organza embellished A-line shirt that indeed refreshes your look and adds more grace and shine to your look. The full sleeves, side slits, and delicate detail on the hem and sleeves make this long shirt more attractive and dazzling. The soft shimmer chiffon inner is also attached to this long shirt.

Pro Tips:
Keep your hair open by adding some curls and apply the pinkish makeup.

Combine this fabulous dress with silver heels.


Remember to use highlighters on your cheeks, nose, and chin to add more shine and sparkle to your look. 
Beautiful Lime Yellow Appliqued Floral Print Long Kurta
Lime yellow is the freshest and most incredible color for the summer season. This beautiful lime yellow long kurta is made with sheer organza fabric so you can freely enjoy all the happy moments of Eid. This shirt comes with a shimmering chiffon inner slip.

This shirt is prettified with appliqued floral prints that make it more lovely and captivating.  You can pair this dazzling shirt with any Capri or pants according to your choice. For more impressive suits, visit the Ansab Jahangir eid collection.
If you want to grab the stunning look just like Sarah Khan, then all you need to do is:
Apply the brownish makeup with the brown smokey eyes. 

Apply the winged style eyeliner.

Utilize the false lashes.

Wear the long multicolored earrings.

Wear the pinkish high heels, a

nd you are all set to go.
Sleek Black Eid Dress By Lulusar Eid Collection

If you want to make your spring summer eid colorful, at that point, pick the below elegant black long kurta that is beautifully adorned with colorful 3D flowers. The design is very basic yet elegant. You can match your long black kurta with plain black trousers to complete your stunning dress.
With this dazzling outfit, keep your straight hair open, apply the nude makeup, wear the long hoops, paint your nail with light purple nail art and wear the silver peep toe shoes to make your eid look extra chic. Also, visit the So Kamal eid collection and get more elaborated dresses.
Floral Printed Long Kurta in Ivory

If you are tired enough by wearing the basic colors and try something unique and pastel-shaded, then give a chance to this ivory dress adorned with bright brown floral prints. The slip of the dress is made with shimmery fabric, which looks beautiful beneath the dress. With this lightweight ivory-shaded outfit, try to wear heavy earrings and light makeup to grab the other's attention. Salitex luxury eid collection contains impressive suits in the best mixture of colors. Check it also. 
Black Eid Frock by Lulusar with Pop of Floral Prints
The sheer black dress is made to perfection. The shaded floral prints are scattered all over the frock. The stitching of the dress is the main element that elevates the whole design. The fabric has a soft shine, which complements the festive season very well.
If you want to grab a decent look on eid, then pair this fantastic frock with lightweight makeup. You can also consume this fashionable outfit at your sister's wedding to make all of your engaging and fine looks. Alkaram Studio eid collection also contains fascinating suits for women and young girls.
Teal Cape Style Front Open Long Shirt
Are you looking for something trendy yet classy? Then look down at the cape style dress for eid day to make it more exciting and captivating. The teal blue cape is made with sheer fabric that has a cute feminine vibe to it. The floral print is designed beautifully on the front of the cape.
With this modest dress, keep your hair open by adding some waves, apply nude yet brownish makeup, wear the beaded necklaces and earrings. And you are all set to go to inspire the world with your lovely look. For more luxury and stylish suits, visit the Khaadi festive collection.
Jet Black Chunri Printed Long Dress by Lulusar
Chunri print is in trend these days. Hence Lulusar eid collection offers the chunri printed long dress for young girls. The Pop of white and pink color on the jet black base is what makes this outfit perfect. You can pair your flared silhouette with plain legging to get a modest look. One of the most beautiful suits to make your Eid look more smart and modest. 
The sheer fabric adds sensuality to the attire. Likewise, you can wear this dashing outfit to add more appeal to your personality and character at any formal gathering. Moreover, look at the Gul Ahmed eid collection that likewise contains the modest attires in the unstitched and stitched forms. 
With this stylish outfit, all you need is:
Apply the brownish makeup.

Wear the round hoops.

Wear the cone heels.

Further, wear the bangles on both hands to make your eid look classy. 

Paint your nail with the nude shaded outfit, and y

our eid look is complete.
Kasaal Front-Open Double Shirt Dress by Lulusar

The below front-open double shirt dress is made with sheer organza fabric with baroque floral print. The sheer blue upper is embellished with delicate beads detailing. Moreover, the shirt has a crew neck with a hook and eye closure on the front. This beautiful blue dress has side slits and the inner is made with the same color viscose fabric. This is a very ideal dress for summer eid days.
Long Teal Net Frock with Puffed Sleeves

Here we have a beautiful teal flared long dress that is made with delicate net fabric with floral print to enhance the beauty of the dress. The dress features V-neck and puffed-up balloon sleeves that add vintage vibes to the dress. The flared bottom has a closed panel and bodice. The dress has teal crepe fabric inner stitched with the dress. Overall, it is a very dainty dress for pretty girls.
Black Soft Net Fabric Frock in Pink Floral Print
Here we have a soft black net frock with a pink floral print. The dress has a very pretty feminine vibe with dainty detailing. The stitching is done beautifully with a boat neck and full straight sleeves. The dress comes with a sleeveless inner in soft viscose fabric. If you are a little bit conservative, then you can stitch extra fabric block with sleeves that are incorporated within the dress.
Rusty Orange Soft Pleated Shimmer Chiffon Dress
This rusty orange shimmer chiffon dress is the new trendsetter this festive season. The top is made with soft pleated shimmer chiffon fabric lined with cotton silk. The shirt has a classy crew neck with binding. The three-quarter flared sleeves are adding a modern touch to the dress. This dress surely has a festive vibe to it.
White Shimmer Chiffon Top with Flared Pants

The white shimmer chiffon is made with sheer organza fabric, further furnished and decorated with appliqued floral design. The dress beautifully features tone-on-tone embellishments that complement this festive season very well. The dress is lined with cotton silk and has a boat neck. The organza cuffs and flared pants add a unique style to the whole look. This is a perfect eid day 1 dress.
Now it's the right time to buy some impressive clothes for eid day. Give a chance to Lulusar eid collection and trust me, you will not be disappointed. These lovely dresses indeed renew your eid look and make it extra pretty and gorgeous. Remember to pair your beautiful Lulusar suit with the right style of gemstones, Heena art, makeup, nail art, and footwear to make your festive look more dazzling and appealing.