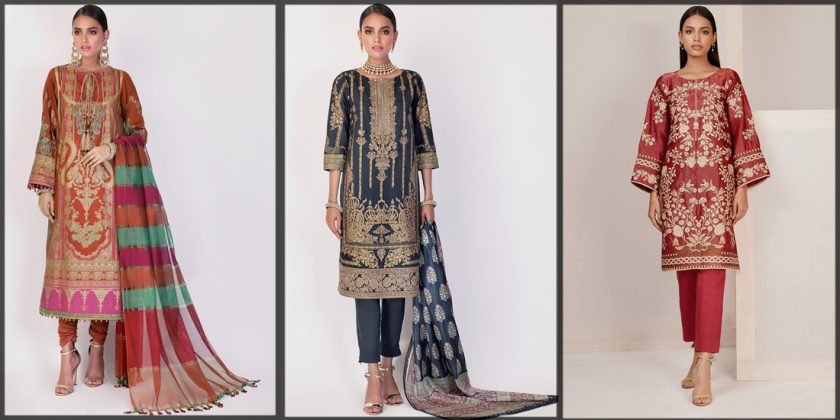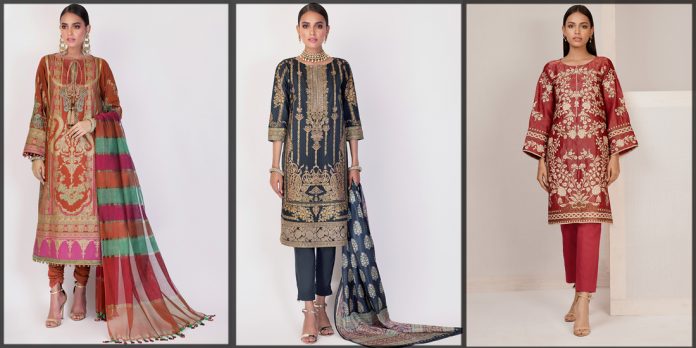 Alkaram always brings modest clothes for young girls and women. This Eid likewise offers dazzling and chic outfits for ladies in the most striking and vivid shades. Have a look at the Alkaram Studio Eid collection that contains stunning and classy attires in the comfiest textures.
Before Eid, everyone buys new clothes and shoes for themselves and their families because it is a tradition to wear new clothes on Eid. Women are significantly more excited to buy new clothes as compared to men. So, all notable brands like Alkaram always launch festive collections before Eid for women and young girls.
Alkaram used the Jacquard, lawn, cotton, and dobby lawn texture to make its festive collection more comfy and satisfaique and impressive than others. Hence, all women prefer to buy unstitched fabric to customize the dress in any style they want. Alkaram is the most notable brand that offers the 3M shirt piece that no other brands give. Other famous brands only give 2.5m shirt pieces. So if you want to modify your unstitched dress in an angrakha style dress, then garb the unstitched fabric of Alkaram and quickly make your dress as you wish.
You will get the single shirt piece, two-piece, and three pieces attires in the unstitched category. All dresses are beautifully adorned with thread and digital prints that make the attires more dazzling and appealing. You can likewise wear these classy dresses at any casaul and formal gathering to make all of your jazzier and decent flashes. Also, visit the Maria B festive collection for similar outfits.
3PC Printed Jacquard Suit With Jacquard Dupatta
Everyone wants to look pretty and lovely on every occasion. This classy dress is for those girls who want to look different and elegant rather than others on this Eid. The three-Piece embroidered jacquard suit with jacquard dupatta is one of the classic choices for young girls.
The below lovely pink jacquard dress surely helps update your Eid look and make it extra chic and dazzling. You can also wear this stunning dress at your sister's wedding to make all your jazzier and breathtaking flash. Further, visit the Rang Rasiya Eid collection for more festive suits. 
Suggested look to complement this dress:
In Pakistan, wearing the bangles upon the arrival of Eid is the most significant part of the culture. You can wear bangles on both hands to finish your traditional look. Additionally, wear small earrings, apply impressive makeup, wear block heel shoes to add more charm and attraction to your Eid look.
Embroidered Cotton Net Suit With Embroidered Net Dupatta
This dress comprises fantastic threadwork that will make a great look. This beautiful dress is design for those ladies who like to wear heavily furnished dresses. The long shirt is enhanced with string and thread work that is matched with a dyed cambric trouser. Deepak Perwani Eid collection also contains fancy Eid attires for women and Young ladies, check it also.
The light parrot and peachy pink combination will make your Eid celebration progressively appealing and jazzier. The cotton net dupatta is further adorned with peachy pink patches that increase the overall beauty of this outfit. If you want to make your Eid look more slaying, leave your hair open by adding some curls, wearing traditional adornments, doing lightweight makeup, and enhancing yourself well. You can also wear this dapper outfit at your cousin's wedding to make all of your jazzier and striking looks. 
Embroidered Slub Lawn Suit With Embroidered Net Dupatta
Alkaram studio has brought the most stylish dress for your Eid day. Here is a one-of-a-kind luxurious embroidered slub lawn shirt that has a beautiful embroidered neckline. Further, the sleeves and front of the shirt are adorned with white embroidery that makes it extra chic. It is paired with the plain lawn trouser and net dupatta that adds more appeal to this outfit. The light coffee brown dupatta is further improved with the white fabrication that will help to make all of your captivating and stunning looks. 
Prettify your Eid look by wearing this trendy outfit with the gemstones and tie a stylish hair bun along with iconic high heels to complete your modest look. For more slub lawn suits, browse the Zainab Chottani Eid assortments.
Hair Tip:
Make a braided hair bun with some front hairs if you have a prominent forehead. In this way, your forehead will look smaller.
2- Stitched Eid Collection
Now have a look at the stitched collection of Alkaram that is likewise very impressive and appealing. You will get the dobby, lawn, jacquard, and cotton texture in single, two, or three-piece attires in the latest festive collection of this notable brand. All these pret dresses are made with a mixture of bright and fresh hues that indeed refresh your summer Eid look and make you more pretty and beautiful.
You can also wear these attires at any casual party to add more appeal and shine to your look. The bright and dull color mixture makes this pret collection of Alkaram extra noteworthy and striking. If you crave to make all of your jazzier and breathtaking flash this Eid, then grab your desired style dress from the Alkaram store and prettify yourself well. For more pret attires, browse the Bareeze Eid collection that likewise contains the beautiful attires.
Eid is a special event for all Muslims who celebrate it with complete joy. So, always dress up nicely on Eid day. Alkaram attires are still everyone's favorite because of their unique crafted attires. Have a look at this most preferred white knee-length shirt that is improved with the blue floral prints, which is the most alluring combination. This classy shirt is made with the dobby texture that refreshes your look and shields you from the hot sun rays so that you can freely and happily enjoy your Eid day by wearing the comfy yet classy outfit.
You can combine your dobby lawn kurti with the capri-style pajama that is one of the trendy styles of this decade, so pick this outfit to get the modest and up-to-date look. For more variety, explore the Junaid Jamshed Eid collection that likewise offers the chic variety of Kurtis.
Few makeup and Jewelry tips according to suit:
Tie your hair in a hair updo, or you can keep it open as you like. Apply minimal makeup with smokey eyes. At last, wear round pair of earrings matched with your dress, and your classy Eid look is complete.
2PC Cotton Net Formal Suit
Girls who want to wear a unique dress, then this olive green outfit is undoubtedly for those types of young ladies. The shirt is wholly decorated with white artwork. The light and bright colors are the best combos for those girls who prefer to wear a bright-colored dress on the first day of Eid. You can also wear this dress at any party or social event. This stunning outfit is paired with the olive green plain capri that makes it more graceful and noteworthy. You can pair this 2PC suit with the chiffon, jacquard, and cotton silk dupata as you like. Further, look at the Beechtree Eid collection that likewise contains the most decent and alluring outfits.
Want to Look Classy?
If you are going to wear this olive green outfit on Eid, you need to look at the below steps to make your Eid look more fantastic and dazzling. 
You can wear the remarkable jewels with this glamorous 

outfit

 to prettify yourself well.

Likewise, tie your hairs in a classy hairstyle, which will assist you in looking glammy. 

Give some smokey touch to your eyes and apply nude lipstick for getting this kind of tasteful look on your festive occasion.
3PC Printed Jacquard Suit
If you want to grab the formal look on Eid, at that point, have a look at the below stunner 3PC jacquard suit that indeed makes you pretty and adorable. The lovely knee-length shirt is paired with the capri and jacquard dupattas. You can also wear this chic outfit at your formal parties and other wedding events to make all of your captivating and lovely looks. 
Pro Tips: Here are some impressive and valuable tips that surely help you out to prettify yourself well on this Eid,
Try to do nude makeup with this cool outfit by applying brown eyeshadows on your eyes and nude shaded lipstick. 

Remember to add kajal to your eyes to look more modest and beautiful.

Wear the cone or block heel shoes as per your choice to get a stylish and smart look.

Tie your hair in a high ponytail style by wrapping some hairs into your pony.

Wear the lightweight adornments, and your dazzling Eid look is complete. 
3- Alkaram Studio Eid Collection Full Catalog
Alkaram Eid collection is just superb as the Sana Safinaz Eid collection. You will get the best color combination with the most lovely themes and designs. In its Eid catalog, you will get the tilla, kora, dabka, and thread embroidered dresses in vibrant and lovely tones that will make your Eid look more classy and stunning. 
Have a look below to explore the latest Eid collection by Alkaram that will refresh your look and make it more pretty and dazzling. Always remember:
With a nude color outfit, apply the bold makeup with smokey eyes.

While with the fresh and dark-shaded outfit, wear lightweight/nude makeup. 

For a casual look, wear the casual chappal or sandals.

While for a formal or classy look, wear block or high heel shoes.
4- Unstitched Separate Fabric by Alkaram Studio

Alkaram is the most well-known Pakistan brand that gets fame in just a few years because of its unique crafted attires. Moreover, it provides a detached fabric facility for the efficiency of its clients. The fabric is sold per meter. So, the customer buys the fabric as per their needs and preference. In the loose fabric collection of Alkaram, you get the cotton silk, jacquard, and lawn dresses that are made with pure fabric that will keep you safe and secure from the blistering days of summer.
All brands offer the 2.5 to 3-meter shirt piece, which is enough for a standard shirt. But if you want to stitch the Anarkali or angrakha frock style, at that point, you need the extra fabric. Hence, the loose fabric of Alkaram helps you out. You can buy loose fabric from the Alkararm store and customize it in any style which you like.
The most awaited event for Muslims is practically around the bend. As all of you realize, summer is here, and it is the amazingly blistering climate in Pakistan. It is elusive to find a pretty and wearable outfit in summer, don't worry, simply investigate this blog and pick the bewitching summer Eid dress. Additionally, few tips about makeup and jewelry are also mentioned above to decorate yourself well. Moreover, never neglect to apply mehndi on your hands to prettify yourself on this Eid.