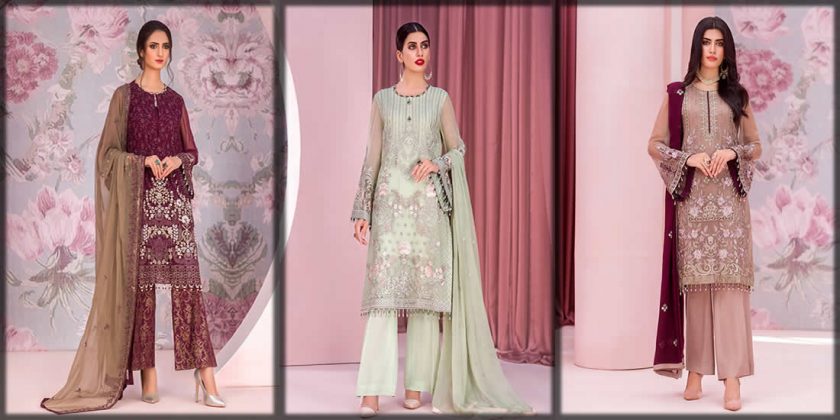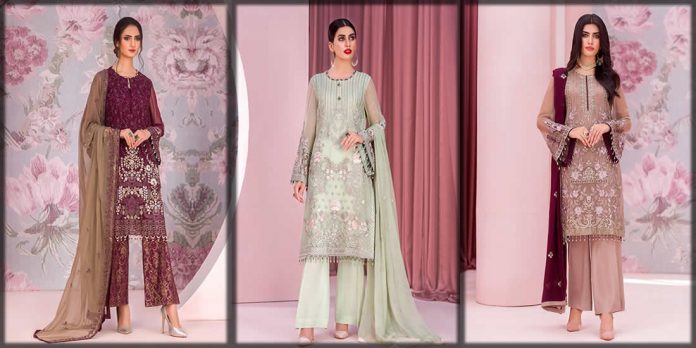 Chiffon suits are always beautiful and best for festivals and formal gatherings. The art of sequins and embroidery with a little applique makes the dress perfect to wear. Here is the latest designer collection of chiffon suits for you. Admittedly, you will love the sensational designs for your upcoming events. Indeed, the ravishing styles will meet your desires.
Pakistan's fashion industry got the hearts for classic designs. Also, fashion designers are busy crafting lovely and embellished chiffon attires for you. These embroidered and fancy suits are best to wear at weddings or other special events. Plus, the glamorous colors and cut-work designs will propel you to buy the flaunting outfits for party wear.
Fashion trends change from time to time. However, the fabric always speaks for itself. Let's highlight your looks with the majestically ideal chiffon dresses. Unfortunately, some dresses are of high coat that comes out of range of some people. But, we have some affordable styles too. Extract some time to have a glance at the staggering designs and ideas below.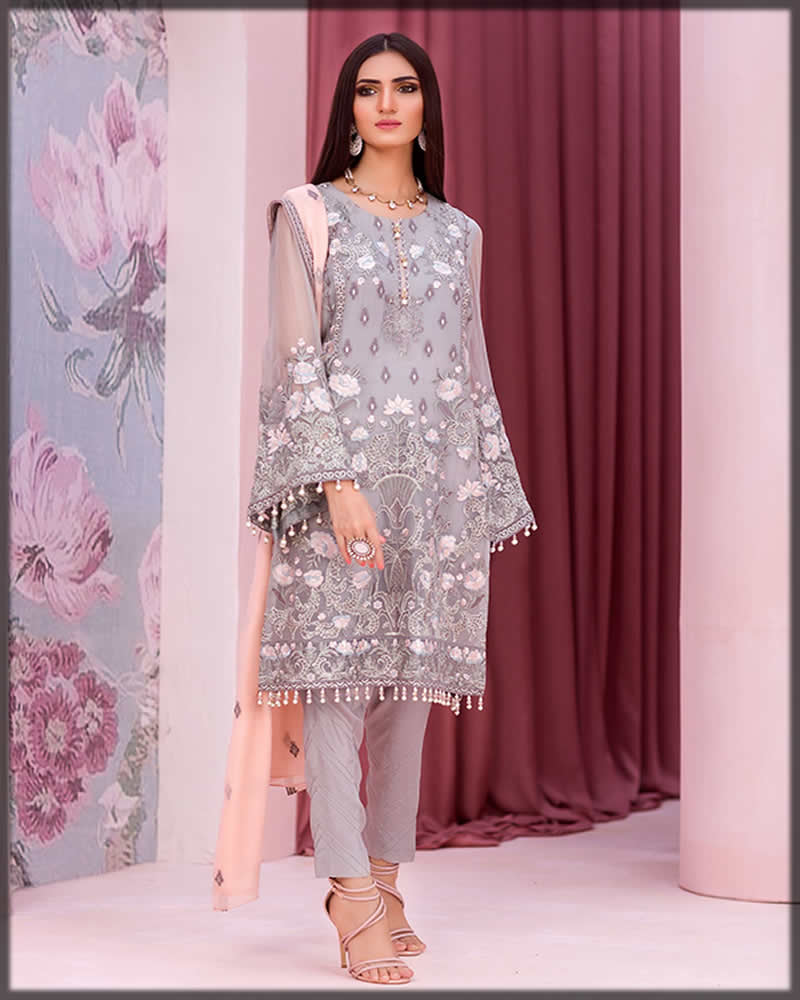 Fancy Embroidered Designer Chiffon Suits in Pakistan by Top Brands



The changing season engages the fashion designers to make sleeking designs for the public. However, the ultimate grace of a woman lies in the fabric she wears. Women today prefer to wear designer suits for a splendid look. Indeed, you can gain attractive looks with an inspiring hue and a fantastic pattern of the dress. Therefore, we always advise the woman to choose an outfit wisely. Plus, choose a color and style that coordinates with your complexion and body texture for a smooth look. I will give you an entire rocking look.

Well, the softness of the fabric is as important as its beauty. Therefore, designers give as much focus on material as they give to designs. High-quality fabric is the primary thing to consider. Plus, women shall never compromise their comfort over fashion. I am glad to say that you can stay comfortable and modest simultaneously. Yes, you can explore our following blog to discover designer suits by the top Pakistani fashion designers for you. I hope that you will show love towards our effort. Pick an outfit for yourself and have fun.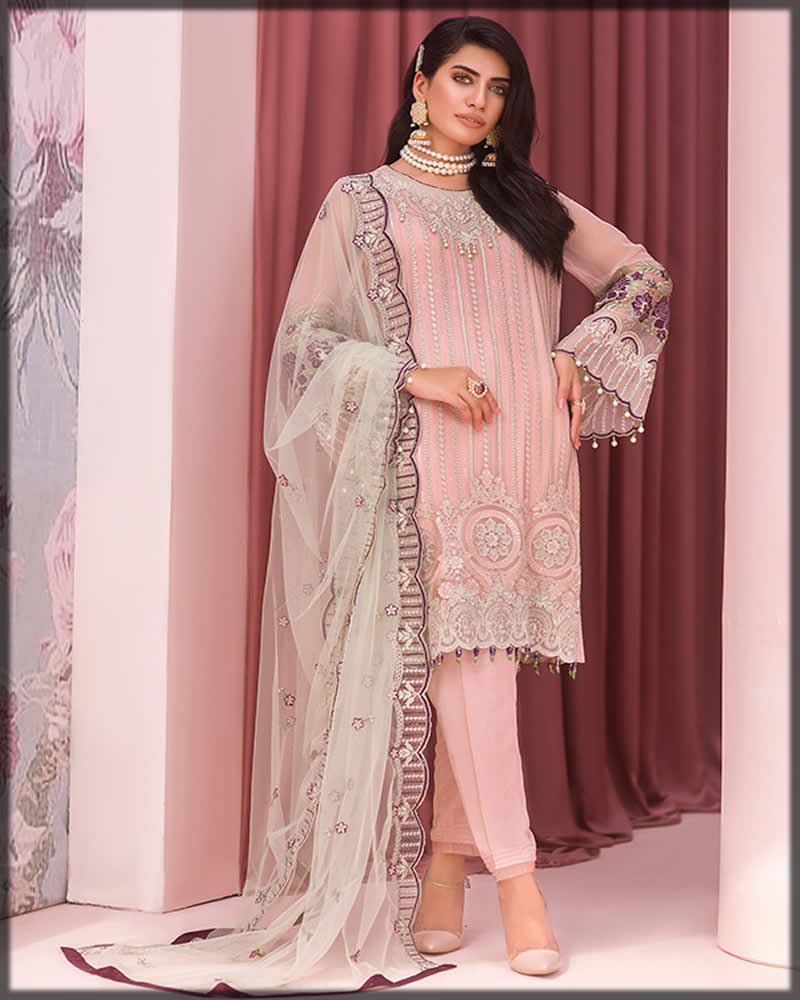 Here is the list of top Pakistani designers who have incredible chiffon suits for you. These are:
| | |
| --- | --- |
| 1. Republic Womenswear | 2. Threads and Motifs |
| 3. Zainab Chottani | 4. HSY (Hassan Shehryar Yasin) |
| 5. Asim Jofa | 6. Agha Noor |
| 7. Nomi Ansari | 8. Tena Durrani |
1. Republic Womenswear Chiffon Collection

The updated modern world entitles women to look for stylish dresses. Also, they look for some ready-to-wear suits to save their time and cost. Are you looking for modern styles of women's clothing? Check the latest collection of Republic Womenswear. The apparel collection includes a variety of decorative and enthusiastic fancy, casual and bridal dresses.
There is a wide variety of exclusive stonework dresses. Also, heavily embellished dresses draw more attention. Rock your event and bring jazzier looks by choosing chiffon dresses from the famous brand Republic Womenswear. The luxury dresses have fantastic work on the dresses. Have a look at the breathtaking dresses below. Pick the one that coordinates with your personality and complexion. I hope you will do it correctly for yourself!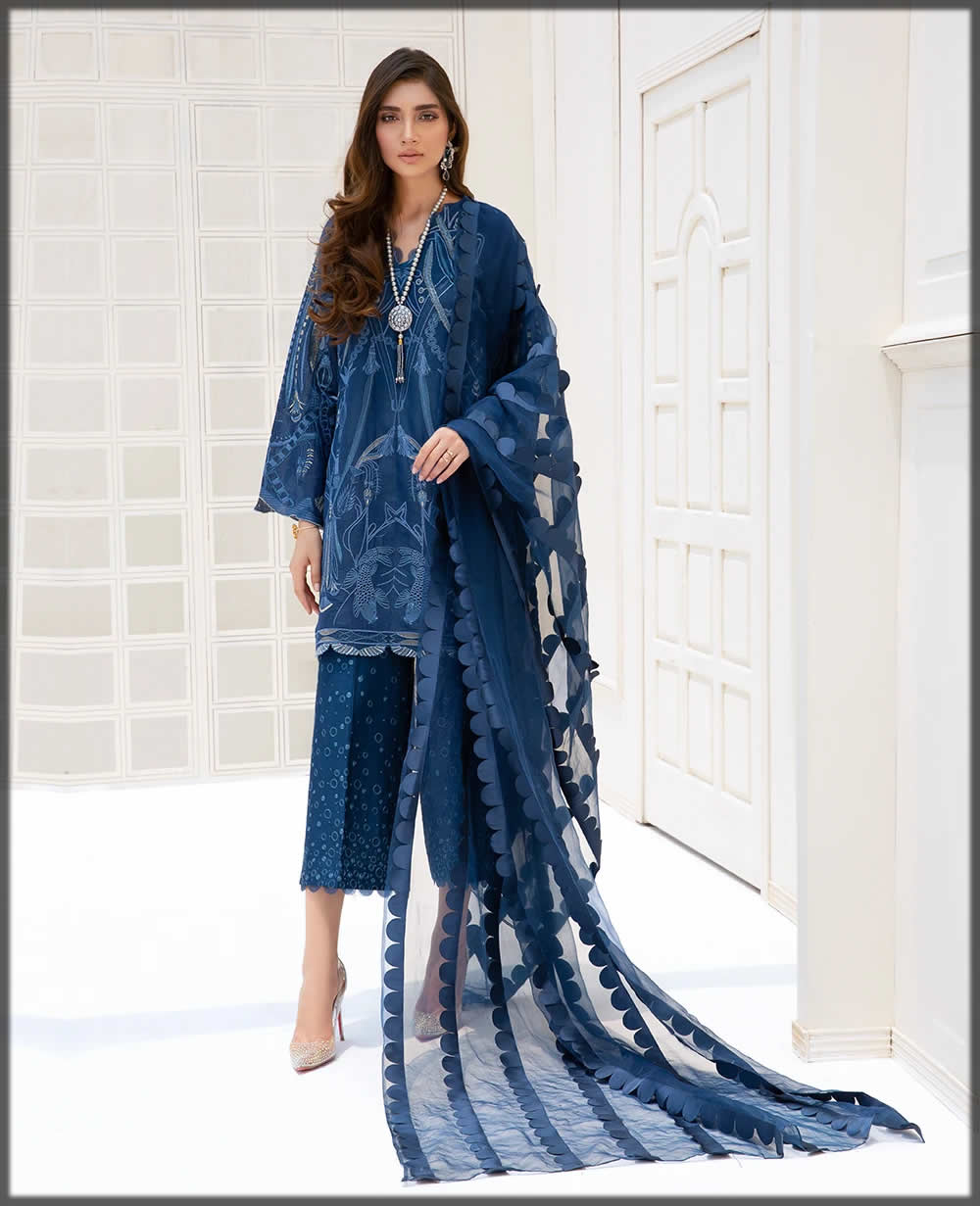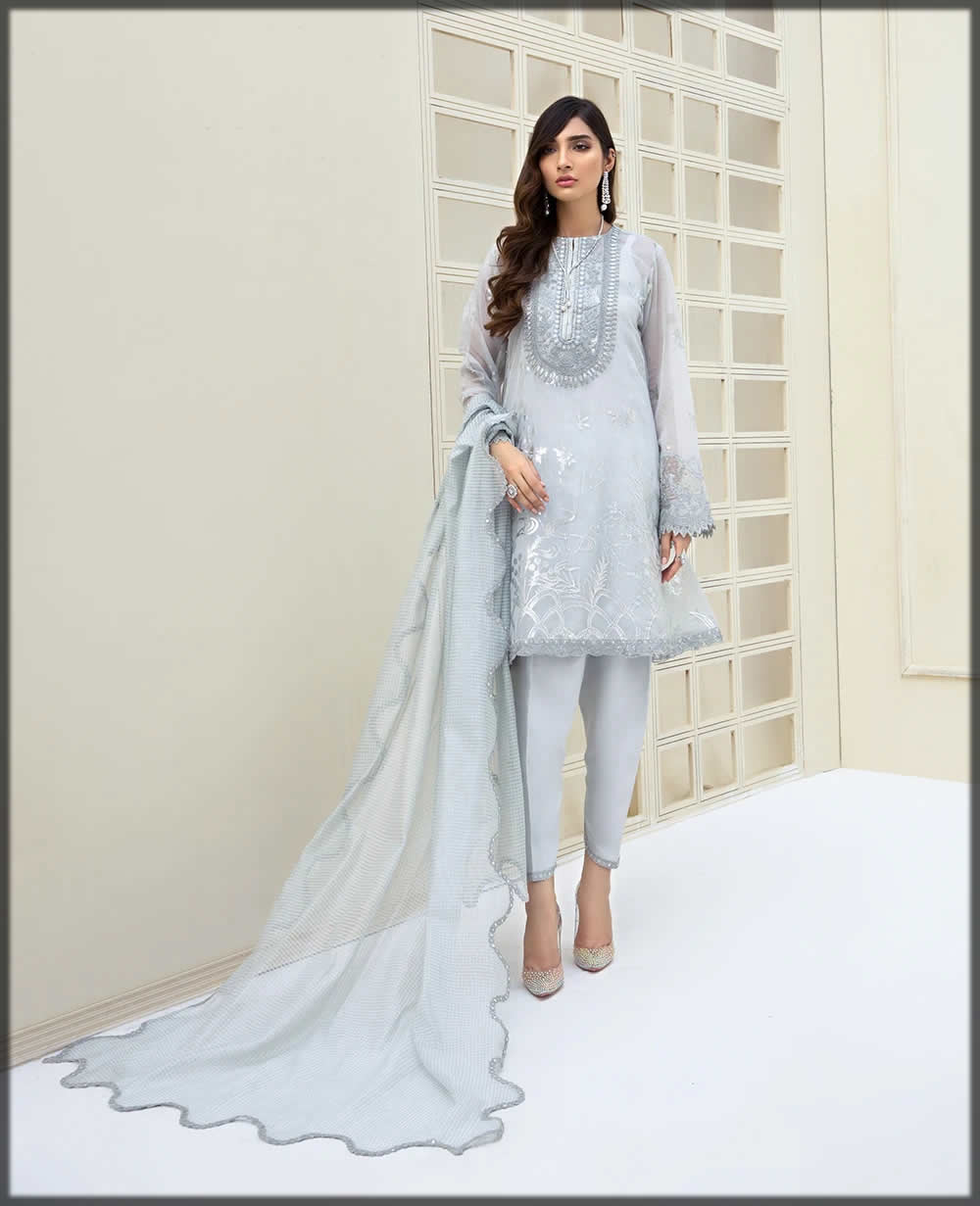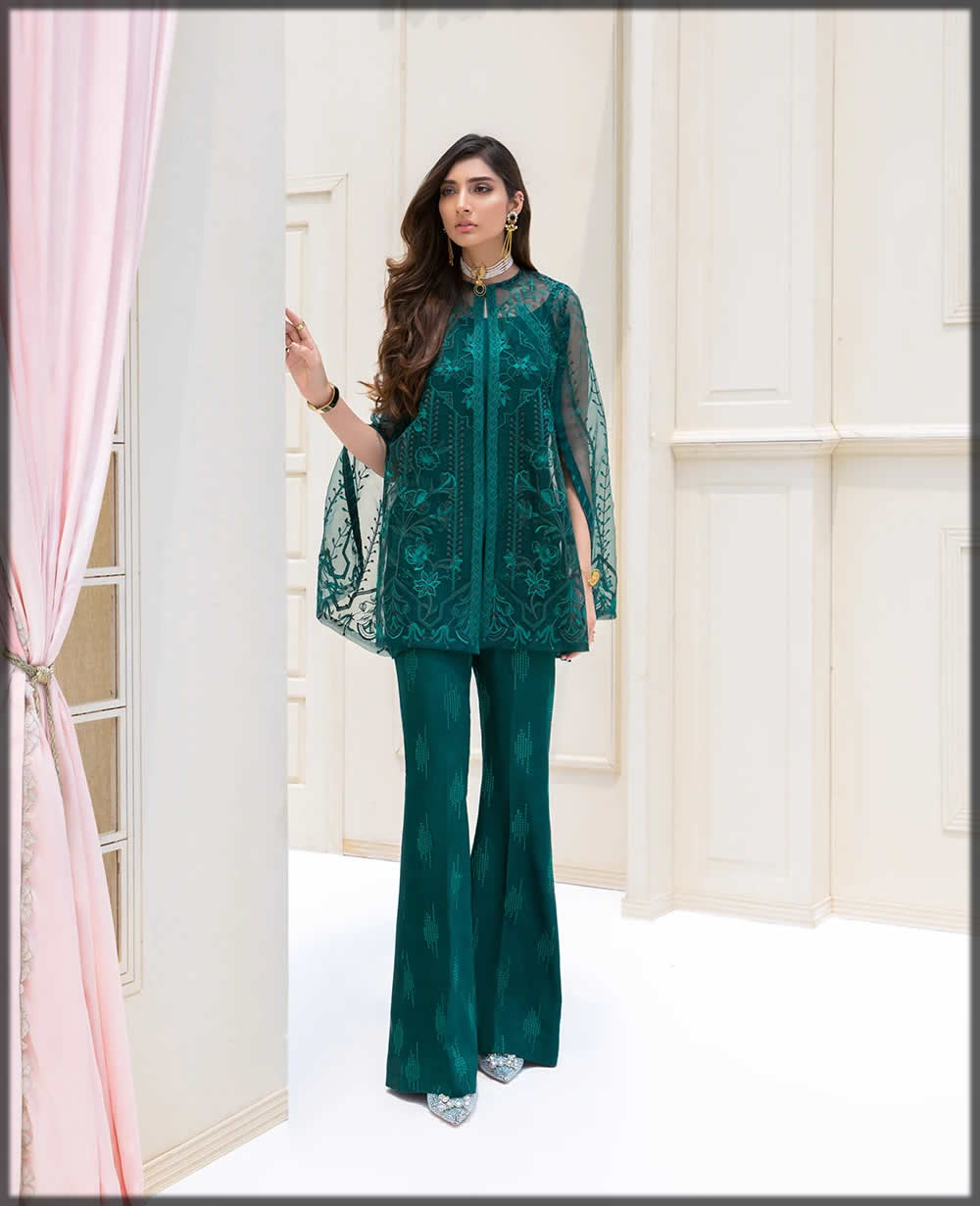 2. Threads and Motifs Chiffon Dresses

In the modern world of fashion, everyone is looking for exquisite outfits. Well, women are always looking for classic and unique decorated costumes. Therefore, the designers aim to give their best in quality and prices. You can get unstitched and ready-to-wear dresses of your choice with the latest suits of threads and motifs. Get yourself an unstitched dress and style it in the way you like. On the contrary, you will have to accept the pret styles in the way they are already made for you. Own yourself and stay classy with the following outfits.

Are you looking for a trendy designer dress? Here is an incredible variety of chiffon dresses by the famous threads and motifs. Also, you can explore the Threads and Motifs lawn collection with prices here. It has a variety of outfits for both men and women. Have a look at the trendy and vibrant attires below. Indeed, the flaunting and modest styles will bring blazingly glamorous looks to your personality. Plus, you will be able to stand dominantly in the galaxy of individuals. Please give it a thought and enjoy your event to its fullest.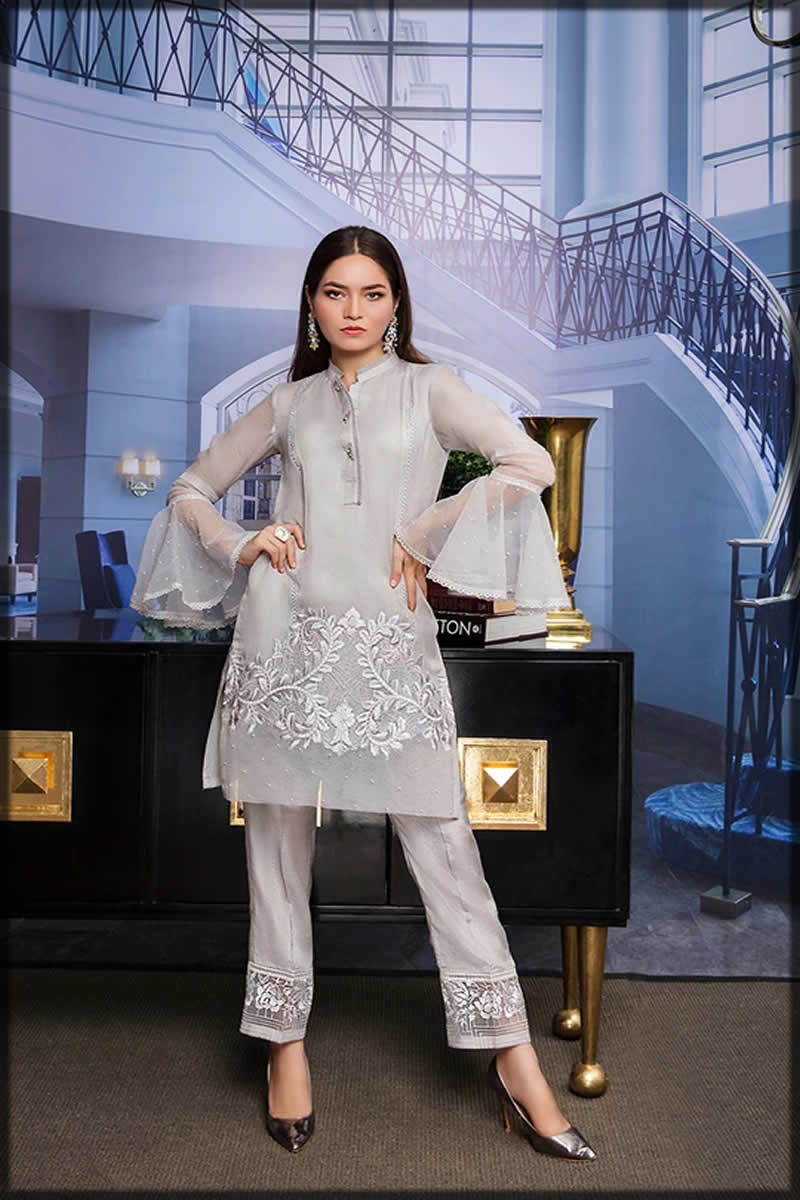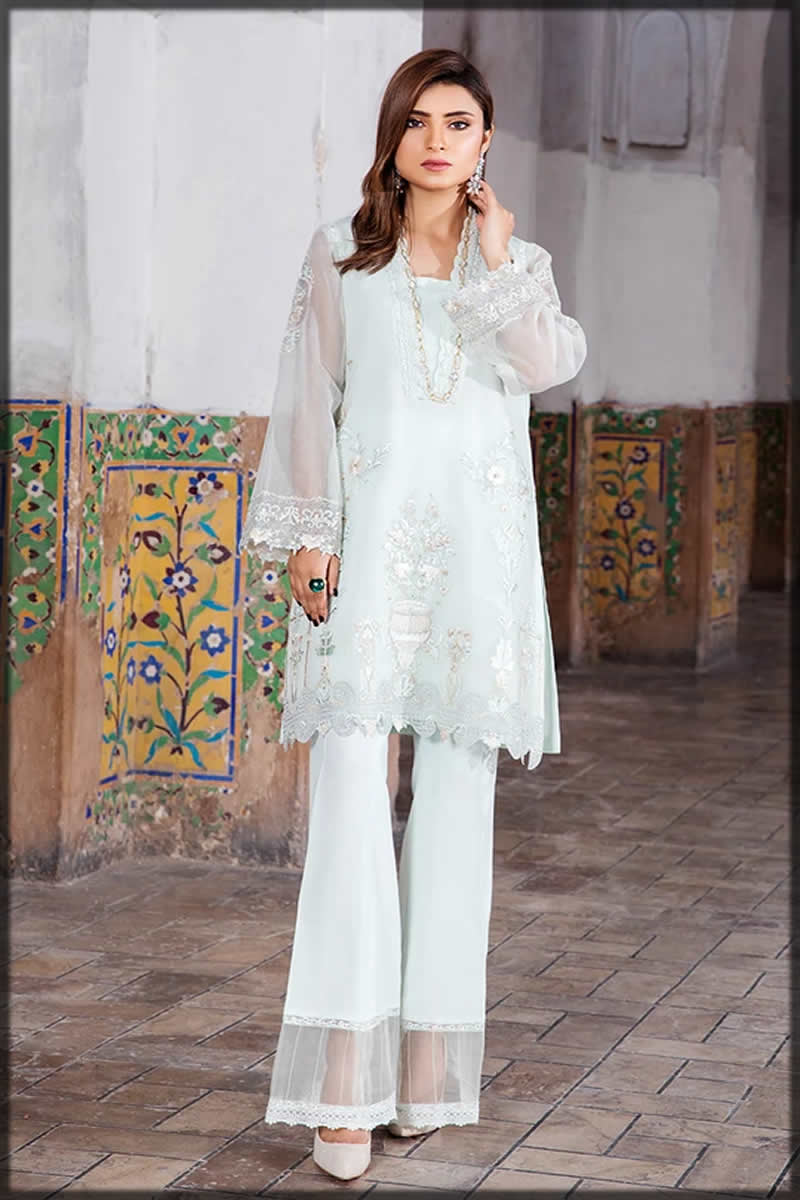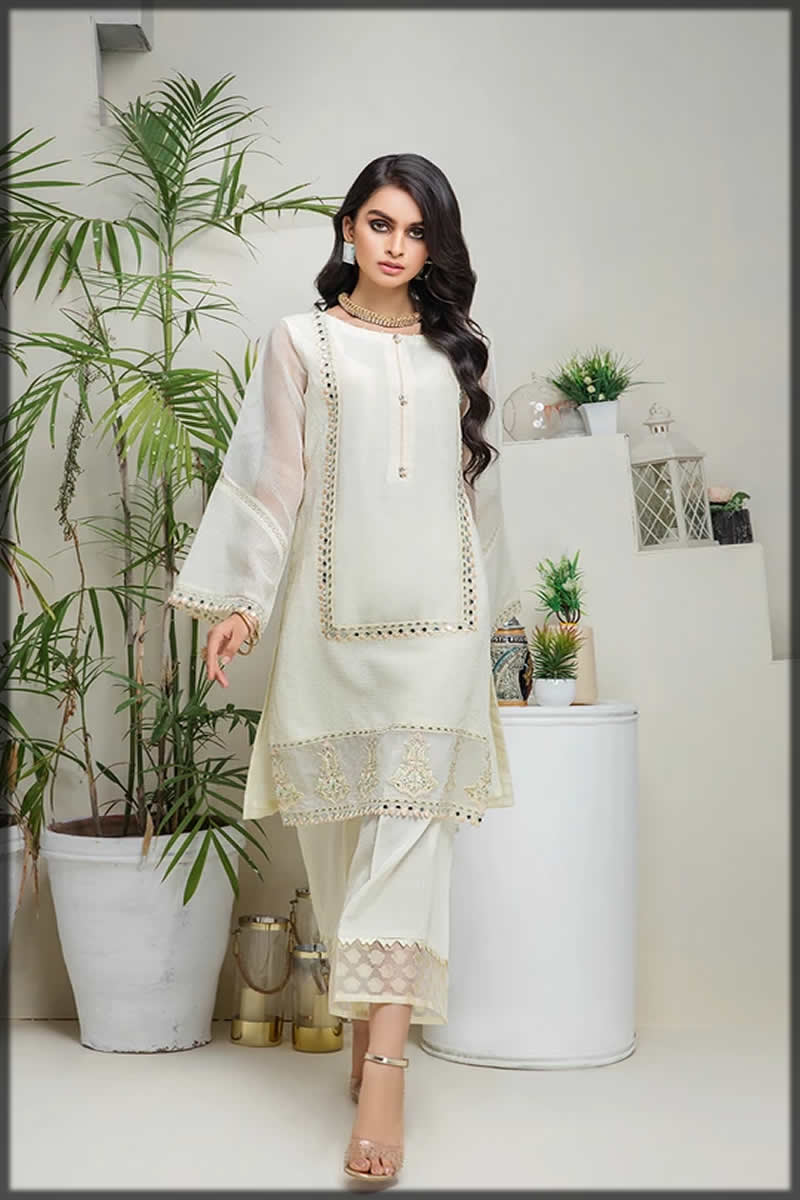 3. Zainab Chottani Chiffon Collection

Zainab Chottani is a well-known fashion designer in the fashion industry of Pakistan. Also, she is a leading designer across the nation for her beautiful creations. This prestigious brand has luxurious collections in all categories. Mainly, the brand is famous for its exquisite bridal collection. Check the latest Zainab Chottani bridal dresses for phenomenal bridal wear. You will find unique and glamorous bridal dresses here for a fantastic look.

Further, they decorate their dresses according to the latest trends and traditions. There are a variety of fabrics used by the brand in crafting vigorous clothes. Check the Zainab Chottani summer collection, for instance. The portfolio is featuring the very versatile and gorgeous Sonya Hussayn along with the other models. However, here are some chiffon attires for women. Have a look at the fabulous chiffon dresses for yourself below.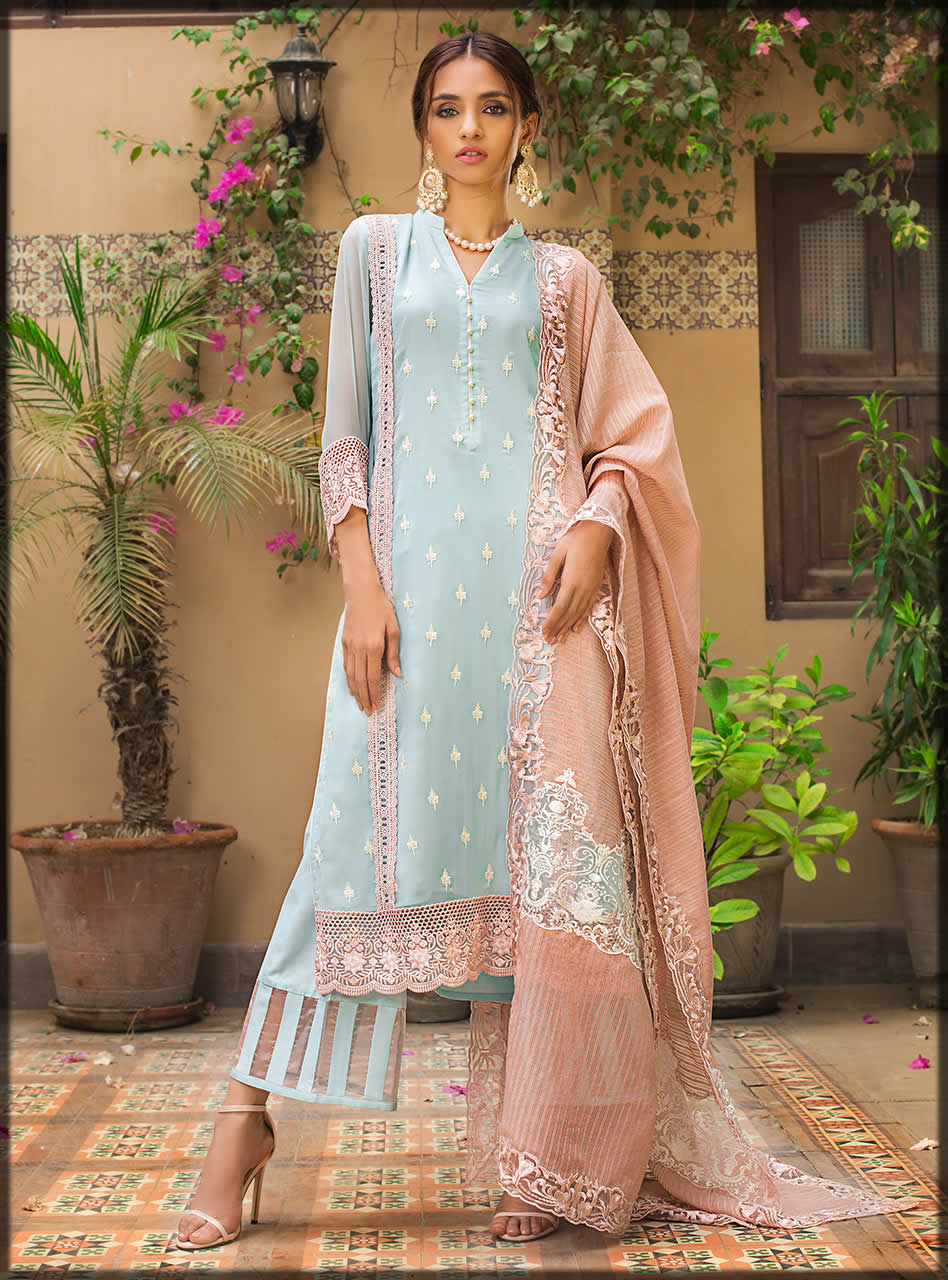 4. HSY Designer Chiffon Suits Collection

Hassan Shehryar Yasin is known as HSY. He is among the leading designers in Pakistan. Well, he is famous for his bridal dresses. However, his apparel collection is a wonderful mix of casual and formal outfits for both men and women. Do you want to explore his classic bridal collection? Check the fantastic HSY bridal collection for up-to-date bridal dresses.
Further, the brand has authentic dresses for casual, formal, and wedding wear. The embellishment of artwork on dresses engages the public. Moreover, the incredible decoration makes the dress look phenomenal. So, have a look at the following chiffon attires by HSY. The flaunting patterns and artwork will engage you enough to buy them.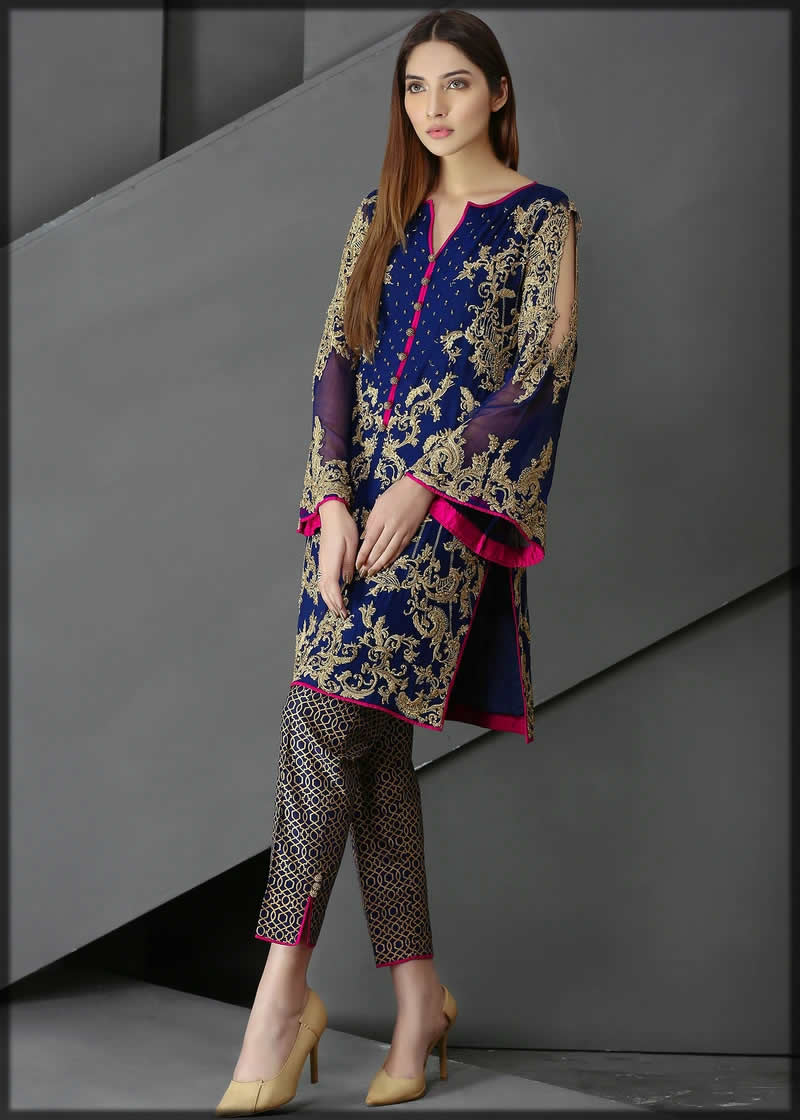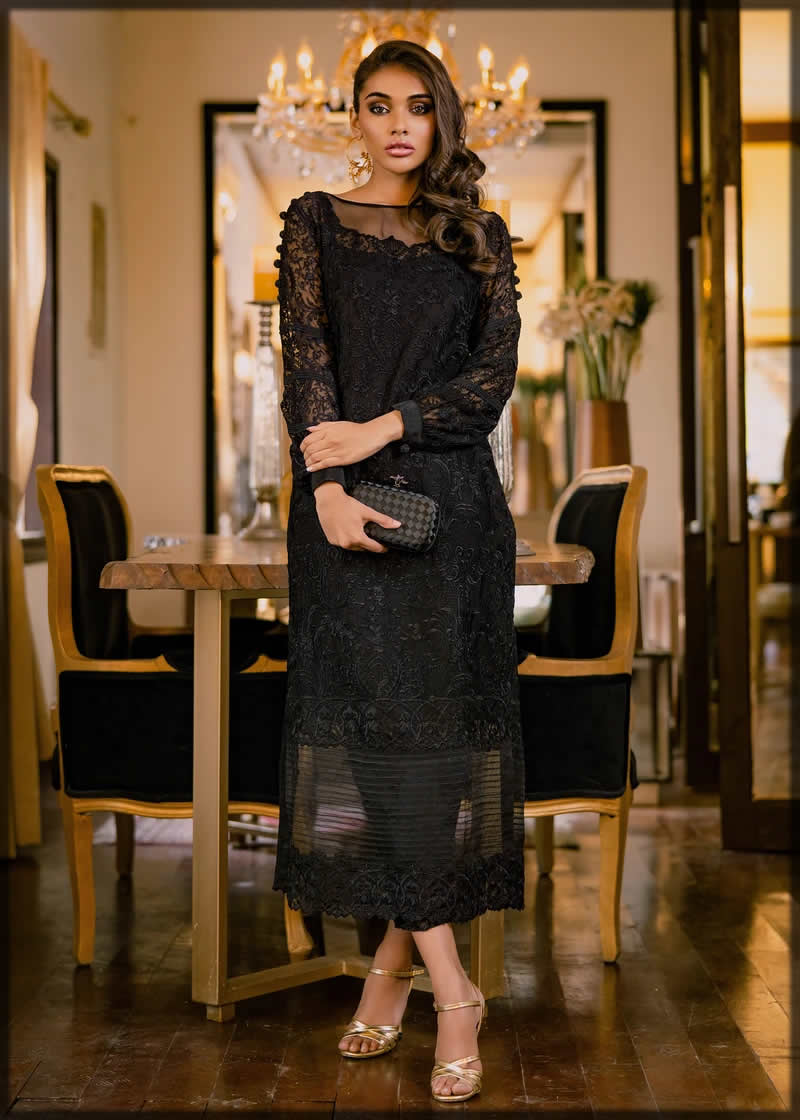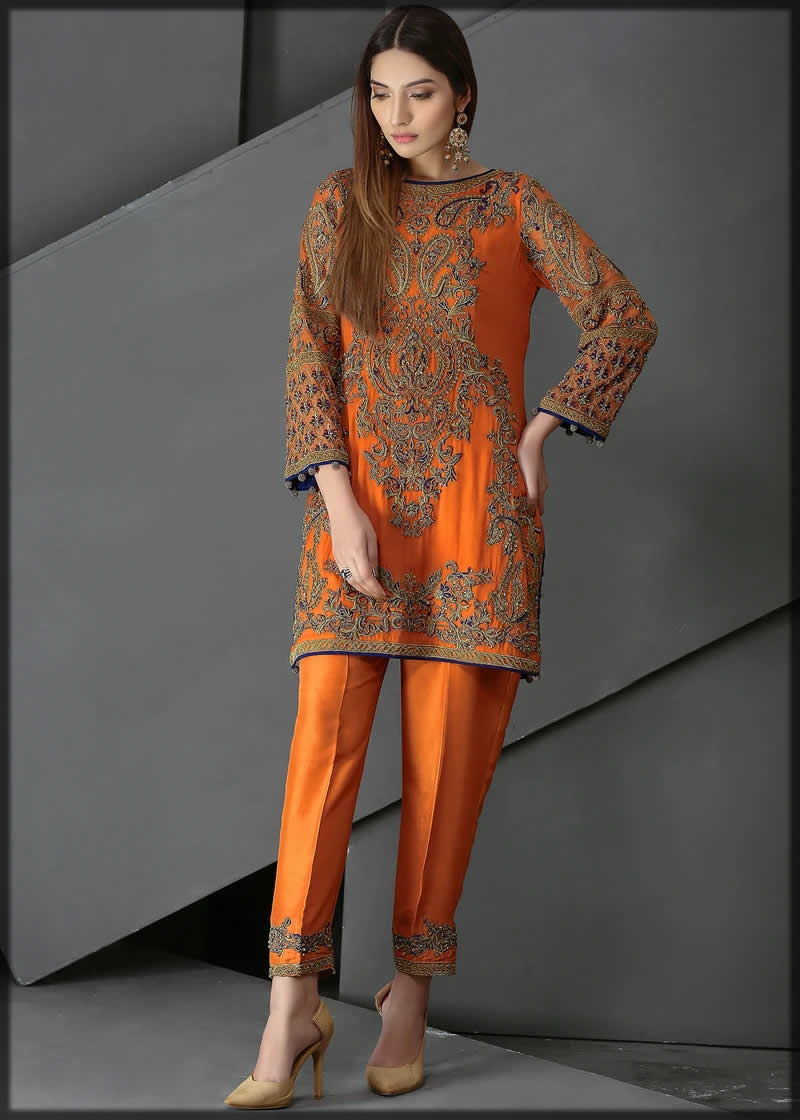 5. Asim Jofa Designer Chiffon Suits

Asim Jofa is among the popular fashion designers in Pakistan. His assortment is reasonable and versatile. Therefore, women and many celebrities opt for Asim Jofa to get a classic wardrobe. Over the years, the brand has launched incredible designs with up-to-date trends. Its collection includes:
Embroidered collection.

Chiffon collection.

Wedding wear.

Western wear.
However, here we are, showcasing the chic chiffon collection. Let's have a look at the breathtaking collection below. This collection will surely break all the stereotypes fabulously.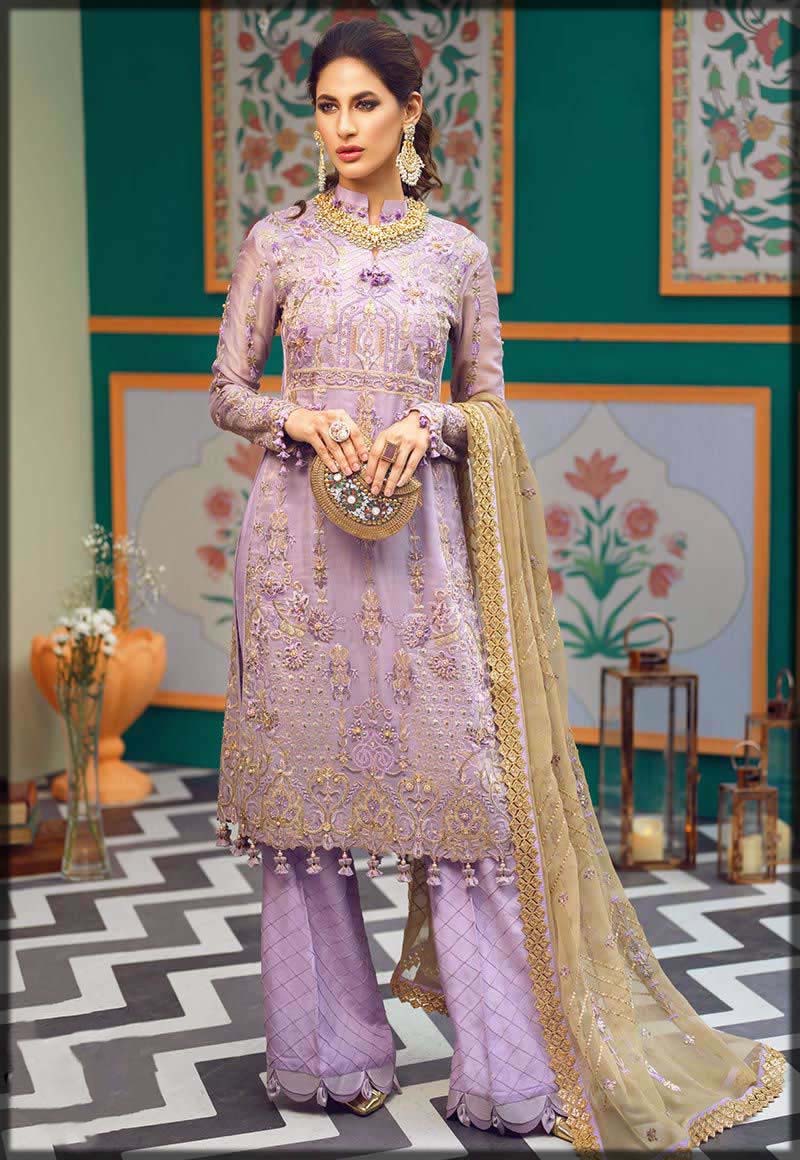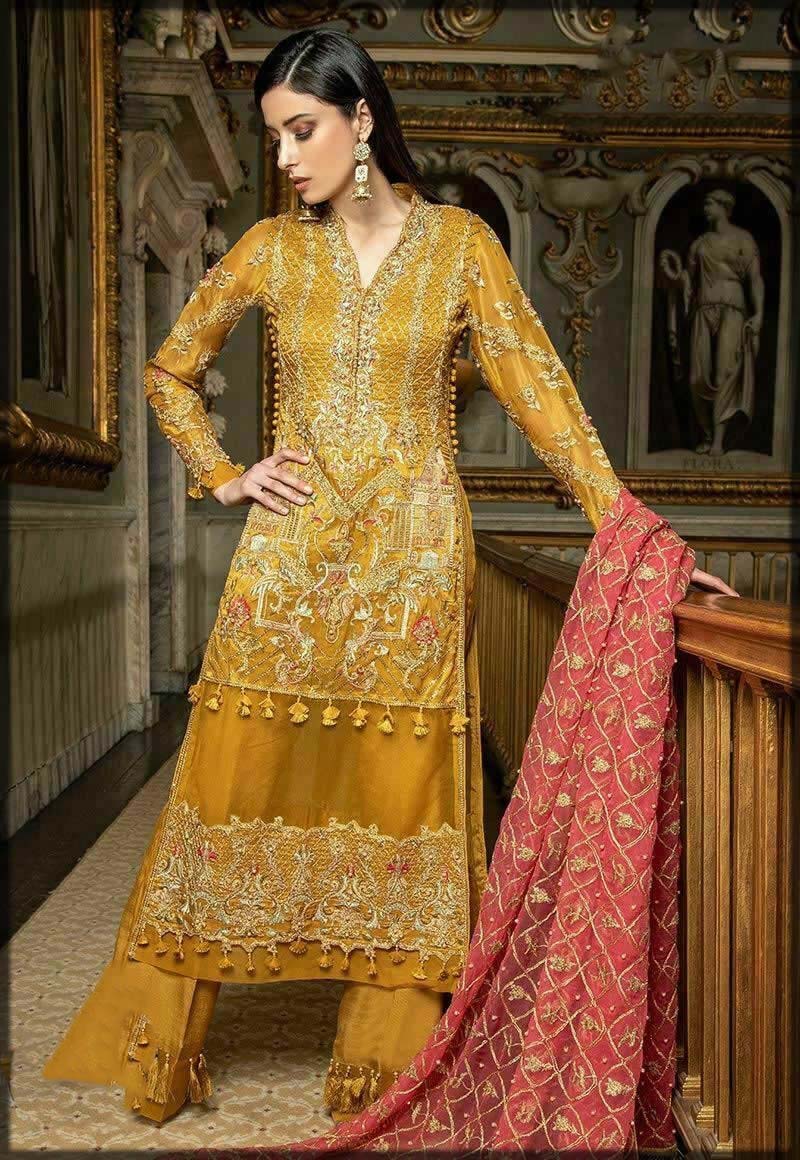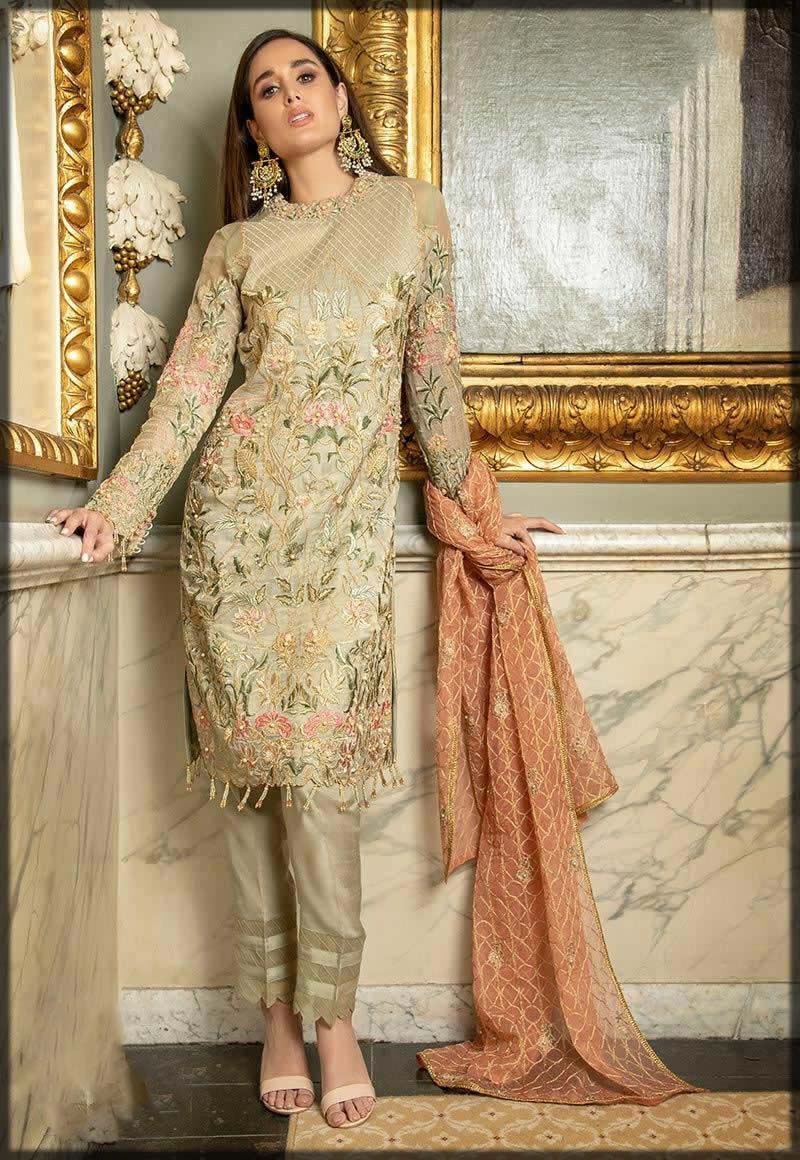 6. Agha Noor Chiffon Collection
The famous Agha Noor was launched in early 2011. Two young sisters, Agha Hira, and Agha Noor, are the ambassadors of this prestigious brand. Well, in a short period, the brand grew big and famous across the nation as well.
In the growing era, the brand has affordable prices. Therefore, women always go for a wardrobe by Agha Noor for its low prices. These two sisters solely craft the collection. Their clothing categories include:
Unstitched.

Ready to wear.

Formal wear.


Casual wear.
Let's have a look at the beautiful and vibrant chiffon collection below. However, the overall clothing collection of Agha Noor contains net, organza, and satin fabrics too. Explore the vivid image gallery below.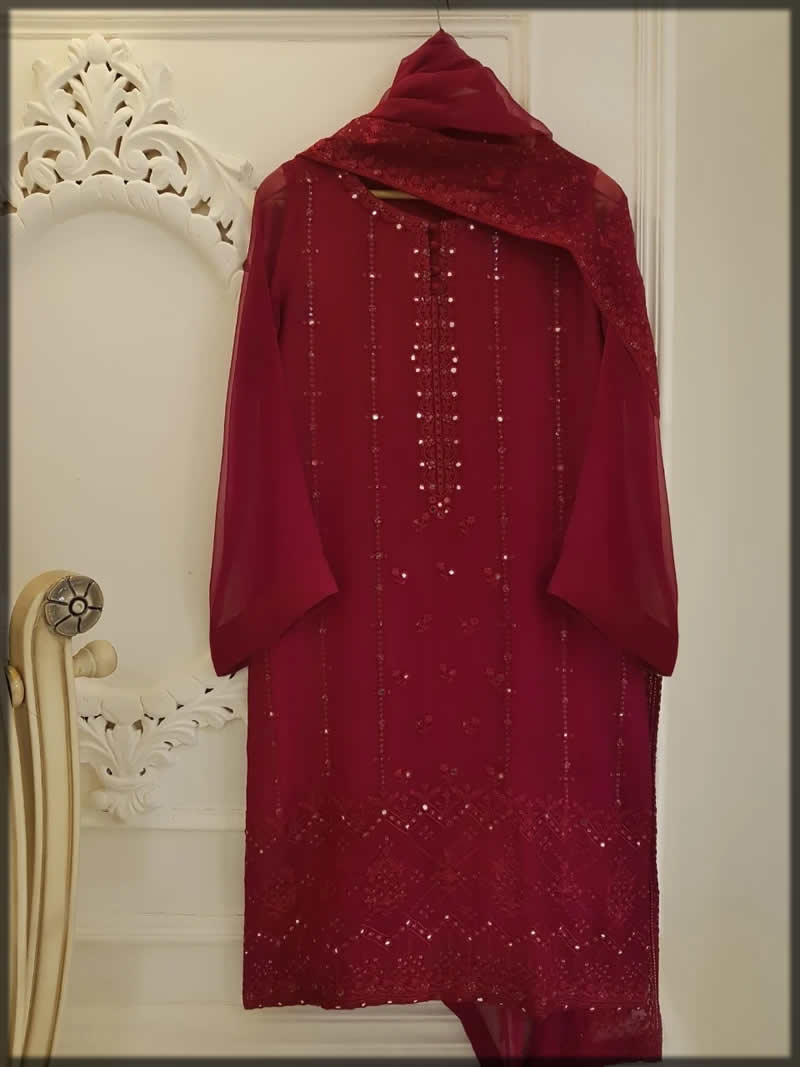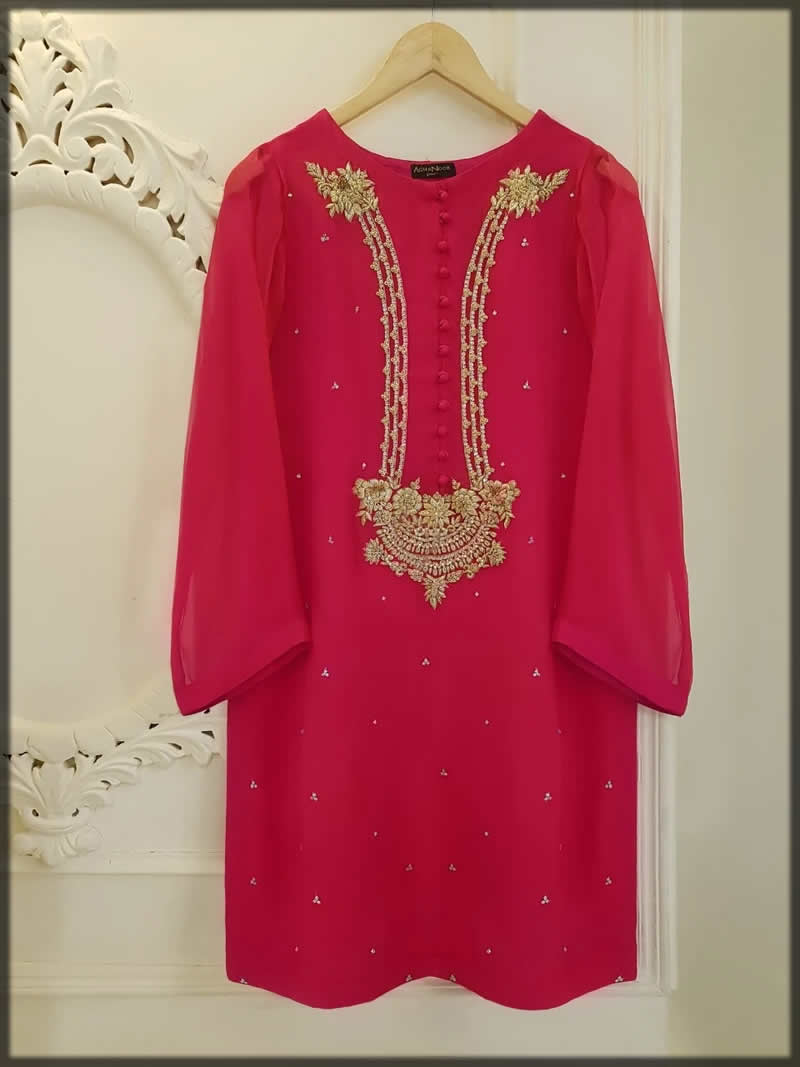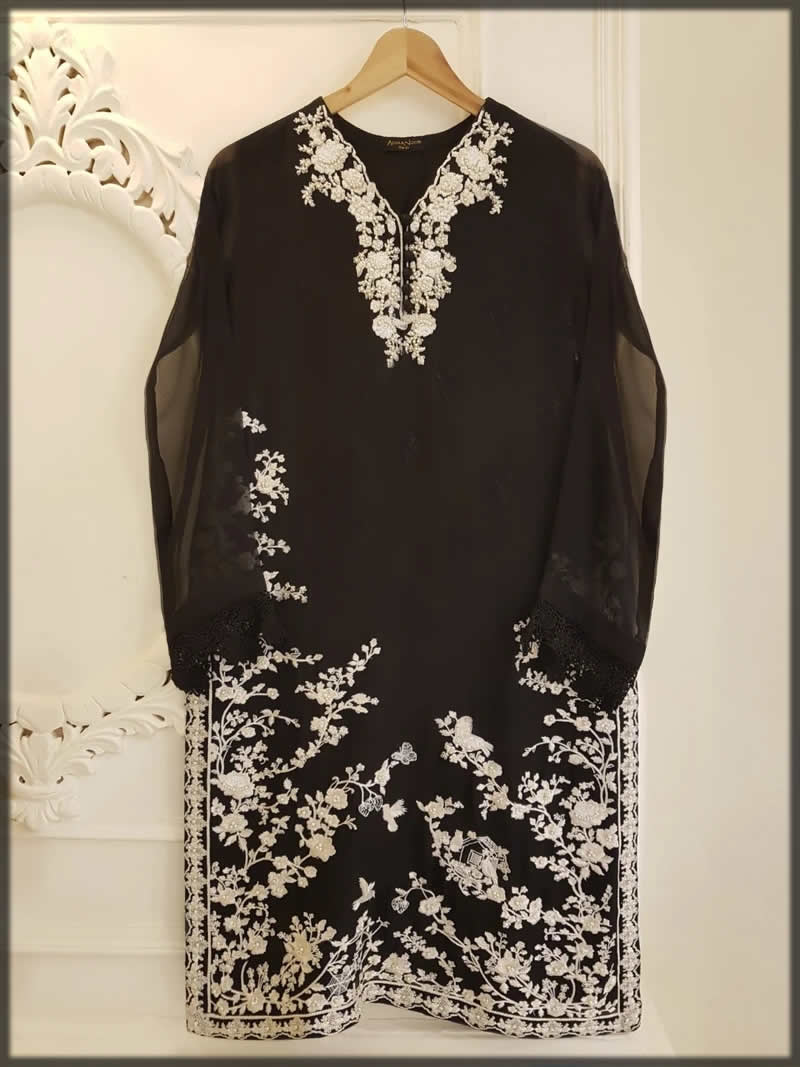 7. Nomi Ansari Designer Chiffon Suits

Finding the ideal outfit that suits your character is always a difficult task. Therefore, designers make it easy for you to view the collection online and buy them. Nomi Ansari is among the outclass fashion designers in Pakistan and around the globe. Well, his clothing collection includes:
Luxury lawn.

Formal outfits.

Semi-formal dresses.

Chiffon collection.

All of the dresses are available online and at stores. However, here is a staggering chiffon collection for you. Check out the image gallery below.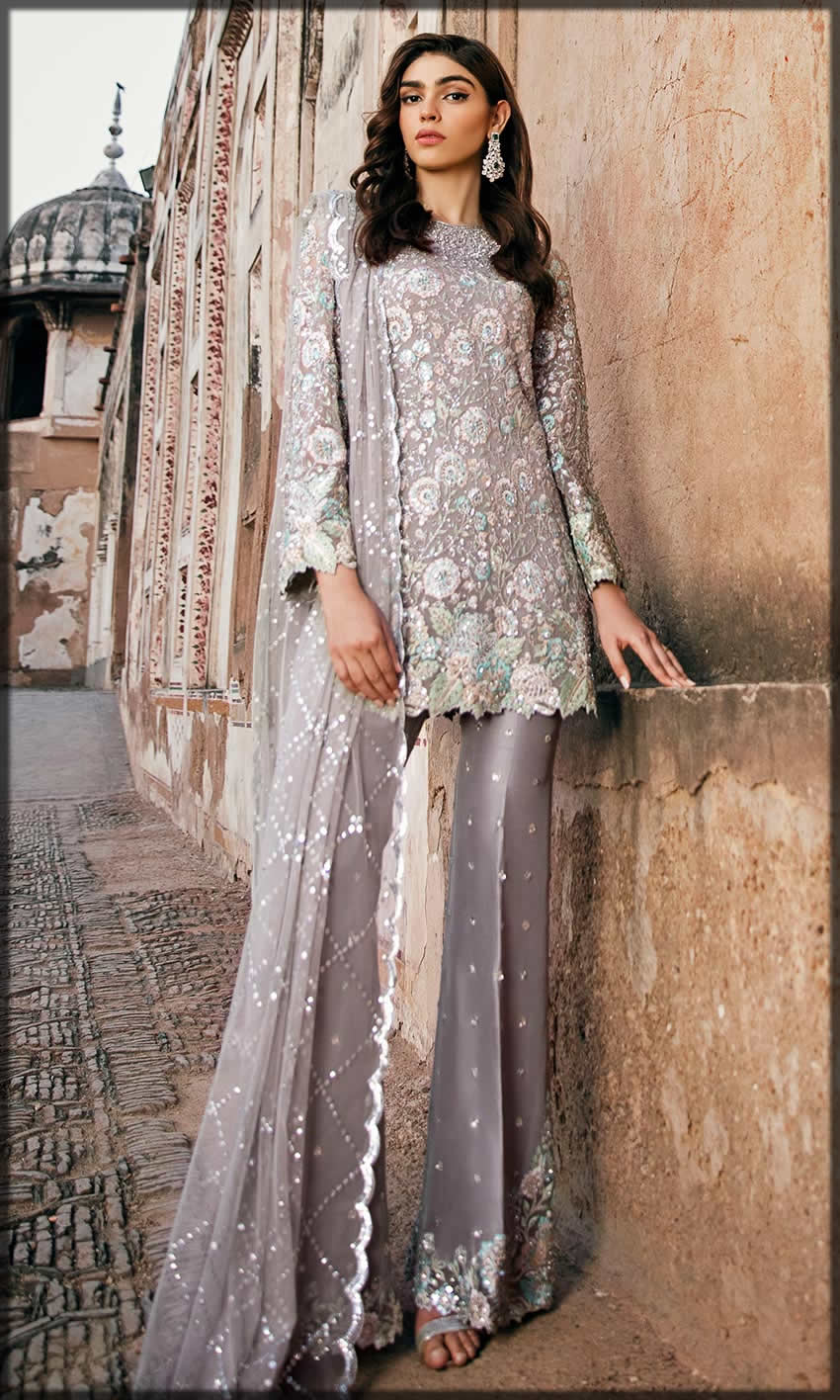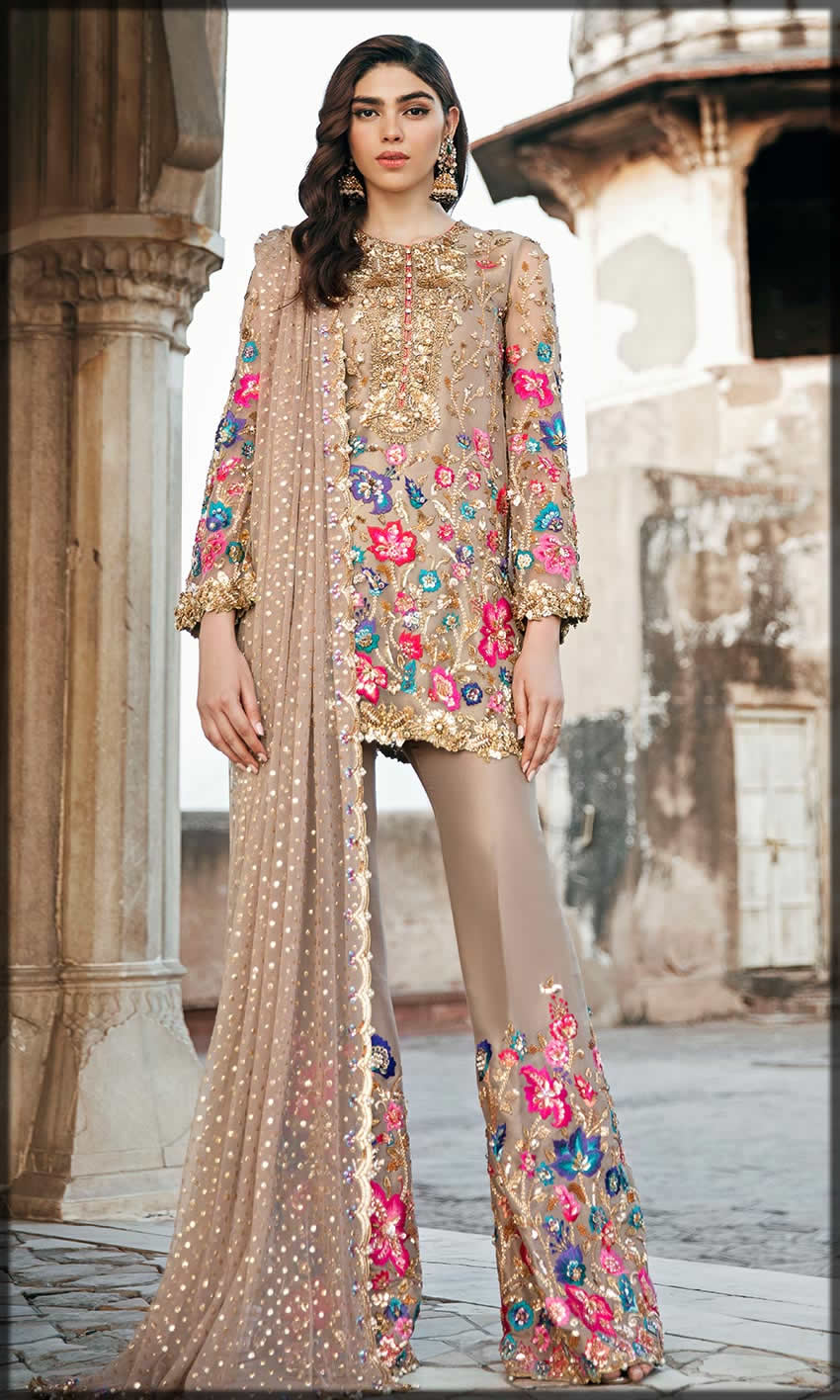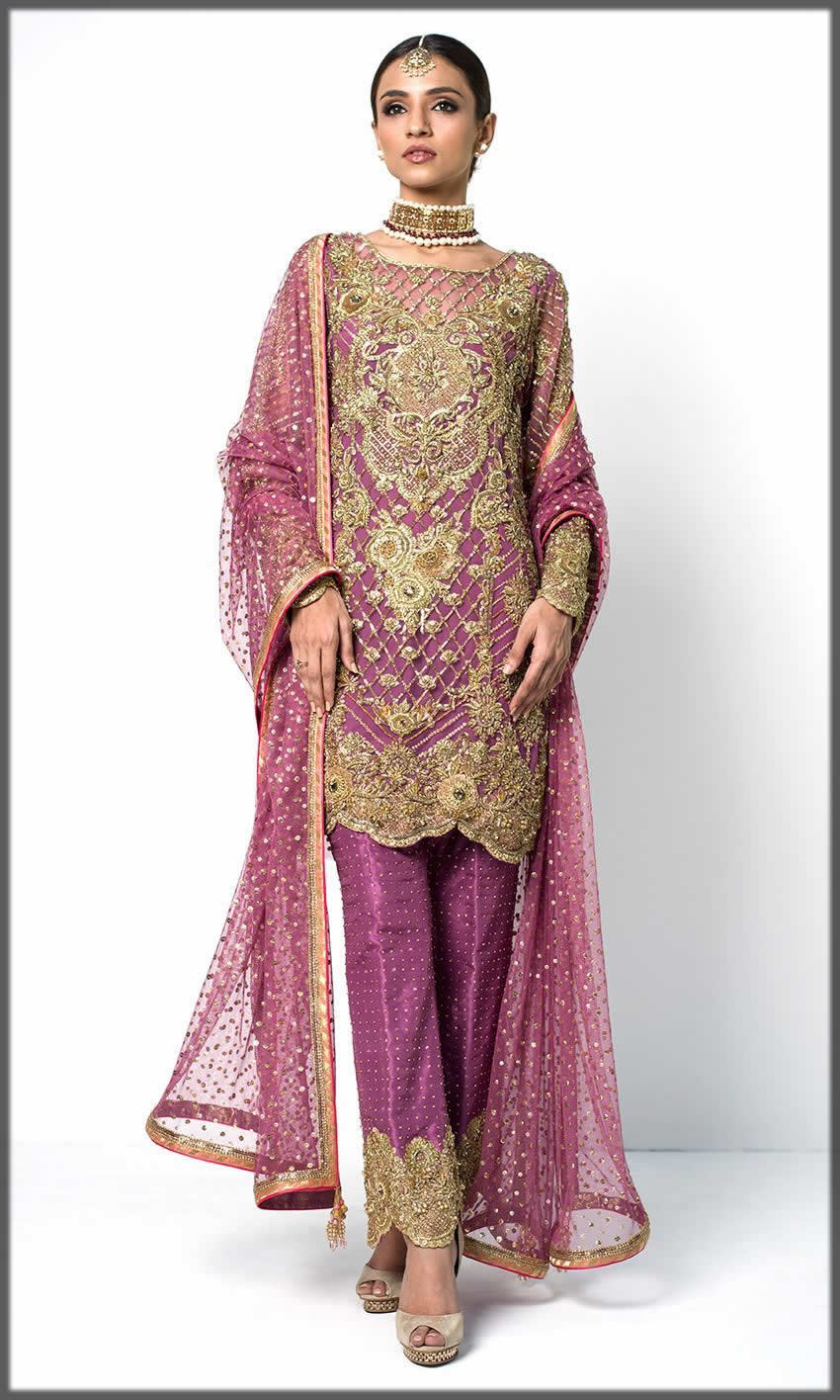 8. Tena Durrani Luxury Chiffon Outfits
Women always look for top and fashionable brands to look jazzier. Therefore, they prefer the famous and fashionable brands to have a fantastic collection. Tena Durrani is by far the most popular designer in Pakistan. There is also a wide variety of dresses in the catalog. These are:
Besides, it has fantastic essential and luxury lawn collections for the scorching summer season. Have a look at the signature dresses by Tena Durrani here. The mesmerizing chiffon dresses will make your day memorable.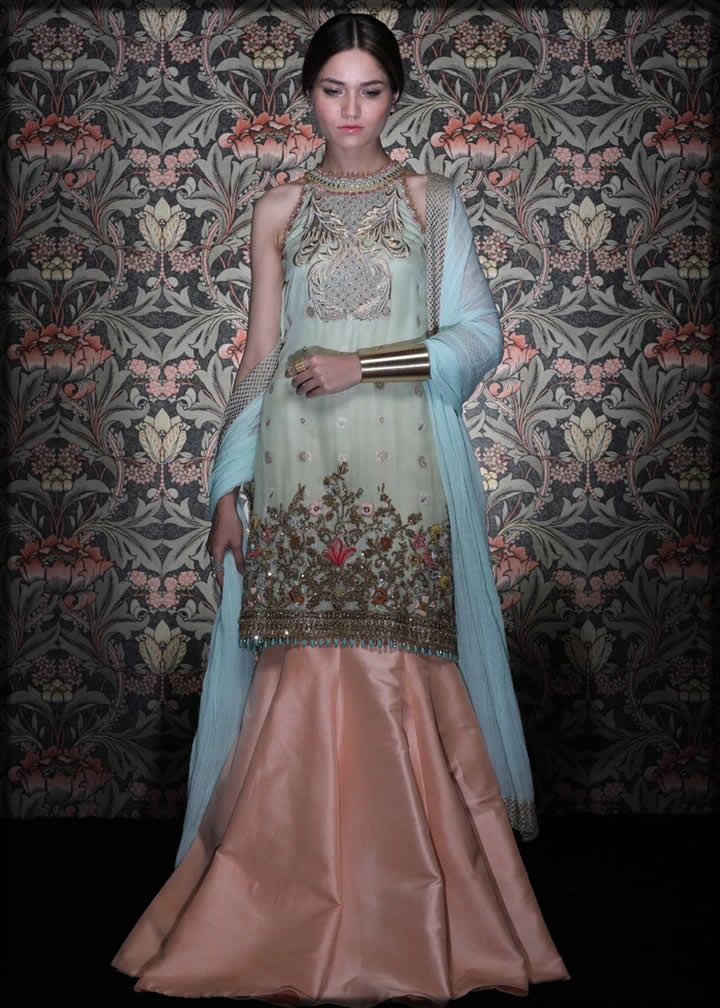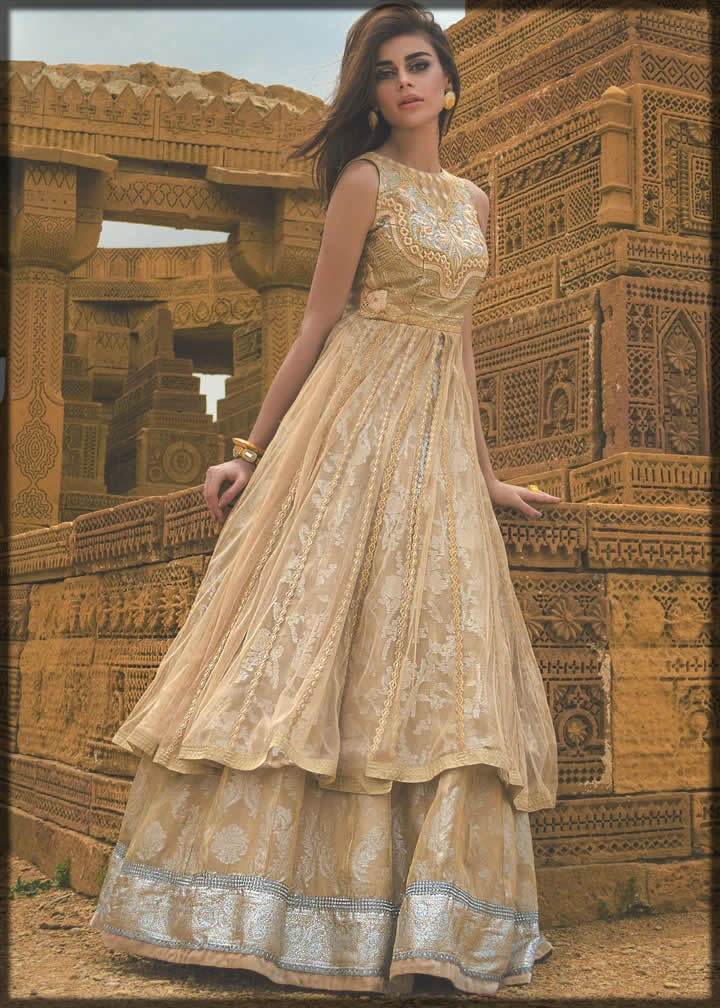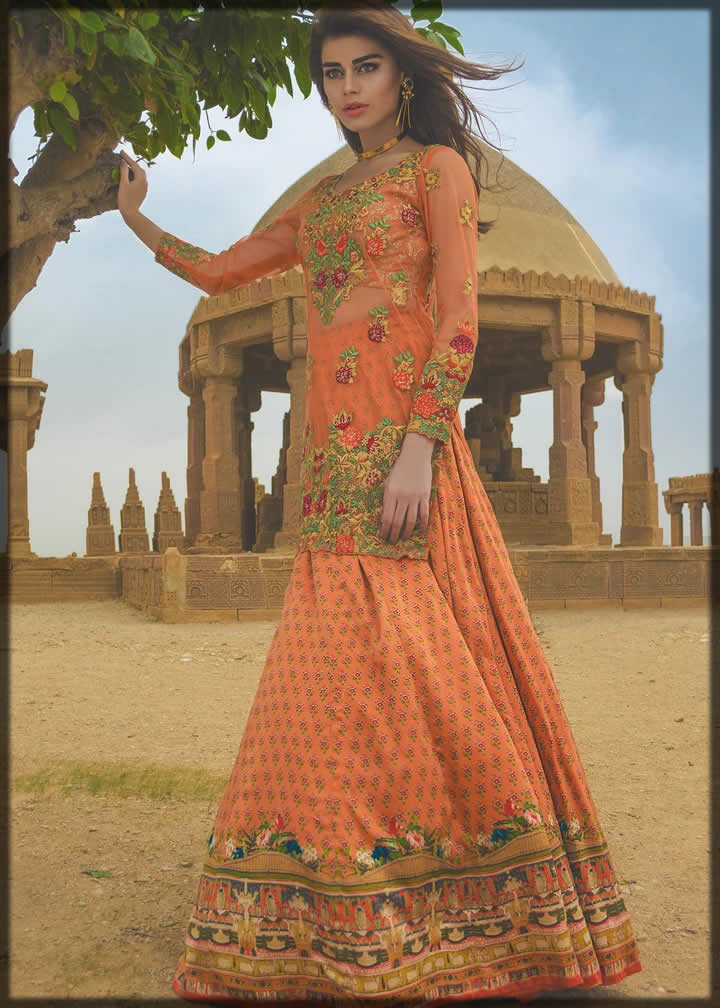 Some Care Tips for Chiffon Fabric Outfits
Whether you are wearing a casual or a formal dress, care is a must for every clothing type. Usually, people treat different kinds of clothes in the same way. Let me tell you that every outfit has a different fabric and texture. The same sun that melts the ice hardens the clay. It implies that every remedy will not work on different clothes.
Therefore, we are guiding you with some pro tips and tricks to keep your designer outfit safe from any damage. Do you want to keep your dress safe and free from any harm? If so, then follow the care tips below. Indeed, they will work for you.
Always iron your chiffon dress at moderate temperature. The high temperatures will burn the fabric, making it inappropriate to wear.

Further, do not wash your fancy outfit in a washing machine. Instead, go for a hand wash technique. Rub the fabric gently to avoid any damage.

I prefer dry cleaning to retain your outfit for a more extended time.

Do not use any bleaching agents while you are cleaning your clothes.

Plus, avoid exposure to sun rays for long peak hours. Remember one thing that sun rays will fade the color of your dress and will make it dull.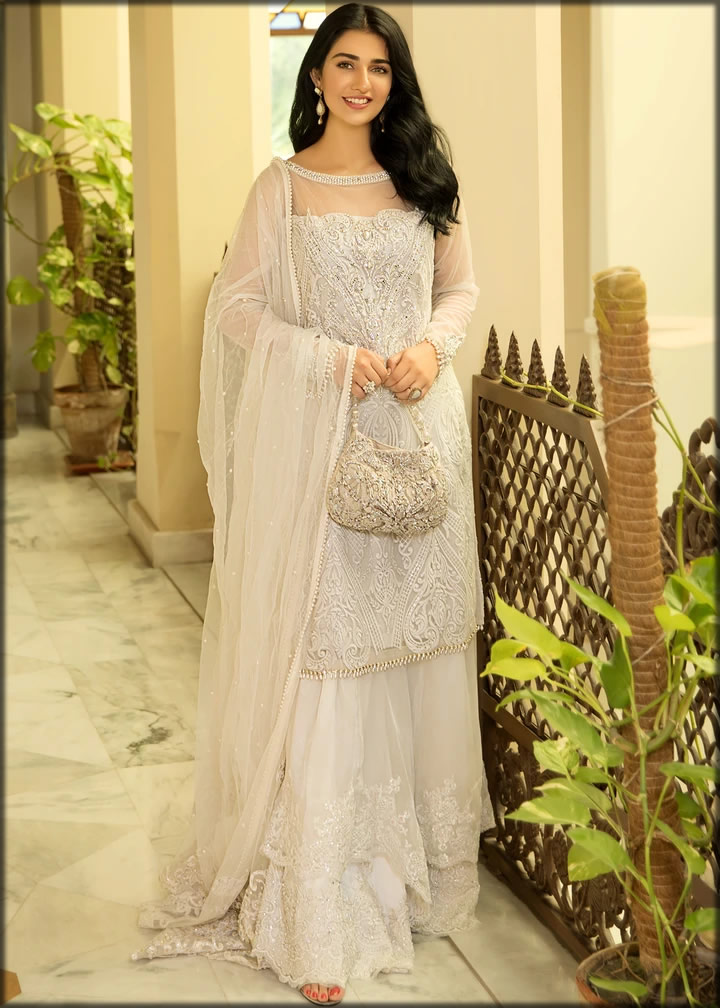 So, here are fantastic chiffon dresses for women. Moreover, mesmerizing outfits will draw attention towards you. Furthermore, beautifully crafted suits with unique decorations of gemstones and pearls make it more staggering. Moreover, let's extract a little time to explore the chiffon collection by the top designers of Pakistan. I hope the collection contains all the desired styles for you.