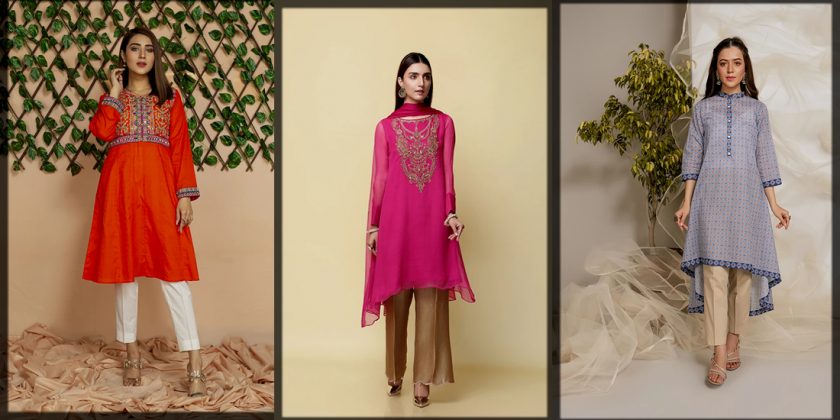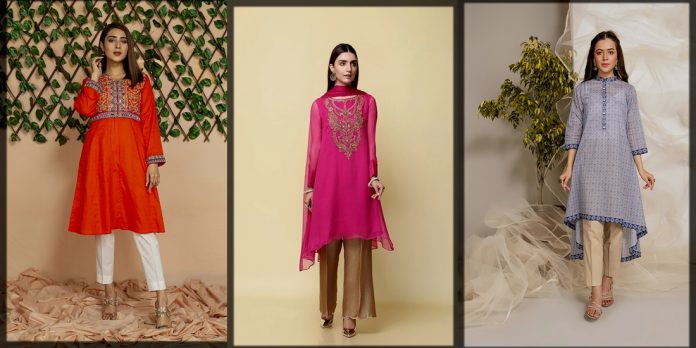 Chinyere is a Lahore-based brand, which was founded in 2000. The latest Chinyere summer collection gives you comfort during the sizzling days of summer. The newest summer lawn collection of this notable brand contains different varieties, including Kurtis, 2-piece, and 3-piece suits. Have a look at this blog to check its complete ready-to-wear catalogue.
If you have no clue about the brand, let me reveal that Chinyere is working in Pakistan for many years. The valuable thing about this brand is that it has uniqueness in garments and designs with the goal that clients can get whatever they want. This season Chinyere offers eastern-style attires with a western combination that enhances your personality and appears dazzling and beautiful.
Every dress is made with quality work and impressive consideration as per the most popular trendy designs, as you can see below. Chinyere furnishes every new outfit with moderate costs, quality fabrics, remarkable patterns, and fantastic color palettes. You will receive dazzling printed and embroidered ready to wear dresses in the most striking patterns and designs in its latest collection. Let's get started!!
Latest Chinyere Summer Lawn Collection for Women (Full Catalogue)

As you probably know, the women consistently search somewhere they can discover something new and exciting. Chinyere summer collection is launched with stunning patterns. Therefore everyone is excited to see its latest collection. You can get the two-piece, three-piece, and kurta dresses at a very reasonable cost. The summer collection of Chinyere has:
Formal Summer Attires

Casual Printed Summer Attires

Latest Bottoms Designs
If you love to wear lawn and cotton suits in the hot season, try the latest collection of Chinyere. Moreover, these dresses are not too expensive and are specially designed to wear in the summer season. For more collections like this, you can visit the Zellbury summer collection.
Chinyere Pret/Stitched Summer Dresses – New Arrivals

Chinyere new arrival contains stunning attires in the lawn, silk, and cotton fabric. You will feel great and comfortable in these suits. The brand gives a colossal number of ladies' choices because they know that ladies always want to wear unique patterns. The shades of this brand's garments are engaging, and you can make yourself exceptional by wearing dresses from this brand. For more new dresses for the summer season, check out Limelight summer collection also.
Three-Piece Printed Lawn Suits
Lawn dresses are the first preference of men and women in the summer season because everyone prefers a comfortable and soft outfit. This brand has the best three-piece lawn summer suits in bright colors, as you can see below. Look at the following three-piece summer dresses of Chinyere that will enhance your look and make it more stunning. This three-piece printed lawn collection by Chinyere is paired with a chiffon dupatta and plain cambric trousers.
Two-Piece Lawn Dresses (Shirt + Dupatta)
If you don't like to wear heavily embroidered dresses at that point, try these two-piece printed suits. You will receive the best-printed dresses with alluring and eye-catching designs in the latest collection of Chinyere. Explore the two-piece (shirt and dupatta) collection below and get the beautiful lawn printed dresses in the unique tints.
The shirts are fully printed from the front and sleeves and paired with chiffon printed dupattas to complement the outfit. You can pair your printed dupatta and shirt with the plain trouser as per your choice and need. Similar chiffon dupattas are also available in Maria B lawn collection.
Casual Wear Shirts for Girls
Here are floral pattern printed shirts for young girls. The front and back of shirts are covered with stunning prints, as you can examine underneath. Bright shades are the most demanded color among the summer color palette because the bright tints are so blooming in the hot summer season. Hence, Chinyere used bright hues to make its summer collection most impressive and breathtaking. In the latest collection of Chinyere, you will get the single Kurti in the following patterns:
The cuff, daman, and gala of this shirt are enhanced with broad print. 

Full sleeves are covered with self-print, and cuffs are digitally printed. 

The neckline is broadly printed with the best design.
You can get stunning shirts from the Nimsay summer collection as well. 
Formal Summer Collection by Chinyere

If you want to participate in the formal get-togethers, then you should have some formal dresses. You can carry formal summer dresses at reasonable prices with quality fabric from the Chinyere formal summer lawn catalog. The formal attires by Chinyere are furnished with the string work and weaving. This season Chinyere offers the following dresses styles:
Heavy Furnished Shirt with Churidar Pajama.

Embroidered Short Shirt with Palazzo.

Nicely Embellished Knee-length Shirt with Plain Capri.
Three-Piece Stunning Embroidered Suits
Go through your mid-season party with exquisite and comfortable lawn suits. Take a look below at the most amazing white outfit that is paired with the colorful dupatta. You can pick this suit for your evening parties and grab the other's attention by applying the nude makeup with red lip color. Further, wear the round hoop and keep your hair open for a jazzier display. Moreover, look at the Maria B evening wear for women.
Embroidered Shirt and Dupatta for Young Girls
Chinyere has the latest and modern patterns with the best fabric stuff in two-piece attires. You can see the vibes of a two-piece embroidered collection, such as following pink and pine green lawn shirts which are prettily paired with chiffon net dupattas. The following two-piece embroidered suits by Chinyere will encourage you to look more graceful and classy at any function. You can pair contrasting trousers with these shirts and enjoy the formal gatherings freely. Moreover, you can explore the Bareeze summer collection for more similar outfits.
Formal Party Wear Shirts for Women
Chinyere is also offering a large number of decent patterns and styles for young girls. Youngsters prefer to buy single shirts instead of two or three-piece suits. Therefore for their ease, Chinyere has launched single shirts in its seasonal collection. For more formal shirts, visit the Generation summer collection.
Here you can see embroidered shirts in the below images. The neckline of these shirts is decently embellished. The modern cuts and layers make them more chic and modest. These shirts are looking so elegant due to their simplicity and light work. The necklines styled with decent white and golden pearls are enhancing the beauty of the shirts. If you are in a hurry and you want to get the classy shirt at that point, go to the Chinyere store and grab your favorite shirt.  Also, visit the modest variety of Charizma summer lawn dresses.      
Yarn-dyed Jacquard and Lawn Karandi Outfits
If you want to modify yourself with a modern dress, try the yarn-dyed jacquard and lawn karandi shirts that are nicely adorned with thread and mirror work. You can pick any shirt from the Chinyere store and make your look more decent and stunning by wearing lightweight makeup and minimal adornments.
Funky and comfortable apparels provide us glam and satisfaction. You can pair jeans, tulip pants, or soft tights with these shirts. In the casual routine, you can pair these shirts with simple straight pants. Casual shirts by Ethnic by outfitters are also worth your money check them as well.
Latest Bottoms Designs for Ladies by Chinyere

Chinyere also has the latest and stylish bottoms in its summer collection. In the catalog of Chinyere, you will get the bottoms in the following styles:
Trouser

Capri

Bell-Bottom

Shalwars
Pick any style as per your dress and choice. You will get the trousers in two basic colors, white and black. If you don't have enough time to visit the market, you will get your outfit at your doorstep by ordering online. Yes!! Like the other notable brands, it also gives you an online order facility with free home delivery. 
As you know, summer is just around the corner, so get funky, fresh, and beautiful suits for your summer wardrobe. If you want to look pretty, modern, and stylish, then try the Chinyere summer collection. You can enjoy these multi-patterned suits at a reasonable cost. These type of dresses should be part of every girl's closet for sure!