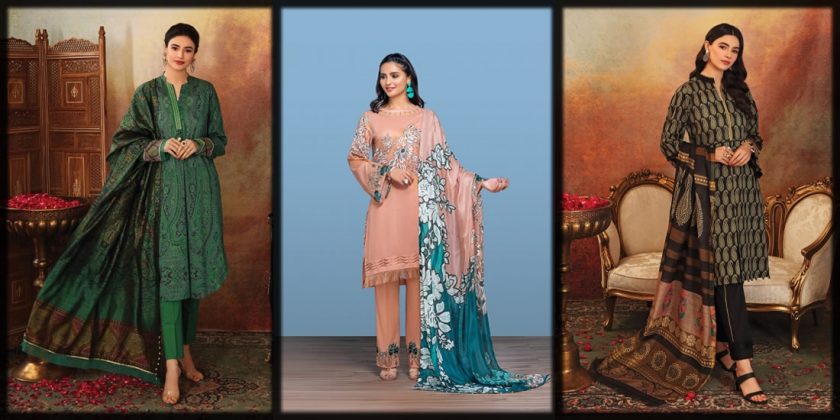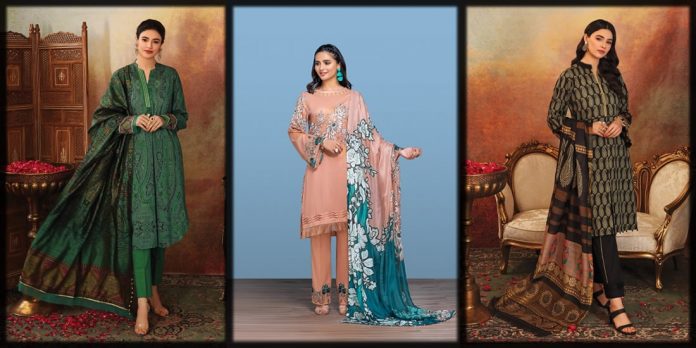 Modern women can not stick to the same fashion every time. Instead, they search and try to opt for a new style for getting attractive looks. Therefore, Pakistan's clothing brands and fashion designers struggle to create youthful styles for both men and women. Eid is a holy occasion that is celebrated by the Muslim Ummah twice a year. Here is the latest Nishat Linen Eid collection to facilitate women with beautiful prints and designs.
Eid is sunnah on which the Muslims celebrate the blessings of Almighty Allah. Therefore, millions of people fast during Ramzan and get Eid-ul-Fitr as a gift, and on Eid-ul-Adha, Muslims follow the Sunnat-e-Ibrahimi to make the Lord happy and follow their beliefs. It is neither the flesh of the animals that reaches Allah. Also, it is not the blood that makes Allah pleased, but your piety makes HIM happy. Also, one looks for a graceful outfit to make their holy event much memorable.
Are you ready to explore the fascinating Eid dresses? If so, then give some rest to your fingers and take a pause. You will discover a couple of delightful ensembles in the following image gallery. Nishat Linen Eid collection for women is ready to make this year's holy festival much memorable. So let give a big shout-out to the leading brand for this effort.
The Brand History
Business magnate Mian Muhammad Yahya founded Nishat Linen in 1951. Mian Muhammad Mansha is the current Chairman of the brand. The brand provides stitched and un-stitched apparel, so you may choose what suits your refine grace the best. Take your pick from our wide ranges and ever-changing new designs appearing seasonally. This brand has 70 active outlets all over the nation and has an online store so that you can order your desired dress at home.
Stylesnic always appreciates fashion and quality. We have a beautiful and latest eid collection of every distinctive brand. You can find all your favorite brands under one roof of our brand. So, explore and save your time for searching different brands online. 
New Nishat Linen Eid Collection for Summer Festive Season (Fresh Arrivals)

Women who look elegant have a strong character and a sound mind. Undoubtedly, people say that there is a sound mind in a sound body. Therefore, it is essential to make your personality impressive with quality clothing and appropriate style. To survive in the real world of fashion, one must have a fashionable and classic ensemble to make a statement style. Luckily, we have a lot of clothing brands that offer dynamic styles for women. Here is the engaging portfolio of the Nishat Linen Eid collection for you.
The mesmerizing image gallery is a brilliant mix of fantastic hues and styles that will propel you to opt for it. Additionally, you will find appropriately embroidered and well-decorative dresses according to the nature of the event. Combining delicate jewelry and a pair of footwear will amplify your looks. Additionally, review the most fascinating Nishat Linen summer collection, which is extraordinarily noteworthy and has the best color theme. I hope you will never regret our suggestions and tips.
Nishat Linen Daawat-e-Eid Collection
So, the wait is over, and the most anticipated lawn collection has been launched. The high-quality dresses are just a single click away from you. You can buy your favorite dresses online from the website of Nishat. Also, you can get them from the nearest retail outlet. Please take a look at the portfolio below to discover effortlessly chic ensembles for Eid.
Attractive Maroon Embroidered Lawn Dresses
No one wants to be a slave to the community. Instead, everyone desires to be the queen of the event. Undoubtedly, you can never be as classy as you want unless you struggle for it. So here is a collection of elegant maroon embroidered dresses for you that will make you graceful.
Nishat Linen Eid collection has two basic maroon ensembles for you. Both of the dresses are coordinated with contrasting black colors to complete the actual grace of the dress. Please take a while to have a look at the following image gallery.
Sunshine Yellow Bloom Eid Ensemble
Keep your face towards the sun and light so that you can never face the pale shadow of life. Similarly, to need to pick up the bright side of your life. For instance, you have to add a yellow heart to your life. So here we have two essential sunshine yellow dresses for you. Nishat Linen never fails to impress the audience with its delightful colors and prints. The following refreshing shades of yellow will get you a fun summer look at this year's holy festival.
Graceful Off-White Embroidered Lawn Suits
Stop yelling and pump your life with delight and charm. Luckily, you are at the place where you will find a considerable variety of your favorite colors and styles. I am glad to say that Nishat Linen is a vision to behold elegance and grace through mesmerizing embroidered dresses.
The following image gallery presents you with the two essential off-white embroidered dresses. Undoubtedly, there is absolute beauty and grace in the following shades. Hence, you will be able to exude elegance and grace in the magnificent ensembles by Nishat below.
Emerald Green Embroidered Lawn Suit
In a world full of chaos, an emerald green dress will bring you essential calmness. Undoubtedly, you can enter peace mode once you wear the chicest shade of green. Therefore, the Nishat Linen Eid collection brings you the refreshing dress below.
Indeed, the following sequin embroidered dress will make you look zen on this year's Eid. Wrap up yourself in the classic emerald green ensemble by Nishat. It is coordinated with a silk dupatta with sequin embroidered motifs on it for an illusion in the entire look.
Shades of Pink for Peach Glow
If you don't want to face the dull moment of life, opt for a refreshing color. Indeed, a pleasant color will make your Eid delightful with the love of shade. So, enter the pace of love and joy with the following shades of pink on this year's Eid for nice looks.
Please take a moment to discover the mesmerizing shades below. The artistically floral and digital prints will definitely make your day. Further, the embroidered techniques and net and chiffon dupattas will complete your look. Combine proper footwear to ace up your looks.
As Blue as Sky – Delightful Light Blue Dresses
Do you want to feel as blue as the sky? There are limitless shades of blue that can get you a delightful look. However, the sky blue shade has a grace beyond infinity. Therefore, the collection brings you a variety of delightful blue dresses for Eid. You can get ideas from lawn dresses stitching designs for a pretty dress.
Please take a while to have a glance at the dreamy outfits below. Then, get yourself a flamy blue look by wearing any of the following dresses. Each ensemble has its own grace and exquisite beauty. Give a huge shout-out to the brand for its fantastic craftsmanship and versatility.
Graceful White Dresses for Eid
People love to wear a classic white dress on Eid. Indeed, you can bring traditional looks if you wear such iconic shades. The limits of your imagination can end up wearing a well-crafted dress. Therefore, we suggest our audience choose a wise and nice shade of white on Eid for a traditional look. Here is the Nishat Linen's Eid collection of white dresses.
Get yourself a harmonic white dress to add grace to your personality. One must have a white dress in their closets as it shows peace. Indeed, every woman is an artist an dresses up well for every occasion. So let's give a thought to the engaging and delightful image gallery below for this year's Bari Eid. I hope you will like the dynamic and attractive portfolio.
Mandatory Black Eid Dresses for Women
People who complain that they are deeply misunderstood, be sure that you are wearing black. It is the color of grace and glam. People will never be able to challenge your individuality if you are wearing a black dress. Therefore, the creative brand brings you an essential corner of black dresses for Eid. Please have a look at the attractive dresses below.
Undoubtedly, black is an everyday color that makes you feel confident in the galaxy of individuals. There can be so many ways to add a glam look to your personality, but nothing can beat the dignity of black. So, do you want to click an impactful selfie on this year's Eid? If so, then pick a dignified ensemble from the image gallery below and enjoy your day!
Appealing Unstitched Nishat Linen Eid Collection
Dress designs are a critical factor that defines your fashion sense. The newest and in-vogue Eid dresses structures can make you look outstanding among the others. Every famous Pakistani fashion designer entirely centers around eid dress designs and proves the most recent and up-to-date structures that provide an excellent look.
These are the latest eid dress styles that young ladies demand nowadays. You can also take a look at Charizma Eid collection. Look at the accompanying unstitched clothing types that you can rapidly get for your festive season. Here are a few recommendations for your eid outfit:
Printed

Two-Piece Lawn Dresses (Shirt+Trouser)

Check out these traditional two-piece lawn dresses from the weaved unstitched eid variety by Nishat Linen. The dresses have the most unique and beautiful patterns. These 2PC unstitched suits will change your eid look and make it progressively enjoyable and fascinating. More beautiful digitally printed dresses are available in Ego Eid Collection.
Embroidered Two-Piece Suits (Shirt+Trouser)

Allow these exemplary two-piece embroidered lawn unstitched dresses that are carefully printed and included in the Nishat Linen Eid collection. You can style your festive dress like these clothing types. These styles are awesome. Pick any style for your outdoor event.
Complete your pretty looks with these articles of clothing. You can combine a contrasting dupatta that you can, without much stretch, carry during the blistering summer eid. For more such dresses, check out stylish Zellbury eid dresses and have a memorable festival.
Two-Piece Printed Dresses (Shirt+Dupatta)

Need to look tasteful on this festive season? At that point, pick this outfit and satisfy the entirety that you had always wanted. Since you will have the privilege to wear a fantastic outfit, here we have an exceptionally ethnic eid assortment for you. The beautifully printed lawn shirts are coordinated with magical printed and blended chiffon dupattas.
The portfolio below is all set to bring you an ethnic look. All you need is to match it with the right jewels and makeup and complete your fantastic look. Tie your hairs in easy hairstyles by getting inspiration from easy spring-summer hairstyles. Do not forget to combine appropriate and plain trousers with the outfits below to complete your dress.
Printed Three-Piece Dresses
You can make the most of your festive days cheerfully fascinating with the digital printed lawn dresses. But, undoubtedly, a woman desires to wear a different and well-decorative outfit on eid. Therefore, we are bringing you some flaunting printed lawn suits here.
Please extract some time to have a glance at the image gallery below. The pleasant digital prints will bring a cherishing look to your personality. Plus, you can combine a nice pair of shoes with your eid outfit for a whole pleasant look. So please give it a thought!
Embroidered Three-Piece Lawn Dresses
Undoubtedly, an intricate embroidery over a dress makes it progressively stunning and appropriate for festivals like eid. Women always struggle hard to purchase the most flattering outfit. We can not deny the fact that there is a silent competition among family and friends on eid. Therefore, we are here to make you win the competition of dressing.
Take a while to explore the embroidered three-piece lawn dresses here. The delicately decorated lawn shirts look dramatic in the way they are weaved and printed. Further, the outfits are coordinated with a voil printed dupatta. However, the plain basic trousers are retaining grace. So, pick up the most magnificent outfit that can suit you the most.
Festive Lawn Dresses with Banarsi Silk Dupatta
You can never satisfy a woman with a single design and style. Fortunately, Nishat Linen has a versatile variety of clothes to meet their lovely customers. Additionally, the powerhouse of fashion has a distinction in fabric quality and unique weaving techniques.
Here is the most awaited festive eid collection for you below. The great color palettes are fused to bring you natural glamour. Additionally, the fancy Banarsi silk dupattas are enough to get you the whole blazingly vigorous look, so please give it a thought.
Luxurious Ready to Wear Eid Attires for Girls

Ready to wear eid dresses with intensely decorated weaved work provide an extravagant look. The various styles of shirts and suits are accessible in their store with the best shades. You can explore a variety of embellished and simple pret suits for eid below.

Knitted ready to wear dresses are the best choice for this festive summer season. You can check all the top Pakistani Eid dresses from the top brands. Below are the elegant pret shirt, two-piece, and luxury eid ready-to-wear dresses by Nishat Linen.

Elegant Pret Shirts for Eid
Teens never opt for a fancy and embroidered outfit. Instead, they try to bring glam by wearing exquisitely printed lawn shirts. Therefore, Nishat Linen brings you the desired collection. The portfolio below is presenting you with essential pret shirts for eid. You can combine ready-to-wear trousers with your favorite shirt to wear on this eid.
Classy Two-Piece Pret Suits

Dramatic two-piece dresses are uniquely intended for bold women. Weaved pret suits with vibrant color blends look heavenly and provide a simple but trendy outlook. Do you want to get a modest and trendy look on eid? If so, then pick up your favorite two-piece pret suit from the portfolio below. Plus, combine a contrasting dupatta for a complete ravishing look.
Luxury Pret Eid Collection for Women

NL eid collection has numerous easygoing eid dresses for young ladies and women. Casual attire, floral printed shirts, Kurtis, and suits are designed in appealing hues. However, some people require a modest and luxury outfit for eid. Such well-defined eid dresses and new structures are given below with prices so you can get any ideal dress rapidly.
NL pret is the best choice if you need an effortless style that the late spring season demands as the weather is sweltering in Pakistan. So enjoy this festive season with vibrant colors and stylish designs. You can get some fabulous and tasteful pret dresses from the Gul Ahmed Eid Collection as well. I hope you will get your desired stuff here.
Feel glamorous on this year's Eid with the majestic printed and embroidered dresses above. Indeed, you will able to chic your look effortlessly. Click memorable pictures with love and joy to make your dressing worth it. I hope you will love the intricately embroidered dresses by Nishat Linen above. Please do not forget to appreciate the efforts of the designer. So celebrate your festive season in style with Nishat Linen.