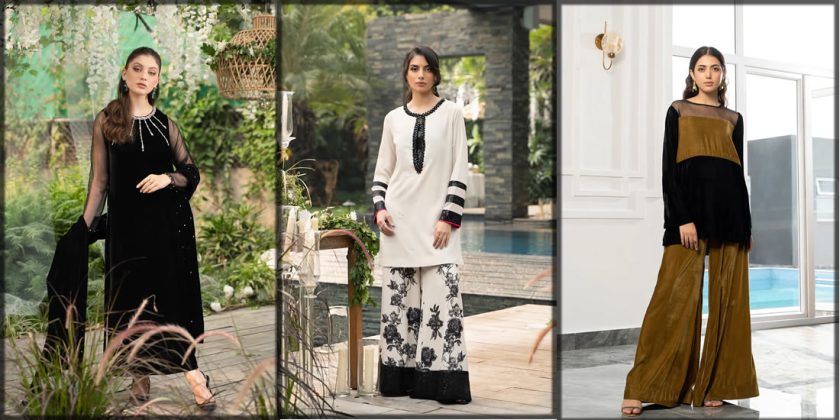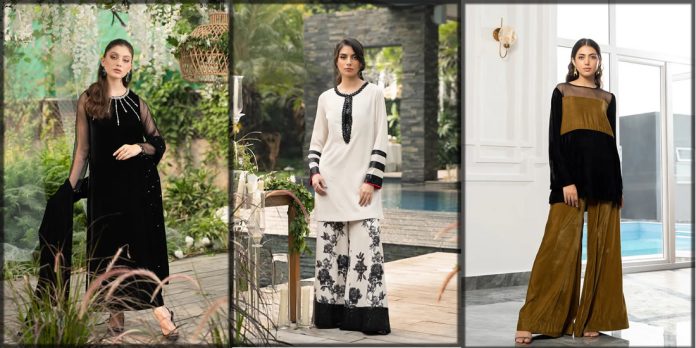 The fashion industry is now running successfully through e-commerce. Assuredly, the online shopping facility has removed the obstacles for people who can not go out daily to buy anything. With technological advancement, Lulusar brings you a tremendous winter clothing range. Indeed, you will be pleased to see all the necessary winter stuff. Let's explore the Lulusar winter collection.
Winter is the time for comfort, good food, warm clothes, and splendid family time. Additionally, there must be a good source of comfortable outfits and footwear that can double the joy of winter. Lulusar brings an incredible variety of winter clothes for you. Talented Pakistani fashion designers are famous around the globe for their great artwork. Indeed, the designers bring all the variety with great enthusiasm. 
The recent assortment of Lulusar has been revealed. It hits the market with versatile designs for people. Indeed, the collection ranges from casual to semi-formal to luxury outfits. The magical portfolio is sufficient to satisfy your sight. It's time to head over to the notable brand's site and buy your favorite articles. Undoubtedly, you will enjoy the exciting floral patterns and artwork with no regrets.
About the Brand and Designer
Lulusar is the most notable fashion brand of Pakistan that was founded by Azfar Hasan. The basic aim of this brand is to serve the youth with trendy and appealing apparel. They always focus on what customers want and craft fantastic and dapper clothes with unique patterns & designs. Moreover, the color medleys of its dresses are just mind-blowing that indeed append more elegance and grace to your personality and style. So if you want new ornamental and timeless dignity, at that point, choose the Lulusar brand to slay. 
To review the other brands' collections, check out our winter catalog. It contains the latest collection of all well-known brands of Pakistan.
Lulusar Trendy Winter Dresses for Modern Girls and Women
There are hundreds of clothing brands that are crafting magical dresses for the public. All the brands focus on versatile variety for both men and women. Additionally, they follow the latest trends for customer satisfaction. Therefore, all the brands tend to bring modest designs for the galaxy of individuals. As fall has arrived, different brands have launched their winter collection already. Here is the Lulusar winter collection for you.
Undoubtedly, women are fond of clothing and fashion. Additionally, the changing trends are challenging for brands to craft the latest designs for their customers. The team Lulusar comes up with daily wear for a woman who is seriously beauty conscious. Yes, it brings a lovely assortment for all the women out there.
1- Stylish Knee-Length Shirts
While people relish warm weather, the winter forms the character and brings out the best of you. Therefore, Lulusar brings a magnificent and joyful collection for you. Indeed, the exciting designs, magical patterns, and artwork will be a source of laughter and joy.
Let's have a look at the following image gallery to explore vibrant outfits. You might have seen an assortment likewise in the recent Sapphire winter collection before. But, the voguish collection below will enhance the charm of your winter looks. Rush towards the online store of the notable brand and buy your favorites at affordable prices.
2- Lulusar Winter Velvet Collection
Dressing modestly is like rolling around in manure. Unfortunately, you will not be able to seek the desired attention if you dress shabbily. So, here is a pro tip for you to always choose a stylish outfit to enhance your grace and charm. Admittedly, a velvet dress can prettify your winter looks as it is pure winter stuff. Check out Ittihad Textile's winter variety for more such dresses.
Get yourself a dramatic velvet dress from the latest assortment of the Lulusar winter collection. Indeed, you will get a positive compliment and will be able to turn heads on you. Following are the four stunning velvet attires for you. I hope you will enjoy the charm and grace of the lovely dresses.
3- Fashionable Floor-Length Shirts
Undoubtedly, modesty is the crown of a woman. True modesty exists in the outfit and outlook of a woman. Therefore, one must go for the right choice of clothes and designs. Indeed, the awareness of your strength will make you more modest with the exemplary floor-length shirts of the Lulusar winter collection.
Enhance your modesty with the splendid floor-length shirts below. There is great versatility among the designs. It presents you with striped, leaves, flowers, and buttoned-down shirts in epic contrasts and combinations. Indeed, it will bring positive vibes and make you look stunning. Get similar designs from the limelight winter collection, and enjoy your season.
4- Stylish Tops for Teens
Usually, the teen girl looks for a classy and sassy style to look jazzier. They try to manage their looks with the perfect selection of outfits and combinations. Therefore, Lulusar brings a youthful collection of tops for you. Combine your top with classy jeans to slay. The vibrant combinations will increasingly enhance your personality. Get some more variety of tops from the Breakout collection and boost up your looks.
Take a deep breath and have a look at the image gallery below. The scorching colors and combinations will engage you entirely. Additionally, the tasteful dresses will make your season much memorable. Head over to the factory outlet or buy the Lulusar clothes from their official website. I hope you will enjoy the tasteful variety.
5- Essential Jackets, Shrugs, and Blazers
Winter jackets, coats, blazers, and shrugs are a must-have in winter. To obscure from the intense cold, one must fill their closets with a versatile variety. For instance, clothing brands come up with a separate corner spare for warm coats and jackets, etc. Explore the magnificent winter trench coats for women here and enjoy the bliss of winter.
Let's have a look at the following image gallery to seek the best version of western wear. The collection varies from the long coat, formal blazer, pleated, and long printed shrugs. Indeed, the versatility will propel you to buy a fantastic outfit. Combine fantastic winter boots with these comfy attires to double the grace of the outfit.
6- Lavish Winter Skirts for Modern Girls
Are you looking for a stylish winter dress? Well, Taana Baana's winter collection has splendid luxury outfits but, Lulusar competes incredibly. It showcases a magnificent variety of mixed dresses for women. Assuredly, a woman can not attend any occasion or party without new clothes. Despite the intense cold, women look for a tremendous dress that can add shine to their overall looks and enhance their beauty.
Take a deep breath and explore the versatile chic skirts below. The exciting colors are ready to hit you with a unique novelty. Indeed, it will fascinate your looks by bringing exquisite beauty to your looks. Let's get started to discover some magical skirts and combine them with any above top to rock the gathering. Do you want some more collections? Explore the Sitara Studio winter collection and enjoy the enchanting patterns and prints for your winter season.
Juggan Kazim X Lulusar Winter Collection
Juggan Kazim is the most well-known actress and host of Pakistan. Her aptitude and elegance won her fans' hearts in just a few years. Now she is known as the most talented and gorgeous lady in Lollywood. She has worn beautiful winter dresses in the campaign to promote the brand, as you can see below.  
Pro Tips:
Long-pattern dresses are on-trend these days. If you are going for winter evening dinner, the first long shirt with white lining is a great option. It not only adds extra charm to your look but also propels others to compliment you. 

The second green and black costume is the best for casual meetings to get an elegant flash.

If you are going to a birthday party or friends gathering, pick the blue and white long dress to dazzle.
Lulusar X Durefishan
Durefishan is a Pakistani television actress known for her role as Mehak in the most renowned series, "Kesi Teri KhudGarzi." She is wearing Lulusar garments to promote the brand. She has carried every dress with dignity and grace:
So, if you are looking for decent yet modest attire to slay, then pick the first gown to get the charming gaze. Moreover, Loose curl hair, court shoes, nude makeup, and lightweight gemstones are the ideal mixture with this cute outfit to sparkle. The second one is the multi-colored shrug that is made with soft crepe fabric. You can pair it with jumpsuits or any style of outfit you like to make all of your charming and noteworthy gazes. 
Anoushey Ashraf X Lulusar Winter Collection

Anoushey Ashraf is a Pakistani VJ and actress who got too much fame because of her talent in a short time frame. She has worn the following trendy pattern dresses in the campaign to promote the Lulusar brand. You can wear these dresses casually to make all of your breathtaking and dazzling gazes. Furthermore, you can also carry these dresses for formal wear by combing them with heavy gems.
These dresses are made with a soft crepe fabric that also keeps you heated and warm during the cold days of winter. So feel free and grab any below attire to enjoy your winter voluntarily. All you need is to pair your dress with bronzer makeup, high heel shoes, loose curl hair, and long hoops to make your glimpse extraordinary and awe-inspiring.
Are you looking for a stunning, comfortable, and affordable outfit for winter? If so, then stop scrolling and give a pause to the article above. Let's explore the most versatile and chicest winter assortment by the dignified brand above. It offers a wide variety of essential winter outfits. Indeed, you will enjoy the collection.