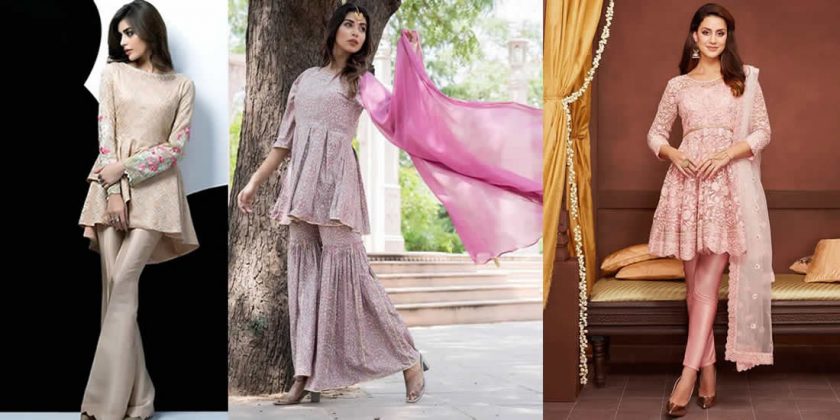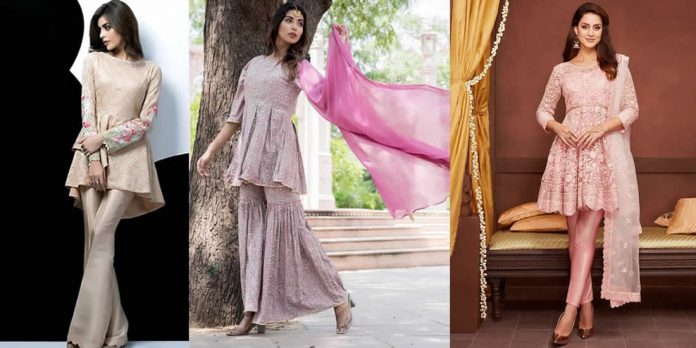 As simple as they get, peplum frocks are always inspiring. These are fused with incredible styles and designs. Also, the excellent artwork brings a blazingly, unique appearance. Here are some Pakistani peplum style dresses for all the girls out there searching for an exquisite attire.
Attention girls who are looking for an eye-catching dose of up-to-date designs of clothing. No worries because we have a wide variety of peplum wear dresses in various color combinations for both formal and casual wear.
The collection will help you to discover your desired styles. Also, the colorful hues will bring a compliment in your style. Trigger your fascination by exploring the latest designs of beautiful fabrics and styles. Have a look at the breathtaking collection.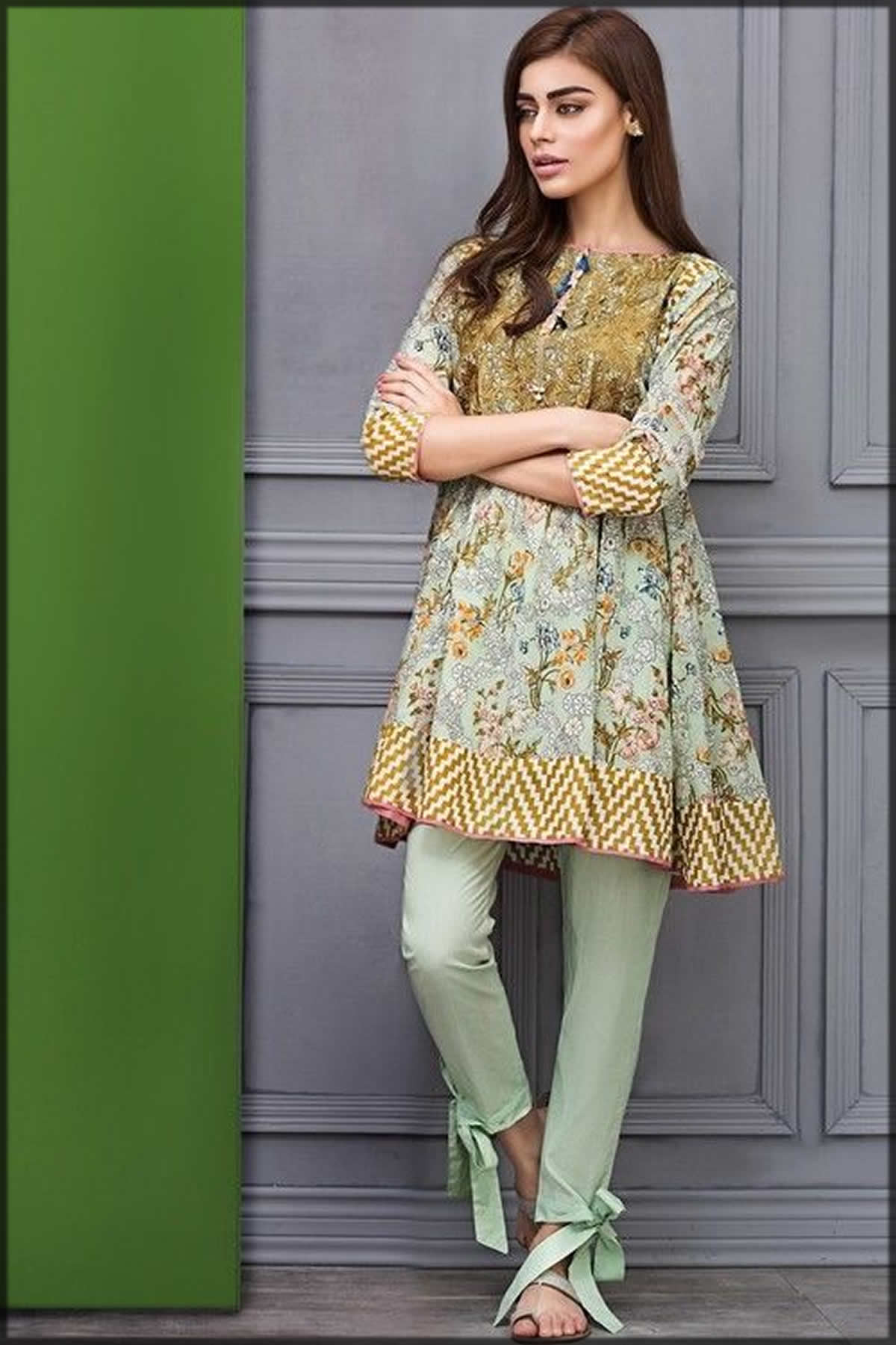 Casual and Formal wear
Pakistani Peplum Style Dresses

The fashion industry of Pakistan has been working on prevailing, vibrant styles for women and girls. Also, they focus on crafting appealing designs of the finest fabrics. Of course, the colorful dressing schemes look more beautiful and charming. Therefore, we have such youthful dresses in vivid hues for you. The categories of this collection will include:
Casual Styles for Peplum

Semi-Formal Peplum

Fancy Designer Peplum
Casual Peplum Styles for Teens
The Pakistani fashion industry has marked quality designs in clothing. Also, it focuses on formal, casual, and wedding outfits. Here are some youthful casual attires for you. The fascinating peplum styles will blazingly add much sparkle to your entire look.
Alluring Peplum with Capri
Capri is among the latest bottom styles nowadays. Some prefer to wear them with straight shirts. However, teens prefer it with knee-length dresses. There are some magical styles of peplum with Capri. Also, Capri is a part of festive couture. Hence, it looks more straightforward with a knee-length dress.
Appealing Peplum with Straight Trouser
Another great way to enjoy the sunshine in your life is to have vibrant outfits. Such vivid peplums come in contrasting shades. Moreover, the straight trouser with stunning knee-length frocks brings graceful looks.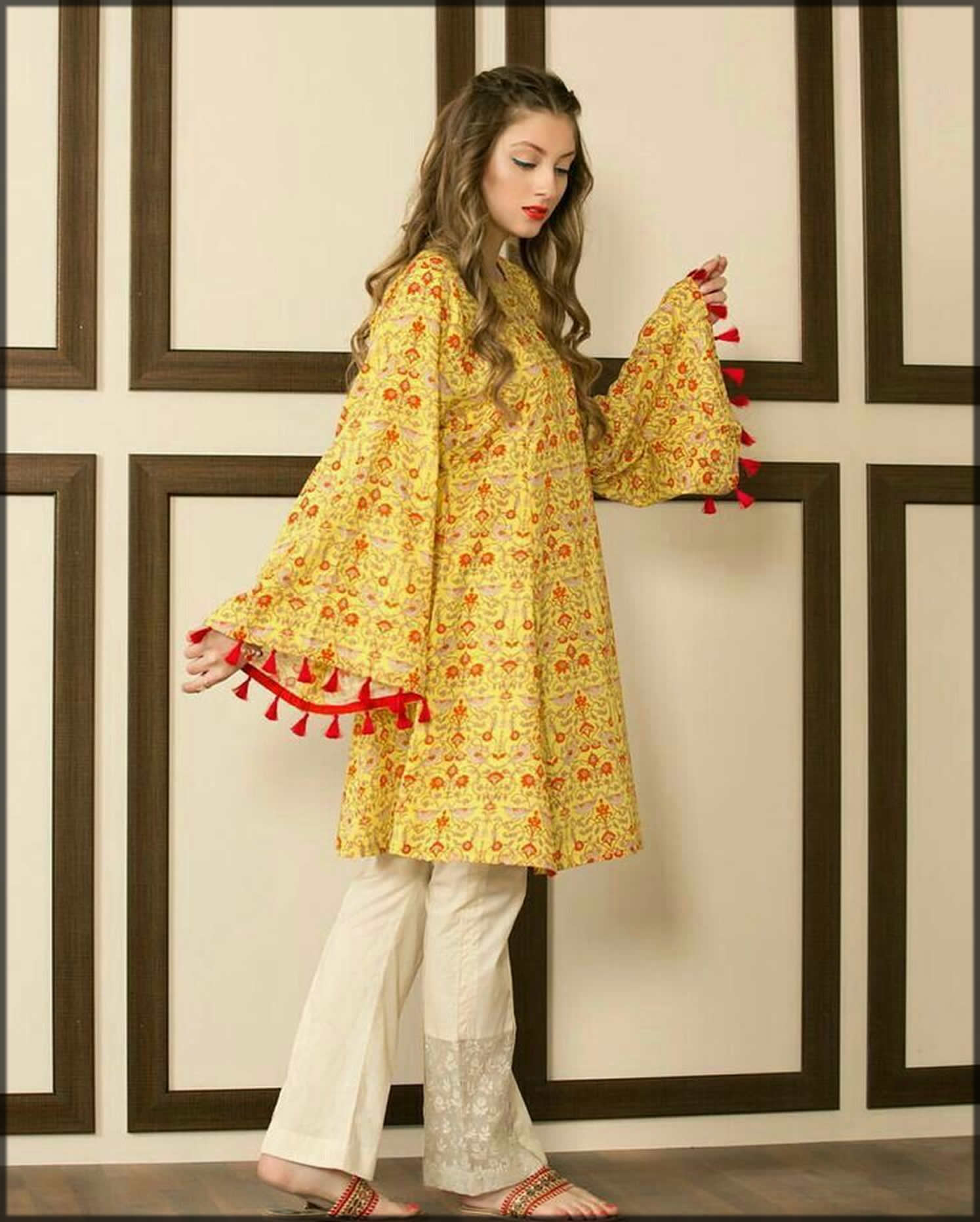 Trendy Peplum with Tights
With the diversity in fashion, here you can investigate a stylish peplum with tights. Also, the colorful outfit will look staggering if you wear it with matching shoes. Moreover, the beautiful lawn frock will look enchanted for young girls.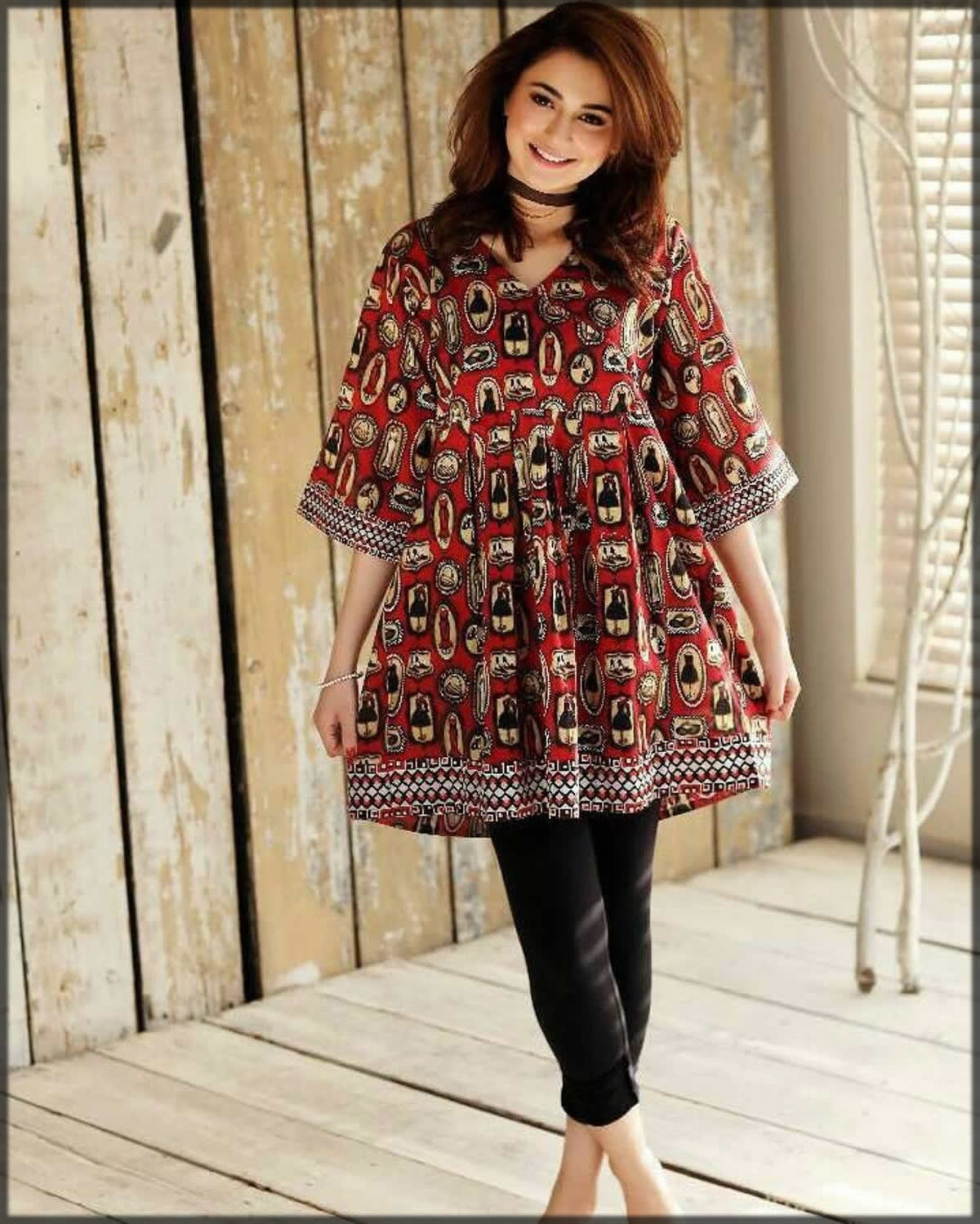 Traditional Peplum with Shalwar

Are you looking for something funky and stylish? Or you want to bring some traditional look? Check out the following assortment of conventional outfits. Wearing a shalwar reflects your traditional culture. Also, a stunning peplum with shalwar looks fascinating and increasingly trendy.
Pakistani Party wear Peplum Style Dresses
Are you a college-going student? If so, then you must be looking for cute party wear frocks. Therefore, fashion clothing brands craft vigorous attires for all the girls. However, peplum is a unique design for a formal look. Pakistani peplum style dresses contain overwhelming designs. Have a look at this fantastic collection:
Decent White Peplum Style Outfit
Either its a simple dress or a short-length frock, white color has its own grace. Also, such embroidered beauties pair nicely with cigarette pants. The entirely simple dress looks magnificent with pearls and beads. However, it has a colorful dupatta that brings a distinctive look when you wear this formal dresses on such occasions.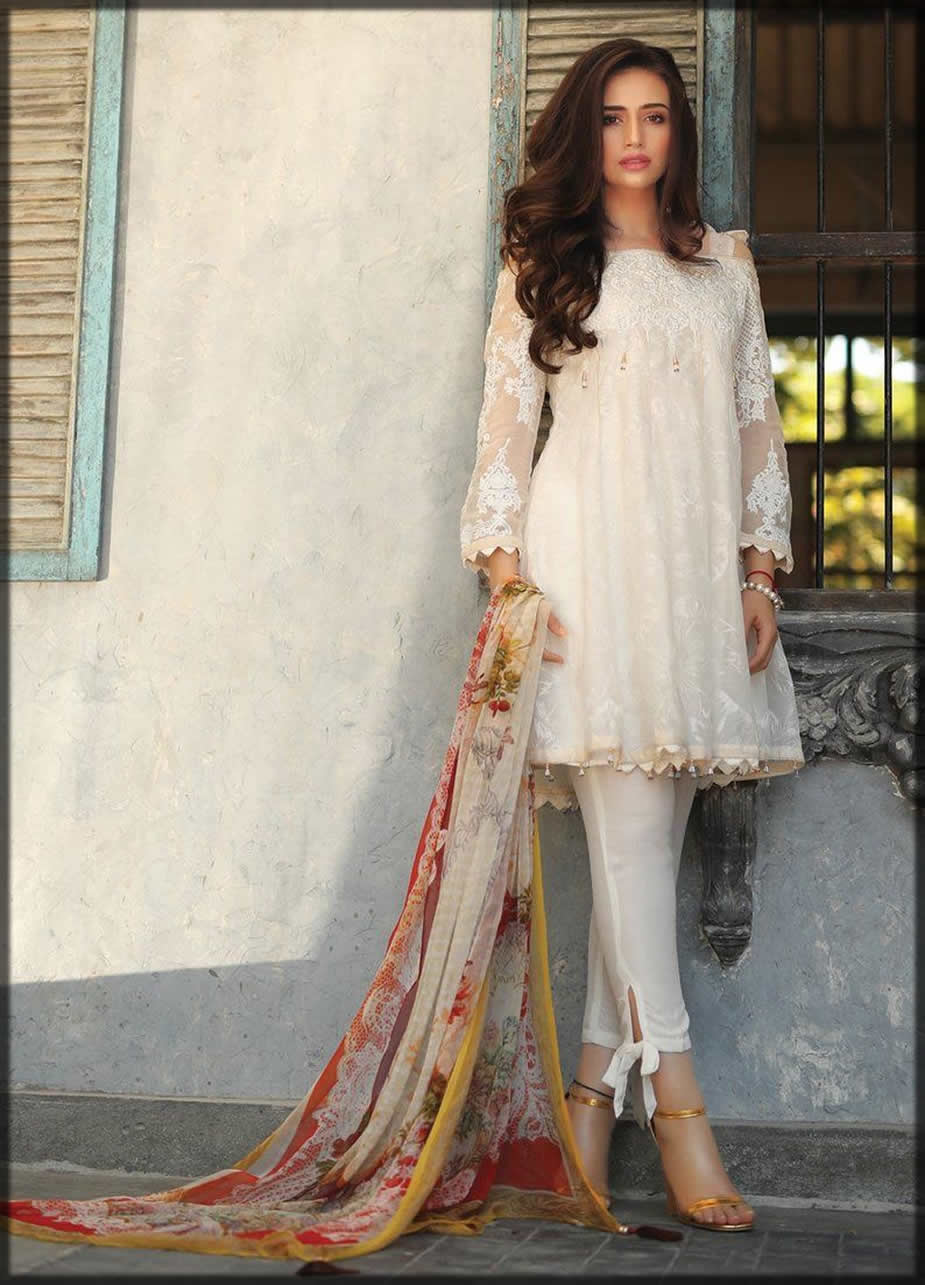 Blissful Peplum with In-Skirt
Modern girls follow fashion trends. Therefore, they seek marvelously enriched attires. Such captivating outfits add smoothness to their beauty. Also, they look distinctive while wearing such dresses. Want to have such a unique costume? Check out the following peplum with an in-skirt. The bright sequins and tilla work on the blouse look fantastic at parties.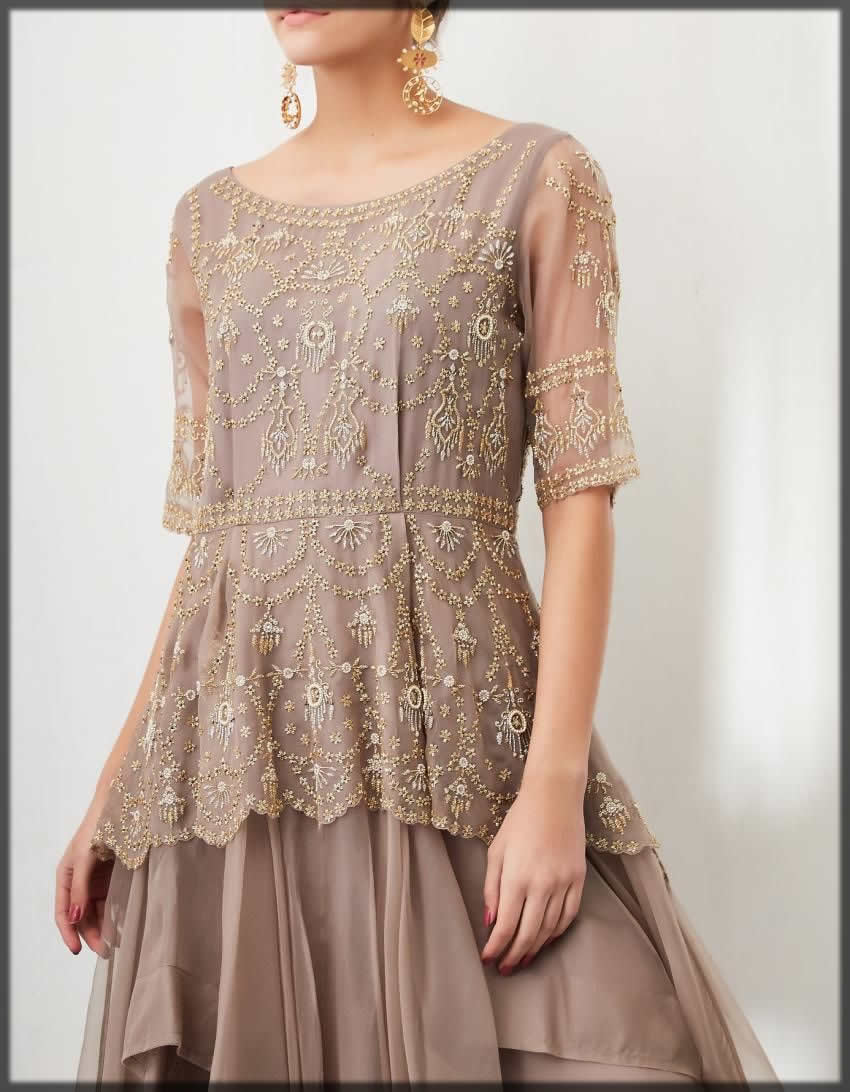 Flabbergast Pink Outfit for Parties
Where some girls prefer easy and comfortable dresses, some are looking for a stylish chiffon outfit. Well, there is an enormous category of fancy fabrics. Here is an elegant pink chiffon georgette dress. Unlike the previous collection, the pattern on this dress is lovable. Also, it dominates the rest of the clothing for its exquisite style.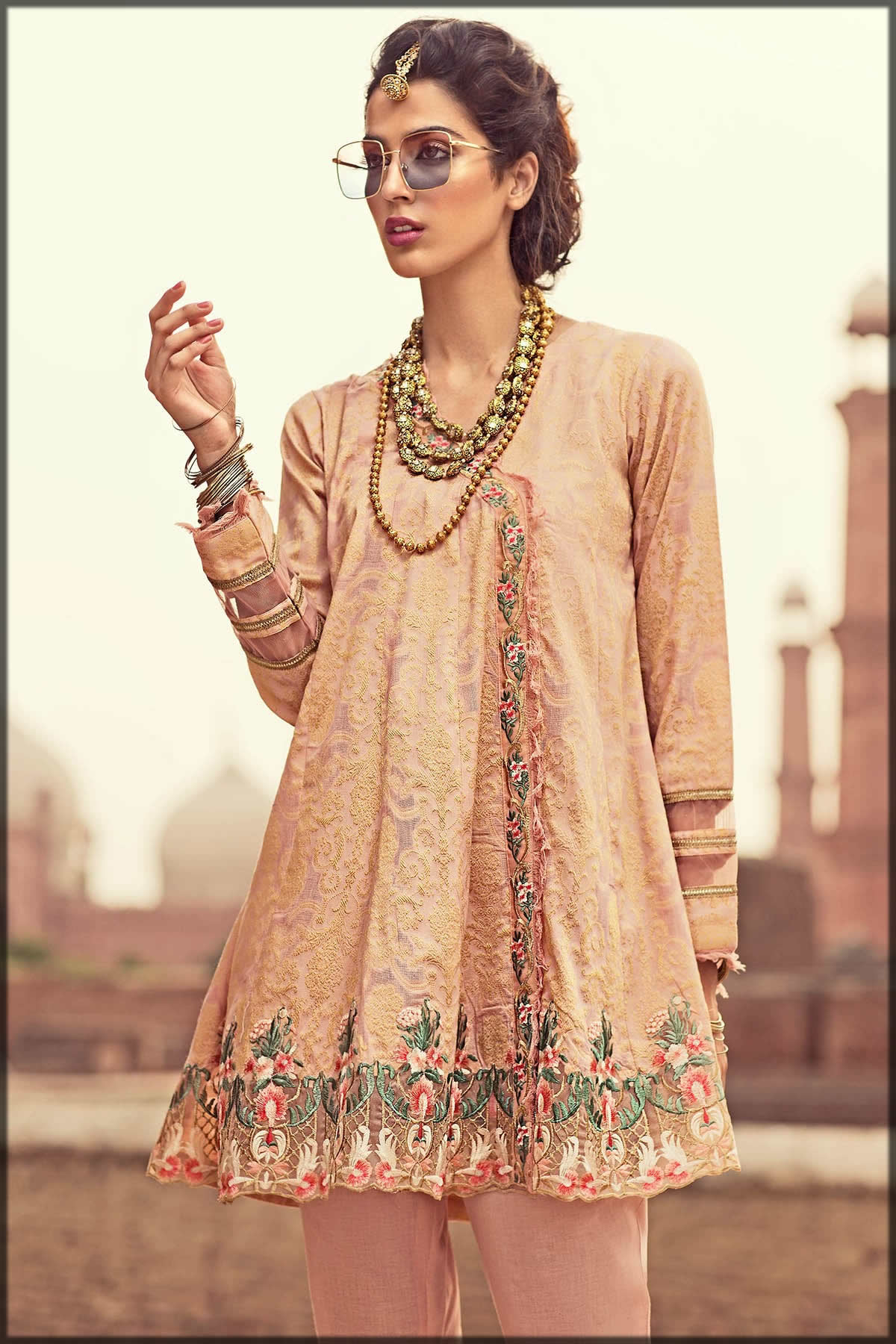 Sizzling Silver-Grey Attire
The silver color is among the classic earthy pigments. Therefore, it has a deep association with satin. Here is a classy peplum in silver-grey hue. The incredible fabric and style get a compliment. Also, the ornate and glamorous style symbolizes your high-tech choice.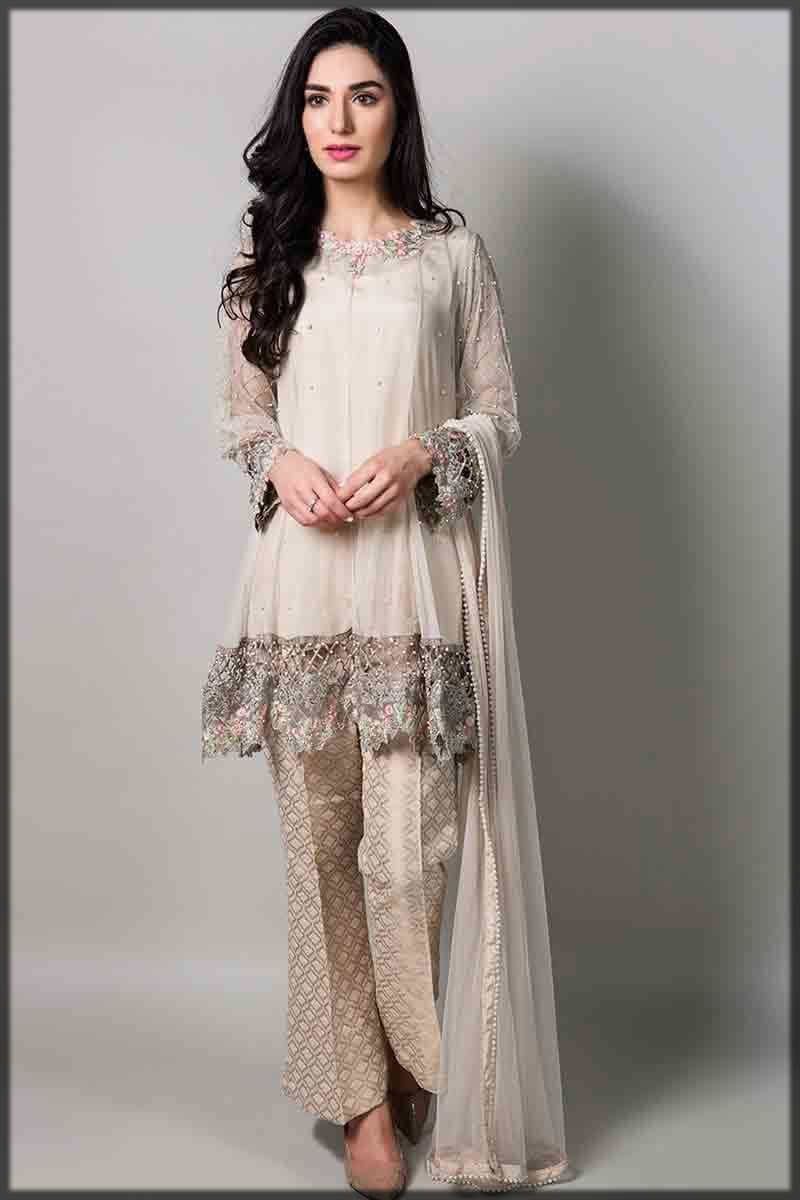 Elegant Ice-Blue Knee-length Dress
This unique color has a distinctive frosty vibe. Wearing an outfit of ice-blue shade reflects your cool and invigorating looks. Also, the apathetic color looks fantastic when it comes to peplum. It nicely pairs up with straight Capri for a defined look. Moreover, the matching accessories and heels bring an astonished look when you wear such a stunning dress at parties.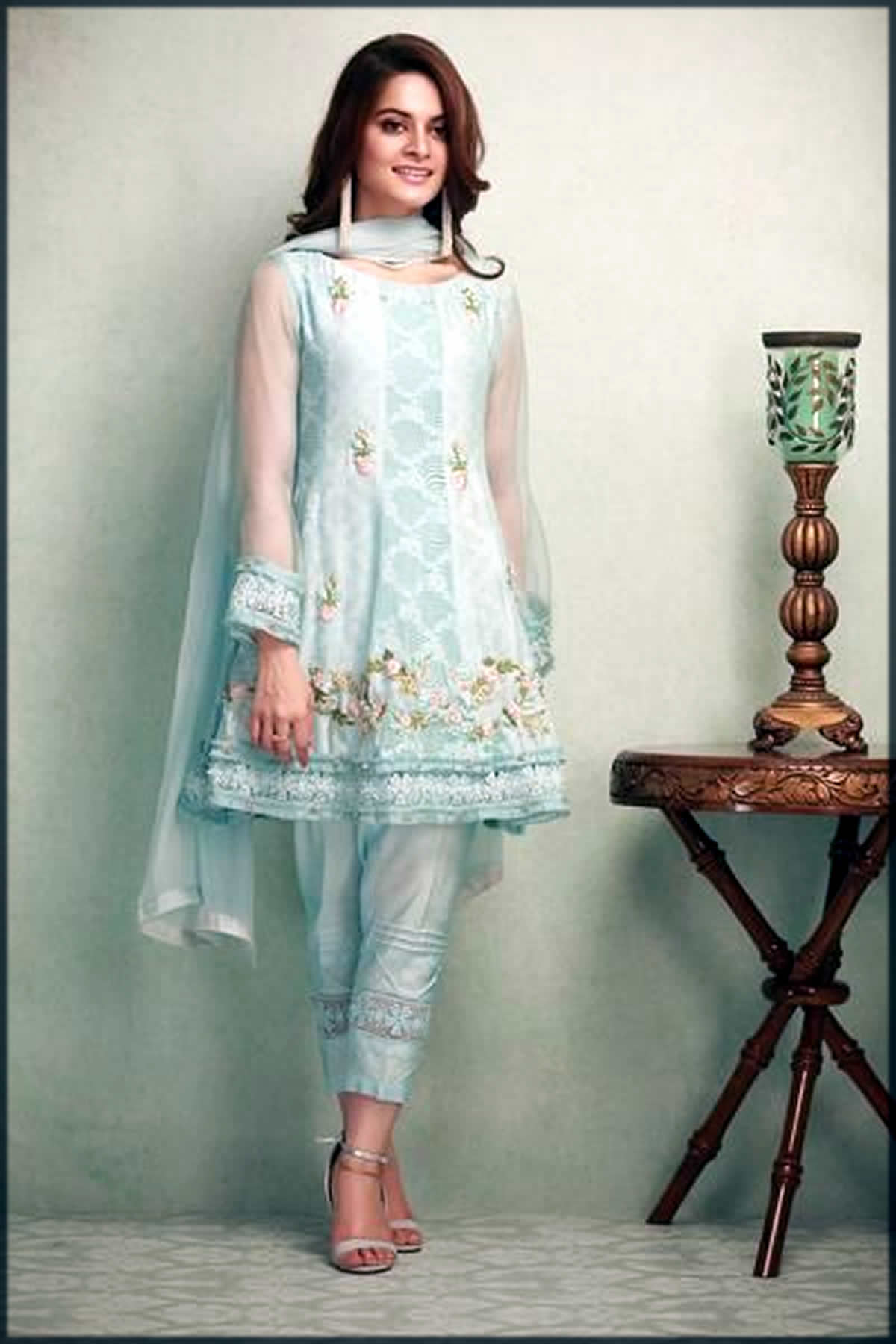 Fancy Formal Pakistani Peplum Style Dresses
The diverse culture of Pakistan is overwhelmed with several events. Therefore, ladies who are fond of fashion are always looking for fancy dresses. Here is an amazing collection of fancy dresses with subtle artwork.
Striking Peplum with Belt
Everyone desires recognition when they dress up and makeup well. There are hundreds of styles that bulge up together for crafting women's clothing. Also, the designers always consider the demand of customers. Are you looking for a stylish dress with a belt? Check out our following dress having a belt that separates the blouse. The unique peplum comes in with a flared trouser. Also, try curly hairstyle for long hair with this outfit for an entire gorgeous look.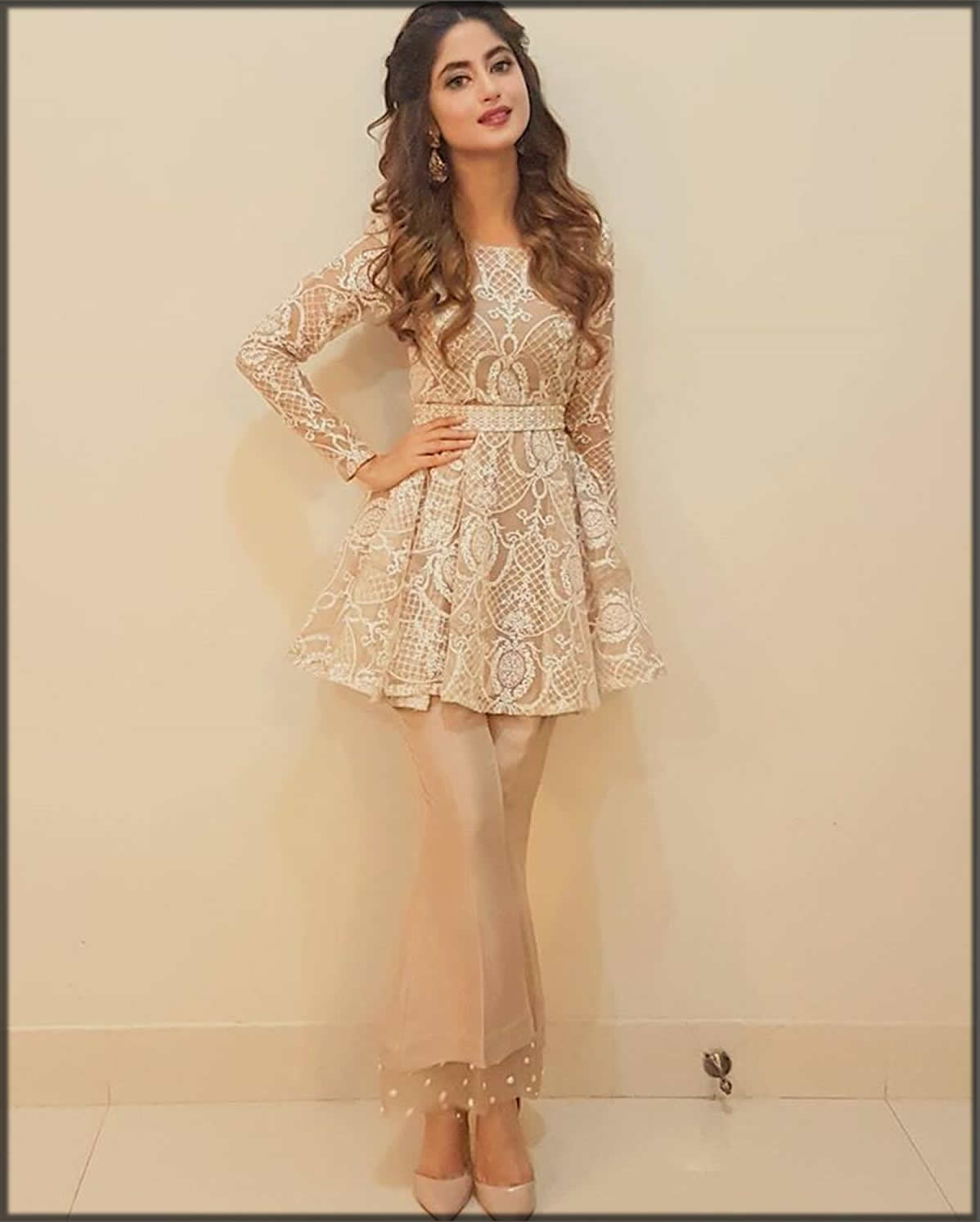 Staggering Peplum with Cigarette Pant
There is an absolute delight in wearing a peplum with pencil pants. As surprising as it looks, you can see yourself as mesmerizing. Also, the inspiring style will surely get a compliment. Moreover, wearing such a marvel outfit at weddings will increasingly look amazing.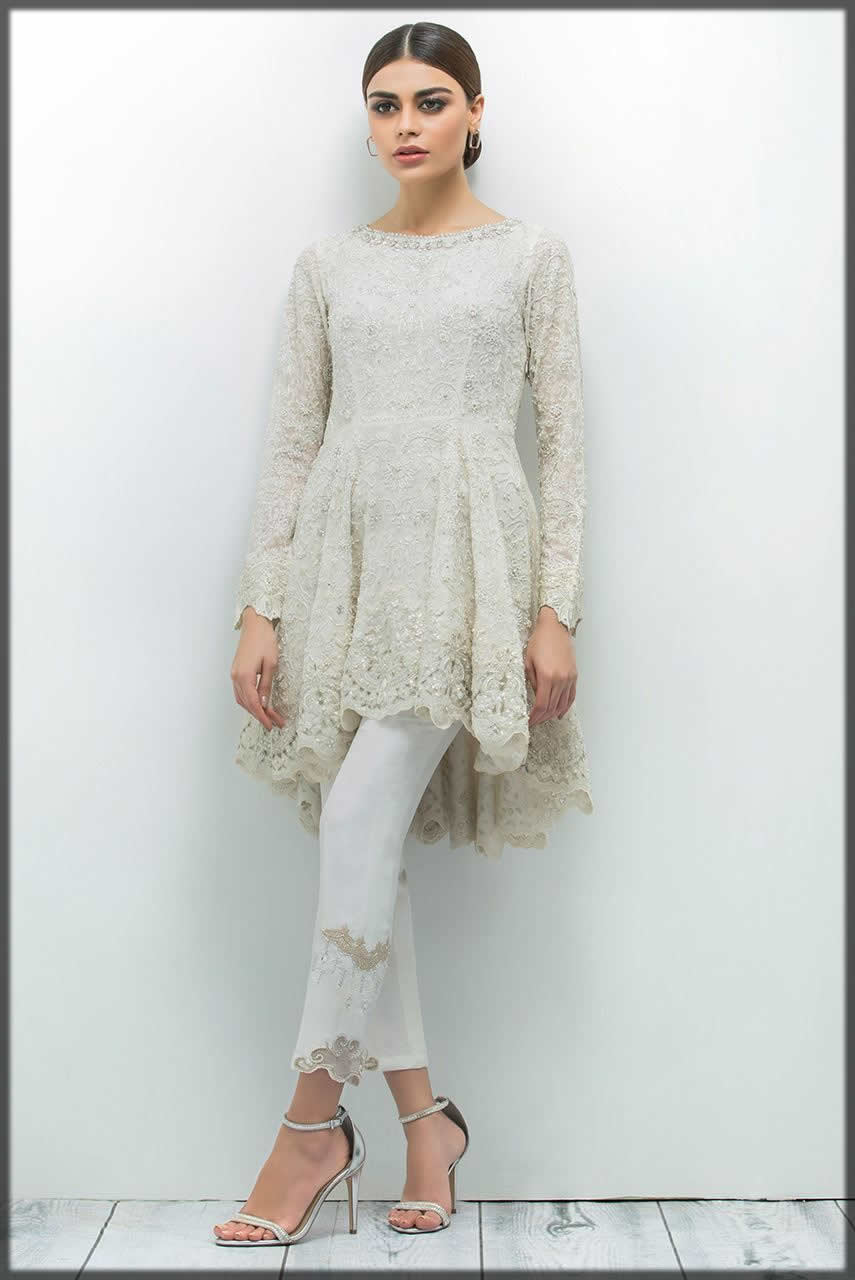 Embellished Peplum with Tulip Shalwar by Zainab Chottani

Do you want a more sizzling outfit? Look at the astonishing outfit by famous Zainab Chottani. The renowned brand has significance for its outstanding festive and luxury collection. Also, it provides heavily embellished fancy costumes for wedding wear. Here is an alluring festive outfit for you. The elegantly embellished peplum is paired with a tulip shalwar.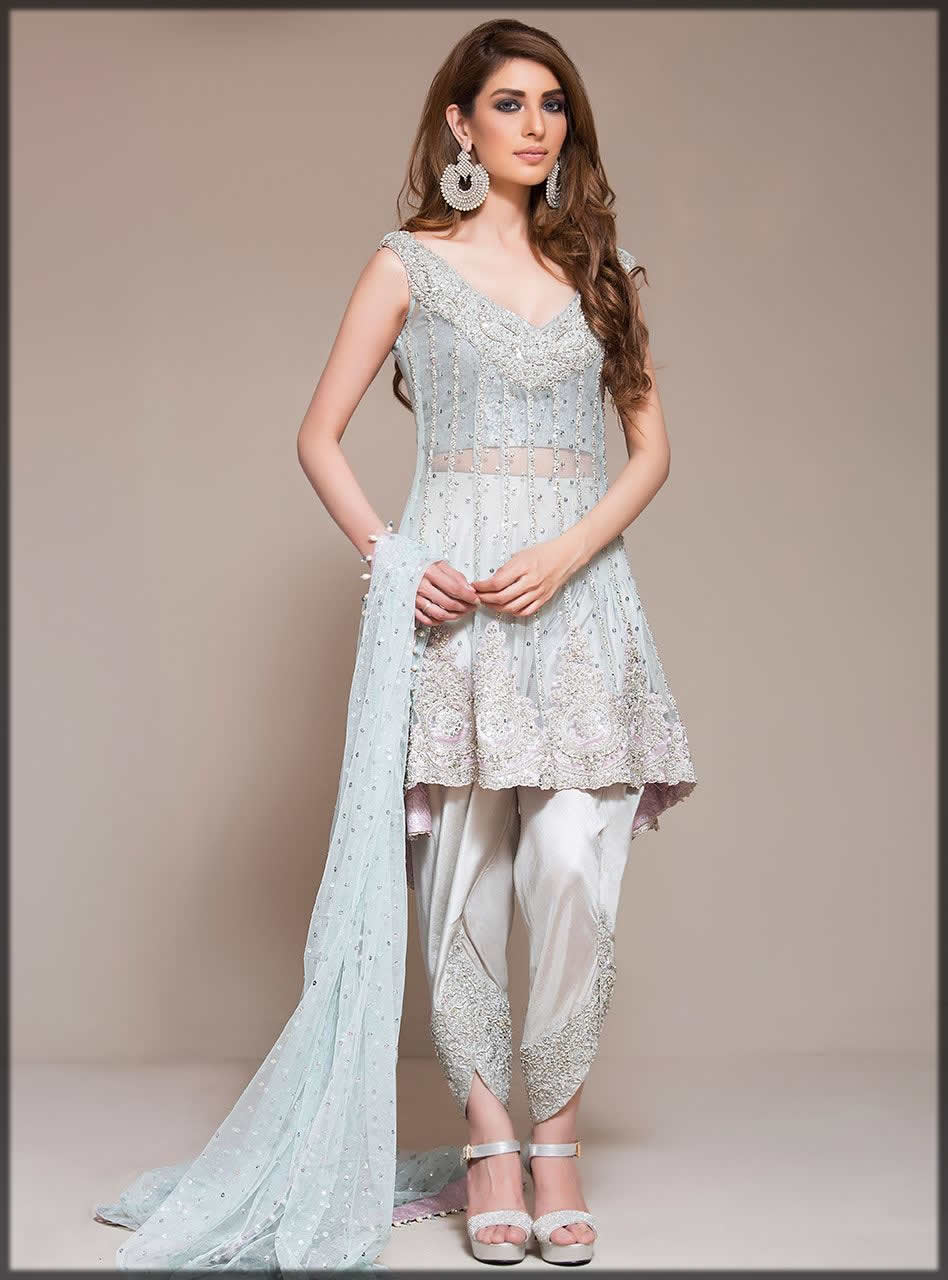 Bewildering Pearl Beaded Gharara and Peplum
The addictive color looks stylish in peplum and gharara. Usually, people wear such colors in the relevant season. However, the light and brisk hue look elegant in fancy wear. Take a look at the dazzling pearl-beaded gharara and knee-length frock. The heavy sequins of beads with a tidy artwork look gorgeous. Also, the greater volume of gharara appeals to fascinating.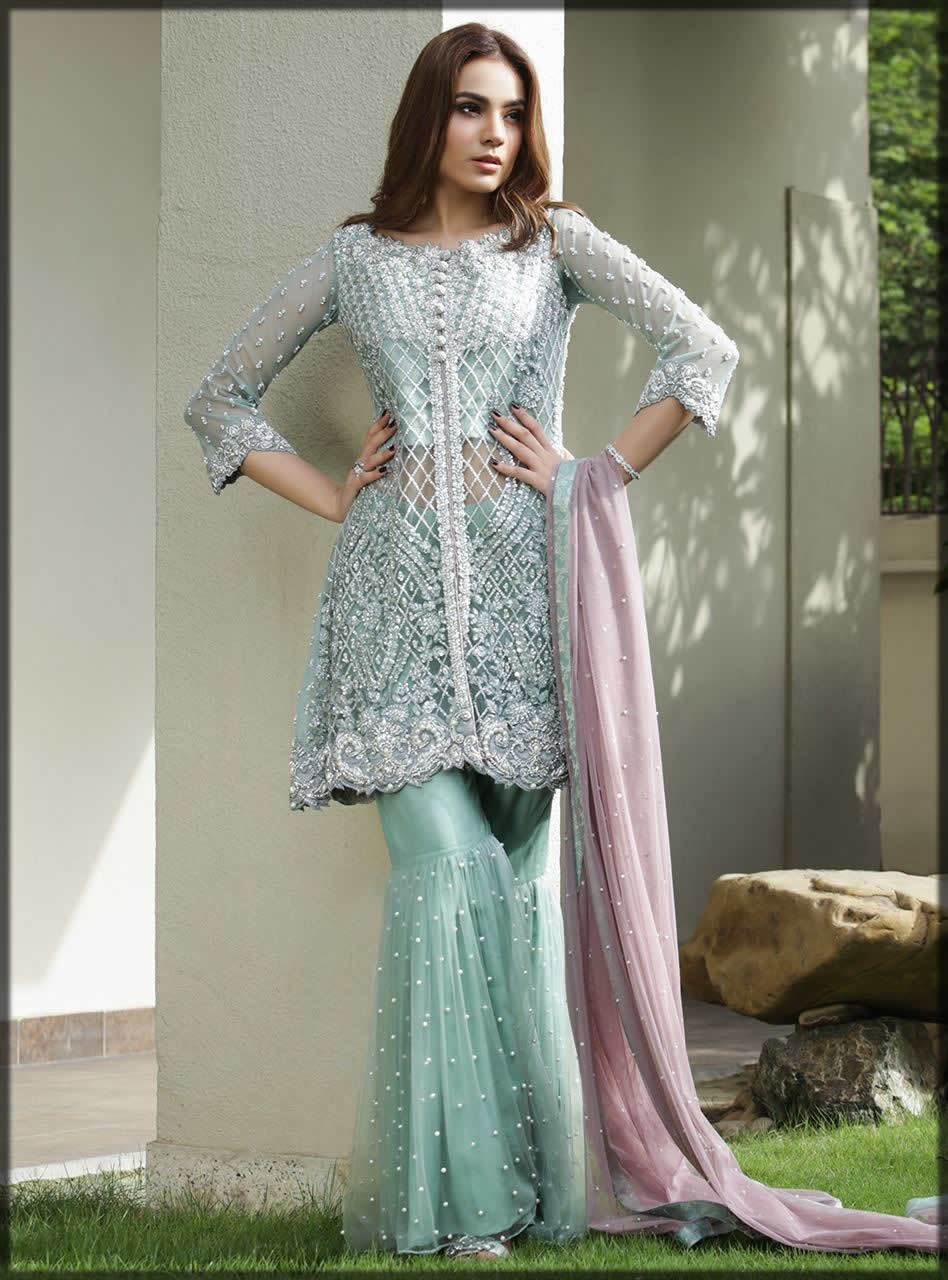 Vigorous Sharara and Peplum
Such an outfit may not tempt you much, but it sounds interesting. This outfit will make you travel back to the '70s. Also, sharara is a stylish bottom, famous for its massive flare. In this dress, the borders of the base are embroidered heavily. Also, the embellished short frock contains pearls on edges, bringing an entirely fascinating look.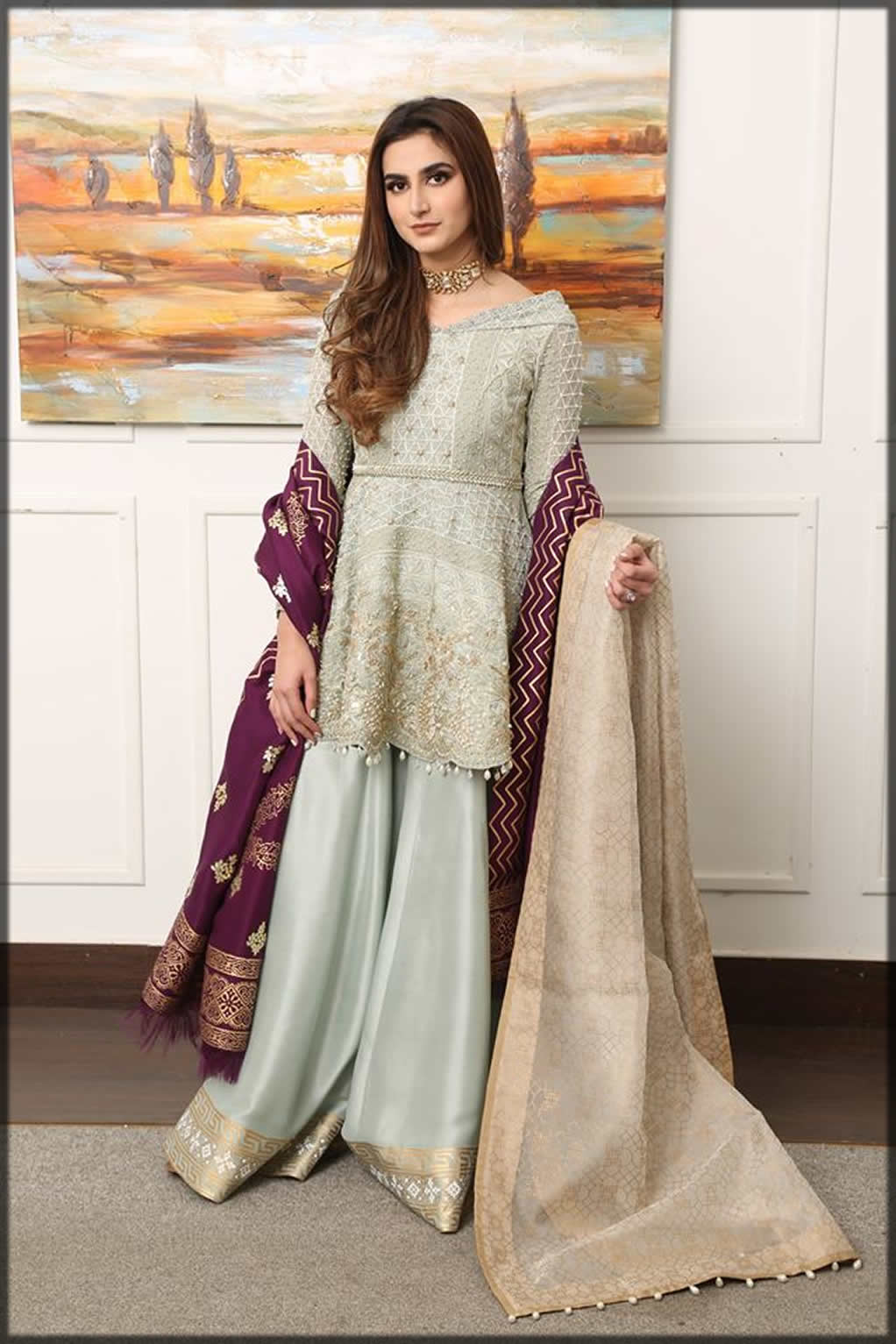 Heavily Embellished Peplum for Wedding

The eminent designers of Pakistan are crafting outstanding dresses for the public at large. However, some are among the topmost fashion designers. The monochromatic designs are coupled perfectly with bottoms and dupatta. Also, impressive artwork requires deep hard work for elegance. Check out the stunning embellished peplum for wedding wear. The heavy sequins and tilla work.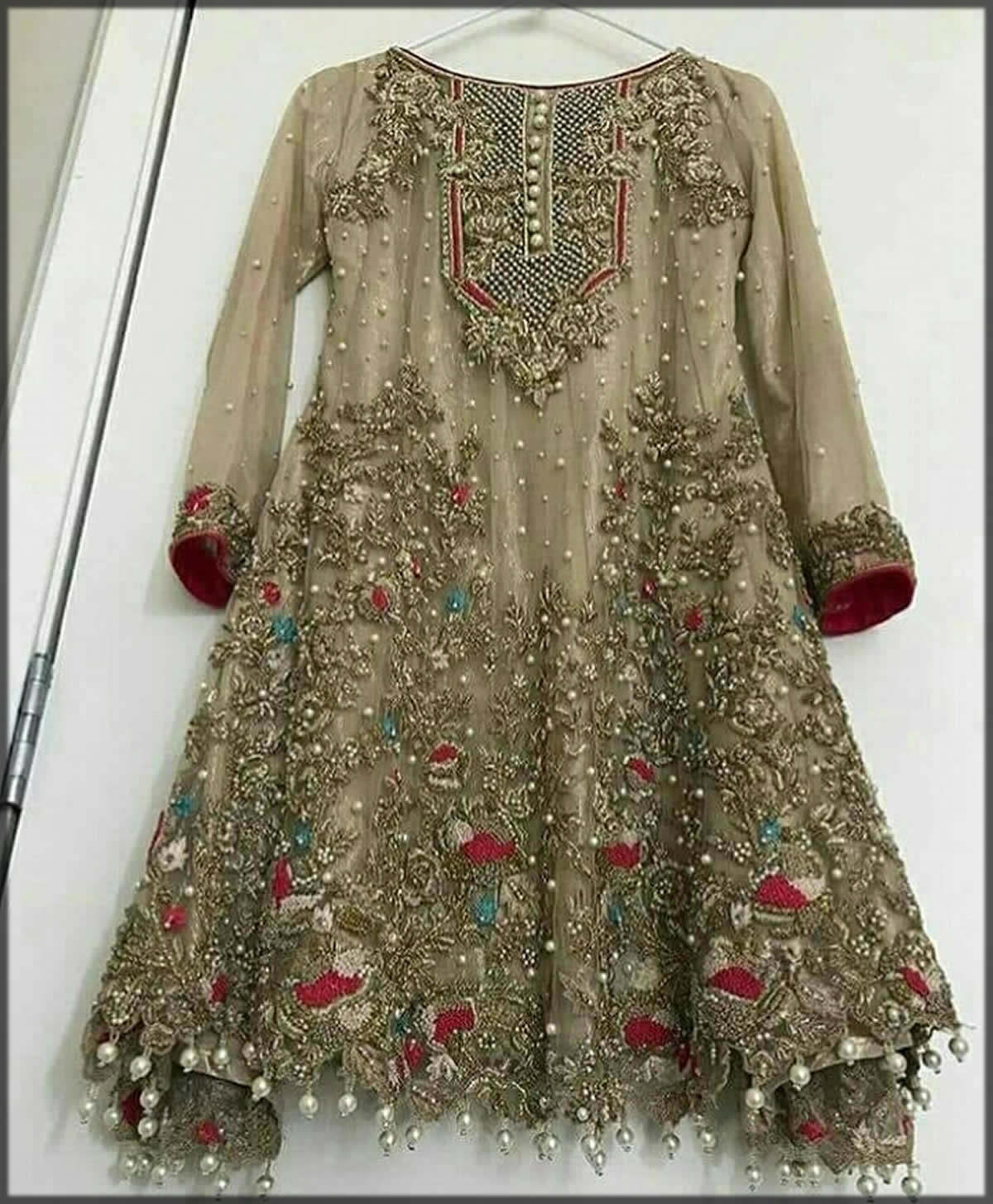 The fantastic array of this collection is ready to blaze your styles. Also, it will increasingly add a vibrant look. Let's explore your wardrobe with the latest collection of peplum. Also, the various sort of adornments with delicate designs will enhance your beauty. Make your wardrobe classier with the collection above.