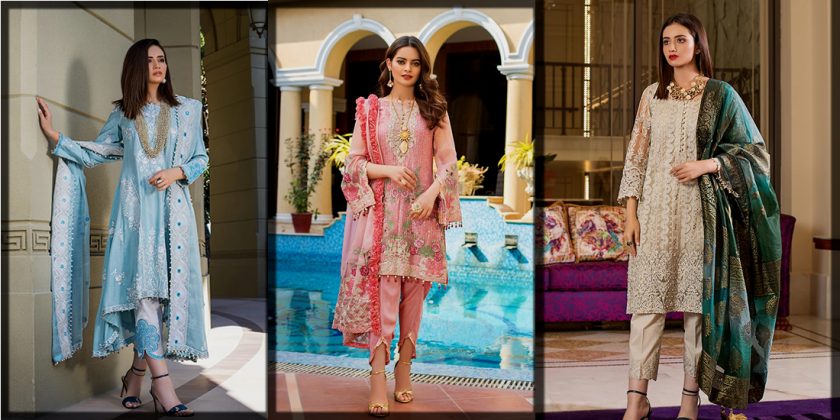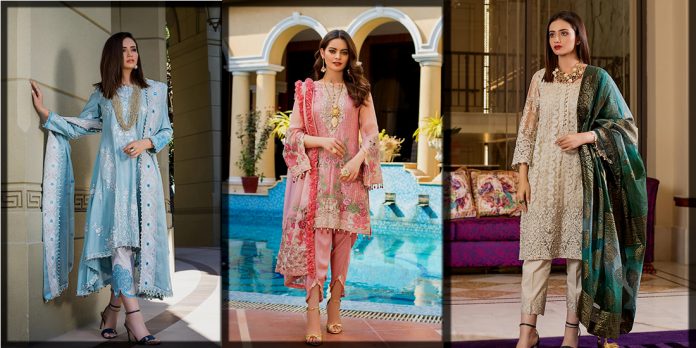 Al Zohaib introduces the best and most contemporary collection of outfits for women in every season. This summer also brings tremendous and lavish lawn attires with the desirable summer style. Al Zohaib Textiles summer collection offers casual and formal attires in the most amazing shades.
This season, they used high-quality fabric with the most vibrant tones for crafting unique dresses. You will get luxury organza, lawn, raw silk, and chiffon dresses made with pure stuff that helps the ladies to make their summer look more attractive and dazzling.
This season, the Al Zohaib Textiles brand has collaborated with famous "Jalan" drama actress Minal Khan and "Khaani" drama actress Sana Javed to promote the brand. Explore this blog towards the end to check out the newest lawn collection of Al Zohaib along with prices.
Latest Al Zohaib Textiles Spring Summer Collection for Women (New Arrivals)

The brand's designers have used a very unique and bright color theme and in the making of its summer wear more wearable and stylish. Pick any dress from its official store and prettify your summer look. The celebrity choice for this summer season's campaign is unbeatable. Both gorgeous actresses, Sana and Minal presented the dresses very wisely and gracefully. The latest Al Zohaib Textiles summer collection catalog is listed below:
Al Zohaib Summer Catalogue
1- Monsoon Chunri Printed Lawn for Teens
2- Unstitched Anum Lawn Collection
3- Monsoon Digital Printed Lawn Collection by Al Zohaib
4- Coco Digital Embroidered Lawn Group
5- Unstitched Rung Digital Embroidered Collection
6- Mahiymaan Luxury Lawn Collection
7- AZ Formal Wedding Attires for Women

1- Unstitched Monsoon Chunri Printed Lawn Collection

The outfits you carry on a daily basis should be comfortable and stylish. Hence, you always need the most jazzier attire so that you can make all of your beautiful and remarkable looks. Look at this newest Monsoon chunri summer collection by Al Zohaib Textiles.
Summer is the most favorite season for the ladies because it offers both stylish and practical outfits. Especially for teens, fashion is important. Hence, Al Zohaib Textiles offer the chicest and comfy attire for women of all ages so everyone can freely enjoy the summer season.
Three-Piece Chunri Printed Lawn Suit

Chunri printed lawn suit with the printed lawn dupatta is ideal for each lady in the summer season. Because the lawn is the comfiest texture that will help to shield you from the hot rays of the sun. For daily wear, you need comfy attires to do your work efficiently. The below three-piece summer lawn suit is the best choice to wear if you are going to a casual gathering. For more daily wear, explore the So Kamal summer collection.
Sleek Black Printed Lawn Suit for Teens

This sleek black printed lawn suit is very remarkable to wear. You can wear this cool outfit in the melting days of summer to increase your beauty. You can also wear this classy outfit at any formal gathering by pairing it with traditional adornments. Further, look at the Zellbury summer printed suits for more variety.
2- Unstitched Anum Lawn Collection by Al Zohaib Textiles
The Anum lawn collection of Al Zohaib is likewise awe-inspiring. It contains the lawn dresses in the most remarkable shades and designs. In its catalog, you get:
Printed Lawn Shirt (3 meters)

Printed Lawn Dupatta (2.5 meters)

Dyed Cambric Trouser (2.5 meters)
Lovely Pink Summer Lawn Outfit
Pink is the most appealing shade for the summer season. The below pink lawn suit from Anum lawn is very impressive. It contains the digital printed lawns shirt with lawn dupatta and trousers. The one of the best and stunning suit to wear at any casual gathering for enhancing your look and make it more dazzling and charming.
Black Printed Lawn Suit with Lawn Dupatta
Have a look at the classy black suit that is beautifying with the Mughal theme prints and patterns. You can customize this unstitched dress in any style you want. You can also wear this black suit at your formal party by pairing it with heavy adornments and bold makeup.
3- Unstitched Monsoon Digital Printed Lawn Collection

Let's explore the big and classy Monsoon digital printed collection of Al Zohaib that contains all bright shades of attires. The lawn is considered the comfiest fabric hence all brands present the lawn attires in the most amazing shades. The below Monsoon collection of Al Zohaib consists of classy summer lawn dresses. Have a glimpse!
3PC Red and Blue Summer Lawn Dress

If you are going to your friend's birthday party and looking for something excited and unique? At that point, try the blue and red mixture dress that will add more sparkle to your gaze. Tie your hair in a high ponytail and apply the brownish makeup to make all of your jazzier and sparkly looks.
Summer Lawn Suit with Cambric Trouser
Garb this outfit for your formal gathering and increase your beauty. This beautiful dress contains the printed embroidered shirt, digital printed lawn dupatta, and cambric trouser. Pair this outfit with a low ponytail, round hoops, and bold makeup.
4- Unstitched Coco Digital Embroidered Collection

Coco Catalog of Al Zohaib is containing the digital embroidered dresses. You can wear these attires at your formal events and even at wedding occasions. These beautiful dresses are furnished with thread, motifs, and pearls that will make your gaze more perfect and classy. 
3-Piece Full Embroidered Party Wear Suit
If you are searching for a modern yet decent outfit, at that point, the below sky blue and white outfit is the best. You can pair this classy outfit with white adornments and footwear. Further, keep your hair open and apply the brownish makeup and make all of your jazzier and stunning gazes.
3-Piece Embroidered Digital Printed Lawn Dress
If you are going for family dinner, then this nice outfit is for you. This dress is beautifully adorned with thread work. You can also wear this dress at a casual friends gathering to make your gaze more classy and appealing.
5- Unstitched Rung Digital Embroidered Collection
Al Zohaib Textiles rung embroidery dresses are not designed commonly. These dresses are made with extravagant textured so that ladies can refresh their summer party look. Are you looking for a stylish summer outfit that updates your look? Which style of the outfit is in trend this summer? Then, you are in the correct spot. This weblog will encourage you about what kind of outfit will be the best that makes you look more stunning and gorgeous. Here are some of the most recent dresses with mentioned prices.
3-Piece Embroidered Azure Digital Printed Lawn Dress
The dark Azure blue color is the most beautiful suit in the catalog with white detailing. The nicely embroidered shirt is paired with the digital printed lawn dupatta and cambric trouser. The gala of the shirt is prettified with embroidery. With this outfit, keep your hair open and apply nude makeup to enhance your beauty. For more three-piece suits, visit the Rang Ja summer collection.
Chic Digital Embroidered Summer Lawn Suit
Mostly ladies prefer light-shaded attires, so for those women, this below dress is perfect. The digitally printed lawn suit is furnished with the embroidered gala and daman. This is a very basic design but still very elegant and graceful. The elderly women can wear this attire because of the color theme and floral design, but teens can also wear this by getting it stitched in a modish way. Further, have a look at the unstitched embroidered collection by Ittehad Textiles.

6- Al Zohaib Textiles Unstitched Mahiymaan Luxury Lawn

Whenever you go outside, you always need a nice outfit to make yourself more glamorous. The unstitched Mahiynaan collection by Al Zohaib is very awe-inspiring just like Limelight summer collection. You can wear these dresses at any formal gathering. You can also wear these suits at evening parties for adding more charm to your party look. The Al Zohaib used the raw silk and jacquard texture for making its luxury collection. In the Mahiymaan luxury collection, you will get bright outfits that are beautifully furnished with pearls and beads. 
Dyed Chikan Kari Lawn Suit with Jacquard Border

Check out the below off-white lawn suit that is decorated with the maroon embroidery. One of the most amazing and striking formal dresses. Foil printed maroon patch at the edge of the Daman is enhancing the beauty of the dress. The same gold foil printed patch is also stitched on the sleeves and the whole stitching design of the dress is very unique.
Digital Printed

Embroidered Lawn Suit with Net Dupatta
If you want to wear the modern yet classy outfit at that point, the below dazzling dress is perfect. The sky blue embroidered suit is paired with embroidered net dupatta with mirror embellishments. The white work on the sky blue outfit is looking just superb. Grab this outfit if you want to make yourself more elegant and attractive. For more suits, visit the Khas summer collection.
7- Unstitched 3PC AZ Formal Wedding Attires for Women



Alzohaib used the masoori, raw silk, organza, and chiffon to make its wedding collection. In its wedding wear collection, you get the most amazing attires that help to refresh your look. If you want to spend a comfy season even at parties and wedding, then wear these eye-catching dresses. Moreover, you can carry these attires in a semi-formal and casual get-together as well.
Three-Piece Embroidered Masoori Suit for Formal Parties
Pink is considered a feminine color. Hence, all brands must include pink-shaded attires in each collection. So, that ladies can freely enjoy all moments of life by wearing their favorite color outfit. The below pink is the most striking outfit that is adorned with the 3D flowers embroidery that makes it more charming and alluring. Pick any style and make your look more classy and attractive. You can stitch this outfit in any style you like. These days the following dress styles are in-trend:
Long shirt with Capri

Shirt/knee-length shirt with tulip pants
3-Piece Embroidered Suit with Tilla Work Chiffon Dupatta 
Tilla work dresses are back in fashion with some modification. The following is the classy embroidered organza suit that is modified with the sequins and tilla work. These suits have very fine detailing and delicate structure. The feminine vibe of these dresses is perfect for all sorts of formal events. The beauty of chiffon For more luxury suits, visit the Sobia Nazir summer collection.
This blog will help to express yourself in your own unique style by wearing a comfy and reliable summer outfit. This notable brand also offers an online facility for its clients. If you don't have enough time to visit the retail store, at that point, you can get your desired dress from its online store. It also offers free delivery on orders above Rs. 2,499 for the ease of its customers.