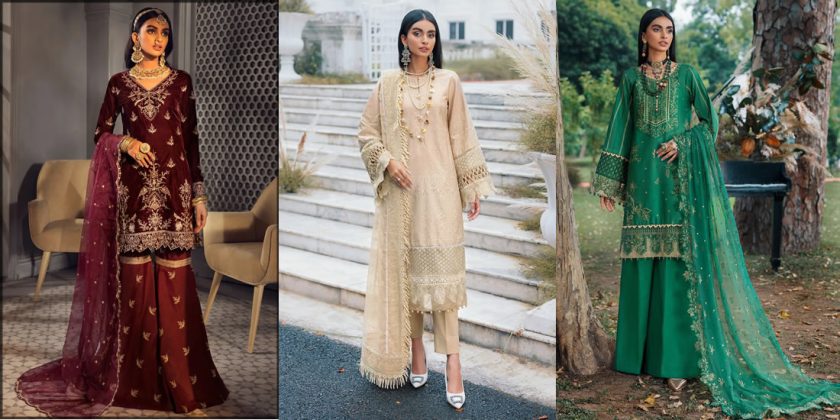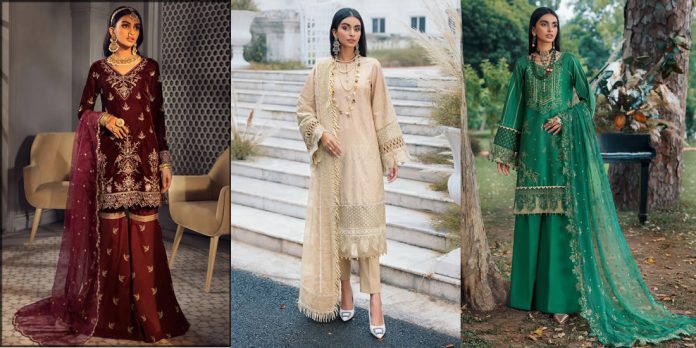 The winter collection from Motifz, recognized for its stunning and timeless designs, has completely reimagined the concept of winter attire. They have released a beautiful collection of formal gowns this season, with fabrics such as khaddar, linen, jacquard, and bemberg chiffon. The dedication to high-quality design and classic sophistication that permeates this collection is clear.
The khaddar and linen dresses are ideal for the cold winter months, providing warmth without sacrificing style. These fabrics are perfect for daytime parties and relaxed winter events due to their earthy tones and natural textures. The jacquard items, on the other hand, are ideal for more formal situations where you want to make a bold impression, thanks to their beautiful designs and hint of grandeur.
Motifz's bemberg chiffon evening gowns have also injected a dash of glitz. Light and airy, these outfits are great for formal occasions due to their intricate decorations and attention to detail. Motifz's winter collection is a must-have for the trend-conscious because of the way it fuses traditional and modern aesthetics, providing a wide range of clothing options to suit each woman's taste.
About the Brand and Designer
Hasan Ahmed Khan established Motifz in 2004. The main aim of this brand is to provide women with the latest and trendy designer clothes. So they can adorn themselves well on any occasion or celebration. So, each season, they prepared seasonal garments using contemporary patterns and hues to satisfy their clients. It also provides free shipping in Pakistan for orders worth more than Rs 2500 for its customers' contentment.
Latest Motifz Linen, and Bemberg Chiffon Formal Dresses [Prices]
If you are looking for a way to remain warm this winter while still exuding timeless grace and charm, go no further than Motifz's winter collection, which is a real expression of the brand's attention to high-quality fabrics and intricate craftsmanship. This collection honors the finer points of personal grooming and attests to Motifz's unwavering dedication to the highest standards of the fashion industry. Motifz is a famous Pakistani brand that offers the most elegant and classy outfits for women every year.
This winter, it likewise grants striking attires made with the comfiest fabrics that indeed add more charm to your winter look and make it appear dazzling. It was founded a few years ago, and now it has become the most favorite brand among ladies. Momentarily, women of all ages prefer to wear exquisite attires by Motifz at every event. Moreover, the prices of these luxury and seasonal suits are also mentioned below for your ease. For a more stunning winter collection, you can also visit the Ittihad Textiles winter collection, which contains the most impressive winter outfits for ladies and teenagers. 
1- Unstitched Bemberg Chiffon Winter Collection
Cotton satin is the most luxurious texture that keeps you warm during the cold days of winter. In the cotton satin catalog, you get the most majestic winter outfits, perfectly designed to maintain the demands of this weather in mind. You can also wear these stunning attires at any wedding event for an appealing gaze.
These stunning cotton satin luxury suits are paired with the jacquard, chiffon, and linen dupatta you can easily carry for a formal look. You likewise get the most alluring and classy Pakistani formal dresses in this catalog.
Motifz's formal bemberg chiffon dress in sky blue is a testament to timeless elegance. Its heavy embroidery on the border, neckline, sleeves, and front adds a touch of opulence to the serene sky blue backdrop, making it a perfect choice for those seeking sophistication and grace in their formal attire.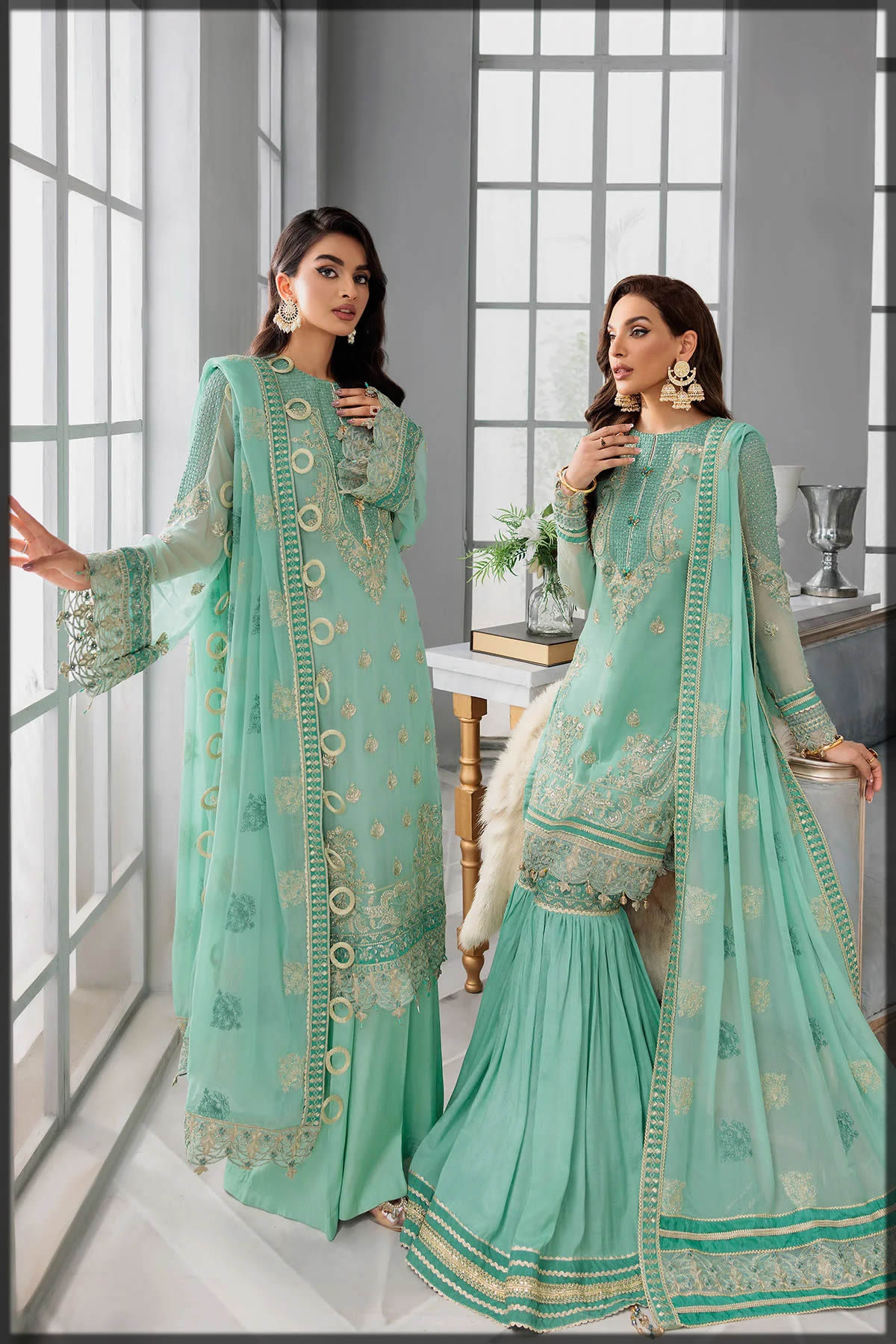 It is impossible to go wrong with Motifz's black bemberg silk dress or saree. This piece can be worn to many different types of evening events and makes a bold and stylish fashion statement thanks to its detailed embroidery that adds a touch of glitz and luxury.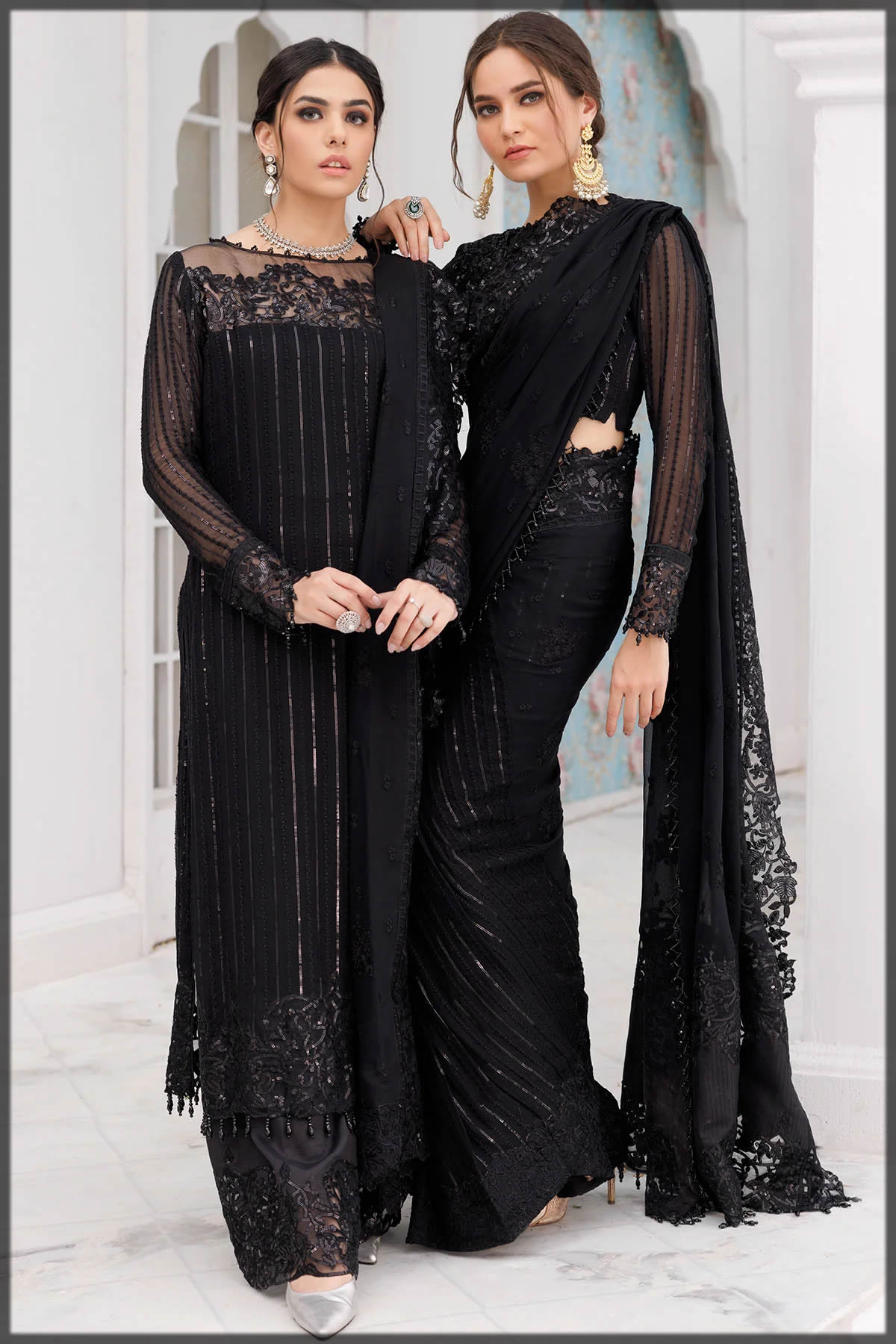 These navy blue Bemberg chiffon dresses by Motifz are great for a fresh and eye-catching look. The heavy stitching brings out the rich colors even more, making you stand out at any formal event with an air of beauty inspired by the ocean.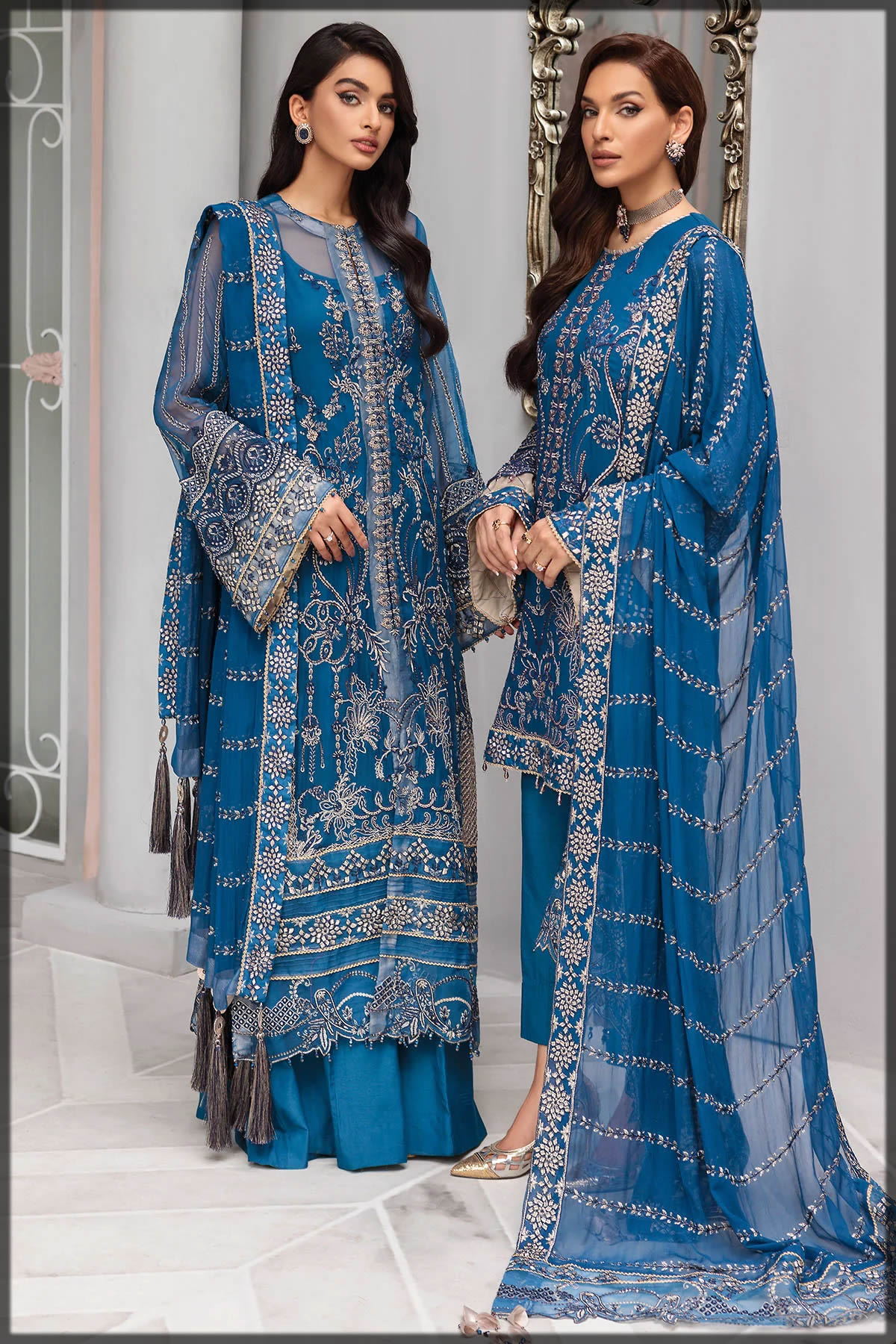 Motifz's beige bemberg chiffon dress with embroidery in many colors mixes old and new styles. It's a versatile and eye-catching choice for many events because the colors and intricate details go well together. You can honor your cultural background while staying on trend.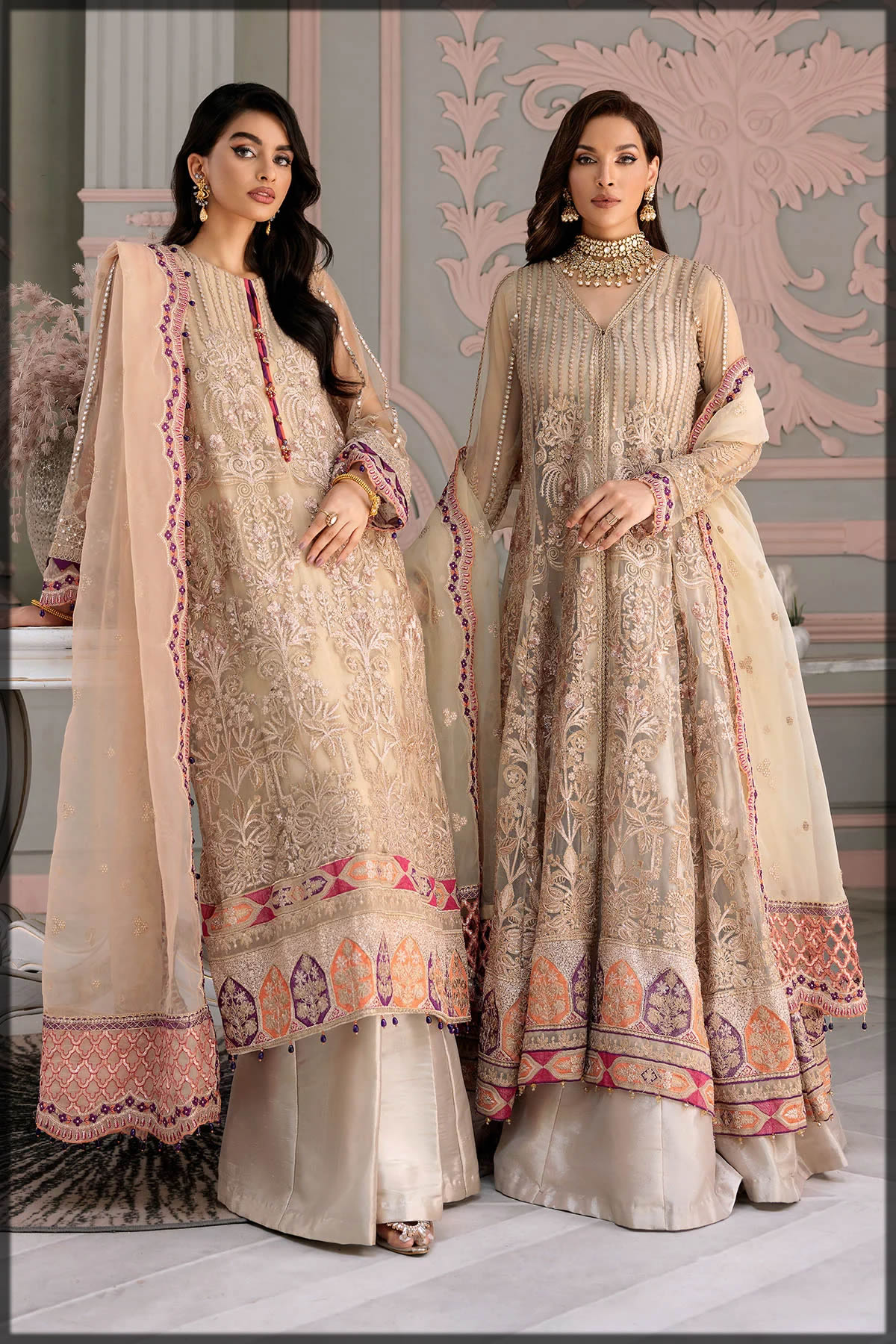 Motifz's burnt orange bemberg silk dress is a beautiful choice that will make any event warmer and more lively. The rich, fiery color looks great with the detailed embroidery, making it a great choice for people who like to make a statement with their clothes.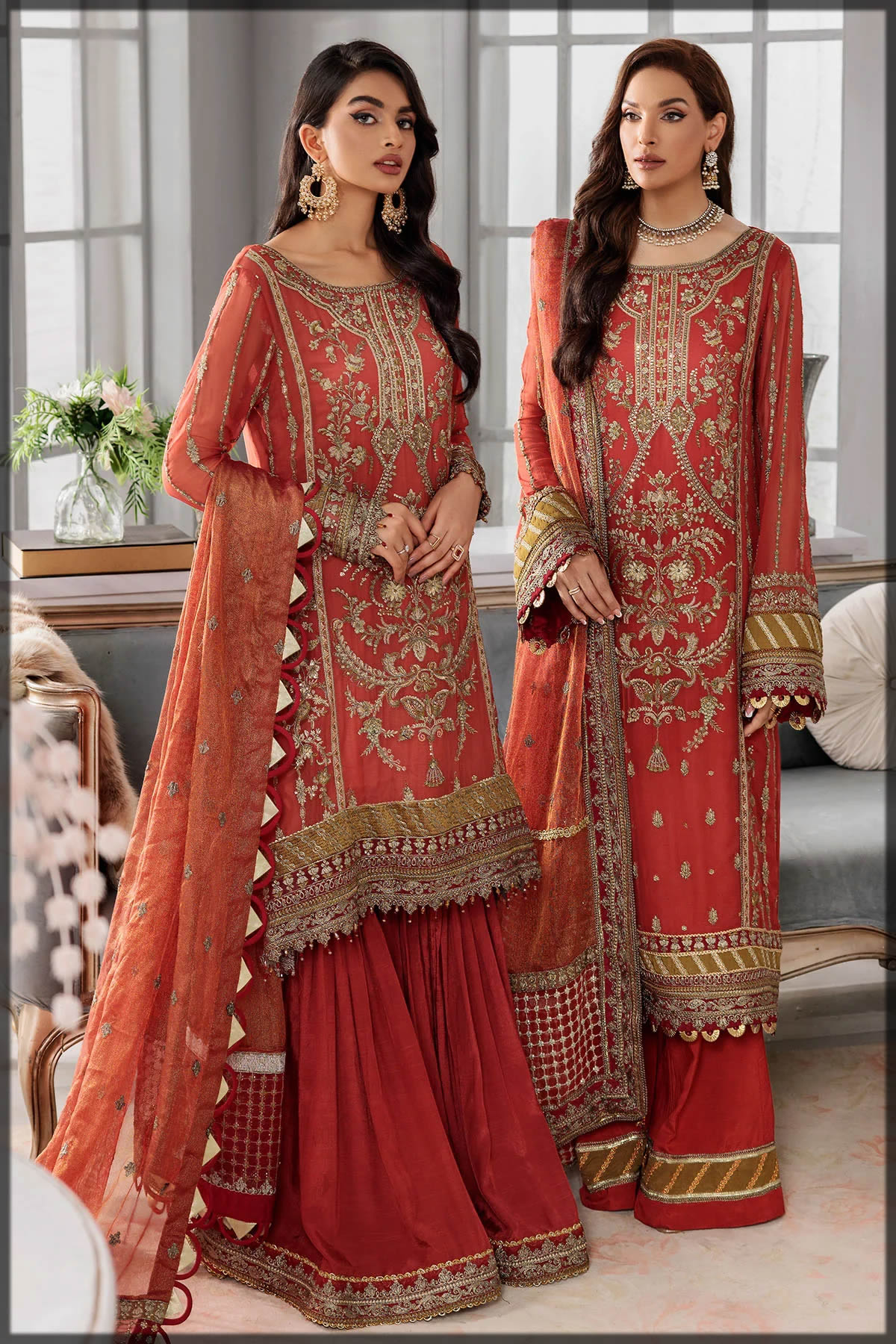 2- Premium Linen Unstitched Attires
Like cotton satin, linen is also the comfiest and softest fabric that helps to keep you warm. In the latest dresses by the So Kamal winter collection, you can also have stylish and elegant linen dresses in the most alluring designs. Usually, the linen is the homeware stuff, but the Motifz has adorned the linen stuff with pearls and motifs. Now you can also wear your linen clothes at a formal party.
Embroidered Linen Suit with Blue Shawl

Are you going to your friend's reunion? Do you also want to keep yourself safe from the cold days of winter? Then, visit the Motifz linen attires and grab your favorite one. Below is the most dazzling linen party wear outfit you can wear at your friend's reunion because of its classical prints.
For making your look attractive, this dress is the best option. The dress is beautifully furnished with dainty thread work. Also, the contrast of the dupatta looks so classy. Combine it with traditional jewelry and peep-toe shoes to make all your extra charming looks. The Chinyere winter collection has also gotten an immense liking from women nationwide.
Linen Outfit for Young Girls

Grab this outfit to provide good vibes to your feminine look because blue is the most lovely shade that helps to demonstrate your beauty. This pretty and poppy outfit is specially designed with classical and charming prints that add extra sparkle to your fashionable look. You can also customize this stunning suit in peplum-style dresses to look extra modest and stylish.  
Classy Linen Suit with Embroidered Neckline

In winter, try to wear the grey-shaded attire because it is a glossy color that adds more shine to your winter look. Look down at this cute outfit that is additionally enhanced with the thread embroidery. This stunning dress is perfect for an evening party. You can likewise wear this lovely outfit for your business meeting. 
This is one of the sleekest outfits from the Motifz winter collection that will renew your look and make it more dazzling. All you have to do is combine this dashing outfit with beaded accessories and block-heel shoes to get the perfect formal look. To try other astonishing attires, look at the Generation winter clothing range. 
Pretty Orange Linen Dress
Elegant and sophisticated best describe Motifz's embroidered rusty orange linen dress. The dress includes a dramatic large embroidered border on the front, lending a touch of grandeur to the rich reddish orange linen fabric. This elaborate needlework adds to the dress's aesthetic value while also projecting an air of classic elegance. The dress is accompanied by a linen embroidered shawl that serves as the appropriate accessory. This outfit, which combines classic tailoring with cutting-edge trends, is perfect for making an entrance at any formal event. For more linen attires, visit the Lulusar winter collection. It also has a wide variety of linen and cambric winter collections.
Embroidered Red Linen Attires
Motifz's Embroidered Red Linen outfit has won the hearts of fashionistas once again. This gorgeous suit is an homage to the brand's dedication for mixing traditional craftsmanship with contemporary elegance. Intricate multicolored botis cover the front of the dress, creating a stunning and bright contrast with the outfit's rich, deep red linen fabric. Each boti is an individual work of art that displays Motifz's signature skill in needlework and attention to detail.
Both the dress and the linen embroidered shawl are works of art, but it is the shawl that truly sets this ensemble distinct. The shawl's embroidery is a perfect match for the rest of the ensemble, and it adds a touch of class and warmth to the ensemble overall. The bright red linen and the intricately woven shawl create a timeless and contemporary look, making this ensemble ideal for weddings and other formal events. Motifz maintains its reputation as a leading light of elegance and panache in the fashion industry with this embroidered red Linen design.
4- Formal Wear Motifz Winter Collection [Pret]
The magnificent jacquard textiles featured in Motifz's winter collection of formal attire attest to the label's dedication to sophistication. Each of these cocktail outfits is a study in exquisite fabrics, patterns, and tailoring. This collection has something for every woman, from the rich and regal jacquard designs in classic colors to the vivid contemporary selections. Motifz's formal wear jacquard dresses are a must-have this winter; they feature a stunning combination of luxurious gold print and embroidery that will make any wearer the center of attention at any formal event.
The pret jacquard dress offered by Motifz, characterized by its opulent purple color, exemplifies a sense of royal sophistication. The dress has elaborate gold print and embroidery embellishing the borders, neckline, sleeves, and front, resulting in an opulent and visually captivating ensemble suitable for special events.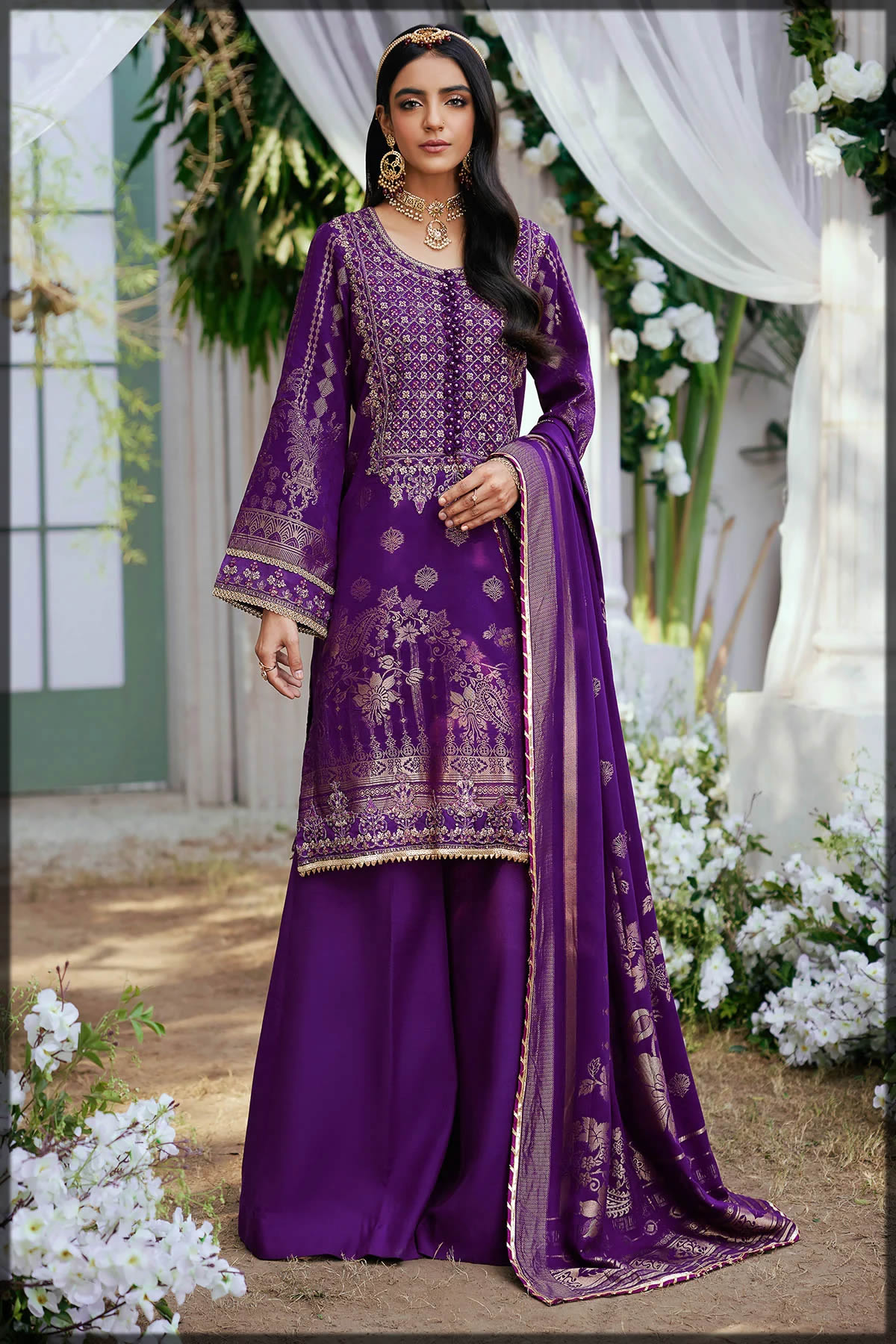 For those who prefer classic sophistication, the black pret formal jacquard dress from Motifz is an ideal choice. Its tasteful gold print and detailed embroidery elevate the dress to a new level of timeless charm, making it a versatile addition to any wardrobe.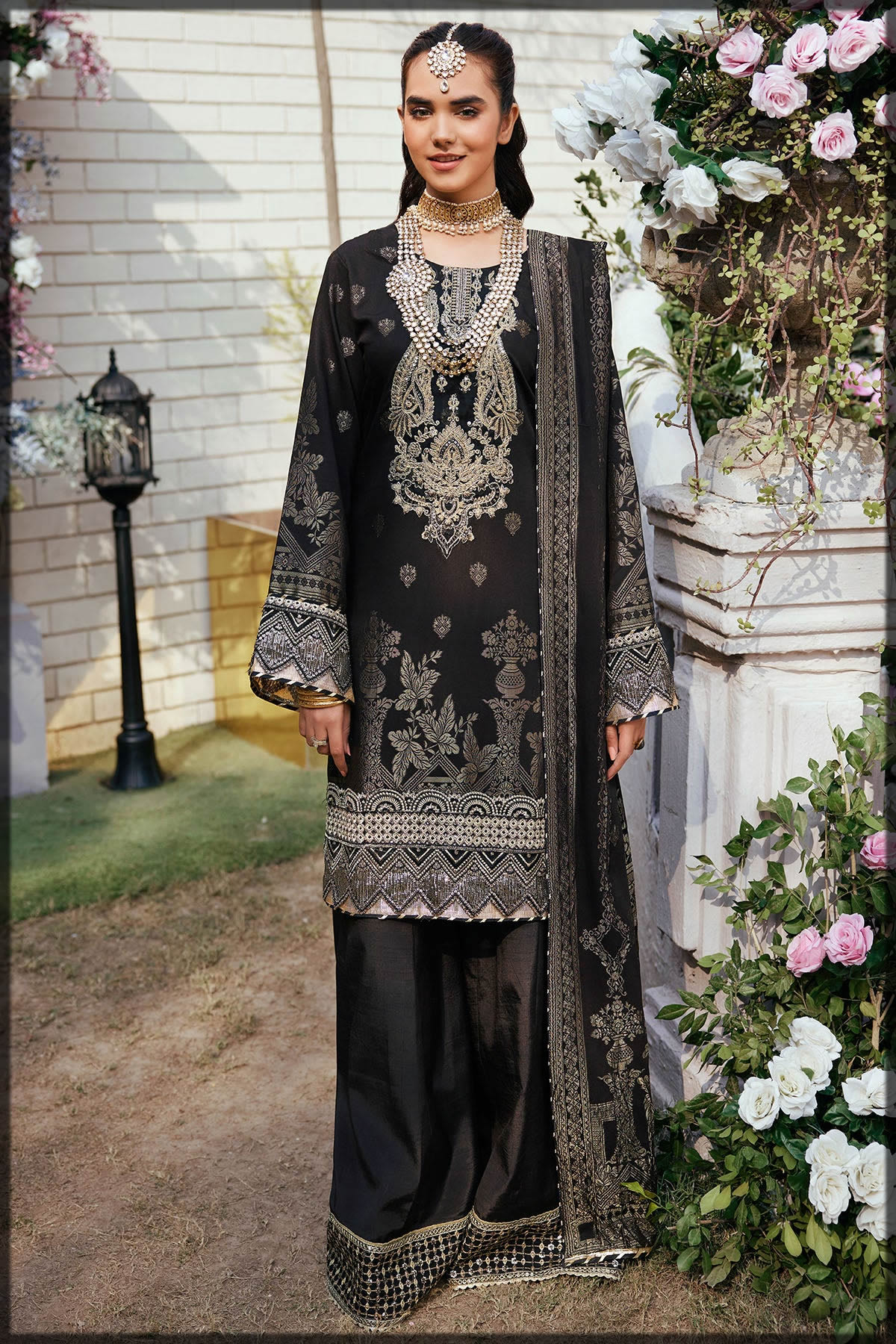 If you want to make an impression at any formal event, go no farther than Motifz's pret formal jacquard line, where every garment is a one-of-a-kind masterpiece. Just look at this beautiful sea green dress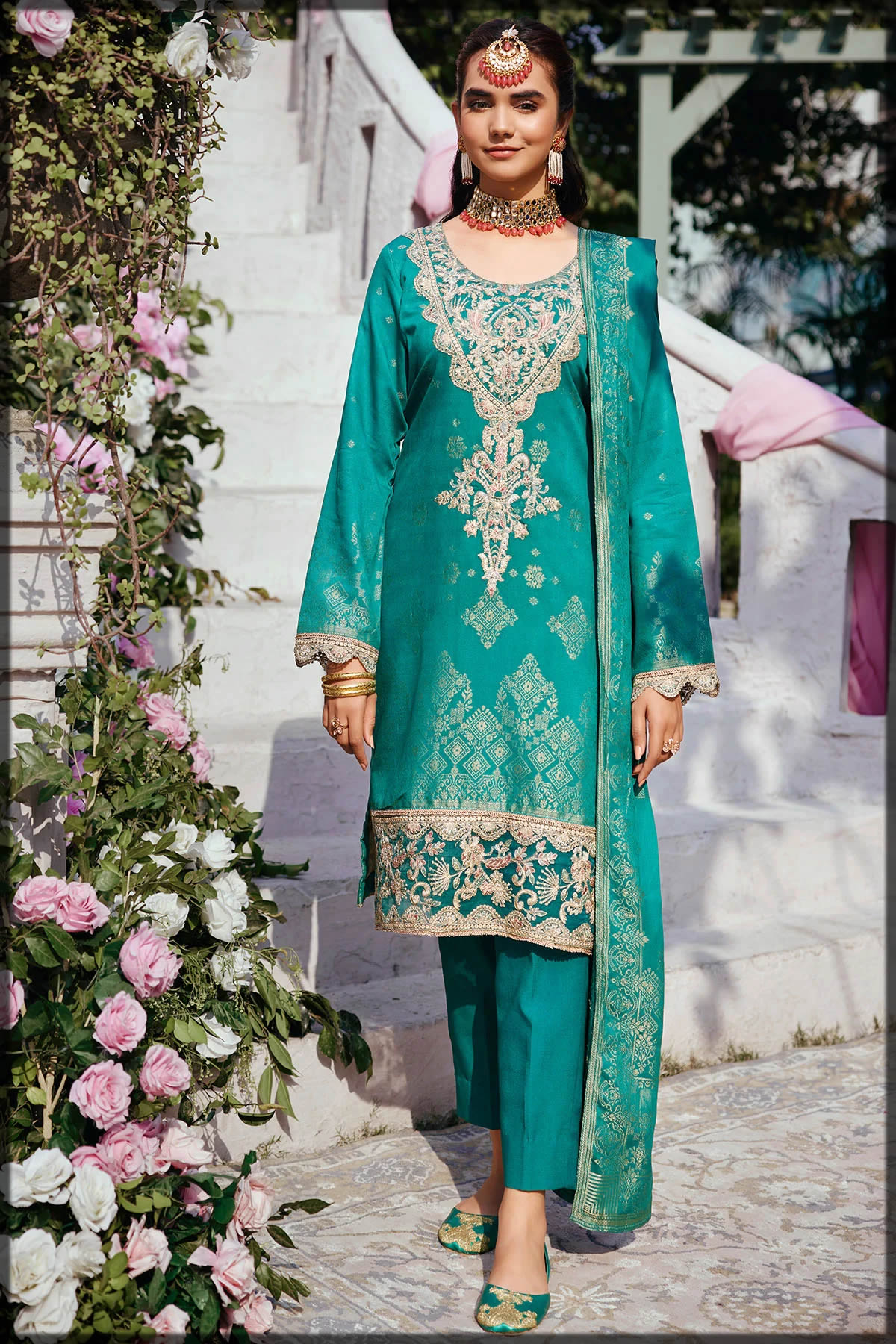 Royal green pret formal jacquard dress by Motifz bring a refreshing and vibrant twist to formal wear. These dresses are adorned with the same impeccable gold print and embroidery, offering a perfect blend of style and grace.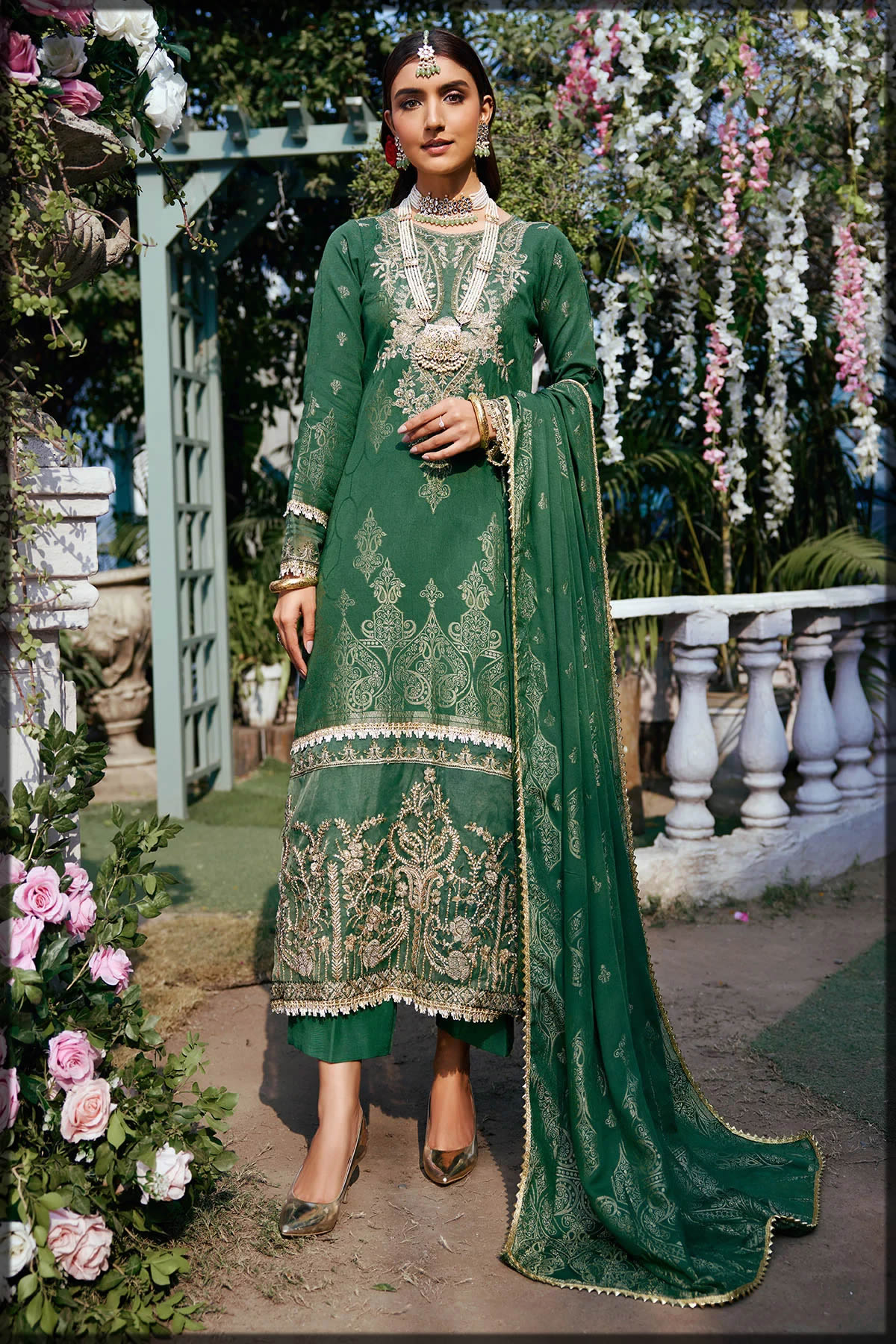 The peach shirt with a maroon dupatta is a delightful pairing from Motifz's collection. The intricate gold print and embroidery add a touch of opulence to this ensemble, making it a standout choice for special occasions that require a striking contrast of colors.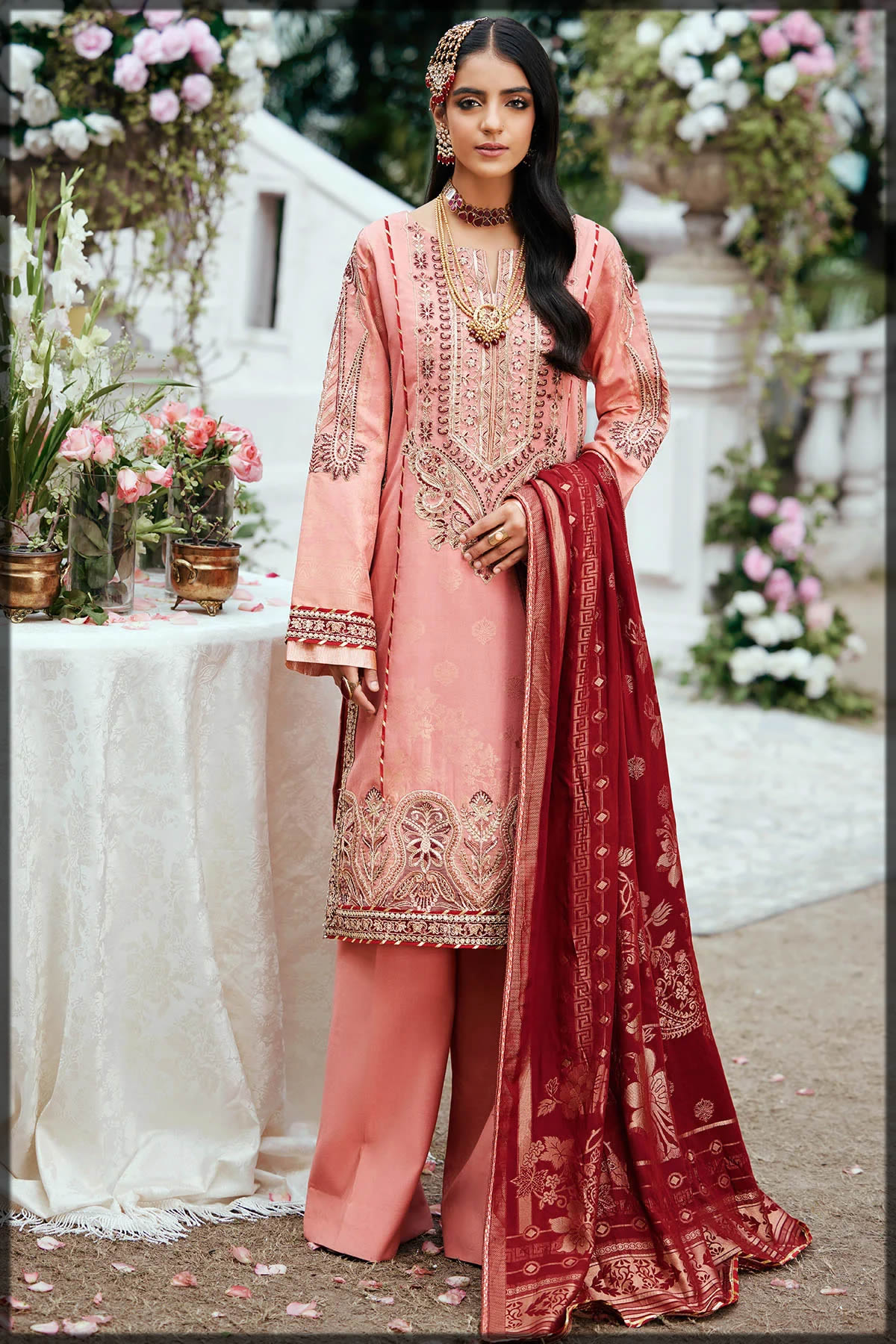 Motifz's collection combines modern and classic styles, as shown in the beige shirt and yellow organza embroidered long coat. These pieces are ideal for the fashion-forward minimalist, thanks to the refined gold pattern and embroidery.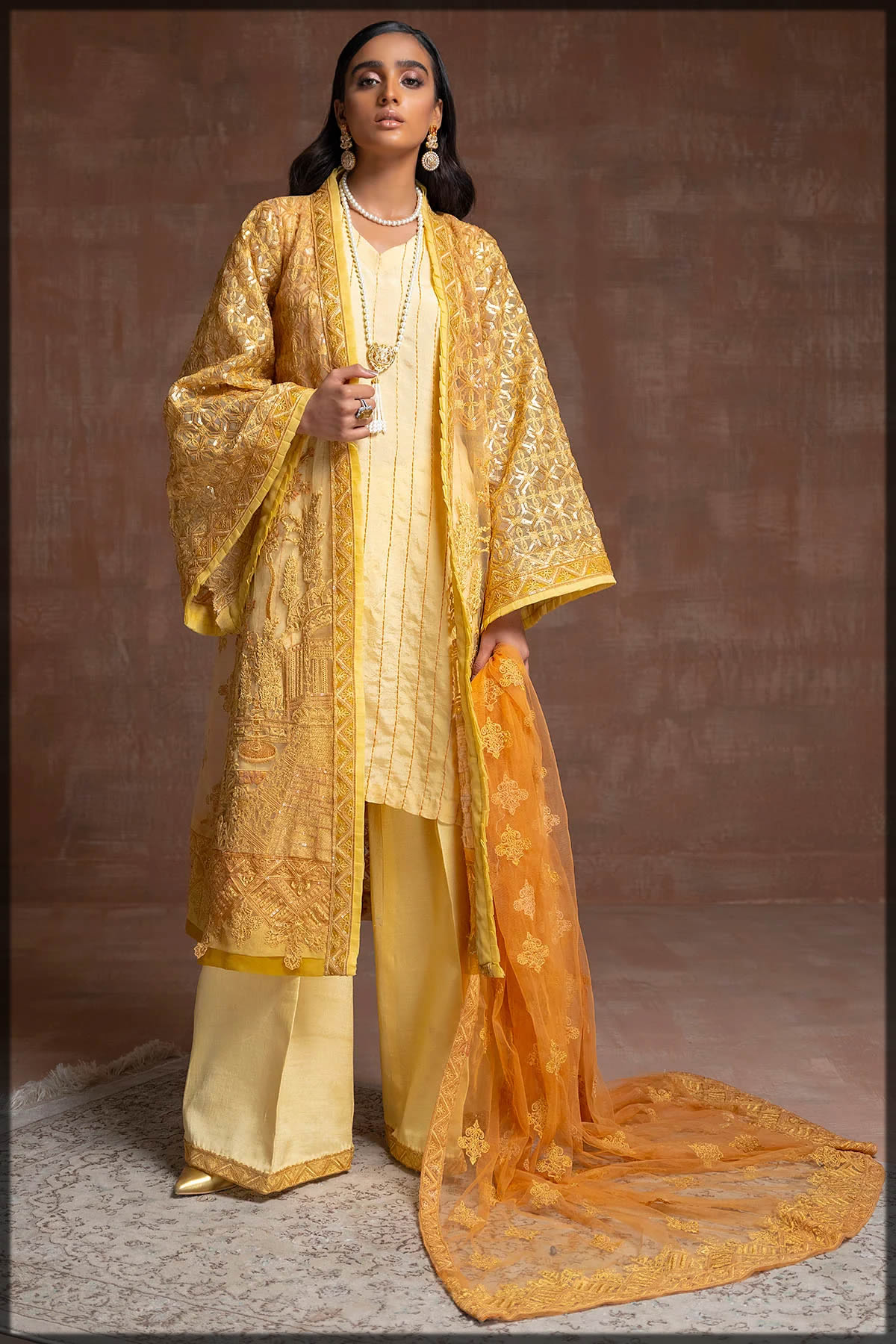 Look above and explore the spacious Motifz winter collection, designed with the most designs and elegant tints. Like many other notable brands, it also provides COD (cash on delivery) service to its customers for their convenience. I believe this weblog will aid you in getting your desired outfits. So why are you waiting for? Rush up and grab your fancied articles to modernize your winter look.