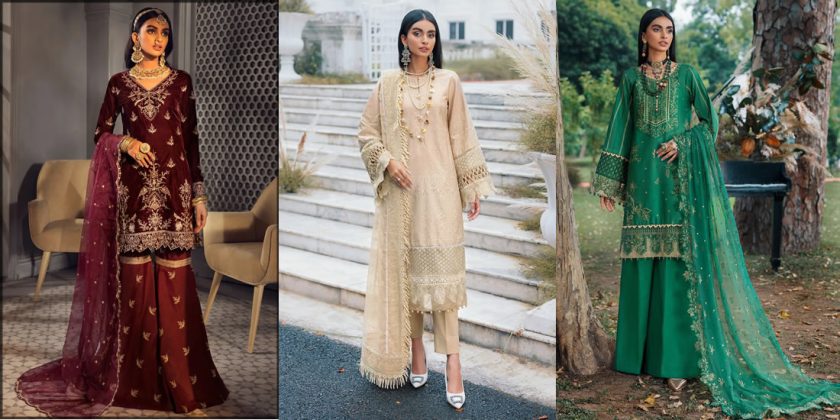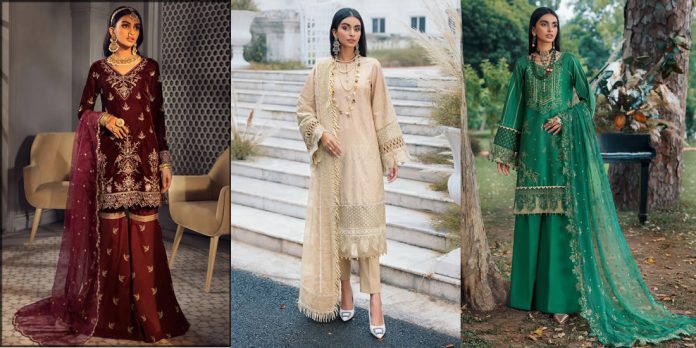 It's time to refresh your summer wardrobe with the winter wardrobe. Each brand and designer does its best to provide the latest and classy attires for women in winter. The Motifz winter collection likewise has brought the chicest attires in the most dazzling styles and shades.
This winter, make yourself attractive and glammy by wearing the Motifz attires because it has the most alluring and splendid designs for women of all ages. It is also known as a luxury clothing brand in Pakistan because each season, it affords luxury chiffon, net, and organza dresses in seasonal textures so the ladies can enjoy the seasonal event voluntarily by adding more appeal to their look.
You will get the alluring linen, cotton satin, khaddar, jacquard, net, and chiffon attires in the winter collection by this brand. So explore this blog till the end and get the most dreamy attires for you. All of these elegant dresses by the Motifz winter collection will encourage you to make all of your looks distinguished and fascinating. 
About the Brand and Designer
Hasan Ahmed Khan established Motifz in 2004. The main aim of this brand is to grant women with the latest and trendy designer clothes. So they can adorn themselves well on any occasion and celebration. So each season, they prepared seasonal garments by using contemporary patterns and hues for satisfying their clients. It also provides free shipping in Pakistan for orders worth more than Rs 2500 for its customers' contentment.
Latest Motifz Linen, Khaddar, and Cotton Satin Winter Suits for Women
Motifz is a famous Pakistani brand that offers the most elegant and classy outfits for women every year. This winter it likewise grants striking attires made with the comfiest fabrics that indeed add more charm to your winter look and make it appear dazzling. 
It was founded a few years ago, and now it has become the most favorite brand among ladies. Momentarily, women of all ages prefer to wear exquisite attires by Motifz at every event. Moreover, the prices of these luxury and seasonal suits are also mentioned below for your ease. For a more stunning winter collection, you can also visit the Ittihad Textiles winter collection, which contains the most impressive winter outfits for ladies and teenagers. 
1- Unstitched Cotton Satin Winter Collection
Cotton satin is the most luxurious texture that keeps you warm during the cold days of winter. In the cotton satin catalog, you get the most majestic winter outfit that is perfectly designed by keeping the demands of this weather in mind. You can also wear these stunning attires at any wedding event for an appealing gaze.
These stunning cotton satin luxury suits are paired with the jacquard, chiffon, and linen dupatta that you can easily carry for getting a formal look. You likewise get the most alluring and classy Pakistani formal dresses in this catalog.
Emerald Green Cotton Satin Embroidered Suit
Whenever you purchase an outfit for you, always consider your skin tone in your mind because skin tone matters a lot. Different shades complement different skin tones. Green is the most stunning hue that works well on all skin tones. So feel free and buy this fantastic outfit to make your look captivating.
This beautiful dress is richly adorned with threadwork in a mixture of green and golden hues. You will carry this outfit at any formal and wedding event to make your look splendid and dazzling. Try to match your green outfit with minimal makeup, silver, and golden gemstones, and flat footwear to add more glamour to your gaze.
Purple Embroidered Winter Suit with Chiffon Dupatta 
Check out the most classy purple cotton satin suit, fully enriched with motifs, pearls, and thread embroidered. It is paired with the chiffon dupatta that has heightened pallus. Furthermore, the dyed cotton trouser adds more allure to this outfit. 
To make your wedding flash extraordinary and appealing, carry this striking outfit for your sister/brother's nikkah function. All you ought is to apply brownish makeup, Rajasthani accessories, and khussa footwear to dazzle the event. Almirah's winter collection also has a similar variety for you. So give them a shot too!
Blacl Three-Piece Cotton Satin Suit with Schiffli Embroiderd Crinkle Chiffon Dupatta

Women love carrying the crinkle chiffon dupattas because they are effortless to maintain. Plus, it adds more charm to your winter look. Look at the most lovely black embroidered shirt nicely adorned and paired with the cotton trouser and embroidered chiffon dupatta. Carry this outfit for your formal night and make all of your engaging and breathtaking gazes. Moreover, match this outfit with the Rajhastani jewels and smokey makeup to ravishingly slay the winter night.
2- Umang Motifz Linen Unstitched Attires
Like cotton satin, linen is also the comfiest and soft fabric that helps to keep you warm. In the latest dresses by the So Kamal winter collection, you can also have stylish and elegant linen dresses in most alluring designs.
Usually, the linen is the home wear stuff, but the Motifz has adorned the linen stuff with pearls and motifs. Now you can also wear your linen clothes at a formal party. For more linen attires, visit the Lulusar winter collection. It also has a wide variety of linen and cambric winter collections.
Digital Printed Linen Suit with Linen Dupatta
Are you going to your friend's reunion? Do you also want to keep yourself safe from the cold days of winter? At that point, visit the Motifz linen attires and grab your favorite one. Below is the most dazzling linen party wear outfit that you can wear at your friend's reunion because of its classical prints.
For making your look attractive, this dress is the best option. The dress is beautifully furnished with a mixture of parrot green and pink hues. Also, the contrast of the digital printed dupatta is looking so classy. Combine it with traditional jewelry and peep-toe shoes to make all of your extra charming looks. Chinyere winter collection has also got an immense liking by women across the country.
Poppy Linen Outfit for Young Girls

Grab this outfit for providing good vibes to your feminine look. Because sky blue is the most lovely shade that helps to demonstrate your beauty. This pretty and poppy outfit is specially designed with classical and charming prints that indeed add extra sparkle to your fashionable look. You can also customize this stunning suit in peplum-style dresses for looking extra modest and stylish.  
Classy Linen Suit with Embroidered Neckline

In winter, try to wear the beige-shaded attire because it is a glossy color that adds more shine to your winter look. Look down at this cute outfit that is additionally enhanced with the thread embroidery. This stunning dress is perfect for an evening party. You can likewise wear this lovely outfit for your business meeting. 
One of the sleekest outfits from the Motifz winter collection that surely renew your look and make it more dazzling. All you have to do is to combine this dashing outfit with beaded accessories and block heel shoes for getting the perfect formal look. If you want to try other astonishing attires, then take a look at the Generation winter clothing range. 
3- Comfy Unstitched Khaddar Collection
Khaddar is the comfiest texture that many of us like to carry during the cold days of winter to remain heated. Hence, on-demand, this season, Motifz also offers the comfiest khaddar attires for women of all ages. They used delicate thread embroidery and digital prints to furnish their khaddar dresses.
These classical khaddar dresses are paired with digitally printed khaddar dupattas to compliment your look. You can carry these khaddar attires at any casual, formal, and social gathering to make all of your ravishing and gorgeous gazes. Plus the costs of these attires are too low, which anyone can easily buy to update their winter look with vogue.
Digital Printed Slub Khaddar Suit
Nowadays, it is the first priority of each young girl to look modest yet decent. Hence they always go for the plain and printed suits, so for those ladies, the below blue and black shaded outfit is the fittest. This striking outfit from the Motifz winter collection will increase your beauty by adding more allure to it.
You can stitch this classic outfit in any tunic and jacket style dress for grabbing the modest gaze. With this appealing suit, apply the brownish makeup, wear decent accessories and keep your hair free by adding some curls to make all of your noteworthy and awe-inspiring looks. Moreover, wear the high heel shoes to invigorate the crowd with your elegant gaze.
Blazing Pink Slub Khaddar Attire
Pink is considered the lady's favorite color. Hence all brands must include pink outfits in their seasonal collection. Have a look at this beautiful pink khaddar outfit that not only keeps you warm also makes you look dashing and killer. It is paired with the digitally printed dupattas that increase the overall beauty of this outfit.
You can carry this outfit at any casual gathering for making your look super look. Moreover, with bold makeup, heavily beaded gemstones, loose curly hair, and high heel shoes you can also wear this outfit on any formal event.
Universal Theme Khaddar Suit
If you want to wear unique and elegant pattern clothes, at that point, look down at this beautiful universal pattern outfit that is designed with a mixture of bright and dark hues. It is paired with the plain dyed trouser and matched dupattas. You can carry this outfit at any formal and social gathering to get the prettiest flash.
If you want to get the modest look at that point pair your universal pattern outfit with the sleek high heel shoes. While if you want to get a decent and comfy look then pair your outfit with the flat mules. The decision is yours.
4- Luxury Party Wear Motifz Winter Collection[Unstitched]

Here you will get chiffon, silk net, and organza attires that are beautifully adorned with the latest patterns. Motifz is the only brand that offers the richest clothes in your favorite shades. Plus they used thread, adda, sequins, and crystal artwork to adorn these luxury dresses. 
Look down at the luxury catalog by Motifz that offers stunning outfits in brilliant shades and designs. You can carry these enchanting attires at any of your formal and wedding events. As you know,  Fancy silk dresses are also in trend for parties and formal events, hence Motifz likewise grants silk net dresses for ladies.  
Embroidered Crinkle Chiffon Suit with Fancy Banarsi Dupatta

Whenever you are going to any event, a classy outfit helps to complete your appealing look. In this regard, all brands offer the chicest dresses for women and teenagers.
Below is the most fabulous crinkle chiffon dress that you can wear to make your look more impressive and remarkable. This cute dress is richly furnished with thread and beaded artwork that give your a royal look. It is paired with embroidered banarsi dupattas and dyed trousers. If you want to get the concentration of others at that point, customize your outfit in an off-the-shoulder style and get the killer gaze.
Sleek Black Organza Embroidered Suit

Look at the rich organza outfit underneath that is delightfully adorned. If you desire to catch others' attention, at that point, choose any organza dress from the Motifz store. The following sleek black dress has the classic thread and sequins work over it. It is paired with matched trousers and dupattas. You can also combine the embroidered winter shawl with this dress for enhancing its grace.
You can carry this pretty outfit on any wedding occasion to make all of your captivating and dazzling gazes. With this bright-shaded outfit try to keep your makeup and accessories minimal for an extraordinary look. Moreover, tie your hair in any trendy style and rock your event.
5- Motifz Winter Velvet Edit for Women
For women, the velvet texture is perfect because it's the comfortable and soft fabric that helps to normalize the look and makes it more pretty and elegant. If you want to add extra shine and sparkle to your wedding look at that point give a chance to these velvet outfits that are beautifully adorned. You can wear these striking outfits at the mehndi and major ceremony of your beloved one if you like.
If you love an extensive look, then you can pair your velvet outfit with heavy gemstones and makeup. In contrast, if you want to grab a decent yet elegant flash, then pair your velvet outfit with lightweight accessories. The choice is yours.
Look above and explore the spacious Motifz winter collection, designed with the most snazzier designs and elegant tints. Like many other notable brands, it also provides the COD (cash on delivery) service to its customers for their ease. I believe this weblog will aid you in getting your desired outfits. So why are you waiting for? Rush up and grab your fancied articles to modernize your winter look.