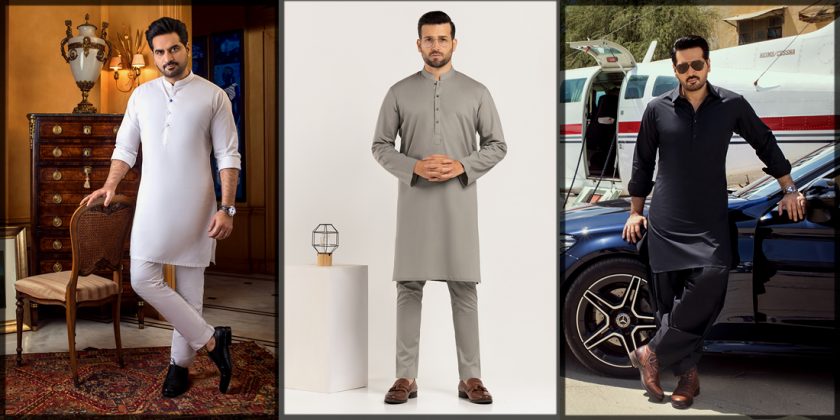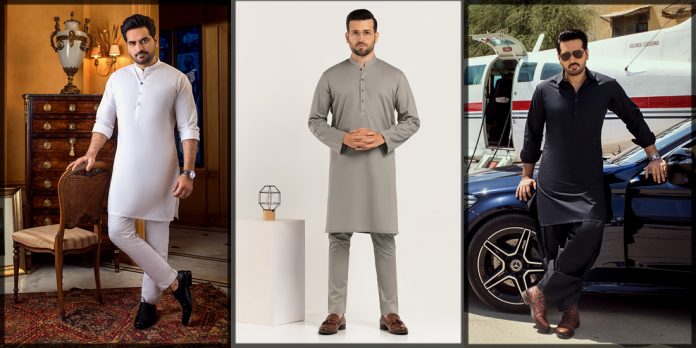 Gul Ahmed is extensively liked for the quality of its material. Moreover, this brand started its profession in the year 1953. With time it also kept advancing the quality of its material and the designing of its clothes. Now it is becoming the most favored brand of ladies and men because of its unique and striking crafted attires. The brand also keeps launching its designs and new stuff in the summer season too. Gul Ahmed shalwar kameez suits for men have been launched in the market.
The latest summer variety of men's collection is so versatile. These dresses for summers indeed fulfill the requirement of the weather. They are mostly in light colors, and the contrasts of the dresses are so cheerful and charming, as you can see below. Moreover, its unique styling has gained the trust of its regular customers.
Also, the availability of dresses according to casual and formal wear makes it easy for men to select accordingly. If you want to add more appeal and grace to your look, then pair your suit with the right pair of shoes. This season, Gul Ahmed collaborated with the most handsome man of the Pakistan industry, Humayun Saeed, for the summer shoot. Let's explore the latest shalwar kameez collection of Gul Ahmed that is recently launched.
Latest Gul Ahmed Shalwar Kameez Collection for Men and Boys- Unstitched Collection

The traditional Shalwar Kameez is our general dress that many Pakistani men prefer to wear in their everyday routine. Moreover, shalwar kameez is likewise comfortable to wear as informal wear. Gul Ahmed has always focused on traditional clothing and tries to offer the newest and traditional pattern attires for the satisfaction of its clients. The latest collection of Gul Ahmed consists of conventional dresses that contain fabulous dresses made with pure and comfy stuff. Plus, the color combination of these dresses is mind-blowing.
Trust me! You will feel free by wearing the Gul Ahmed attires because their dresses are made with comfortable and relaxing fabric that will keep you fresh and cool. You can also wear these dresses at any event and wedding occasion by combing them with the classical and colorful waistcoat.
Gul Ahmed Shalwar Kameez for Casual wear in Lawn Stuff

Lightweight dresses with simple stitching and designs are mostly chosen for homewear. Hence, Gul Ahmed offers lawn dresses for the well-being of its clients. In the latest summer collection, you will find a wide variety of casual dresses for men in striking shades. Look down to check out the newest lawn dresses for men.
The first grey color suit is very appropriate for the daily routine to do your work comfortably.

Further, the second green dress is likewise best to make you look extra smart and handsome at any casual summer event.  

Furthermore, the traditional Camel-colored is also looking quite classy. The choice of dark-colored shoes is more appropriate for them. You can wear this appealing outfit at any casual get-together to make your look more graceful.

The last off-white color is in trend these days. Not only it makes you look decent but also goes well with men's personality.
Black Gul Ahmed Kameez Shalwar

The shade of the outfit is enhancing the outlook of personality. Hence always pick the right shade. The black color is quite popular among men. It is one of the most appealing and dazzling shades that renews and refreshes your look and makes it more alluring.
The following black dresses are so graceful and magnificant. You can wear these apparel as your casual dresses to make all of your jazzier and breathtaking looks. You can combine your black dress with any summer sandals and open shoes to complete your captivating and killer look.  J. summer dresses also contain a wide variety of majestic black suits, check it also.
Beautiful Shades of Yellow

Yellow color shalwar kameez for men always remain in trend. Hence, Gul Ahmed provides stunning and beautiful shades of this color. You will get the light yellow, banana, dark lemon, and dark beige dresses in the newest summer collection of Gul Ahmed. The formal shoes in black and maroon color make the best pair with these beautiful yellow attires.
These sophisticated shades make men's personalities more vibrant and also keep them safe from the melting days of summer. Because all of these dresses are made with cotton stuff, that is considered a very lightweight and cool fabric for the summer season. Pair these light-shaded attires with dark-shaded footwear and trendy hairstyle to make all of your awe-inspiring and jazzier looks.
Grey Traditional Wear for Men
Black and white create a lovely grey color. This dazzling color makes the personality quite attractive. Furthermore, this fantastic color makes the perfect choice for informal wear. You can likewise wear a grey-shaded outfit at any casaul event to look extra classy.
Look down at the four different shades of grey color and pick anyone according to your choice. You can combine these grey suits with any dark-shaded waistcoat to get the formal look. If you do not like shalwar kameez, try Gul Ahmed kurta pajama.
Graceful Shalwar Kameez in White

White is a pure color, which provides decency to the personality of the males. The delicacy of this color is also unmatchable. White is equally desirable for casual as well as formal routines. For instance, the first two are white cotton suits. These are best for casual use.
Furthermore, Latha also holds a good reputation among males. The last two are white Latha shalwar kameez that are also quite stylish and graceful. You can carry these latha suits at any wedding event to add more appeal and grace to your look. Combine your white outfit with the brown and black formal boot and grab a decent and lavish look.

Most of the men prefer to wear blue-colored dresses at night events. These blue-shaded dresses are made with pure cotton and blended stuff that indeed make your night event jazzier. Because by wearing the cotton clothes you will feel free and you will be able to happily enjoy all of your precious moments. Furthermore, the charm of these colors is so infectious because these colors are also in high demand. You can pair fantastic Edenrobe waistcoats with these vibrant suits.
Summer Light Shades for Men
In summers, light colors look pleasant to the eyes. Also, these colors absorb less heat as compared to dark ones. It is the reason most men prefer to wear lighter shades of clothes in hot weather. The first dress has a fone green shade, which proffers a pleasant impression on the character and makes it smarter. 
The others, light purple, sky blue, and grey, are also natural colors that go well with hot weather. Further, these light colors add more attractiveness to the male personality. You can improve these unstitched dresses in any style you cherish the most. For more variety, check out Edenrobe shalwar kameez.
Dark-Colored Gul Ahmed Shalwar Kameez Suits
Dark colors are also the impression of strength and power. Also, men tend to get attracted to dark colors quickly. At night events, dark colors also look more appropriate to wear. Furthermore, the first royal blue is so enchanting to look more handsome. Moreover, the second dark brown dress is also very graceful, which you can wear at any social event.
Likewise, the third one is a dark khaki shade that is also the darkest shade that will look quite stylish. Furthermore, the last one is the dark chocolate shade, best for formal events. All you require is to pair your dark-shaded outfit with formal shoes to make all of your breathtaking and noteworthy looks at any occasion. Everyone demands diversity, so you can try the Cambridge summer collection as well.
Stylish Partywear Collection for Men
This brand has created formal suits as well. The following formal dresses are very graceful. These dresses are slightly higher than others, but trust me, these formal dresses indeed standardized your character and make it more wonderful and impressive.
If you want to rock any summer event with your graceful personality, pick any suit from the formal collection of Gul Ahmed and customize your dress in any style you like. The following two is the basic style that men like to wear.
Shalwar Kameez(For casual and formal look)

Kurta Pajama(For modest and smart look)
Further, wear a classy pair of shoes and a dazzling wristwatch to make your look more splendid. Plus, style your hair in a trendy hairstyle, and your handsome and killer look is completed. 
This season, Gul Ahmed has launched its new range of classic suits for men of all ages. It contains formal and informal wear in lovely and vivid tones. Now men also have the option of selecting their favorite colors. You can modify these above dresses in any style you like the most. Pick any design and customize your clothing. Never forget to pair your suit with the formal boots or Pishawar chappal to make all of your jazzier and striking look at any seasonal event.