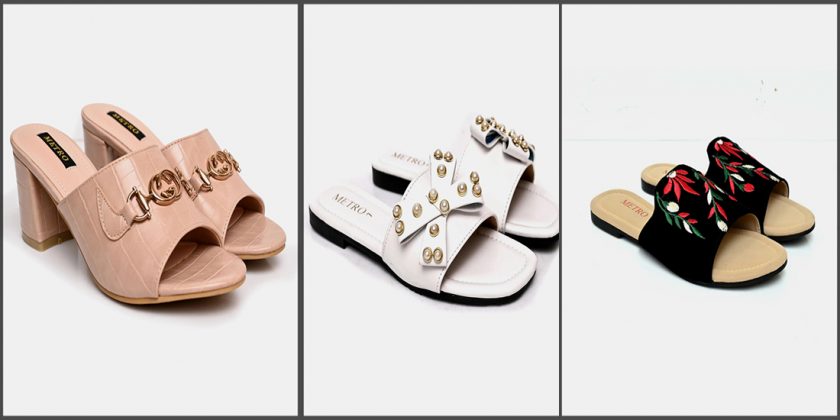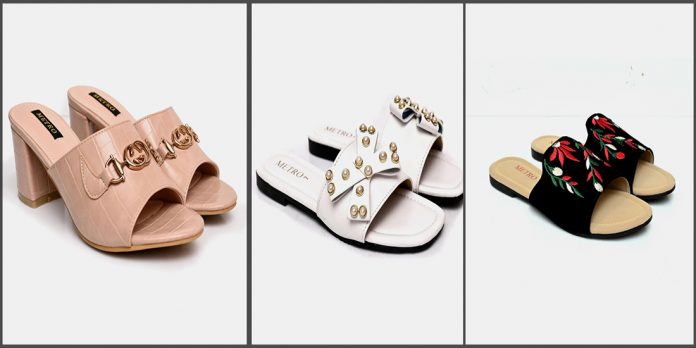 If you love to wear modern, stylish, and comfy shoes, then try the best footwear brand Metro. It was established in 1986. The customers make it a top-ranking brand due to its fantastic footwear collections. You can enjoy all types of footwear, including high heels, flats, pumps, casual, and formals, just under one roof. Metro shoes Eid collection has been launched, and now you can get the best Eid shoes for yourself to happily celebrate your festive season.
Your favorite brand Metro is offering you the best, comfy and stylish Eid footwear collection this season. As we know the personality and grace are judged by footwear, so make your impression more effective by wearing a classy pair of shoes from the latest collection of Metro.
The latest Eid collection of Metro help to make your Eid look extra chic and smart. All you necessitate is to grab the right and trendy footwear style to add more refinement and appeal to your look. Metro also managed the Eid sale for the comfort and pleasure of its customers. Look down and explore the latest Eid collection of Metro. Their rates are also mentioned for your efficiency.
Metro Shoes Eid Collection For Women (Latest Arrivals)
The latest Metro Eid collection contains comfy yet dazzling footwear. Moreover, Metro women's shoes have various designs, from simple casual sandals to extravagant heels that renew your Eid look and make it more smart and appealing. Pick any style you like the most and prettify yourself well.
Below you can see classy Eid footwears that can help you make your occasion increasingly jazzier and noteworthy. You can pair these striking shoes with any formal and casual outfit to grab the attention of the crowd. A rundown of women's shoe collection is given below in detail, such as:
Fancy Chappals
Fancy Night Out Shoes
Comfy Slippers
Sandals Collection
Formal Heels
Formal Flats
Metro Fancy Chappals Collection
Ladies always want to style up modestly and stylishly to look fashionable and smart. Everything from their dress to hair, cosmetics to accessories and footwear concerns them a lot. None of the things can be given up while getting ready for a flawless look. 
So we will discuss the most classical collection of footwear that helps to make your Eid look appealing and attractive. Metro fancy flat chappals collection is best to enhance the beauty of your feet. These lightweight extravagant flat chappals are best to wear in this hot summer season to enjoy all the lovely moments of sweet Eid. You can also wear these fancy chappals at any casual gatherings to get the cool flash.  Get some more summer chappals from the Ndure summer collection.

Pro Tips:
With your fancy footwear, keep your makeup and accessories minimal to get a decent and jazzier flash.

You can pair your fancy chappal with any printed suit to make all of your striking and dazzling looks. 
Metro's Eid shoes collection is enhanced with sequins artwork and brilliant pearls. Moreover, a beautiful heels variety with a sparkle sole gives an antique look. These Gleaming fancy footwear look so astounding on the night functions. You can wear it at Eid parties, wedding night functions and some more. 
Moreover, you can choose any color and style for you and your loved one. Because every type of design and a wide range of colors are available for you. Enjoy your Eid parties with the latest variety by Metro. Unze London shoes collection also contains a wide variety of fancy night out shoes. 
Tips: If you are going to wear the sequins work footwear, then:
Combine your fancy night-out shoes with a sparkling outfit to add more shine to your evening look.

Try to apply the nude makeup to catch the appealing flash.

Never overlook to tie your hair in the trendy hairstyle to make all of your awe-inspiring and pretty gazes. 
Casual Comfy Slippers For Eid
Slippers are the comfiest type of footwear that keeps your feet in comfort. Metro cozy slippers collection is based on the latest fashion so ladies can fulfill their wishes to look fashionable and smart by wearing the newest pattern footwear. This collection has many varieties of shoes with stylish designs, just like the ECS shoes collection. You can also wear these flat slippers daily for a comfy walk. 
Pro Tips: Combine your slipper with the embroidered suit & impressive bold makeup to get a breathtaking look.
If you can not wear high heels shoes and you want to try something unique?? Then try the sandals footwear. This is suitable for you if you can not walk in heels properly. In the latest Eid collection of Metro, you will get a wide variety of sandals in falt and wedge styles. Pick any style and make your Eid look more splendid and striking. 
Tips: You can pair your flat sandals with any printed and embroidered suit to get the jazzier and dazzling look. 
Formal Heels From Metro Shoes Eid Collection
Metro formal heels are the best assortment for heels lover women. Many of us like to wear formal shoes on any occasion and gatherings. Hence Metro must include formal shoes in its seasonal and festival collection. The latest formal heels assortment of Metro comprises back open heels, peep-toe heels, and block heels in numerous alluring hues. Pick any color that matched with your outfit and combine your formal shoes with your classical outfit to make all of your splendid and beautiful gazes.
Formal Flats From Metro Shoes Eid Collection
Metro formal flats collection has an extravagant style and hues for outdoor and indoor occasions. This variety has standard flats, slippers, and lush chappals for all seasons. Some women can not wear high heels and love to wear flat but fancy footwear. So, you can get shoes according to your need and choice if you are one of them. Insignia's summer shoes collection also offers impressive flat formal shoes in the most vibrant tone.
More Collection!!
Let's examine the entire Eid collection of Metro that contains impressive shoes. You can likewise wear these shoes at any casual and even at the wedding ceremony to make all of your breathtaking and awe-inspiring looks. You will get the thread, beaded, and pearl structured footwear in dazzling and vibrant tones that surely refresh your Eid look and make it extra beautiful and adorable. The Stylo shoes Eid collection is recently launched, it also offers chic footwear for women of all ages, check it also.
In the above, you can see the vibes of the Metro shoes Eid collection. All the latest styles and patterns are available for you at a reasonable price. Moreover, you can get these shoes for Eid and can carry them on any occasion. You can wear formal and fancy footwear collections at any wedding or traditional parties. After that, you can wear flat shoes for office working and casual get-togethers. Make your personality more attractive and glamorous with the help of Metro shoes. Now it's up to you how you can enhance your character at a limited price. Enjoy Eid with Metro!! 🙂